A little sweet, a little tart, and a whole lot of yummy. The Devil's Margarita is great for one, or even a crowd. Perfect to serve at your next Halloween Party!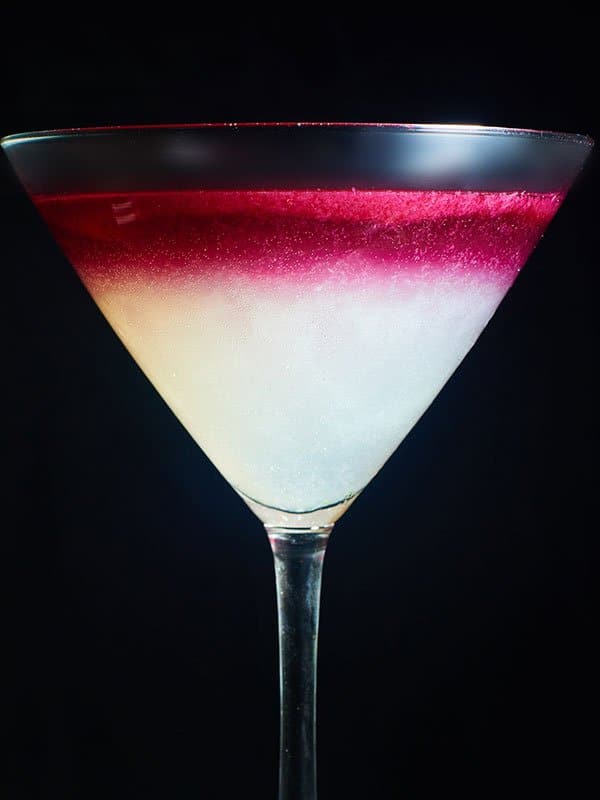 The Devil's Margarita.
Mwah-ah-ah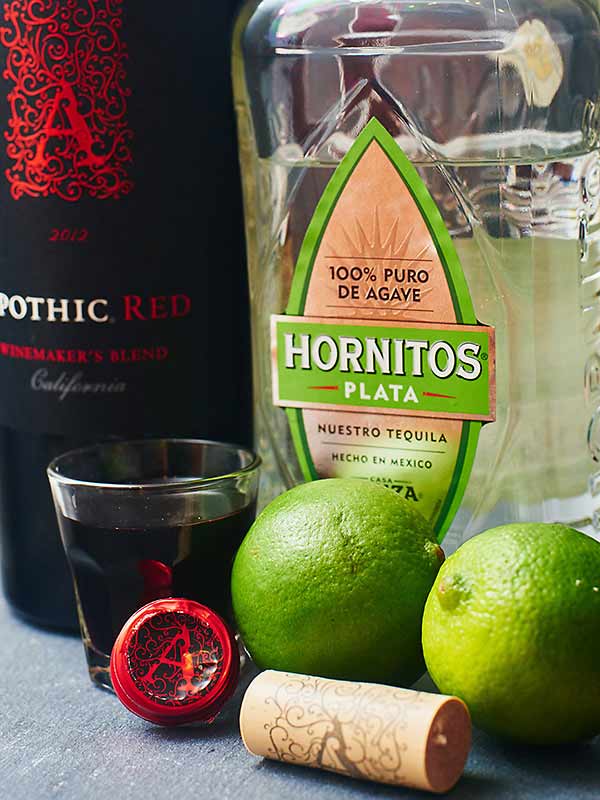 Just in time for Halloween!
Trevor and I go to a bar just two blocks down the street called Some Random Bar whenever the week is getting long and we need a little happy hour rescue.
Some Random Bar… how cute is that?! I looove telling people to meet me at Some Random Bar for a drink after work. So clever.
Not only do they have a cute name, but the owner's are a super cute couple from Florida, their food is off the hook, and their drinks are phenomenal!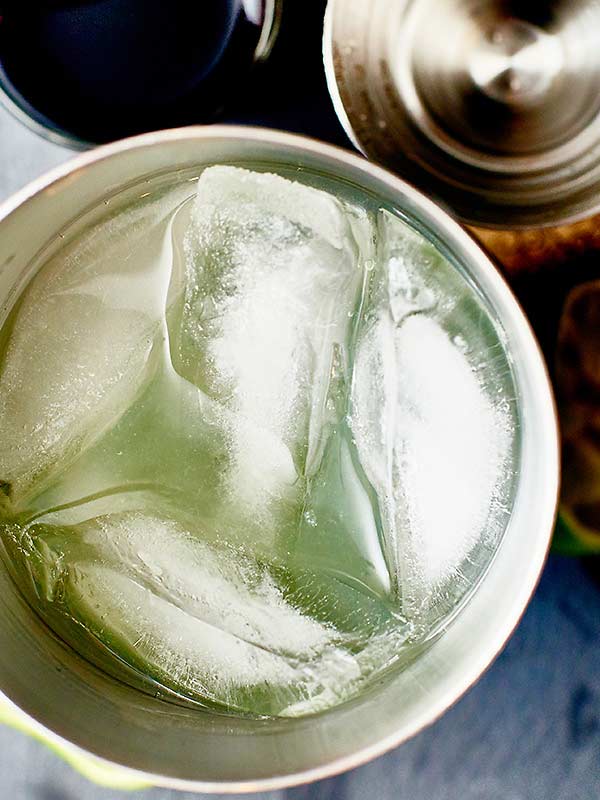 My go-to order is the Crab Nachos and the Devil's Margarita. The Crab Nachos are smothered in white cheddar cheese – the best kind of cheddar – grilled onions, avocado, lime crema, cilantro pesto, and the main event, fresh crab. If you've ever met me, you know if there are nachos on the menu, I will order them. Don't worry, we'll get to crab nachos in a future post.
The Devil's Margarita in particular, is sooooo tasty! It is so good, in fact, that it inspired me to recreate my own at home, plus I don't have to walk that two whole blocks to the bar 🙂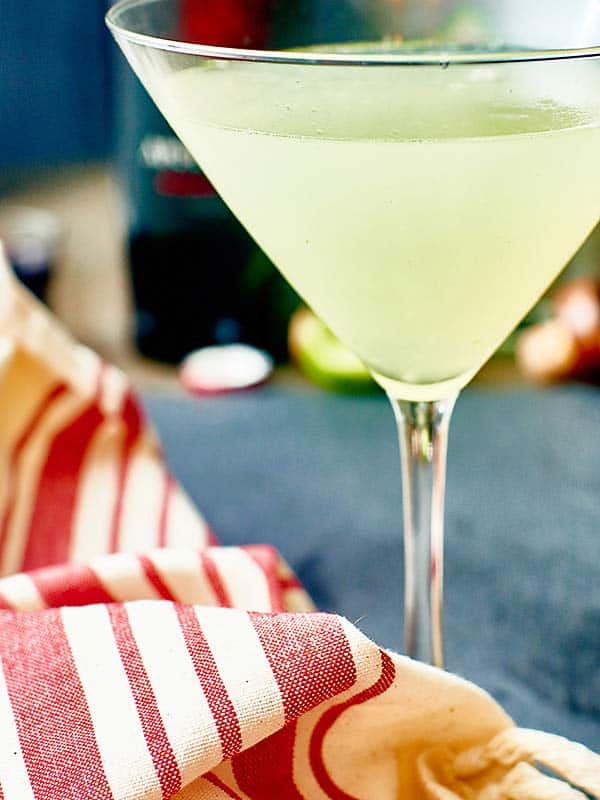 You probably have most of the ingredients (there are only four) on hand and it takes 2.5 seconds to make. Make it for one, or make it for a crowd for your next Halloween Party!
Are you ready for the easiest, tastiest, most festive Halloween drink ever?
In a shaker filled with ice (we love this shaker by OXO), pour in fresh lime juice, simple sugar (don't worry! I'll show you how to make below) and tequila! Shake until niiiiice and frosty cold.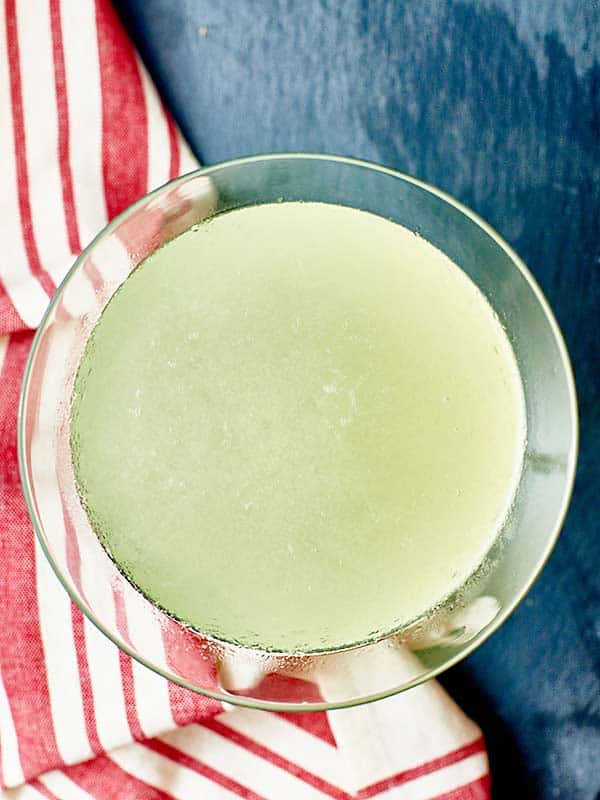 Pour into your desired glass. Frosted is better, but not necessary! Now, using the back of your spoon, slooooowly pour in red wine and watch how it magically keeps afloat on top of the margarita layer. (NERD ALERT – check this out if you want to know why layered drinks work) Pour in as much or as little as you like, but I like to get it so it's about 1/4 inch thick. The contrast between that dark, devilish red and the fresh green margarita is gorgeous!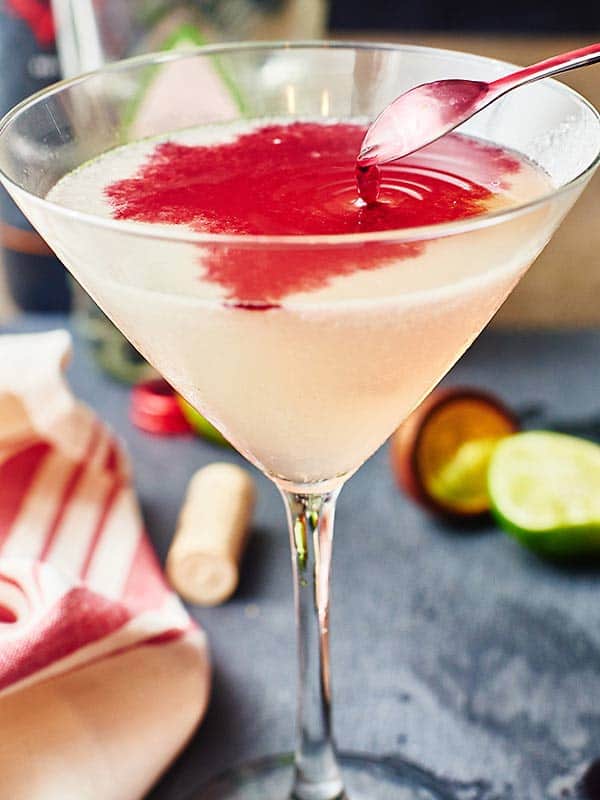 Now, let's take a second here to talk about the whole how the heck do I actually get my drink to layer thing.
Surprisingly, it's a lot easier than it looks, it just takes a little practice…or two. The first time I tried it, I spilled red wine all over the counter. So just take it nice and slow! Or maybe it just took me two times, because I secretly wanted to drink the "messed up" ones, and I just couldn't let them go to waste.
Oops 😉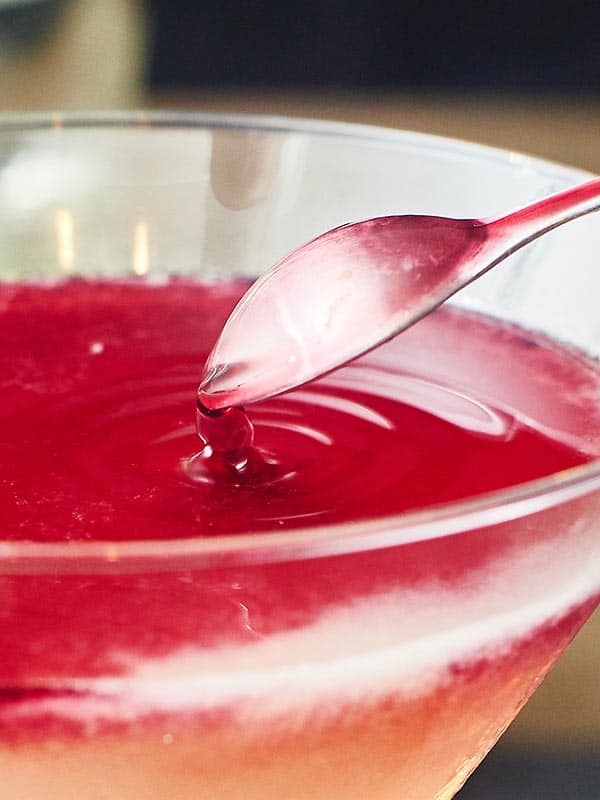 The Devil's Margarita is now complete and calling to you: "Driiiiiink Me" and then after you're done it's saying "Maaaaake Mooorrrre". And you will, because remember, it only takes 2.5 seconds to make.
Perfectly chilled, a little sweet, a little tart, and a whole lot of yummy, the Devil's Margarita is devilishly delicious!
– Jennifer
What's your favorite Halloween inspired drink? Show me the yummy!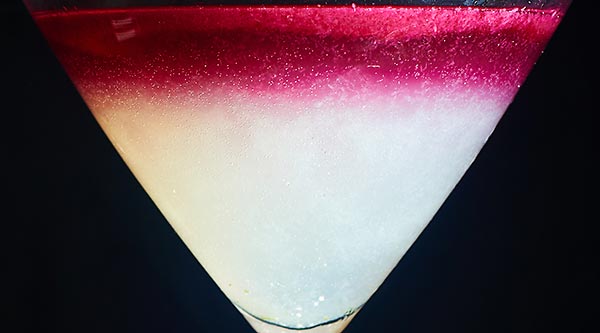 The Devil's Margarita
A little sweet, a little tart, and a whole lot of yummy. The Devil's Margarita is great for one, or even a crowd. Perfect to serve at your next Halloween Party!
Ingredients
1 1/2

oz

tequila blanco

3/4

oz

lime juice

freshly squeezed

3/4

oz

simple syrup

Red wine

such as Cabernet or Carménère
Click to Keep Device on While Cooking
Instructions
In a shaker filled with ice, pour in tequila, lime juice, and simple syrup.

Shake until chilled and pour into glass of choice.

Set a spoon at a 45 degree angle barely placed inside of the margarita. The back of the spoon should be facing the ceiling.

Pinch the top of the wine bottle with your finger and slowly pour red wine onto the back of the spoon and let it drizzle on the surface of the margarita.

Pour until you have about 1/4 inch of red wine in the glass.

Congratulations! You've made a really cool looking layered drink!
Notes
Don't have any simple sugar? No worries! Mix equal parts white sugar and water (ex: 8 oz sugar, 8 oz water) into a microwave safe container and heat until the sugar is completely dissolved. Cooking time will vary depending on how much sugar and water you're cooking!
If you want to make this for a crowd, make the base ahead (tequila, simple syrup, and lime juice) and place in the fridge until you're ready to serve! Then top each glass with the red wine.
Nutrition Information
Nutrition Facts
The Devil's Margarita
Amount Per Serving (1 drink)
Calories 209
Calories from Fat 9
% Daily Value*
Fat 1g2%
Sodium 15mg1%
Potassium 72mg2%
Carbohydrates 19g6%
Protein 1g2%
Vitamin C 6.4mg8%
Iron 1mg6%
* Percent Daily Values are based on a 2000 calorie diet.
*Note: Nutrition information is estimated and varies based on products used.
Keywords:
alcoholic drink, easy, red wine, tequila blanco