This Blueberry Peach Mojito is the cocktail of all summer cocktails! Peach puree, a homemade blueberry simple syrup, fresh mint, and rum. It's cocktail time!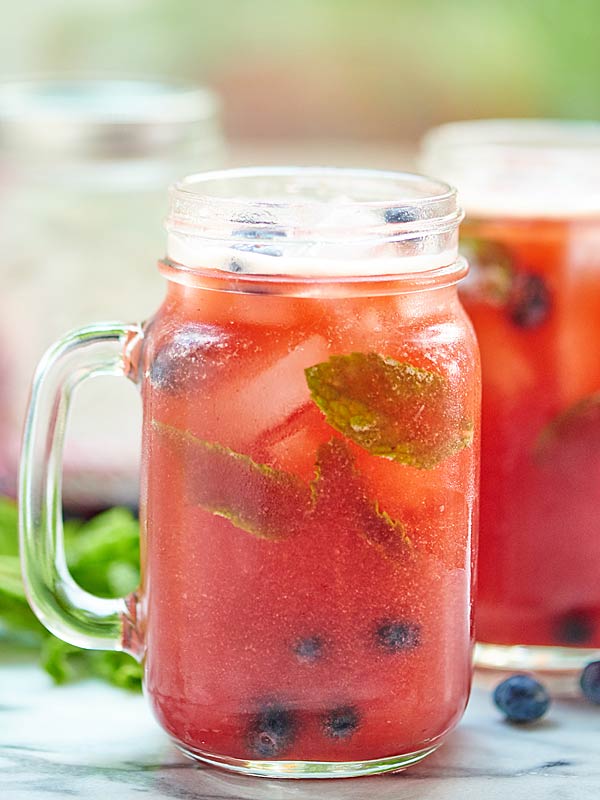 I love summer cocktails. They're cold, they're refreshing, and they're full of fresh, seasonal fruit. So far this summer I've made:
1. Strawberry Basil Gin Cocktails: If you haven't tried basil in a cocktail. Do it.
2. Mango Habanero Margaritas: Spicy, fruity perfection.
3. Watermelon Sangria: The. Best. Sangria. Ever. We've made it 4 times. #noregrets
and now I have for you…
4. The BEST Blueberry Peach Mojito: It's smooth, it's light, and it'll be gone before you know it. 😉 This…this, my friends, is the cocktail of all summer cocktails. But lets be honest, all these summer cocktails are so darn delicious that I'm not going to pretend that I have a favorite. They're all my favorites. ♡ h-o-w-e-v-e-r, my latest obsession? Definitely this blueberry peach mojito.
Peach puree + blueberry simple syrup + fresh mint + rum = yum.
Need I say more? 😉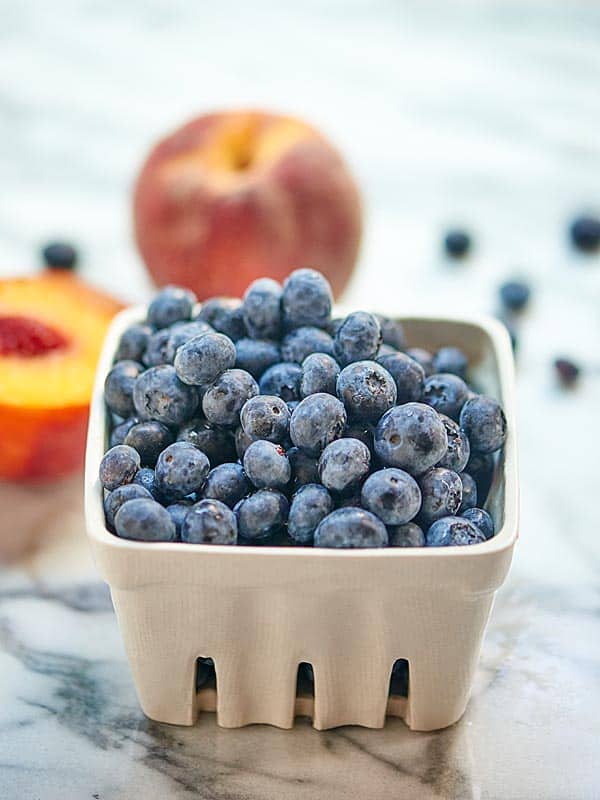 There's just nothing better to me than enjoying a really tasty cocktail outside and hanging with your significant other and your furry friend. Trevor and I have been having a hard time s-l-o-w-i-n-g down lately and this blueberry peach mojito is just what we've been needing.
With so much going on: regular blog work, adding videos to all our new recipes, and overall daily life: like making sure Teddy is getting enough exercise, making an effort to see our friends and chat with our family, life can seem overly busy and hectic sometimes.
So last Sunday, Trevor and I literally had to force ourselves to walk away from everything: no work talk (yeah right), no social media, and no answering phones. Trevor asked what would help us relax and I said:
1. A walk with Teddy. Check!
2. Sitting outside in the sun. Check!
3. Chips and salsa. Check!
4. A fresh mojito. Give me a few minutes…aaaand check!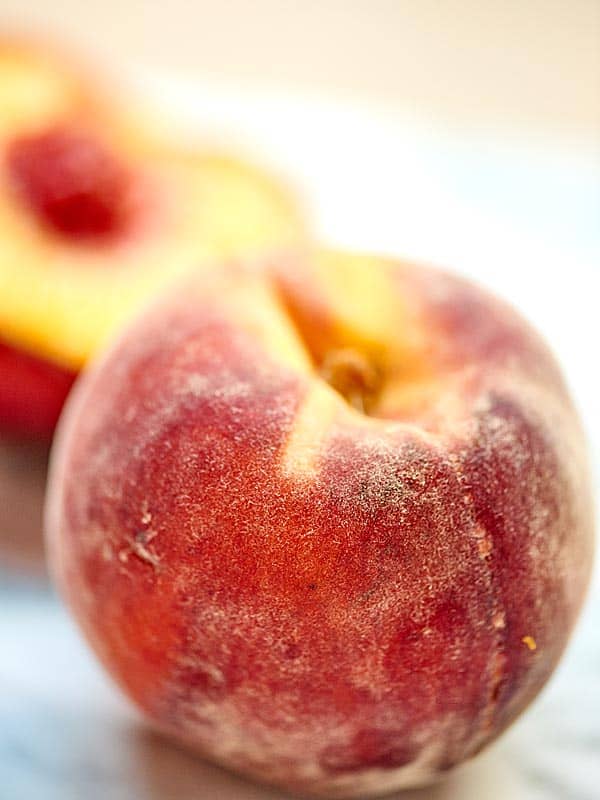 My love for a really good mojito runs deep. My love for them started last summer before we went to Puerto Rico to get married! It only seemed appropriate, that before we went to Puerto Rico, we prepare by drinking mojitos on the weekend. Sometimes you gotta do, what ya gotta do.
Lately, with our 1 year anniversary coming up – I can't believe it!!! – I've been missing my mojitos.
With blueberries and peaches in season, and, um, TOTALLY on sale at the grocery store, I knew I needed to do a little twist on the classic mojito recipe.
And that is where the blueberry peach mojito idea was born.
Now, I didn't just want to muddle the blueberries and peaches with the mint… I wanted something more fun and I wanted to make sure the peach and blueberry flavor really packed a punch! So I decided to infuse my blueberries into a simple syrup. The result? A gorgeous deep purple colored simple syrup that tastes ah-mazing.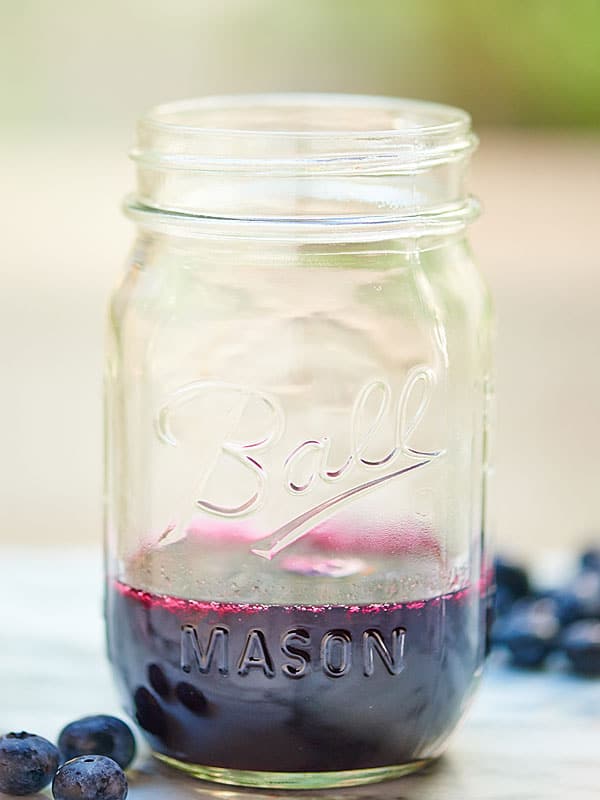 And with the fresh peaches? I ♡ fruit puree in my cocktails, so I knew I wanted to puree the fresh peaches. The puree gives the cocktail such a great consistency, too.
The nice thing about the blueberry simple syrup and the peach puree is that you can make both of those components ahead of time! Then you can easily make a Blueberry Peach Mojito to order.
Here's what you need to do: muddle fresh mint with freshly squeezed lime juice. Stir in the simple syrup and peach puree. Top this with ice, pour in your white rum (♡ ♡ ♡), and top with club soda! Give it another stir, gawk at how pretty this blueberry peach mojito cocktail is, and love your life.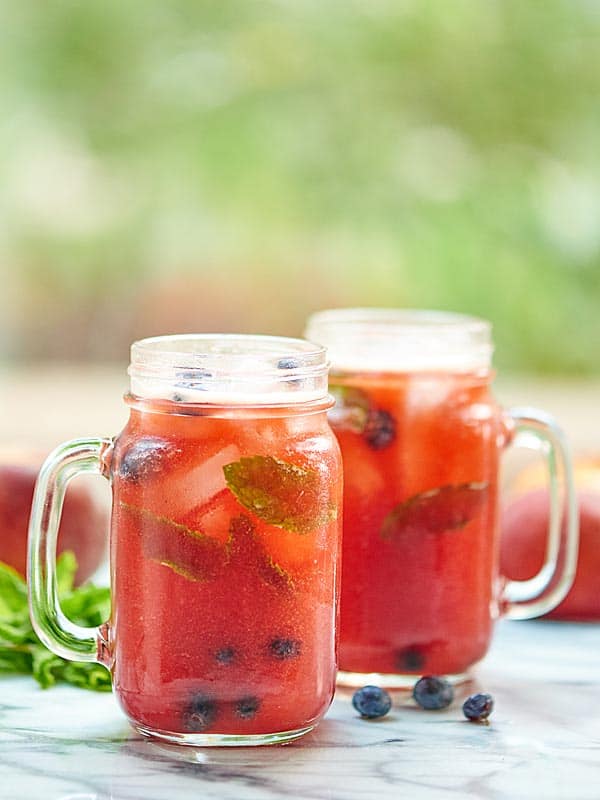 Cheers!
– Jennifer
What's your favorite summer cocktail? Show me the yummy!
PS – I used this muddler
and this jigger
. I ♡ them.
Blueberry Peach Mojito
This Blueberry Peach Mojito is the cocktail of all summer cocktails! Peach puree, a homemade blueberry simple syrup, fresh mint, and rum. It's cocktail time!
Servings
:
1
cocktail
Results and timings may vary when adjusting servings
Ingredients
Blueberry Simple Syrup This makes enough for 4 cocktails.
1/2

cup

granulated sugar

1/2

cup

water

1

cup

Blueberries
Peach Puree
peaches

1 peach per cocktail
Blueberry Peach Mojito
10

mint leaves

1/2

oz

freshly squeezed lime juice

1 1/2

oz

blueberry simple syrup

3

oz

peach puree

1 1/2 - 3

oz

white rum

club soda
Instructions
Blueberry Simple Syrup
In a medium sized sauce pan, combine sugar and water. Place over medium heat and stir until the sugar has dissolved.

Keep the heat at medium, stir in blueberries and bring to a simmer. This might take a few minutes.

Once it starts simmering, keep it at a simmer for 3-4 minutes or until the blueberries have started to break down. You may need to adjust your heat up/down to maintain a simmer.

Carefully strain blueberry mixture through a fine mesh strainer and let cool to room temperature. Use immediately or store in the fridge for up to a week in a closed container.
Peach Puree
Place washed peach(es) into your high powered blender and blend until smooth.

Strain through a fine mesh strainer.
Blueberry Peach Mojito
Gently muddle mint leaves with lime juice.

Stir in syrup and peach puree.

Add ice.

Pour in rum and top with club soda.

Stir gently and serve immediately.

Garnish with extra mint, blueberries, if desired.
Make this recipe?
Show

ME

the Yummy
Tag @ShowMeTheYummy & #ShowMeTheYummy on Instagram
* This post contains affiliate links. We receive a commission on purchases made via these links. The price you pay is not affected by using them.