This Waffle Recipe is quick, easy, and makes ultra fluffy and crisp Belgian style waffles! Serve immediately or make-ahead for freezer friendly breakfasts.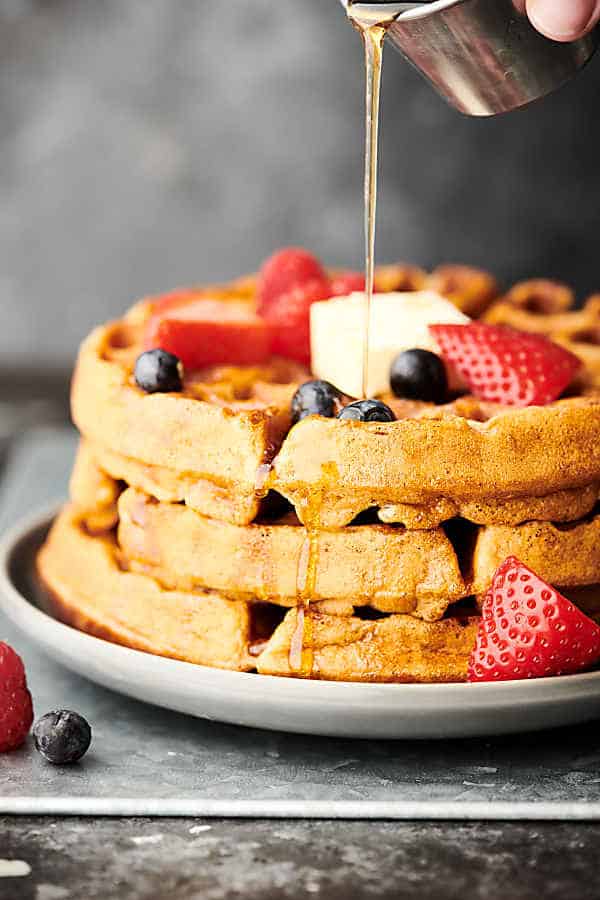 First things first, are you team pancakes or team waffles?
I'm team waffles all the way, but if you're team pancakes, be sure to check out our buttermilk pancakes recipe!
If you're team waffles, then look no further, because this is the BEST waffle recipe. These waffles are big Belgian style waffles that are golden brown, perfectly crisp on the outside and fluffy in the middle.
They're not too sweet, so bring on the pure maple syrup drizzle!
Ingredients
Your standard waffle kicked up a notch with two secret ingredients: buttermilk and cornstarch.
Buttermilk – don't skip the buttermilk! It reacts with the baking soda to help the waffles rise as they cook, creating ultra-thick and fluffy waffles. It also provides more moisture than "regular" milk.
Vanilla Extract – adds a warmth and depth of flavor.
Eggs – give the waffles their structure.
Butter – provides richness and flavor.
All-Purpose Flour – the base for our waffles. All purpose flour keeps these light and fluffy.
Cornstarch – makes the waffles extra fluffy while also giving the exterior that perfect golden brown crispness!
Granulated Sugar – just a touch to add some sweetness. These aren't overly sweet, however, so be sure serve these waffles with plenty of maple syrup!
Baking Powder and Baking Soda – give the waffles a lift, making them extra fluffy.
Cinnamon – adds a touch of sweet and spicy. Another secret ingredient, cinnamon gives these waffles SO much more flavor.
Salt – enhances the other flavors.
Pro tip
Store-bought buttermilk will yield the best results, but if you're in a pinch, make your own by combining whatever milk you have on hand with vinegar (more on that below).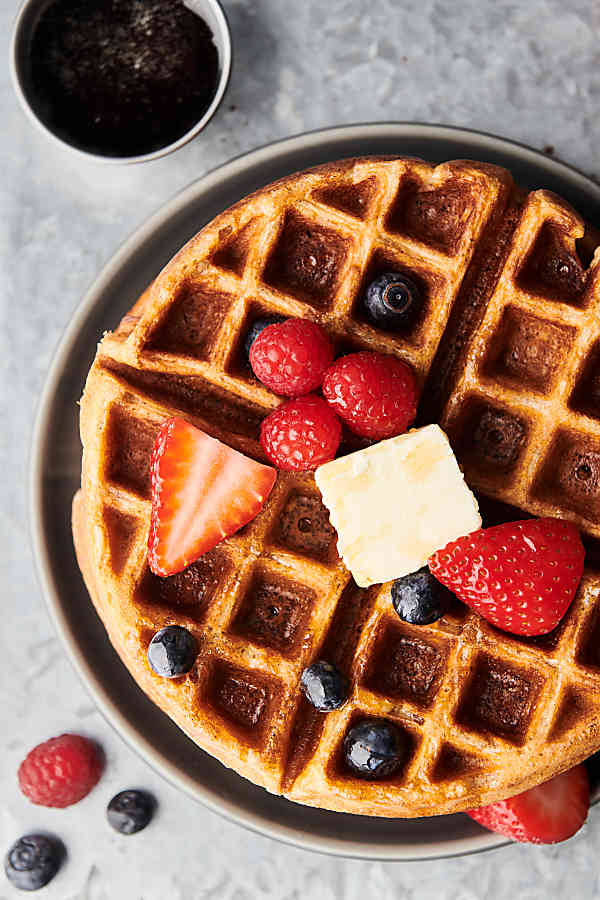 How to make
This recipe could not be simpler. Throw everything in one bowl, cook your waffles, then load them with your favorite toppings!
Use a whisk to mix together buttermilk, vanilla, eggs, and melted butter in a large bowl.
Mix in flour, cornstarch, sugar, baking powder, baking soda, cinnamon, and salt. Let the batter sit for 10 minutes.
Cook on your waffle maker according to the manual then serve with your favorite waffle toppings!
Pro tip
Let the batter rest for 10 minutes. This gives the leavening agents time to react with the buttermilk which results in extra fluffy waffles!
What waffle maker to use
There are a ton of great waffle makers on the market, so I'd suggest doing some research. Whatever waffle maker you use, be sure to find one with deep cavities. In the product description look for phrases like "1-inch deep pockets" or "creates Belgian waffles" or "extra-thick grid". The deep cavities are what give you those tall, fluffy Belgian style waffles you're looking for.
If your waffles are coming out too flat or soggy your waffle maker might be the culprit!
Pro tip
For best results, read your waffle maker manual! How much batter to add and cook time varies from product to product. 
Can you use a pancake recipe for waffles?
The short answer: I don't recommend using pancake batter for waffles.
Waffle batter and pancake batter might seem relatively similar in their ingredient lists, but they're actually quite different in ratios.  Waffle recipes typically have a higher percentage of sugar and fat for caramelization and crispiness!
What does buttermilk do?
Buttermilk helps make waffles light, fluffy, and moist.
Since it's more acidic than other types of milk, it reacts strongly with the baking soda. The chemical reaction between the two ingredients helps to create air pockets within the batter, which results in a lighter, thicker, and fluffier waffle!
Can i use milk instead of buttermilk?
For best results, use store-bought buttermilk! If you don't have it, your second best option is to make homemade buttermilk.
Milk and Vinegar: 1 cup buttermilk = 1 tbsp vinegar + milk filled to 1-cup line
Milk and Lemon Juice: 1 cup buttermilk = 1 tbsp lemon juice + milk filled to 1-cup line
If you're non-dairy, you can also use these measurements for unsweetened soy milk, coconut milk, almond milk, or cashew milk!
How do you make waffles crispy?
There are a few ways to ensure that your waffles are crispy:
Use cornstarch. The cornstarch helps create a crust on the outside of the waffles.
Don't overmeasure your buttermilk. Too much buttermilk makes the batter too moist, which yields a softer waffle.
Use a good waffle maker and use it properly by reading the manual. I suggest using a waffle maker that flips 180 degrees during the cooking process. This allows the batter to spread evenly and will help to create a waffle that is crispy outside and tender inside.
Place cooked waffles in the oven while the remaining waffles cook. Before making your waffles, preheat your oven to 250 degrees F. Then, when you take your waffles off your waffle iron, stick them in the oven while you cook the remaining batter. This will keep them warm, crispy, and absolutely delicious!
What are the best toppings?
Waffles toppings are endless! Here are my favorites:
Maple syrup. This one isn't optional. 😉
Butter. Also. Not optional. 😉
Honey. If maple syrup isn't your thing, honey is a great alternative!
Mixed berries.
Whipped cream.
Nut butters like peanut butter, almond butter, etc.
What to serve with waffles
These waffles are great on their own, but if you're looking for a complete meal, here are some of my favorite pairings:
How to store
These waffles can be stored in an airtight container or a ziplock baggie in the refrigerator for up to two weeks or in the freezer for 4-6 months!
Can i freeze waffles?
These waffles are great frozen. Freezing your waffles is a great way to have a super easy make-ahead breakfast for months!
To freeze, place completely cooked and cooled waffles on a baking sheet lined with a silicone baking mat. Store in the freezer for about 2 hours or until the waffles are fully frozen. Transfer the frozen waffles to a ziplock baggie and store them in the freezer for 4-6 months!
How to reheat
To reheat your waffles, from the freezer or the fridge, just pop them in the microwave or, if you want them crispy, the oven until heated through!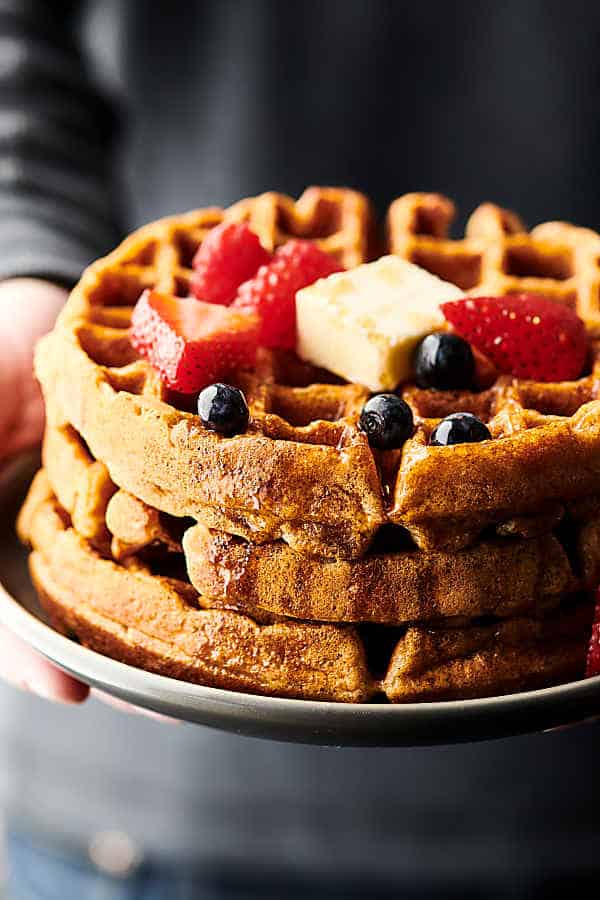 – Jennifer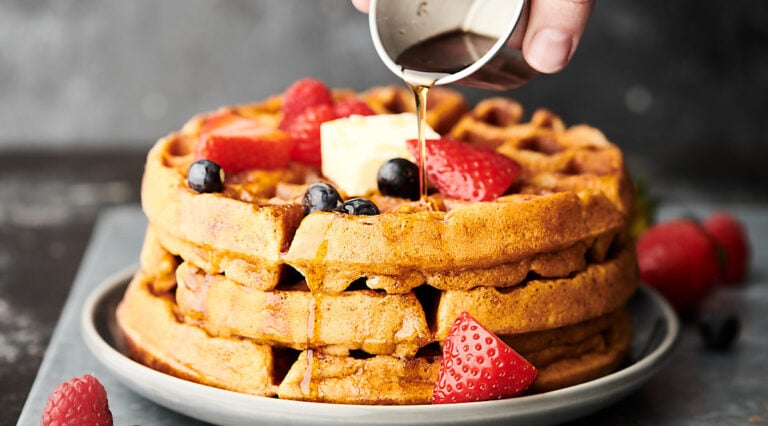 Waffle Recipe
This Waffle Recipe is quick, easy, and makes ultra fluffy and crisp Belgian style waffles! Serve immediately or make-ahead for freezer friendly breakfasts.
Equipment for this recipe
(equipment shown are affiliate links)
Ingredients
3 1/2

cups

buttermilk

room temperature

1

tablespoon

vanilla extract

4

large

eggs

room temperature

12

tablespoons

unsalted butter

melted and cooled slightly

3

cups

all-purpose flour

spooned and leveled

1

cup

cornstarch

spooned and leveled

1/2

cup

granulated sugar

2

teaspoon

baking powder

2

teaspoon

baking soda

2

teaspoon

cinnamon

1

teaspoon

salt
Instructions
In a large bowl, whisk together buttermilk, vanilla, eggs, and melted butter.

Whisk in flour, cornstarch, sugar, baking powder, baking soda, cinnamon, and salt. Don't overmix!

Let batter sit for 10 minutes.

Cook on waffle maker according to manual (each waffle maker will require different amounts of batter and cooking time.)

Serve with your favorite waffle toppings: maple syrup, whipped cream, mixed berries, powdered sugar, etc. and enjoy!
STORING
Reheat:
Microwave or oven until warm.
*Storage times may vary based on temperature and conditions
Nutrition Information
Nutrition Facts
Waffle Recipe
Amount Per Serving (1 large waffle)
Calories 541
Calories from Fat 216
% Daily Value*
Fat 24g37%
Cholesterol 150mg50%
Sodium 757mg33%
Potassium 358mg10%
Carbohydrates 70g23%
Protein 12g24%
Vitamin A 841IU17%
Calcium 208mg21%
Iron 3mg17%
* Percent Daily Values are based on a 2000 calorie diet.
*Note: Nutrition information is estimated and varies based on products used.
Keywords:
easy, fluffy, one bowl