This Crockpot Orange Chicken is better than take out! It tastes better, is so much healthier, and is ridiculously easy to make. Orange chicken for the win!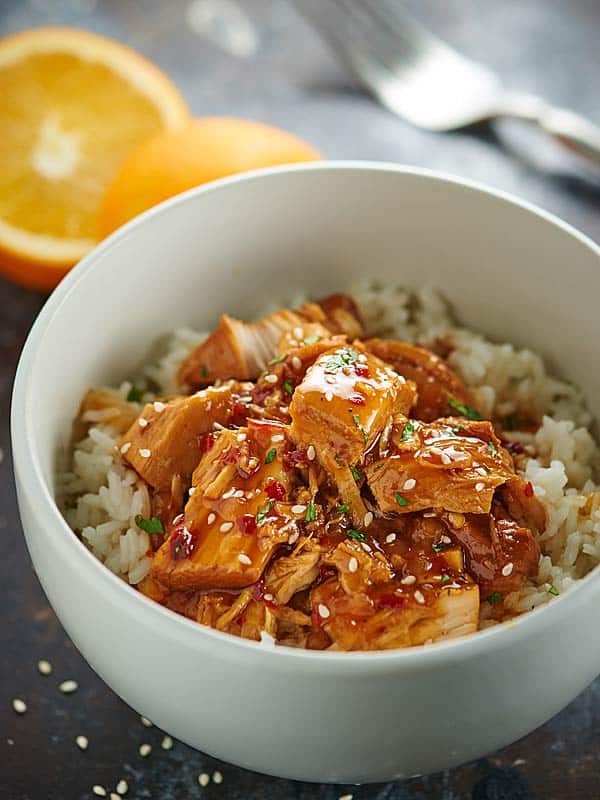 This Crockpot Orange Chicken is one of our most popular recipes (originally posted November 20, 2015), so I've updated it to include a how-to video! Enjoy!
Crockpot Orange Chicken for.the.win.
As with most of my recipes, this one started out with craving.
A craving, for orange chicken. Orange-y, spicy chicken with a steaming side of perfectly cooked white rice? Swoon.
As much as I wanted to just order take-out, with Thanksgiving coming up, I figured I should probably skip the take-out, and try to recreate something healthier at home.
Thank you, Crockpot Orange Chicken, for curbing my craving without the guilt.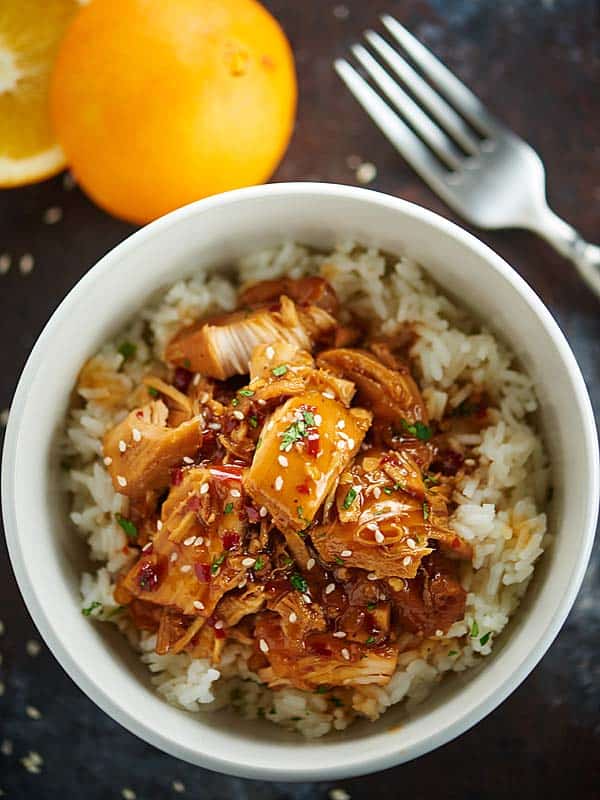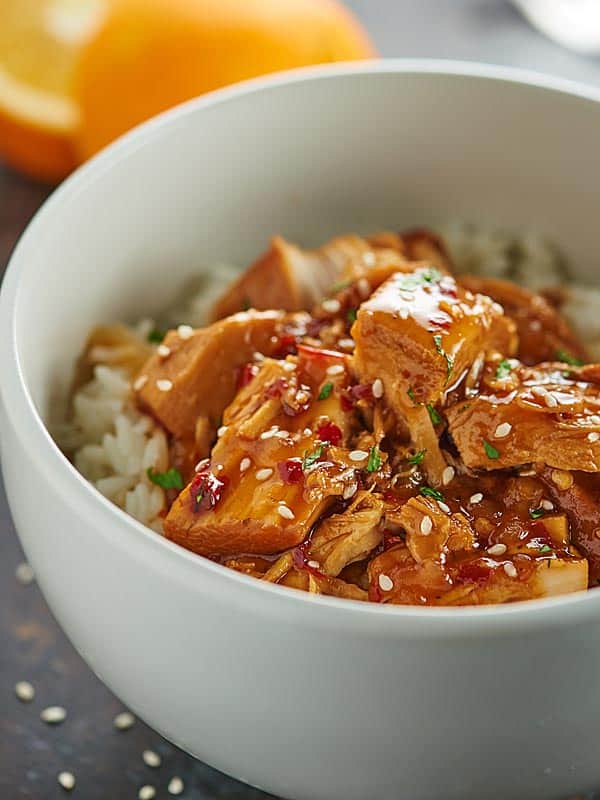 Funnily enough, I typically don't like orange chicken. Trevor, with his very refined palate, gets these cravings for orange chicken from Panda Express. 😉
But for whatever reason, I was the one craving orange chicken the other day, and I knew Trevor would totally be on board.
When I get a craving for something, I get kiiiind of o.b.s.e.s.s.e.d, so if I'm going to make it at home, it's gotta be easy. Luckily, this chicken only needs 5 hours to cook (vs 8 hours in some crockpot chicken recipes) and it literally look me less than 5 minutes to whip up.
Here's what you need to do:
1. Grease your crockpot. <– as usual, I'm obsessed.
2. Whip together the yummiest orange sauce. Ever. Broth, orange juice, sugar, honey, rice vinegar, soy sauce, garlic, zest, and some spices. Simple. Perfection.
3. Throw sauce and chicken into crockpot and cook on LOW for 4 hours. During that 4 hours, you could do something productive like clean up your kitchen, OR, do something even better and watch four episodes of the latest Fixer Upper and leave the dirty kitchen for later (it's not going anywhere).
4. After the 4 hours, you'll pretty much just want to dive into that crockpot orange chicken, but we gotta stir in some cornstarch first, and let it cook for another hour on HIGH.
5. Serve with rice and stuff.your.face.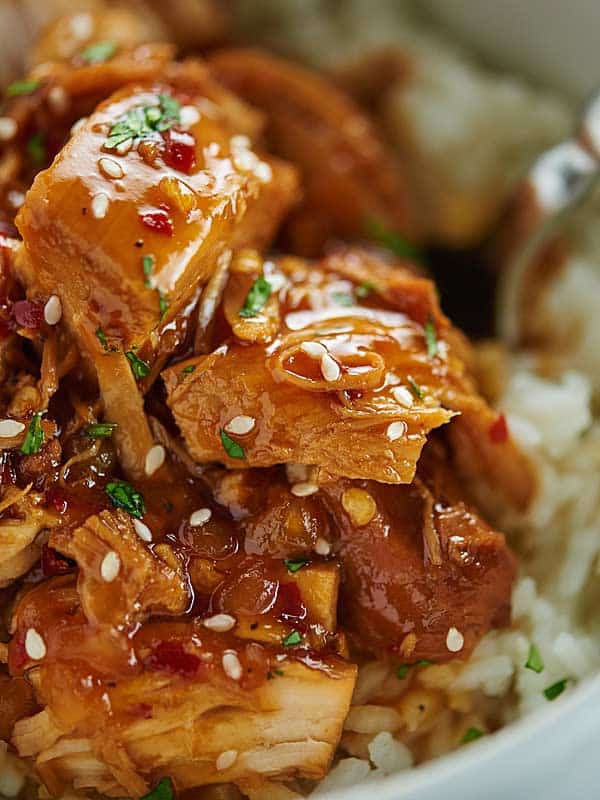 This crockpot orange chicken is c.r.a.z.y. good, you guys. The sauce is perfectly orange-y and you can make it as spicy as you like!
Now. Here's the deal. When I first had Trevor taste-test, his immediate reaction was YUM. Buuuuut, he wanted the sauce to be thicker.
Trevor was expecting that really thick, sticky, sauce that coats breaded chicken.
Well. This isn't the recipe for that.
THIS crockpot orange chicken has those same amazing orange chicken flavors you love, but without all the guilt! Plus, it's super saucy and when you serve it over rice, the rice soaks up all those crazy flavors. And basically, it's just amazing.
Later that night, I served this crockpot orange chicken up with some steamed rice and Trevor did a complete 180.
All I heard for the rest of the night was "Seriously, babe. This is goooood."
Craving curbed. Happy husband.
#success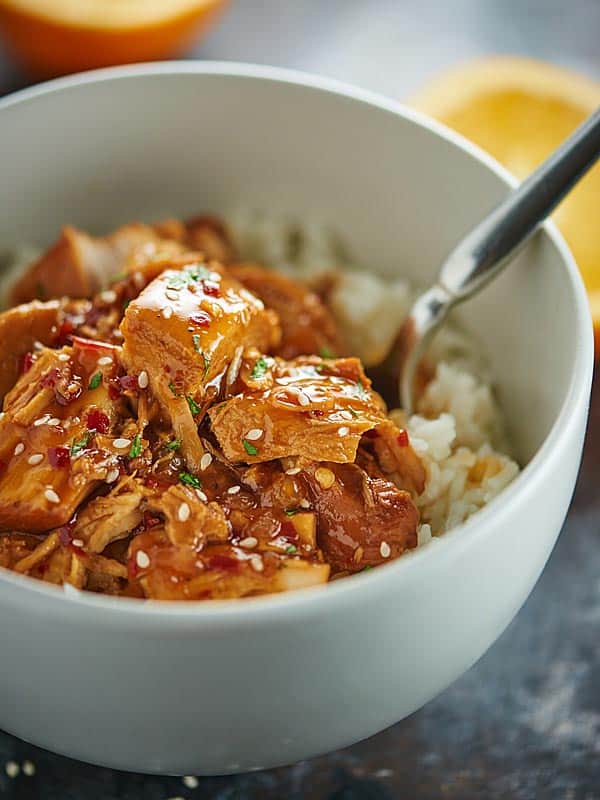 Now let's just see if we can keep him away from Panda Express. 😉
– Jennifer
What are some of your favorite take-out/delivery foods? I'd love to recreate them! Show me the yummy!
Some of my other take-out/delivery creations:
Crockpot Orange Chicken
This Crockpot Orange Chicken is better than take out! It tastes better, is so much healthier, and is ridiculously easy to make. Orange chicken for the win!
Servings
:
4
people
Results and timings may vary when adjusting servings
Ingredients
2

pounds

uncooked boneless skinless chicken breasts

1

cup

chicken broth

1/2

cup

freshly squeezed orange juice

1/4

cup

brown sugar

packed

1/4

cup

honey

1/2

cup

rice vinegar

1/2

cup

soy sauce

2

cloves

garlic

minced or pressed

1-2

tablespoons

grated orange zest

1

teaspoon

red pepper flakes

or more to taste (we used 3 teaspoons)

1/4

teaspoon

ground ginger

1/4

teaspoon

black pepper

1/4

cup

cornstarch
Optional Toppings
Green onion

thinly sliced

Cilantro

chopped

Sesame seeds
Instructions
Grease your crockpot with cooking spray.

Whisk together sauce ingredients: broth, orange juice, brown sugar, honey, vinegar, soy sauce, garlic, orange zest, red pepper flakes, ground ginger, and black pepper.

Pour half the sauce into crockpot.

Place chicken into crockpot.

Pour the rest of the sauce over the chicken.

Place the lid on and cook on LOW for 4 hours or HIGH for 2 hours.

Remove chicken from crockpot and set aside.

Whisk the cornstarch into the sauce until well combined.

Place chicken back into crockpot and cover.

Cook for an additional 30 mins on HIGH (if you cooked on HIGH before) or 1 hour on HIGH (if you cooked on low before).

Remove chicken, cut into chunks, then stir back into sauce.

Serve with your choice of rice and additional toppings and enjoy!
Notes
*Gluten free? Be sure to use a GF soy sauce or a GF alternative!
Make this recipe?
Show

ME

the Yummy
Tag @ShowMeTheYummy & #ShowMeTheYummy on Instagram
* This post contains affiliate links. We receive a commission on purchases made via these links. The price you pay is not affected by using them.