This cheesy scalloped potato gratin is simplicity at it's finest. Tender potatoes, creamy bechamel, and cheesy goodness are baked until golden brown and bubbly!
I just finished watching a season of Master Chef Junior and ohhh my gosh it makes me feel like a slacker. There are 8 year olds that have more talent and creativity than I could ever hope to have. It's absolutely insane. They're so talented and cute and I want to take one home with me, so they can teach me all that they know! 😉
I'm so impressed with the recipes they create. They create dishes like sushi, creme brulee, and in the final episode, *SPOILER ALERT* one of the finalists makes a cheesy scalloped potato gratin.
Gordon Ramsay was super impressed, and I was starving. Starving for cheesy scalloped potato gratin! Lucky for me, I had leftover potatoes from the best quinoa minestrone soup and leftover bechamel and cheese in the fridge from the croque madames! I immediately went to work. If an 8 year old can do it, I can, too…right?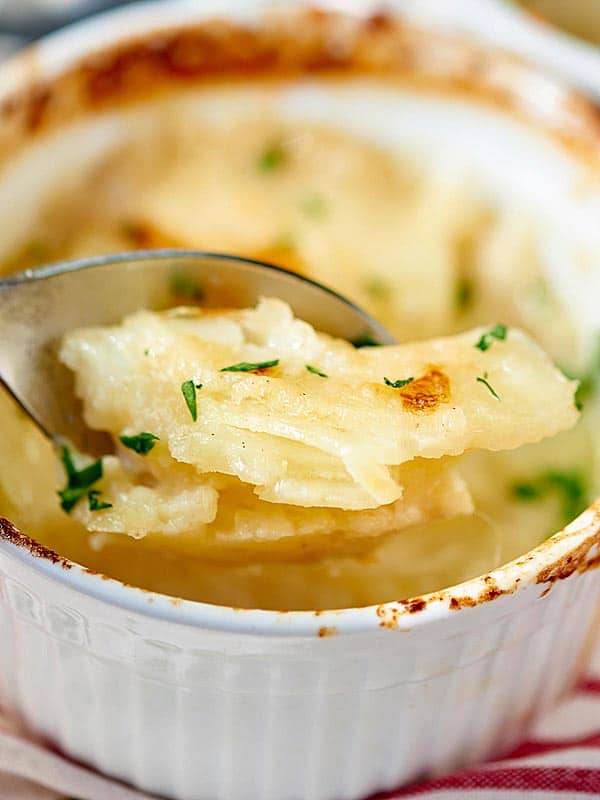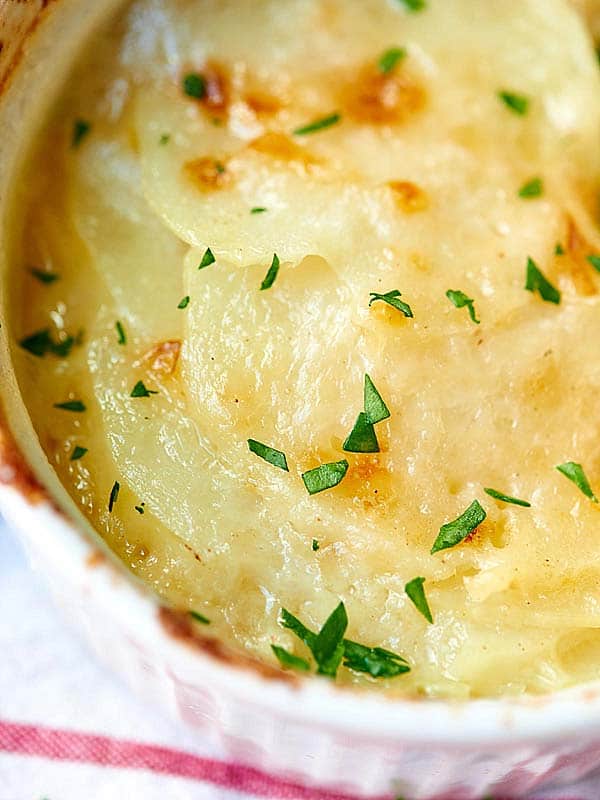 Right! Cheesy scalloped potato gratin is a simple, but truly delicious dish. A potato gratin is just a combination of bechamel, thinly sliced potatoes, and two types of cheese! Who knew four ingredients could make such a decadent dish? I did, because what's better than bechamel, potatoes, and cheese?
Nothing. That's what!
Do you guys know what a bechamel is? I talked about it a little bit in my Croque Madame post, but just in case you missed it, a bechamel is a thick sauce made up of butter, flour, milk, and seasonings! It's really simple to make, but sounds so fancy when you tell people that you just made a bechamel.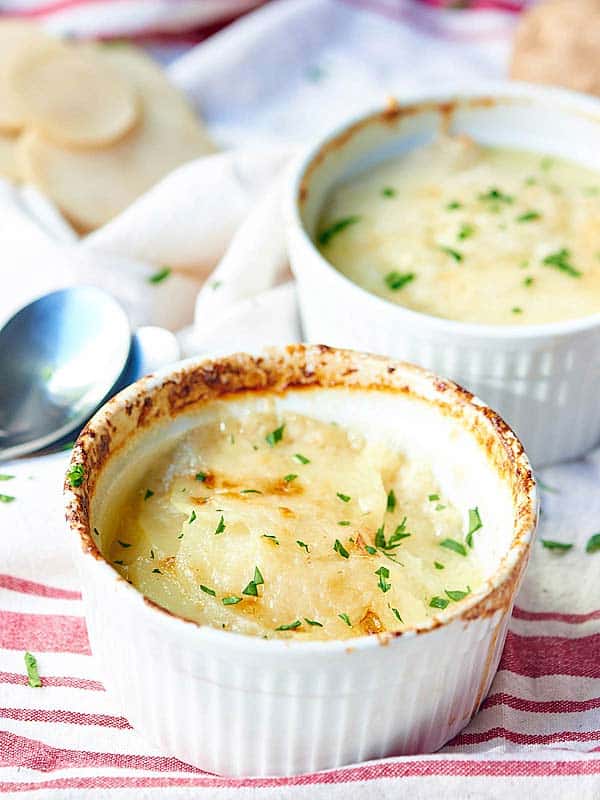 Ever since I first tasted my homemade bechamel, all I want to do is put it on everything. I want to pour it over biscuits, dunk my sandwiches in it, bake it into things, etc. The wheels are turning on how to incorporate this bechamel into every dish possible. So stayed tuned for more! 😉 It's dangerous how simple it is, because you won't be able to resist it's creamy goodness.
Next obsession: the potatoes.
Now. Funny story. I hate to even tell you this, because it means Trevor's score for being right will be like a billion and mine will be a sad, measly 8 (or something like that). 😉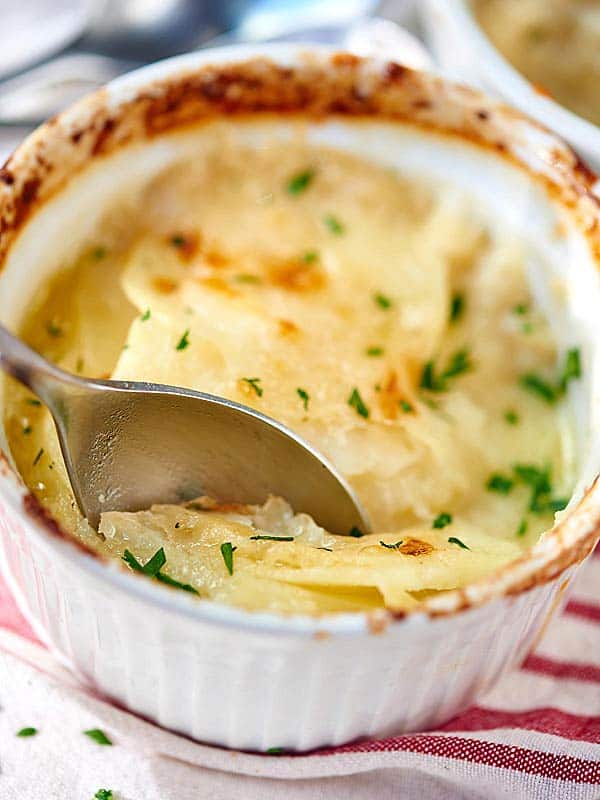 That being said, I'll tell you anyway. Trevor's been begging me for a mandoline
for as long as I can remember. Ok, maybe not begging, but Trevor has a kitchen tool shopping addiction. If he sees it, and we don't have it, he wants gets it. I think we have more tools than Sur La Table. If we're out and about and I see a Sur La Table, I have to make up some excuse to turn the other way, or I know we'll walk home with a dozen new "toys".
Wait. Why is that a problem? Something must be wrong with me.
Long story short, we don't have a mandoline
. Trevor really wants one, but I've never really needed one. Well, this cheesy scalloped potato gratin doesn't need a mandoline, but it would make the process of slicing potatoes a little quicker. So, if you have one, use it! If not, a sharp knife works fine, too. Just be careful not to chop off any fingers, because each slice needs to be really thin, about 1/8 in thick.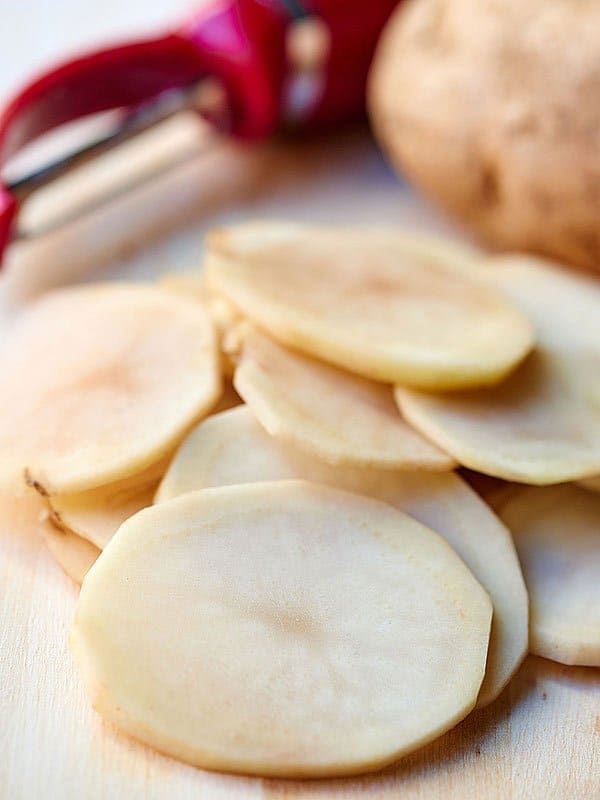 Thin potatoes = creamy potato gratin. Thick potatoes = crunchy = gross.
Get it? Got it? Good. 🙂
Once the potatoes are prepped you're ready to assemble.
Today, I made the cheesy scalloped potato gratin in cute little ramekins, because I love eating things out of cute little ramekins.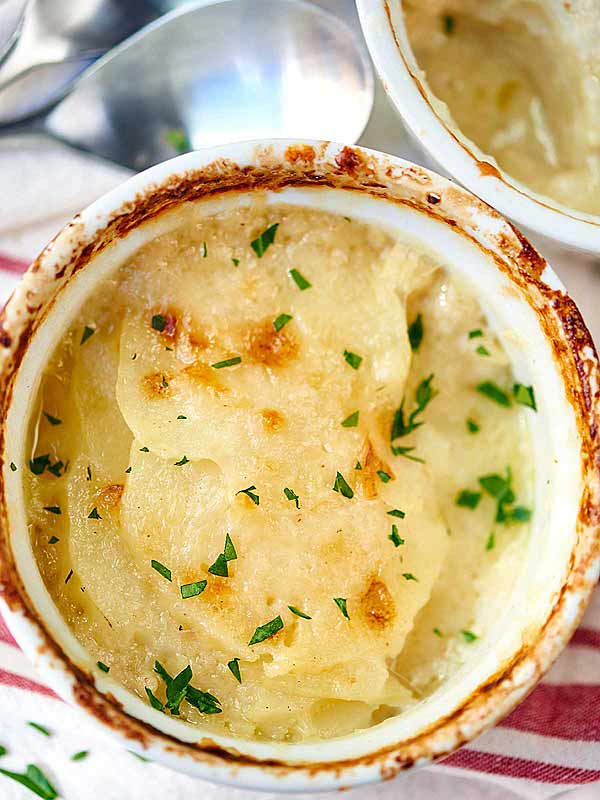 Pretty much all you do is add some bechamel to the ramekin, layer in the potatoes, and top with more bechamel, gruyere, and parmesan cheeeeese. Then you bake it until golden brown and bubbly.
Bubbly cheese, btw, is a sight for sore eyes. I could look at it forever and never get tired. Mmm 🙂
You will need to let the cheesy scalloped potato gratin sit for a few minutes before serving, so the bechamel has a chance to set, and so you don't burn your face off trying to eat this straight out of the oven like I did, because I obviously have no self control when it comes to bubbly cheese and potatoes.
This cheesy scalloped potato gratin is simplicity at it's finest. Tender potatoes, creamy bechamel, and cheesy goodness. Maybe I should invite Gordon Ramsay over so he can rave about my gratin, too? Yes?
– Jennifer
What are your favorite cooking competition shows? I need a new one to watch! Show me the yummy!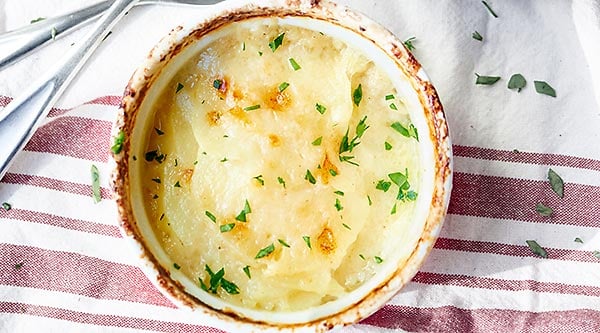 Cheesy Scalloped Potato Gratin
This cheesy scalloped potato gratin is simplicity at it's finest. Tender potatoes, creamy bechamel, and cheesy goodness are baked until golden brown and bubbly!
Equipment for this recipe
(equipment shown are affiliate links)
Ingredients
Bechamel
6

tablespoons

unsalted butter

1/4

cup

all purpose flour

1

teaspoon

salt

1/4

teaspoon

ground nutmeg

3

cups

cold milk

1/2

cup

grated parmesan cheese
1 ramekin
1/2

cup

bechamel

4

oz

russet potatoes

peeled and very thinly sliced (1/8 in thick)

1/4

cup

gruyere

shredded

2

tablespoons

parmesan

shredded
2 Ramekins
1

cup

bechamel

1/2

pound

russet potatoes

peeled and very thinly sliced (1/8 in thick)

1/2

cup

gruyere

shredded

1/4

cup

parmesan

shredded
4 Ramekins
2

cup

bechamel

1

pound

russet potatoes

peeled and very thinly sliced (1/8 in thick)

1

cup

gruyere

shredded

1/2

cup

parmesan

shredded
Instructions
*These are instructions for 1 ramekin.

Preheat oven to 400 degrees F and butter 1 ramekin.

If using leftover bechamel, warm in the microwave until luke warm, the béchamel will have thicken in the fridge, but will thin out slightly when warmed. If using fresh bechamel (directions will be written below), let cool slightly until nice and thick. It should be gravy consistency.

Peel and slice the potatoes using a sharp knife or mandoline. The potatoes should be 1/8 in thick.

Place a spoonful of bechamel in the bottom of the the ramekin. Mix potatoes with 1/2 cup bechamel, reserving 1 spoonful of bechamel for the top. Place the potato/bechamel mixture in the buttered ramekin and press down lightly to even the mixture. Top with spoonful of bechamel.

Sprinkle the top with gruyere and then parmesan.

Cover the ramekin with tin foil. Pull back one corner to let steam escape. Place onto a baking sheet and bake for 40 minutes. Baking time may vary depending on how thick the potatoes are.

Remove foil and bake for another 10 minutes.

Remove from oven and let rest for about 10 - 15 minutes to set. You may see some oil on the top of the potatoes - that's just from the cheese and will settle. Alternatively, you could mop it up with a paper towel after it's cooled slightly.

Serve and enjoy!
Bechamel
Melt 6 tablespoons butter in a nonstick pan over medium heat. Then whisk in flour. Continue whisking and cooking for 2-3 minutes. The flour mixture will be thick.

Slowly whisk in milk, about ½ cup at a time. For the first cup, let the flour mixture absorb the milk before adding in more milk. It will first look like a paste, and then slowly thin out.

Continue to cook over medium heat until the sauce thickens. This will take about 5-8 minutes.

Once thick, whisk in the salt, nutmeg and ½ cup parmesan. Continue whisking until the cheese melts.

Remove from the heat and cool slightly.
STORING
Reheat:
If frozen, let thaw then bake or microwave
*Storage times may vary based on temperature and conditions
Notes
*Have leftover bechamel? Make sure to check out my croque madame!
Nutrition Information
Nutrition Facts
Cheesy Scalloped Potato Gratin
Amount Per Serving (1 ramekin)
Calories 498
Calories from Fat 306
% Daily Value*
Fat 34g52%
Cholesterol 126mg42%
Sodium 1150mg50%
Potassium 511mg15%
Carbohydrates 25g8%
Protein 21g42%
Vitamin A 410IU8%
Vitamin C 6.4mg8%
Calcium 496mg50%
Iron 1.1mg6%
* Percent Daily Values are based on a 2000 calorie diet.
*Note: Nutrition information is estimated and varies based on products used.
Keywords:
bechamel sauce, cheesy, easy