This Portobello Mushroom Burger is vegetarian, healthy, can be gluten free, and is topped with caramelized onions, a homemade basil pesto, and goat cheese!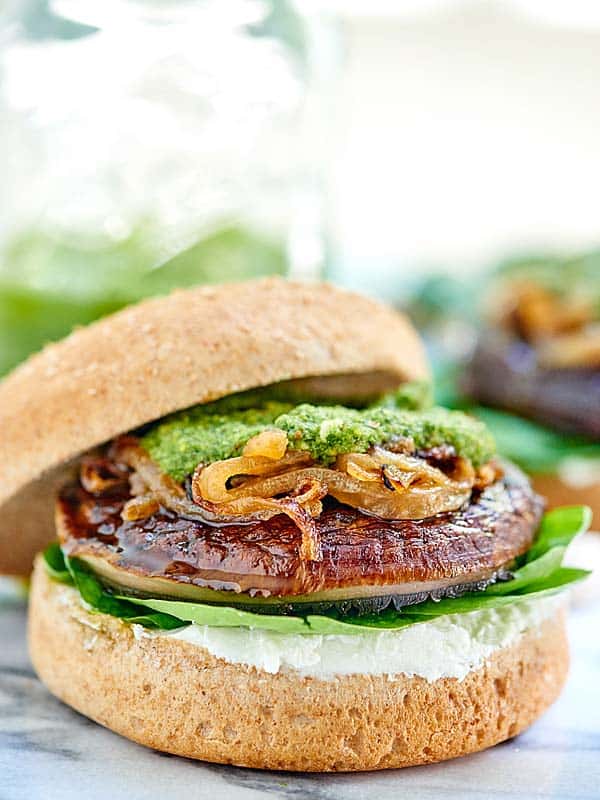 So let me be honest for a second. I thought this portobello mushroom burger was going to be good, but I didn't think it was going to be this good. Good, like, I've never gotten cravings for a portobello mushroom burger before, but now I do. Good, like, I devoured the whole thing in 2.5 seconds. Good, like… ok I'll stop…you get it. It's good. 😉
I should mention though that this portobello mushroom burger is vegetarian, healthy, can be gluten free, and is smothered in tangy goat cheese, caramelized onions, and my roasted pistachio pesto. But you're ok with that…right? 😉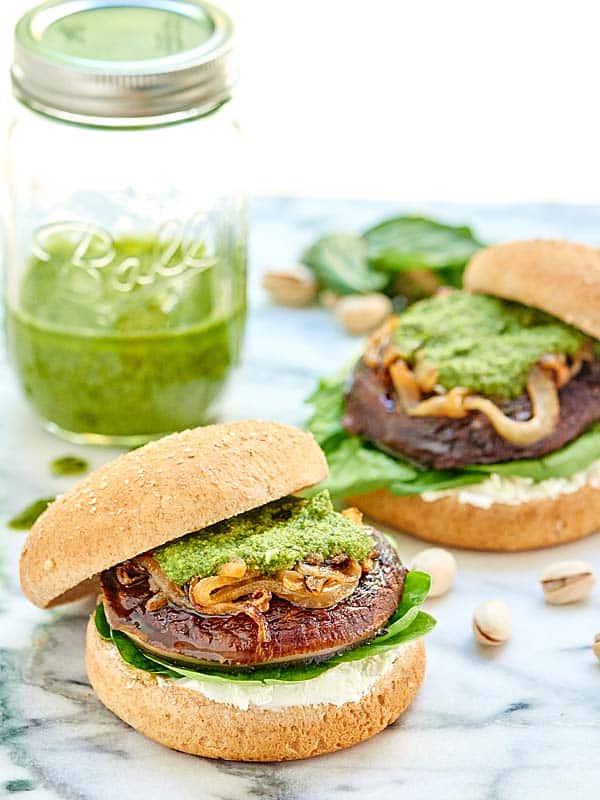 I should also mention that this is probably the easiest burger you'll ever prepare. All you need to do is brush a little balsamic and oil on a portobello mushroom, broil it for 5 minutes, flip it, brush it with more balsamic/oil, and broil for another 5.
Done. Done. And. Done.
I could, and did, eat the portobello mushrooms by themselves (which btw – how cute are they?! – they look like a "real" burger – check out the video to watch how Trevor does it!) , but those toppings sure take this portobello mushroom burger over. the. edge.
First up, that pesto. It's a super simple combo of fresh basil, garlic, roasted pistachios, oil, lemon juice, a little pecorino romano (yum), and salt. Make this in advance; try not to eat it all straight out of the food processor; and use the leftovers for this burger. If you're in a pinch, feel free to use your favorite store bought pesto, but if you have the time, (it really only takes about 10 minutes from start – finish) it's really tasty.
Next, the caramelized onions. I'm obsessed. Throw a little butter into a pan, cook the sliced onions over medium/medium-low heat for about 20 minutes, and de-glaze the pan with a little white wine. Butter + onions + wine? Seriously? Swooooon.
Then there's that thing we call goat cheese. I mean. I can't even describe how much I love goat cheese, but I think Trevor loves it even more. When he found out I had extra goat cheese in the fridge, I saw him sneaking many, many bites throughout the day. You really can't blame him, though.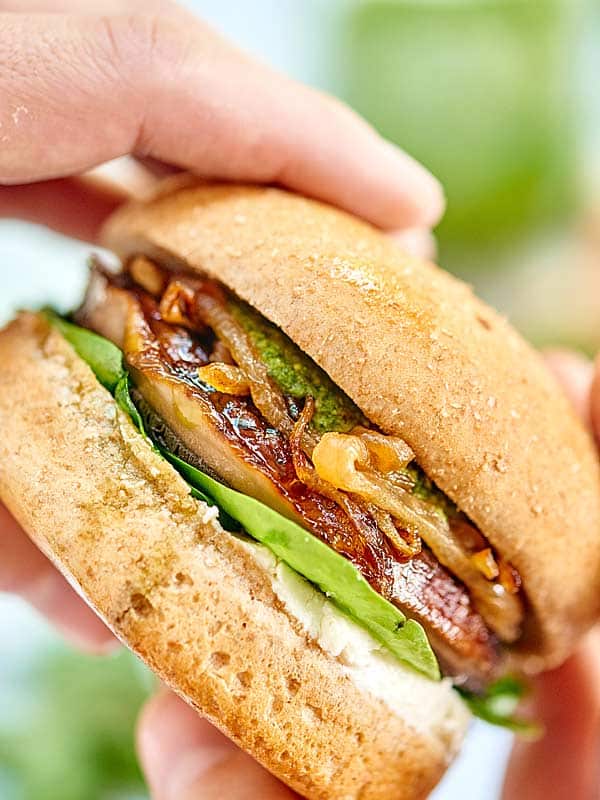 Long story short, all the components of this portobello mushroom burger are y-u-m-m-y to the max, but when you put them all together? Flavor explosion!
Tender portobello mushrooms with that creamy goat cheese, sweet caramelized onions, and that roasty, garlicky pesto, all sandwiched between a whole wheat bun? This is a vegetarian's burger delight!
And let me tell you this. Trevor is definitely a meat lover and I am, too. We both love our chicken and a great beef burger is totally satisfying every once in a while. That being said, this healthy, veggie burger was completely satisfying. The mushroom is hearty, and I mean, again, how can you not love that goat cheese and pesto?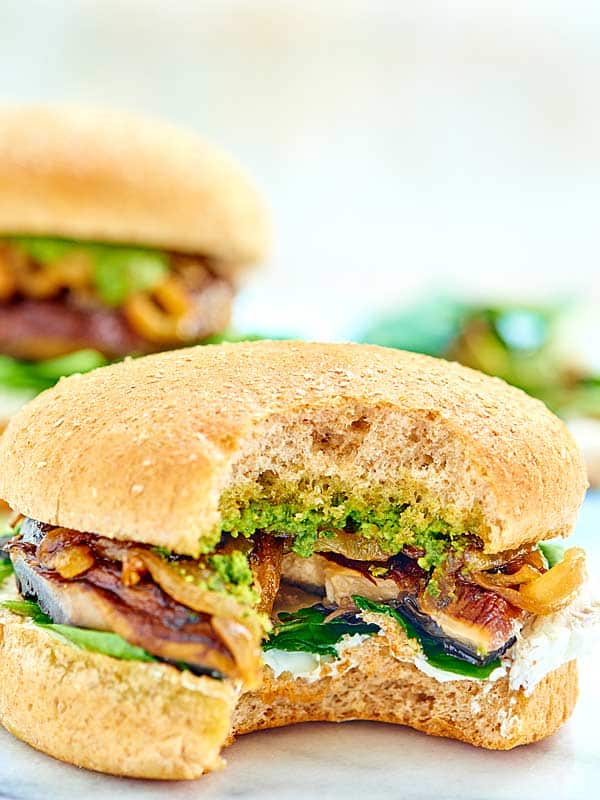 Portobello mushroom burgers for life!
– Jennifer
Are you a fan of vegetarian burgers? Show me the yummy!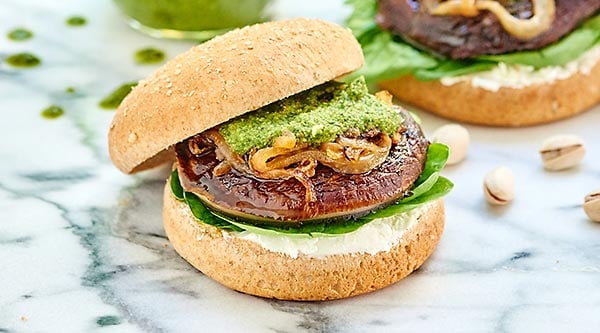 Portobello Mushroom Burger
This Portobello Mushroom Burger is vegetarian, healthy, can be gluten free, and is topped with caramelized onions, a homemade basil pesto, and goat cheese!
Ingredients
Caramelized Onions
1

tablespoon

unsalted butter

1

yellow onion

halved and sliced

2

splashes

white wine
Portobello Mushroom Burger
4

portobello mushroom caps

1/4

cup

extra virgin olive oil

2

tablespoons

balsamic vinegar

4

whole

wheat buns

1

(4 oz) log

goat cheese

softened

baby spinach

caramelized onions

from above

1/4

cup

pistachio pesto

or store bought, if preferred
Instructions
Caramelized Onions
Heat a large skillet over medium/medium low heat. Once hot, add in butter.

Once the butter has melted, add in sliced onion and cook for about 15-20 minutes, or until golden brown and caramelized.

In the last minute or two, deglaze the pan with a couple splashes of dry white wine. Cook until the wine has absorbed.

Set aside.
Pesto
You can find the directions

here

.
Portobello Mushrooms
Preheat broiler (ours is at 500 degrees F).

Gently wash and dry mushroom caps. Place them ribbed side up on a rimmed baking sheet.

Whisk together olive oil and balsamic vinegar in a small bowl.

Brush half of the oil/vinegar mixture on the ribbed sides of the mushrooms.

Broil for 5 minutes.

Flip the mushrooms and brush on the remaining oil/vinegar.

Broil for another 5 minutes.*

Remove from the oven and sprinkle with a little salt.
Assembly for one burger
Spread softened goat cheese on the bottom bun.

Top with spinach, then portobello mushroom.**

Top that with some caramelized onions and 1 tablespoon of pesto.

Top with burger bun, repeat with the remaining burgers and enjoy!
Notes
*Some of the oil/vinegar will roll off the mushrooms and may start to smoke on the pan. Don't worry...it's totally normal!
**After the mushrooms were cooked, Trevor cut the mushrooms to fit the size of bun we have on hand. This isn't necessary, but makes for a really pretty presentation!
***Gluten free? Make sure to use a GF bun! 🙂
Nutrition Information
Nutrition Facts
Portobello Mushroom Burger
Amount Per Serving (1 burger + bun and toppings)
Calories 319
Calories from Fat 261
% Daily Value*
Fat 29g45%
Cholesterol 22mg7%
Sodium 265mg12%
Potassium 356mg10%
Carbohydrates 9g3%
Protein 8g16%
Vitamin A 605IU12%
Vitamin C 2.1mg3%
Calcium 74mg7%
Iron 1.1mg6%
* Percent Daily Values are based on a 2000 calorie diet.
*Note: Nutritional information is estimated and varies based on products used.
Keywords:
mushroom burger, portobello mushroom burger