This Tartar Sauce comes together in just 5 minutes and is packed with flavors like dill, onion, and garlic. It's the perfect addition to any seafood dish and makes a delicious dipping sauce for sweet potato fries.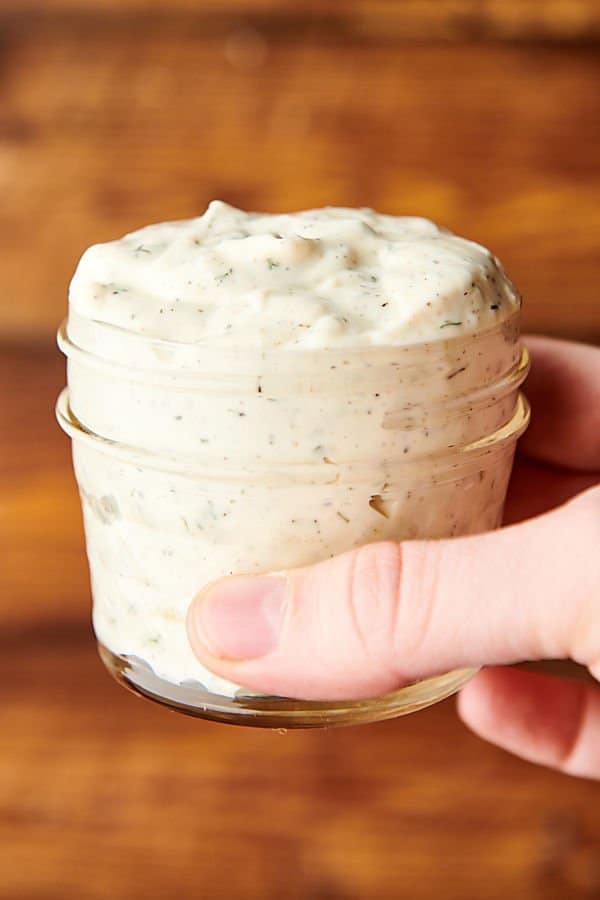 Tartar sauce brings me back to childhood summers spent at the lake in Northern Minnesota. Days were spent swimming, boating, and fishing. Nights were spent celebrating the fruits of our labor with a classic fish fry.
And what's a fish fry without a ton of tartar sauce? Back then we'd use the store-bought variety, but if you're going through all the trouble of frying fish, you might as well take an extra 5 minutes to make a homemade tartar sauce, amiright?!
What is tartar sauce?
Tartar sauce is a classic condiment commonly served with fried fish and seafood. It's typically mayonnaise based and flavored with various herbs, spices, and additional adds-ins such as capers, pickles, onion, and garlic.
Not all tartar sauces are exactly the same! While some recipes include capers and lemon juice, I decided to use dill pickle relish and pickle juice from the relish jar (less work if you ask me)!
I personally find capers too brine-y for tartar sauce, but feel free to chop some up and add them if desired. If you've run out of pickle juice, just replace with equal parts lemon juice.
Ingredients
This recipe only requires 7 ingredients, most of which you probably have in your kitchen already!
Pro tip
Use a good quality mayonnaise. The mayo is the star of this recipe and cheaper varieties often have a really overwhelming flavor.
Mayonnaise – the base for the sauce. For a lightened-up version, use an avocado oil based mayo, an olive oil based mayo, or a light mayo. If you're really trying to cut calories, you can replace 1/2 the amount with non-fat plain greek yogurt, but keep in mind, this will change the flavor and creaminess of the sauce.
Dill Pickle Relish – I love the subtle tang and sweetness of dill pickles. Feel free to chop your own dill pickles, but I also have relish in the fridge, and it's one less thing to chop. If you're looking for something punchier, try chopped capers instead.
Pickle Juice – if you're not a big fan of pickles, replace with equal parts lemon juice.
Grated Onion – adds a slightly sweet, acidic taste.
Salt and Pepper – brings out other flavors and adds a little spice.
Garlic Powder – rounds out the acidity of the onion and pickle with its nutty taste. I'm a huge raw garlic lover, but I actually prefer the subtleness of garlic powder in this recipe, because of the more powerful raw onion flavor.
Dried Dill –  gives the sauce that fresh, herbaceous aroma and taste. Feel free to use fresh, but I prefer the texture of dried dill, plus I always have dried dill on hand.
Why grated onion? Because the texture is SO much more pleasant than chopped. Nobody wants to bite into a big hunk of raw onion.
To grate an onion, start by cutting off a chunk of onion – you don't need much to create 1 tablespoon of grated onion – then peel the outer layer of the onion. Hold a cheese grater firmly with one hand, then in your other hand, hold the onion and grate it using the smaller sized holes of the grater.
Measure out 1 tablespoon of grated onion and proceed with the recipe.
How to make tartar sauce
I'm all for keeping things easy around here and you'll find plenty of store-bought condiments in my fridge. That being said, I absolutely LOVE making homemade tartar sauce. It tastes better, it only takes 5 minutes, and you can customize it to suit your tastebuds.
Combine all your ingredients in a mixing bowl then serve immediately or store in a mason jar in the fridge!
Yep! That's actually it, folks! 5 minutes and 1 bowl, and you've got an absolutely delicious, creamy condiment to pair with your seafood, fries, or whatever you like!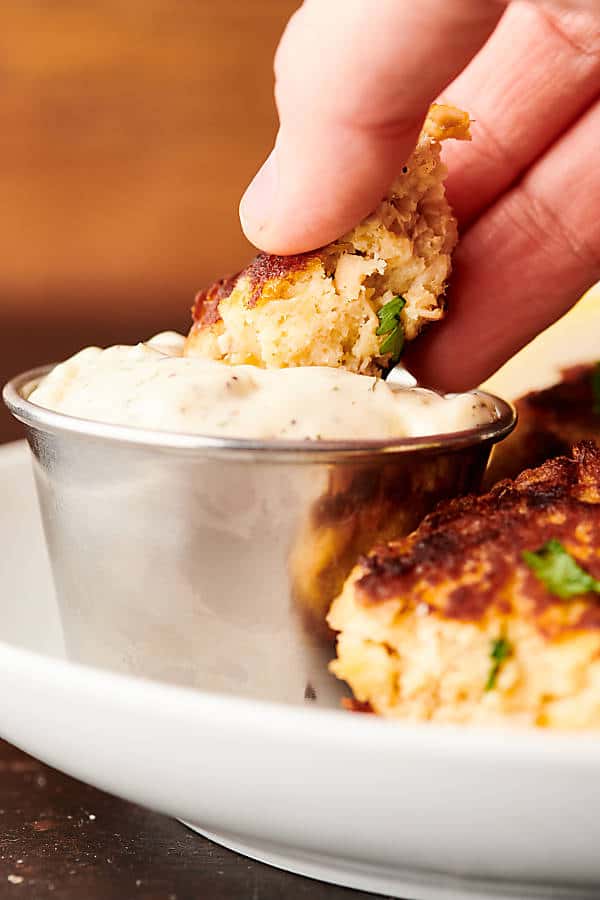 What's the difference between tartar sauce and cream of tartar?
Although these two things sound similar, they are actually not alike at all. Cream of tartar is a dry, white powder that's used in baking as a stabilizer or leavening agent. You'll often find it in fluffy baked goods like angel cake, cookies, and meringue.
Tartar sauce, on the other hand, is a mayonnaise-based condiment often served with seafood!
Is tartar sauce healthy?
Typically? No. But it greatly depends on what ingredients you're using. Today's recipe is mayo-based so it's not the healthiest of sauce options.
However, to lighten it up you could swap regular mayo for a lighter mayo like olive oil mayo – which I usually do – or even avocado oil mayo.
You could even try swapping some of the mayo with non fat plain greek yogurt. If you're going the greek yogurt route, keep in mind, the flavor will be slightly tangier, because yogurt has a more "sour" flavor than mayonnaise. I don't recommend swapping all of the mayo for yogurt because you'll loose out on the classic flavor and creamy texture.
1 tablespoon of tartar sauce (using full fat mayonnaise) has 78 calories, 8 grams of fat, 1 gram of carbs, 1 gram of fiber, and 1 gram of protein.
How do you thicken tartar sauce
If you make the recipe as directed, you shouldn't need to thicken your tartar sauce. However, if you're finding your tartar sauce too thin – your mayo may be thinner than mine; each brand is different – you can try adding more mayo and/or reducing the amount of pickle juice!.
Play around with it until you find the consistency that's just right for you! If you're adjusting the mayo and/or pickle juice, you may also need to re-season.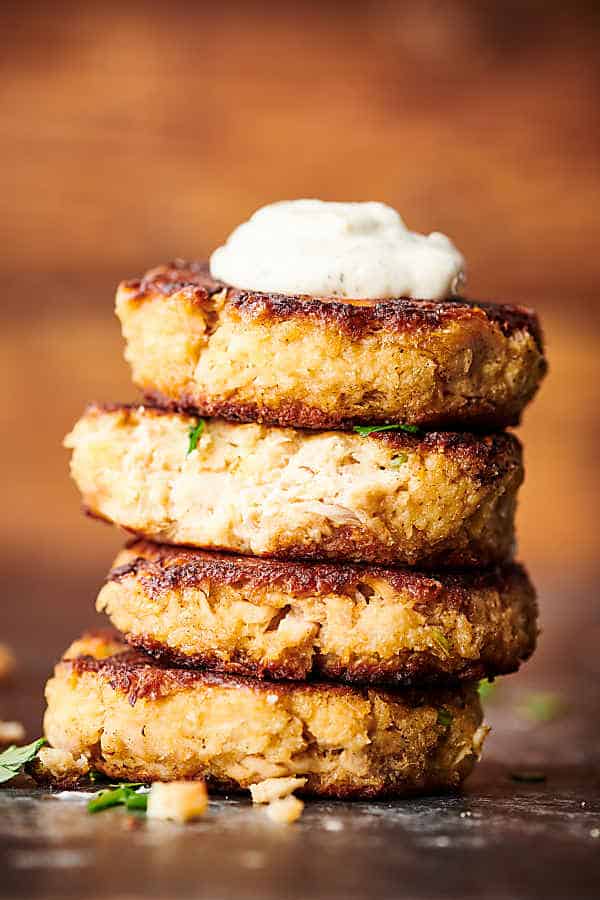 What to serve with tartar sauce
Typically tartar sauce is served alongside fried seafood, but really, the sky is the limit. Here are some of my favorite pairings:
What are YOUR favorite things to serve tartar sauce with? Let me know in the comments below!
How to store
This sauce can be stored in a sealed airtight container or in a sealed mason jar in the fridge for up to two weeks! I don't recommend freezing it because mayonnaise separates when it's frozen.
-Jennifer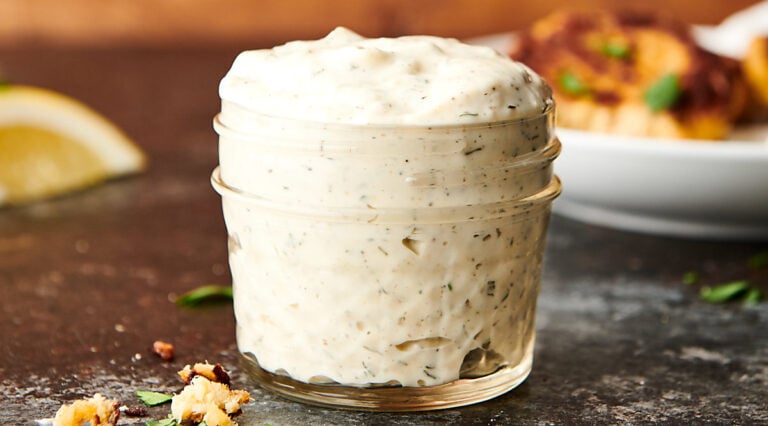 Tartar Sauce
This Tartar Sauce comes together in just 5 minutes and is packed with flavors like dill, onion, and garlic. It's the perfect addition to any seafood dish and makes a delicious dipping sauce for sweet potato fries. 
Equipment for this recipe
(equipment shown are affiliate links)
Ingredients
1

cup

mayonnaise

1

tablespoon

dill pickle relish

2

tablespoons

pickle juice

1

tablespoon

grated onion

1/2

teaspoon

salt

1/2

teaspoon

pepper

1/2

teaspoon

garlic powder

1/2

teaspoon

dried dill
Instructions
Place ingredients into a bowl and stir to combine.
STORING
*Storage times may vary based on temperature and conditions
Nutrition Information
Nutrition Facts
Tartar Sauce
Amount Per Serving (1 tablespoon)
Calories 78
Calories from Fat 72
% Daily Value*
Fat 8g12%
Cholesterol 5mg2%
Sodium 160mg7%
Potassium 2mg0%
Carbohydrates 1g0%
Protein 1g2%
Vitamin A 7IU0%
Calcium 1mg0%
Iron 1mg6%
* Percent Daily Values are based on a 2000 calorie diet.
*Note: Nutrition information is estimated and varies based on products used.
Keywords:
easy, mayo sauce, quick