This Mexican Corn Salad will totally be the star of your next BBQ. Full of roasted corn, creamy avocado, fresh cilantro, lime, and tons of spices, it's SO full of texture and flavor.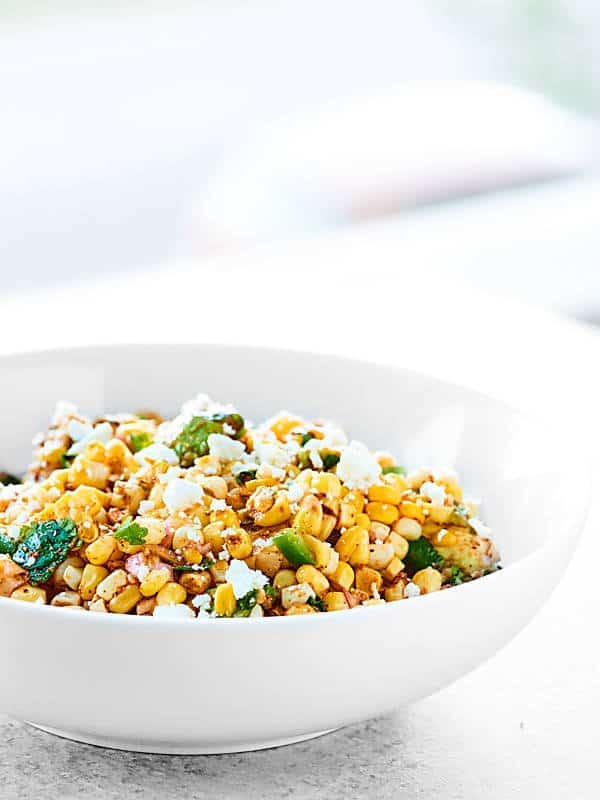 Trevor loves corn. Like he loooooooves it. Give him all the roasted corn on the cob, extra in his nachos, and don't even think about sharing this Mexican Corn Salad with him, because he'll for sure eat the whole bowl. 😉
Because he loves corn so much, as I'm sure you guessed, Trevor's really excited about today's recipe.
The star is definitely the corn, which is awesome, and when combined with spicy jalapeno (if you wish), creamy avocado, tangy lime, and loads of spices. . .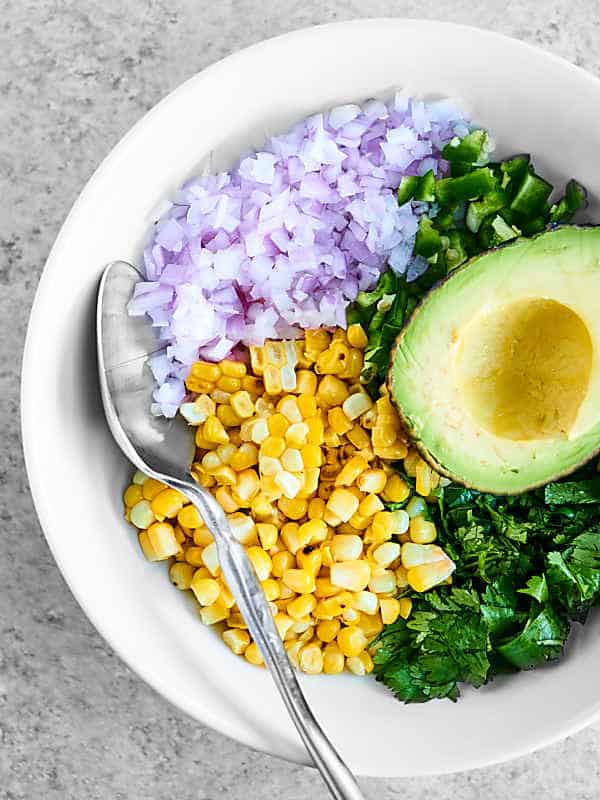 I mean. It's just too good.
Perfect on its own or mixed in with your favorite salad, this Mexican Corn Salad is summer at its finest.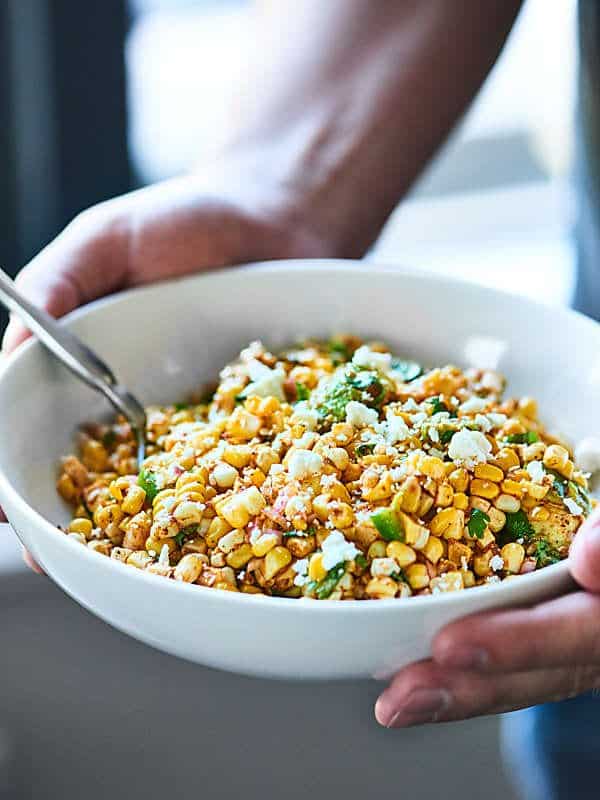 By now, you guys know that I go to BBQs and picnics, etc for the side dishes. While I truly do love kebabs and burgers, I could easily skip the main and go straight for the sides and dessert table. I mean. Come on. Pasta salad and brownies? Who's with me?!
I feel like this summer, I should throw a sides and desserts (& drinks – duh!) only party and bring all my favorite summer dishes.
Caprese Pasta Salad, Berry Fruit Salad, One Bowl Brownies, and Watermelon Sangria would for sure be there and now. . .
So would this Mexican Corn Salad.
Here's why I love it so much: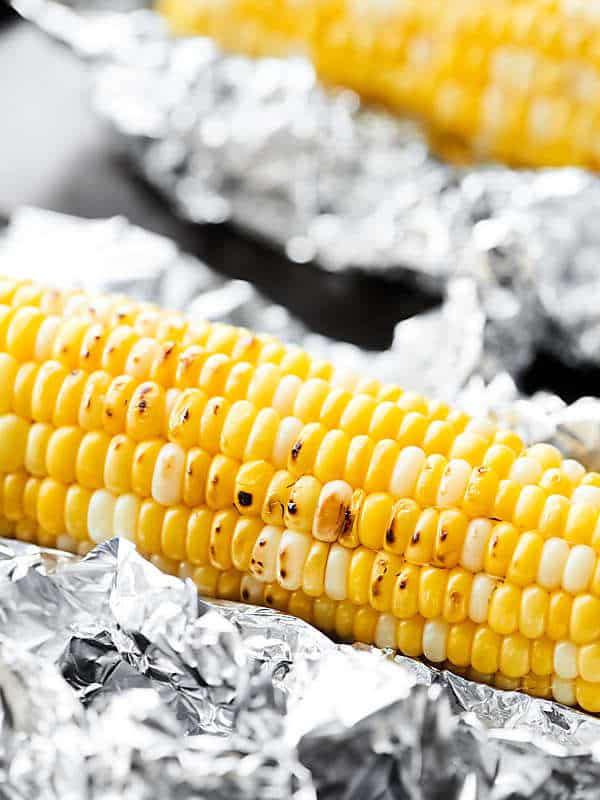 #1 It's Easy – of course.
#2 It's Yummy – how can it not be with all that sweet corn?!
#3 It's Healthy – which is sometimes hard to do at summer BBQs, because I mean, um potato salad anyone?!
#4 It's Versatile – amazing on it's own OR mixed into other things.
Let's back it up and talk about Reason #1: It's Easy.
Start by roasting your corn. I did this in the oven, but I seriously think it would be amazing for you to roast this on the grill. I just pulled a lazy girl move and really didn't want to walk all the way up to the roof of my apartment building to use the grill. #lazygirlprobs
After your corn has roasted to perfection, you'll cut the kernels into a bowl (see video above for visuals 👆) and toss the kernels together with red onion, avocado, jalapeno, cilantro, lime juice, a teeeeny touch of olive oil, and a whole lotta spices: chili powder, smoked paprika, garlic powder, cumin, salt, and black pepper.
Mix it together until well combined and then top it with delish, salty, crumbled cotija or feta… which leads us to Reason #2 why I love this Mexican Corn Salad: It's Yummy.
Crunchy, sweet, corn + creamy avocado + a little kick from the jalapeno + loads of fresh cilantro, bright lime, and smoky spices. . . it's mind blowing. I just love how much texture, flavor, and fresh…ness is packed into this salad.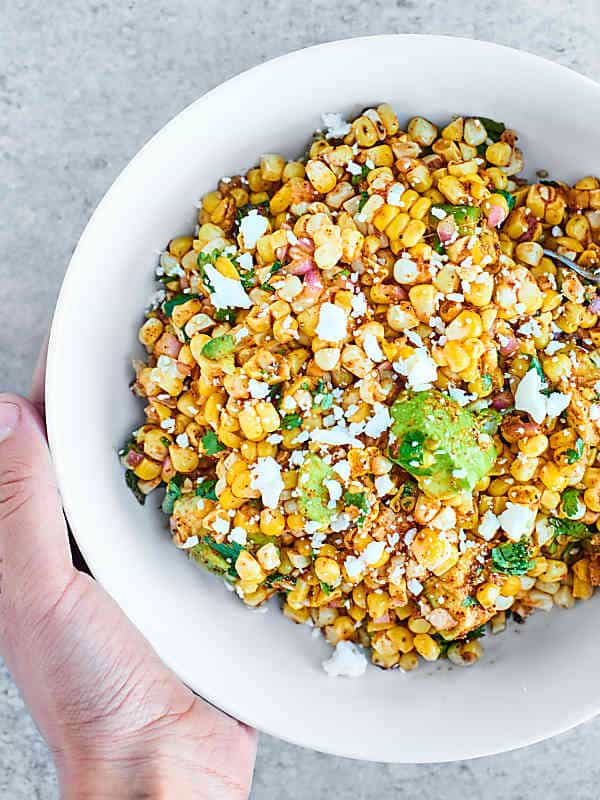 I also love that it's totally healthy! Loaded with fresh, seasonal ingredients, this Mexican Corn Salad is a side dish you don't have to feel guilty about stuffing your face with at your next BBQ. OH! And I almost forgot, it's totally vegan and gluten free, so it's perfect for those with certain dietary restrictions. Total crowd pleaser!
The last reason I love this Mexican Corn Salad so much, is that it's so darn versatile. Honestly, Trevor and I were eating this by the spoonful, which is what I intended for this recipe, but then we had leftovers and were making salads one night, so I threw a couple spoonfuls in, and ohmygosh it took my salad to the next level. I also think this would be amazing as a "salsa" on top of my Slow Cooker Pork Carnitas. Why haven't I done that yet?!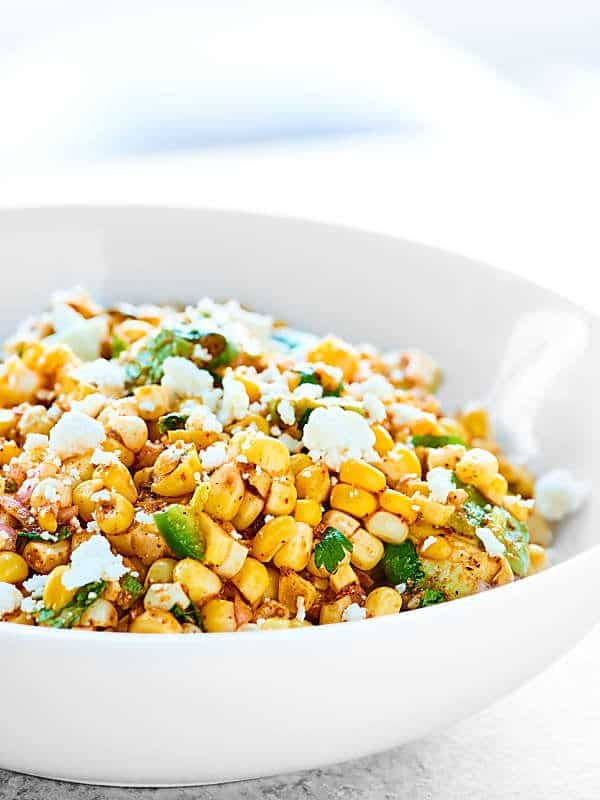 Fresh. Healthy. Full of flavor and texture. Make this Mexican Corn Salad Recipe and be the hit of your next summer gathering.
– Jennifer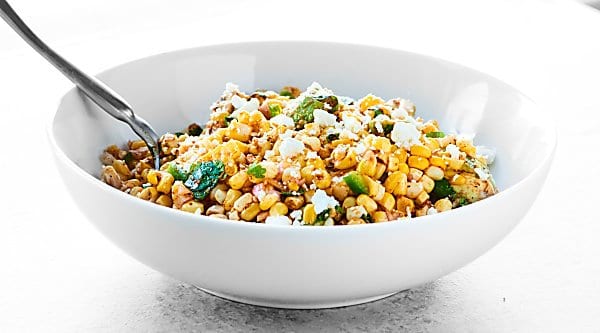 Mexican Corn Salad Recipe
This Mexican Corn Salad will totally be the star of your next BBQ. Full of roasted corn, creamy avocado, fresh cilantro, lime, and tons of spices, it's SO full of texture and flavor.
Equipment for this recipe
(equipment shown are affiliate links)
Ingredients
4

ears

corn

husked and cleaned

1/4

cup

diced red onion

1/2

avocado

diced (more if desired)

1/2

jalapeño

minced (seeded for a more mild flavor)

1/4

cup

Cilantro

minced

2

tablespoons

lime juice

1

tablespoons

olive oil

1/2

teaspoons

chili powder

1/2

teaspoon

smoked paprika

1/2

teaspoon

garlic powder

1/2

teaspoon

cumin

1/2

teaspoon

salt

1/2

teaspoon

freshly ground black pepper

Crumbled cotija or feta

for topping (leave off, if vegan)
Click to Keep Device on While Cooking
Instructions
Preheat oven to 450 degrees and wrap each piece of corn in a sheet of foil.

Make sure the foil is completely sealed.

Bake corn for 20-30 minutes, or until the corn is tender.

Let sit for about 5 minutes to cool slightly.

Remove foil and cut the corn using a knife into a large bowl.

To the bowl, add the rest of the ingredients.

Toss to combine, and taste and re-season, if necessary.

Top with crumbled cotija or feta, serve, and enjoy!
STORING
*Storage times may vary based on temperature and conditions
Notes
You could definitely grill the corn, too!
Nutrition Information
Nutrition Facts
Mexican Corn Salad Recipe
Amount Per Serving
Calories 106
Calories from Fat 54
% Daily Value*
Fat 6g9%
Sodium 208mg9%
Potassium 253mg7%
Carbohydrates 14g5%
Protein 3g6%
Vitamin A 325IU7%
Vitamin C 9.3mg11%
Calcium 2mg0%
Iron 0.6mg3%
* Percent Daily Values are based on a 2000 calorie diet.
*Note: Nutrition information is estimated and varies based on products used.
Keywords:
corn on the cob, fresh, summer