This Instant Pot Mexican Chicken is quick, healthy, flavorful, and versatile. Cube or shred then serve in tacos, burritos, enchiladas, salads, and more!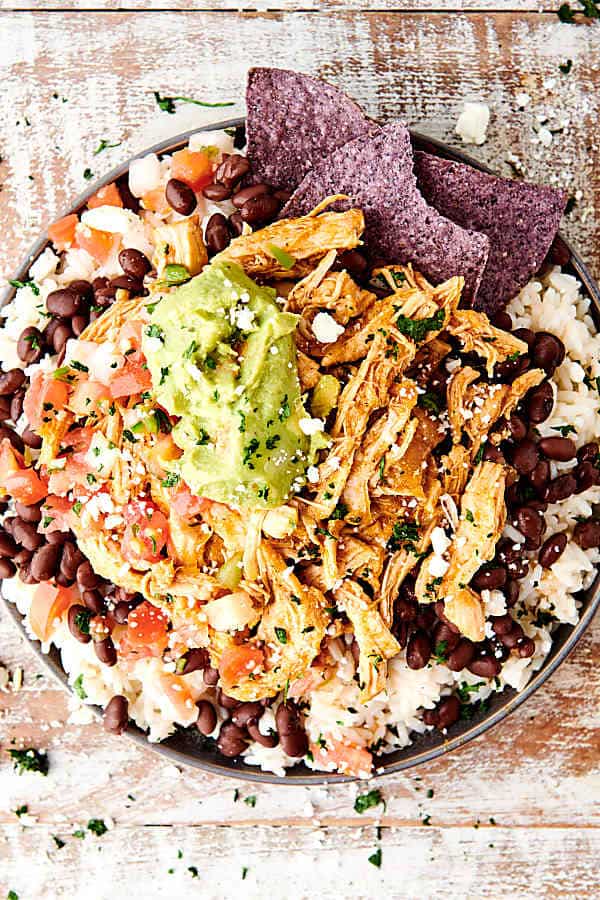 This instant pot Mexican chicken is a quicker version of my crockpot Mexican chicken! Both are easy, delicious, kid approved, and versatile. Make this instant pot version when you need a last minute dinner. Make my crockpot version when you have time to throw dinner together in the slow cooker before work.
Either way, you won't be disappointed.
Ingredients
Fresh may be best, but I'm a HUGE fan of bottled orange, lime, and lemon juice to keep the prep time quick in this recipe.
Extra Virgin Olive Oil – used to cook the onion directly in the instant pot.
Yellow Onion – adds a sweet caramel-y flavor and additional texture.
Orange Juice, Lime Juice, Lemon Juice, and Soy Sauce – makes up a sweet, citrusy, tangy, and salty base for the sauce and marinade for the chicken. The acidity in the juices also help break down the chicken breasts so they become extra tender and flavorful.
Chicken Breast – use boneless and skinless chicken breasts or chicken thighs for perfectly cubed or shredded chicken. The cook time shouldn't change.
Paprika, Cumin, Chili Powder, Onion Powder, Garlic Powder, Salt, and Pepper – a sweet and zesty seasoning blend that gives the chicken those classic Mexican inspired flavors.
Taco or Burrito Fixings – any of your favorites! Rice, beans, pico de gallo, guacamole, salsa, you name it.
Pro tip
Out of spices? Use taco seasoning instead! 1-2 (1 oz) packet(s) should do the trick.
How to make
This super versatile chicken recipe comes together with just 15 minutes of prep!
Hit SAUTE on your instant pot then, once it reads hot, add in oil and onion. Cook for 5 minutes.
Hit CANCEL on the instant pot, then pour in orange juice, lime juice, lemon juice, and soy sauce. Scrape up any brown bits so you don't get a "burn" notice.
Add in chicken breasts then sprinkle with seasonings. Cover and lock the lid and cook on HIGH for 10 minutes.
Flip the valve for a quick release, shred the chicken, then serve as desired!
Pro tip
It's important to add the chicken breasts before the spices. Ideally you want to keep the spices off the bottom of the Instant Pot, because they could stick and burn which would give you a BURN notice.
How to shred chicken
There are three ways to easily shred chicken: with two forks, a hand mixer, or a stand mixer.
To shred chicken with two forks: either hold a fork in each hand and pull the chicken apart or use one of the forks to steady the chicken while you use the other to pull.
To shred chicken with a hand or stand mixer: place chicken in a large bowl or in the bowl of your stand mixer, then use the beater or paddle attachment and turn the mixer on low to shred the chicken.
Pro tip
Shred the chicken while it's hot, it's much easier to do than when it's cold.
Can you use frozen chicken
You can, but you'll likely end up with excess moisture from the thawing chicken which may thin out the sauce too much. If you're going to use frozen chicken you'll need to cook on HIGH pressure for about 25 minutes.
You can also thaw your chicken. To thaw frozen chicken quickly, place it in a bowl of cold water and let it sit for about an hour, changing the water out every 20 minutes so it doesn't get too warm.
How to thicken
If your chicken came out too watery, you have a couple of options:
Sauté longer. Hit SAUTE on your instant pot and let the mixture simmer until the excess moisture evaporates.
Make a cornstarch slurry. Whisk together 1 tablespoon of cornstarch with 3 tablespoons of cold water until smooth. Stir little bits of that at a time into the chicken mixture until it's thickened to your liking.
Can you make mexican chicken in the oven?
Yes! If you don't have an instant pot, you can make Mexican chicken in the crockpot or in the oven!
Place chicken breasts in a large ziplock baggie along with the oil, onion, juices, soy sauce, and spices. Allow to marinate at room temperature for 30 minutes or (preferably) up to 8 hours in the fridge.
Preheat oven to 450 degrees F, line a baking sheet with a silicone baking mat, then dump the contents of the ziplock onto the prepared baking sheet.
Bake in preheated oven for 15-20 minutes or until the internal temperature is at least 165ºF.
Shred the chicken, then serve as desired.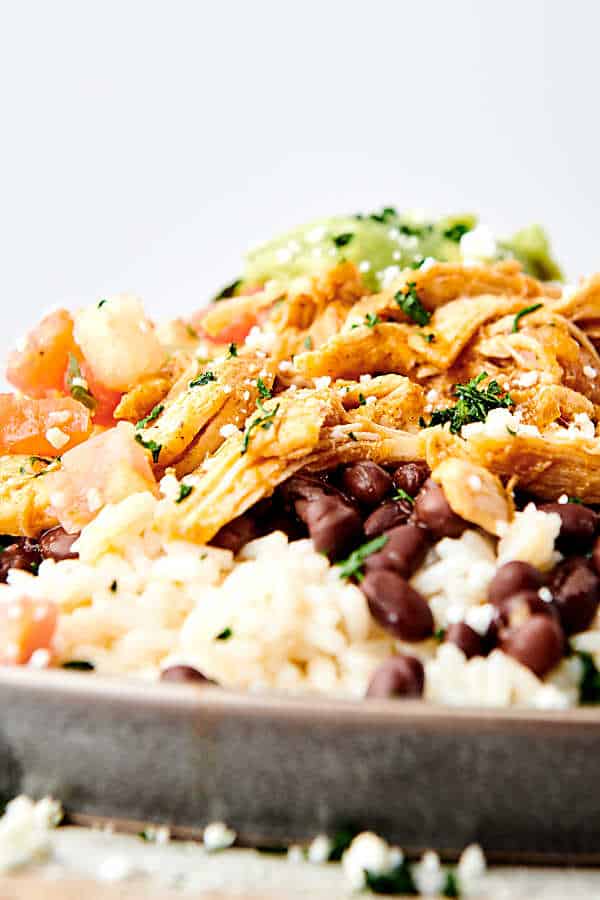 How to serve instant pot mexican chicken
This Mexican chicken is so versatile and can be used in a number of different ways!
In tacos. Add it into soft or hard taco shells with your favorite fixings.
As filling for burritos or burrito bowls. Wrap it up in a tortilla with rice and beans, corn salsa, pico, guacamole, etc. Skip the tortilla to make this a burrito bowl.
On taco salad. Toss it with shredded lettuce, shredded cheese, sour cream, black olives, and crushed tortilla chips. Serve with a chili lime vinaigrette or salsa as a dressing.
On nachos. Layer it on loaded nachos.
In quesadillas. Sandwich it between two of your favorite tortillas with cheese and other fillings such as sautéed peppers, if desired.
In enchiladas. Use it in my chicken enchiladas recipe.
How to store
Leftover Mexican chicken will last in an airtight container in the fridge for 3-4 days or in the freezer for 2-3 months.
To reheat, you have three options:
Stovetop —melt a little butter or oil in a skillet, add in chicken, then sauté until warm.
Microwave — place in a microwave-safe container, cover with a damp paper towel, and microwave for 1 minute.
Oven — preheat to 425ºF, place the chicken in a baking dish, cover with foil, and bake for 20 minutes.
– Jennifer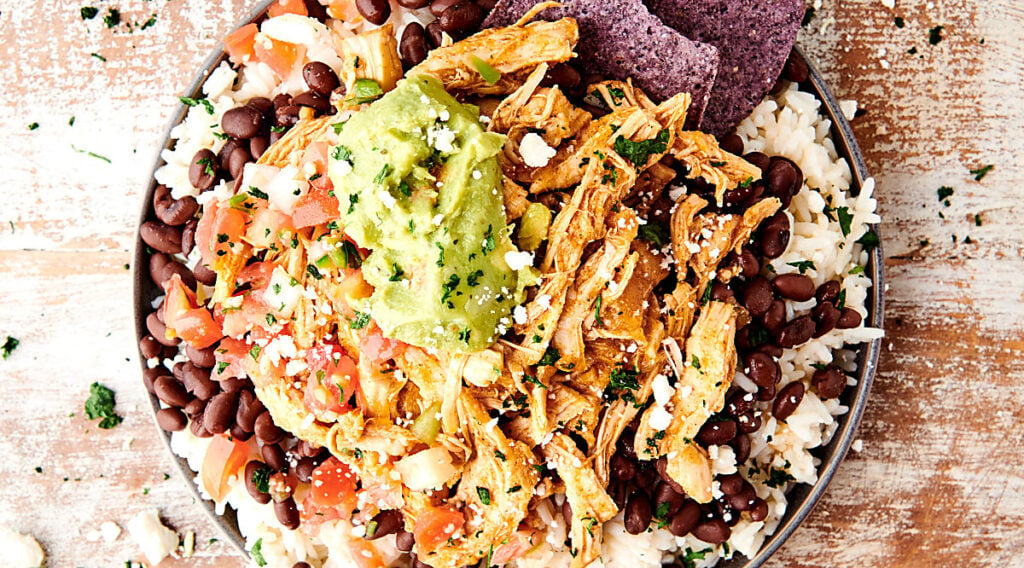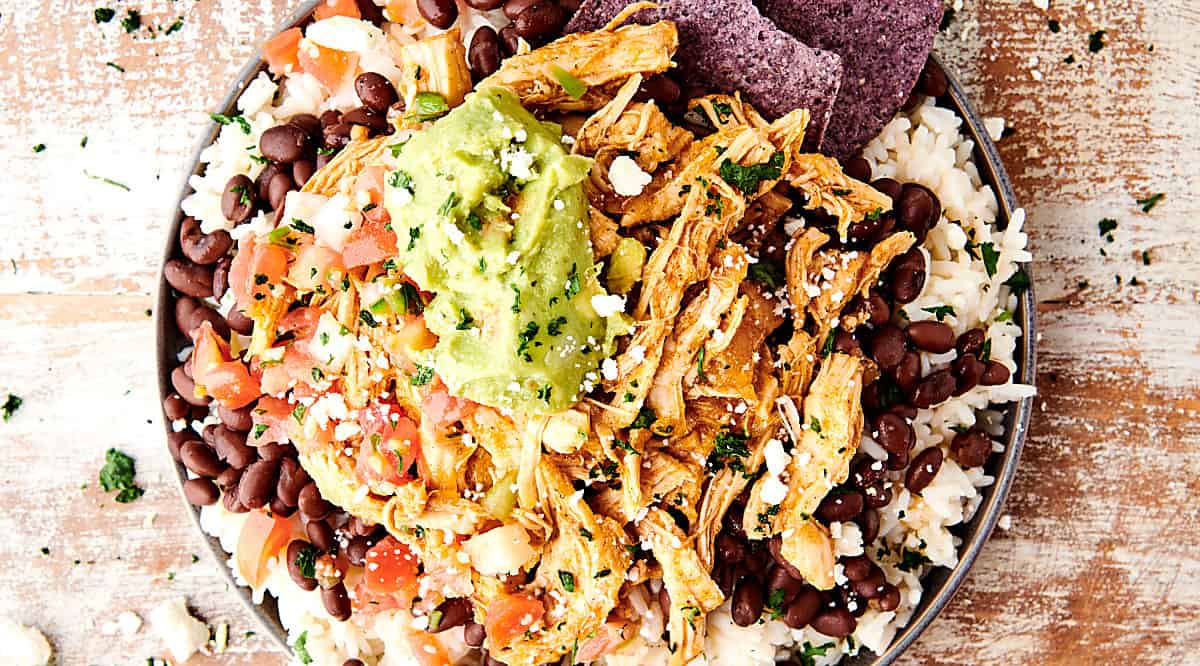 Instant Pot Mexican Chicken
This Instant Pot Mexican Chicken is quick, healthy, flavorful, and versatile. Cube or shred then serve in tacos, burritos, enchiladas, salads, and more!
Equipment for this recipe
(equipment shown are affiliate links)
Ingredients
1

tablespoon

extra virgin olive oil

1

medium

yellow onion

sliced

1/4

cup

orange juice

1/4

cup

lime juice

1/4

cup

lemon juice

1/4

cup

soy sauce

or gluten free alternative

4

(8 oz)

boneless skinless chicken breasts

1

teaspoon

paprika

1

teaspoon

cumin

1

teaspoon

chili powder

1

teaspoon

onion powder

1

teaspoon

garlic powder

1

teaspoon

salt

more or less to taste

1/2

teaspoon

pepper

Favorite taco fixings or burrito bowl fixings

for serving, if desired
Instructions
Hit SAUTE on your 6 quart Instant Pot.

Once it reads HOT, add in oil and onion.

Cook, stirring regularly, for 5 minutes.

Hit CANCEL on the Instant Pot, then pour in the orange juice, lime juice, lemon juice, and soy sauce, scrapping up any brown bits from the bottom.

Add in the chicken breasts, then sprinkle the chicken with paprika, cumin, chili powder, onion powder, garlic powder, salt, and pepper.

Cover and lock the lid - make sure the pressure valve is pointed toward SEALING.

Cook on HIGH pressure for 10 minutes, then flip the valve for a quick release.

Shred the chicken and serve, as desired!
STORING
Reheat:
Thaw in the fridge if frozen then microwave, bake, or heat on the stove until warmed
*Storage times may vary based on temperature and conditions
Nutrition Information
Nutrition Facts
Instant Pot Mexican Chicken
Amount Per Serving (1 person)
Calories 166
Calories from Fat 45
% Daily Value*
Fat 5g8%
Cholesterol 73mg24%
Sodium 833mg36%
Potassium 511mg15%
Carbohydrates 5g2%
Protein 25g50%
Vitamin A 255IU5%
Vitamin C 12mg15%
Calcium 18mg2%
Iron 1mg6%
* Percent Daily Values are based on a 2000 calorie diet.
*Note: Nutrition information is estimated and varies based on products used.
Keywords:
healthy, instant pot, shredded chicken