This Healthy Mexican Casserole is full of good for you ingredients like ground turkey, quinoa, black beans & bell peppers! Healthy Mexican food? Yes please!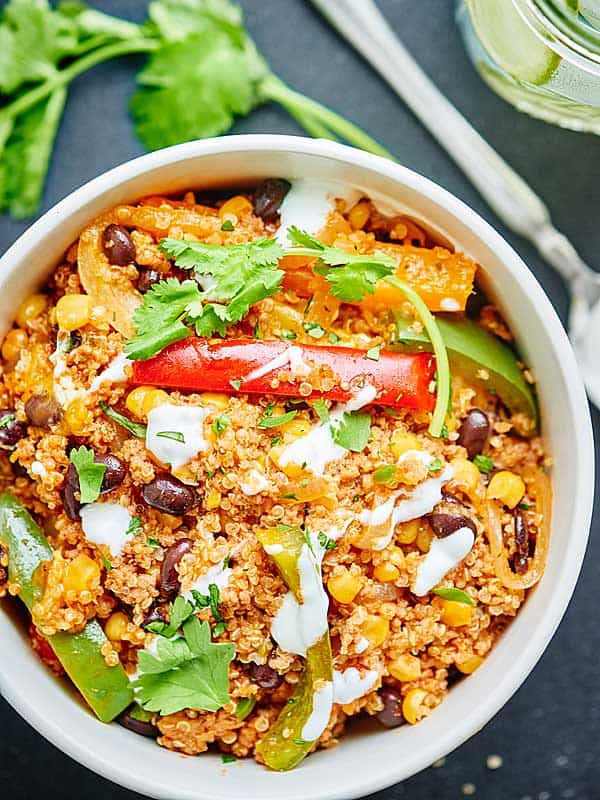 I'm gonna let you in on a little secret….I love Mexican food! Oh wait. I've probably told you that like 1,000,000 times, but for those of you just joining us… I LOVE Mexican food.
Every Friday night, while Trevor and I were living in Seattle, you could find Trevor and I sitting in the same Mexican restaurant (we miss you Plaza Garibaldi)… at the same table…eating the same thing.
Exciting right? 🙂
I can't help it. It was like clockwork.
Friday night rolls around and I'm majorly craving my favorite chips and salsa, margarita, and Pollo Macho <– literally to die for.
Now that we're in Madison, and trust me, I've done my research, I can't for the life of me find Mexican food that I'm craaaaazy about. Any Madison readers out there?
HELP. ME.
But maybe it's for the best, because Trevor and I are actually going to Cancun (eeeeek!!!!) in December, so maybe I should lay off the chips and salsa for a bit?
Maybe.
To get my Mexican food fix in a much healthier way, enter: Healthy Mexican Casserole.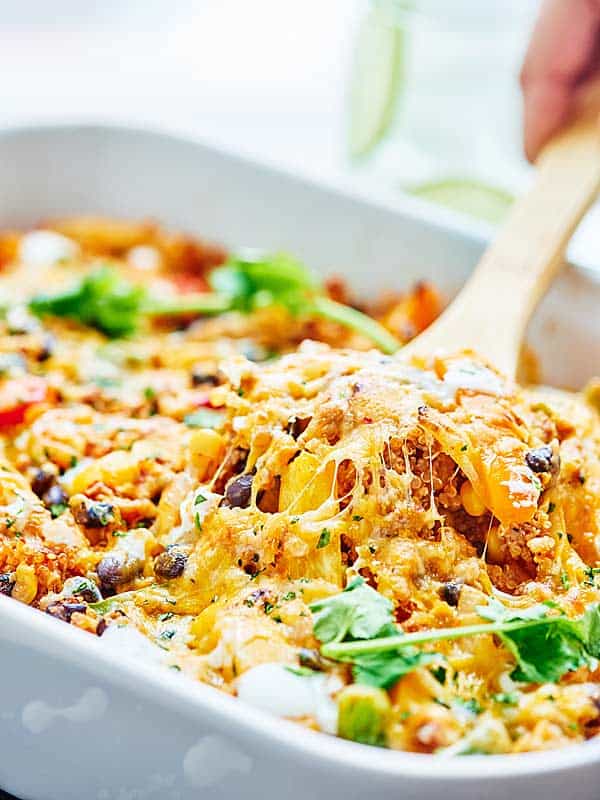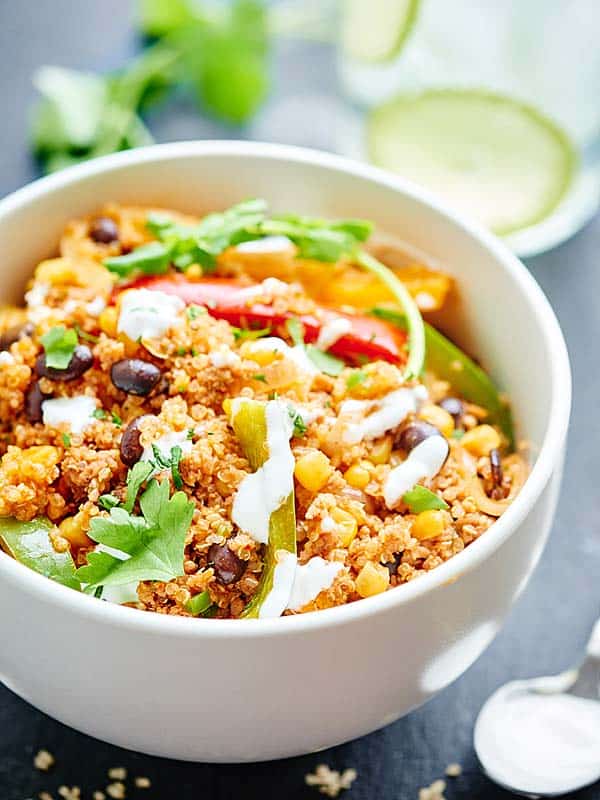 This Healthy Mexican Casserole came to be, because it was Friday and naturally, I was craving Mexican food. But like I said, Trevor and I are heading to Cancun in December.
But how can I make Mexican food healthier while still tasting totally drool worthy?
First, I swapped the white rice for quinoa. Quinoa is full of protein (is naturally gluten free, btw!), but still gives you that carby yumminess we all love about Mexican food.
Next, since Thanksgiving is on the brain, I decided to use lean ground turkey. Healthy, lean, and full of protein. Perfect!
Then I loaded up the veggies: onion, jalapeno, 4 (yes FOUR) whole bell peppers, and a little garlic.
I also added in black beans for more texture and protein, and I mean, let's be honest, it's my favorite part of Mexican food.
So great! This is healthy. We're already winning, but did I mention it's also really easy and I swear to you, this hardly dirties any dishes! Woot woot! Winning #2.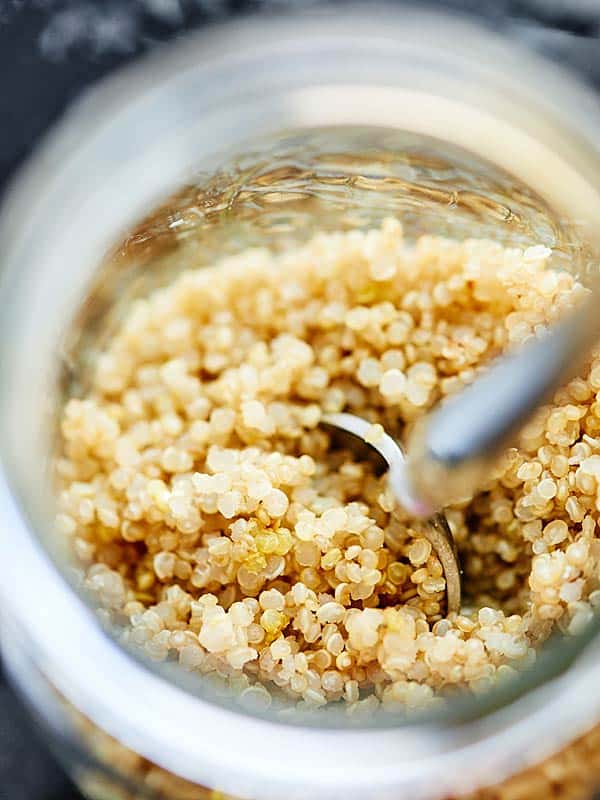 First, make the quinoa. Make this the day before if you're really crunched for time! Combine quinoa and chicken broth – I always use chicken broth to add flavor – and let it do it's thang. Ok?
Now, before we start with the meat and veggies, let me tell you right now, use a LARGE saute pan. Like. A really big one, because everything gets combined in the saute pan, before we bake this Healthy Mexican Casserole in the oven.
Heat oil in your LARGE 😉 saute pan over medium heat. Then cook the meat and spices together until the meat is no longer pink.
Next add in the veggies and cook them until they're tender crisp. And by that I mean, cook them until they're tender, but still a little crunchy. No mushy veggies allowed, please.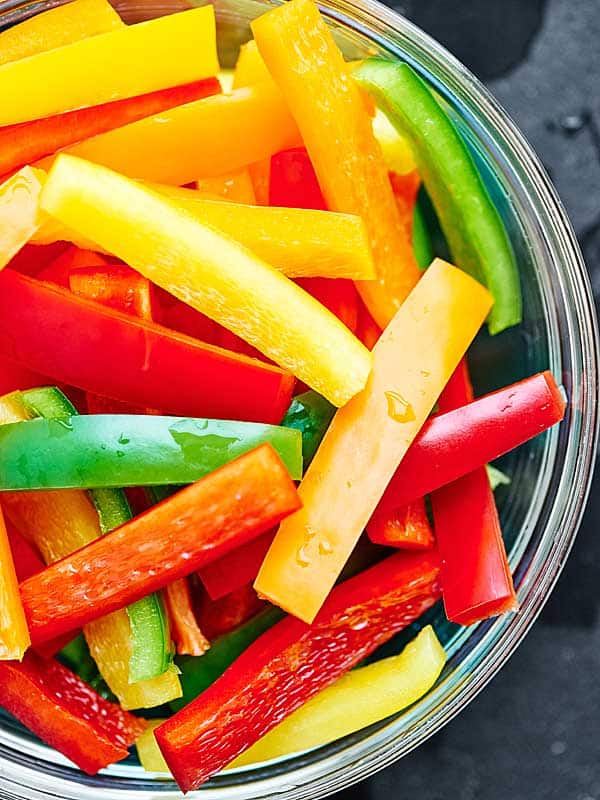 Then all you need to do is stir in some black beans, corn, enchilada sauce, your cooked quinoa, and the teeny tiniest bit of cheese, because I can't not. You know? But if you're feeling really awesome, I'm sure you could go ahead and nix the cheese, but I mean…live a little, right? 😉
Be careful when you're stirring this all together, because your pan will be F.U.L.L.
Then transfer this to a 9 x 13 in baking dish, top with a liiiiiitle bit more cheese, and bake in the oven until it's hot and bubbly!
You guys. That's only TWO dirty dishes and it makes a ton, so you won't have to cook again for days….DAYYYYS 🙂
This Healthy Mexican Casserole will come of the oven and I promise you, you'll just die from the amazing smell.
And the texture of this Healthy Mexican Casserole? It's crazy good. I love the combo of the grainy quinoa, with tender ground turkey, and the crunchy veggies. Just. Yum!!
Oh and the flavor? Yeah. Ah-mazing. I <3 the combination of enchilada sauce with the spices: chili powder, cumin, salt, and pepper.
I also have to say, these leftovers make really incredible nachos. I couldn't resist. I layered some tortilla chips (um, they were organic 😉 ) on a baking sheet, topped them with a bunch of this Healthy Mexican Casserole, a bit more cheese, and broiled them until the cheese was melty. Served with salsa and sour cream?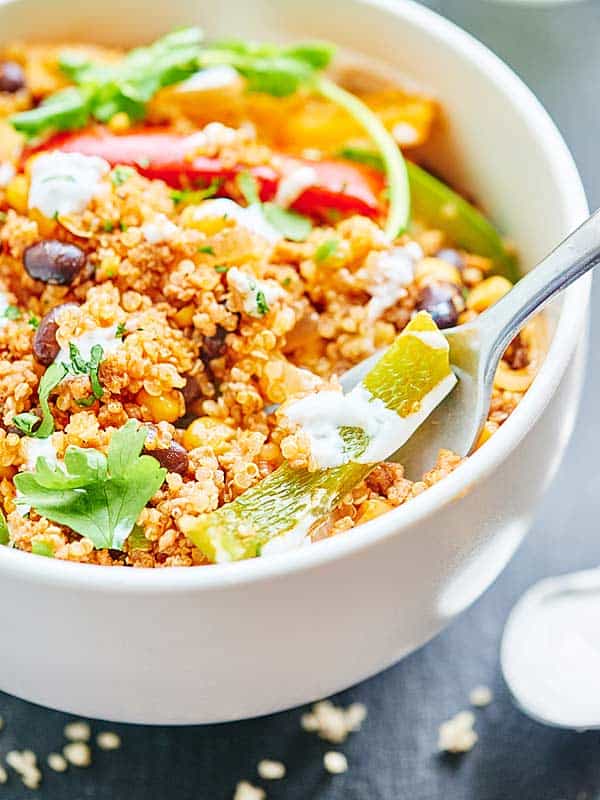 Um. Yes please!  We always substitute non-fat plain greek yogurt for the sour cream.
– Jennifer
If you love Mexican food as much as I do, but want a healthier option, you'll also really love my One Pot Mexican Chicken & Rice Soup and my Mexican Vegetable Soup!
Are there any Mexican recipes you'd like to see me health-ify? Show me the yummy!
Healthy Mexican Casserole
This Healthy Mexican Casserole is full of good for you ingredients like ground turkey, quinoa, black beans & bell peppers! Healthy Mexican food? Yes please!
Servings
:
6
people
Results and timings may vary when adjusting servings
Ingredients
1

cup

uncooked quinoa

chicken broth

1

tablespoon

extra virgin olive oil

1 1/2

pounds

ground turkey

1/2

tablespoon

chili powder

1

teaspoon

cumin

1/2

teaspoon

salt

plus more to taste

1/4

teaspoon

black pepper

1

jalapeño

minced (seeds and ribs removed for a more mild flavor)

1

onion

sliced

4

bell peppers

sliced

2

cloves

garlic

pressed or minced

1

(15 oz) can

black beans

rinsed and drained

1

(15 oz) can

corn

drained

1

(10 oz) can

enchilada sauce

2

cups

shredded Mexican style cheese

divided*
Optional toppings
Cilantro

non fat plain greek yogurt or sour cream

salsa

crushed tortilla chips
Instructions
Cook quinoa according to package directions, but instead of using water, use chicken broth (and cook it with 1/2 cup less liquid then package suggests). Set aside.

Preheat oven to 375 degrees F and grease a 9x13 inch baking dish.

Heat oil in a large saute pan over medium - medium high heat. Add in meat and spices and cook until no longer pink, breaking it up as it cooks.

Add in veggies: jalapeno, onion, peppers, garlic, season with a touch of salt, and cook until crisp tender, about 3 minutes.

Stir in black beans, corn, enchilada sauce, cooked quinoa, and 1 cup of Mexican-style cheese.

Season with salt, if necessary.

Transfer to the greased 9x13 inch baking dish and sprinkle with remaining cheese.

Bake in preheated oven for 15 minutes or until mixture is hot and cheese is melty.

Serve immediately with optional toppings!
Notes
*Feeling really healthy? Feel free to omit (or lessen) the cheese!
Make this recipe?
Show

ME

the Yummy
Tag @ShowMeTheYummy & #ShowMeTheYummy on Instagram
* This post contains affiliate links. We receive a commission on purchases made via these links. The price you pay is not affected by using them.