Want restaurant quality Mexican food at home? Look no further, these sizzling chicken fajitas will surely hit the spot!
Heeeelllooo Foodie Blogger World! I am so excited to tell you that this is my first official post as a fellow foodie blogger! My husband, Trevor, and I have been talking about starting a food blog forever, but never turned that thought into action (read more about us!). Well…we finally did it. So, in honor of our first month anniversary, here ya go!
And now….on to the post!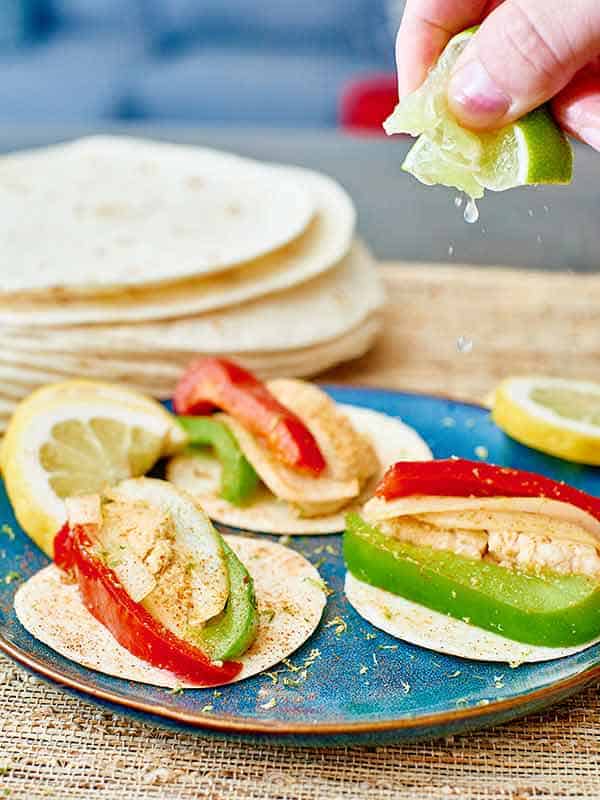 It's Friday Night – Mexican Night…on Monday! We're whipping up our go-to chicken fajitas recipe. What is it about sizzling, spicy chicken, with crunchy bell peppers, caramelized onions, and rice and refried beans, piled inside a flour or corn tortilla that's just SO… DARN… GOOD?
Ever since Trevor and I moved to Seattle, we've started the weekend with chips, salsa, margaritas and chicken fajitas at our favorite Mexican Restaurant, Plaza Garibaldi. We figure we've been to Plaza over 100 times. We have a problem. But sometimes we just can't wait until Friday, so we pretend it is by making these chicken fajitas while sipping on our favorite homemade margaritas.
Oh, and vegetarians, don't run away just yet, because these fajitas can easily be made into your new favorite meatless fajitas!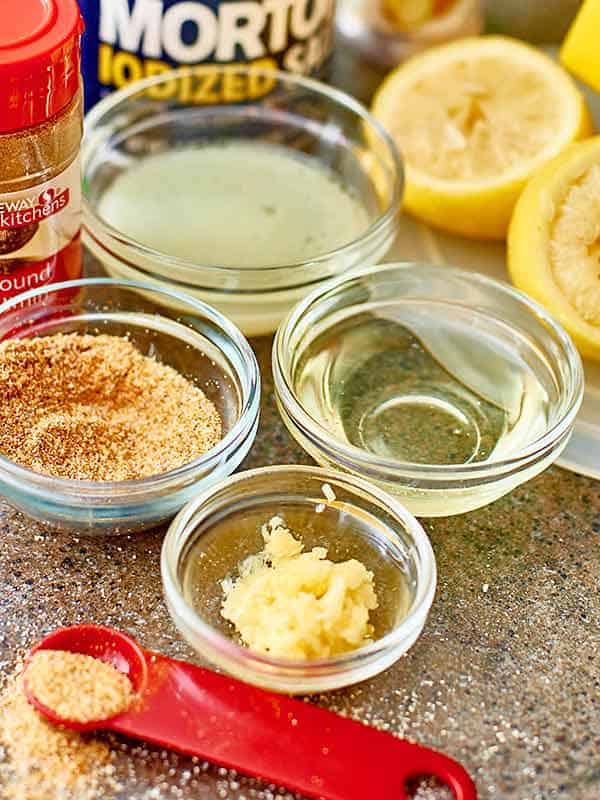 These chicken fajitas are truly fantastic and can easily be played around with to suit your tastebuds. Did I also mention they're a breeze to make, can be made ahead in advance, AND makes enough for leftovers for the week? Ohhhh yea, Mexican every night this week.
First, you need to grab yourself a margarita. On the rocks. With salt. Preferably lime, but any flavor will do. Now, take a sip and set aside for later. Ready? Okay.  Let's start with the marinade. Lemon, vegetable oil, a few spices, and a touch of salt. Easy! Pour into a gallon sized baggy and add precut chicken breast tenders (vegetarians – just skip the chicken and marinade the veggies for 30 minutes – um, yum.).
That's it. You're done. Place in the fridge and walk away.
If you can, let the chicken marinade in the fridge for about 24 hours to soak in all of those amazing flavors, but if you're crunched for time, 20 minutes will be just fine.  Just make sure to pierce the chicken with a fork, as it helps the chicken absorb more of the marinade and ensures juicy deliciousness. The spices add a nice kick to the chicken fajitas and make them so yummy!
Now sip your margarita (or two) until you're ready to cook.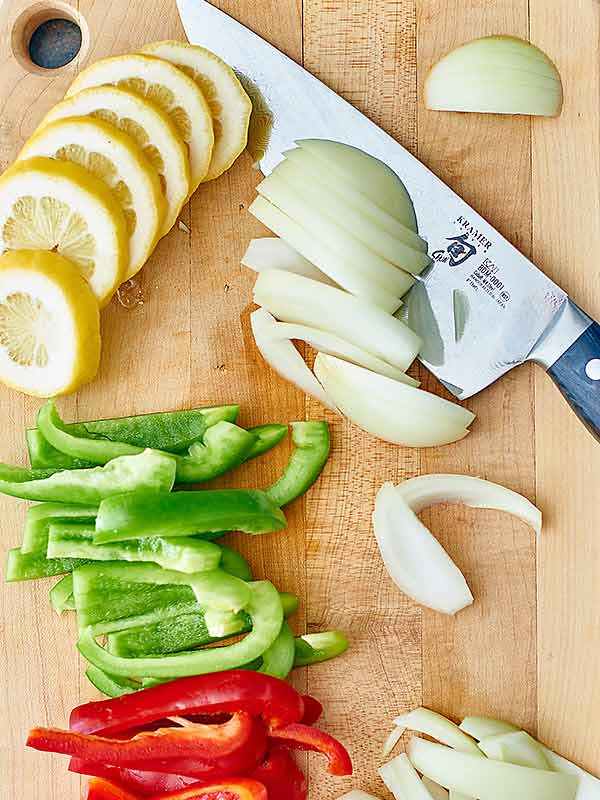 Trevor and I are creatures of habit, we try so hard to venture out and try new places, but every Friday night, you'll find us at the same Mexican restaurant, at the same table, in the exact same spots (seriously, did I mention we have a problem?). Are you like that, too?  Anyway…back to the chicken.
Oh and don't forget! [Sip margarita here]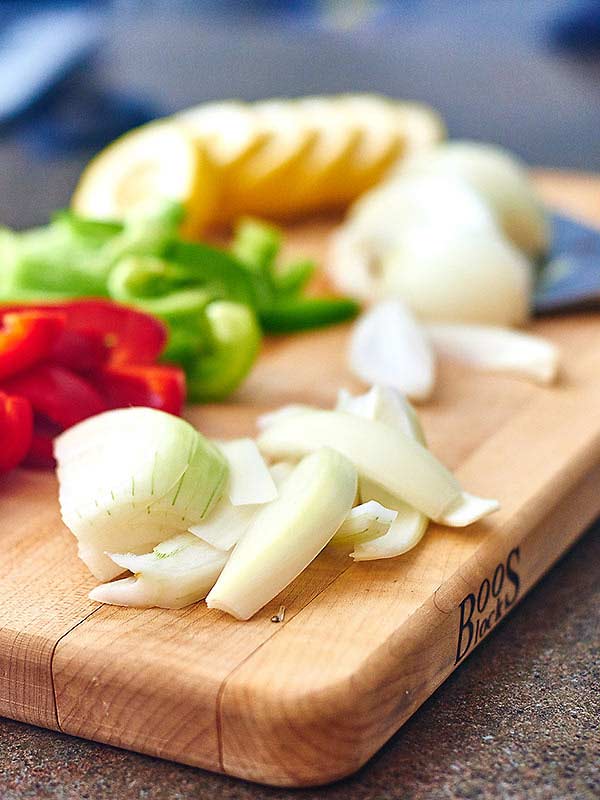 When you're ready to cook, heat a pan with a touch of butter over medium high heat and sauté the chicken, or vegetarians, your veggies until cooked through. Since we're using chicken tenders, it shouldn't take more than 10 minutes. When the chicken is done, remove from pan, reserving the liquid, and sauté your veggies in the leftover liquid, until desired crispness is reached. Season with plenty of salt.
Now, warm up your favorite tortilla, fill with rice, beans, cheese, meat and veggies and top with sour cream, salsa, and um, more cheese. Roll it up burrito style and take a huge bite while trying to contain the drizzle of juices that are now running down your face.
Sip your margarita and repeat!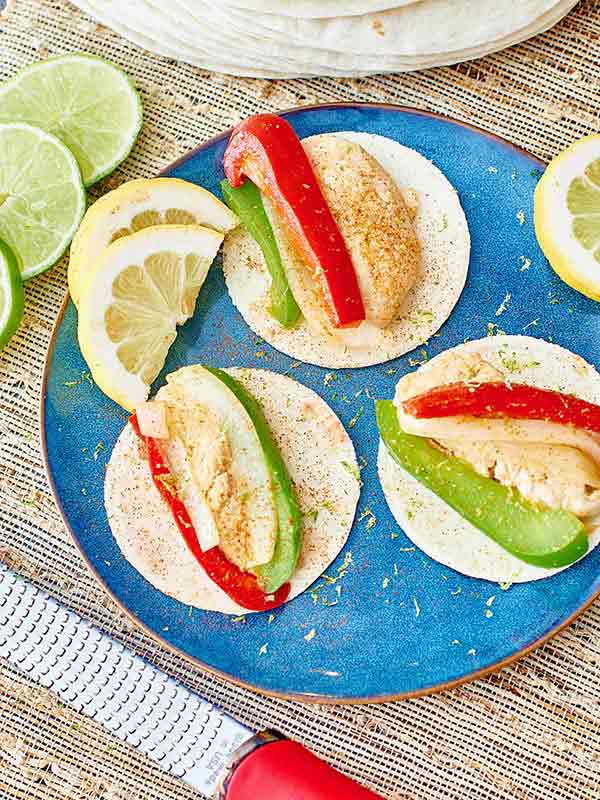 This recipe is so flavorful and so so easy to make. This will definitely be my go-to chicken fajitas recipe to tide me over for the week until we reach Friday night, Mexican night once again. Until then, enjoy these amazing chicken fajitas and have Mexican night at home this week!
– Jennifer
Are you a creature of habit? What's your favorite go-to Friday night restaurant? Show me the yummy!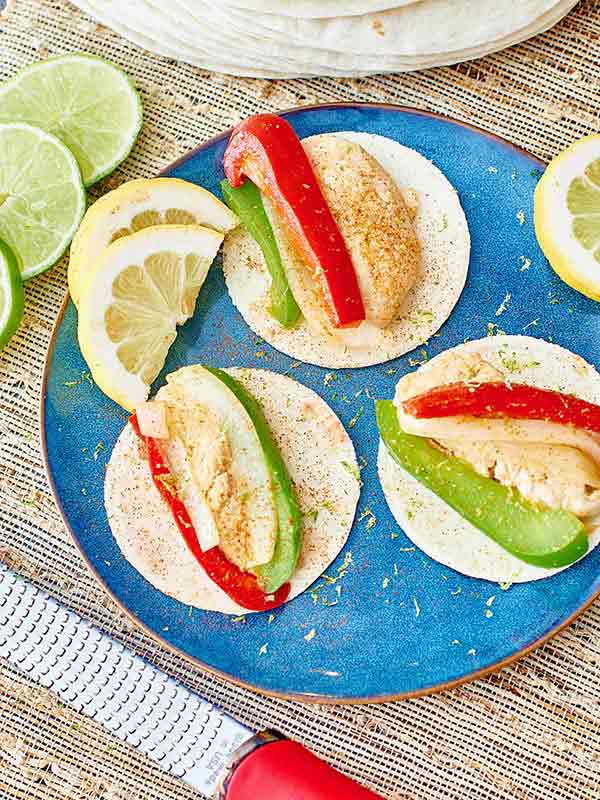 Sizzling Chicken Fajitas
Want restaurant quality Mexican food at home? Look no further, these sizzling chicken fajitas will surely hit the spot!
Equipment for this recipe
(equipment shown are affiliate links)
Ingredients
Marinade
2

tablespoons

vegetable oil

3

tablespoons

lemon juice

2

whole

garlic cloves

minced

1

teaspoon

ground cumin

1

teaspoon

garlic powder

1

teaspoon

onion powder

1/2

teaspoon

cayenne pepper

or more to taste

1

teaspoon

salt

or more to taste

1

tablespoon

unsalted butter
Meat
1 1/2

pounds

chicken tenders
Veggies
1

medium

onion

halved and sliced lengthwise

1

whole

green bell pepper

sliced

1

whole

red bell pepper

sliced
Serve With
flour tortillas

taco sized

cheddar cheese

shredded

Refried beans

Taco sauce or Picante salsa

Sour cream
Instructions
In a large bowl, whisk together marinade ingredients. Adjust seasonings if necessary. Place chicken tenders and marinade in a resealable plastic baggy and place in refrigerator for at least 20 minutes* or up to 24 hours. Make sure that the chicken is fully covered by marinade.

Preheat skillet on medium heat and melt butter. Place marinated chicken on hot skillet and cook until no longer pink. Cooking time depends on the thickness of the breast, but shouldn't take longer than 10 minutes, if using chicken tenders. While chicken is cooking, prep your veggies.

Remove chicken, reserving the liquid in the pan.

Place veggies in hot pan and season generously with salt or to taste. Cook until desired crispness is reached.

Remove from pan and serve immediately with your favorite tortillas and fajita toppings!
STORING
Reheat:
Microwave or heat on stovetop
*Storage times may vary based on temperature and conditions
Notes
*Store fajita filling and tortillas separately.
If you would like to make these vegetarian, leave out the chicken, and marinate the veggies for 30 minutes. You could also add other vegetables like sliced mushrooms, zucchini, or summer squash!
Recipe: Adapted from Paula Deen
Nutrition Information
Nutrition Facts
Sizzling Chicken Fajitas
Amount Per Serving
Calories 242
Calories from Fat 120
% Daily Value*
Fat 13.3g20%
Carbohydrates 3.9g1%
Protein 25.2g50%
* Percent Daily Values are based on a 2000 calorie diet.
*Note: Nutrition information is estimated and varies based on products used.
Keywords:
chicken tenders, easy, healthy