This Crockpot Meatball Sub Sandwich is made with a french baguette, an easy sauce, juicy slow cooker meatballs, and fresh mozzarella cheese!
Today's post is sponsored by La Brea Bakery. They make my carb-y loving self seriously happy. ♡
---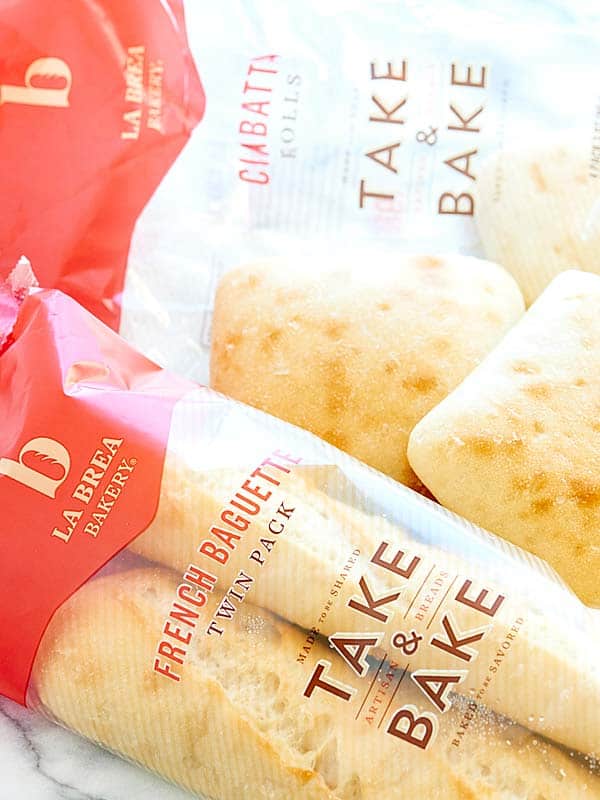 You guys. It's Friiiiiiday and I have a Crockpot Meatball Sub waiting for me for lunch. It's too early for lunch (or is it? what's too early reeeeally?), but I'm already day dreaming about that perfectly crunchy, crusty La Brea Bakery French Baguette that's been perfectly lined with ultra juicy meatballs, a simple, yet totally flavorful red sauce, gooey, stringy mozzarella cheese, and plenty of Romano and dried oregano.
Do you understand now why I'm already day dreaming about my lunch?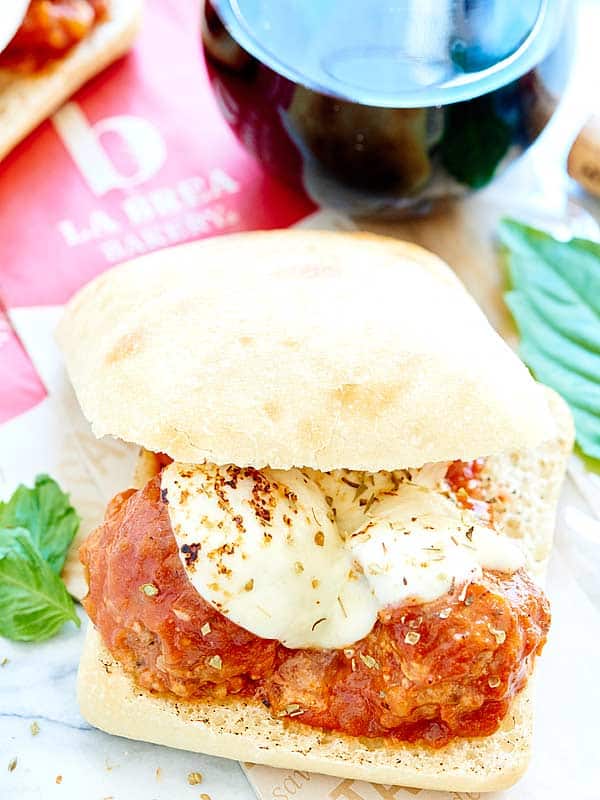 A great Crockpot Meatball Sub is composed of 3 main ingredients:
1. The bread. Um, hello, you can't have a great sandwich without a seriously yummy vessel. Vessel = bread. Right? Right.
2. The sauce. It's gotta be simple and full.of.flavor.
3. The meatballs. Because you can't have meatball subs without, you know… meatballs and these, you guys, are so ridiculously juicy.
First up. The bread. 🍞 We used Take & Bake French Baguette and Ciabatta Rolls as the base for our Crockpot Meatball Sub. Seriously though – this bread is good. I don't know how they do it, but their bread is ridiculously buttery, with the perfect crispy crust, all while maintaining a seriously chewy, soft center.
Mind. Blown.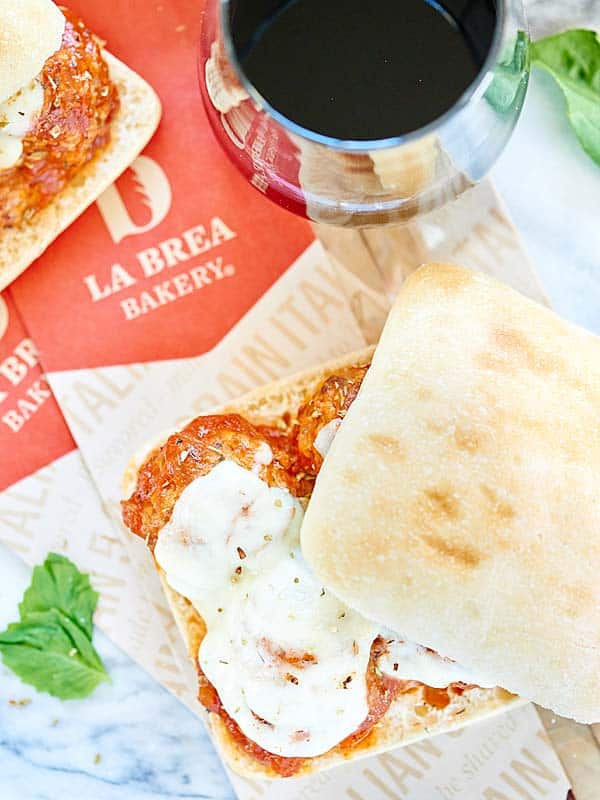 When La Brea Bakery contacted us to work with them, they first invited us to their Breaking Bread Tour in Seattle where we got to try all sorts of amazing food paired and made with their bread. La Brea was new to us at this point…or so we thought…what we didn't realize is that we've actually been buying their bread at the grocery store for y.e.a.r.s.
We didn't realize that the amazing Take & Bake found in grocery stores is actually made by La Brea! Seriously, we have people over, throw a baguette in the oven, pair it with a little balsamic/oil and people raaaave about it.
Long story short. Their bread is an amazing base for this Crockpot Meatball Sub.
Next up. The sauce. 🍅
Prep an onion and some garlic, throw it into a slow cooker along with some butter, spices, tomato paste, crushed tomatoes, tomato sauce, tomato puree, and a touch of brown sugar and let it simmer allllll day long while you're at work.
It's literally the easiest sauce ever AND your house will smell ah-mazing when you get home.
Now for the main event…the MEATBALLS.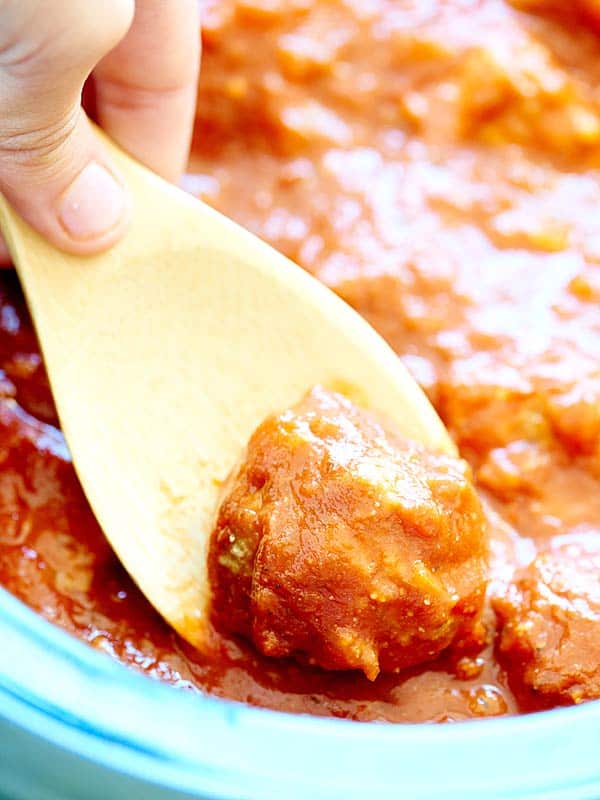 Oh my gosh, you guys, these are juicy, tender, and just so. darn. tasty.
We're using a combo of pork, beef, and bacon for the base of these meatballs and adding in some onion, garlic, spices, cheese, egg yolks, and milk/vinegar soaked bread cubes for flavor and moisture!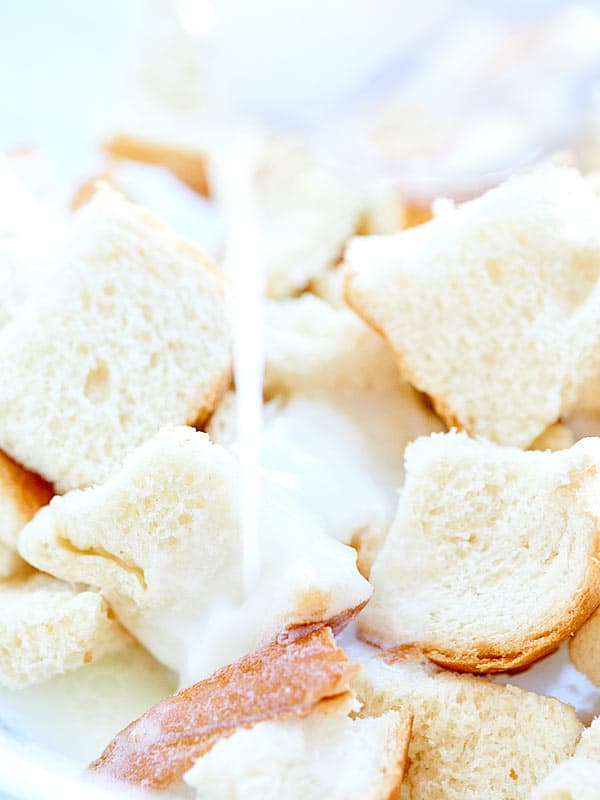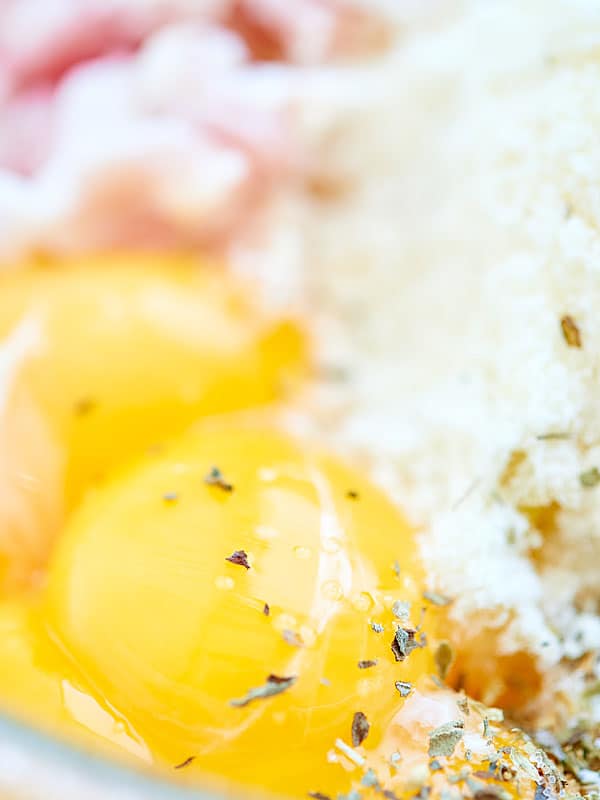 Now here's the deal about this Crockpot Meatball Sub. Like I said, there are 3 components and guess what?! You can prep 2 of the components ahead of time! Make the sauce and meatball mixture the night before and store it in the fridge!
The morning of, start up your crockpot and let the sauce cook on low all day long. Um. Yes please!
When you get home, scoop out your meatballs, broil 'em, and let 'em cook in the crockpot during the sauces' last hour of cooking. Then bake your bread, assemble your sandwiches, and you've got yourself a seriously yummy, seriously easy dinner.
I should also mention that this recipe makes a ton, so say helllloooo to tons of leftovers (and ps – you can freeze these for later 👊 )!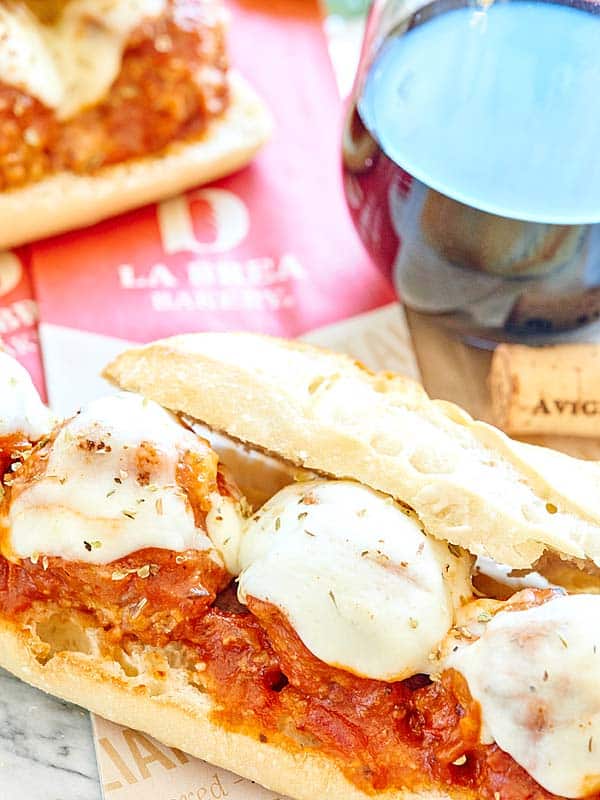 Yes please!
– Jennifer
If you love this sandwich recipe, be sure to check these out:
Greek Yogurt Chicken Salad Sandwich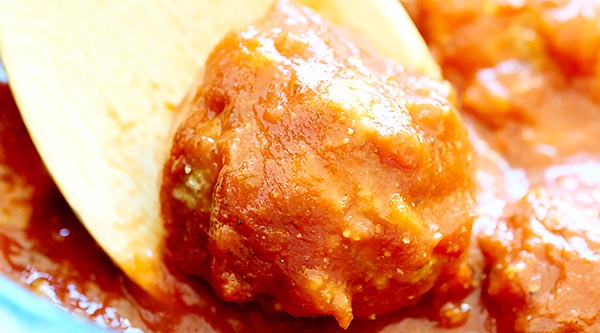 Crockpot Meatball Sub
This Crockpot Meatball Sub Sandwich is made with a french baguette, an easy sauce, juicy slow cooker meatballs, and fresh mozzarella cheese!
Equipment for this recipe
(equipment shown are affiliate links)
Ingredients
Sauce
2

tablespoons

unsalted butter

1

yellow onion

finely chopped

6

cloves

garlic

minced

1 1/2

teaspoons

dried basil leaves

1

teaspoon

Italian seasoning

1/2

teaspoon

crushed red pepper flakes

1

tablespoon

salt

more or less to taste

1/4

teaspoon

ground black pepper

1

(6 oz) can

tomato paste

1

(28 oz) can

peeled and crushed tomatoes

1

(15 oz) can

tomato sauce

1

(15 oz) can

tomato puree

2

tablespoons

brown sugar
Meatballs
1/3

cup

milk

2

teaspoons

vinegar

4

slices

white sandwich bread

cubed

1

yellow onion

finely minced

6

cloves

garlic

minced or pressed

1/4

cup

parmesan

4

large

egg yolks

1

teaspoon

dried oregano

1

teaspoon

dried basil

2

teaspoons

salt

4

oz

bacon

finely minced

1

pound

ground beef

1

pound

ground pork
Sandwich
your choice of bread

We used La Brea Bakery's French Baguette/Ciabatta Rolls

sliced mozzarella

shredded romano cheese

dried oregano
Instructions
Sauce
Grease crockpot with cooking spray.

Dump all sauce ingredients into crockpot, stir together and cook on LOW for 8 hours.
Meatballs
Whisk together milk and vinegar OR use buttermilk

In your stand mixer, place bread cubes and pour milk/vinegar over the bread cubes.

Mix together, so the bread cubes are evenly coated in the milk/vinegar or buttermilk.

Let sit for 10 minutes while you prep the rest of your ingredients.

To the stand mixer, add in the finely minced yellow onion, pressed garlic, parmesan, egg yolks, and spices.

Mix until well combined.

Using your hands, combine the finely minced bacon, ground beef, and ground pork.

With your stand mixer running, add in 1/3 of the bacon/beef/pork mixture. Once combined, add in another 1/3 of the mixture, and again, once combined, add in the last 1/3.

Once fully combined, store the meatball mixture, covered, in the refrigerator until ready for use.

Preheat broiler on high and place rack on the top rung.

Using a large cookie scoop (mine is about 3 tablespoons or 1.5 oz), scoop out your meatballs (you should end up with 36) onto a silicone lined baking sheet.

Broil for 8 minutes, rotating the pan 180 degrees halfway through (keep an eye on them as broiler temperatures can vary). The tops should be nicely browned and the internal temperature should be about 160 degrees F.

Place the meatballs into your crockpot (it should have an hour left of cook time), and cover the meatballs with the sauce.

Set the crockpot to HIGH and cook for an additional hour.
Sandwich Assembly
Slice your bread in half (if using La Brea Take & Bake, bake according to package instructions).

Top with meatballs, thinly sliced mozzarella cheese, and Romano cheese.

Broil until cheese is melty.

Sprinkle with dried oregano and serve immediately!
STORING
Reheat:
If frozen, thaw in fridge then microwave or heat on stovetop
*Storage times may vary based on temperature and conditions
Notes
This would also be fantastic over pasta!
Nutrition Information
Nutrition Facts
Crockpot Meatball Sub
Amount Per Serving (1 meatball)
Calories 116
Calories from Fat 63
% Daily Value*
Fat 7g11%
Cholesterol 42mg14%
Sodium 521mg23%
Potassium 306mg9%
Carbohydrates 7g2%
Protein 7g14%
Vitamin A 270IU5%
Vitamin C 6mg7%
Calcium 44mg4%
Iron 1.5mg8%
* Percent Daily Values are based on a 2000 calorie diet.
*Note: Nutrition information is estimated and varies based on products used.
Keywords:
crockpot, easy, meat