Croque Madame: A classic French sandwich made with brioche, ham, gruyere, bechamel and topped with a gooey fried egg!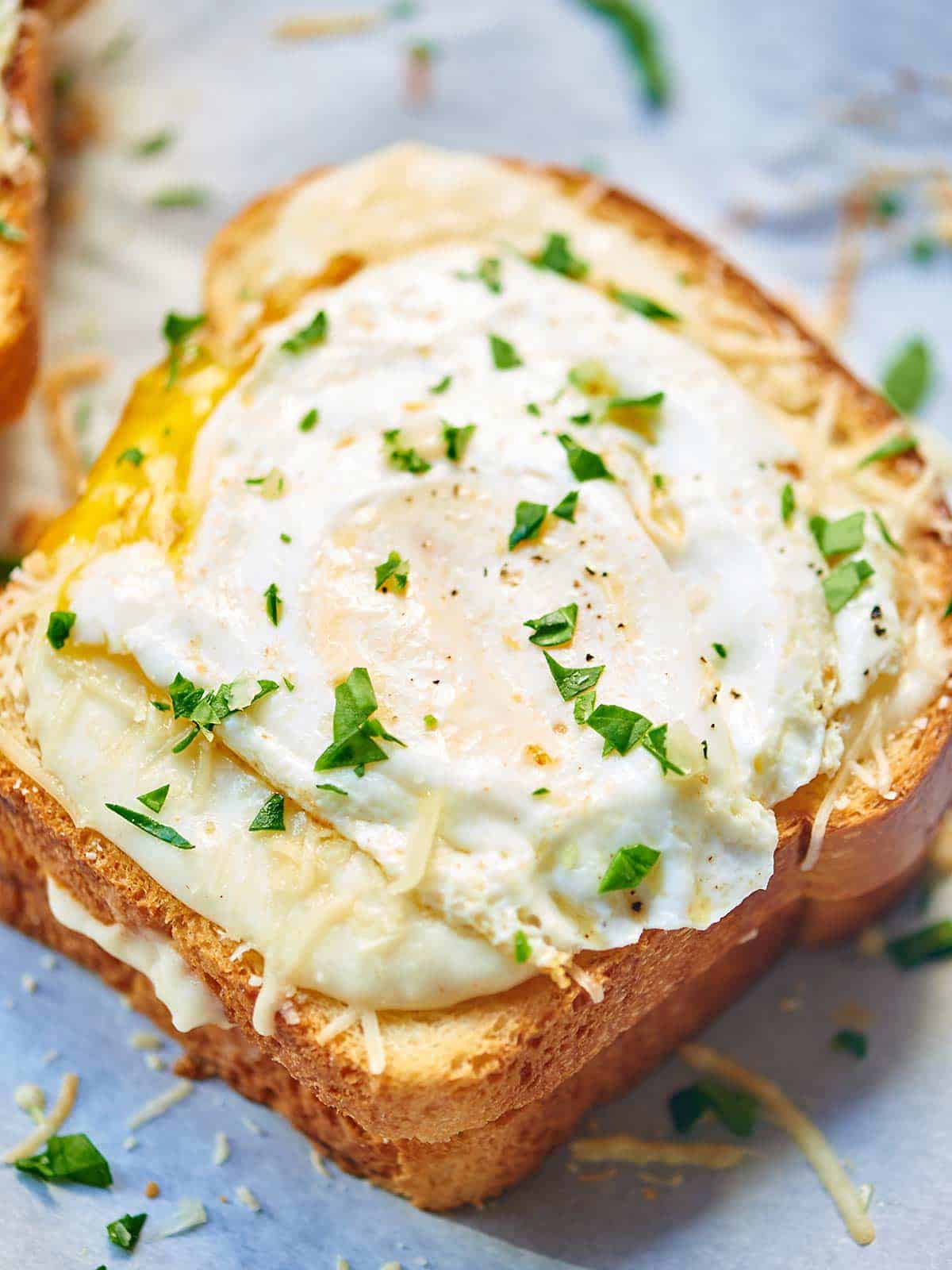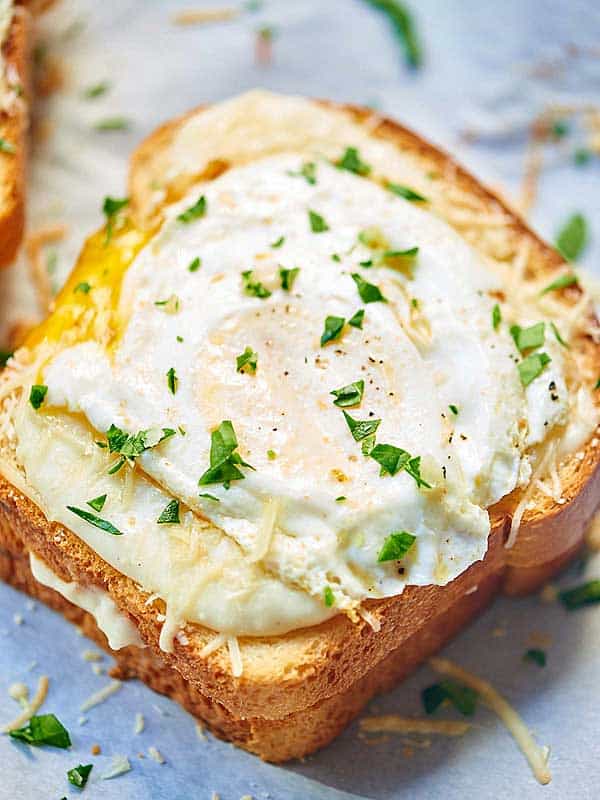 I love recipes that you can eat for breakfast, lunch, and dinner which is exactly what I did after I made this Croque Madame. It's so good, that, yes, I did have it three times in one day. Have you ever had a Croque Madame? If not, you've seriously been missing out. Take fresh, thick, sweet, brioche and pile on thinly sliced ham, sharp gruyere, and creamy bechamel. Top with another slice of brioche, more bechamel, cheese and a fried egg and you've got yourself a croque madame!
The thing I love most about this sandwich, though, after all the bread, cheese, and creamy sauce, I mean, is that it's french. I love everything French. French food, french fashion, french culture, the language….etc. If I could live in France, and do nothing but eat, shop, and speak the language, I would. Trevor? Teddy? Are you with me?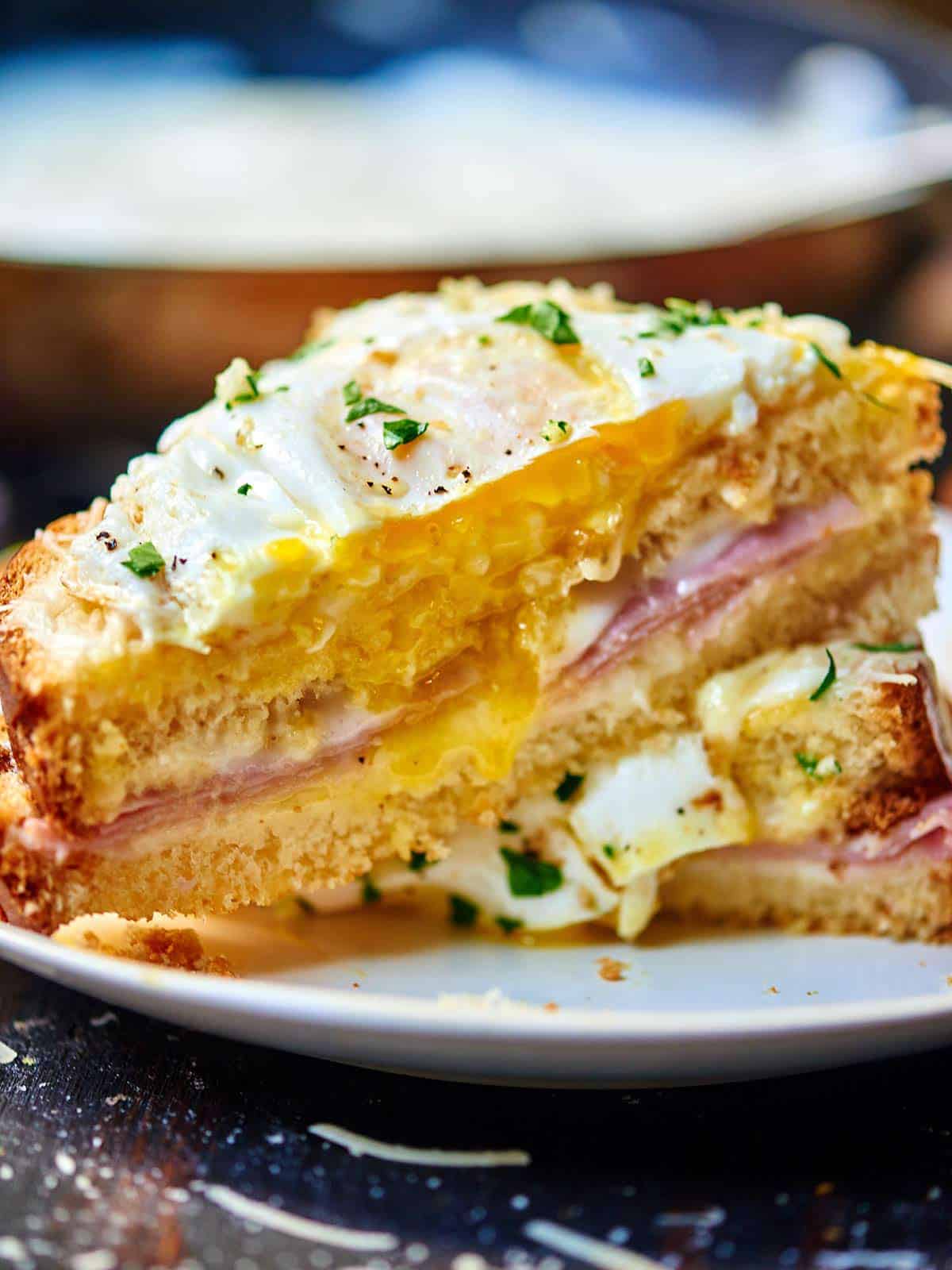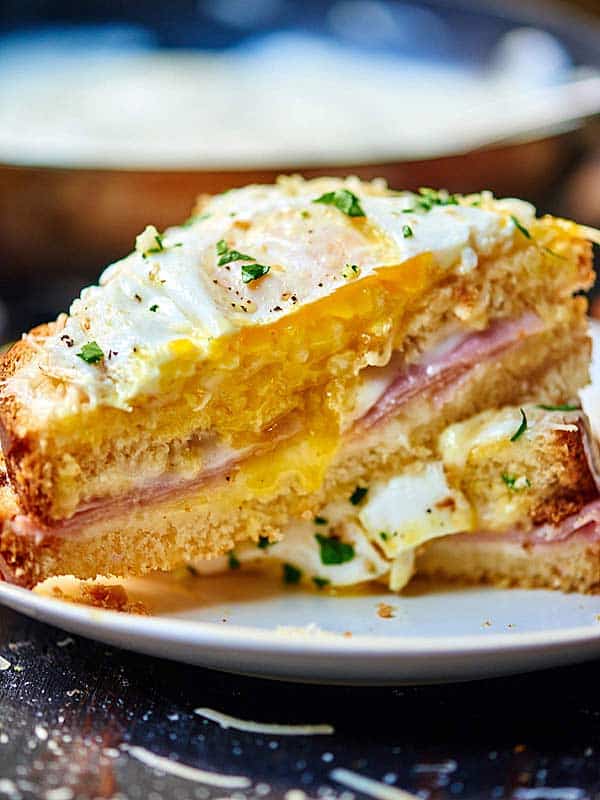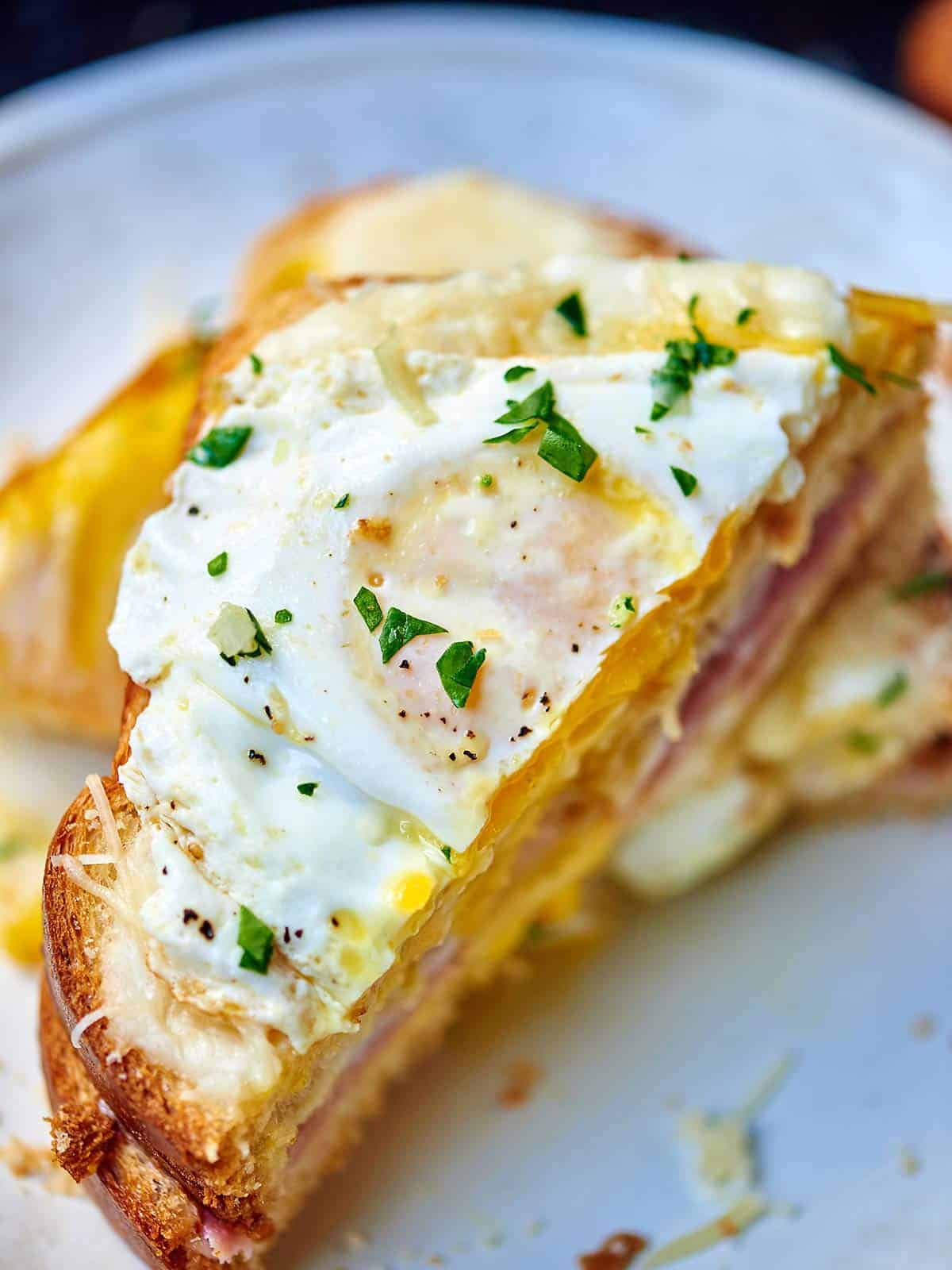 Since moving to France is not exactly on the menu, I have to get my French fix other places. Practicing my French by talking to my phone on Duolingo, walking to French restaurants in Seattle, and of course, making French food. Although, I don't really practice my French that much anymore, because I'm a slacker, I can't remember the last time we actually ate at a French restaurant, and this is honestly the first French dish I've ever made (other than the time I made a Buche de Noel in high school).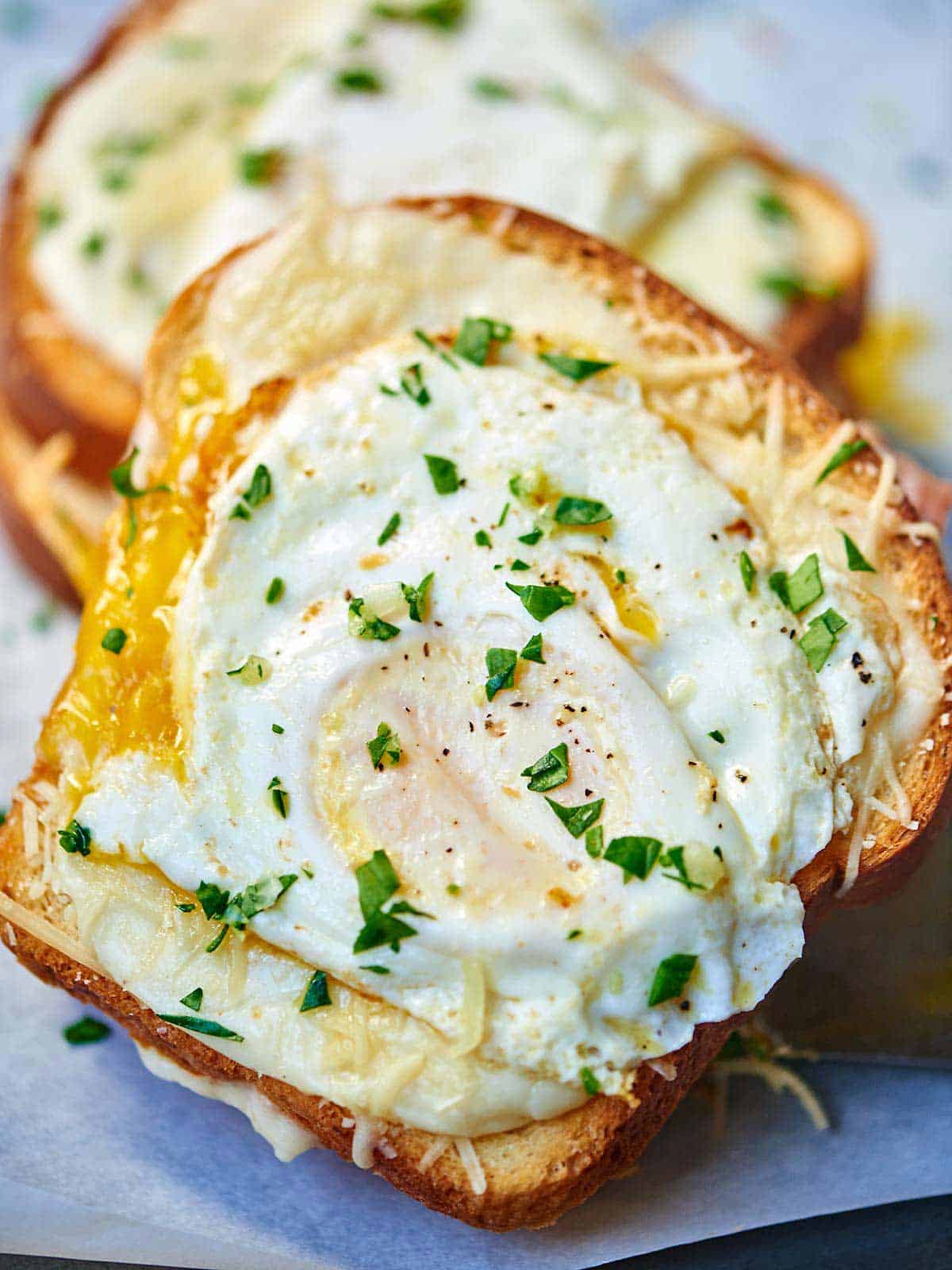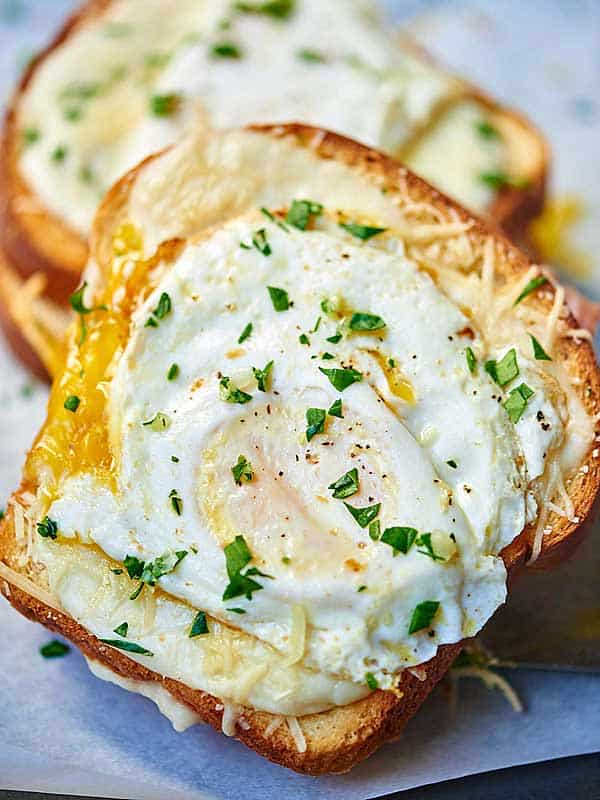 Sooo I'm obviously failing.
HOWEVER. I plan to turn that around immediately. First, with this Croque Madame.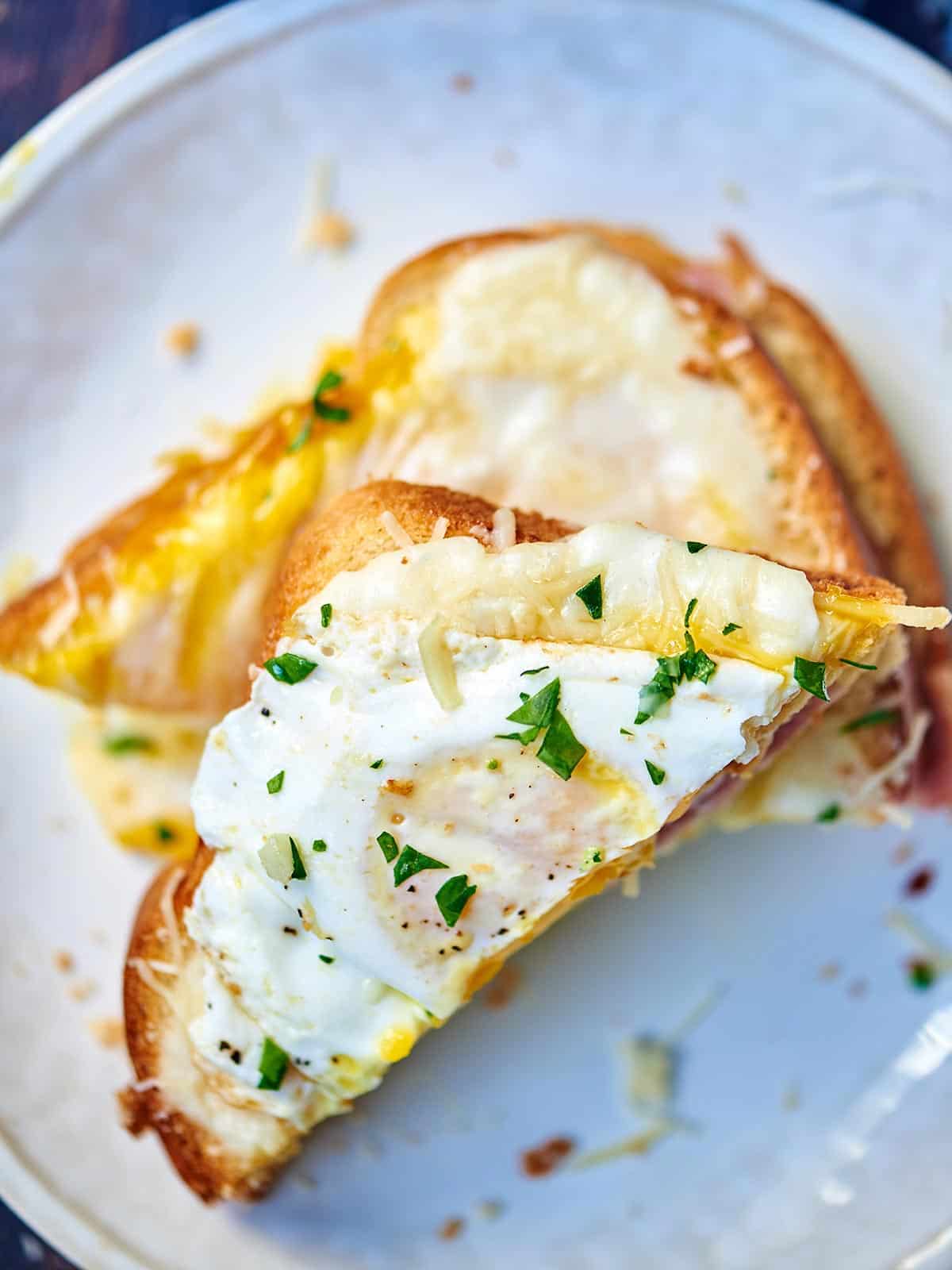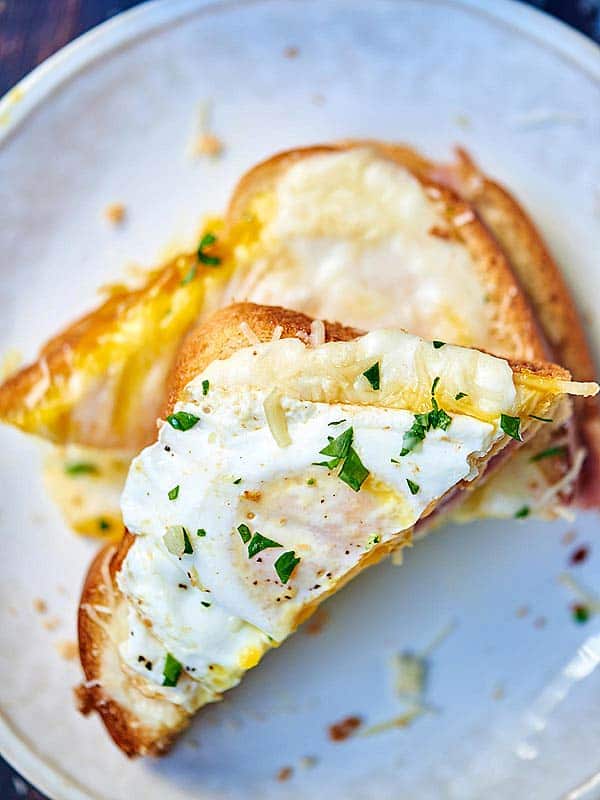 I was inspired to make a Croque Madame from Macrina Bakery. It's not a French restaurant, but they used to make an incredible Croque Madame. Over a year ago, when Trevor and I were still regularly exploring the city, instead of going to our regular spots ;), we decided to go out to brunch one day. We stumbled upon Macrina and sat down. I saw the Croque Madame on their menu and immediately knew that's what I wanted.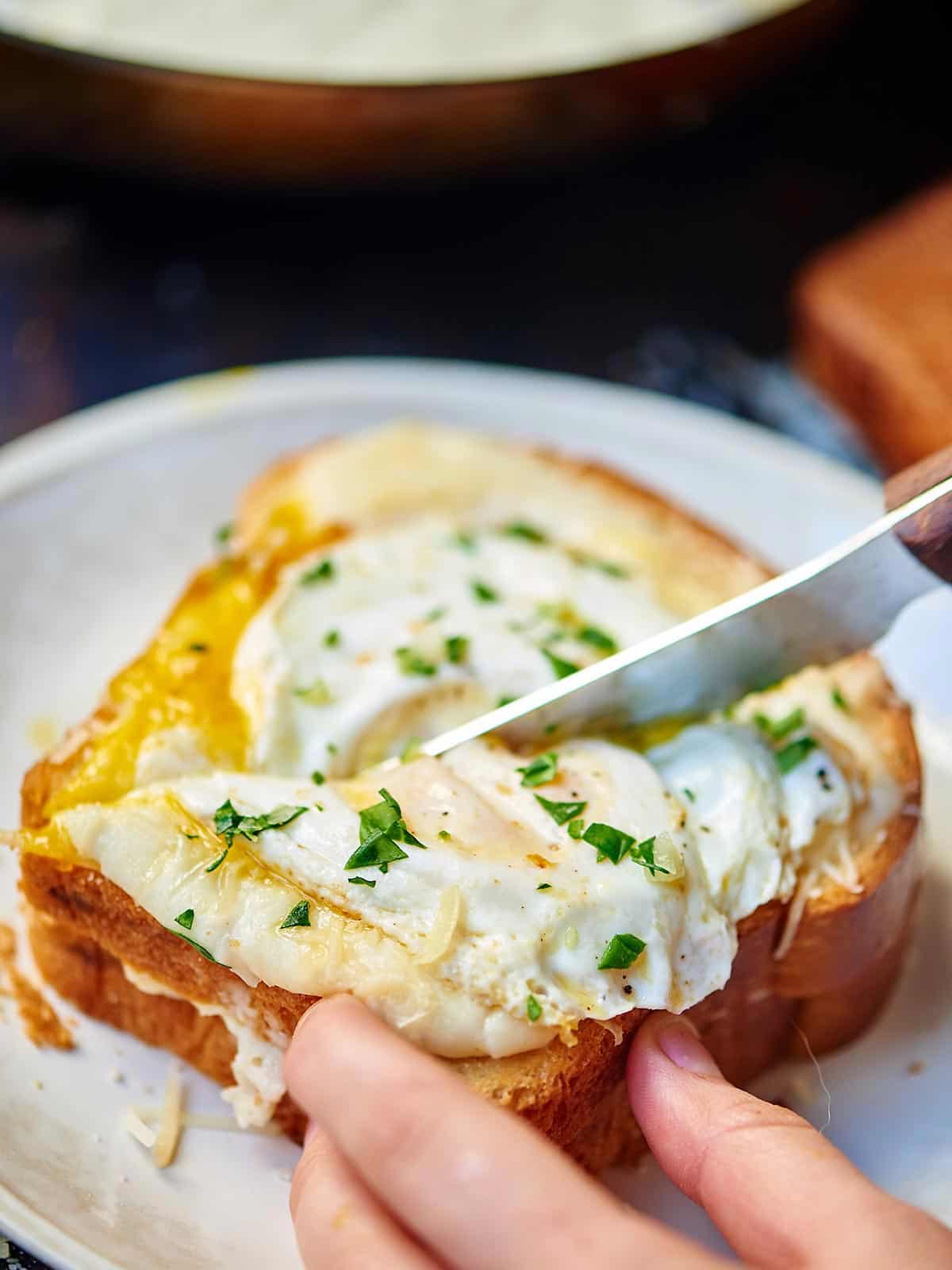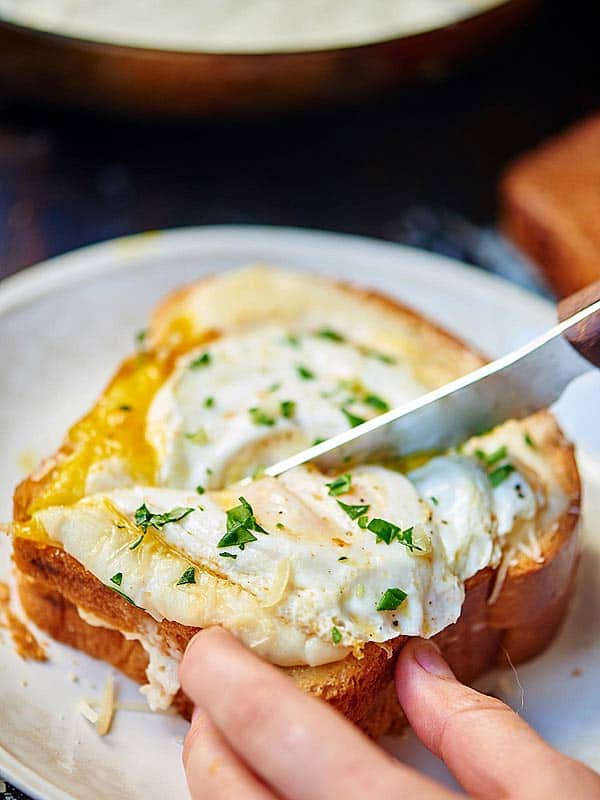 I was definitely not disappointed. I was, however, disappointed, when the next weekend, I wanted to go back, and it was no longer on the menu. I think I may have cried a little. Don't mess with me and my cravings! Ever since that day, I have not seen it on their menu, and I check their website pretty regularly 😉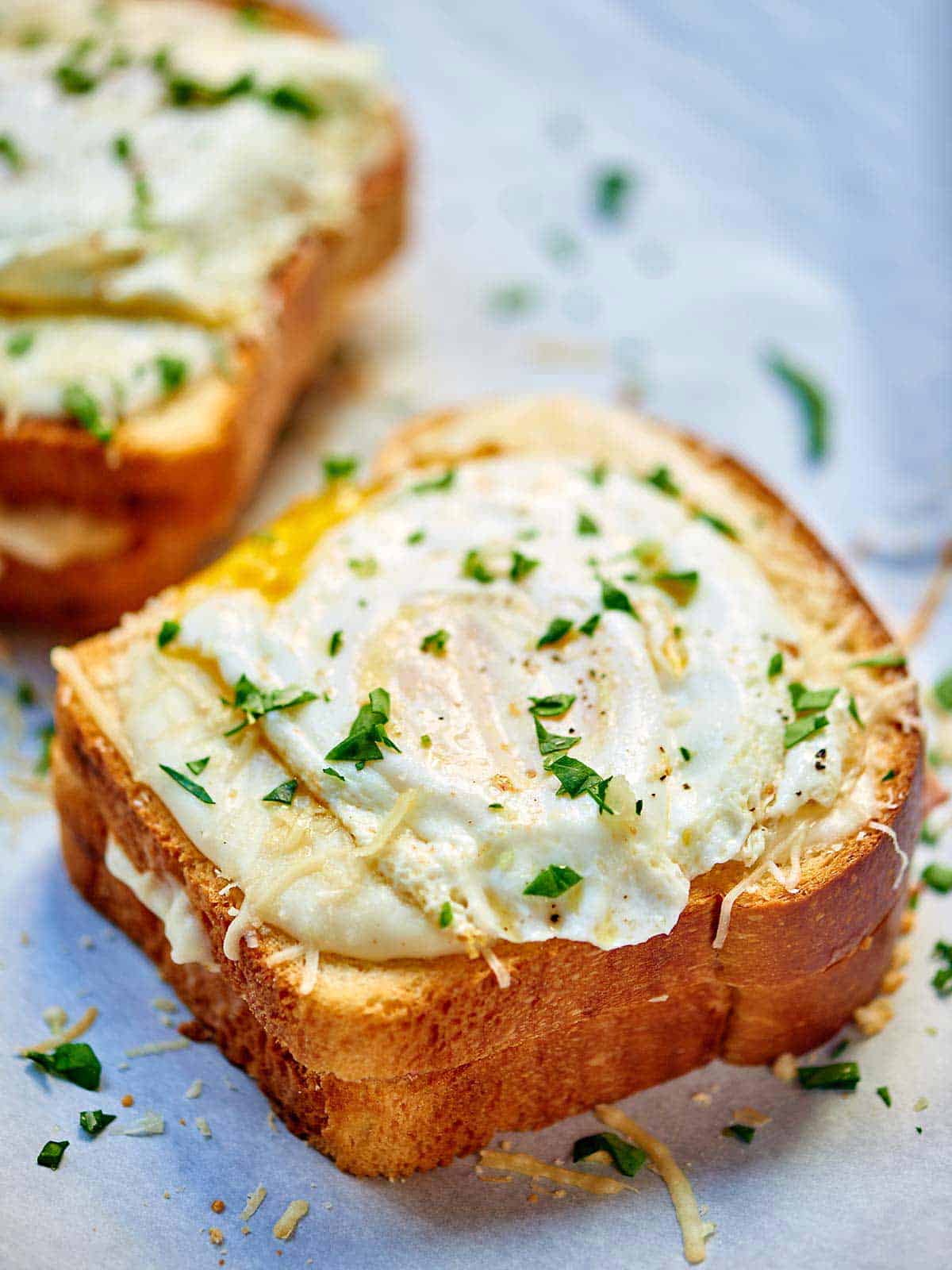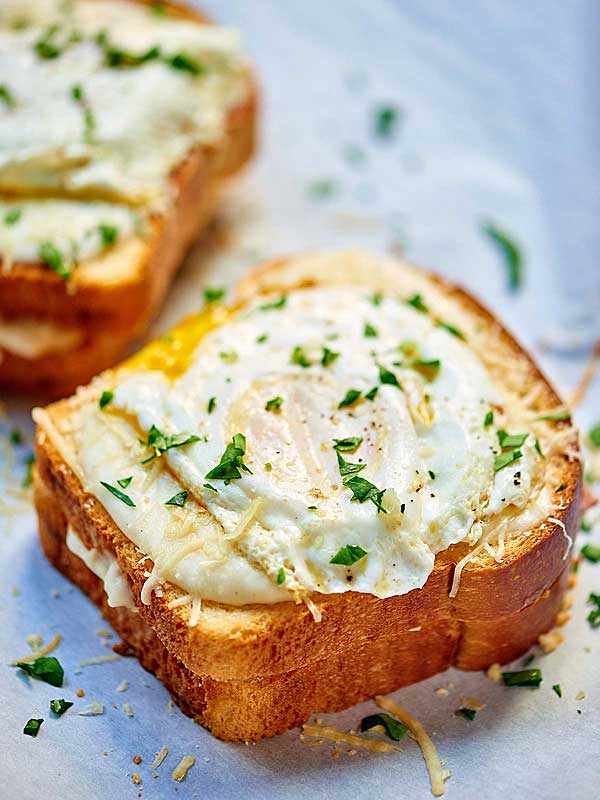 I finally gave up, and figured I should probably just make it myself and guess what?! I googled "macrina bakery croque madame" in hopes to get inspired by another recipe and up pops a croque madame recipe from Macrina Bakery's website! I've never been so excited. I immediately ran, yes ran, to Macrina to grab a loaf of their brioche and then jogged to QFC to get the rest of the ingredients. It took every ounce of will power to quickly take some photos before chowing down on my most beloved sandwich.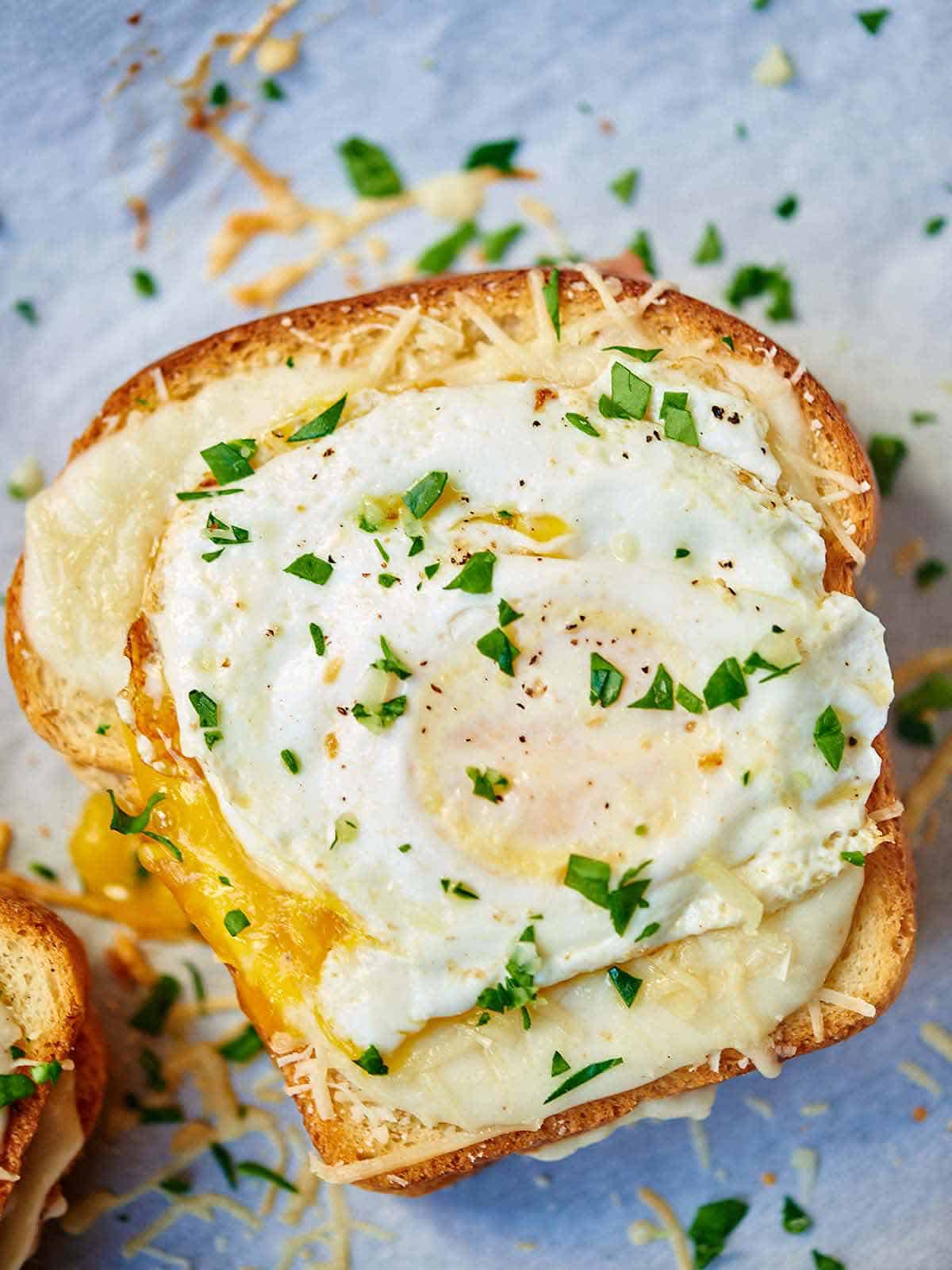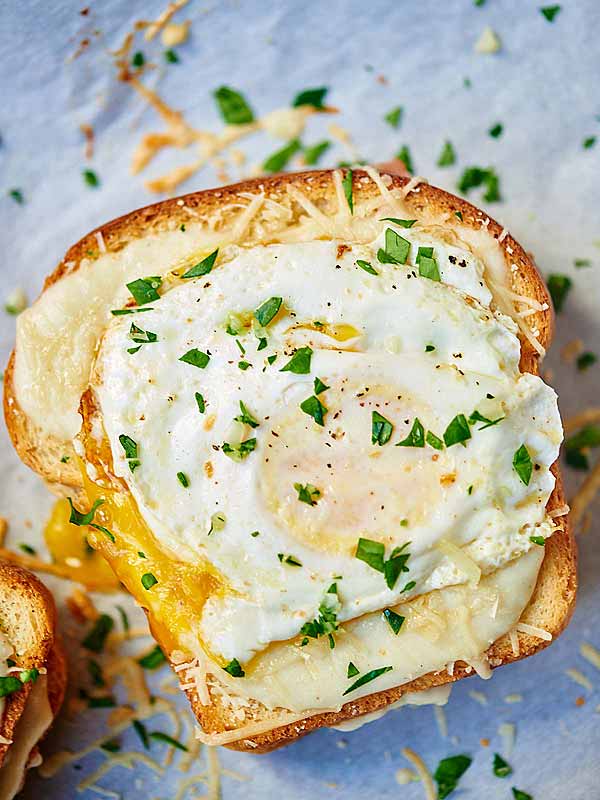 It was just as good as I remember! The brioche is hearty, soft, and subtly sweet. The bechamel is creeeeeamy, rich, and just so delicious. Plus! I made it using skim milk and I really can't imagine the bechamel needing to be any creamier. So, it's like, healthy bechamel. 😉 Then to top it off: the fried egg with an oooooozing, luscious yolk soaking the bread and creating a nice dipping sauce on the side of your plate. It really is the perfect sandwich for breakfast, lunch, or and dinner.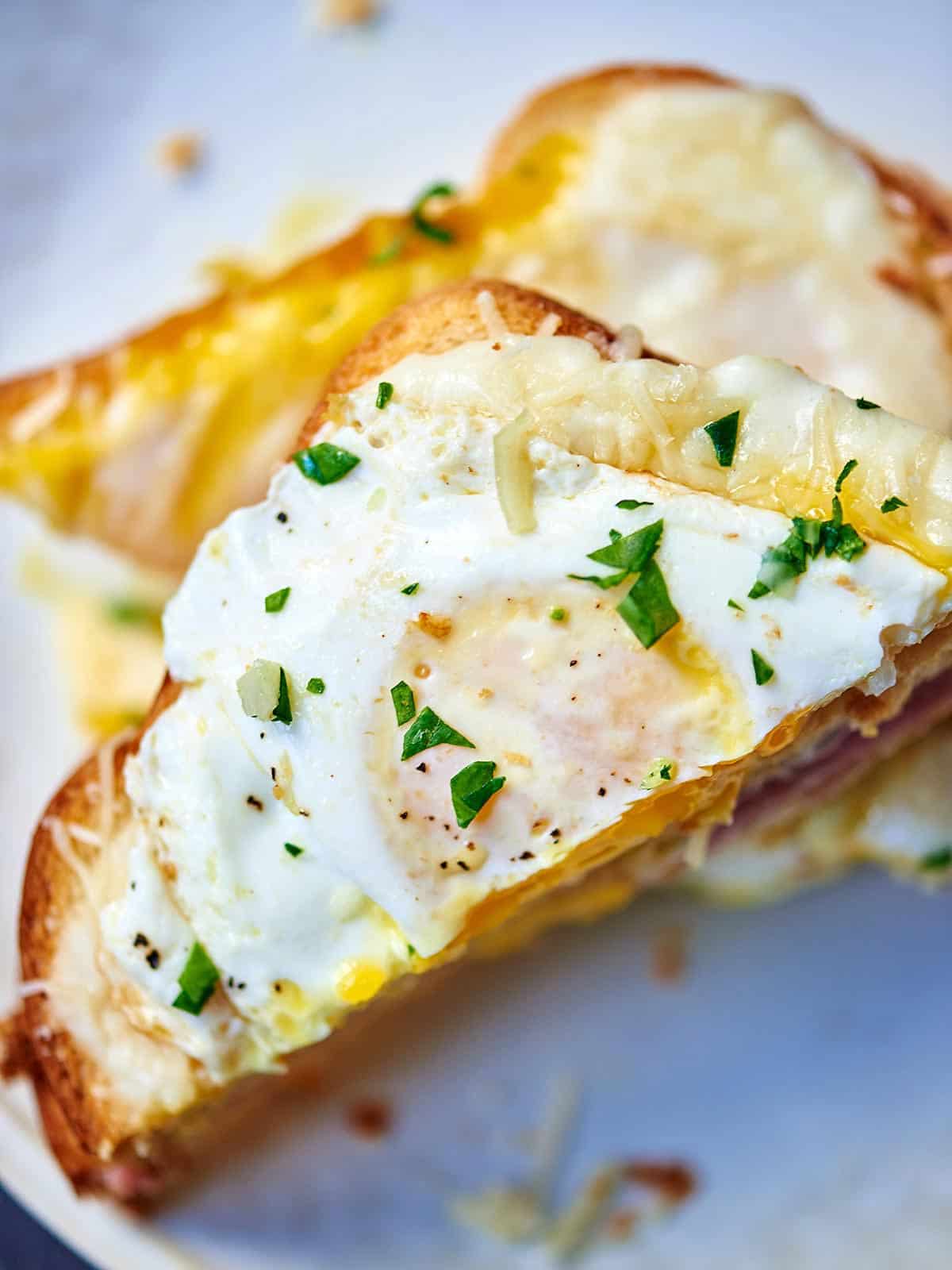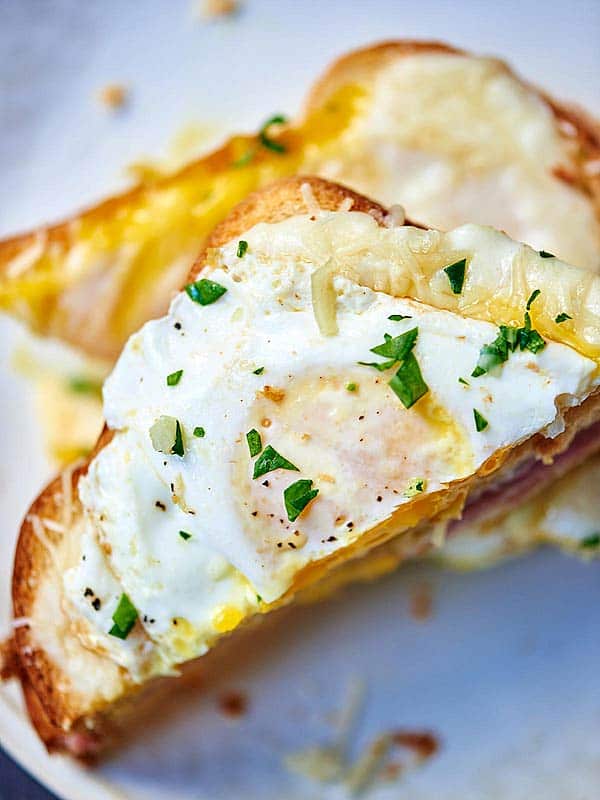 As much as I was looking forward to eating this sandwich, for some reason, I was really dreading making this. I thought it was going to take time and energy that I didn't have, but I was honestly pleasantly surprised! The only thing you're actually cooking is the bechamel, which is a simple sauce made of butter, flour, milk, spices and cheese! It comes together rather quickly and then all you need to do is assemble the sandwich, brown it in a pan just like you would with a grilled cheese, top it with more bechamel and cheese and place it into the oven to melt the cheese. Whip up a quick egg while the cheese is melting and you're done!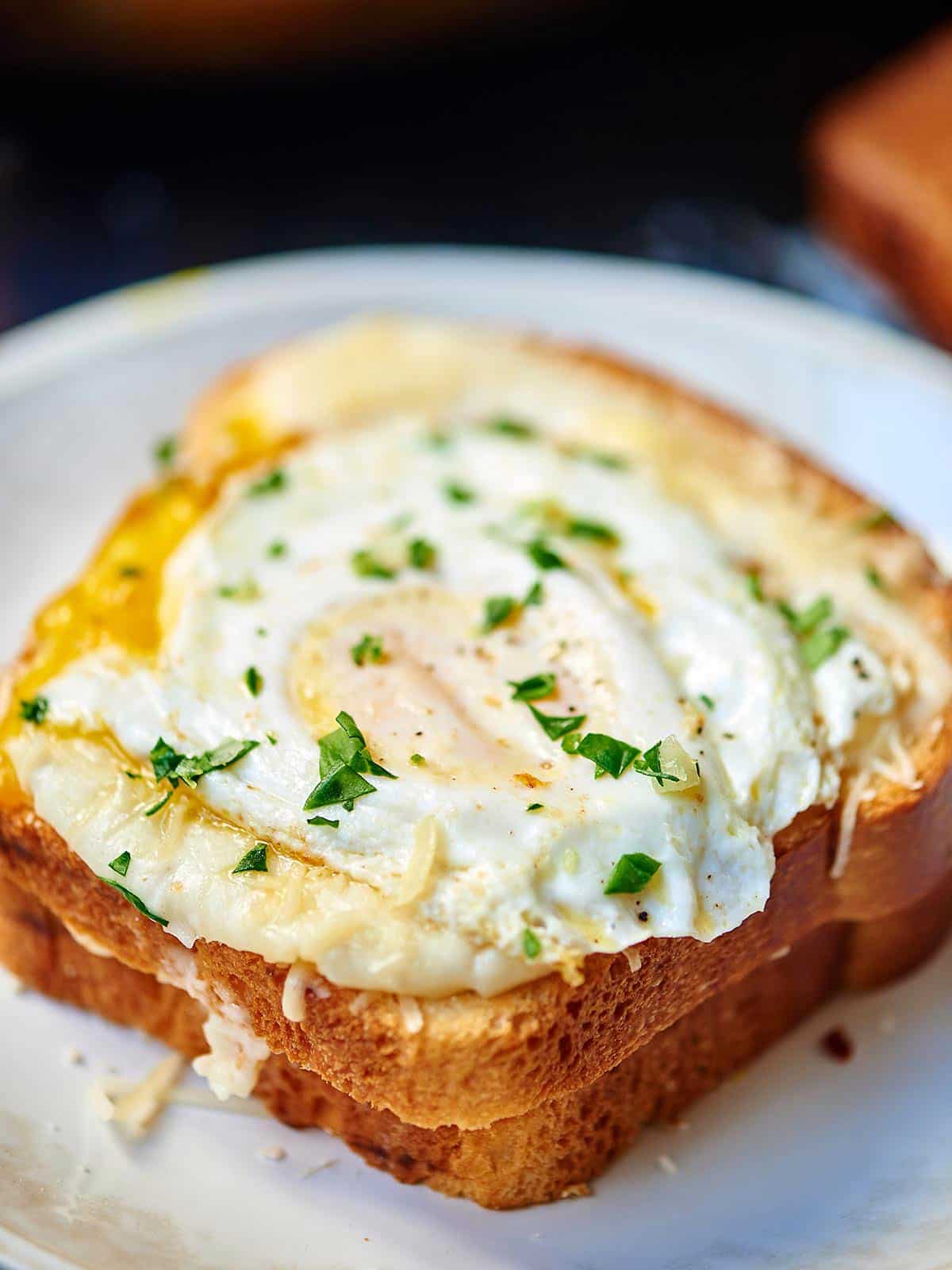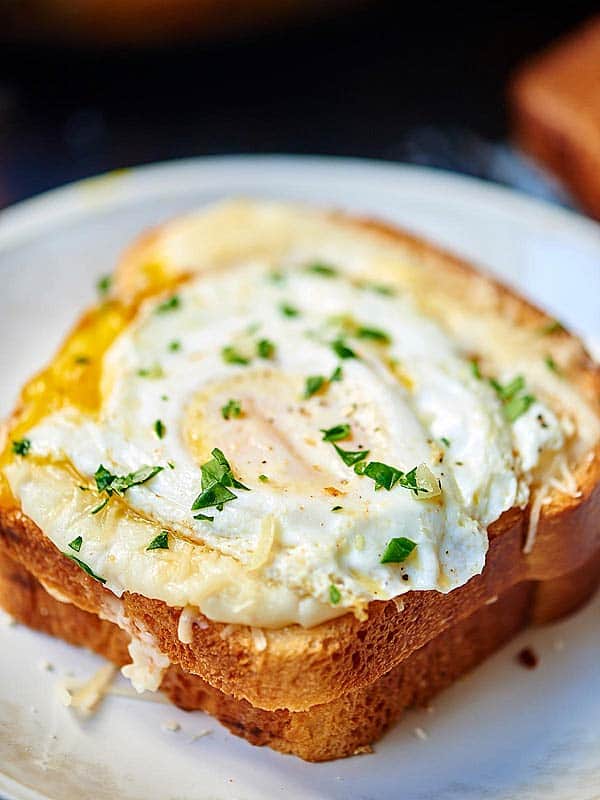 Make this for brunch this weekend with a side of mimosas and we'll be right there with you!
Au revoir! A toute a l'heure! A plus tard! Ciao! (Yes, the French say it, too!)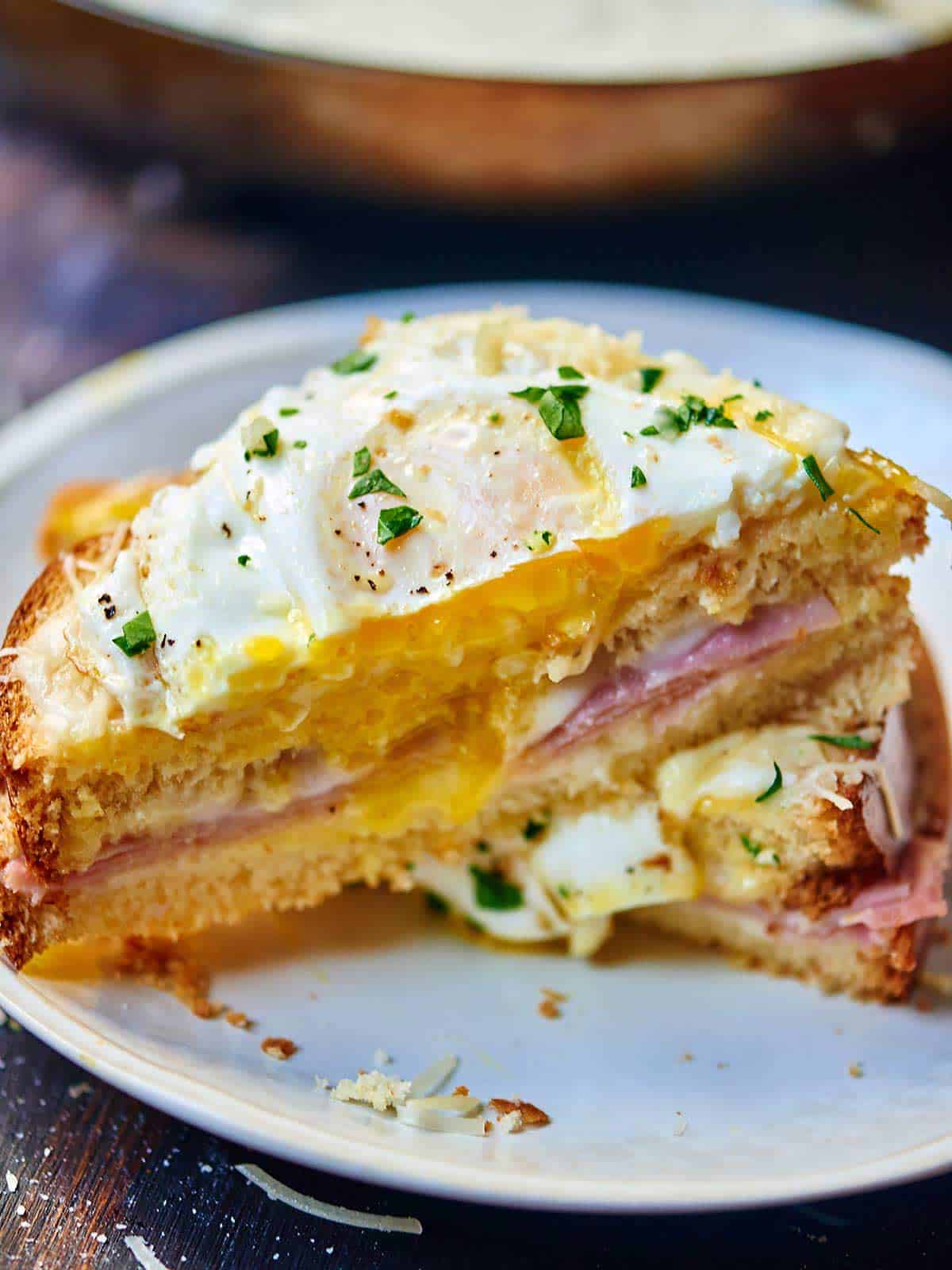 – Jennifer
What's your favorite French food? I've also been dying to make Julia Child's boeuf bourguignon! Show me the yummy!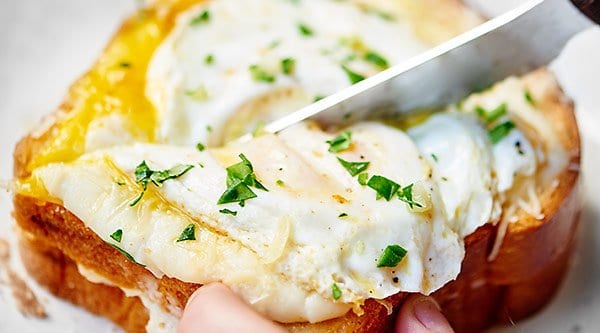 Croque Madame (Ham, Cheese, and Fried Egg Sandwich)
A classic French sandwich made with brioche, ham, gruyere, bechamel and topped with a gooey fried egg!
Ingredients
Bechamel
6

tablespoons

unsalted butter

1/4

cup

all purpose flour

1

teaspoon

salt

1/4

teaspoon

ground nutmeg

3

cups

milk

1/2

cup

Parmesan cheese

shredded
Other sandwich ingredients
1

loaf

brioche

1

oz

Gruyère cheese

shredded (you could also use 1 slice Gruyere)

8

slices

thinly sliced ham

2 per sandwich

1/4

cup

Parmesan cheese

shredded

butter

softened to spread on bread

4

large

eggs

fried
Instructions
Bechamel
Melt 6 tablespoons butter in a nonstick pan over medium heat. Then whisk in flour. Continue whisking and cooking for 2-3 minutes. The flour mixture will be thick.

Slowly whisk in milk, about 1/2 cup at a time. For the first cup, let the flour mixture absorb the milk before adding in more milk. It will first look like a paste, and then slowly thin out.

Continue to cook over medium heat until the sauce thickens. This will take about 5-8 minutes.

Once thick, whisk in the salt, nutmeg and ½ cup parmesan. Continue whisking until the cheese melts.

Remove from the heat and cool slightly while you get your other sandwich ingredients ready.
Assembling the sandwich
Line a baking sheet with parchment paper and preheat your oven to 325 degrees F.

Cut the brioche into 8 thick slices. Lay out 4 slices and top with the sliced or shredded gruyere.

Next, top the cheese with the ham slices and a spoonful of bechamel. Top with the other brioche slices.

Gently spread the top side of brioche with the softened butter.

Preheat a large nonstick pan over medium low - medium heat. Place the brioche sandwiches into the pan with the buttered side down. While the brioche is browning, butter the second side of the brioche.

Cook for about 2 minutes, or when the bottom is golden. Once golden, flip the sandwich over and brown the other side.

Once the second side has browned, remove from the pan and place on the prepared baking sheet.

Top each sandwich with 2 tablespoons of béchamel and 1 tablespoon of parmesan cheese.

Place in the oven to melt the cheese, about 5 minutes. Remove from the oven and set aside.

Now make your fried egg. Today, I chose to do an over easy, but feel free to make a traditional sunny side up. Melt about 1 tablespoon of butter in a medium non stick pan. Once the butter has melted, gently crack an egg into the pan. It should gently sizzle immediately. Season with salt and pepper. Cook for about 90 seconds and then flip it over to cook the other side (about 90 more seconds). Cooking time will vary depending on how runny you want your yolk!

Top each sandwich with a fried egg and serve immediately!
Nutrition Information
Nutrition Facts
Croque Madame (Ham, Cheese, and Fried Egg Sandwich)
Amount Per Serving (1 sandwich)
Calories 842
Calories from Fat 504
% Daily Value*
Fat 56g86%
Cholesterol 442mg147%
Sodium 1456mg63%
Potassium 336mg10%
Carbohydrates 55g18%
Protein 32g64%
Vitamin A 1545IU31%
Calcium 581mg58%
Iron 2.4mg13%
* Percent Daily Values are based on a 2000 calorie diet.
*Note: Nutritional information is estimated and varies based on products used.
Keywords:
croque madame, ham cheese and fried egg sandwich