Alright, we have a few things to discuss today. First things first, this Crockpot Butternut Squash Soup is 👌 👌 👌, because it's not just any butternut squash soup this butternut squash soup is:
A. Made in the crockpot and can be ready in 3 hours, but can also cook all day. #winning
B. Vegan.
C. Gluten free.
D. Healthy. Squash, apple, carrots, jalapeños…yum!
E. Full of fun toppings. Two words: Coconut. Bacon. Ummmmm yeahhhh.
F. You only dirty ONE dish!
G. Super tasty! I swear to all things holy that this is the best butternut squash soup I've ever had. 
I know. That was a lot, but I'm just SO excited about this crockpot butternut squash soup, you guys. Let me break for a second though, because the second and third thing we need to talk about go hand in hand.
You may notice that:
1. It's Tuesday. I normally don't post on Tuesday's, but we're mixin' it up a little bit over here at SMTY. Trevor is working on some exciting things and working all the time, sooo I'm keeping busy and working on a few more recipes than normal.
2. There's no video! We're scaling the videos back, maybe not forever, but at least for a while. Because of the previously mentioned "exciting things", Trevor is working his butt off and we just don't have the time to make 3 videos every week! Don't worry, we'll still be posting a new video every Monday.
This schedule might not stick around forever, but for the time being, we'll be posting 5 days a week with videos on Momday! It's a win-win for everybody, right?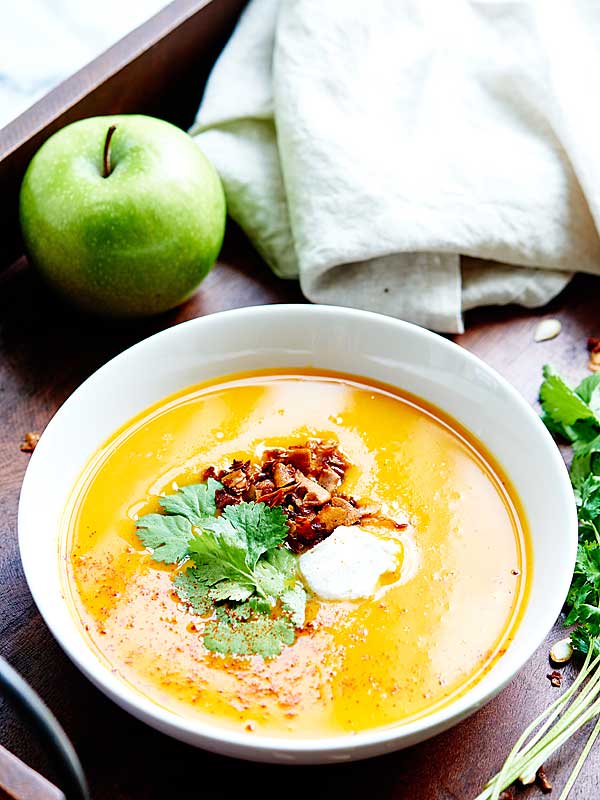 I think that's it for now, so back to the soup!
Did I mention that it's really yummy? Because it is.
And it's easy! Today, we're using butternut squash, an apple, a carrot, a jalapeno, a yellow onion, some garlic, and a few spices! Throw all that into your slow cooker and top with lime juice and vegetable stock. Give it a stir and you're good to go!
When the crockpot butternut squash soup is done, your veggies will be soooo ridiculously tender. You're going to stir in some light coconut milk and  puree the whole with your immersion blender (or if you don't have one, using a regular blender) until it's ultra creamy and delicious.
That's it! It's ready to serve up. Now, while this soup is great on it's own, if you're looking to kick it up a notch, I'd definitely suggest adding a few toppings: fresh cilantro, cayenne pepper, coconut cream (chill a can of full fat coconut milk in the fridge and the top layer will become thick and creamy), and coconut bacon.
Coconut bacon. Say whaaaat?
So long story short, I'm obsessed with snapchat (follow us: showmetheyummy) and I follow Ali from Inspiralized (she's: inspiralized on snapchat). I saw her making coconut bacon and immediately went out to make my own version. Thank YOU Ali for inspiring me to make something super unique and delicious.
Coconut bacon is like the vegan version of bacon. It's crispy. It's smokey. It's addicting and it's only made with unsweetened flaked coconut (<– click the link to see what I mean, it's not the flakes you typically find in the baking aisle), soy sauce, liquid smoke 🔥 , and maple syrup. All your favorite bacon-y flavors, but vegan!
It's takes about 10 minutes to make in the oven and seriously makes this crockpot butternut squash soup even more delicious and adds a seriously yummy crunch!
Make this crockpot butternut squash soup if you're looking for a super healthy, super tasty, vegan, gluten free dinner!
Who's in?!
– Jennifer
If you're a soup lover, be sure to check out these other soup recipes:
One Pot Mexican Chicken & Rice Soup
Crockpot Jalapeno Popper White Chicken Chili
Show me the yummy!
Crockpot Butternut Squash Soup
This Crockpot Butternut Squash Soup Recipe is vegan, gluten free, healthy, full of vegetables, and topped with coconut cream, cilantro, and coconut bacon!
Author:
Show Me the Yummy
Ingredients
Butternut Squash Soup:
4 pounds butternut squash, peeled and cubed
1 granny smith apple, peeled and chopped
1 carrot, peeled and chopped
1 jalapeno, roughly chopped (seeded, for a more mild flavor)
1 small yellow onion, chopped
4 cloves garlic, minced
1 tablespoon cumin
2 teaspoons salt, plus more to taste
¼ teaspoon black pepper
¼ cup freshly squeezed lime juice
4 cups vegetable stock
1 (14 oz) cans light coconut milk
Optional (but highly recommended) toppings:
Chopped cilantro
Coconut bacon (recipe below)
Cayenne pepper, if you like spice
Coconut cream*
Coconut Bacon:
1 cup large, unsweetened flaked coconut (not regular shredded coconut!)
1 tablespoons soy sauce**
1 tablespoons liquid smoke
1 tablespoons maple syrup
Instructions
Butternut Squash Soup:
Place all ingredients (butternut squash through vegetable stock) into crockpot, except coconut milk and optional toppings.
Stir to combine and cook on low for 6-8 hours or on high for 3-4 hours.
After cooking time is done, stir in coconut milk and blend with an immersion blender directly in your crock pot. Or carefully blend in your stand blender.
Serve immediately and top with fresh cilantro, coconut bacon, coconut cream, and cayenne pepper!
Coconut Bacon:
Preheat oven to 350 degrees F and line a baking sheet with parchment paper or a silicone mat.
Whisk together soy sauce, liquid smoke, and maple syrup.
Toss flaked coconut and sauce together and place onto prepared baking sheet.
Make sure the coconut is in a thin layer.
Bake for 10 minutes, stirring halfway through.
Remove from the oven and let rest for 5-10 minutes, so the "bacon" can dry out and crisp up a bit!
Serve immediately.
Notes
*For the coconut cream: I placed a can of full-fat coconut milk in my fridge all day. The top layer becomes thick and creamy (there will be liquid on the bottom). Scoop out the thick cream and dollop it into your soup!
**If you're GLUTEN FREE, make sure you use a GF certified soy sauce (or other alternative)
* This post contains affiliate links, thank you for the support in keeping SMTY up and running!