This roasted red pepper soup is easy to make, ultra creamy, gluten free, and can be vegan! It's healthy and so full of flavor.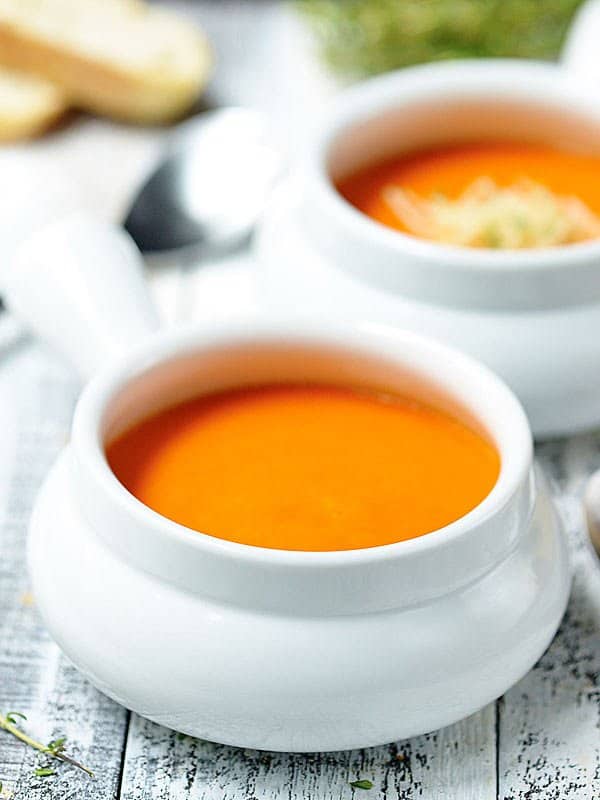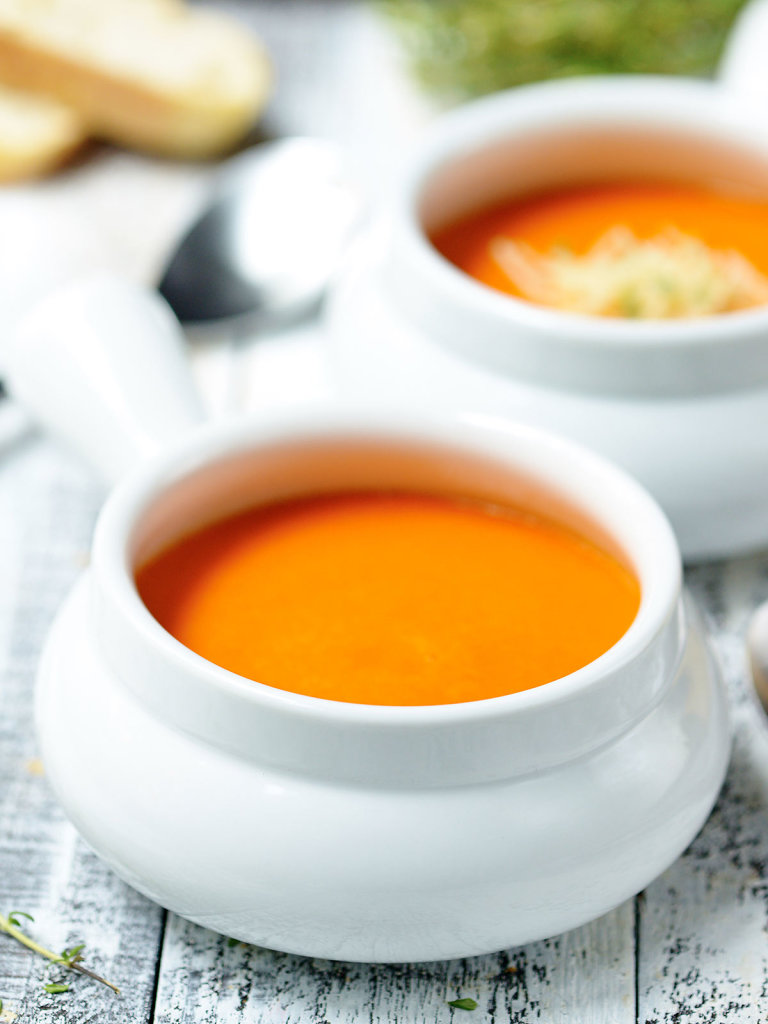 Happy Memorial Day! In honor of this day, I wanted to make something red, white, or blue. I landed on red and I'm so happy, because let me just say: Thank goodness for this Roasted Red Pepper Soup….
I think I jumped the gun a little bit. Cozy sweaters, sweatpants, and jackets have been put away and flip flops, shorts, and sundresses have taken their place. I went a little Summer crazy a week or so ago, because the weather had been so sun shiny and warm…it was 75 degrees outside, so I said good-bye to all my Winter clothes and hello to all my Summer clothes that have been in hiding since last August.
Well.
It got cold and rainy again.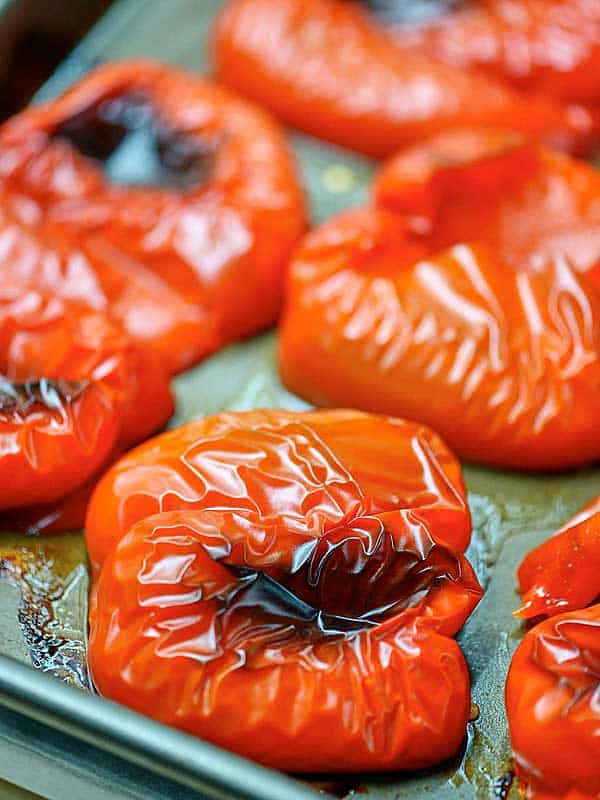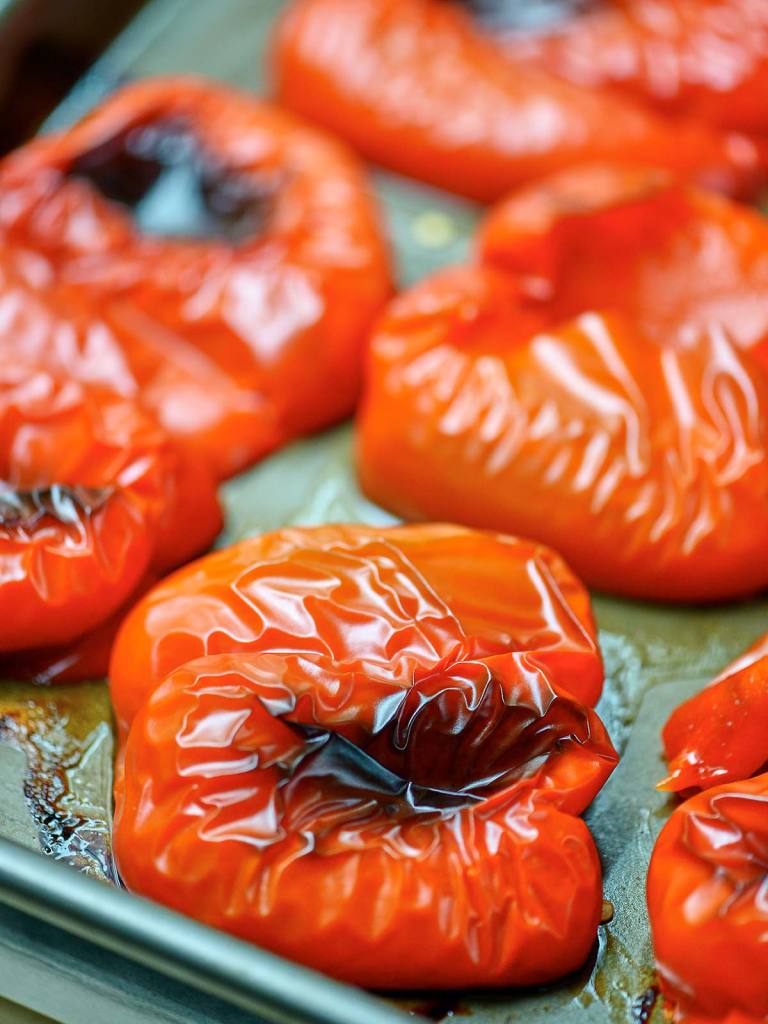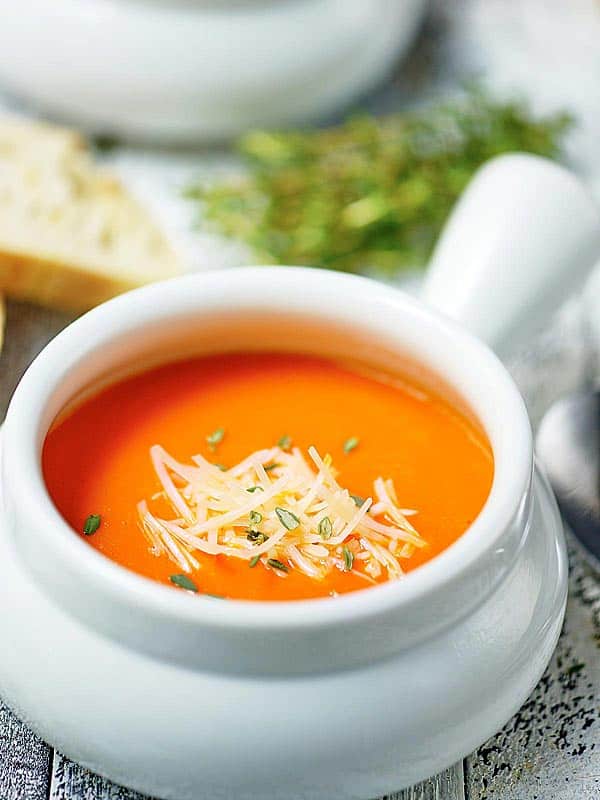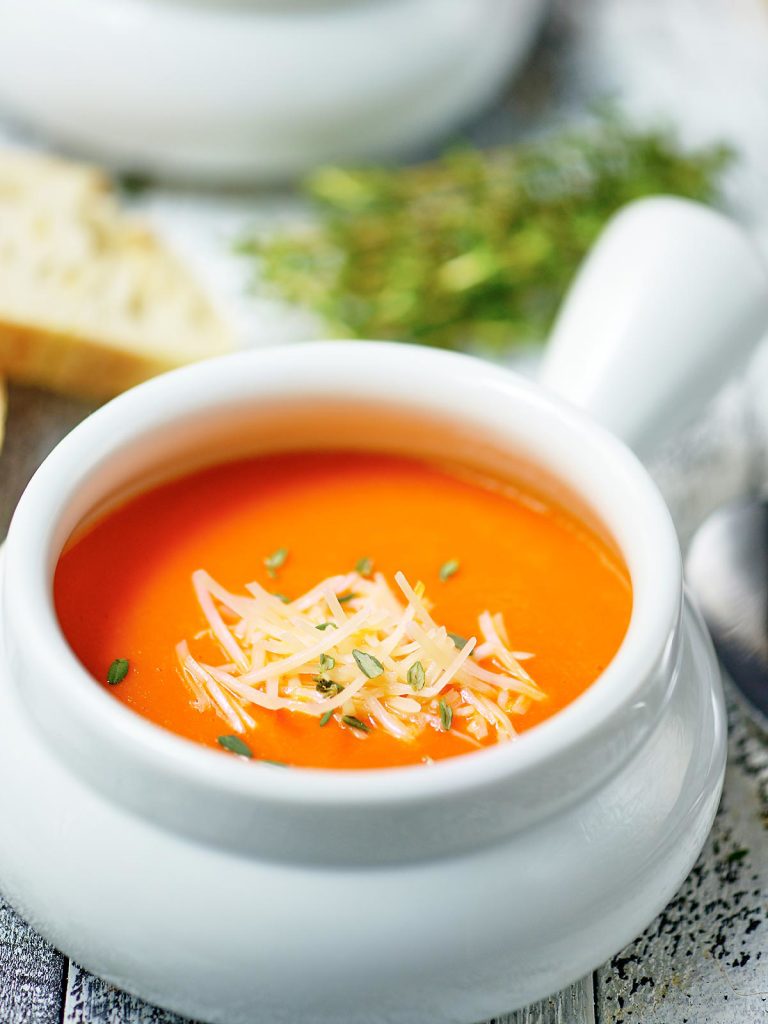 The day I first made this soup, I woke up freezing, and then had to bundle up to take Teddy outside. I thought it was just going to be one of those quick potty breaks where he immediately goes when we get outside, but nope. Teddy had different plans. He was in absolutely nooooo rush that morning and he insisted on sniffing ev-er-y-thing in sight.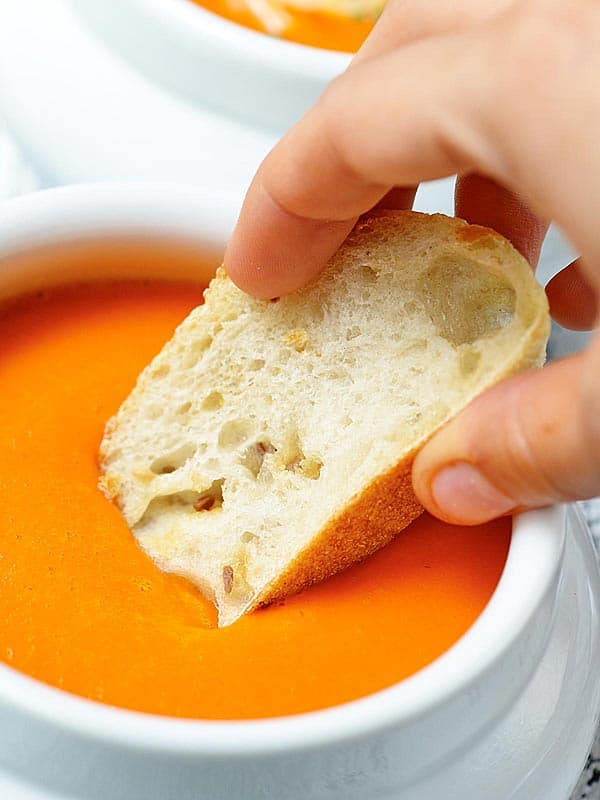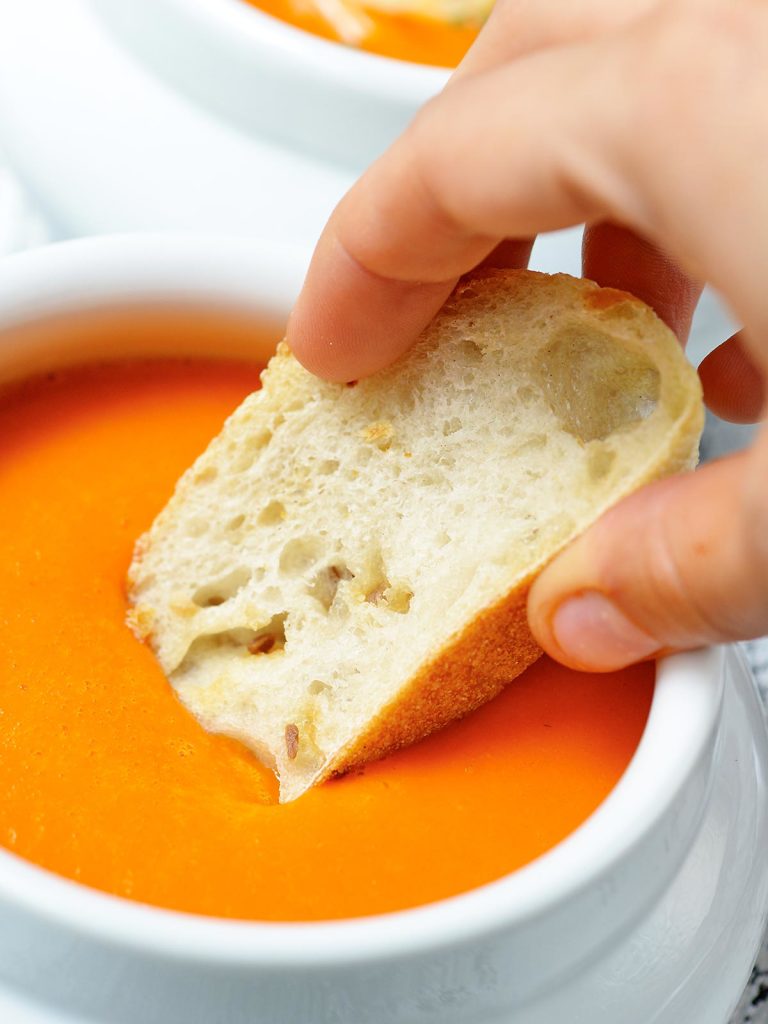 He finally went potty and then I had to run a few errands, before I could start my day. Trevor and I don't have a car, which is normally amazing, since it's ridiculously expensive to just park a car at our apartment complex! It's rare that we actually need a car anyway, as we live downtown and everything we need is within walking distance.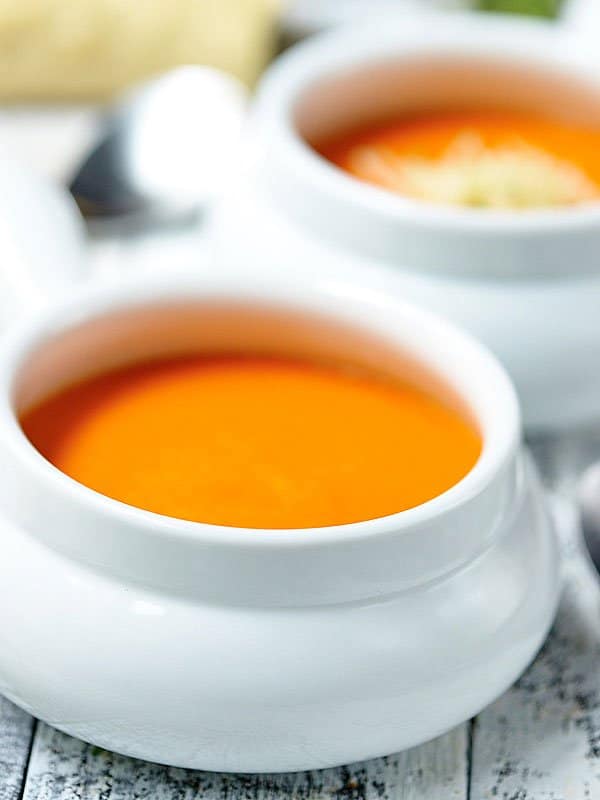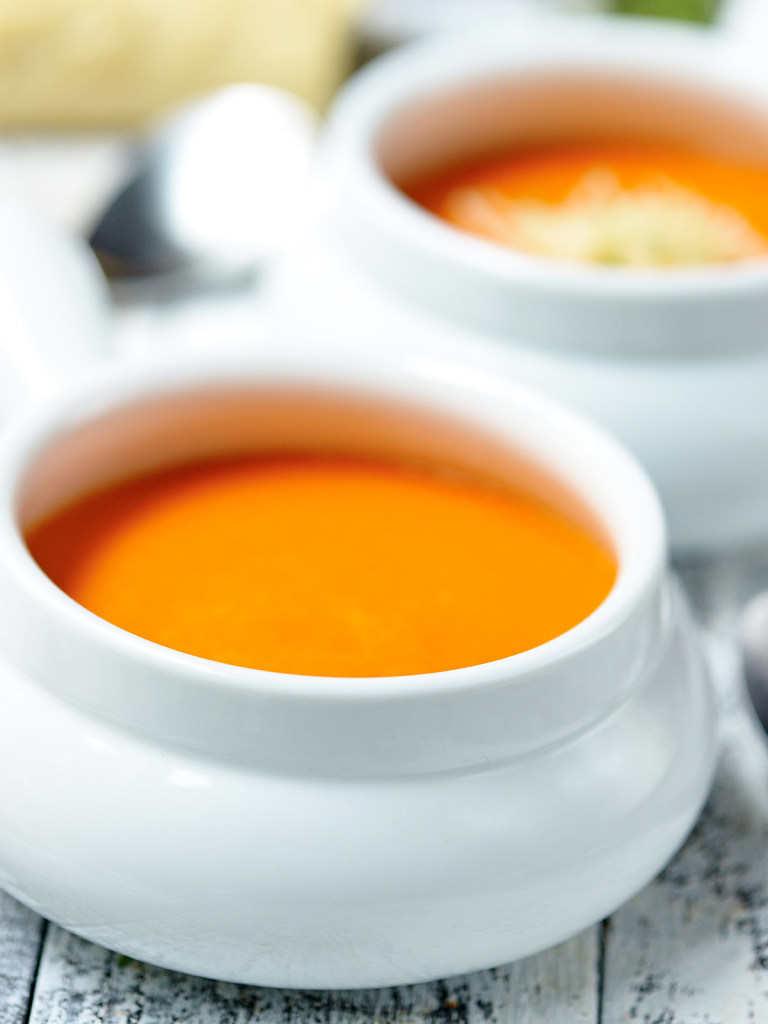 This day, however, was one of those days I needed a car. We use this rental service called Car2Go. 9 times out of 10 it's great! You find a car in their app on your phone, you reserve it, you walk to it, you swipe your membership car to unlock it, and you drive away with it.
Except not today!
Nope!
I walked to TWO separate cars in the FREEZING RAIN (that may be a slight exaggeration) and none of the cars would open.
In the end, I walked back home, bundled up more, and just walked to all my errands.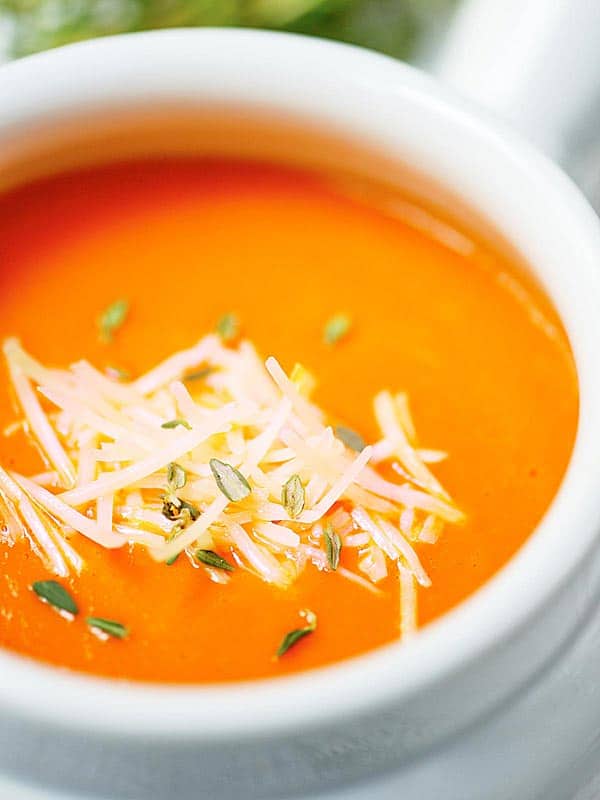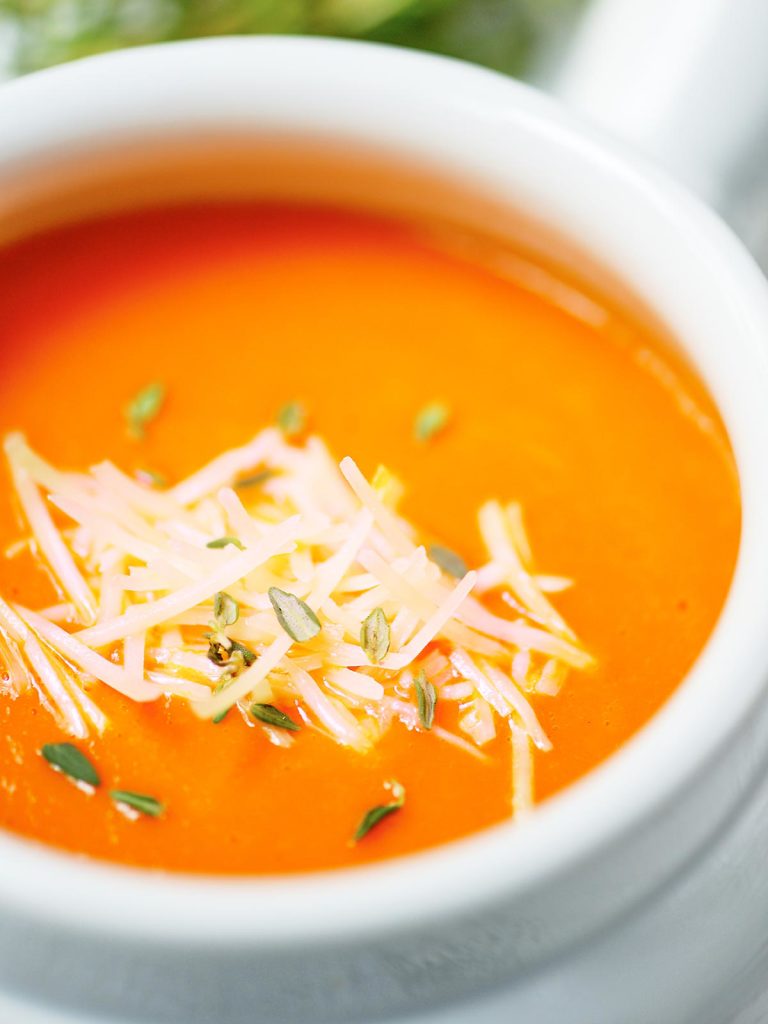 Soooo when I got home I was in serious need of something warm and comforting in the form of roasted red pepper soup. It was perfect timing that I was scheduled to shoot this recipe that day anyway, so it all worked out amazingly! 🙂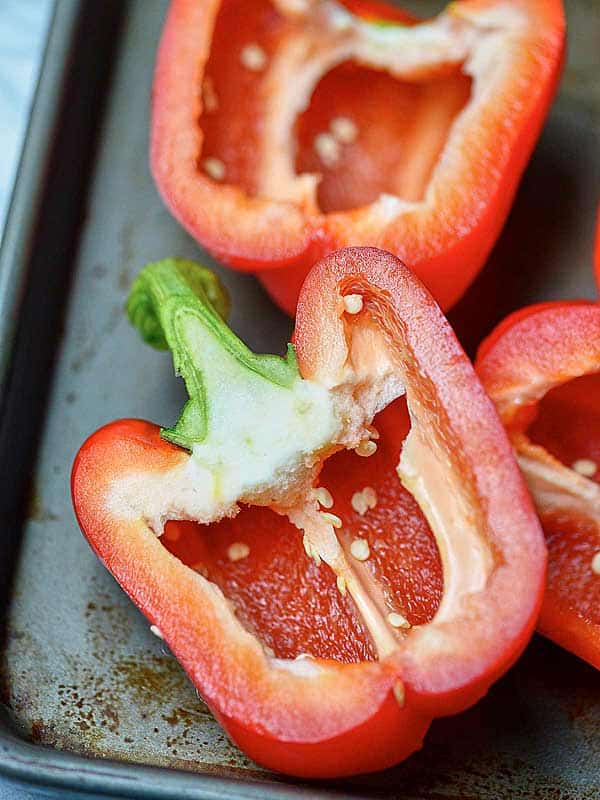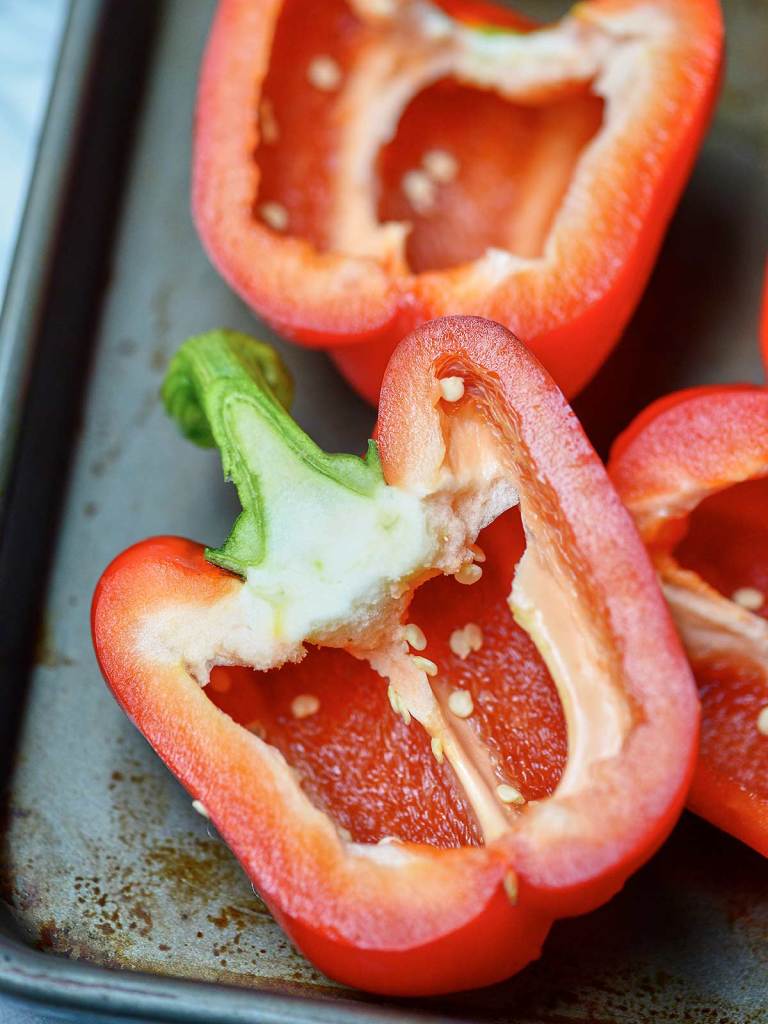 I roasted some red peppers – which is the "hardest" part of the recipe – and then cooked some onions and garlic in a big soup pot. To that, I added some wine, because, remember, I was struggling a little bit ;), some broth, spices, and the roasted red peppers.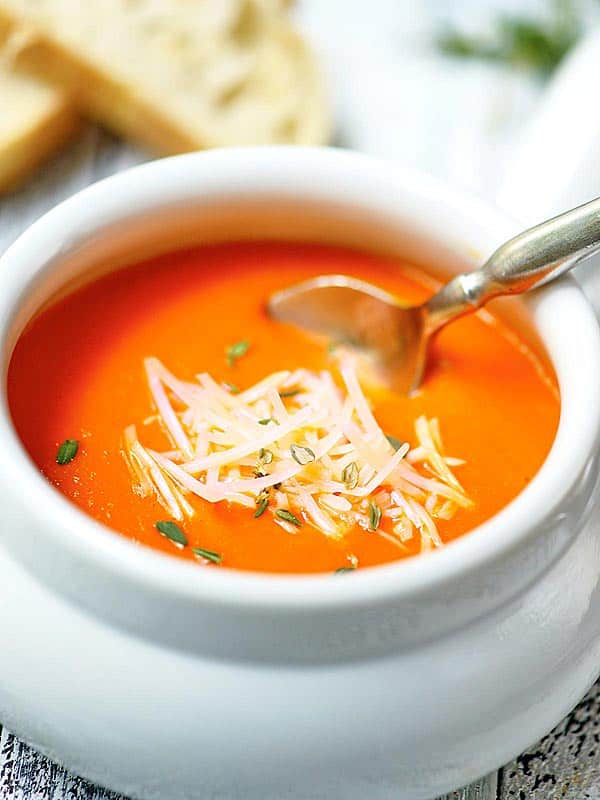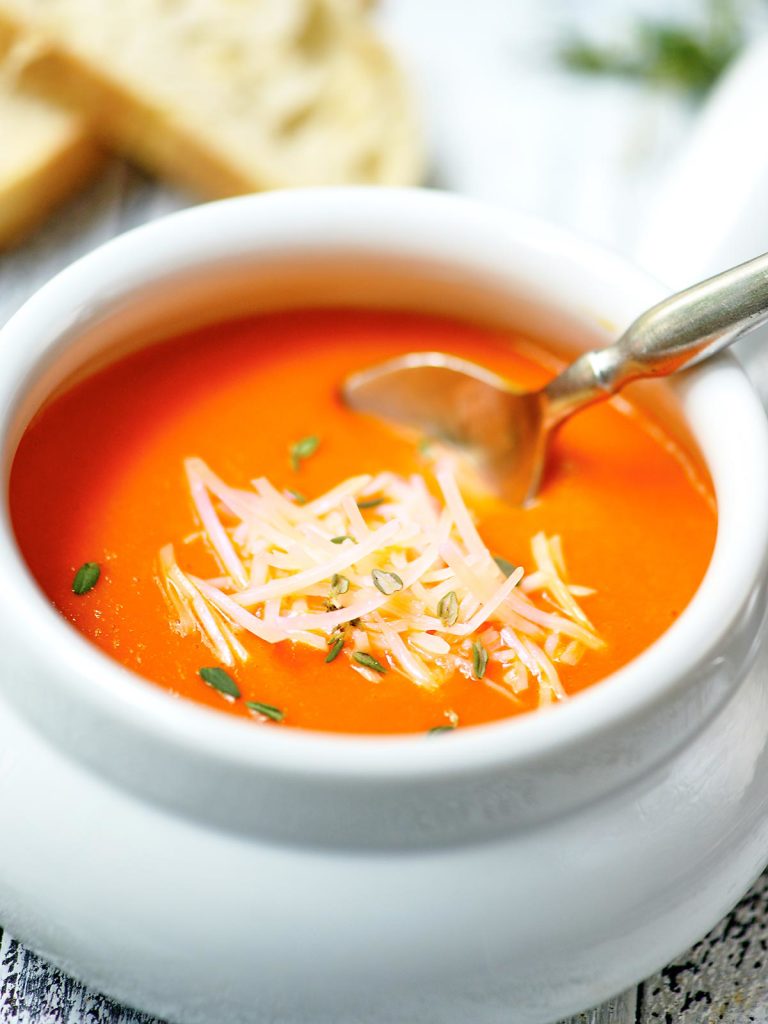 I cooked it up, gave it a whirl in my handy-dandy Vitamix
(you all seriously need one – Life. Saver.) and sat down with a bowl of steaming hot, super creamy, extra healthy, warms your soul, roasted red pepper soup. I also had some of this really yummy roasted garlic bread that I dunked in the soup and I'd suggest that you do the same.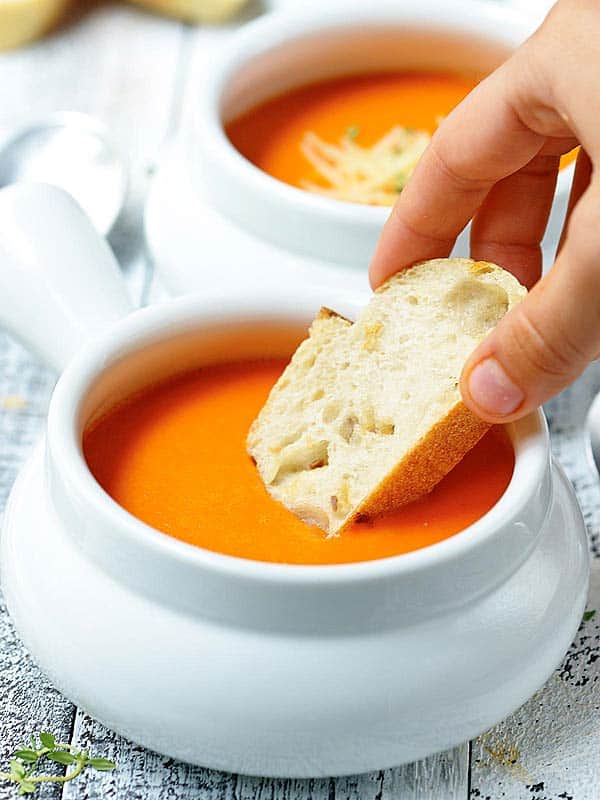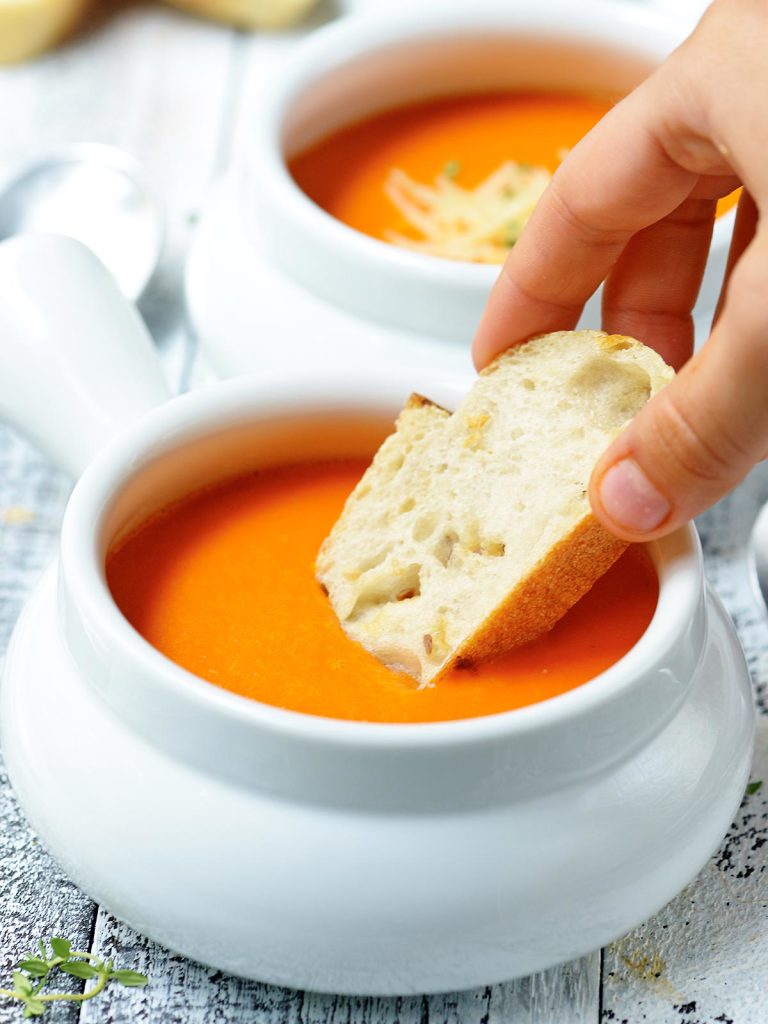 Even though we're inching closer and closer to warmer days, this soup is perfect to get you through those Summer storms! This roasted red pepper soup is really easy to make, and I love how the flavor of the red pepper really shines through. It's really creamy, even though it only has 1 tablespoon of butter in it (thank you Vitamix!!) and the thyme and cayenne give this soup a little earthiness and just a little kick!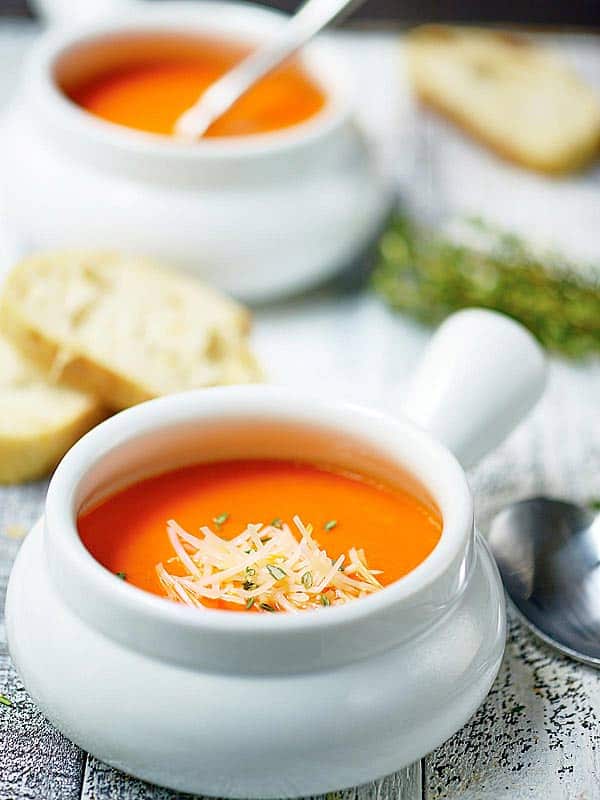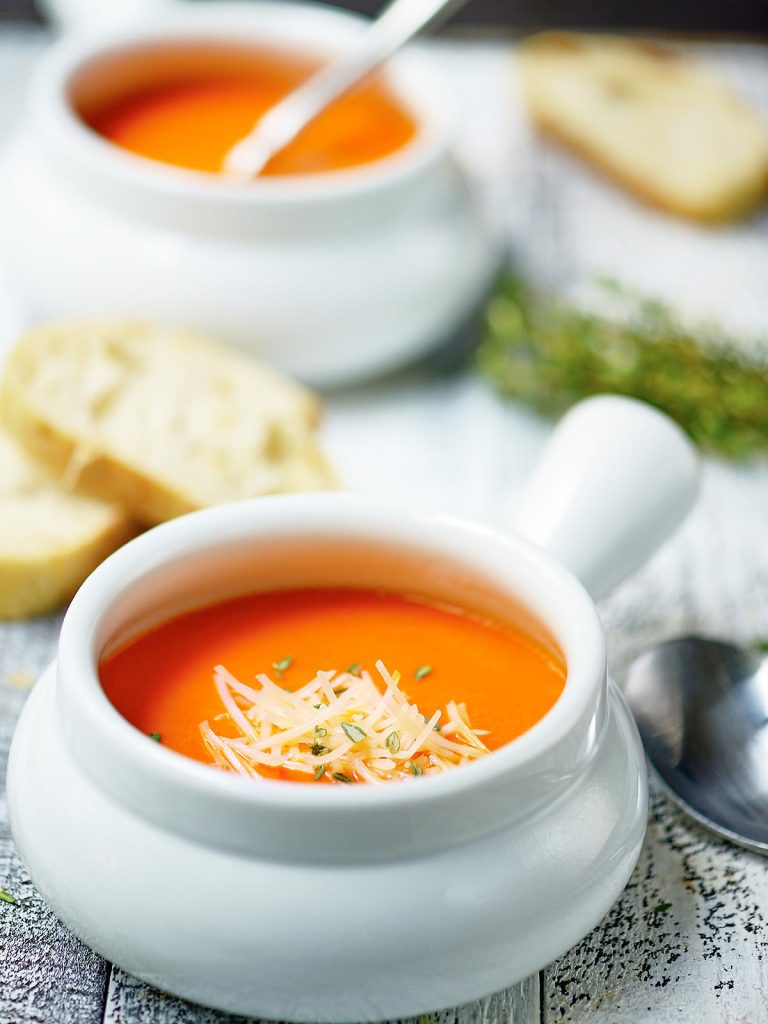 It's a well rounded soup that will keep you cozy no matter what time of year it is!
– Jennifer
Do you like soup in the Summer? Show me the yummy!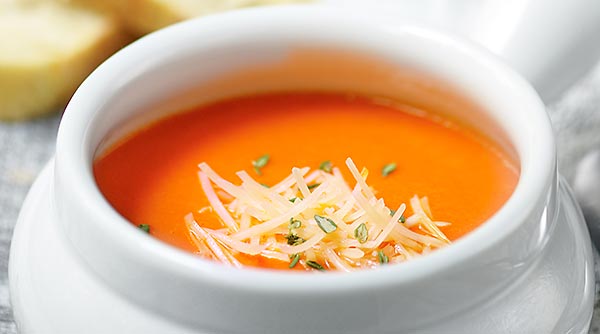 Roasted Red Pepper Soup
This roasted red pepper soup is easy to make, ultra creamy, gluten free, and can be vegan! It's healthy and so full of flavor.
Equipment for this recipe
(equipment shown are affiliate links)
Ingredients
3

pounds

red bell peppers

1

tablespoon

extra virgin olive oil

1

tablespoon

unsalted butter

omit if vegan

1

large

yellow onion

diced

4

cloves

garlic

minced

1/4

cup

dry white wine

1 1/2

cups

broth

chicken or veggie

1

bay leaf

1/2

teaspoon

dried thyme

or more to taste

1/4

teaspoon

cayenne pepper

1

teaspoon

salt

more or less to taste

parmesan for sprinkling

optional

heavy cream

optional*
Instructions
For the peppers
Preheat oven to 400 degrees F and move oven rack to top rung.

Half red peppers, take out the seeds, and stem. Place skin side up on a rimmed baking sheet.

Roast for 30-40 minutes until blackened (check after 20).

Remove from the oven and immediately cover the pan in foil. Steam for 10 minutes.

Uncover and let the pepper cool. Once cool enough to handle, remove the stem and peel the skin. Set aside.
For the soup
Add oil and butter in a large pot and heat over medium. Once the butter has melted, add in onions and cook until softened, about 5-7 minutes.

Add in garlic and let cook for 30 seconds.

Add in the white wine and cook until most of the wine has been absorbed - 1 minutes.

Now add in red peppers (there was some liquid in the bowl - add that too), chicken broth, bay leaf, thyme, and cayenne.

Bring heat to high, bring to a boil. Cover. Reduce heat. Simmer for 5 minutes.

Remove bay leaf.

Blend until smooth and season with salt.
STORING
Reheat:
If frozen, thaw in fridge then microwave or heat on stove
*Storage times may vary based on temperature and conditions
Notes
* I think the Vitamix makes this extra creamy, so I didn't need any heavy cream. If you don't have a high powered blender, you may want to stir in a little cream!
** Want to make this vegan? Use 2 tablespoons of oil, omit butter, and use vegetable broth instead of chicken broth!
Nutrition Information
Nutrition Facts
Roasted Red Pepper Soup
Amount Per Serving (1 cup)
Calories 159
Calories from Fat 54
% Daily Value*
Fat 6g9%
Cholesterol 6mg2%
Sodium 761mg33%
Potassium 637mg18%
Carbohydrates 21g7%
Protein 3g6%
Vitamin A 8715IU174%
Vitamin C 350.5mg425%
Calcium 30mg3%
Iron 1.4mg8%
* Percent Daily Values are based on a 2000 calorie diet.
*Note: Nutrition information is estimated and varies based on products used.
Keywords:
creamy, healthy, red bell peppers