These Healthy No-Bake Lactation Bites are a delicious, nutrient dense snack to promote milk production. Bonus for busy moms — these only take 15 minutes to make!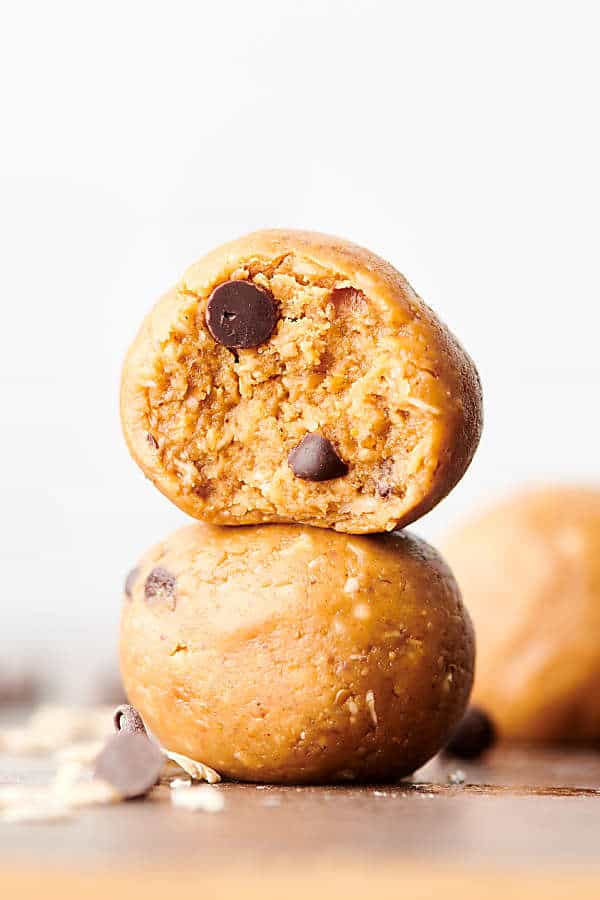 These lactation bites are one of my favorite snacks. Breastfeeding or not (these can be enjoyed by anyone!), they're so yummy and so nutritious! I make these in a big batch and store them in the freezer for a quick and easy snack any time of the day.
What are lactation bites
Lactation bites are basically little energy balls of nutrition. They contain ingredients such as oats, brewer's yeast, and healthy fats—all of which help with nursing mothers' milk supply…and they're tasty too!
Ingredients
This ingredient list is mostly made up of pantry staples…so I bet you've got a lot of what you need available already!
Oats – use old-fashioned oats for the perfect hearty and chewy texture. Oats are high in iron, which may help increase milk supply.
Ground Flaxseed – add an extra nutrition boost; they have phytoestrogens which, again, may help boost milk.
Brewer's Yeast – a byproduct of brewing beer that is dried and used as a nutritional supplement. This is also said to improve breast milk supply.
Nut Butter – I usually use peanut butter, but almond butter works too. Whichever you choose, use an all-natural, runny "nothing but nuts" variety.
Honey or Maple Syrup – whichever you like best. I usually do honey, because it's stickier, but both are great!
Vanilla Extract – adds warmth and a touch of sweetness.
Salt – cuts the sweetness and enhances flavors.
Chocolate Chips – I use dark chocolate chips to keep the sugar lower, but semi-sweet or milk chocolate chips work too.
Pro tip
Brewer's Yeast is VERY bitter and can have a funky taste. Be sure to use a brand that is "debittered" for best results. The nut butter, chocolate, and sweetener also do a great job at masking the flavor.
How to make
This healthy, delicious, and nutritious snack takes 15 minutes to throw together! PERFECT for busy moms.
Place all ingredients, except chocolate chips, into a food processor or stand mixer.
Process or mix until combined.
Move the mixture to a large bowl, add in chocolate chips, and knead in chocolate chips.
Form the mixture into balls using a small cookie scoop and place on a baking sheet lined with a silicone mat.
Freeze for 30 minutes on the baking sheet then transfer to an airtight container or snack away!
Pro tip
If you want a more textured, heartier lactation bite, use the stand mixer. Want it smoother, use the food processor! I love them both equally!
What oats to use
Use old-fashioned oats for the best, hearty texture. Quick cooking oats may not hold together as well. Steel cut oats won't work because the texture is way too hard when uncooked.
What is brewer's yeast?
Brewer's yeast is a byproduct of grain fermentation that is used as a nutritional supplement. It's considered a probiotic, a plant-based superfood, and is packed with vitamins and minerals.
The reason we're using brewer's yeast in these lactation bites is because it is said to help with healthy milk supply for lactating mothers!
But it's not just for lactating mothers. It even has health benefits for others. It's said to help with respiratory problems, digestion/gut health, blood sugar, swelling, healthy skin, and more! It also boosts both the immune system and energy levels.
Pro tip
Talk to your doctor before incorporating brewer's yeast into your diet! It may affect different types of medications.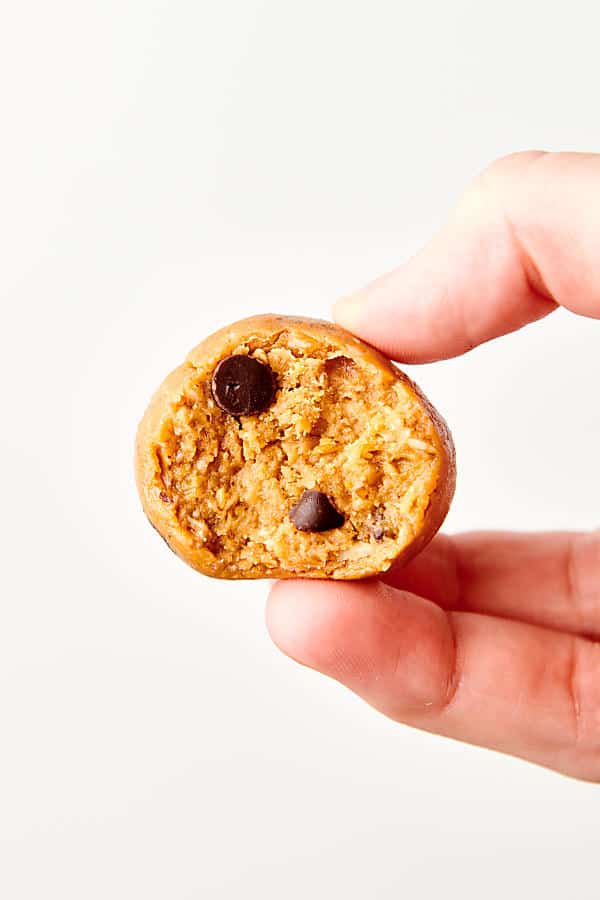 Do you have to be lactating to eat lactation bites?
Nope! All of the ingredients in these lactation bites are safe for everyone, not just breastfeeding mothers. If you're not a nursing mom, feel free to omit the brewer's yeast and replace with more flaxseed or chia seeds!
What is the difference between brewer's yeast and nutritional yeast?
Brewer's yeast and nutritional yeast are in the same family, they do have slightly different nutritional profiles.
Brewer's yeast is higher in iron, selenium, zinc, and potassium. Brewer's yeast is also a result of beer/bread production and then used as a supplement while nutritional yeast is produced specifically for supplemental use.
They also have different flavors so I don't recommend using nutritional yeast (which has a cheesy flavor) in place of brewer's yeast in this recipe.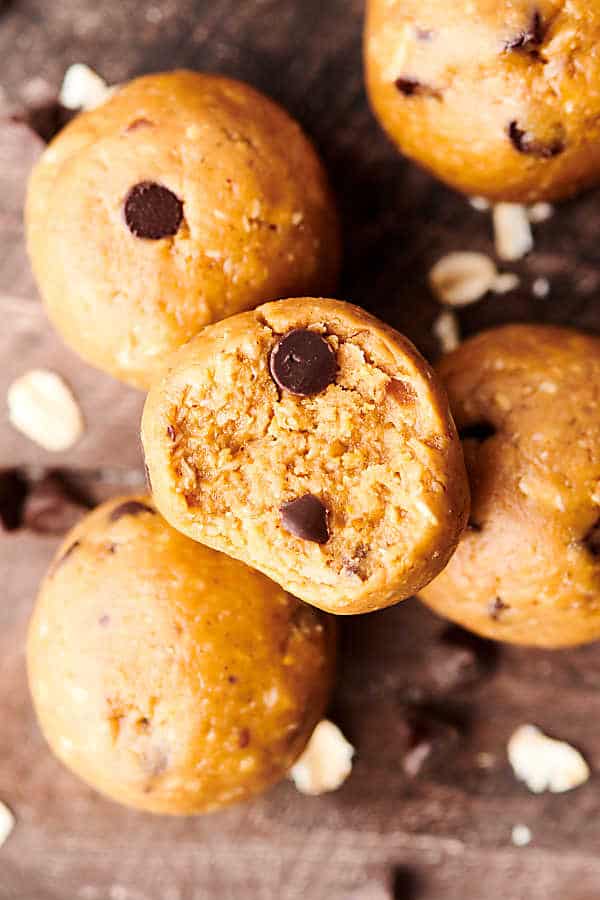 Variations
Use a different nut butter. I usually do peanut butter but others will work as well! Try almond, cashew, sunflower seed, you name it!
Add M&Ms. Monster cookie lactation bites? Heck yes.
Use different chips. I love the dark chocolate chips but semi-sweet, milk chocolate, or even peanut butter chips would work.
Make them double chocolate. Dip them in melted chocolate for a some extra sweetness.
Replace the brewer's yeast. If you're not a nursing mom, feel free to replace the yeast with more flax or even chia seeds or cocoa powder for a double chocolate version!
How to store
Store your lactation bites in an airtight container in the fridge for up to 1 week or in the freezer for 1-2 months.
I enjoy them frozen, cold, room temperature, or warmed in the microwave!
– Jennifer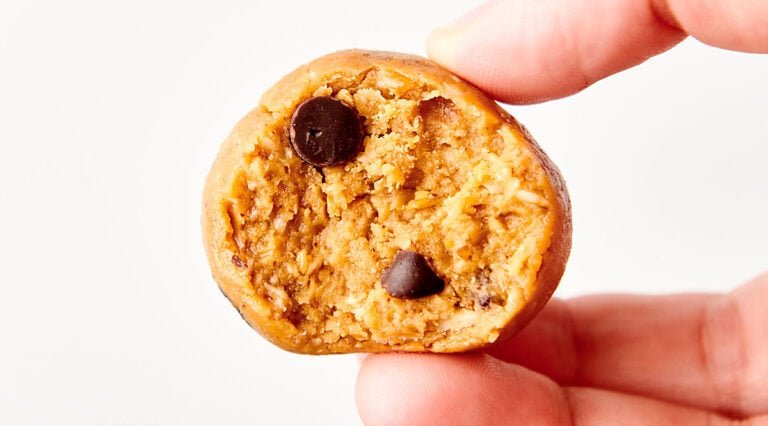 Lactation Bites
These Healthy No-Bake Lactation Bites are a delicious, nutrient dense snack to promote milk production. Bonus for busy moms — these only take 15 minutes to make!
Equipment for this recipe
(equipment shown are affiliate links)
Ingredients
2

cups

old-fashioned oats

1/2

cup

ground flaxseed

1/4

cup

brewer's yeast

replace with chia seeds or more flaxseed if you don't want to use brewer's yeast

1

(16-28 oz) jar

all natural peanut butter or almond butter

*

1/2

cup

honey or pure maple syrup

1

tablespoon

vanilla extract

1/2

teaspoon

salt

1/2

cup

dark chocolate chips
Instructions
Line a rimmed baking sheet with a silicone baking mat. Set aside.

Place all ingredients (minus chocolate chips) into a large high powered food processor (or stand mixer) and process (or mix) until the mixture comes together.

Place into a large bowl then use your hands to knead in chocolate chips (or if using a stand mixer, just mix the chocolate chips in).

Scoop mixture into 28 balls using a cookie scoop, then place onto prepared baking sheet. Roll into smooth balls, if desired.

Place in the freezer for 30 minutes.

Once the bites have set, transfer them to an air-tight container and store in the refrigerator for up to 2 weeks or freeze for up to 3 months.

Enjoy frozen, chilled, room temperature, or warmed in the microwave (my favorite!)
STORING
Reheat:
Microwave to warm, if desired
*Storage times may vary based on temperature and conditions
Notes
Nutritional information is calculated using a 16 oz jar of all-natural peanut butter and honey. 
*If you use a 28 oz jar of nut butter (which I prefer) you'll get 40 lactation bites instead of 28. 
Nutrition Information
Nutrition Facts
Lactation Bites
Amount Per Serving (1 lactation bite)
Calories 177
Calories from Fat 99
% Daily Value*
Fat 11g17%
Cholesterol 1mg0%
Sodium 121mg5%
Potassium 179mg5%
Carbohydrates 15g5%
Protein 6g12%
Vitamin C 1mg1%
Calcium 37mg4%
Iron 1mg6%
* Percent Daily Values are based on a 2000 calorie diet.
*Note: Nutrition information is estimated and varies based on products used.
Keywords:
breastfeeding, healthy, nutritious