Avocado Toast FOUR ways! Crispy bread topped with perfectly seasoned smashed avocado and your choice of toppings. This 15-minute toast is hearty, healthy, and perfect for on-the-go meals.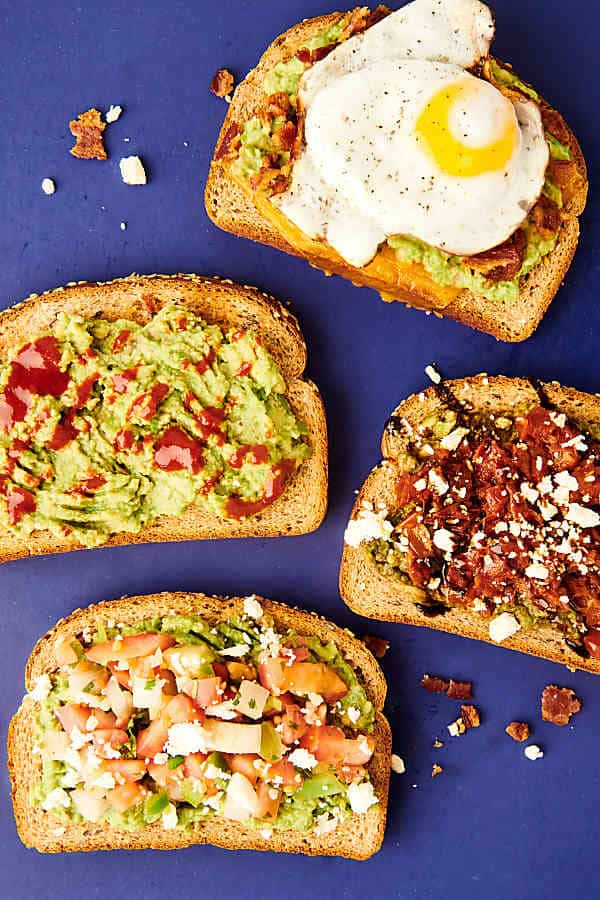 Don't hate me, but I haven't always been a fan of avocado toast. Probably because whenever I had it, it was soggy bread topped with unseasoned, mushy avocado . . . gross . . . but not today, my friends!
Today's "recipes" for avocado toast are made with hearty, crunchy bread, perfectly seasoned avocado, and your choice of flavorful toppings. YUM!
What is avocado toast?
Avocado toast is an open-faced sandwich made with toasted bread, avocado – often smashed, and your choice of toppings.
I'm sure you're wondering, "Why the heck do I need a recipe for that?" Well, the fun thing about avocado toast is it's SUPER versatile. There are so many ways to enjoy it. The toast and avocado is delicious on its own but also serves as a canvas for so many different toppings: cheese, veggies, hummus, meat, eggs, you name it!
Today, we're making FOUR kinds of avocado toast:
1. classic
2. bacon, egg, and cheese
3. pico de gallo
4. bruschetta
…and they're all SO GOOD!
Ingredients
This ingredient list couldn't be any simpler! Just your favorite bread, avocado, and your choice of toppings!
Bread – use your favorite type of bread. Anything goes! I like something hearty that crisps up nicely in the toaster. This provides a nice texture contrast to the creamy avocado.
Avocado – get as much or as little as you need. I like a thicker layer of avocado on my toast so I usually plan for 1/2 of a medium-sized avocado per slice of bread.
Topping Suggestions
Classic: Lime Juice, Steak Seasoning, Truffle Hot Sauce, and Salt – super simple but super delicious toppings with major flavor, tang, and spice for the classic avocado toast!
Bacon, Egg, & Cheese: Cheddar Cheese, Lemon Juice, Bacon, Egg, Salt, Pepper, and Hot Sauce – for the bacon, egg, and cheese version. Crispy, smoky, tangy, spicy, and cheesy. Heck. yes.
Pico de Gallo: Lime Juice, Pico de Gallo, Feta Cheese, Salt, and Pepper – toppings for the pico de gallo avocado toast. I love to whip up a batch of my homemade pico de gallo for this one.
Bruschetta: Balsamic Vinegar, Sun Dried and Roma Tomato Bruschetta, Feta Cheese, Balsamic Glaze, Salt, and Pepper – for the bruschetta version. This one is super light, fresh, and delicious! I love my roma and sun dried tomato bruschetta for this one.
Pro tip
Other than the avocado, the bread can really make or break your toast. Be sure to use something you really enjoy that's also hearty enough to hold up all those yummy toppings!
How to make
This super simple breakfast is ready in under 15 minutes!
Toast your bread of choice.
Place your avocado onto a cutting board and sprinkle with lime or lemon juice and seasonings.
Mash with fork or potato masher until you've reached your desired consistency.
Optional: If adding cheese, place that on your toast and bake until melted.
Spread your mashed avocado mixture onto the toast then top with whatever toppings you prefer and enjoy!
Pro tip
In each of my variations there's always some sort of acid (lime juice, lemon juice, balsamic vinegar) – this helps the avocado from browning and also provides a nice, tangy contrast to the rich, creamy avocado.
Variations
Here are the four variations of avocado toast we're making today!
Classic. Made with lime, steak seasoning, and truffle hot sauce.
Bacon, Egg, and Cheese. Topped with crispy bacon, fried egg, and melty cheddar cheese.
Pico de Gallo. With crumbled feta and my homemade pico.
Bruschetta. Finished off with balsamic glaze, classic bruschetta, and feta cheese.
These are just suggestions, the possibilities are endless! Have fun!
Avocado toast toppings
Avocado toast recipes are the best because you can make yours just the way you want! If the four variations I made here don't do it for you, here are some other topping ideas!
Fresh veggies. Sliced tomatoes, shredded carrot, fresh greens, etc.
Sautéed veggies. Mushroom, onion, green pepper, etc.
Fruit. Strawberries, mixed berries, pineapple, mango, etc.
Hummus. Mash it in with the avocado.
Tofu. Make a vegan "egg" scramble with tofu and seasonings.
Other meat. Try smoked salmon or breakfast sausage.
Nutritional boosters. Hemp seeds, ground flaxseed, chia seeds.
Flavor punch. Drizzle with your favorite sauce: hot sauce, balsamic glaze, etc.
Feel free to play around with the seasonings as well! I like to sprinkle on some cayenne pepper to give mine an extra spicy kick!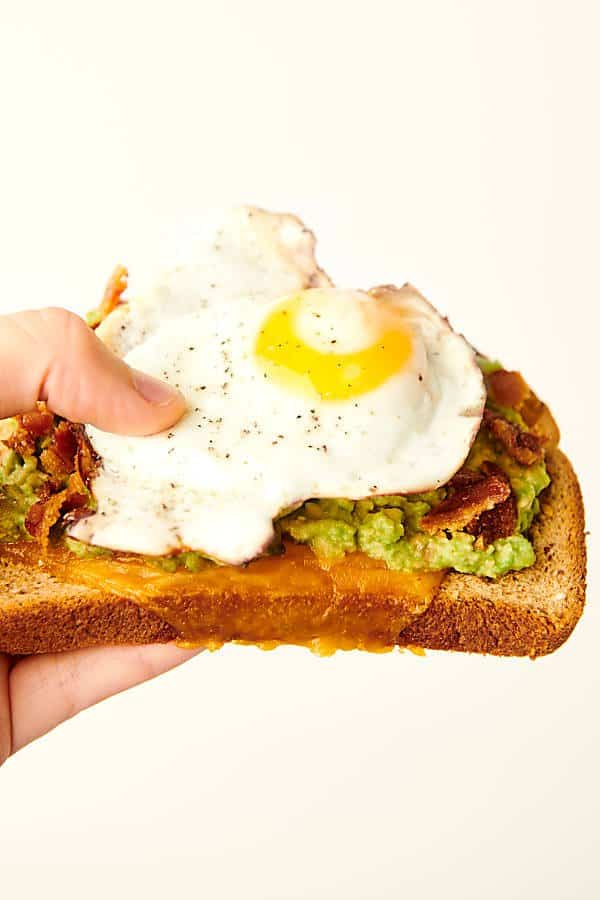 What bread to use
My favorite bread for avocado toast is multi-grain. I love the chewy, crispy texture paired with the avocado.
The great thing about recipes like this one, though, is you get to make it just how YOU like it. Pick your favorite bread:
English muffins
Sourdough
French baguette
Everything bagels
Is avocado toast healthy?
Avocado toast is a well-rounded and healthy meal. Avocado alone contains tons of nutrients, fiber, and healthy fats. That paired with whole grains, extra fruit and/or veggies and you've got yourself a healthy and hearty breakfast, snack, or lunch that's absolutely filled with nutrients!
Pro tip
"Healthy" is relative, but avocado toast is super customizable so you can make it to fit your dietary needs! Gluten free? Use your favorite gluten free bread! Vegan? Skip the egg and top with scrambled tofu!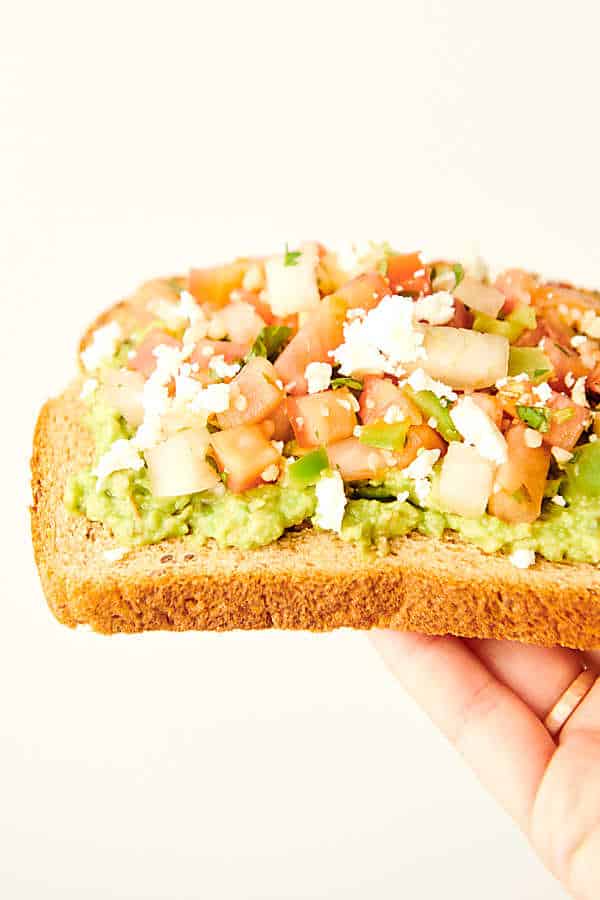 How to find a ripe avocado
Finding the perfect avocado can be a little bit tricky. Here a couple things to check for when picking them out in the store!
Color. A ripe avocado will be a very dark green color on the outside. Bright green avocados will be difficult to mash and taste more bland.
Feel. Give your avocado a gentle squeeze. If it has a little bit of give to it, it's probably good. If it's hard, it's still not ripe enough.
How to ripen avocados faster
If you can't find any ripe avocados, grab a couple unripe ones and keep them in a brown paper bag with a ripe banana for a day or two.
This speeds up the ripening process for the avocados so you can enjoy your delicious avocado toast sooner!
How to keep avocados fresh
Whole. Once avocados are ripe, they can go bad pretty quickly. If you have perfectly ripe avocados but aren't ready use them yet, store them in the fridge instead of out on the counter.
Half. If you're using only half of an avocado for a single piece of toast, leave the pit in the other half, and store it, covered in an airtight container or wrapped in saran wrap and tin foil, in the fridge until you're ready to use it. The pit keeps the avocado fresh and prevents browning. If it does brown a little, it's still okay to use. Just slice the brown bits off first!
Tips
Pick good avocados. Avocados that aren't ripe enough are bitter and have a hard, unpleasant texture. Avocados that are too ripe are brown.
Use good bread. This is one of the main components of this recipe. Use high-quality bread. It's so worth it.
Toast your bread well. Crispy bread contrasted with creamy avocado is such a good combination.
Mash the avocado separately. Don't mash the avocado on top of the toast or you might smash or poke holes in the bread.
Spice it up. Avocado is delicious but it's just that much better with some yummy seasonings. Don't skip them!
What to serve with avocado toast
Avocado toast is great as a light breakfast or snack but it's also delicious paired with some of your favorite breakfast/brunch items for a fuller meal. Here are some ideas!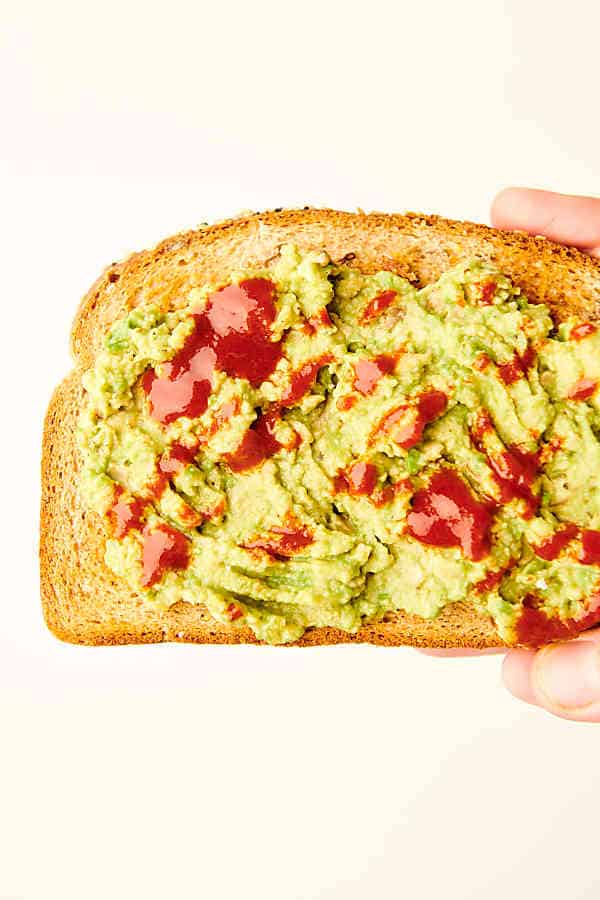 How to store
I don't recommend storing any fully assembled toasts. It's much better to just assemble them right before you're ready to eat!
You can, however, assemble your avocado mash and store it in an airtight container in the fridge up to 24 hours in advance.
Pro tip
To prevent browning, save your avocado pit and keep it in the container with the mash! 
– Jennifer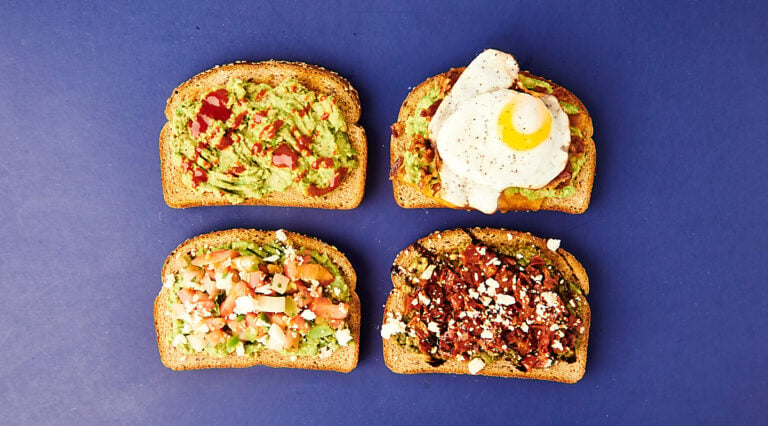 Avocado Toast
Avocado Toast FOUR ways! Crispy bread topped with perfectly seasoned smashed avocado and your choice of toppings. This 15-minute toast is hearty, healthy, and perfect for on-the-go meals.
Equipment for this recipe
(equipment shown are affiliate links)
Ingredients
Classic Avocado Toast
1

avocado

2

teaspoons

lime juice

1/2

teaspoon

steak seasoning

+ more to taste

salt

to taste

Truffle Hot Sauce

2

slices

bread

toasted
Bacon, Egg, and Cheese Avocado Toast
2

slices

bread

toasted

2

slices

sharp cheddar cheese

1

avocado

2

teaspoons

lemon juice

Salt and pepper

to taste

2

slices

bacon

cooked and crumbled

2

over-easy eggs

Hot sauce
Pico de Gallo Avocado Toast
1

avocado

2

teaspoons

lime juice

Salt and pepper

to taste

2

slices

bread

toasted

Crumbled feta
Bruschetta Avocado Toast
1

avocado

2

teaspoons

balsamic vinegar

Salt and pepper

to taste

2

slices

bread

toasted

Crumbled feta

Balsamic glaze
Instructions
Notes
Nutritional information is only based off the bread I used and the avocado. I did not include toppings. Nutrition will vary depending on bread used, avocado size/amount, and topping choices. 
Nutrition Information
Nutrition Facts
Avocado Toast
Amount Per Serving (1 person)
Calories 236
Calories from Fat 144
% Daily Value*
Fat 16g25%
Sodium 152mg7%
Potassium 538mg15%
Carbohydrates 22g7%
Protein 5g10%
Vitamin A 147IU3%
Vitamin C 10mg12%
Calcium 51mg5%
Iron 2mg11%
* Percent Daily Values are based on a 2000 calorie diet.
*Note: Nutrition information is estimated and varies based on products used.
Keywords:
bruschetta, fried egg, healthy, pico de gallo