This Frittata is so fluffy, creamy, and packed with veggies, bacon, and THREE kinds of cheese! Only 15 minutes of prep required.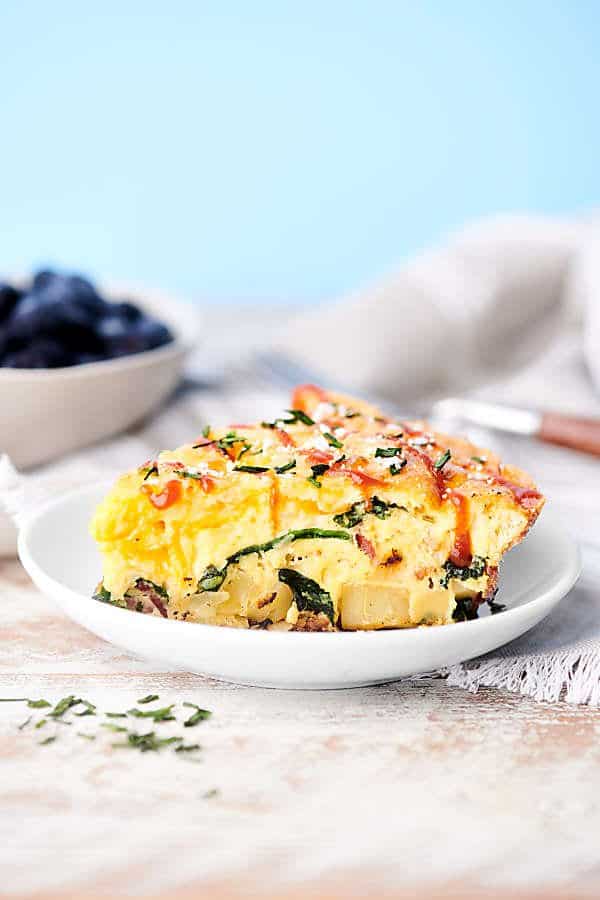 Creamy eggs, tender veggies, fluffy potatoes, crispy bacon . . . this frittata has it all. Brunch. Is. Served.
What is a frittata?
Frittata is an Italian dish that could be described as an egg pie of sorts. It's similar to a quiche but without crust. Often times, frittata has mix-ins like veggies, meats, and cheeses.
In this case, we're adding bacon, onion, spinach, potatoes, and three types of cheese!
What's the difference between frittata and quiche?
The main difference between the egg dishes – frittata and quiche – is the crust—or lack thereof. Quiche is made with a crust and frittata isn't! Besides that, the ingredients are pretty much the same.
Ingredients
This super simple ingredient list makes the best breakfast frittata!
Eggs – can't have frittata without eggs! Be sure you're using a dozen large eggs. Other sized eggs medium, jumbo, etc. weigh differently, so the results won't be the same.
Heavy Cream – this is what gives the frittata that delicious creamy texture when baked.
Garlic, Salt, and Pepper – adds flavor and spice.
Bacon – gives crispy texture and a delicious smoky flavor.
Yellow Onion, Potatoes, and Spinach – the classic frittata veggie blend. The potatoes provide an amazing fluffy texture and the spinach gives a beautiful pop of color.
Cheddar, Gruyere, and Parmesan Cheese – this blend of cheeses add their own unique flavor and texture to the frittata. I love the combination of sharp cheddar, creamy gruyere, and salty parm.
Pro tip
Frittatas are pretty forgiving… don't have heavy cream? Try half-and-half. Out of gruyere? Use another cheese!
How to make
Whisk together eggs, heavy cream, and part of the salt in a medium-sized bowl.
Place diced bacon in cold skillet pan then turn to medium/medium-high heat and cook until crispy. Remove the bacon and set aside.
Grease the same skillet then cook onion, and potatoes with salt and pepper until the potatoes are tender and browned.
Mix in the spinach and garlic into the onion/potato mixture then add and mix in already cooked diced bacon.
Sprinkle cheddar, gruyere, and parmesan cheese on top.
Pour the egg mixture evenly over the veggies and cheese and cook until the edges are starting to set.
Bake in preheated oven for 20-25 minutes or until the eggs are completely set then serve and enjoy!
Pro tip
I like dicing the bacon in this dish before cooking to promote even cooking!
How long to bake
The frittata will bake in a 400 degree F oven for 20-25 minutes. You'll be able to tell it's done when the eggs are set and it's cooked all the way through!
What cheese to use
This recipe calls for gruyere, parmesan, AND sharp cheddar cheese which I think is a super delicious combination. The gruyere is slightly sweet, nutty, and creamy, the parmesan adds saltiness, and the sharp cheddar really packs a flavor punch.
However, if those aren't your favorite, other cheeses will work as well. Try goat, peppernjack, mozzarella, white cheddar, feta, you name it!
How to prevent the frittata from sticking
The bacon grease in this recipe helps keep the frittata from sticking. I also highly recommend using a cast-iron skillet. They're naturally non-stick, so it's much easier to remove the frittata once it's done baking. Plus, the cast-iron skillet can be used on the stovetop AND in the oven, so it requires less dishes.
Why does my frittata go flat?
Your frittata will naturally deflate a little bit when you take it out of the oven. If it's much too flat, the eggs may be overcooked. Try removing it from the oven when the center is still a little bit loose and then letting the frittata set for a few minutes before cutting into it.
Also be sure you're measuring your heavy cream exactly. Too much dairy will weigh the eggs down and the frittata won't be quite as fluffy.
Can you use milk instead of cream?
The higher the fat content of whatever dairy you're using the creamier your frittata will be. Although milk will work, I recommend sticking to the heavy cream for an extra smooth texture!
Pro tip
If you want to lighten it up a bit while still maintaining a creamier texture, try using half-and-half!
Can you just use egg whites?
I don't see why this wouldn't work. You'll need to substitute 2 egg whites or 1/4 cup egg substitute for 1 whole egg. So that's 24 egg whites or 3 cups egg substitute to make this an egg-white frittata. (*not tested).
Is frittata gluten-free?
It sure is! This frittata is totally gluten-free. As always, be sure all of the ingredients you're using are certified GF before incorporating them into this recipe.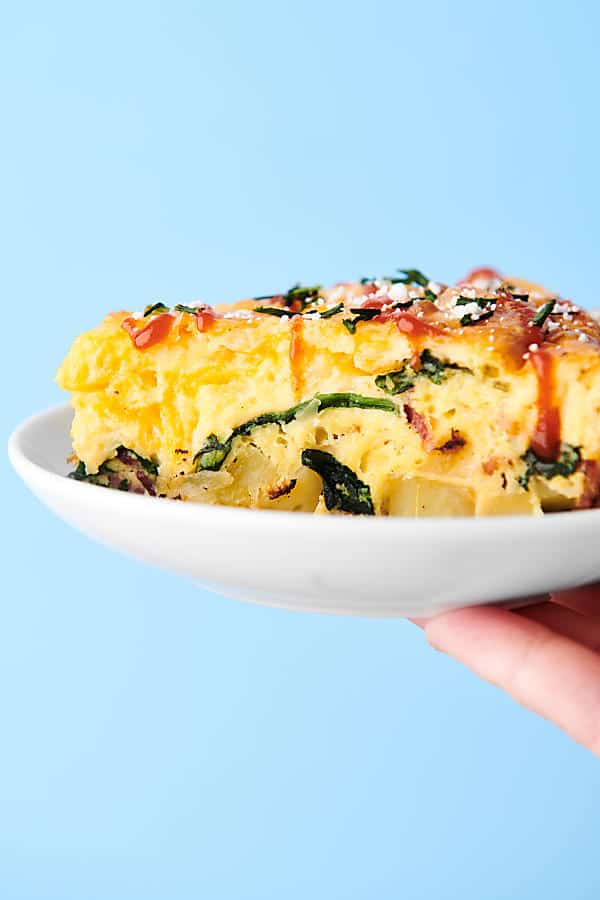 Flavor combinations
Although I do love the classic potato, spinach, and onion combination, it's also fun to switch it up. Here are some other yummy ingredient blend ideas!
Spinach, artichoke, and feta cheese
Broccoli, cheddar, and green onion
Asparagus, mushroom, and goat cheese
Caprese: tomato, mozzarella, and basil
Onion, carrot, pepper, and chives
Roasted red pepper, spinach, and onion
Make any of these and mix in your favorite meat: ham, turkey, or even shrimp! Pretty much anything is a go!
Tips
Use heavy cream. Higher fat content = creamier texture!
Mix well. Make sure the eggs, meat, and veggies are all mixed evenly so you get a little bit of everything in each bite.
Always add cheese. Seriously. Trust me.
Don't overcook. Remove the frittata from the oven while the center is slightly undercooked and let it set outside of the oven. This prevents the eggs from overcooking so it doesn't get dry and spongy.
Use a cast-iron skillet. These can go easily from the stovetop to the oven and help conduct heat evenly so the frittata is perfectly cooked everywhere. They're also naturally non-stick so it's super easy to remove the frittata when it's done!
What to serve with frittata
This recipe is delicious on it's own or garnished with fresh herbs (basil, parsley, cilantro, or chives), a dollop of pesto, balsamic glaze, hot sauce, or sour cream!
If you're serving it up as a larger meal during brunch, here are some of my favorites!
Serve any (or all) of these up with mimosas and you've got a hearty and super yummy brunch spread!
How to store
Leftovers will last in an airtight container in the refrigerator for 3-4 days or in the freezer for 2-3 months.
To reheat, thaw overnight in the fridge then bake (preferred) or microwave until heated through.
– Jennifer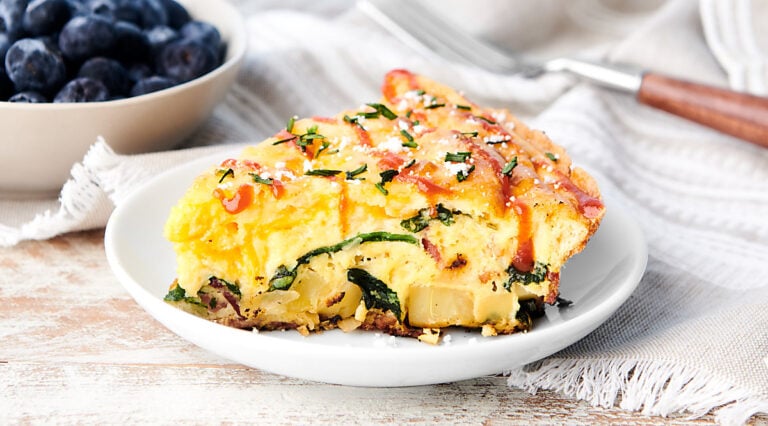 Frittata
This Frittata is so fluffy, creamy, and packed with veggies, bacon, and THREE kinds of cheese! Only 15 minutes of prep required. 
Equipment for this recipe
(equipment shown are affiliate links)
Ingredients
12

large

eggs

1/2

cup

heavy cream

1 1/2

teaspoons

salt

divided

6

slices

bacon

diced

1/2

yellow onion

diced

3/4 - 1

pound

Yukon gold potatoes

peeled and cubed into 1/4 inch chunks

1/2

teaspoon

freshly ground black pepper

2

cups

baby spinach

4

cloves

garlic

minced

1

cup

sharp cheddar cheese

shredded

1

cup

gruyere cheese

shredded

1/4

cup

finely grated parmesan cheese
Instructions
Preheat oven to 400 degrees F. 


Whisk the eggs, heavy cream, and 1/2 teaspoon salt together in a medium sized bowl. Set aside.


Place the diced bacon in a cold 10-12 inch cast iron skillet, then turn the heat to medium/medium-high heat.

Cook the bacon, stirring occasionally, until crispy.

Remove the bacon (set aside) and grease, reserving 2 tablespoons for frying the potatoes.

Return the pan with 2 tablespoons bacon grease to medium heat.

Add the onion, potatoes, pepper, and remaining 1 teaspoon salt.

Cook, stirring regularly, until the potatoes are fairly tender and lightly browned, about 6 minutes.

Add in the spinach and garlic, and cook for 30 seconds.

Stir the bacon back in and spread everything into an even layer.

Sprinkle the cheddar, gruyere, and parmesan cheese on top. 


Pour the egg mixture evenly over the vegetables and cheese.

Cook for 1-2 minutes, or until you see the eggs at the edges of the pan beginning to set.

Bake in preheated oven until the eggs are set, about 20-25 minutes.

Cool for 5 minutes, slice into wedges, serve, and enjoy!
STORING
Reheat:
Bake or microwave to warm. Thaw first, if frozen
*Storage times may vary based on temperature and conditions
Nutrition Information
Nutrition Facts
Frittata
Amount Per Serving (1 person)
Calories 597
Calories from Fat 360
% Daily Value*
Fat 40g62%
Cholesterol 461mg154%
Sodium 1151mg50%
Potassium 867mg25%
Carbohydrates 27g9%
Protein 32g64%
Vitamin A 2199IU44%
Vitamin C 30mg36%
Calcium 508mg51%
Iron 3mg17%
* Percent Daily Values are based on a 2000 calorie diet.
*Note: Nutrition information is estimated and varies based on products used.
Keywords:
bacon, easy, eggs