These Hot Chocolate Cookies are rich, chewy, and topped with melty chocolate and a perfectly toasted, ooey-gooey marshmallow!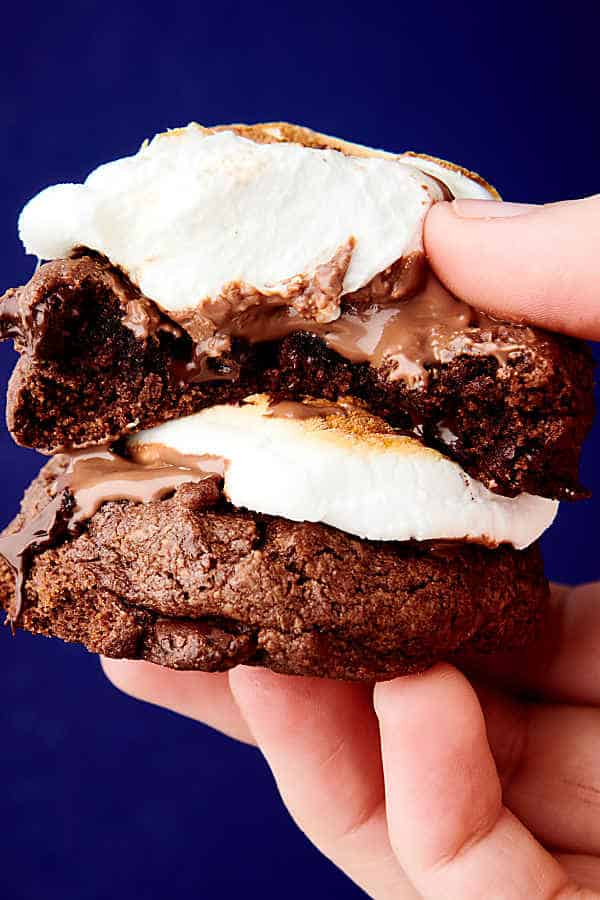 What are hot chocolate cookies?
Hot chocolate or hot cocoa cookies are double chocolate chip cookies that have been flavored with powdered hot chocolate mix and topped with melty chocolate and a toasted marshmallow.
Ingredients
A mash up of two cozy classics: hot cocoa and double chocolate chip cookies!
Butter – adds flavor and tenderness. In this cookie recipe, butter is melted which results in a chewy cookie. Using unsalted butter allows you to control how much salt goes into the recipe. If salted butter is the only butter available, simply reduce the salt by 1/4 teaspoon per 1/2 cup of butter called for (these cookies use 1 cup of butter, so reduce salt by 1/2 teaspoon).
Brown Sugar and Granulated Sugar – brown sugar contains molasses which yields a rich flavor and moist, chewy cookie whereas granulated sugar encourages spreading and caramelization.
Eggs – helps bind the cookie together while also adding a chewy texture. Because we're using melted butter, you'll need to use room temperature eggs.
Vanilla Extract –  adds flavor depth and a touch of sweetness. Pure vanilla extract or imitation vanilla may be used based on what you have on hand. In a recipe like today's cookies, you won't be able to tell if you're using pure or imitation.
All-Purpose Flour – a good base for all different kinds of baked goods, especially cookies. The amount of flour added in a recipe will produce different textures — more flour = drier cookie that will hold its shape whereas less flour = chewy. Drop cookies, like today's recipe, is somewhere in the middle. These cookies will hold their shape, but aren't dry; they are perfectly soft, yet chewy!
Hot Chocolate Mix – you'll need 3 (1.38 oz) packets of your favorite hot cocoa mix! I used Swiss Miss Milk Chocolate, but anything you have on hand should be fine.
Cocoa Powder – enhances the flavor of the chocolate in the hot chocolate without adding additional sweetness. I tried testing these cookies without cocoa powder and the chocolate flavor just wasn't strong enough.
Salt – a must for any sweet treat! Salt enhances other flavors in the cookies while also balancing out the sweetness from the sugars and pudding mix.
Baking Powder and Baking Soda – our leavening agents. Why use both? The combination of the two gives the best "lift" to the cookies while maintaining a pleasant flavor. Too much baking powder and you'll end up with a bitter cookies.
Chocolate Chips – stirred into the batter to create gooey pools of melty chocolate in every bite. We're using semi-sweet chocolate to keep these from being too sweet, but feel free to substitute with YOUR favorite chocolate chip — milk, dark, etc.
Dove Milk Chocolate Promises – create a melty, molten lava-like chocolate puddle in the middle of each cookie to resemble sipping a cup of rich hot cocoa.
Marshmallows – because what's hot chocolate without marshmallows? These are optional, but I love the toasty, chewy, squishy, melty texture and creamy flavor these add to the cookies. They also help cut the richness of these extract chocolate-y cookies.
Pro tip
Want to mix up the flavors? See Variations below for ideas!
How to make
The base of the cookie is pretty standard: mix, scoop, and bake. The chocolate and marshmallow topping is then added and broiled until the chocolate is melty and the marshmallow is golden brown.
In a large bowl, whisk together melted butter, brown sugar, and granulated sugar until smooth, then whisk in eggs and vanilla.
Fold in flour, hot chocolate mix, cocoa powder, salt, baking powder, and baking soda, then stir in the chocolate chips.
Line 4 baking sheets with silicone baking mats, then use a large cookie scoop to portion the dough out into 36 balls. Place 8 onto each baking sheet.
Bake immediately at 350 degrees F for 12 minutes, or chill/freeze until ready to use.
Top each cookie with a dove chocolate and marshmallow, then broil until the marshmallow is golden brown.
Can you use hot chocolate powder instead of cocoa powder in cookies?
Hot chocolate powder makes a great addition to cocoa powder in cookies, but it can't be used to completely replace it. Why? The chocolate flavor just isn't strong enough without cocoa powder! Using both creates a cookie that tastes like a rich cup of hot cocoa.
Best marshmallows to use in cookies
Large marshmallows are the best marshmallows to use. They're the perfect size for hot chocolate cookies. The marshmallow are placed on top of the baked cookie, then broiled until they're gooey on the inside and golden-brown on the outside.
Many hot chocolate cookie recipes call for stirring mini marshmallows or marshmallow bits into the dough, but I've found a few things:
Mini marshmallows causes the dough to spread too much. This results in a thin crispy cookie vs a soft, fluffy one.
The mini marshmallows melt and caramelize. The marshmallows either completely disappear into the dough or they spread to the outside and get hard and stick to the sheet pan.
Marshmallow bits work, but they're SO difficult to find. Your best bet is ordering them online.
Using large marshmallows after baking provides the texture closest to a true gooey marshmallow that you'd have stirred into your cup of cocoa!
Can i make these without marshmallows?
Absolutely! If you're not a marshmallow fan, simply omit the marshmallows! If you're looking to cut some of the richness of the chocolate, try adding a dollop of whipped cream or cool whip on top of each cookie before serving.
Variations
Try different hot cocoa. Use peppermint, caramel, gingerbread, dark chocolate, milk chocolate, white chocolate… whatever your favorite hot chocolate is, I'm sure it would be delicious in these cookies!
Use another chocolate. Each cookie is topped with a Dove milk chocolate square, but any flavor of Dove will work: caramel, dark, mint, peanut butter, etc. Any brand of chocolate should work, but I've found that Dove melts SO beautifully.
Ditch the marshmallows for whipped cream. Right before serving, add a dollop of whipped cream or cool whip!
How to store
Leftover cookies will last in an airtight container at room temperature for 1 week, in the fridge for 2 weeks, or in the freezer for 3 months.
To enjoy again, eat at room temperature or microwave to warm!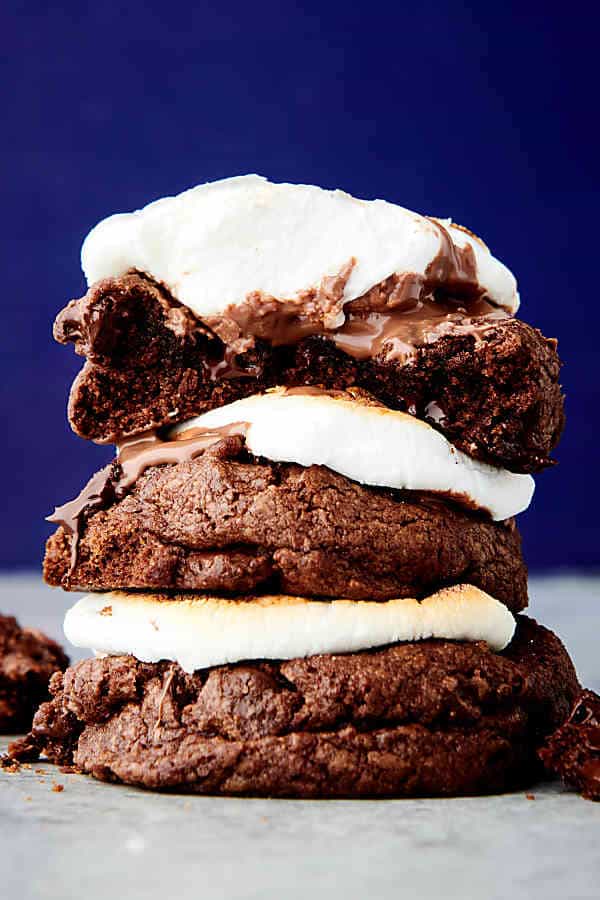 Make in advance
The holiday season is busy, freeze the dough in advance so you can have freshly baked cookies in a matter of minutes!
Make dough as directed and scoop the dough using a large cookie scoop on a silicone mat lined baking sheet.
Place the baking sheet into the freezer until the dough balls have frozen, at least an hour.
Transfer the cookie dough balls into a freezer safe ziplock baggie, then store in the freezer for up to 3 months.
To bake from frozen: bake as directed, adding an additional 1-2 minutes, if necessary, then add the chocolate and marshmallow topping and broil as directed.
– Jennifer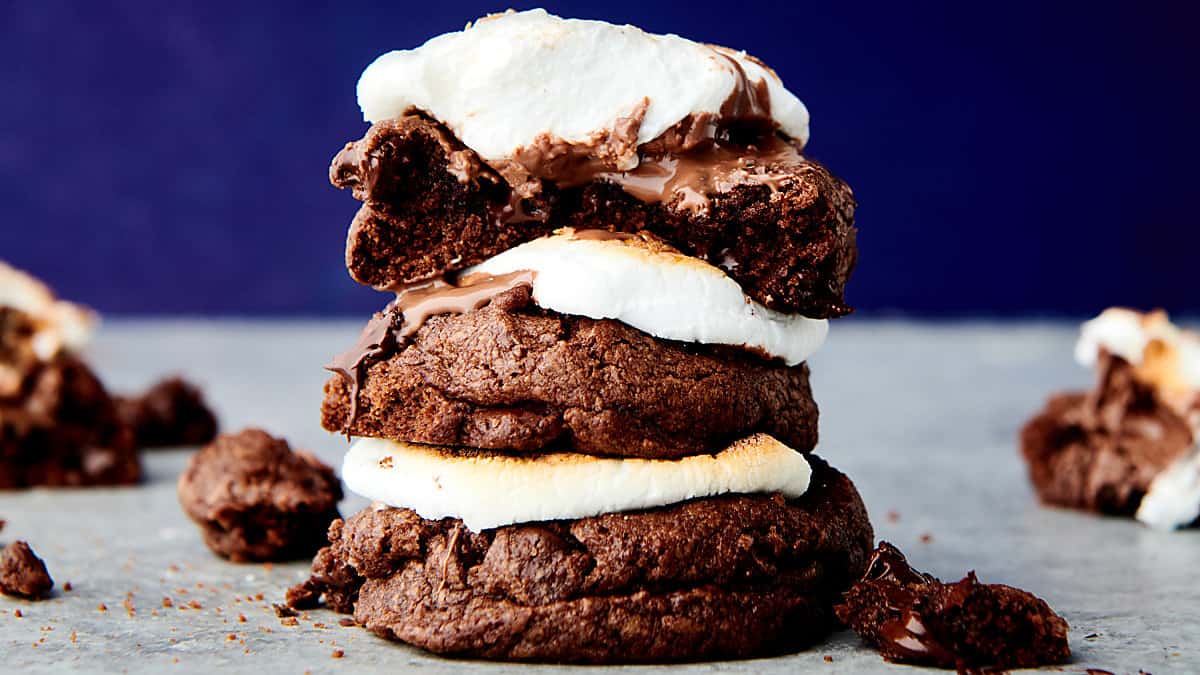 Hot Chocolate Cookies
These Hot Chocolate Cookies are rich, chewy, and topped with melty chocolate and a perfectly toasted, ooey-gooey marshmallow! 
Equipment for this recipe
(equipment shown are affiliate links)
Ingredients
1

cup

unsalted butter

melted

3/4

cups

brown sugar

packed

1/2

cup

granulated sugar

2

large

eggs

room temperature

1

tablespoon

vanilla extract

2

cups

all purpose flour

spoon and leveled

1/2

cup

cocoa powder

3

(1.38 oz) packets

hot chocolate mix

I used Swiss Miss Milk Chocolate, but use your favorite!

1 1/2

teaspoons

salt

1

teaspoon

baking powder

1/4

teaspoon

baking soda

1

(12 oz) bag

chocolate chips

I used semi-sweet, but use any flavor you'd like

32

Dove Milk Chocolate Promises

or flavor of choice

32

large

marshmallows
Instructions
Place butter, brown sugar, and granulated sugar into a large bowl, then whisk until smooth.

Whisk in eggs and vanilla until combined.

Fold in flour, cocoa powder, hot chocolate, salt, baking powder, and baking soda until incorporated, then stir in the chocolate chips.

Line 4 baking sheets with silicone baking mats.

Use a large cookie scoop to scoop out 32 dough balls — place 8 onto each prepared baking sheet.

Optional - chill in the fridge for 30 minutes. This helps the cookies from spreading.

Preheat oven to 350 degrees F, then baked the dough balls for 12-15 minutes.

Remove cookies from oven and turn the oven to broil.

Top each cookie with 1 dove chocolate and 1 marshmallow (you may need to press down gently, but firmly to get the marshmallow to stay on the cookie).

Broil on the middle rack until the marshmallow is golden brown, about 30-60 seconds (time varies depending on how hot your broiler is).

Remove from oven, then use your fingers to gently squish the toasted marshmallow to flatten slightly and enjoy warm!
STORING
Reheat:
Thaw in the fridge if frozen, then microwave to warm
*Storage times may vary based on temperature and conditions
Nutrition Information
Nutrition Facts
Hot Chocolate Cookies
Amount Per Serving (1 cookie)
Calories 255
Calories from Fat 108
% Daily Value*
Fat 12g18%
Cholesterol 31mg10%
Sodium 177mg8%
Potassium 55mg2%
Carbohydrates 36g12%
Protein 3g6%
Vitamin A 218IU4%
Vitamin C 1mg1%
Calcium 51mg5%
Iron 1mg6%
* Percent Daily Values are based on a 2000 calorie diet.
*Note: Nutrition information is estimated and varies based on products used.
Keywords:
double chocolate cookie, hot chocolate dessert, hot cocoa dessert, marshmallow cookie