You guys are gonna FLIP for these classic Buttermilk Pancakes. Only 8 ingredients for ultra fluffy, perfectly sweet, incredibly easy pancakes!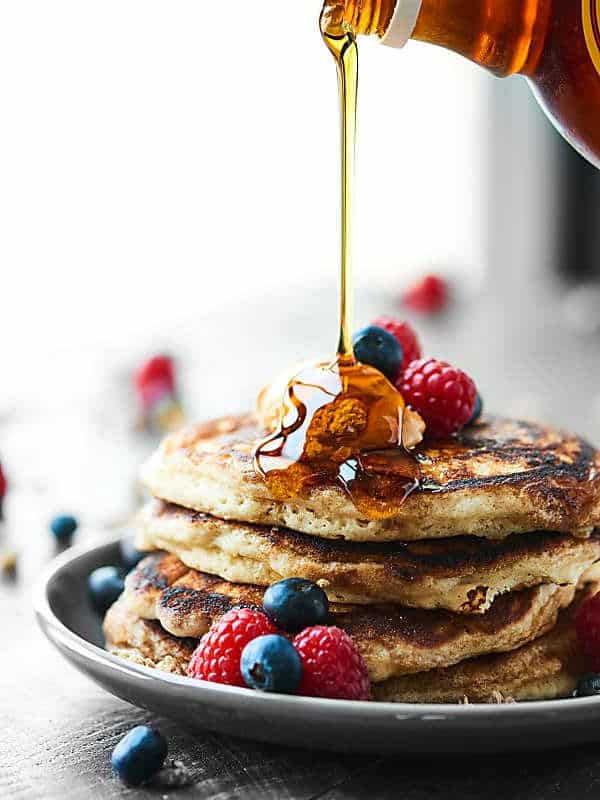 Pancake lovers, this one's for you!
Today, I have the honor of sharing with you, a recipe from my friend, Sweet Phi's, new cookbook: Fast & Easy Five Ingredient Recipes: A Cookbook For Busy People. I'm basically obsessed with all the recipes in her book, because hellloooo we're Show Me the Yummy: Easy Recipes for Yummy Food, so obviously, her book fits right into what we believe in.
Although I'm obsessed with all her recipes, the one that really caught my eye?
The Buttermilk Pancakes.
Now. Don't judge me, but I'm typically not a huge pancake fan. I don't know what's wrong with me.
H.O.W.E.V.E.R.
Her buttermilk pancakes were really speakin' to me (they just looked oh so fluffy and delish in her photos) and ohhhh my gosh, they did NOT disappoint.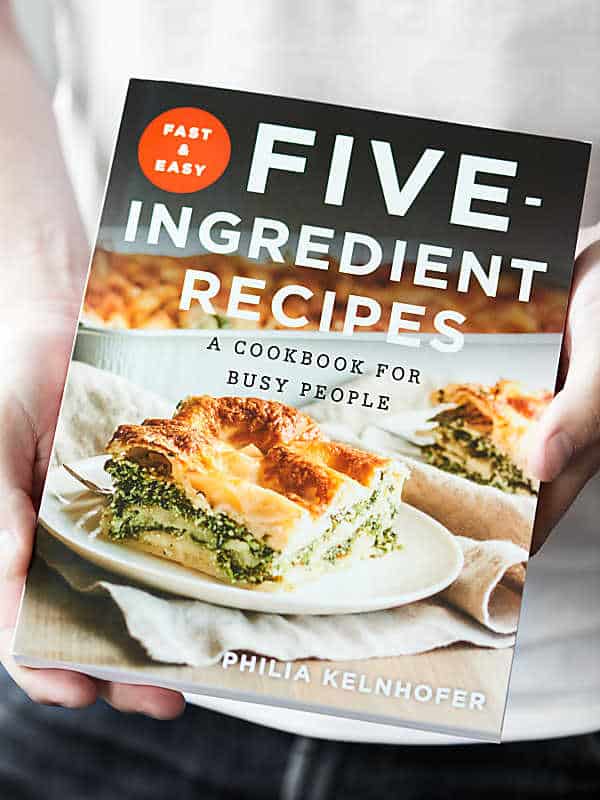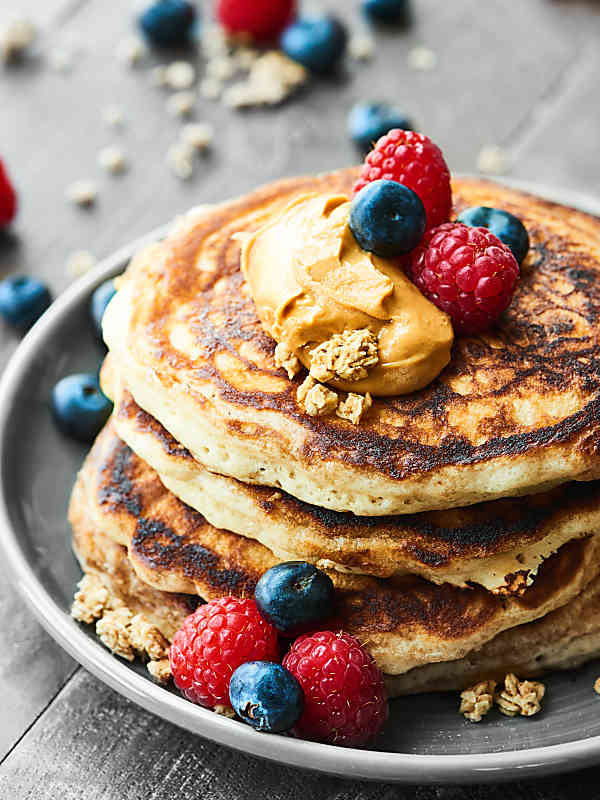 Before we talk pancakes, I wanted to tell you a little bit more about Phi and her freaking amazing book.
First of all, Phi is literally one of the sweetest people in the entire world. I only met her a few months ago, but she's one of those people you instantly connect with and feel like you've known forever.
Then, just two nights ago, we had the opportunity to go to the launch party for her cookbook and sample NINE different recipes from the book.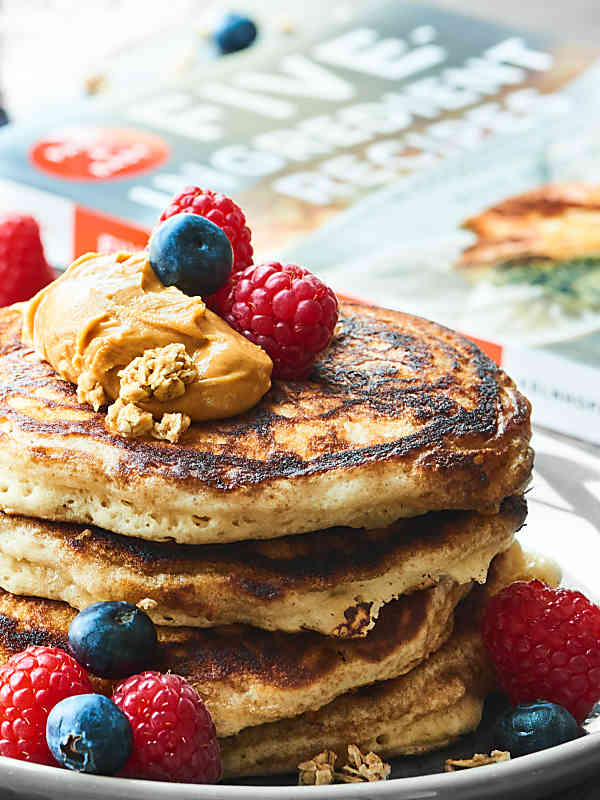 We got to try:
Restaurant Style Salsa
Broccoli Apricot Pecan Salad
Cheddar Biscuit Crackers
Cheesy Leek Dip
Mediterranean Dip
Brownie Bites
Peanut Butter Sea Salt Cookies
Jam Crumb Bars
Peanut Butter Popcorn
While they were ALL so delicious, I'm still drooling over that Cheesy Leek Dip – Trevor literally had two boatfuls while we were there 😉 , the Peanut Butter Sea Salt Cookies – holy CRAP the perfect combo of sweet and salty, and the Peanut Butter Popcorn – aka the most addicting thing IN the world.
After the party, I ran to the grocery store, and the next morning whipped up a batch of her Buttermilk Pancakes.
You guys. I'm telling you. Trevor and I are not pancake people at ALL, but we were seriously blown away by these pancakes.
They're simple, they're sooooo fluffy, they're full of buttery flavor, and they're the perfect vessel for all your fave pancake toppings.
All you need to do is whip up a quick batter: flour, sugar, baking soda, salt, egg, buttermilk, vanilla, and butter and cook 'em up on a hot skillet.
From start to finish it, it probably took me 15 minutes to make these bad boys.
Once they're cooked, you can top them with whatever you want! Today, I garnished these Buttermilk Pancakes with a hearty scoop of peanut butter, fresh berries, a little granola, and a hefty pour of pure maple syrup.
The result is perfectly sweet, incredibly fluffy, amazingly addicting, classic Buttermilk Pancakes.
You guys. You need her book.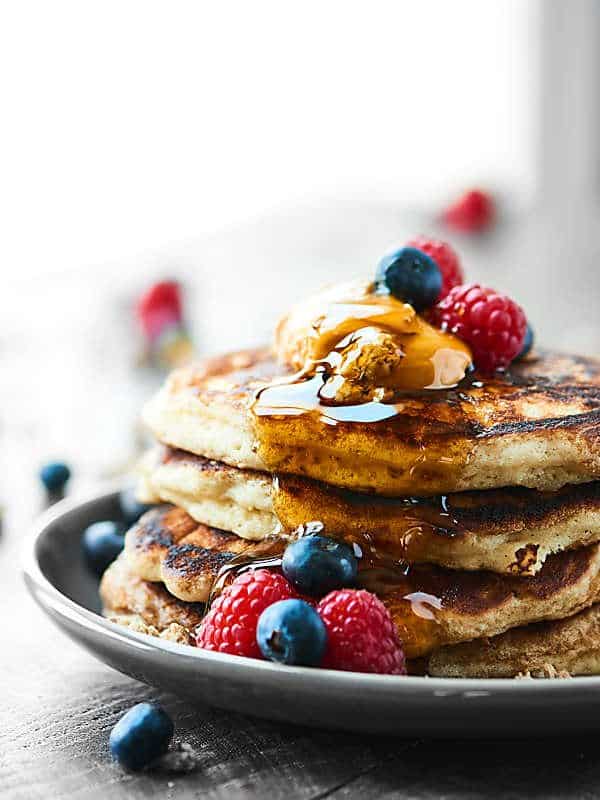 So proud of you, Phi! <3
– Jennifer
What are your fave pancake toppings? Show Me the Yummy!
PS: Want her book? It's available here:
Amazon, Barnes & Noble, Boswell Books, IndieBound and Walmart
Buttermilk Pancakes Recipe
You guys are gonna FLIP for these classic Buttermilk Pancakes. Only 8 ingredients for ultra fluffy, perfectly sweet, incredibly easy pancakes!
Servings
:
5
large pancakes
Results and timings may vary when adjusting servings
Ingredients
1

cup

all purpose flour

1/4

cup

granulated sugar

1 1/2

teaspoons

baking soda

1/2

teaspoon

salt

1

large

egg

1

cup

buttermilk

1

teaspoon

vanilla extract

1

tablespoon

unsalted butter

melted
Instructions
Whisk flour, sugar, baking soda, and salt together in a large bowl.

Make a well in the center of the dry ingredients and crack the egg into the well.

Pour buttermilk, vanilla, and butter onto the egg.

Break up the egg with a wooden spoon and then gently stir the batter until it's combined.

DON'T OVERMIX. There will be a few lumps, that's ok.

Set this aside while you preheat your non stick pan over medium/medium-high heat.

Once hot, spray the pan with cooking spray.

Using a 1/2 cup measuring cup, pour batter onto the skillet.

Cook 1-3 minutes, or until bottom is lightly browned.

Flip and cook an additional minute or so, until the pancake has cooked through.*

Spray with cooking spray and repeat with remaining batter.

Serve with maple syrup, peanut butter, berries, etc!
Make this recipe?
Show

ME

the Yummy
Tag @ShowMeTheYummy & #ShowMeTheYummy on Instagram
* This post contains affiliate links. We receive a commission on purchases made via these links. The price you pay is not affected by using them.