What to do and where to eat when you're visiting Pittsburgh, Pennsylvania!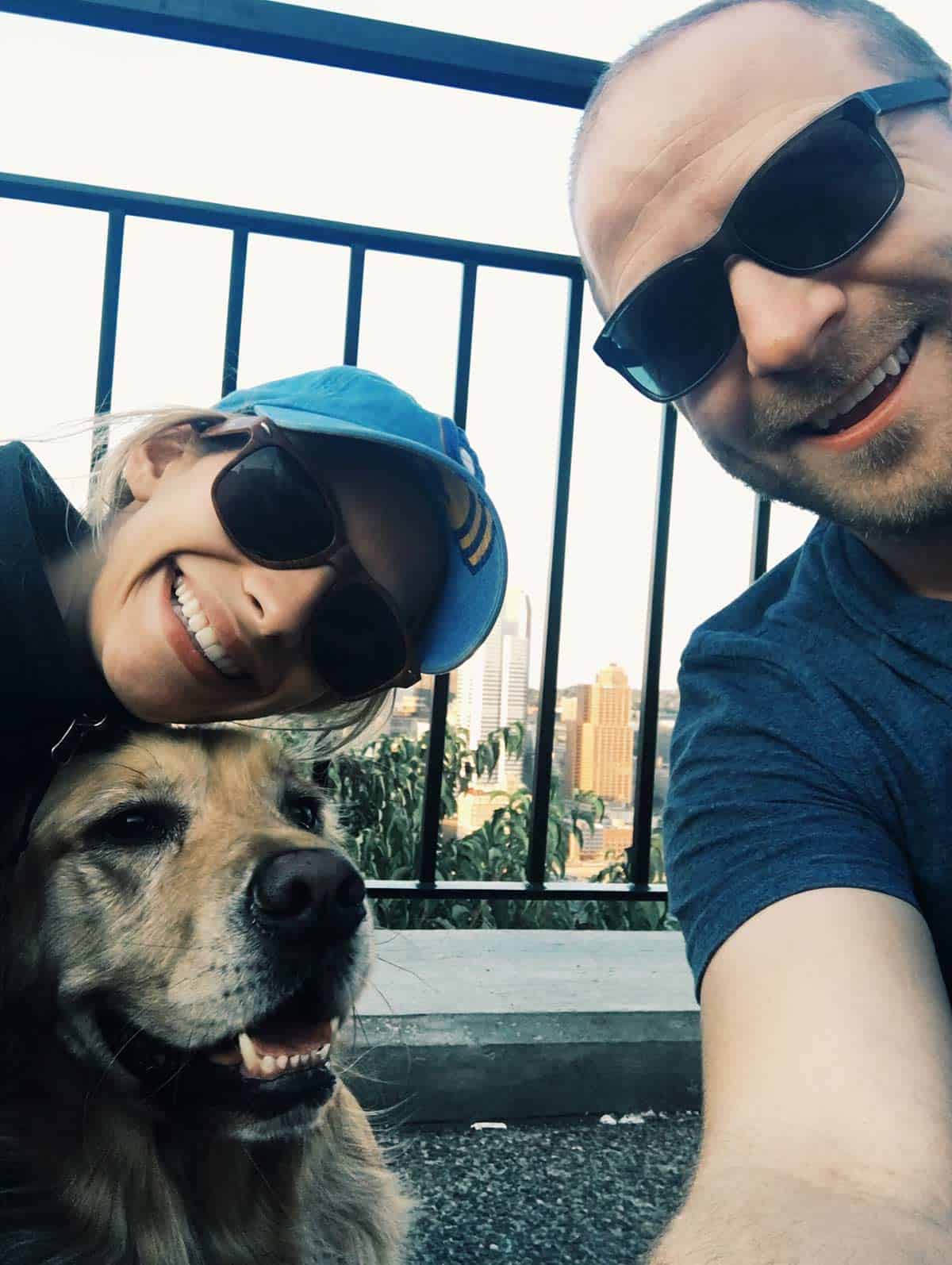 Whoa.
Sorry guys, these travel posts have gotten away from us, because hellllllooooo busiest time of year for a food blogger. 👋 Ahem, if you want to see what we've been so busy doing, check out all our latest Thanksgiving recipes . . . just trying to make sure you guys are COVERED for the big Turkey day.
So.
We left off in Columbus, Ohio and headed to Pittsburgh! (We've actually since been to Niagara Falls, Toronto, Montreal, Portland, Ocean City, and now Charleston – oops, part of the catching up I have to do).
We ARE continuing the travel videos, but those are coming later, because Trevor – the amazing wonder man that he is – has a million and one other things on his plate right now.
So. For now. Let's talk about all the amazingness that is Pittsburgh, Pennsylvania!
The Steep Streets
First of all, can we talk about the insane inclines in Pittsburgh?! By that I mean, holy STEEP streets! I refused to drive while in Pittsburgh, because those streets are terrifying. They're windy, they're steep, and the streets signs are very confusing. Sooooo thanks for taking one for the team, Trevor!
If you have a chance, go check out Canton Avenue. It's the steepest street in the country!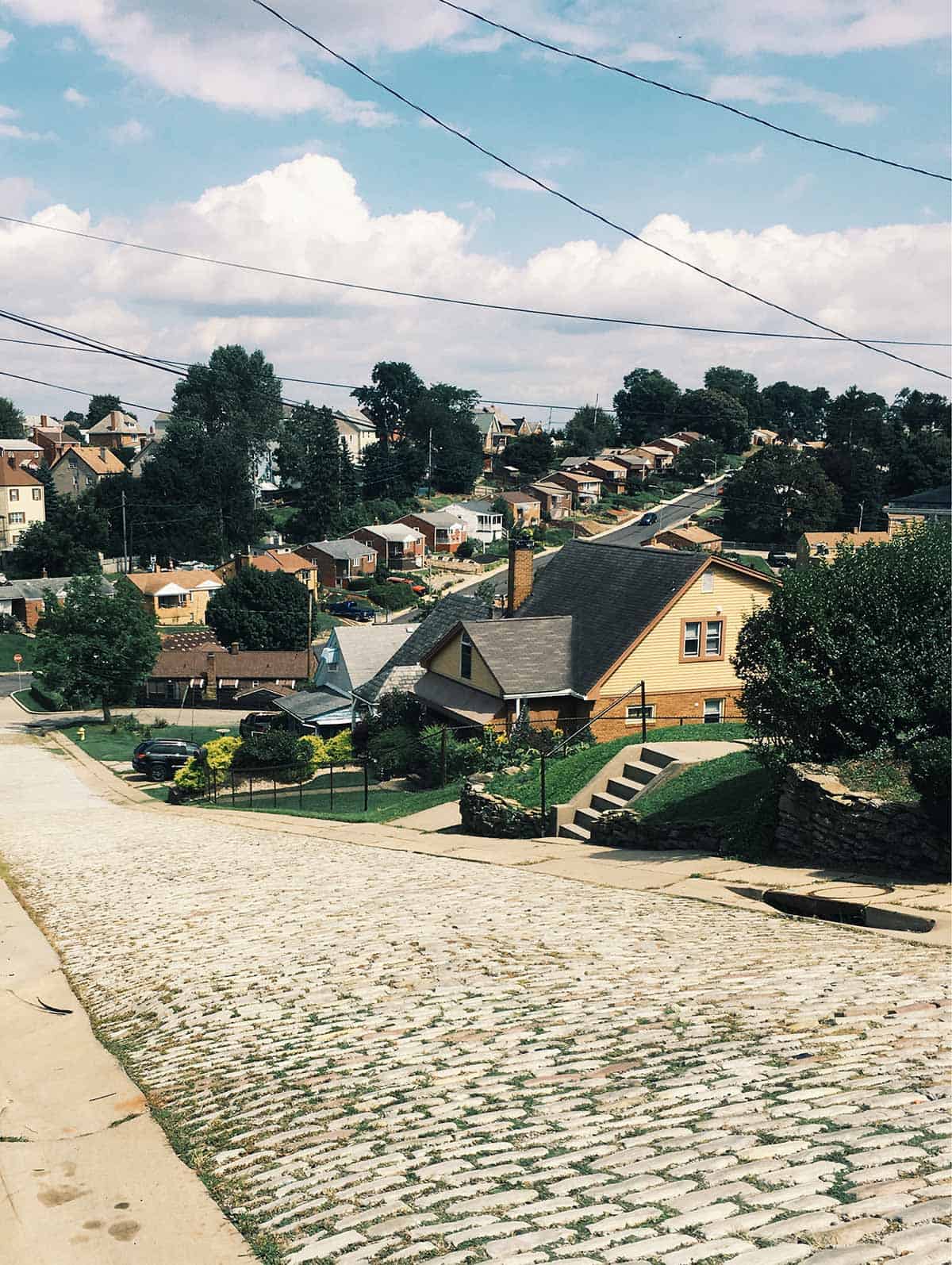 What to Do
Rent bikes
It was a GORGEOUS day in Pittsburgh when we went, so we decided to see the city by bike! Pittsburgh is on three rivers, so biking down by the water was absolutely beautiful. We rented bikes from Golden Triangle Bike – they'll hook you up with the best route for whatever you're looking for!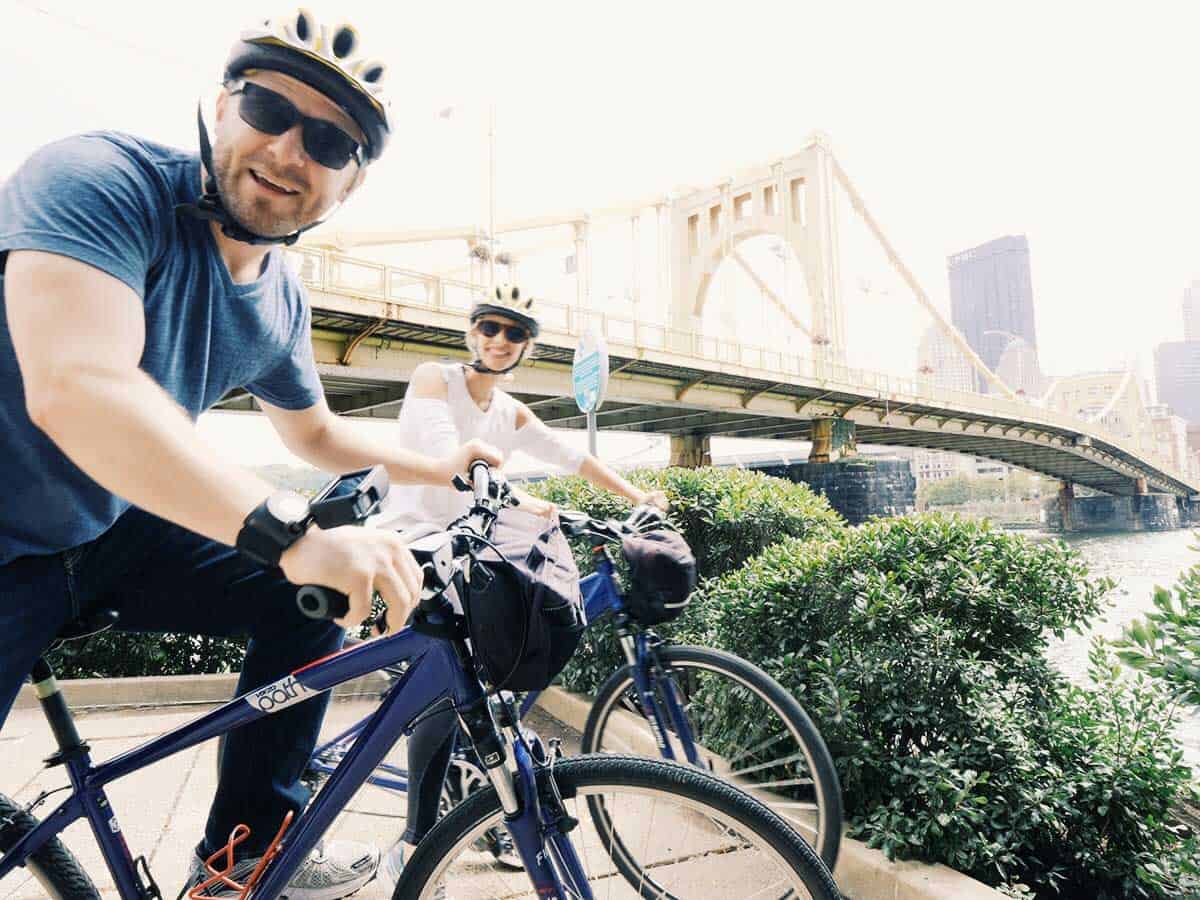 Rent a kayak
Trevor and I were feeling uncharacteristically sporty in Pittsburgh, so we decided to rent kayaks! We were biking along the water, why not get IN the water?! It was my first time kayaking and we made it back to shore without falling in, soooo that's a win in my book!
Where do I even begin? Amazing food. TONS of cool shops. We had fun grabbing coffee, walking, and people watching. It gets really busy on the weekends, so mentally prepare for some crowds, or go during the week when it's maybe a little less busy. My suggestion? Pull up Yelp and read some reviews on where to eat, because the options are endless. We ended up going to a Primanti's for lunch and Pittsburgh Winery for a wine tasting!
We went up here with Teddy to film a timelapse of the sunset (coming soon!). Gorgeous views. Cute restaurants. Such a fun place to walk around the see the city from afar!
Where to Eat & Drink
Most importantly. Where the heck do you eat in Pittsburgh?!
On our first night we got pizza. I can't remember where we ordered it from – BUT we did get the Yinz Pizza aka pizza with fries on it. HIGHLY recommend finding a good pizza place and seeing if they'll put fries on your pizza… because why wouldn't you? 😉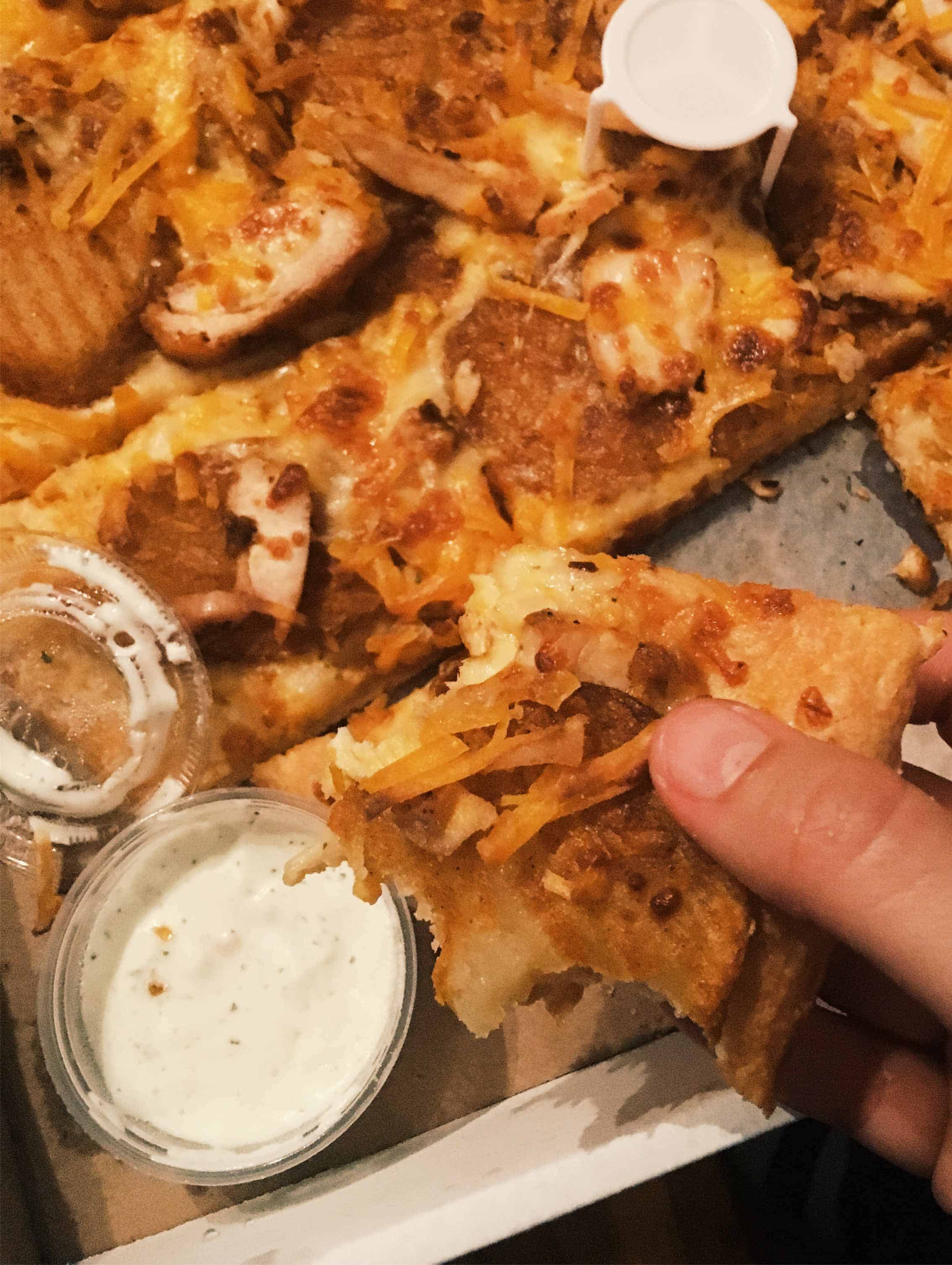 Drinks
Good coffee. Cute vibe. In the Strip District. Great for grabbing coffee to go, then walking around the Strip!
Insanely good cocktails. Trevor got their Old Fashioned and loved it. You can tell the bartenders are passionate and knowledgable about craft cocktails. Definitely a good place to ask for "Bartender's Choice". This place gets busy after work, so it's a really fun, chill vibe for a Friday night drink!
This was just a random piano bar we stumbled upon. If you love piano bars, this one was super fun. The played a wide variety of songs, the musicians were super talented, and *bonus!* there was no cover charge!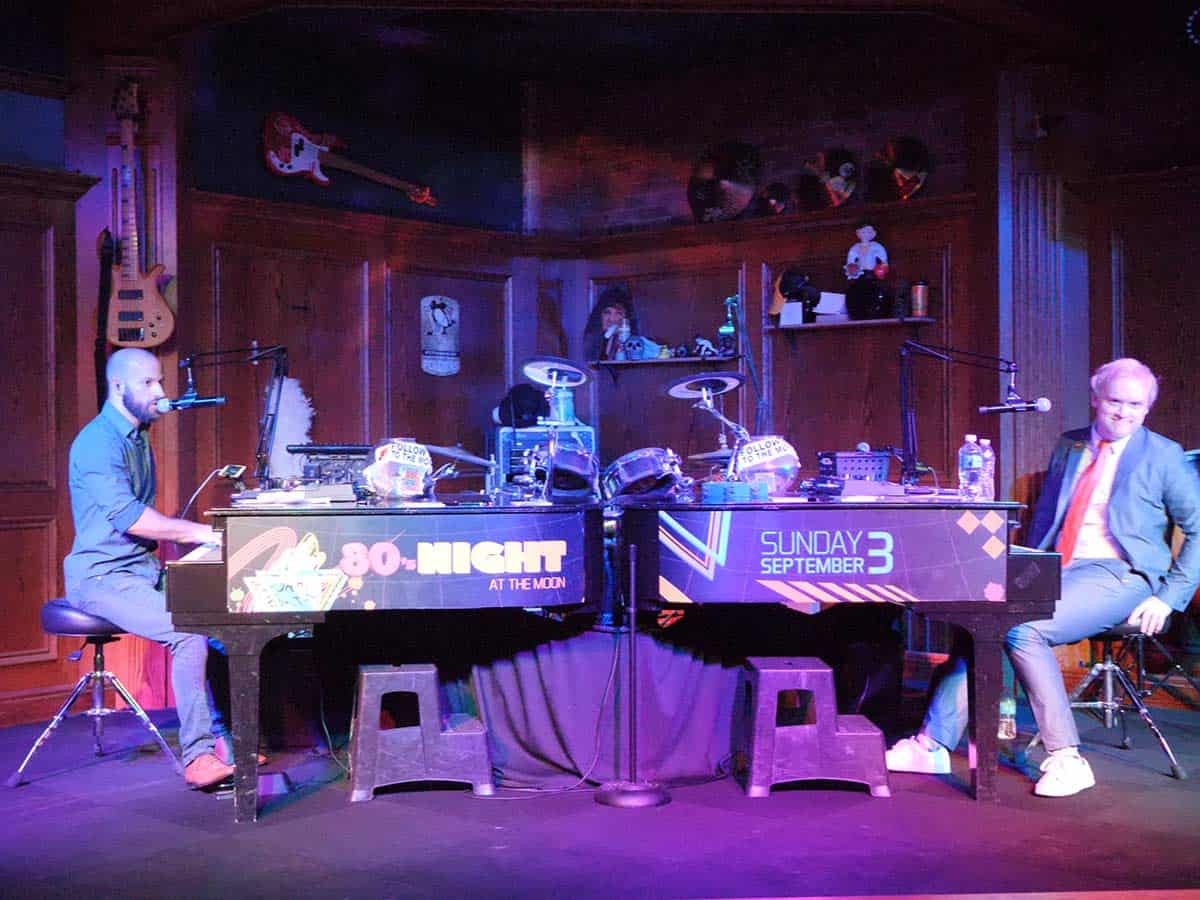 It's a winery in an old bank building. Sooo it's pretty cool. The counter you're at for the actual wine tasting is pretty small, but after your tasting you're free to buy a bottle and bring it downstairs where they often have live music! We shared the red and white wine tasting and ended up buying a bottle to share on our anniversary!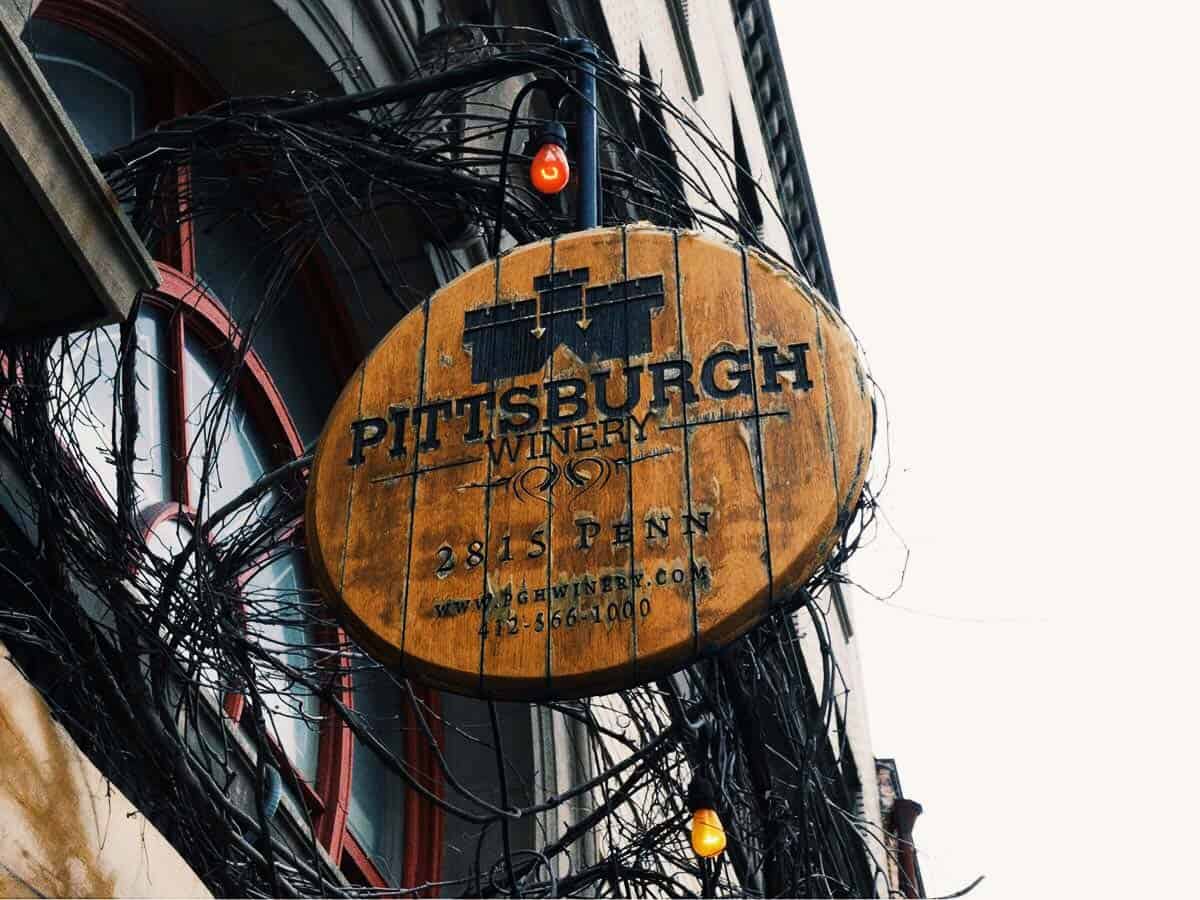 It's a restaurant, but we just stopped for a drink, and split an incredible spicy habanero mango margarita!
We stopped here for a drink to take cover from the rain! We had chips and salsa to pass the time. 😉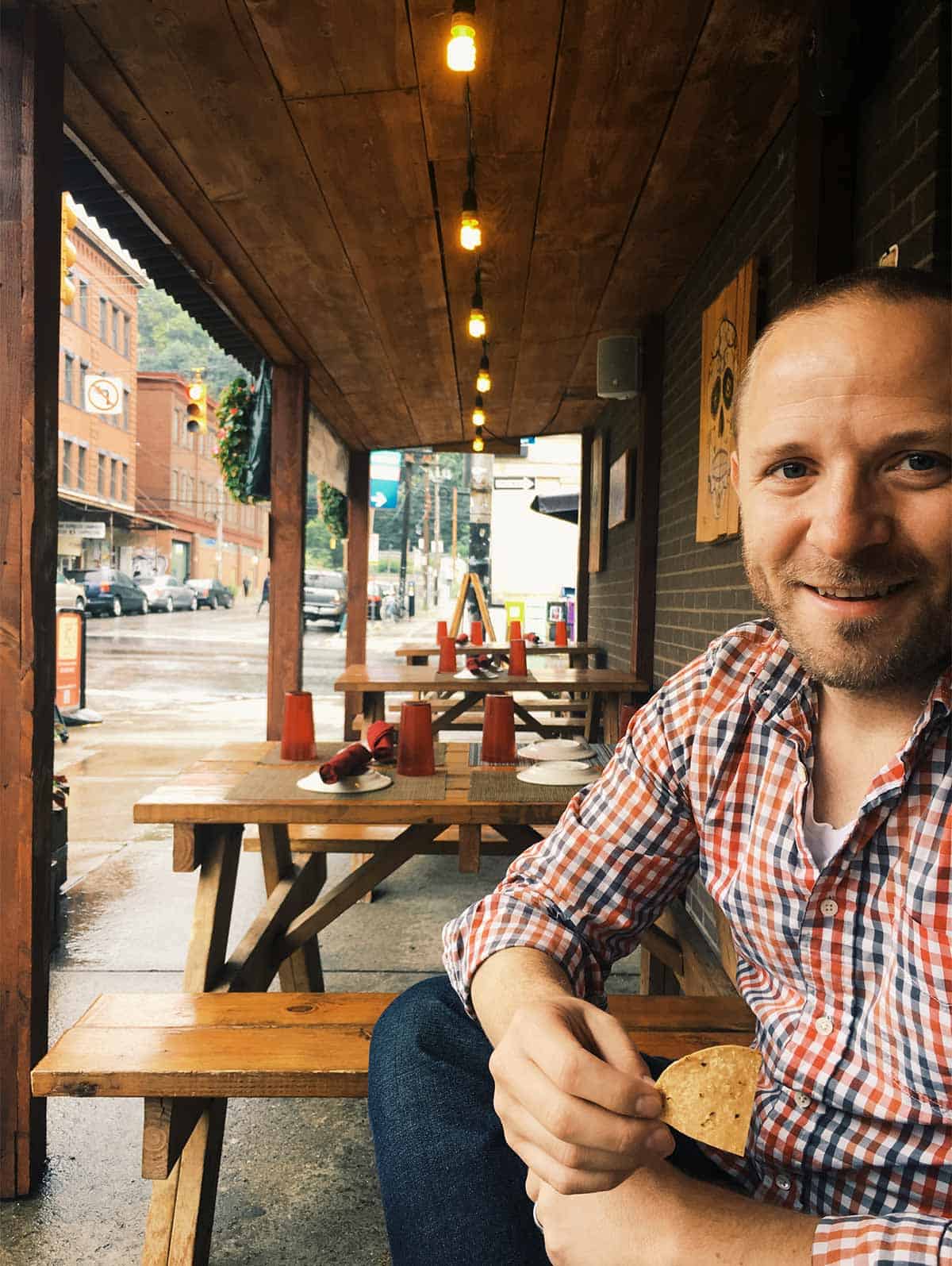 Food
Hands down my favorite place in Pittsburgh. You guys. Their food and drinks are l.e.g.i.t. I'd describe their food as modern Mexican food.
Pro tip #1: Apparently they get REALLY busy, but we went early at 5 on a Friday night and got in just fine.
Pro tip #2: Sit outside at their chef's table/counter. So fun watching the chef's in action!
What to drink: Spicy Cucumber and Pineapple Jalapeno Margaritas. I like to call myself a marg connoisseur and I'm still dreaming about these.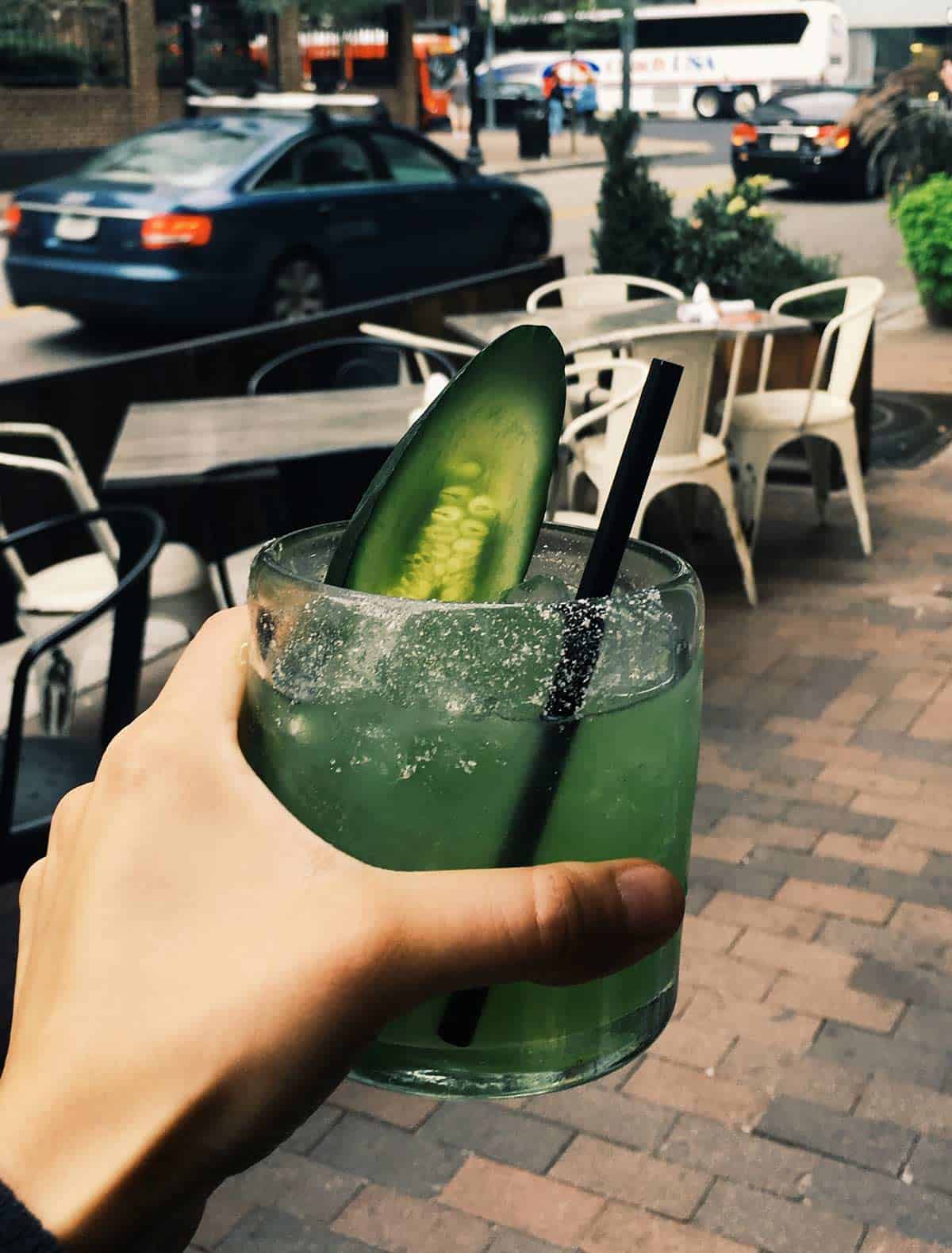 What to eat: Street corn <– Trevor's all time fave and it might have been the best we've ever had. Pork Belly Taco <–a pork belly taco with all sorts of yummy deliciousness –  aka asian bbq sauce, cabbage, and peanuts –  piled on top.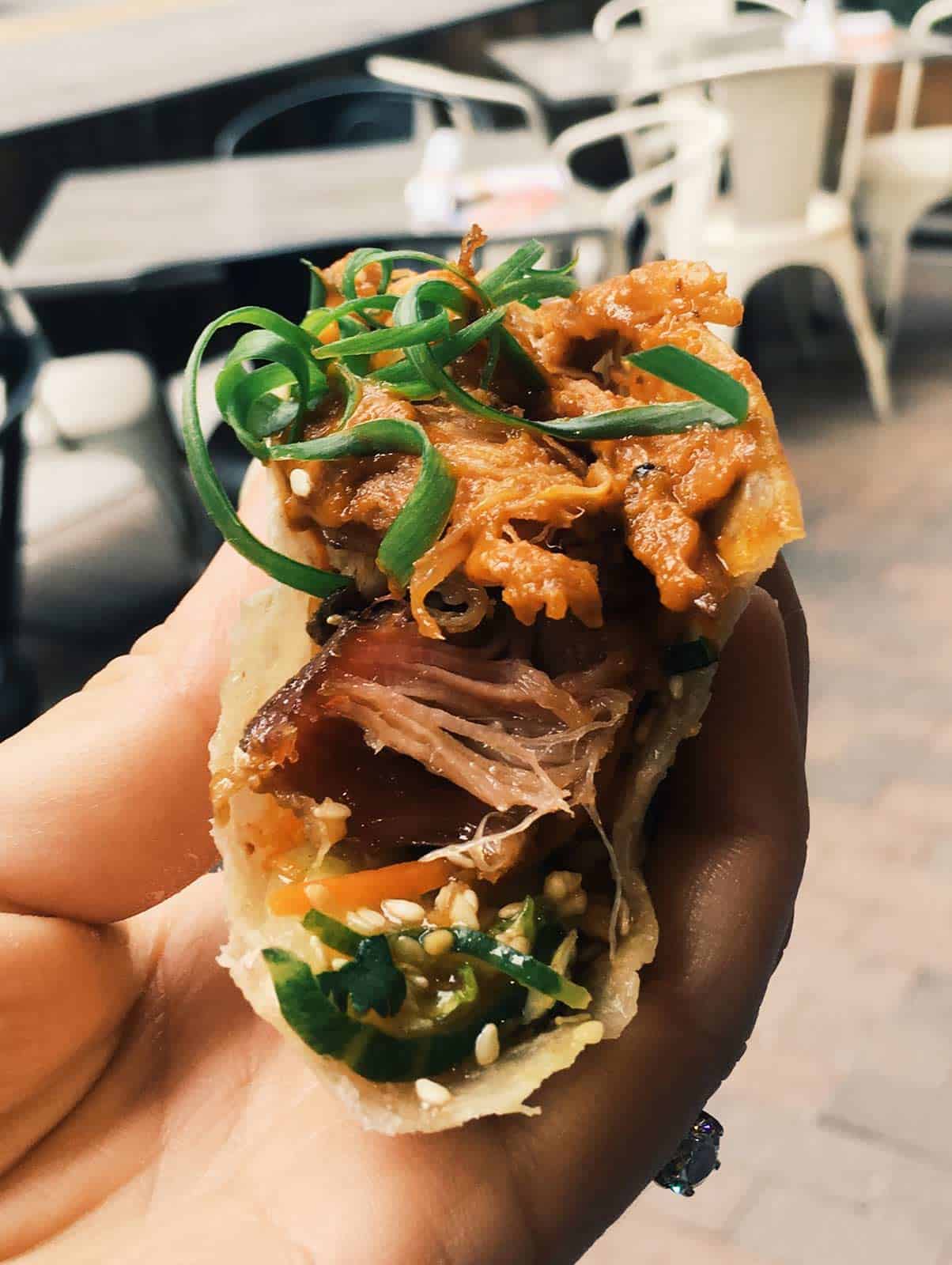 Smallman Galley is super unique, because it has multiple restaurants in one. It's described as a place for undiscovered chef's to basically "prove their concepts". There are 4 chefs at a time (they rotate every 18 months), each with separate kitchens, their own staff, menus, etc, but they all share a communal coffee, espresso, cocktail bar. When we were there we had arepas from Colonia, but there was also pizza from Iron Born, and two other restaurants: Banhmilicious and Brunoise.
When in Pittsburgh, amiright?! Pro tip: Trevor and I thought it was pronounced like "pree-mahnti's". Um. no. The Yinzers call it "per-manny's".
Mind. Blown.
Anyway.
You come here to get a sandwich with fries on it. We got the Capicola & Cheese. If you can, go to the original Primanti's in the Strip District.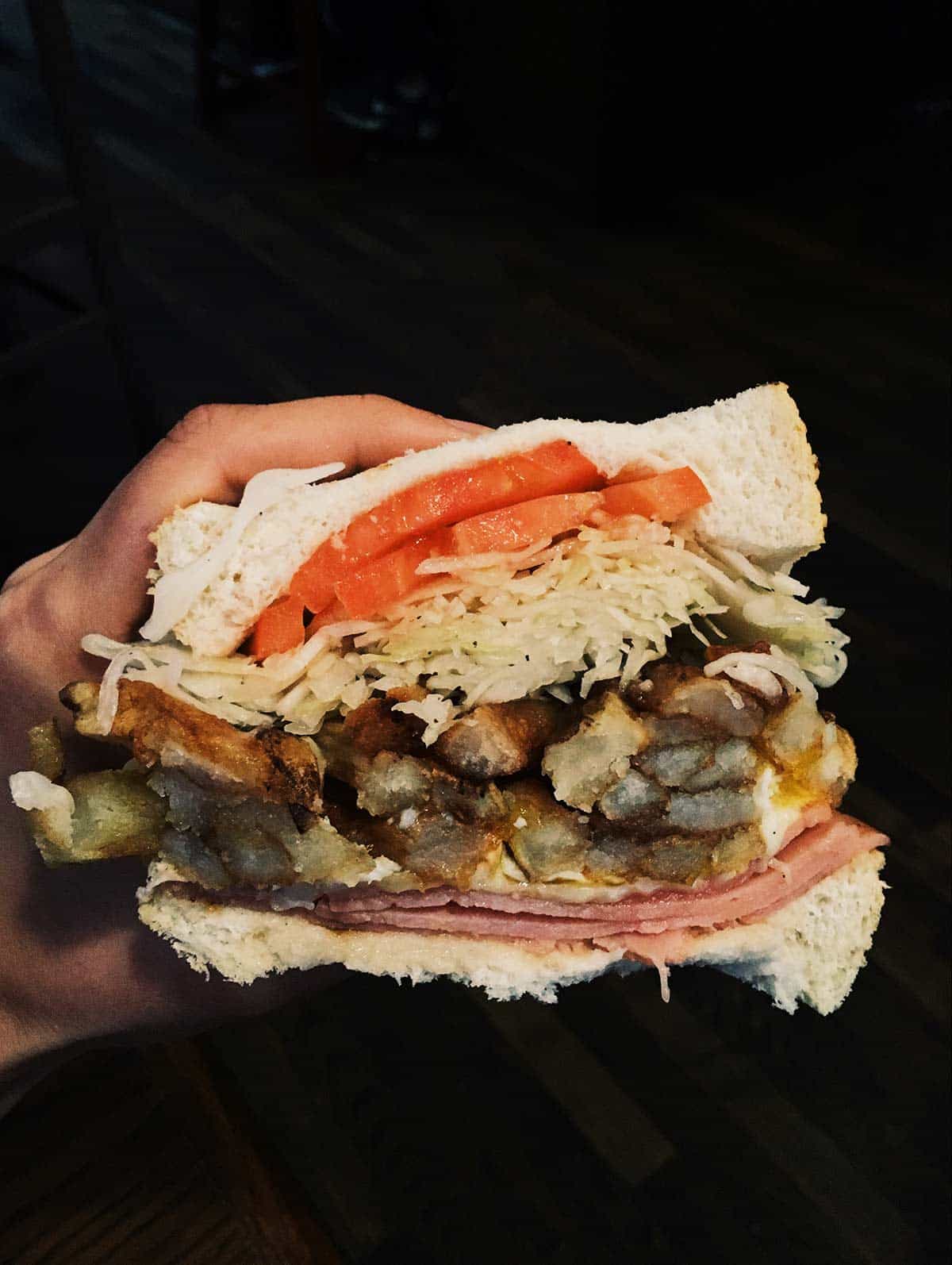 I mean. You saw this coming, right? We KNOW how much we love some Mexican food! This is located in Mt. Lebanon near the Airbnb we were staying and had SUPER good queso, chips, and salsa. 
We spent an arm and leg here, BUT they make organic dairy AND vegan frozen yogurt and ice cream, soooo I just HAD to try. Super delicious, but be prepared to drop some cash. 😉 I don't remember everything I got, but I sure didn't forget the amazing hot fudge, brownie bites, and cookie dough on top!
Soooo as you can see, we weren't bored OR hungry in Pittsburgh. I know there's SO much we missed, but honestly really enjoyed our easy going pace here and look forward to coming back! 🙂
For now, it's off to Niagara Falls!!!
– Jennifer
Have you ever been to Pittsburgh? What did YOU do?