5 Fun Things to Do in Columbus. Everything from amazing brunch spots, trendy food trucks, classic German Village, beer-cades, and gorgeous parks!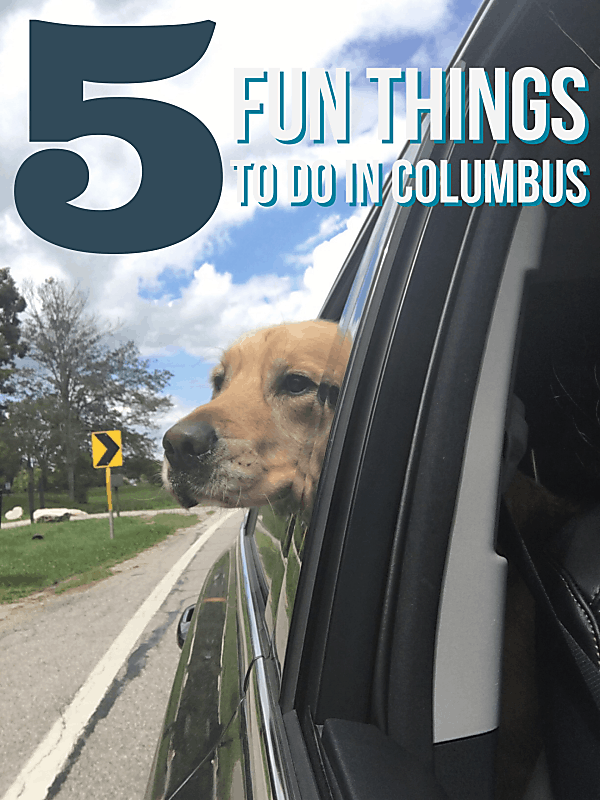 Our THIRD stop on our road trip around the US: Columbus, Ohio! Home of the Buckeyes, Sauerkraut Balls, beautiful parks, German Village, amazing food, and more!
Here are 5 Fun Things to Do in Columbus . . . although the list extends WELL beyond 5, here were are faves!


#1 Get Your Brunch On
Ok. We were going to pick one, but you guys, Columbus is killin' it with their brunch game. We asked on Instagram where we should go and three spots in particular kept coming up. So we reeeeeally got our brunch on and actually went to THREE brunch spots while we were in Columbus.
Katalina's is probably the cutest restaurant I've ever been to and it actually started out as a gas station! I truly can't describe it, because the cuteness is just too much for words. You really just need to go check it out. 😉 And while you're at it, we signed "Show Me the Yummy was Here" (creative, right?) on their graffiti'ed picnic tables outside… try to find it!
So let's move on to the main event: THE FOOD. Holy YUM I literally wanted everything on the menu, but when you see "Award-Winning Breakfast Tacos" on the menu, you ORDER the Award Winning Breakfast Tacos.  You know?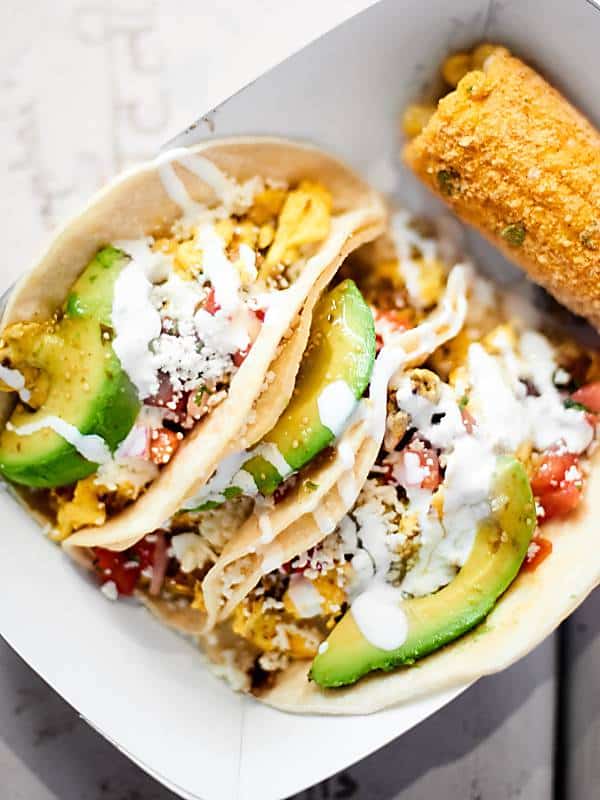 They did not disappoint! Served with a side of Mexican Street Corn? Yes please!
PSST – We were too full for more, but I mean, they ARE the home of the Original Pancake Ball. Sooo I'd probably get those if I were you. Three words: Stuffed. With. Nutella. (Or dulce de leche <– Oh my!).
Skillet was literally a 60 second walk from our Airbnb and I have ONE word for that: dangerous.
If I actually lived that close to Skillet all the time, I'd probably – nope – I'd most definitely go there every day for breakfast. Bonus: they have outdoor seating, so the Ted Bear got to come! Watch the video above to see his snuggly face. <3
Skillet is described as Rustic Urban Food. IDK what that even means and I don't care, because Skillet knows how to make a KILLER brunch.
We started off with some of their homemade Cold Brew <– yes. Trevor got their maple bourbon sweetened and I got the bold.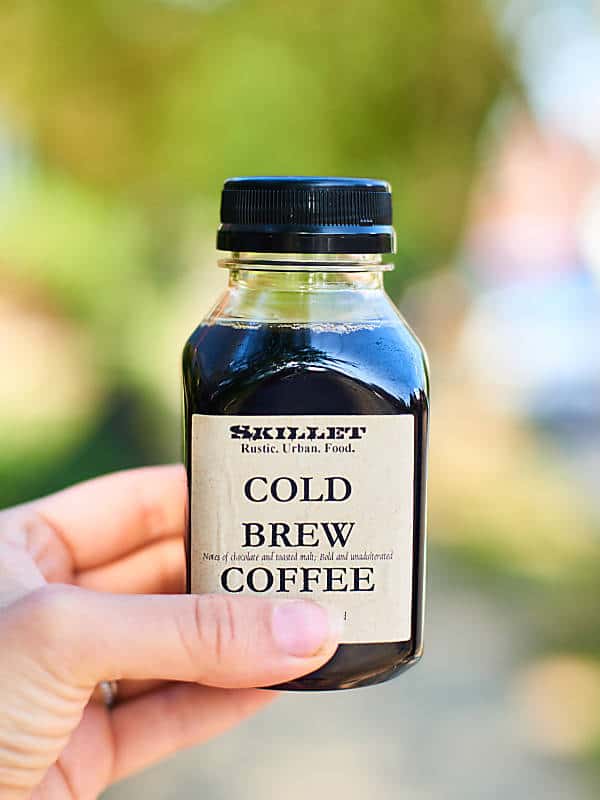 From the "Wake Ups & What Nots" portion of the menu, we got their Grilled Cinnamon Roll. I'm not gonna lie, I'm not a huge cinnamon roll person (I know, don't hate me), BUT this is not just any old cinnamon roll. It's a little crispy, a whole lotta fluffy, AND it's smothered in a buttermilk bourbon caramel. Yeahhhh.
From there we moved on to their "Skillet Fare". I saw Carnitas and was completely sold. The pork was so tender and flavorful and it was served on a crispy fried tortilla with a sweet corn salsa. I had a hard time sharing this one, because I could've eaten the whole thing by myself.
BUT.
We then had one more dish, we just HAD to try from their "This & That" portion of the menu.
The Biscuits and Gravy.
Duh.
I believe the gravy changes daily, but the one we had was un-FREAKING-believable. It was a vegetarian mushroom gravy and it was seasoned perfectly.
I'm not gonna lie. I wasn't THAT excited about coming here, but I'm so glad we did, because it ended up being my favorite dish from Columbus!
Two words: Big. Burrito.
It's no secret that I <3 Mexican food, so when I saw burrito on the menu, I needed it ASAP.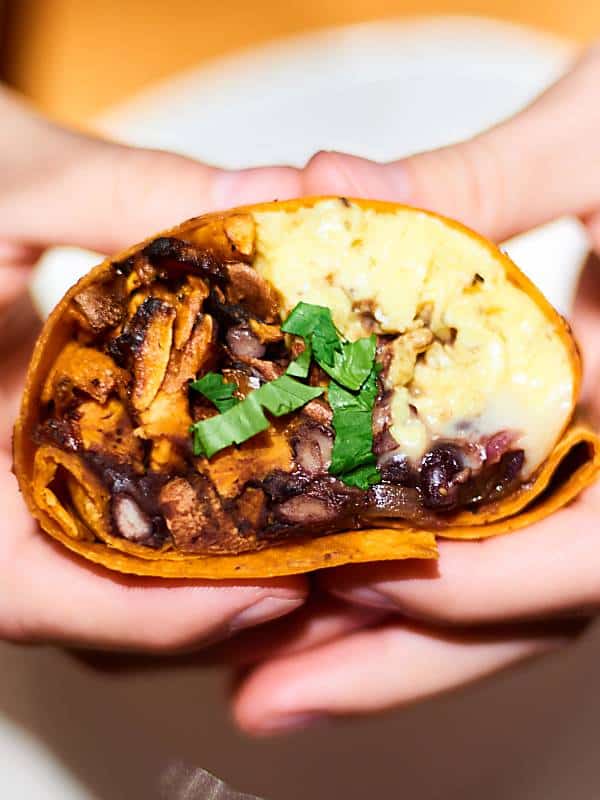 Eggs, black beans, roasted sweet potatoes <– drool, pepper, onion, white cheddar, and their magic salsa.
So simple. So perfect.
If you have time, go to all three, but if you only have time for one, I think I'd go with Skillet or Northstar. Katalina's was SO yummy and seriously so cute (the entire inside is covered in graffiti <– don't forget to leave YOUR name!), but Skillet and Northstar were just mind blowing good.
#2 Check Our Some Local Food Trucks
We were STOKED when we found out we were in town for The Columbus Food Truck Festival. Even if you're not in town, you can use this handy little website to see where all the food trucks are parked!
We had:
1. Hot Chicken Take Over: Fried chicken perfection. Nice level of spice, too and we LOVE spicy.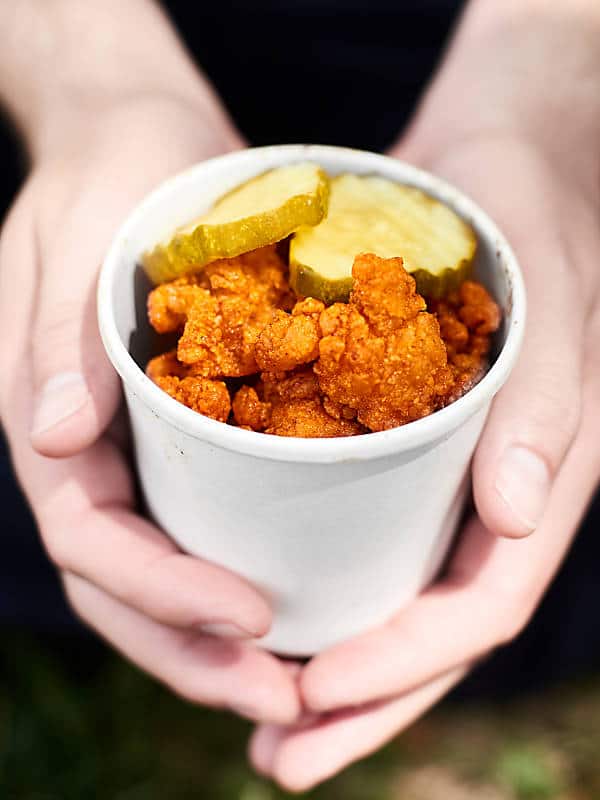 2. Big Mouth Egg Rolls: Egg rolls the size of your face. *almost*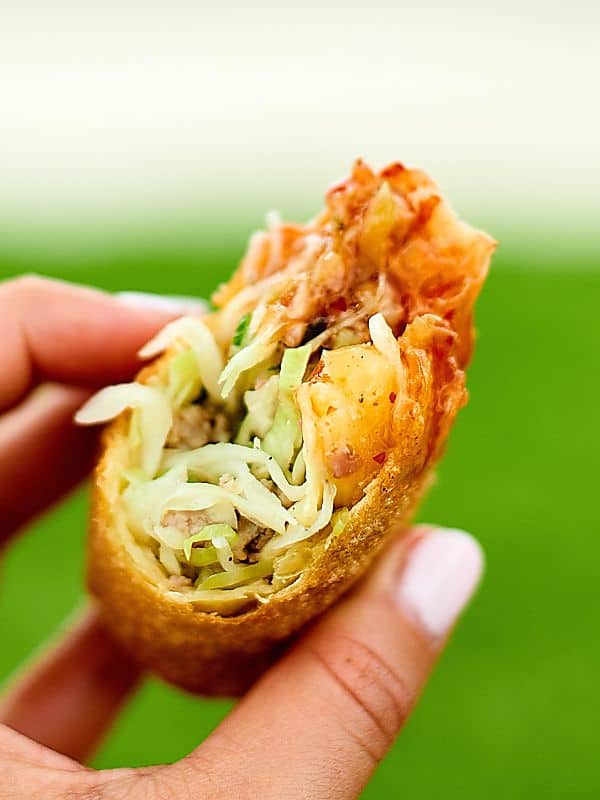 3. Cupzilla: Korean BBQ. Watch the video for noodle-y goodness.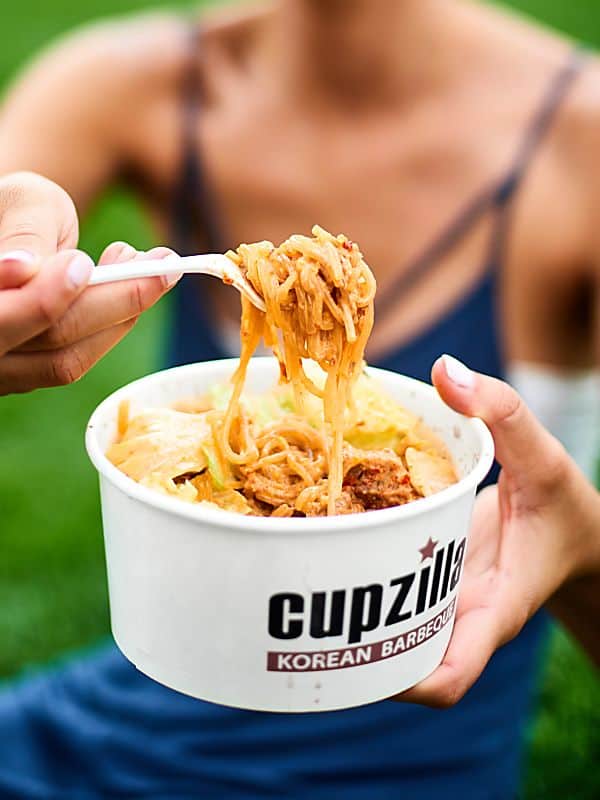 I love food trucks so much. It's such a fun way to taste a bunch of different cuisines!
#3 Visit German Village
We actually stayed in German Village and it's SO. Darn. CUTE.
Whether you're looking to just walk around, get some candy (Buckeye's pictured below) at Schmidt's Fudge Haus, wander around The Book Loft, or grab traditional Sauerkraut-Bratwurst Balls (sounds gross, tastes ah-mazing) from Schmidt's, there's SO much to do, see, and of course . . . EAT!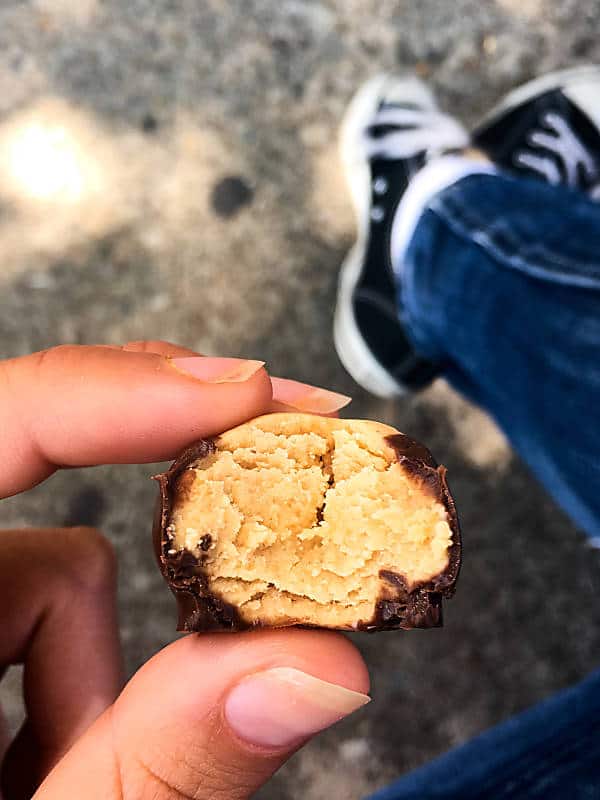 #4 Play Games at Pin Mechanical
Trevor and I LOVE playing games, but it's hard to find cool places for adult's to play games, right?! Somehow we stumbled upon Pin Mechanical. It's what's called a "beer-cade" – basically, an arcade that serves beer and cocktails – and we had a blast! Duck pin bowling, pin ball, shuffleboard, ping pong, and more. PLUS they had two bars if you want to grab a drink, and they even had food trucks outside!
Games. Drinks. Food trucks? I'd say that a win!
#5 Walk It Off in Schiller Park
So. Much. EATING. Time to walk it off in Schiller Park! It's the second oldest park in Columbus and it's incredibly beautiful! It's also insanely dog friendly, so don't forget to bring your pup. 🙂 Trevor, Teddy, and I spent some time here almost every day just to get outside and enjoy the gorgeous weather! Teddy was a BIG fan of watching the ducks at the duck pond. 😉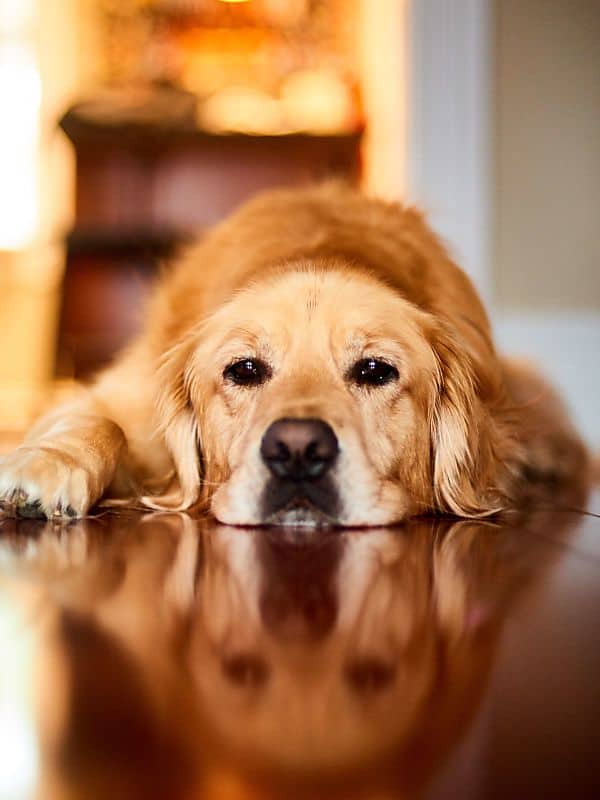 **BONUS: If you're looking for some healthy fuel when you're ready to hit the road, you MUST check out Alchemy. Thanks to Alexis from Hummusapien for hookin' us up with all the energy bites. 🙂 We <3 you. Also check out their green smoothies, chickpea sandwiches, and thai peanut carrot noodles. You won't be disappointed.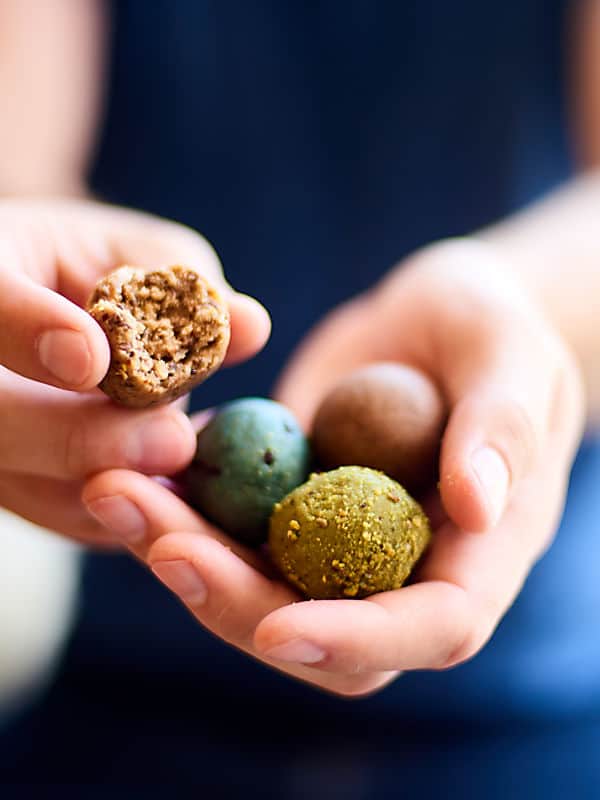 Peace out, Columbus.
Next up, Pittsburgh!
– Jennifer
Have you been to Columbus? What are some fun things YOU like to do when you're there?