Kale Salad with Baked Almond Chicken. A healthy salad full of massaged kale, pecorino romano, raisins, chicken, and smothered in a fresh lemon dressing!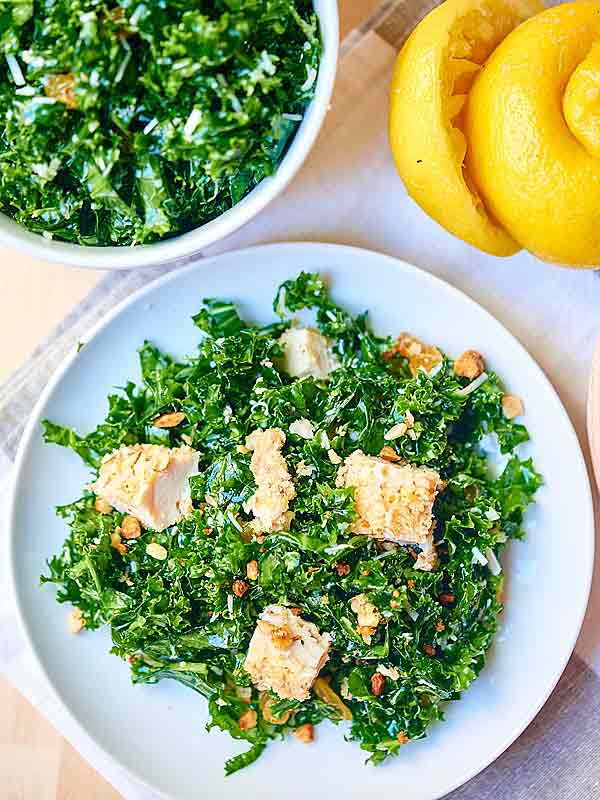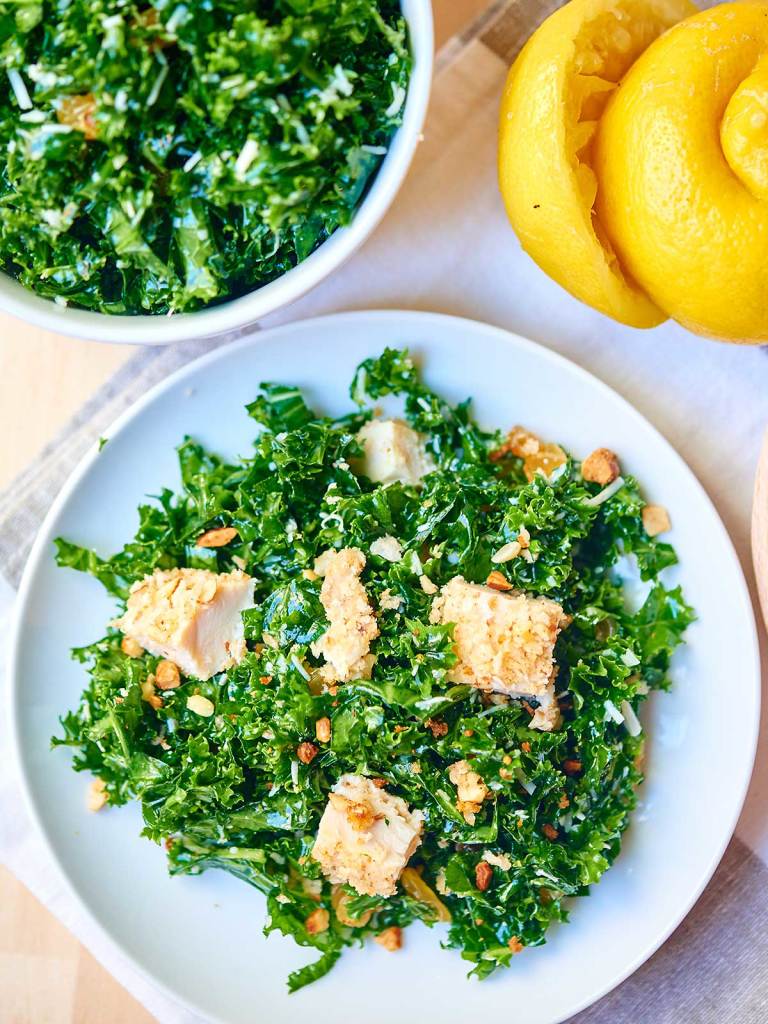 Whoa. This past weekend was a whirlwind of wonderfulness. Monday morning I woke up exhausted (even though I went to bed at 8 PM Sunday night and woke up at 7 AM Monday), but so happy. This past weekend one of my very best friends, Emily, got married! I've known Emily since I was 2 and we've been pretty inseparable ever since.
It was really special to see her get married. And yes. I did cry immediately as I saw her walking down the aisle. I'm such a sucker for love. 😉
Along with enjoying seeing Emily get married, Trevor and I also enjoyed waaaaaay too much food. We had Zombie Burger…I definitely need to recreate one of their burgers, plenty of Mexican food, and of course, really delicious food at the wedding: caesar salad, a full pasta bar (you know my carby loving self went nuts over that), bread, and the best vanilla cupcake I've ever had.
Oh yea, and then on Sunday night once Trevor and I got back home and reunited with this little nugget, we ordered Indian food, because…well…you know. It was a long travel day and I couldn't keep my eyes open long enough to do anything other than order delivery.
That being said, Monday night I was seriously craving something healthy and delicious. I've been on kind of a kale kick lately, so I decided to whip up some kale salad with baked almond chicken. Although this isn't an artery clogging recipe, it is definitely just as delicious!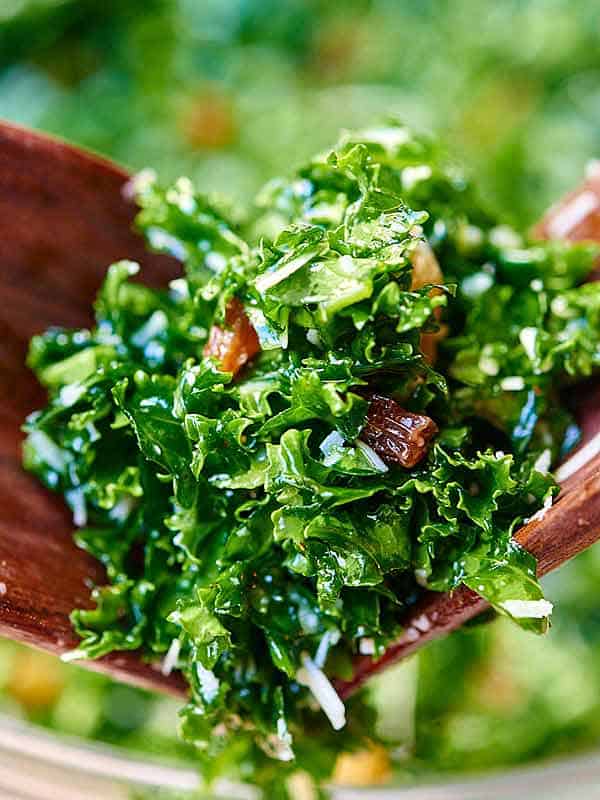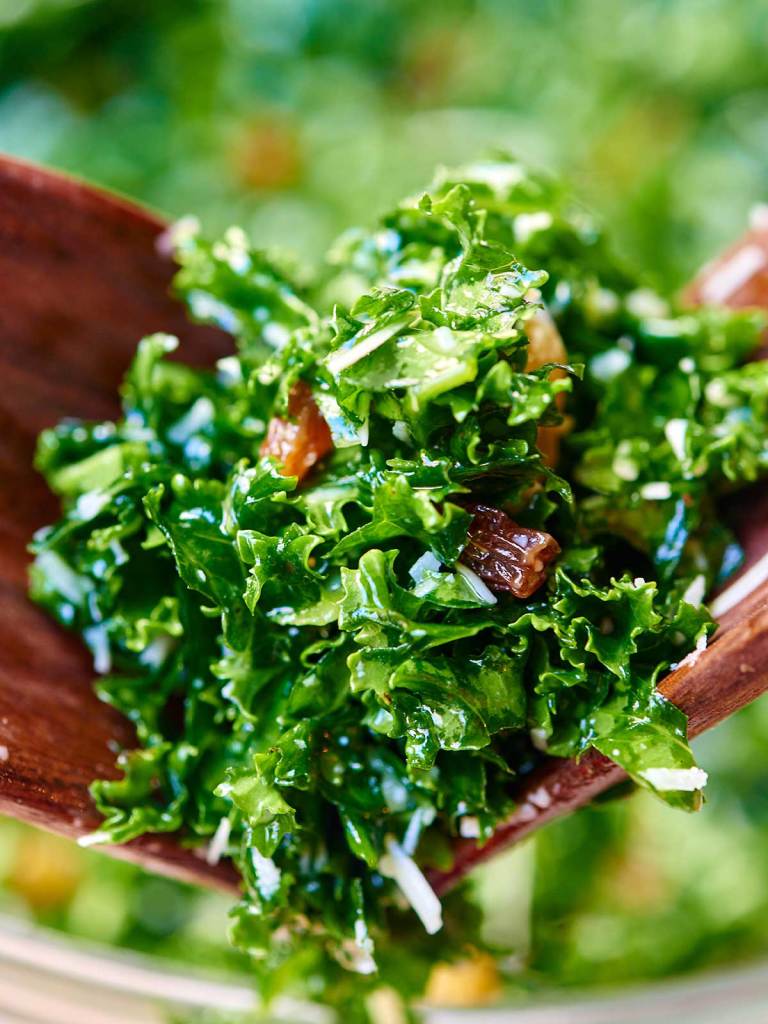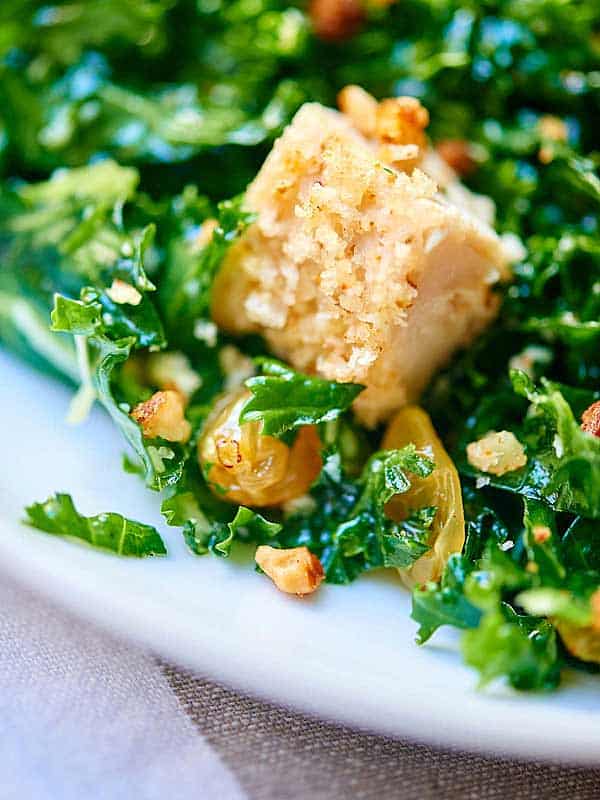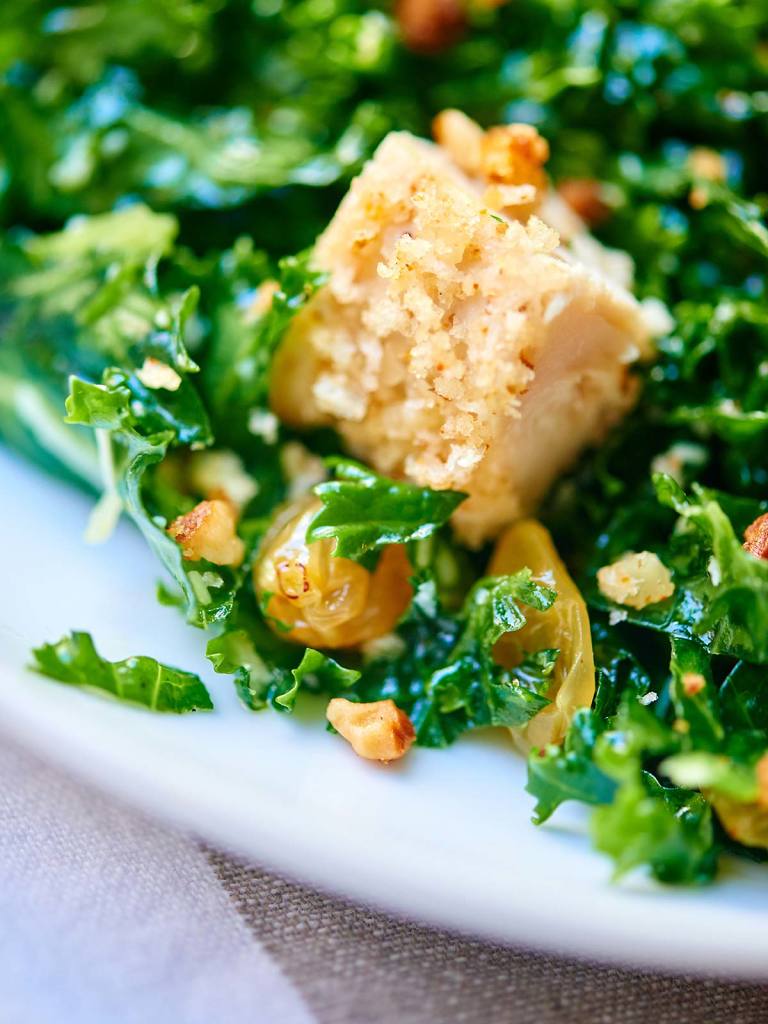 I've actually made this salad before, but I made it like 3 years ago after I ate at Barbuto and literally had the best salad I've ever tasted. I mean, I liked salad, but I never thought I could love salad. But as it turns out, I do. I loved this salad so much that I had to recreate it at home ASAP.
So I did and added some chicken so I could make a meal out of it and I fell in love all over again. Then I forgot all about it, until Trevor and I were reminiscing a few days ago about our NY trip, and I remembered that I had had the best salad in the world.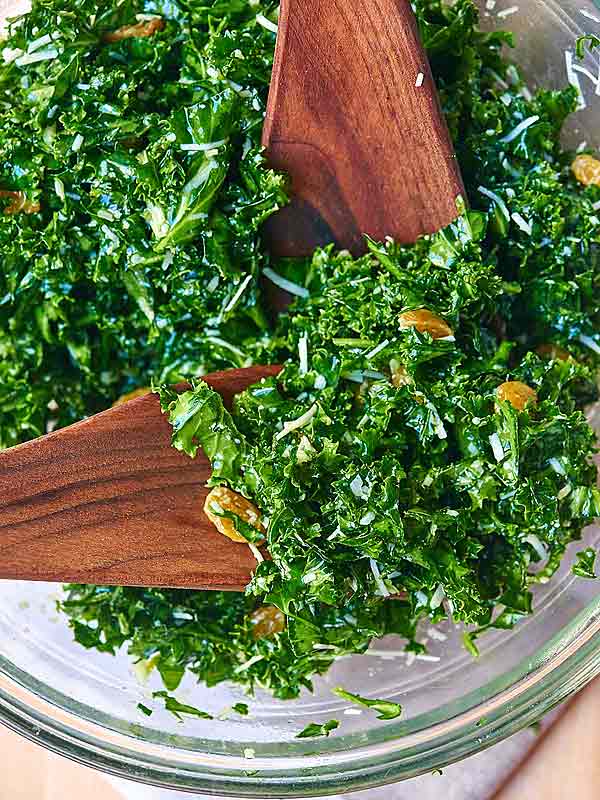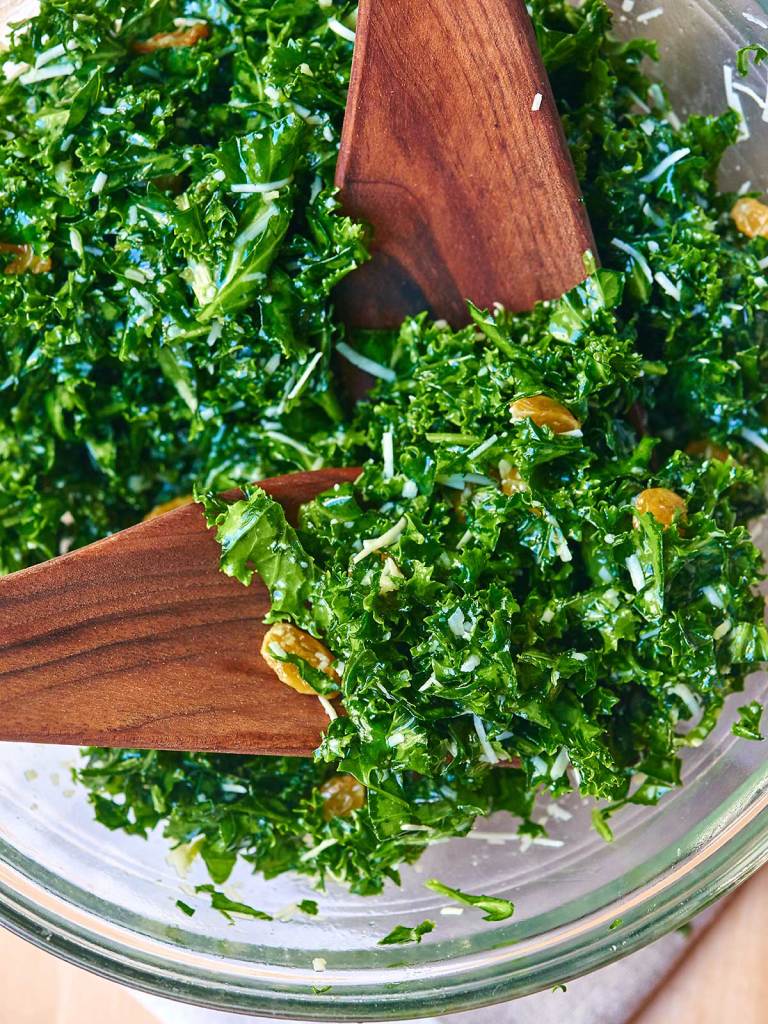 And here we are. Now you guys get to enjoy my favorite kale salad with baked almond chicken, too!
It's such a simple salad, but it's packed with so many healthy, tasty, and fresh ingredients.
If you're not a fan of kale, I think this recipe could definitely change your mind, because I am not a fan of kale unless it's prepared a special way.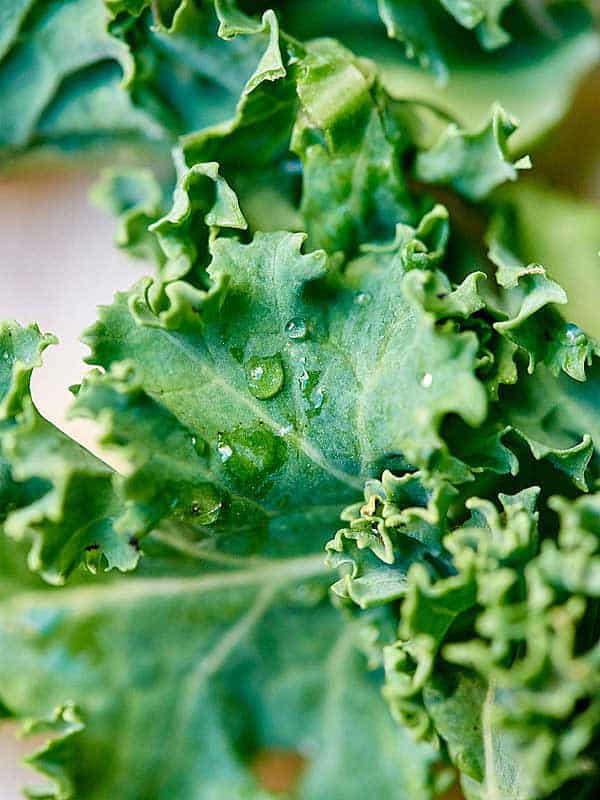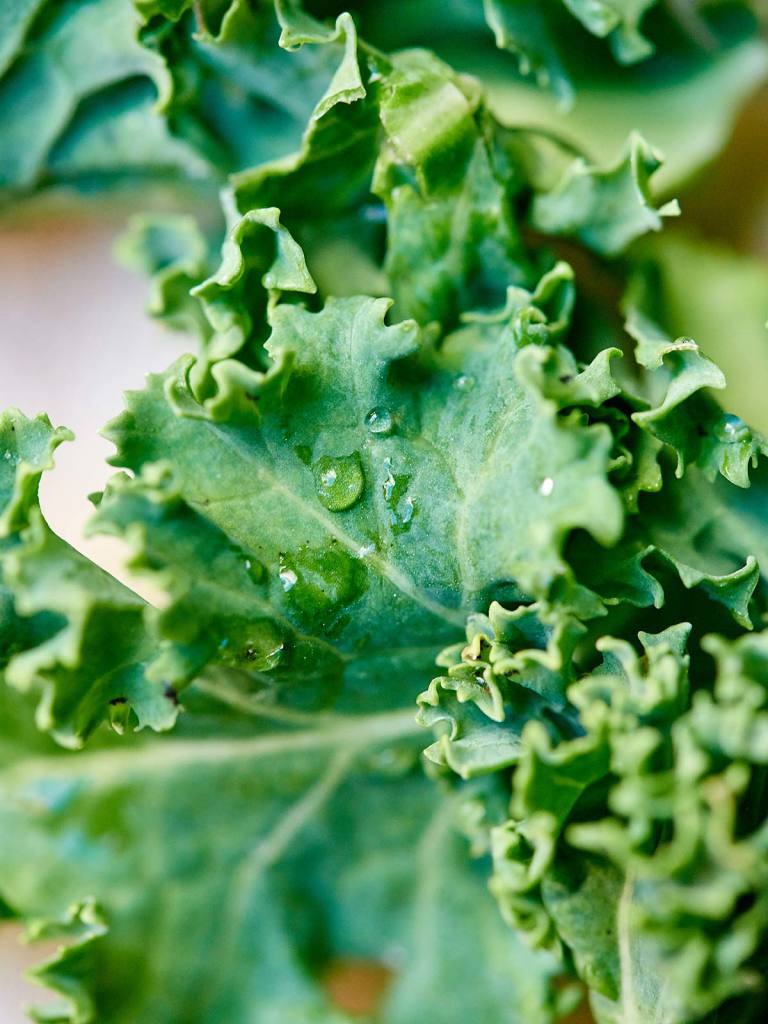 1. Thinly slice the kale.
I first take the kale off of the stem and give it a good wash and then spin it in my salad spinner
. Once the kale is dry, I take a handful and slice it nice and thin with my knife. Place the sliced kale in a bowl and repeat with the remaining kale.
2. Massage.
It sounds so silly, but massaging the kale makes it so much more enjoyable to chew! Have you ever had raw, un-massaged kale? Once, when I used to be a nanny, I saw my 6 year old eating raw kale out of the fridge. I thought, if a 6 year old can like it, then I surely can too.
Wrong. So. So. Wrong. It was so tough that I had to secretly spit it out in the garbage can when she wasn't looking.
That's why we massage the kale. Massaging the kale breaks down the tough cellulose structure. All you have to do is pour my dressing over the thinly sliced kale and use your hands to literally massage it. Take a handful of kale and rub it between your fingers. The kale with shrink in size, darken, and soften.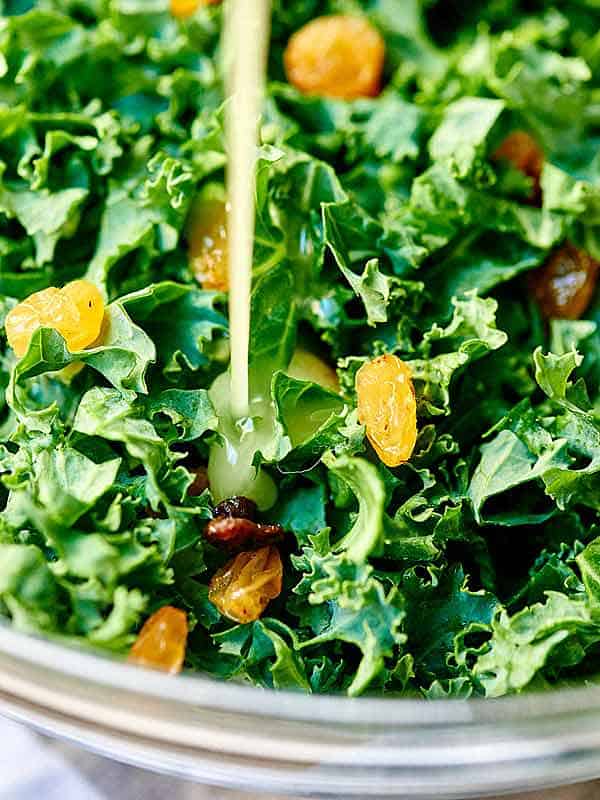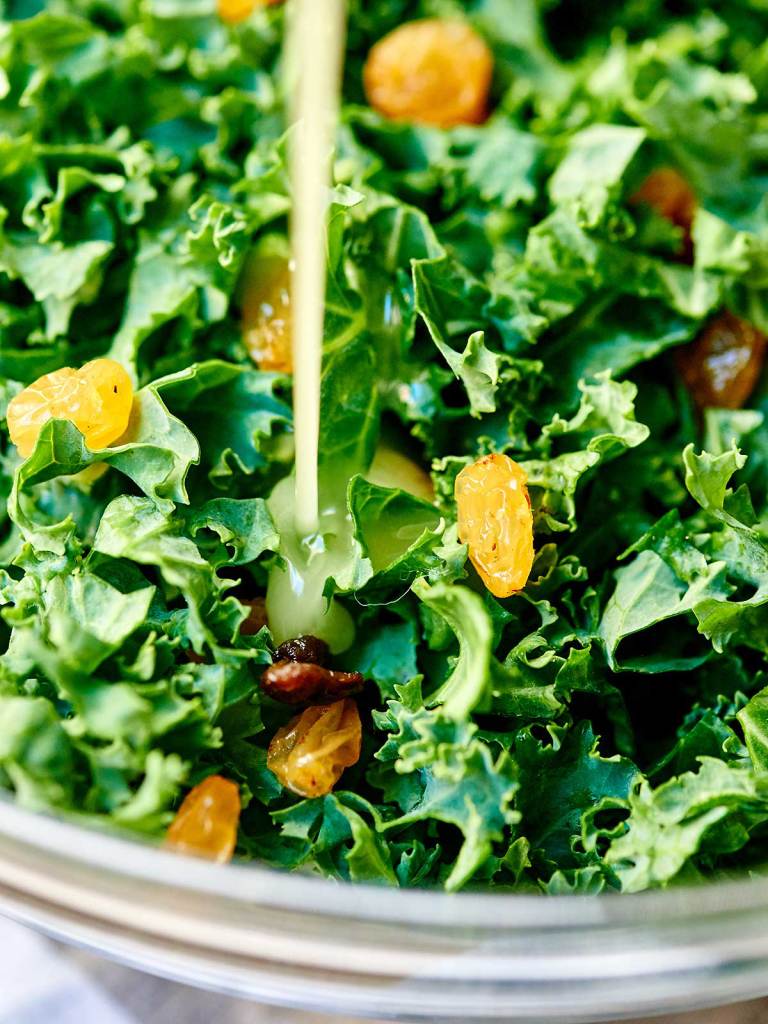 3. Refrigerate.
This step isn't necessary, but I like to do this, so the kale gets extra tender. You can taste test after you've massage the kale and make that call for yourself. This salad is great after sitting for 15 minutes, but I also think the texture is really nice the next day! Once the kale has had time to sit, mix in a little pecorino romano – seriously takes this salad over the edge – golden raisins, and chicken.
Oh yea. That chicken. Let's talk about that chicken, because IT. IS. GOOOOOD.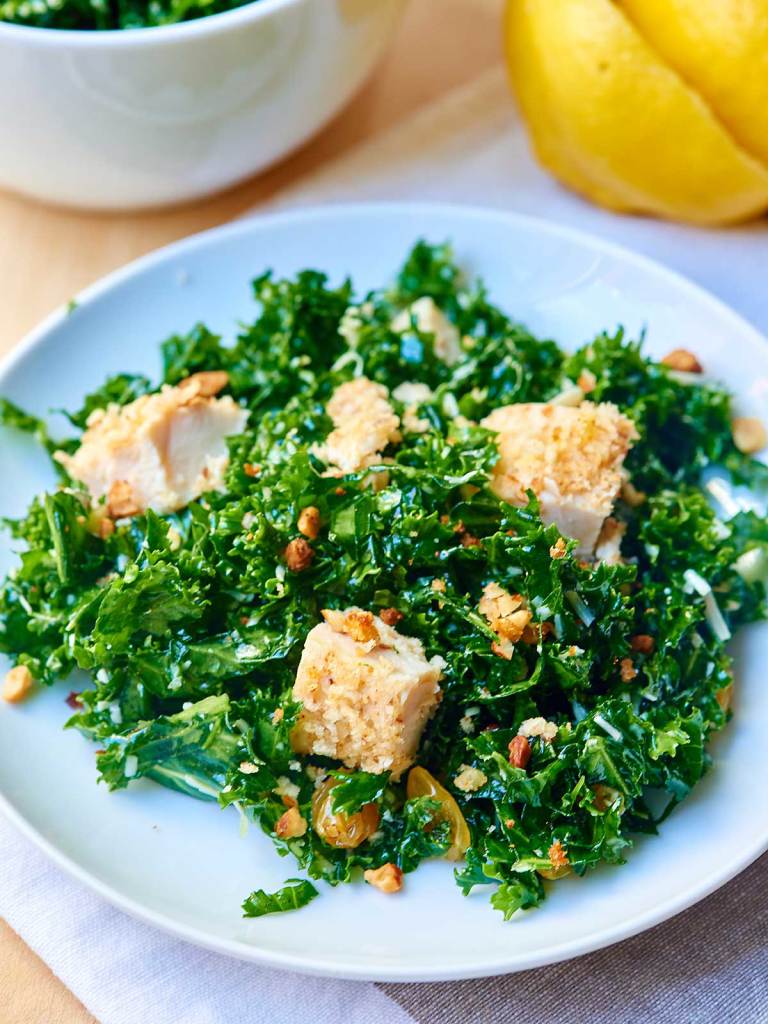 It's so juicy and I love the texture of the crust. Let the chicken marinate in a simple marinade of olive oil, lemon juice, garlic, and salt, dip it in almonds and panko and then bake it off in the oven. I love how toasty the almonds get in the oven. The flavor and texture of the chicken compliment the massaged kale perfectly!
I could eat this kale salad with baked almond chicken every day for lunch and never get sick of it. It's so full of fun textures and flavors like salty pecorino romano, chewy golden raisins, bright lemon, and of course, kale and crunchy/juicy almond chicken.
It's healthy. It's filling. And it's sooooo fresh and delicious.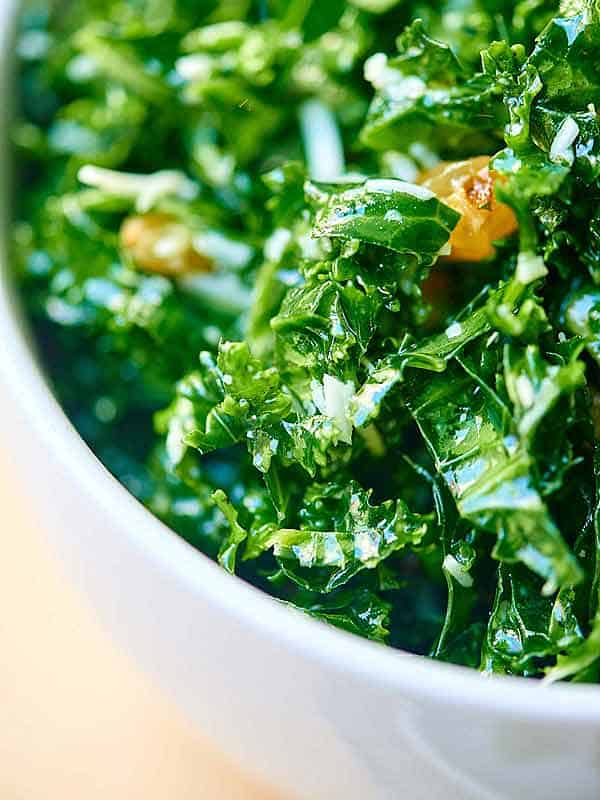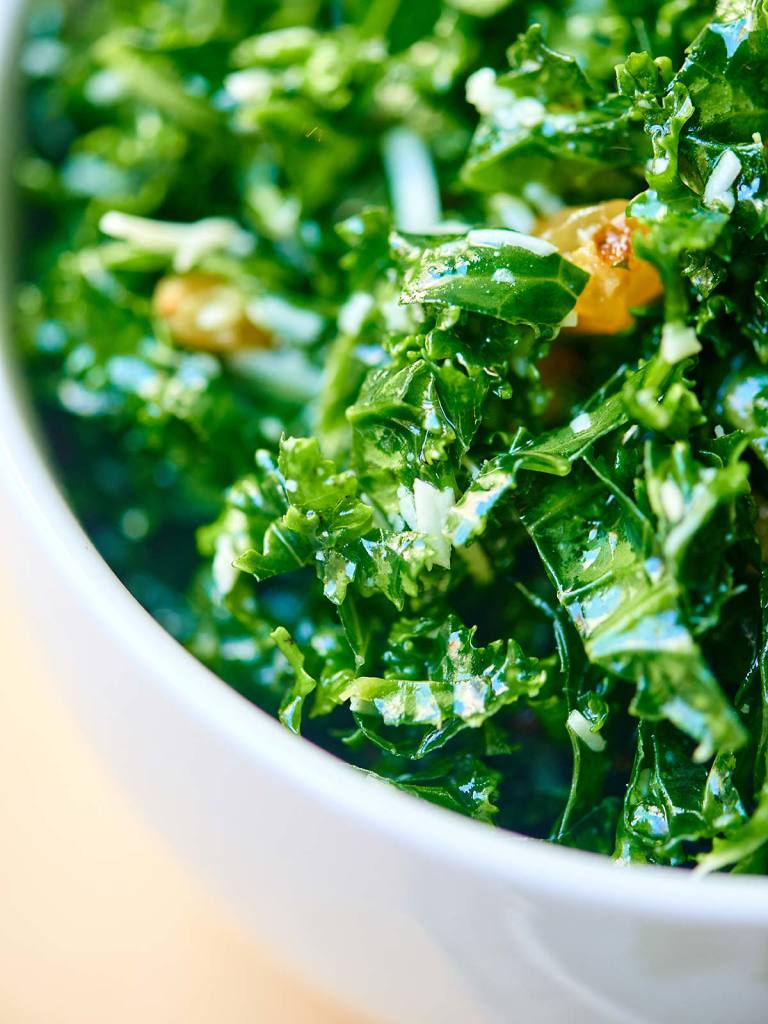 This kale salad with baked almond chicken totally negated all the burgers, Mexican food, pasta, cupcakes, and Indian food I ate this past weekend. That's how it works, right?
– Jennifer
How do you prepare kale? Show me the yummy!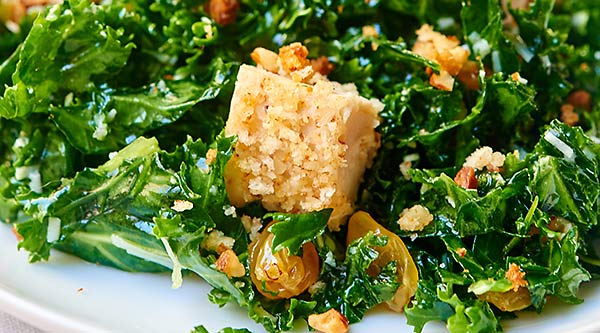 Kale Salad with Baked Almond Chicken
Kale Salad with Baked Almond Chicken. A healthy salad full of massaged kale, pecorino romano, raisins, chicken, and smothered in a fresh lemon dressing!
Equipment for this recipe
(equipment shown are affiliate links)
Ingredients
Salad
1

(9 oz) bunch

bunch curly kale

taken off the ribs, washed, and thinly sliced

1/4

cup (2 oz)

pecorino romano

1/4

cup

golden raisins
Dressing
1

clove

garlic

minced or pressed

3

tablespoons

olive oil

1

tablespoon

lemon juice
Chicken Marinade
3/4

pounds

boneless skinless chicken breasts*

1

tablespoon

olive oil

1/2

tablespoon

lemon juice

1

clove

garlic

thinly sliced
Chicken Crust
1/4

cup

almonds

pulsed in a food processor until it resembles the panko (leave a few pieces larger for texture)

1/4

cup

panko

1/8

teaspoon

garlic powder

1/8

teaspoon

Cayenne

1/4

teaspoon

of salt

+ more to taste
Instructions
For the salad
Take the washed and thinly sliced kale and place it in a large salad bowl, set aside.

Now make your dressing: whisk together minced garlic, olive oil, and lemon juice. Add salt to taste and whisk again.

Pour half the dressing over the kale and use your hands to massage the kale for about 3-5 minutes. Set aside in the fridge until ready for use.

You can let it sit for 15 minutes, or until desired texture is reached. The longer it sits, the softer the kale will be.
For the chicken
Lightly sprinkle the chicken breasts in salt, set aside.

Whisk together olive oil, lemon juice, and garlic.

Place the chicken breasts and marinade in a gallon sized baggie.

Seal the baggie and massage the chicken until the chicken has been fully coated with the marinade.

Let sit in the refrigerator for at least two hours, but up to 2 days.*

Preheat oven to 400 degrees F.

In a shallow bowl/dish, place the crushed almonds, panko, garlic powder, cayenne, and salt and stir to combine.

Remove the chicken from the baggie, and place each breast in the almond coating. Press down lightly to ensure that the coating sticks to both sides. Some breading will fall off, that's ok, just top the chicken with the leftovers once it's placed in the baking dish. You should definitely use all the breading.

Place the chicken in a greased baking dish and bake for about 10-20 minutes, or until the chicken is cooked through (no pink should remain).**

Remove from the oven and let sit for 10 minutes and then cube into bite sized chunks.
Assemble
Remove the kale from the refrigerator and add in pecorino and golden raisins. Add in the rest of the dressing and toss to combine. Top with the cubed chicken and serve!
STORING
*Storage times may vary based on temperature and conditions
Notes
*Chicken should typically marinate for 2 hours. If you're crunched for time and can only marinate for 30 minutes, poke holes in the chicken breasts with a fork before placing it in the baggie with the marinade.
** Cook time will vary depending on the size of the chicken breasts.
***Store salad and dressing separately.
Nutrition Information
Nutrition Facts
Kale Salad with Baked Almond Chicken
Amount Per Serving
Calories 374
Calories from Fat 207
% Daily Value*
Fat 23g35%
Cholesterol 61mg20%
Sodium 227mg10%
Potassium 758mg22%
Carbohydrates 19g6%
Protein 26g52%
Vitamin A 6450IU129%
Vitamin C 80.5mg98%
Calcium 202mg20%
Iron 2mg11%
* Percent Daily Values are based on a 2000 calorie diet.
*Note: Nutrition information is estimated and varies based on products used.
Keywords:
baked almond chicken, fresh, kale salad