Only 5 ingredients are needed to make this Strawberry Chia Jam. It's vegan, gluten free, easy to make, so much healthier than many store bought brands, and helllooo is ultra delicious!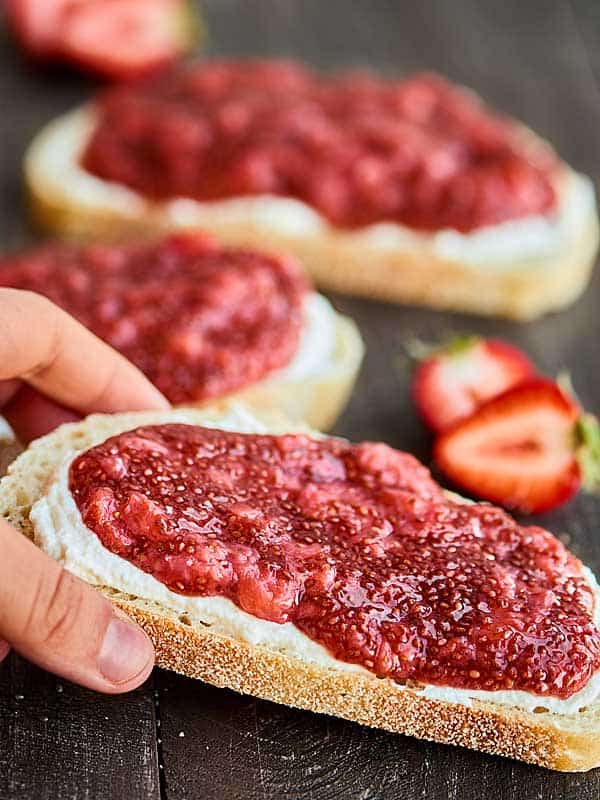 This Strawberry Chia Jam tastes like summer.
I've been wanting to make this jam for quite some time, but have been patiently (sort of) waiting for strawberries to come into season.
Well.
The other day I was at the grocery store and I went up to the strawberries to check them out, and holy moly, they were dark red, juicy, and perfect.
FINALLY.
I grabbed a few pints and immediately went home to make this jam.
A few short minutes later, I had the best homemade strawberry chia jam.
Who knew homemade jam could be so darn easy, fresh, and deeeelicious?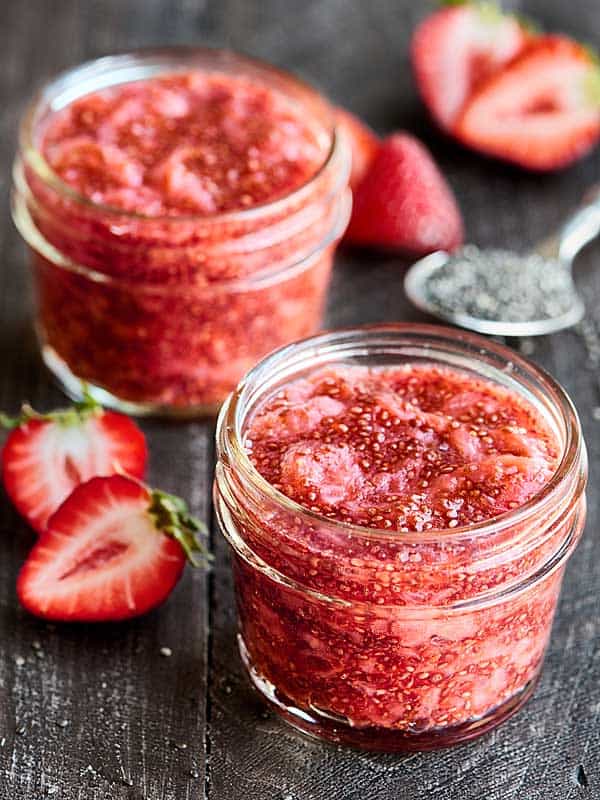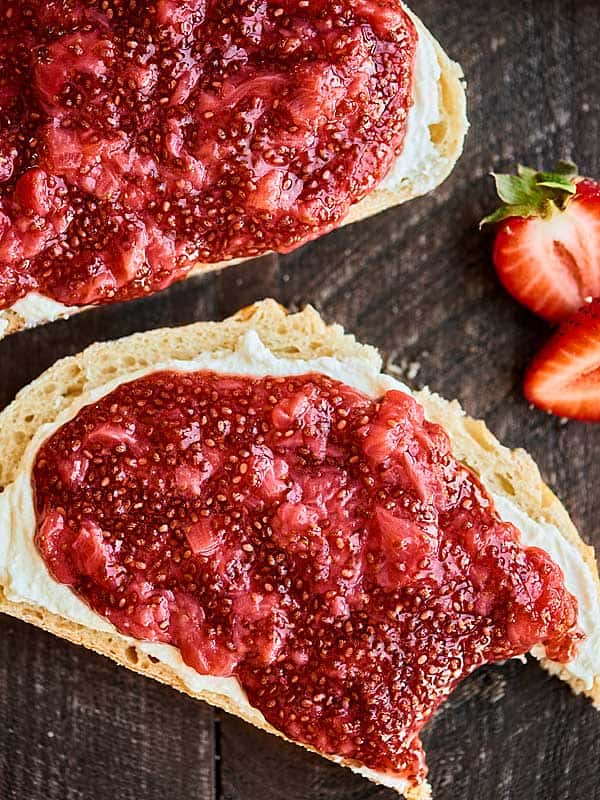 I've only had homemade jams and jellies a few times in my life. Growing up, we lived across the street from friends who had grape vines in their backyard.
I don't remember it too much, but I DO remember absolutely loving it when they'd walk over with a few jars of homemade grape jelly.
The only other time I've had homemade jelly was just this past holiday season.
Over Thanksgiving Trevor and I were in Michigan spending time with family and his Aunt Judy sent us home with homemade plum jelly. I immediately started picking her brain about how to make it, because it was absolutely delicious! It was just a simple combination of fruit, sugar, and gelatin.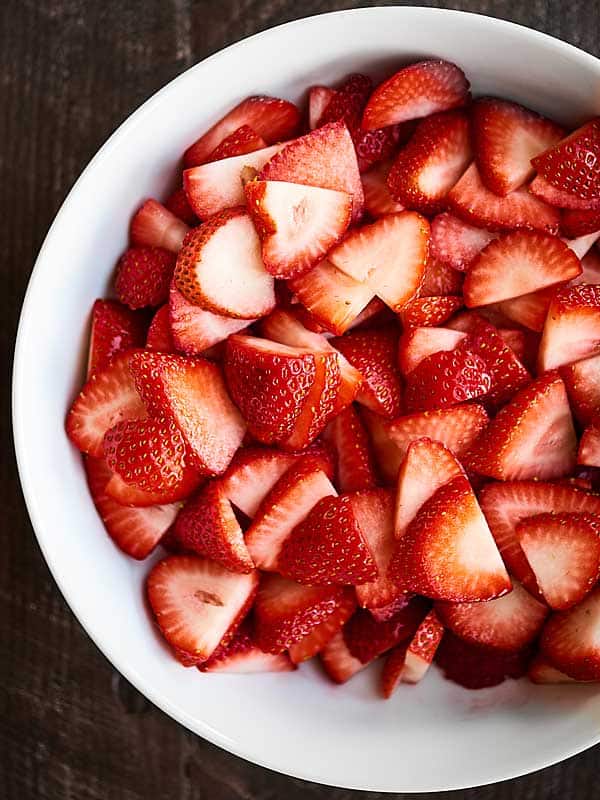 While I absolutely LOVED the jelly, I never have gelatin on hand.
I do, however, always have chia seeds on hand. I buy them in bulk and put them on my Cherry Smoothie Bowls or Cashew Butter Toast, etc.
Plus, people use chia seeds as a thickener for many recipes, so I figured it would probably work for jam! While I'm definitely not the first one to come up with a Strawberry Chia Jam Recipe, I truly believe that this one is ultra delicious, easy to make, and I just know you're gonna love it. 🙂
All you need is five simple ingredients (six if you count a pinch of salt as an ingredient 😉 ):
Strawberries.
Agave (maple syrup would probably work too).
Chia seeds.
Lemon juice.
Vanilla extract.
(pinch of salt.)
Start by slicing your strawberries. Place the strawberries in a saucepan with agave and bring this mixture to a simmer.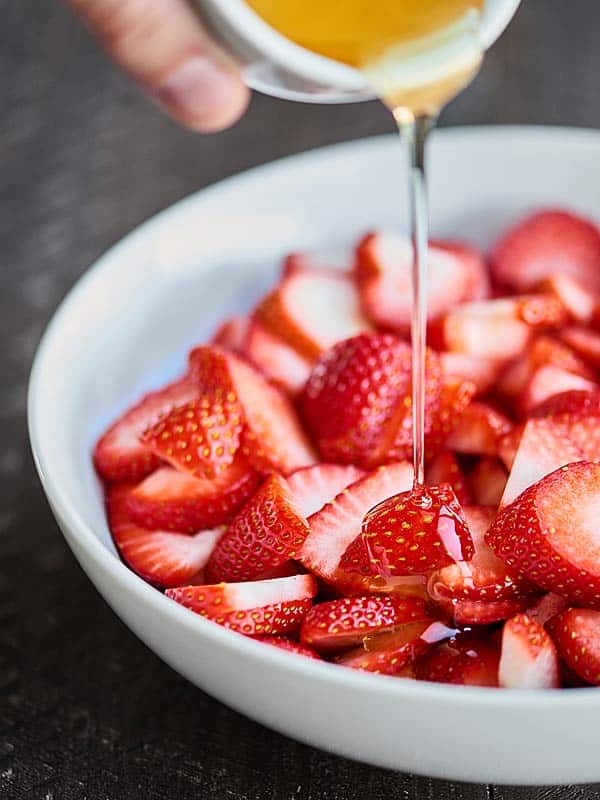 Let it simmer for a few minutes, then mash the strawberries .
Stir in the chia seeds, cook for a few minutes longer, remove the pan from the heat, and stir in the lemon juice, vanilla extract, and a pinch of salt.
Then.
You're done!
I mean, come ON how easy was that?
Now you're going to let the Strawberry Chia Jam cool and then the possibilities are endless!
For the photos today I took a piece of sourdough bread, spread on a bunch of ricotta, sprinkled on some salt, and then loaded it up with the Strawberry Chia Jam.
I about died and went to heaven it was so good. I loved the combo of sour, chewy bread, creamy, salty ricotta, and sweet, juicy strawberry jam. SO good.
This jam is also great for peanut butter toast, stirred into your oatmeal, or even straight off the spoon. 🙂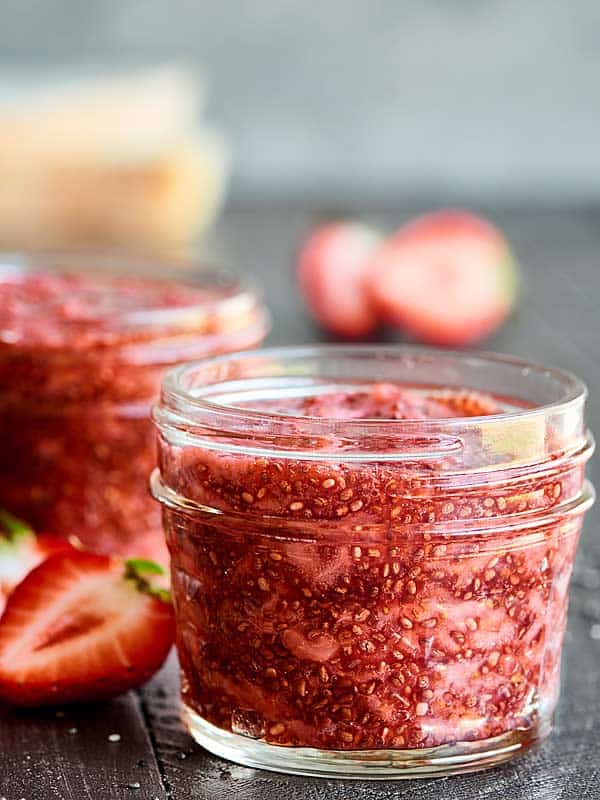 Now go. Make homemade Strawberry Chia Jam and be amazed by how easy and delicious it is!
– Jennifer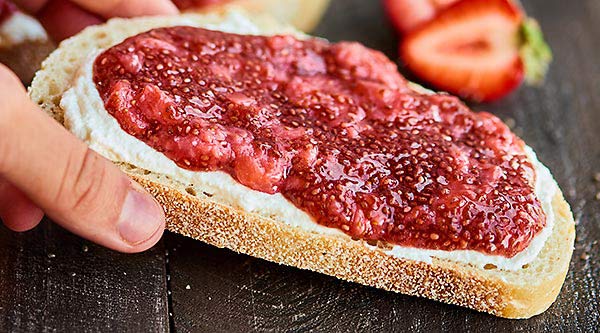 Strawberry Chia Jam Recipe
Only 5 ingredients are needed to make this Strawberry Chia Jam. It's vegan, gluten free, easy to make, pretty darn healthy, and helllooo is ultra delicious!
Equipment for this recipe
(equipment shown are affiliate links)
Ingredients
1

pint

fresh strawberries

sliced

2-3

tablespoons

agave

maple syrup would work too

3

tablespoons

chia seeds

2

tablespoons

lemon juice

1

teaspoon

vanilla extract

salt

to taste
Instructions
Place sliced strawberries and agave into a medium sized sauce pan.

Bring the mixture to a simmer over medium/medium low heat and simmer for 5 minutes, stirring frequently.

Directly in the pan, mash strawberries using a fork or a potato masher.

Lower heat to low and stir in chia seeds.

Cook an additional 5-10 minutes, or until desired texture is reached, again, stirring frequently.

Once jam is at the desired consistency, remove from heat and stir in the lemon juice, vanilla extract, and a pinch of salt.

Add more agave to taste, if necessary.

Cool completely before putting into a sealable container and placing in the fridge.
STORING
*Storage times may vary based on temperature and conditions
Nutrition Information
Nutrition Facts
Strawberry Chia Jam Recipe
Amount Per Serving (1 jar)
Calories 468
Calories from Fat 117
% Daily Value*
Fat 13g20%
Sodium 13mg1%
Potassium 841mg24%
Carbohydrates 85g28%
Protein 9g18%
Vitamin A 55IU1%
Vitamin C 278.4mg337%
Calcium 300mg30%
Iron 4.6mg26%
* Percent Daily Values are based on a 2000 calorie diet.
*Note: Nutrition information is estimated and varies based on products used.
Keywords:
healthy, naturally sweetened, vegan