This S'Mores Iced Coffee is creamy, chocolatey, filled with marshmallow fluff and has a fun chocolate and graham cracker rim! It's a caffeinated S'More in a glass!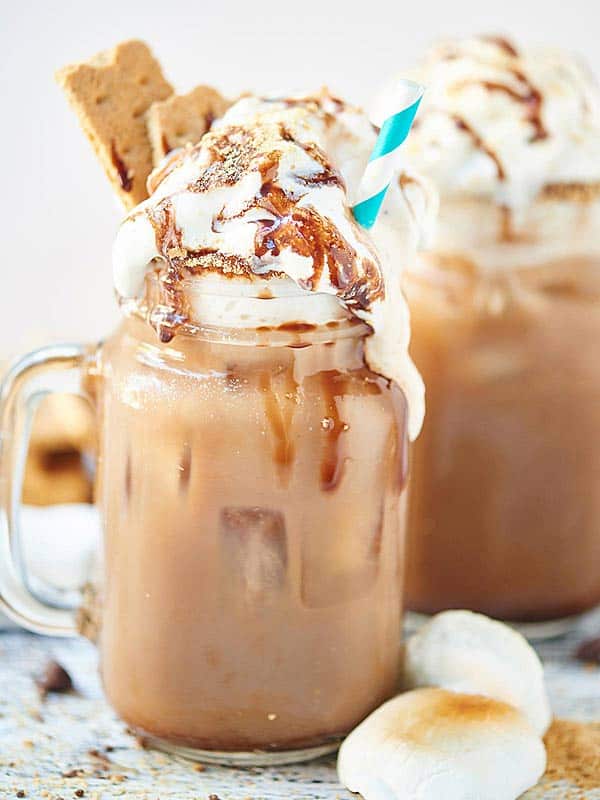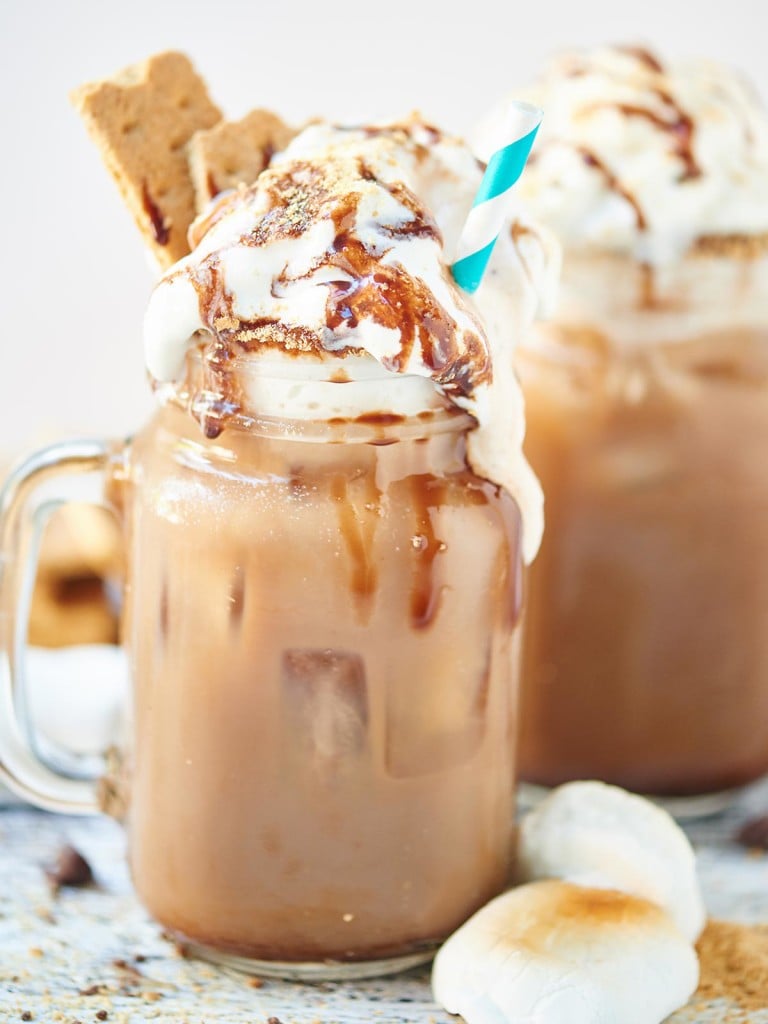 Tomorrow is the 4th of July! What are you guys doing? Just in case you're looking for a little last minute food inspiration, I have one more recipe that is perfect for celebrating the 4th (be sure to check out my recipe roundup for more!). It's creamy, it's chocolatey, it's marshmallowy, and it's got caffeine…
it's…
S'Mores Iced Coffee!!!
This S'Mores Iced Coffee is food porn in a glass. It's filled with marshmallow fluff, brewed coffee (or espresso), and has a chocolate/graham cracker rim.
This is the excuse we've all been looking for to eat S'Mores for breakfast!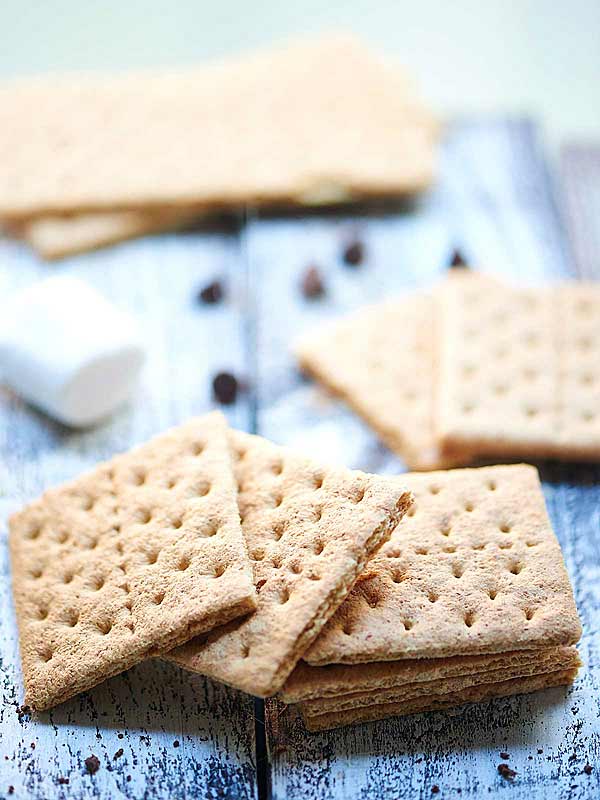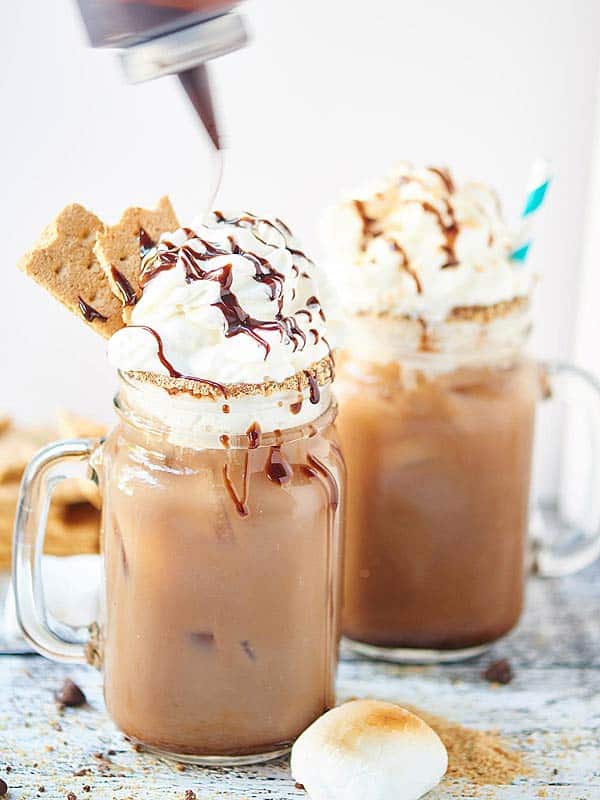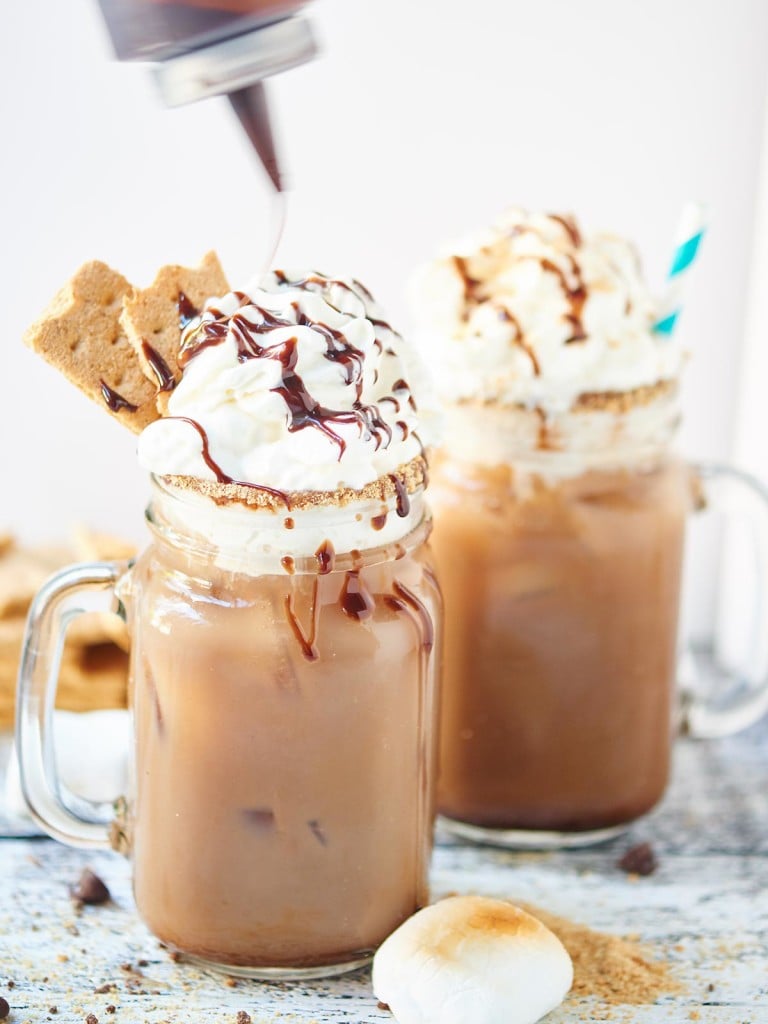 Funnily enough, I didn't used to like S'Mores.  I also used to hate hot dogs. I know, I know! Don't worry. I've gotten over it.
Now that I ♡ S'Mores. I eat them all the time…in Wisconsin by the lake, around a bonfire while hanging with friends, and even in the winter when I make the easiest indoor S'Mores!
I cannot get enough of them. Gooey marshmallow, melty chocolate, crunchy graham crackers. What more could you need?
Well, one day, I was walking downtown to run some errands and as I passed by one of the many Starbucks I saw that they made a S'Mores Frappuccino! Good move, Starbucks. Goooood move.
I literally forced myself to walk away and decided to just make an iced version of the recipe at home. I knew I had S'Mores ingredients and I thought it'd be so fun! I am now an official lover of homemade iced coffee. Lover as in I've made it every day before breakfast for at least a month now.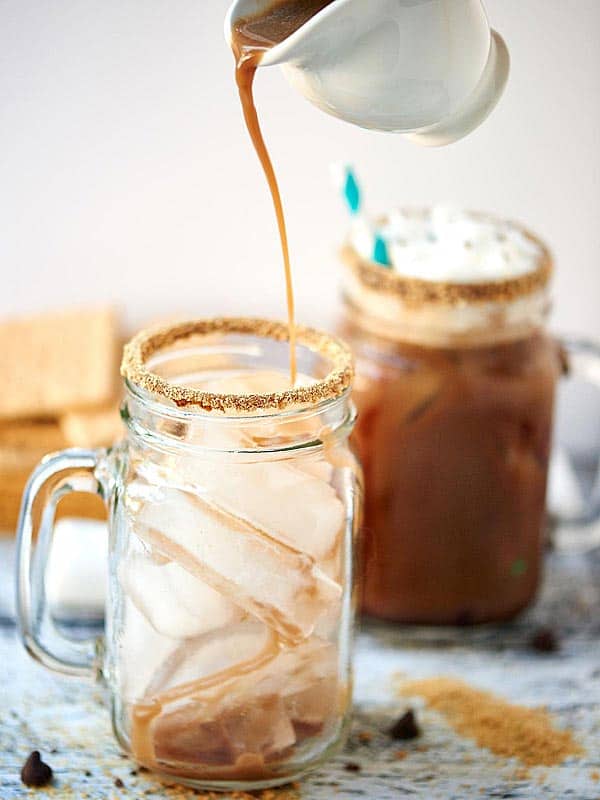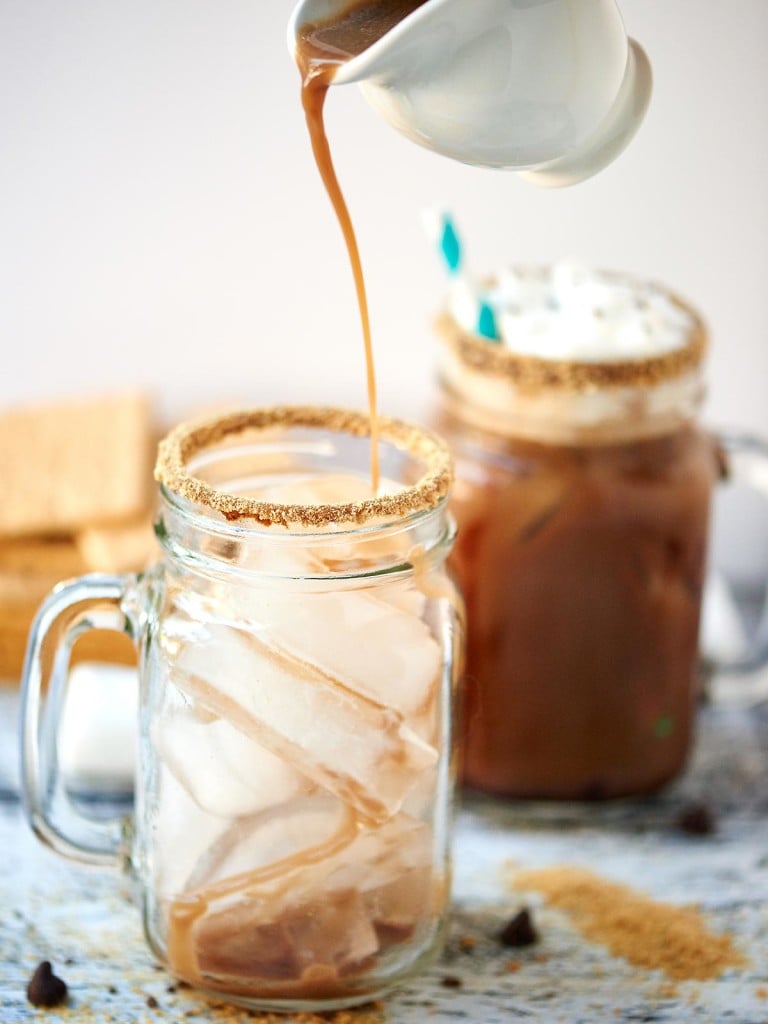 One of our new favorite things to do in the morning is immediately make an iced coffee, sit outside in the gorgeous weather, and just chat about what our day looks like. It's the BEST way to wake up. 🙂
While this iced coffee might not be quite as simple as a "regular" iced coffee. The benefits totally outweigh the extra time it'll take you. 😉
All you need to make this S'Mores Iced Coffee is espresso (or strong coffee), milk, marshmallow fluff, chocolate syrup, sugar, and graham crackers.
But before we get into this, can we just talk about marshmallow fluff for a second? Why does it taste SO delicious?! It's amazing on graham crackers, my finger a spoon, melted over popcorn…
So. Good.
And in this S'Mores Iced Coffee recipe it contrasts the bitterness of the espresso beautifully! Thumbs up to science for this one.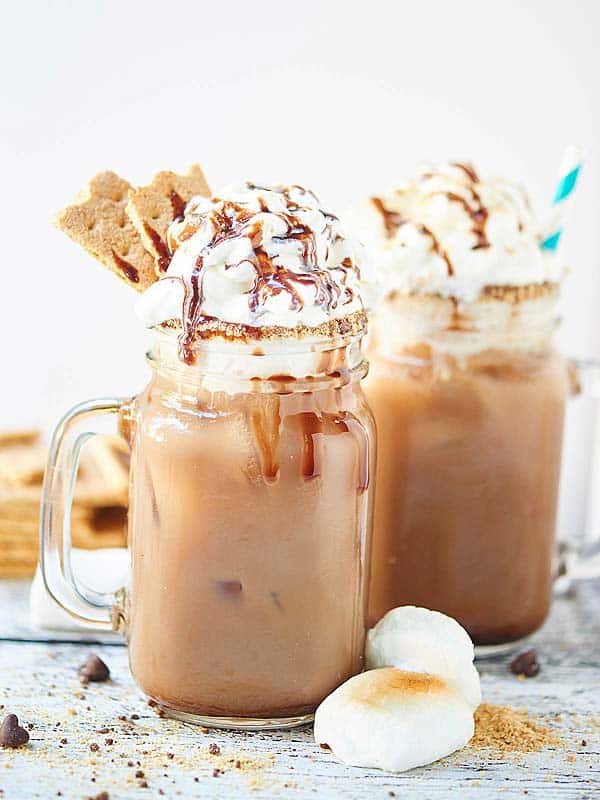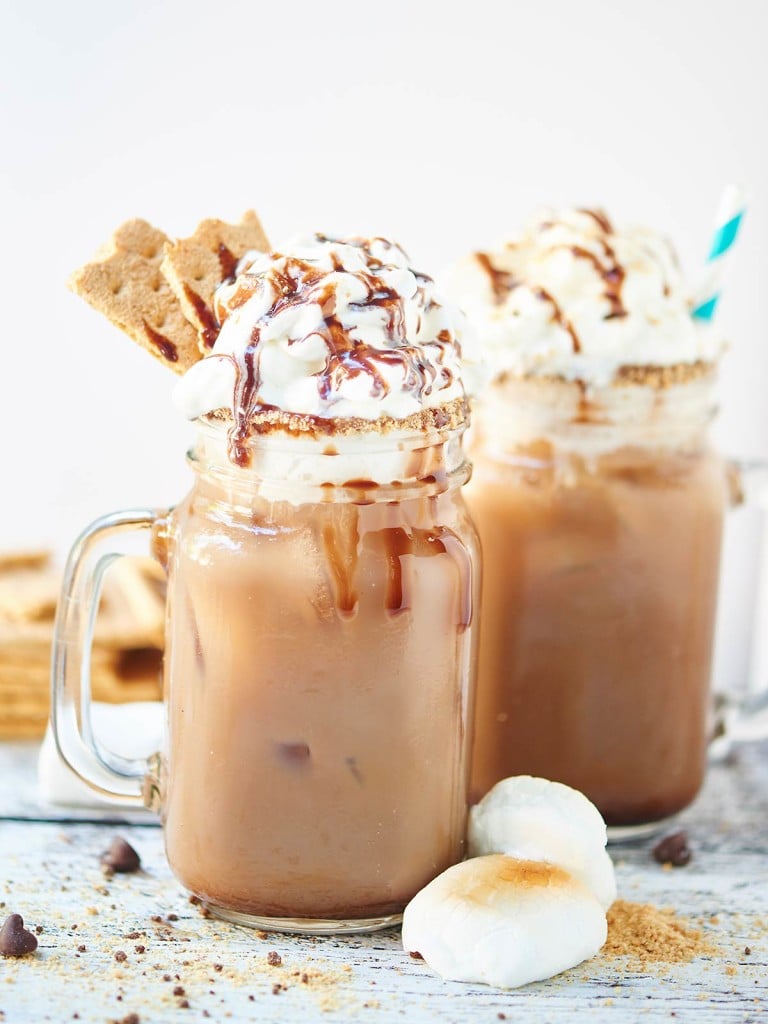 First, make your espresso or coffee. Trevor and I use this De'Longhi Espresso Machine
, and um, side note, it's only $70 and makes coffee shop worthy espresso. So long expensive lattes!
After you make the espresso, combine it with marshmallow fluff until it melts and then dump that into your blender along with the milk, chocolate syrup, and optional sugar. Give it a quick whirl in your blender, pour it into a cocktail shaker filled with ice, and then pour it into your prepared glass.
Oh yea. Let's talk about the really cute chocolate rim!
It's super simple and reeeeeallly tasty.
Dunk the glass rim into some chocolate syrup and then into some finely ground graham crackers.
That's it!  I topped the coffee with some whipped cream, drizzled it with chocolate and graham cracker crumbs and added a couple of graham cracker pieces.
This S'Mores Iced Coffee is perfect for one, but also as a fun treat to serve at a brunch party! It's easy. It's impressive. And helllllooo it's a caffeinated S'Mores in a glass.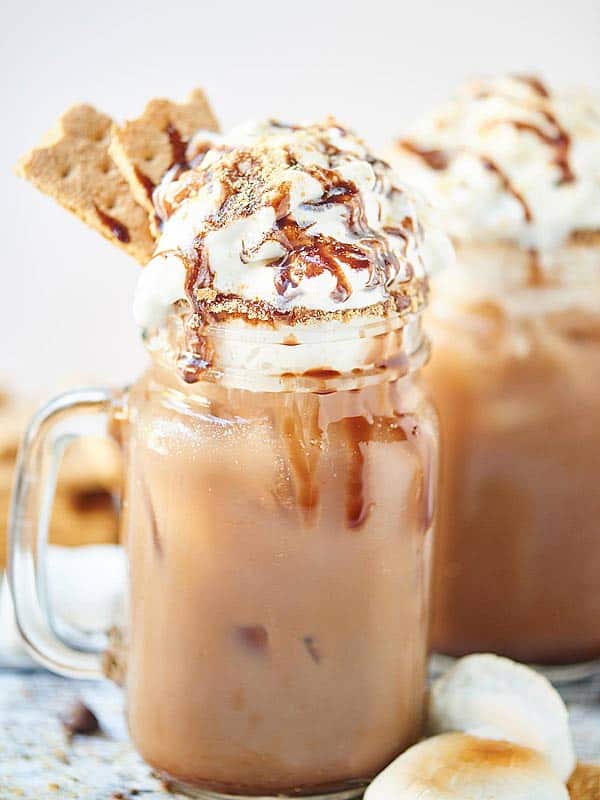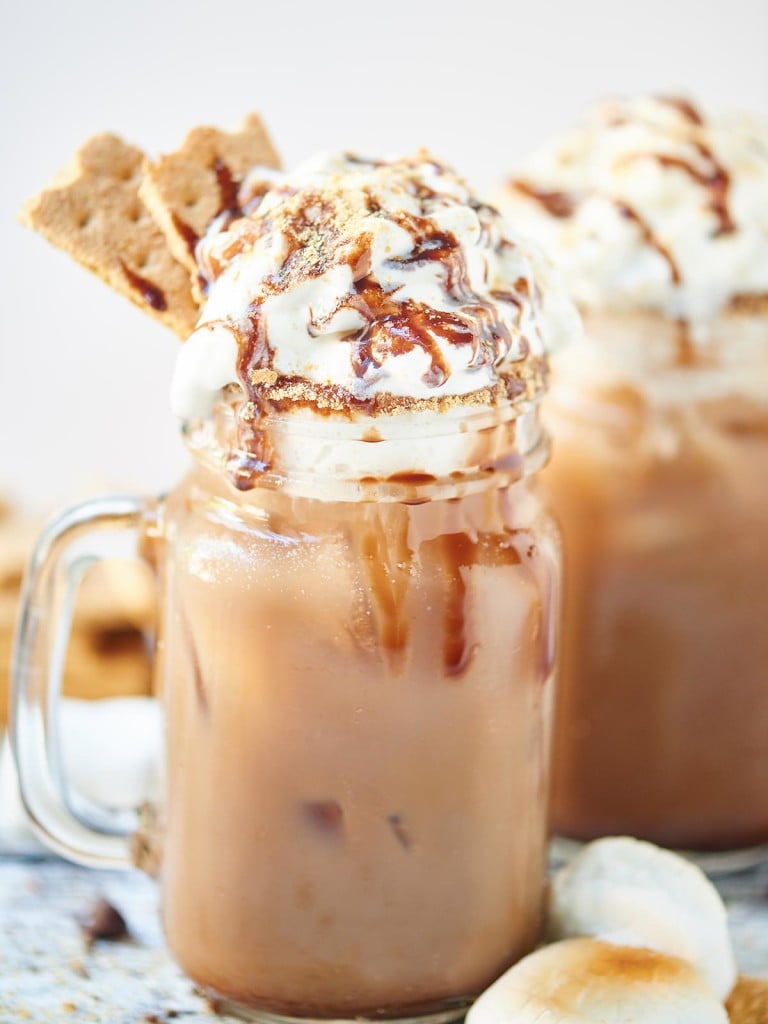 Enjoy and Happy 4th everyone!
– Jennifer
Do you like iced coffee or hot coffee? Show me the yummy!
PS – I haven't tried making this into a frappuccino, because I prefer iced coffee, but let me know if you do! 🙂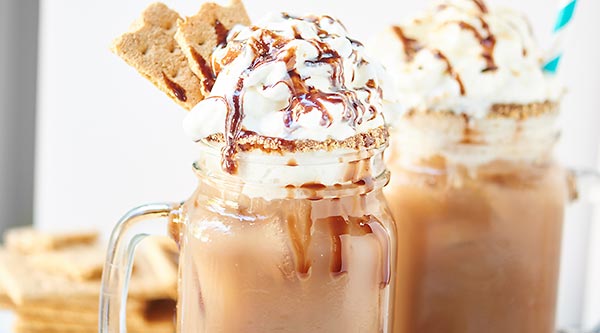 S'Mores Iced Coffee
This S'Mores Iced Coffee is creamy, chocolatey, filled with marshmallow fluff and has a fun chocolate and graham cracker rim! It's a caffeinated S'More in a glass!
Equipment for this recipe
(equipment shown are affiliate links)
Ingredients
S'Mores Iced Coffee
1-2

shots

shots espresso

or

1/2 cup

STRONG coffee

1/4 - 1/3

cup

marshmallow fluff*

1/2

cup

milk

1

tablespoon

chocolate syrup

1/2

tablespoon

granulated sugar

optional **
Optional chocolate/graham cracker rim
crushed graham crackers

chocolate syrup
Optional toppings
whole graham crackers

whipped cream

extra chocolate sauce for drizzling
Instructions
Optional chocolate/graham cracker rim
Pour chocolate syrup on a small plate and set aside.

Place finely ground graham cracker crumbs on another plate and set aside.

Dunk the rim of a glass in the chocolate and then immediately in the graham cracker crumbs.
S'Mores Iced Coffee
Combine hot coffee/espresso with marshmallow fluff and stir until the fluff has almost melted.

Pour coffee/marshmallow mixture into your blender along with the milk, 1 tablespoon chocolate syrup and optional sugar.

Blend on low until everything has been fully incorporated.

Fill a cocktail shaker with ice and then pour the coffee over that.

Shake until chilled.

Fill your drinking glass with ice and strain the coffee over the ice.

Top with whipped cream, an extra chocolate drizzle, and graham cracker, if desired and serve immediately!
Notes
* I liked 1/3 cup marshmallow fluff, but start with 1/4 and go from there!
**If you like less sweet drinks, omit the sugar.
Nutrition Information
Nutrition Facts
S'Mores Iced Coffee
Amount Per Serving (1 drink)
Calories 276
Calories from Fat 36
% Daily Value*
Fat 4g6%
Cholesterol 12mg4%
Sodium 75mg3%
Potassium 271mg8%
Carbohydrates 58g19%
Protein 4g8%
Vitamin A 200IU4%
Calcium 138mg14%
Iron 0.4mg2%
* Percent Daily Values are based on a 2000 calorie diet.
*Note: Nutrition information is estimated and varies based on products used.
Keywords:
espresso, marshmallow fluff, s'mores