This Edible Sugar Cookie Dough is gluten-free, eggless, and safe to eat raw! This quick and easy treat is packed with almond flour, white chocolate chips, and sprinkles!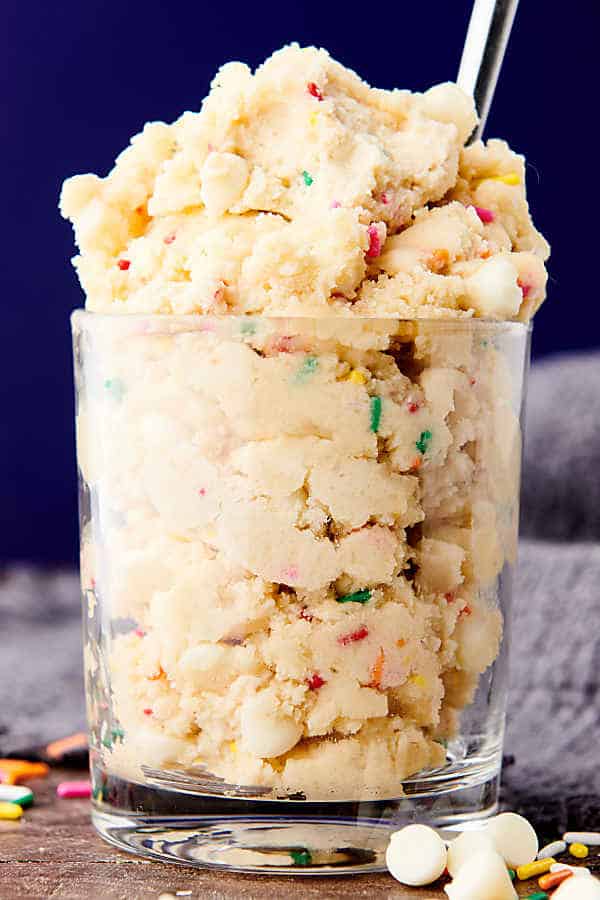 Normally I'd rather have cookies than cookie dough, but Trevor will 10 times out of 10 pick cookie dough. With this edible sugar cookie dough, I can't say I blame him. It's creamy, sweet, and packed with white chocolate and sprinkles!
Ingredients
I always have these ingredients in my pantry (and fridge), so this cookie dough is perfect for when I need a sweet treat ASAP!
Unsalted Butter – soften your butter to room temperature first — it incorporates better into the dough. Cold butter will be hard to make smooth.
Powdered Sugar – our sweetener. Powdered sugar in this recipe makes the cookie dough super smooth and soft. Granulated or brown sugar will make it slightly grainy.
Vanilla Extract and Almond Extract – give the cookie dough warmth and depth. Almond extract is the secret ingredient to give this dough that classic sugar cookie flavor.
Almond Flour – keeps this recipe gluten-free and safe to eat raw. Make sure you use almond flour, not almond meal. It's finer than almond meal which creates a smoother, not grainy texture.
Salt – cuts the sweetness of the dough.
White Chocolate Chips and Sprinkles – I love mixing both of these into my sugar cookie dough for texture, added sweetness, and a pop of color.
Milk – if necessary, to thin.
Feel free to omit the chips and sprinkles if you're a sugar cookie dough purist! Wanna take it up a notch? Serve it with a scoop of buttercream frosting!
How to make
I love a sweet treat that takes no time to make…I'm not very patient when my sweet tooth kicks in. 😉 This edible sugar cookie dough comes together in just 10 minutes!
Place butter and sugar into a large bowl then use a hand mixer to beat until fluffy.
Beat in vanilla and almond extract then flour and salt.
Stir in white chocolate chips and sprinkles then serve and enjoy or store in the fridge!
What is the difference between edible cookie dough and regular cookie dough?
Although almost identical in taste, edible cookie dough and regular cookie dough have a couple of differences in their make-up, making edible cookie dough safe to eat raw:
The eggs. Raw eggs can contain bacteria that can make people sick so it's not recommended to eat "regular" cookie dough with eggs in it. The eggs in cookies helps them hold their shape but since we're just making cookie dough, they're not necessary!
The flour. Technically, raw flour is not safe to eat because it can contain bacteria that is eliminated only when the flour is cooked. To solve that problem, we're using almond flour which is just ground up almonds. Safe to eat and delicious!
Because this edible cookie dough doesn't contain eggs or flour, it's safe to eat raw!
Can you bake edible cookie dough?
Some edible cookie dough recipes can be baked into cookies, but since this sugar edible cookie dough doesn't contain a leavening agent like baking powder or a binding agent like eggs, the cookies won't be able to hold their shape resulting in flat, very crispy cookies.
Can you use almond meal?
You can, but almond meal is quite coarse, which will result in a grittier texture. I suggest using almond flour, which is much more fine, to keep the cookie dough smooth.
If you only have almond meal on hand, you could try mixing the dough together in a food processor to help break down the almond meal to create a smoother texture.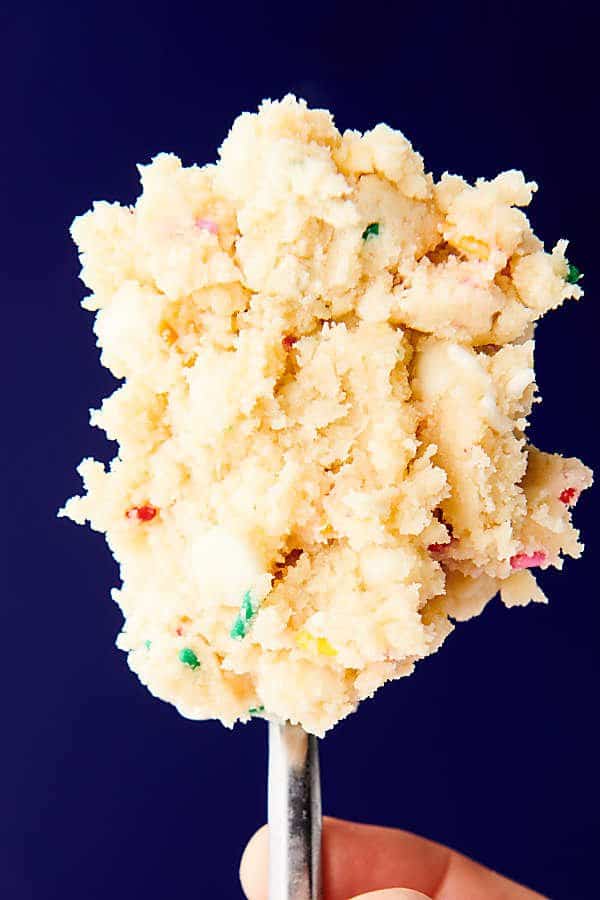 Variations
If you want to switch this cookie dough up, try using other mix-ins! Use one, two, mix and match, etc!
Semi-Sweet Chocolate Chips
Butterscotch Chips
Toffee
Crushed Golden Oreos
Toasted Pecans
M&Ms
How to store
Leftover sugar cookie dough will last in an airtight container in the fridge for up to 1 week or in the freezer for up to 2 months.
To enjoy from frozen, thaw in the fridge until soft.
– Jennifer