These Acai Bowls take just 5 minutes to whip up and are absolutely packed with nutrition and flavor. Frozen acai blended with mixed berries and banana and finished off with all your favorite toppings.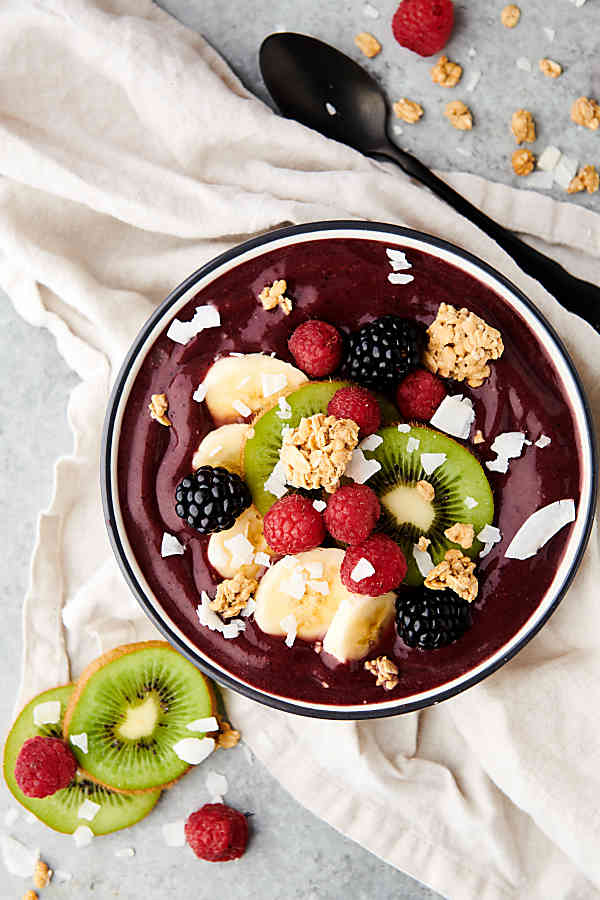 One of my favorite things ever is treating myself to a cool, creamy, ultra thick and delicious smoothie when the weather is warm. It really hits the spot. Well why not pack that smoothie with tons of flavor, texture, AND nutrition? That's where these acai bowls come in. A superfood-based, healthy, delicious breakfast or snack that's PERFECT for those extra hot days.
What is acai?
Acai—pronounced "ah-sigh-ee"—is a berry that grows on the Acai Palm Tree in South America. It resembles a grape or a blueberry—or something in between the two.
Acai is considered a superfood. Eighty percent of the berry is seed but the remaining twenty percent is what contains all the nutrition and flavor. That is what is harvested and used for the frozen acai puree we find in our grocery stores!
Acai bowls are essentially smoothie bowls (basically an extra thick smoothie you eat with a spoon), just using acai along with other frozen fruit! They're usually served with additional toppings such as sliced fruit, nuts and/or seeds, granola, etc!
Ingredients
Super fresh, super delicious, super healthy ingredients!
Acai Puree – our power house ingredient! Can't have acai bowls without acai. 😉 Acai is PACKED with antioxidants.
Frozen Mixed Berries – bring on more antioxidants! I love the nutritional benefits of using more than one berry – my blend has strawberries, blackberries, blueberries, and raspberries – but feel free to use a single berry if that's all you have on hand.
Ripe Banana – don't skip the banana. It makes the acai bowls extra thick and creamy.
Almond Milk – or whatever milk you have on hand. Just a little goes a long way. Remember: we want a smoothie bowl, not a drinkable smoothie.
Vanilla Extract – adds warmth and flavor.
Pure Maple Syrup – just a touch provides natural sweetness to balance the tartness of the acai.
Toppings –  fresh fruit, granola, peanut butter, toasted coconut, nuts, seeds, you name it!
Pro tip
Acai isn't very sweet, which is why I love mixing in berries, ripe banana, and a touch of maple syrup!
How to make acai bowls
A nutrition-packed snack or breakfast bowl that takes 5 minutes to make? Heck yes!
Place acai puree, berries, banana, milk, vanilla, and maple syrup into a high-powered blender—I use my vitamix.
Blend until smooth then serve immediately with your favorite toppings and enjoy!
Pro tip
Too thick? Add more milk! Not thick enough? Blend in more frozen berries or acai!
Acai bowl toppings
You can really get as crazy as you want with your toppings. I love to load mine up with tons of flavor and texture. It's delicious AND filling! Here are some of my favorite toppings:
Fresh fruit. Sliced banana, sliced strawberries, blueberries, raspberries, kiwi, pineapple, mango chunks, you name it.
Peanut Butter or your favorite nut butter. Big fan of peanut butter . . . I always add a lot. 😉 Not only does the flavor compliment the berries, it also adds in a good dose of protein and fat!
Nuts/seeds. I love sliced almonds or chopped pecans and a sprinkle of chia seeds, hemp seeds, and pumpkin seeds.
Granola. Adds a great crunch! Use store-bought or my homemade granola!
Chocolate chips/cacao nibs. For all my chocolate lovers.
Toasted coconut flakes. For some extra texture and that toasty flavor.
Should you pre-freeze the banana?
Because you're using frozen fruit AND frozen acai in your bowl, it's not necessary to freeze your banana first. I also never remember to freeze my banana ahead of time, so using a fresh non-frozen banana is easier!
However, it doesn't hurt either. If you prefer to freeze the banana, feel free! Keep in mind, you may need to add additional liquid.
How to make creamier
If you prefer a creamier texture, try adding a scoop of vanilla Greek yogurt or half of an avocado. (*not tested).
Can you add spinach to acai bowls?
Absolutely! I like to add a handful of fresh spinach for an extra boost of nutrition so feel free to do the same.
The color won't be very pretty but it still tastes good! 😉
Are acai bowls healthy?
Yes! Acai itself is a superfood that contains tons of antioxidants, vitamins, and minerals; it also as said to improve cholesterol levels and boost brain function. Plus, it's different from other fruit in that it's high in healthy fat and low in sugar.
Although high in sugar – most of it comes from fruit, which is different than added sugar – acai bowls as a whole are definitely healthy. You get all the nutrition from the acai berry plus more from the other fruit, healthy fats from the nuts and seeds, protein from the peanut butter, etc. You really get to pack your bowl with as much nutrition as you want!
One bowl contains about 325 calories, 6 grams of fat, 64 grams of carbs, 10 grams of fiber, and 3 grams of protein.
Can you use acai powder?
I don't recommend using acai powder in place of the frozen acai because your bowl won't be as thick or as creamy! This acai bowl recipe is designed to use frozen berries.
Can you make acai bowls in a food processor?
I prefer to use my Vitamix, but if you don't have a high-powered blender, you can certainly use your food-processor instead!
Add the banana first and pulse to break it into small pieces. Then add your other fruit and pulse again. Finally add the acai and liquid ingredients and pulse until smooth!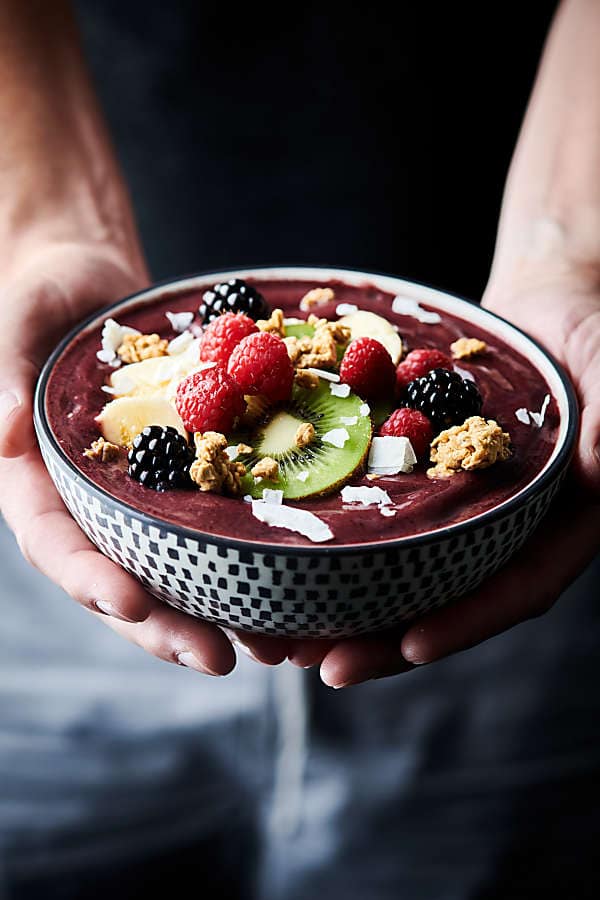 Tips
Use a high-powered blender. I love my Vitamix but other high-powered blenders would work as well. If you don't have one, try your food processor; it just may take a little bit longer to achieve full creaminess.
Blend slowly. Start on a slower, lower setting and then ramp it up.
Use frozen acai. This recipe isn't designed for acai powder. Frozen berries make it that much thicker and creamier. Definitely worth it.
Start with less liquid. You can always add more but can't take any out. Start with less then add little bits at a time until it's reached your desired thickness.
Chill your bowl. Try sticking your bowl in the freezer before pouring your acai mixture into it. That way it won't start melting right away!
Serve immediately. Acai bowls, and smoothies in general, are just better served right away.
Get crazy with your toppings. The possibilities are endless!
Play around with flavors. Try strawberry banana. Make it tropical with mango/papaya. It will be good no matter what!
How to store
I definitely recommend serving your acai bowls right away so they are still fresh, frozen, and creamy.
If you do have leftovers you can store them in the freezer but the texture will be affected when you decide to serve again.
Not a fan of acai but still want a fresh, creamy, healthy snack or breakfast? Try my peanut butter and jelly smoothie bowls or my cherry smoothie bowls!
– Jennifer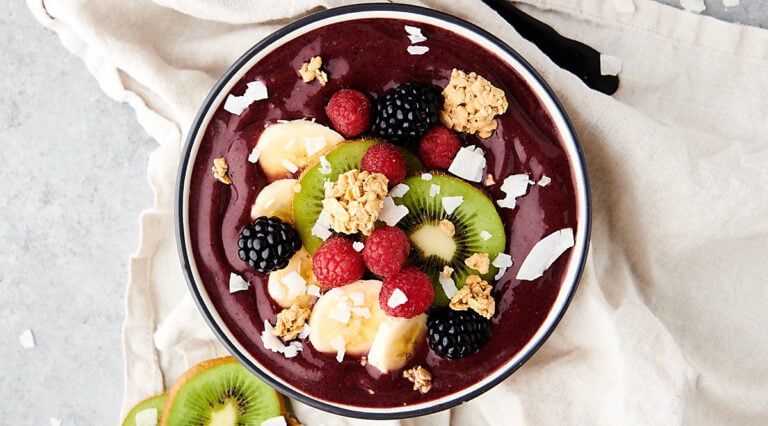 Acai Bowls
These Acai Bowls take just 5 minutes to whip up and are absolutely packed with nutrition and flavor. Frozen acai blended with mixed berries and banana and finished off with all your favorite toppings.
Equipment for this recipe
(equipment shown are affiliate links)
Ingredients
1

(100 gram) pouch

frozen unsweetened acai puree

slightly thawed according to package directions

1

cup

mixed frozen berries

1

very ripe banana

1/4

cup

unsweetened almond milk

you may need more if you don't have a high powered blender

1/2

tablespoon

vanilla extract

1

tablespoon

pure maple syrup

optional but highly recommended

Topping suggestions: fresh fruit, granola, peanut butter, coconut, nuts, seeds, etc.
Instructions
Place acai puree, berries, banana, milk, vanilla, and maple syrup into a high powdered blender.

Blend until smooth (I used the smoothie function on the Vitamix with the tamper).

Pour into a bowl, top with your favorite toppings, and enjoy immediately!
Notes
Nutritional information does not include toppings.
Nutrition Information
Nutrition Facts
Acai Bowls
Amount Per Serving (1 bowl)
Calories 326
Calories from Fat 54
% Daily Value*
Fat 6g9%
Sodium 101mg4%
Potassium 551mg16%
Carbohydrates 64g21%
Protein 3g6%
Vitamin A 147IU3%
Vitamin C 14mg17%
Calcium 109mg11%
Iron 1mg6%
* Percent Daily Values are based on a 2000 calorie diet.
*Note: Nutrition information is estimated and varies based on products used.
Keywords:
acai berries, cool, fresh, summer