This Healthy Peach Cobbler Smoothie is so easy to make, healthy, tastes like peach cobbler, and is vegetarian and gluten free! Only 6 ingredients required!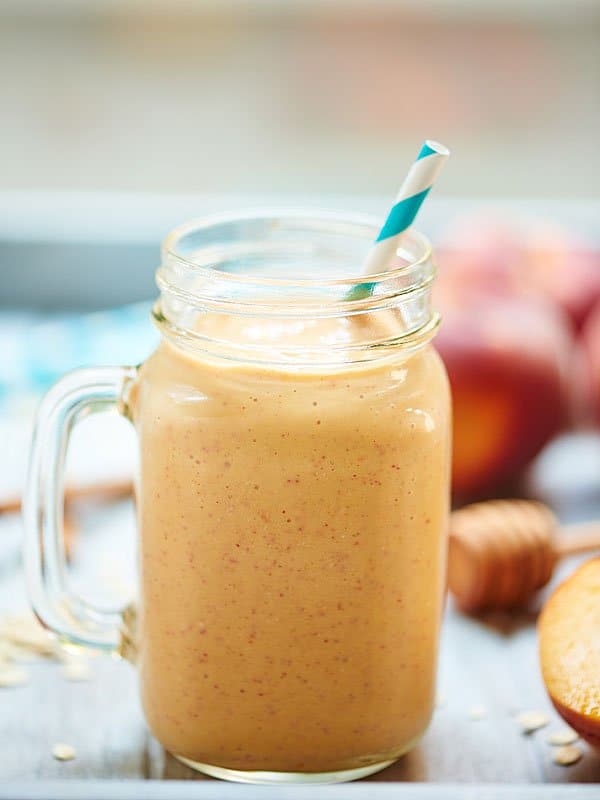 First things first, how the heck is it already September?! In other news…we've officially finished unpacking our new apartment! What. A. Relief.  In case you missed our big news on Monday (if you want the long story click here) here's a little summary:
1. Trevor quit his corporate job to work with me full time on Show Me the Yummy. Wait, what? 😉 We're a ball of emotions: excited, nervous, anxious, seriously happy and excited…
2. We moved from Seattle, WA to Madison, WI. We drove a 16 ft moving truck almost 2,000 miles… in 2 days…with Teddy. Yeeeeeeah. Btw- we're still on the search for the best Mexican chips and salsa, so any Madison readers out there…I'm begging you…please tell me where to find them.
3. We hit 1,000,000 page views! Thank YOU again. 🙏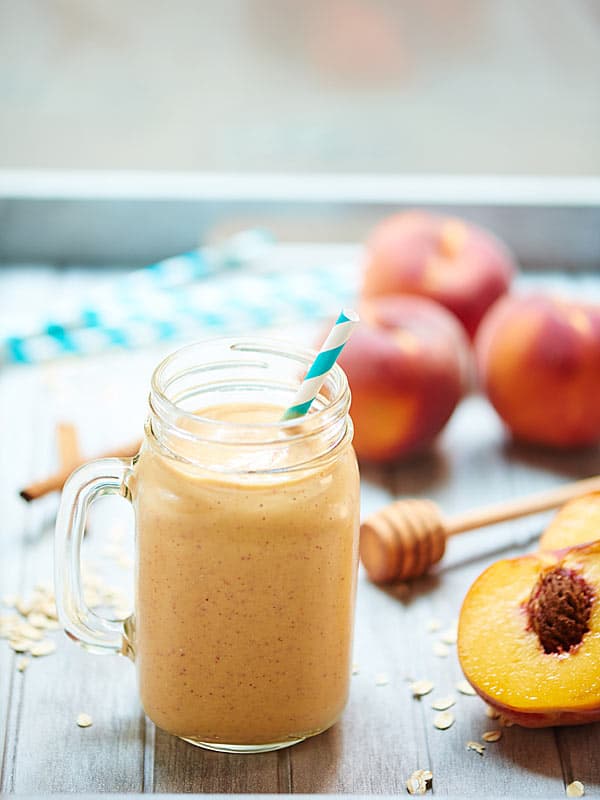 As you can see, it's been juuuuust a little crazy, busy over here at SMTY. When things get busy, it's so easy to forget to feed yourself healthy foods. Ahem. You really don't want to know how much fast food, etc. we've consumed over the past few weeks. YOLO…riiight? In attempt to stop the "eating crap madness" I've turned to smoothies. This healthy peach cobbler smoothie to be exact. It's quick, it's easy, it's healthy, AND it tastes like peach cobbler.
No. Seriously. It does.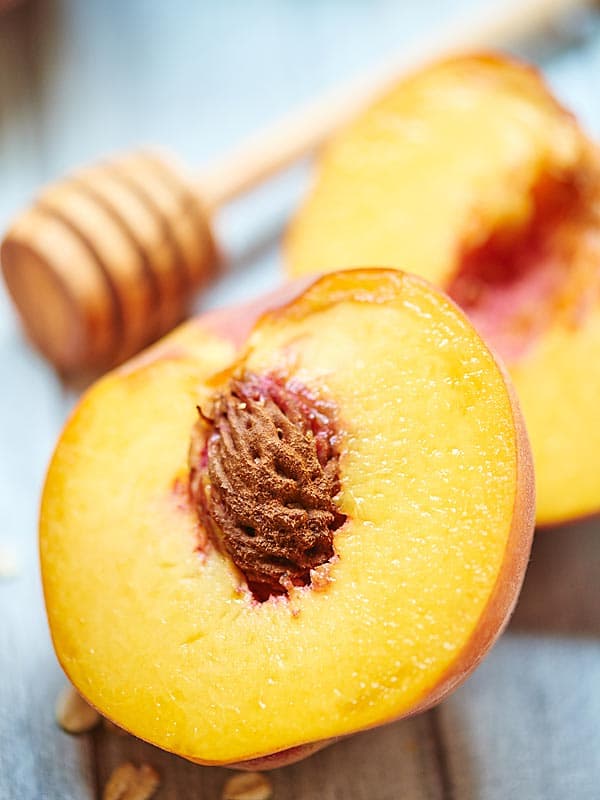 Before we talk peach smoothies, what do you guys think of the new kitchen layout? Have you guys still been enjoying the videos? Because we're having a blast! We'd love to hear from you and if you haven't subscribed to our YouTube Channel…doooo it. 😉
Alright. It's peach smoothie time.
I have to thank my friend, Libbie (Hey Libbie! 👋 ), for inspiring today's healthy peach cobbler smoothie! She once told me that her favorite dessert was peach cobbler. The peaches have been craaaazy sweet and juicy this year, so I definitely wanted to make peach cobbler. But then I realized that I actually didn't want to turn my oven on, because our apartment in Seattle (when I first started recipe testing this) is ungodly hot. Then I thought, why not turn this yummy dessert into a cool, refreshing, healthy treat instead?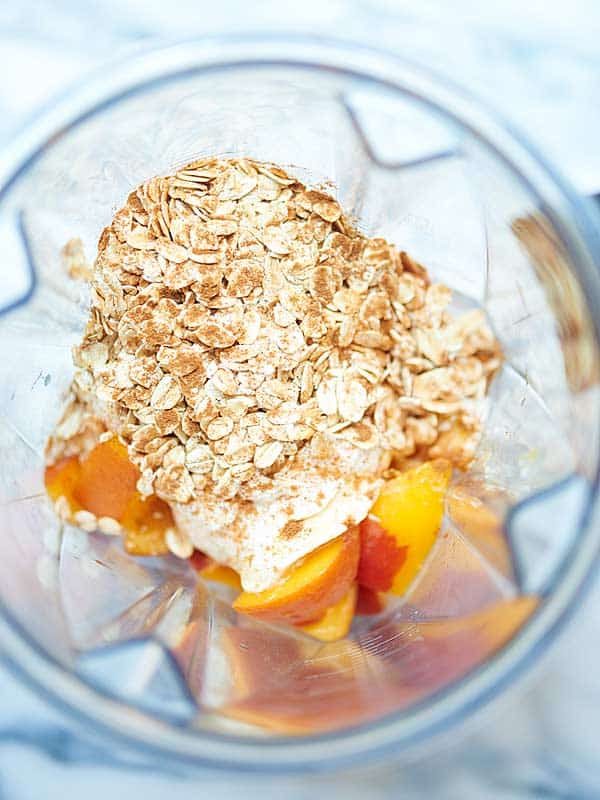 Say hello to this Healthy Peach Cobbler Smoothie. It's full of all your favorite cobbler flavors, like creamy vanilla and spicy cinnamon, but without any guilt!
Um, yes please! 🙋
Here's the thing though, when I went to the store to get the ingredients, I could not find frozen peaches anywhere!
Frozen berries? Yes.
Frozen bananas? Yes.
They even had frozen mango!
Frozen peaches? Of course not.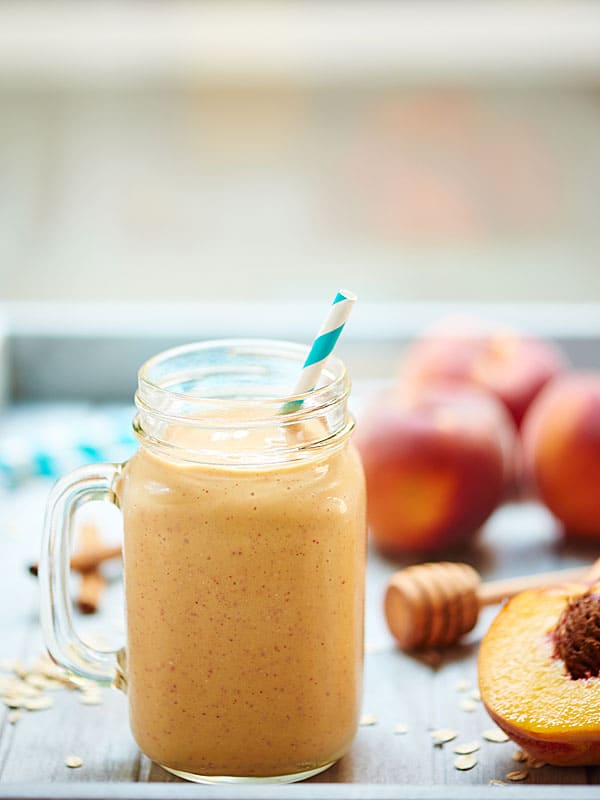 I slightly panicked for a second, because I seriously wanted a peach smoothie ;), but then realized that I could just get fresh peaches, cube them, and freeze them in the freezer overnight!
Crisis averted.
It actually worked out perfectly for a quick and healthy breakfast! Plus, it's always nice to pick your own produce!
After the peaches have frozen, the next morning you literally just dump the ingredients: peach greek yogurt, frozen peaches, vanilla, oatmeal, cinnamon, and honey into your Vitamix
(or other high-powdered blender) and let it whirl! 60 seconds later, you've got yourself a yummy, healthy peach cobbler smoothie!
I love that this smoothie is naturally sweetened with honey – the amount may vary, but my peaches were so sweet and delicious that I didn't need much. I'm also going nuts over peach greek yogurt lately and the cinnamon, vanilla, and oats give this healthy peach cobbler smoothie a nice warmth that will surely remind you of a favorite, summer dessert!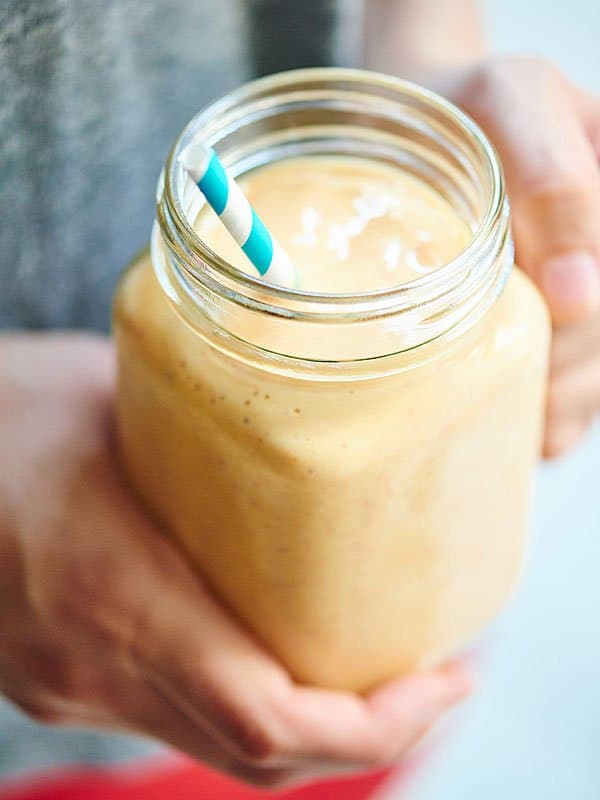 – Jennifer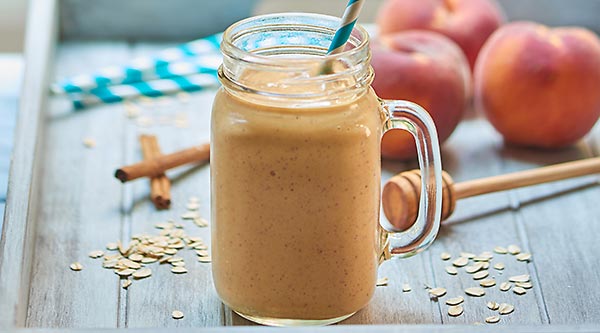 Healthy Peach Cobbler Smoothie
This Healthy Peach Cobbler Smoothie is so easy to make, healthy, tastes like peach cobbler, and is vegetarian and gluten free! Only 6 ingredients required!
Equipment for this recipe
(equipment shown are affiliate links)
Ingredients
1

(6 oz) container

non fat peach greek yogurt

I used Simply 100

1

pound

frozen peaches*

1

teaspoon

vanilla extract

1/4

cup

old fashioned oats

1/4

teaspoon

cinnamon

1

tablespoon

honey

more or less, to taste, depending on sweetness of peaches
Instructions
For the frozen peaches
Wash and dry peaches. Cube them and place them into an airtight container.

Freeze overnight.
Assembly
Thaw frozen peaches in the microwave for 30-60 seconds, or until slightly softened.

Place all ingredients into your Vitamix or high powdered blender and blend until smoothie!

Serve immediately.
Notes
*The sweeter the peaches are, the better this smoothie will taste! Also, if you can find peaches in your freezer section, go ahead and use those if you'd like!
** If you're gluten free, make sure your oats are, too!
Nutrition Information
Nutrition Facts
Healthy Peach Cobbler Smoothie
Amount Per Serving (1 smoothie)
Calories 465
Calories from Fat 18
% Daily Value*
Fat 2g3%
Cholesterol 6mg2%
Sodium 52mg2%
Potassium 1015mg29%
Carbohydrates 97g32%
Protein 20g40%
Vitamin A 1480IU30%
Vitamin C 29.9mg36%
Calcium 28mg3%
Iron 1.1mg6%
* Percent Daily Values are based on a 2000 calorie diet.
*Note: Nutrition information is estimated and varies based on products used.
Keywords:
fresh, greek yogurt, healthy, summer