These Better than Reese's Chocolate Covered Peanut Butter Eggs are a fun and easy Easter treat! A homemade version of one of my favorite candies!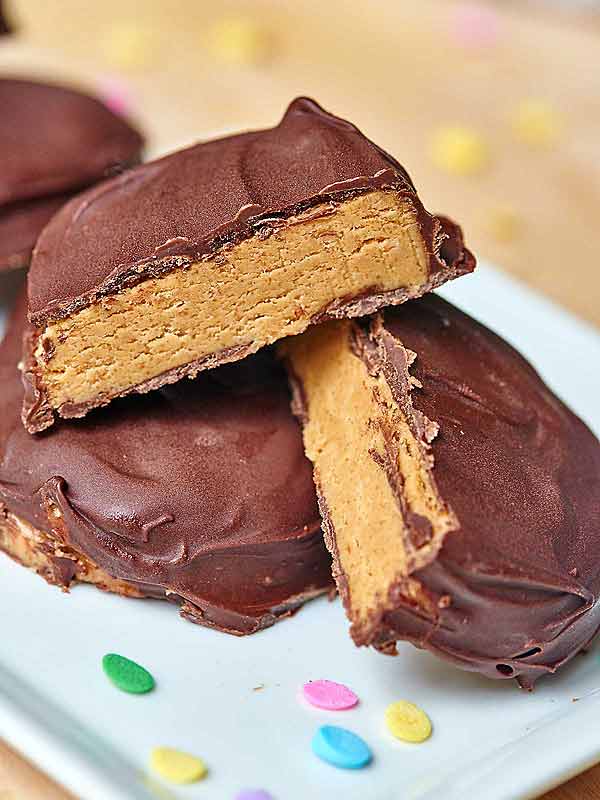 It's no secret that I have a slight obsession with candy. If you've ever met me, then you've probably heard me profess my love for Skittles, Starbursts, Sour Patch Kids, Caramels, Chocolates, and everything in between. I mean, I seriously love the stuff. I could skip breakfast, lunch, and dinner, and just eat candy, and be the happiest person in the world. I'd probably have the most cavities, too. 😉
It's no surprise then, that one of my favorite things to do is grocery shop during the Easter season. There's something about candy being stuffed into plastic eggs covered in pastel colors or molded into egg shapes that makes it taste even better. Which brings me to these Better than Reese's Chocolate Covered Peanut Butter Eggs. Reese's Eggs > Reese's. Don't ask me why, they just are. Serious Reese's connoisseurs, you know what I'm talking about.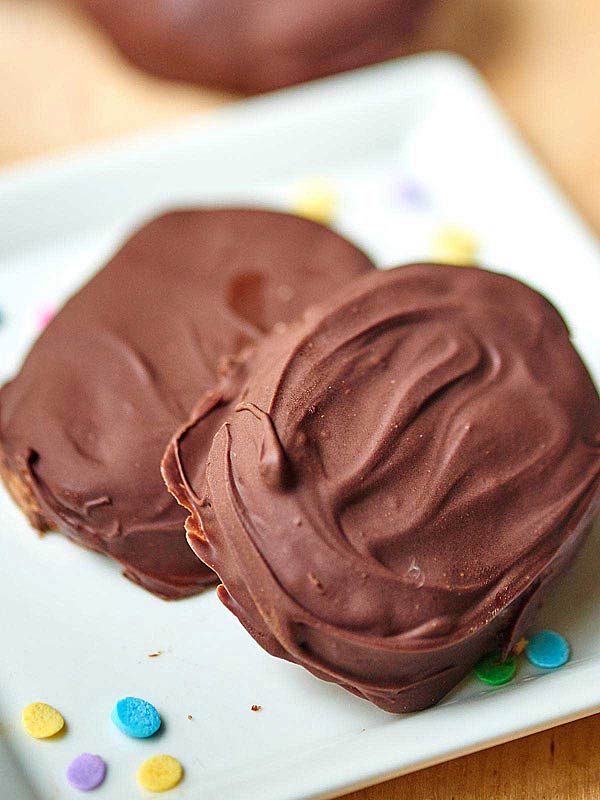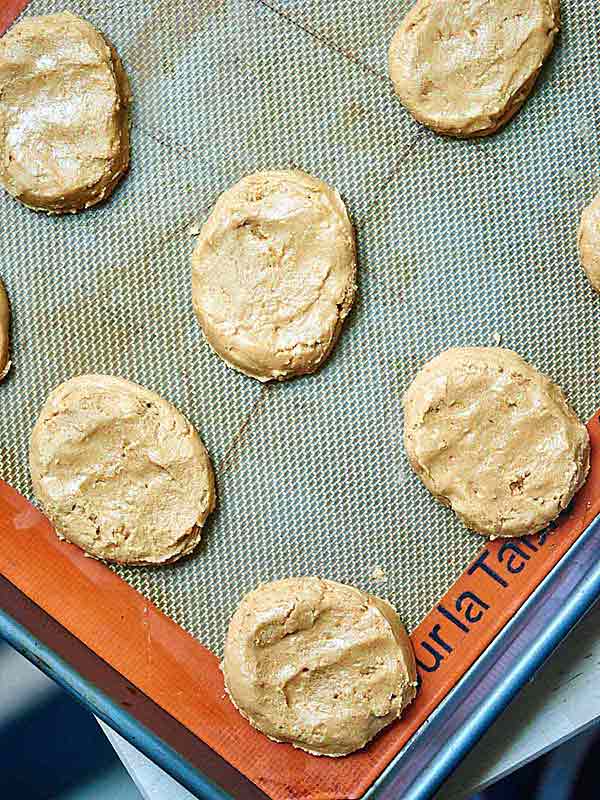 Easter was always so much fun when I was growing up. I can't wait until we have kids, so it's fun again. Kidding. Kidding. Kind of ;)…but it's just not the same when you're an adult. Nobody hides presents or eggs for you to find in the morning. Although, I guess when you're an adult, you DO get to go to brunch Easter morning and partake in mimosas and bellinis. #grownupwinning
Growing up, Easter morning was almost as fun as Christmas morning! My mom is the world's best gift giver and would hide a basket full of presents for each kid. Once we found it, we got to open up the presents and eat a few pieces of candy. Mine, of course, was filled to the brim with Reese's Eggs – except one year I got a gigantic Reese's Rabbit and I devoured the whole thing in like 90 seconds. How I didn't get a huge belly ache blows my mind.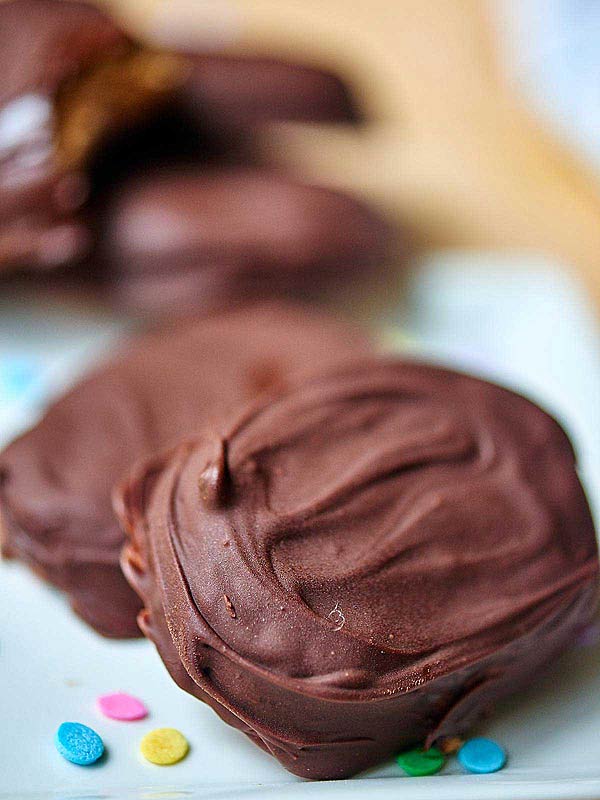 After that, we'd go to my cousin's house, where we'd have a massive Easter egg hunt. The eggs were filled with money, candy, and I think a few of them were even left empty ( I'm sure that was an Uncle's doing 😉 ). I obviously couldn't care less about the money, and traded everything I could just so I could have all the Reese's, Skittles, and Starbursts. Best. Holiday. Ever.
Now, as an adult, I figured I needed to start my own Easter tradition until Trevor and I have kids of our own. Our apartment isn't that big, so I didn't think an egg hunt would be too fun 😉 – unless I did a doggy Easter egg hunt for Teddy (genius? or totally weird?) – so I decided to make my own version of Reese's chocolate covered peanut butter eggs. Although I will always hold the real Reese's Eggs close to my heart, there is definitely room for these homemade chocolate covered peanut butter eggs. 🙂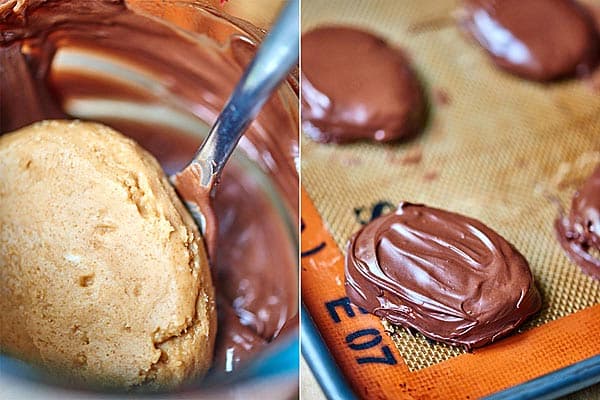 Plus, I love that I actually know what I'm eating….does anybody even know what ingredients are in the Reese's filling? I'm sure it's not as simple as mine, which just contains peanut butter, butter, brown sugar, vanilla, salt and powdered sugar! The chocolate coating is semi sweet chocolate melted with a bit of oil. The oil is to thin out the chocolate for easy dipping!
While these chocolate covered peanut butter eggs might not be QUITE as easy as walking to the store to buy a Reese's, they don't take much time and energy at all. Just melt, mix, scoop
, shape, and dunk and you're left with a wonderfully homemade, creamy, sweet, peanut buttery center that's been dunked in chocolate. Which, btw, making these at home instead of buying them, allows you to make the chocolate coating any flavor you want. Dark chocolate anyone? Milk? Semi-sweet? White? The possibilities are endless, people!!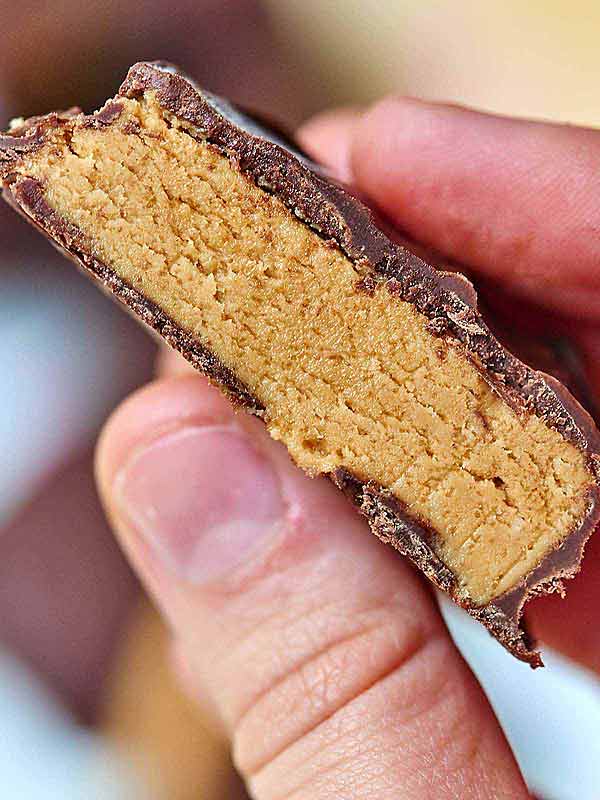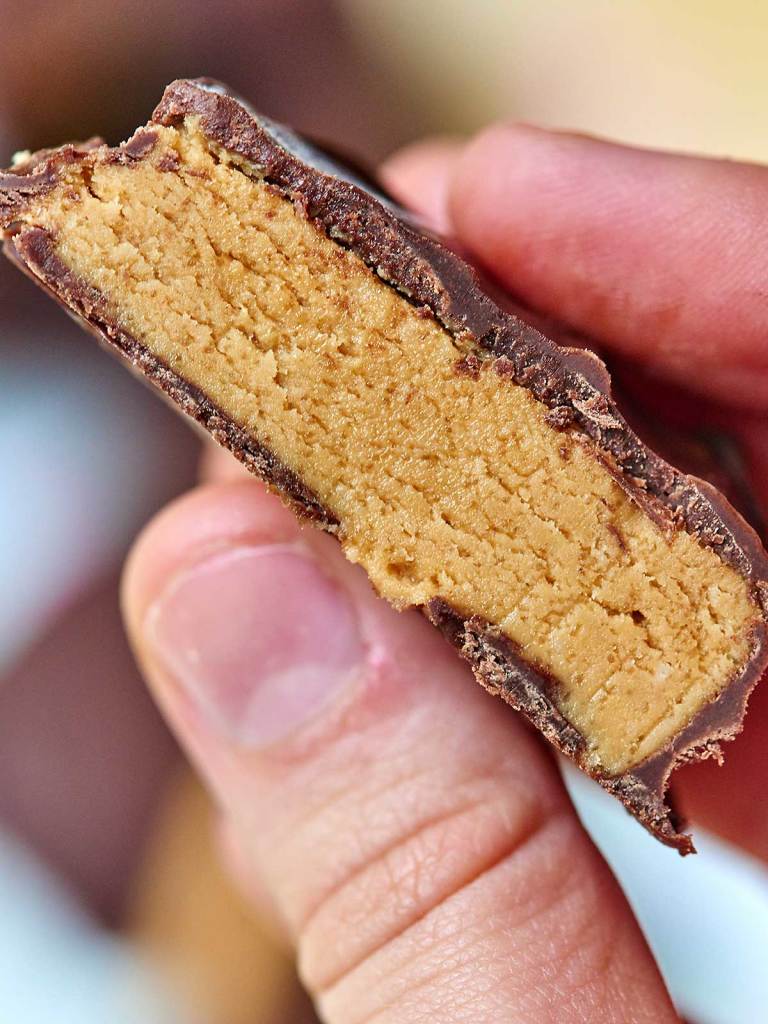 Now go and make yourself some homemade chocolate covered peanut butter eggs and join my new Easter tradition! 🙂
– Jennifer
What are your favorite Easter traditions? Show me the yummy!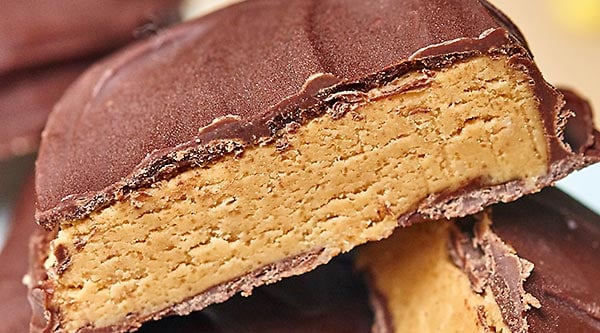 Better than Reese's Chocolate Covered Peanut Butter Eggs
These Better than Reese's Chocolate Covered Peanut Butter Eggs are a fun and easy Easter treat! A homemade version of one of my favorite candies!
Equipment for this recipe
(equipment shown are affiliate links)
Ingredients
1

cup

creamy peanut butter

1/2

stick (1/4 cup)

unsalted butter

1/4

cup

dark brown sugar

packed

1/2

teaspoon

vanilla extract

1/4

teaspoon

salt

1 1/4

cups

powdered sugar

1

teaspoon

canola oil

1 1/2

cup

semi-sweet chocolate chips
Instructions
Prepare a rimmed baking sheet with silicone mat

or parchment paper. Set aside.

In a medium sized sauce pan combine peanut butter, butter, dark brown sugar, vanilla, and salt.

Stirring constantly, heat until the mixture has fully melted.

Remove from the heat.

Stir in the powdered sugar 1/4 cup at a time. Make sure the powdered sugar has been fully incorporated before adding another 1/4 cup. Set aside until the mixture has come to room temperature.

Using a large cookie scoop, scoop the mixture onto the prepared baking sheet.

Use your fingers to shape the mixture into an egg shape. (Look at my photos for help)

Freeze the eggs on the baking sheet until hardened, about 15-30 minutes.

Once hard, prepare your chocolate coating.

Microwave the oil and chocolate chips (do this in a measuring cup) in 30 second intervals, stirring in between, until the chocolate has completely melted.

Dunk one egg at a time into the melted chocolate by placing an egg on a fork and lowering it into the chocolate. Use a spoon to spoon chocolate over the top.

Once the egg has been fully covered, gently tap the handle of the fork on the side of your measuring cup to get any excess chocolate off.

Place onto the prepared baking sheet and repeat with remaining eggs.

Freeze until the chocolate has hardened and enjoy!
STORING
Reheat:
Let in thaw in fridge if frozen
*Storage times may vary based on temperature and conditions
Notes
Store these in an airtight container in the fridge or freezer.
Recipe adapted from Brown Eyed Baker
Nutrition Information
Nutrition Facts
Better than Reese's Chocolate Covered Peanut Butter Eggs
Amount Per Serving (1 egg)
Calories 360
Calories from Fat 216
% Daily Value*
Fat 24g37%
Cholesterol 12mg4%
Sodium 152mg7%
Potassium 274mg8%
Carbohydrates 33g11%
Protein 7g14%
Vitamin A 10IU0%
Calcium 27mg3%
Iron 1.9mg11%
* Percent Daily Values are based on a 2000 calorie diet.
*Note: Nutrition information is estimated and varies based on products used.
Keywords:
chocolate covered, easter treats, peanut butter filling