These Pumpkin Pie Egg Rolls are a fried, fun twist on a classic & served w/ white chocolate cool whip and ooey-gooey caramel! A new tradition has been born!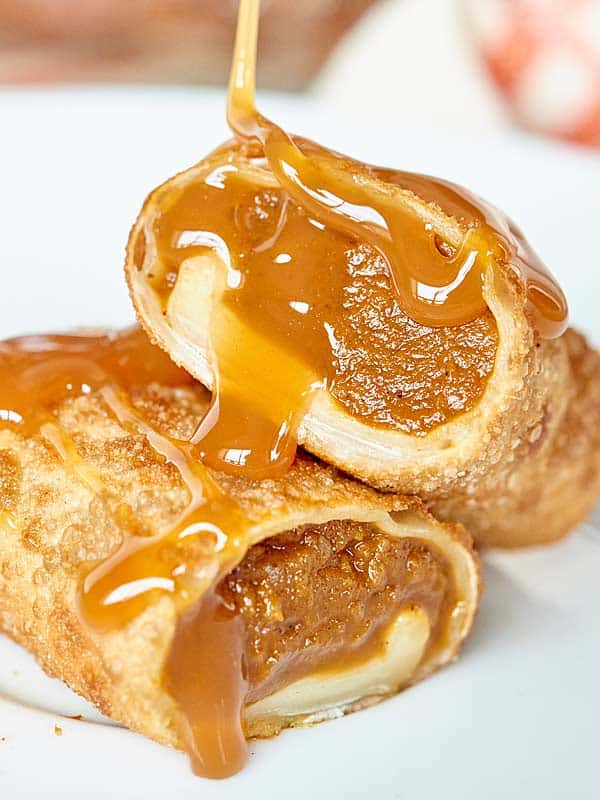 This year, Trevor and I are starting a new tradition. This new tradition includes eating lots and lots of Pumpkin Pie Egg Rolls.
Wait? What?
Yeah. That's right. You heard me.
Pumpkin…
Pie…
Egg Rolls…
And I know. I know. It's only September, but I was recipe testing these egg rolls earlier this week and I just couldn't wait to share it with you guys any longer! They completed the holy trinity of fried yumminess:  start your day with with an eye opening breakfast egg roll, treat yourself to the cheesiest cheese wonton appetizer and then finish your day in heaven with this unexpected dessert.
So please, forgive me and eat a Pumpkin Pie Egg Roll, because these egg rolls are > pumpkin pie. They have all the classic pumpkin pie flavors you ♡ : cinnamon, spice, and everything nice, but instead of putting the filling into a pie crust and baking it, we're stuffing the filling into egg roll wrappers and frying them.
Oh yeah. And I should also mention that after they're fried to g.o.l.d.e.n. perfection, we top them with a white chocolate cool whip and drizzle them with ooey-gooey caramel.
New tradition? Count. Me. In.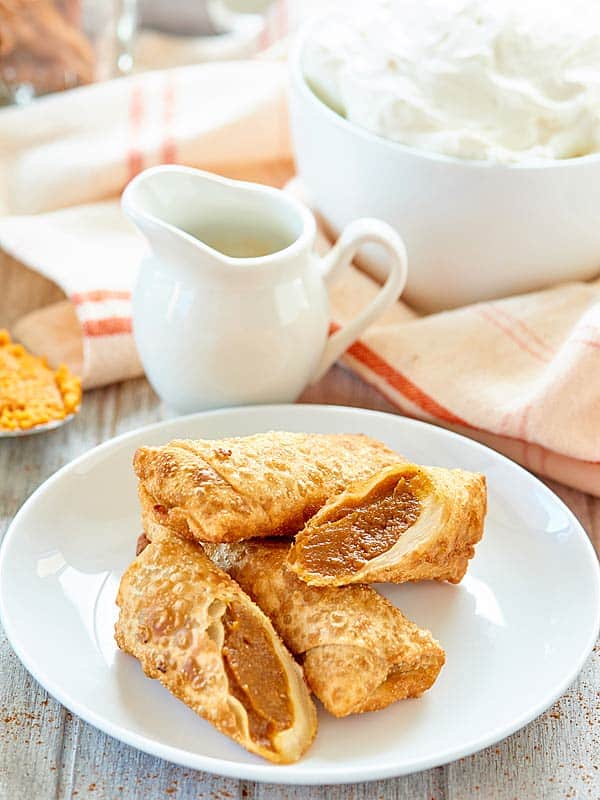 To me, the thought of making egg rolls has always seemed so daunting for two reasons.
1. The rolling. How the heck do you make them look pretty?
2. The frying. Hot oil? Noooo thank you.
Then… I actually tried it and realized it's actually not hard at all! 😉
If you do decide to make this recipe (and really, you should) definitely watch the video above 👆 ! We show you in detail just how easy it is to make, roll, and fry these pumpkin pie egg rolls! You can also see our Breakfast Egg Rolls for step-by-step photos on how to roll an egg roll!
But let's talk about how these things actually taste.
Um. Basically, they taste like perfection.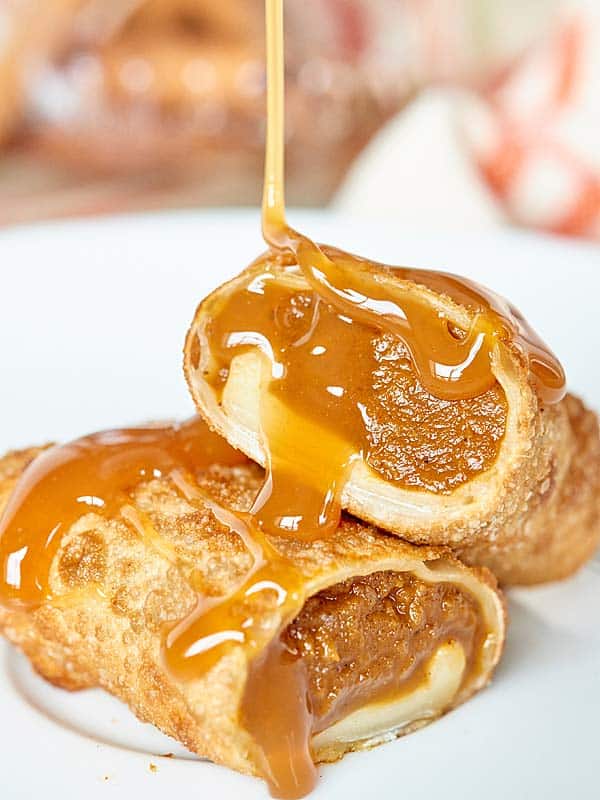 The inside pumpkin filling is made with pumpkin puree, brown sugar, vanilla, cinnamon, salt, ginger, cloves, and nutmeg. All classic flavors that, you know, just work. There's a reason we all love pumpkin pie during the holidays!
The egg roll wrapper mimics the pie crust. Honestly, I actually prefer the egg roll texture to the traditional crust AND you get to eat these with your hands. Finger food #forthewin and once fried, the wrapper becomes so wonderfully warm and so darn crispy I almost can't take it!
And you can't have pumpkin pie without cool whip. Amiright? But, of course, I had to put a little twist on it. To add juuust a bit of extra oomph, I flavored my cool whip with instant white chocolate pudding. The cool, creaminess of the cool whip really cuts the spice from the filling and contrasts beautifully with the hot, fried egg roll wrapper.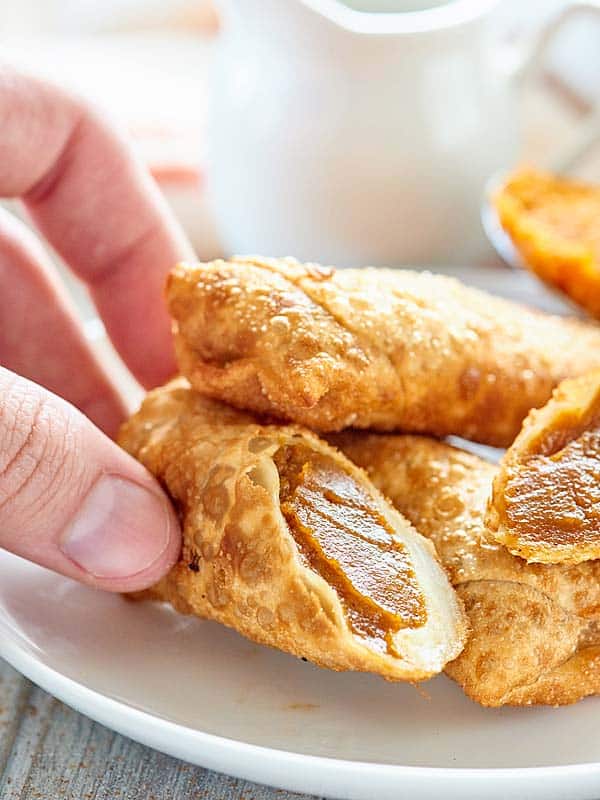 Are you drooling yet? Because we've got one. more. thing…the caramel.
Today, I decided to use a store bought ice cream caramel topping, but feel free to make homemade if you'd like! I have the ultimate bourbon salted caramel that would be fantastic!
After the Pumpkin Pie Egg Rolls are fried and topped with the white chocolate cool whip, we're going to smother them in that caramel.
I mean…come ooooon!
I have no more words. Just do me a favor and make these crispy, creamy, spiced Pumpkin Pie Egg Rolls with White Chocolate Cool Whip and Caramel.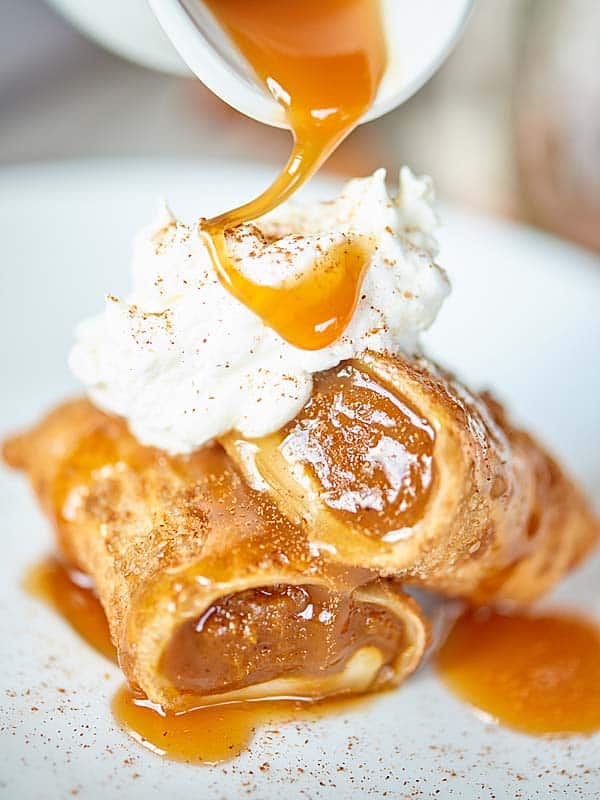 Deal?
– Jennifer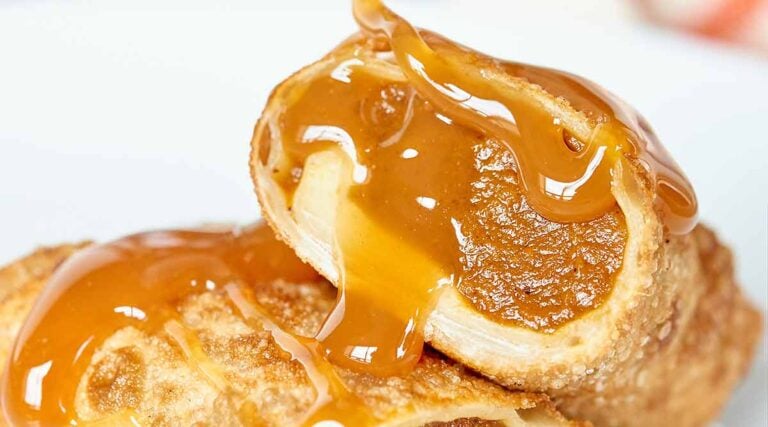 Pumpkin Pie Egg Rolls
These Pumpkin Pie Egg Rolls are a fried, fun twist on a classic & served w/ white chocolate cool whip and ooey-gooey caramel! A new tradition has been born!
Equipment for this recipe
(equipment shown are affiliate links)
Ingredients
Pumpkin Pie Egg Rolls
1

package

egg roll wrappers

you'll only need

14

1

(16 oz) can

pumpkin puree

1/2

cup

brown sugar

packed

1

teaspoon

vanilla extract

1

teaspoon

ground cinnamon

1/2

teaspoon

salt

1/4

teaspoon

ground ginger

1/4

teaspoon

ground cloves

1/4

teaspoon

ground nutmeg

water

for brushing the egg roll wrappers

vegetable oil

for frying
White Chocolate Cool Whip
1

(3.5 oz) package

Instant White chocolate pudding

1

cup

skim milk

1

(8 oz) container

Cool Whip

thawed
Instructions
Pumpkin Pie Filling/Assembly
In a large bowl whisk together pumpkin puree, brown sugar, vanilla, cinnamon, salt, ginger, cloves, and nutmeg until well incorporated. Set aside.

*Take 1 egg roll wrapper with a corner facing you and place it on your counter top.

About an inch from that corner, place 2 tablespoons of filling on the wrapper perpendicularly.

Brush the edges of the wrapper with water.

Take the corner closest to you and fold it over the filling. The tip should be a little more than halfway across the wrapper.

Gently press down around the filling, so no air remains.

Take the right corner and fold that to the middle of the filling.

Repeat with the left corner.

Brush the remainder of the wrapper with water and gently roll the rest of the way up.

Make sure the seals are completely closed, or the filling will fall out while frying.

If the outside of the wrapper is damp, gently pat dry or the wrapper will adhere to the bottom of the frying pan.

Repeat until all 14 egg roll wrappers are complete.
Frying
Fill a medium sized sauce pan with about 1 inch of vegetable oil.

Heat to 325 degrees F.

One at a time, gently place each filled wrapper in the hot oil.

Fry until golden, about 60 seconds.

Using a metal slotted spoon, remove from the hot oil and place on a paper towel lined plate.

Repeat with remaining egg rolls.
White Chocolate Cool Whip
In a large bowl, combine pudding mix and milk and mix well. Fold in Cool-Whip and mix until completely incorporated.
Serving
Take fresh egg rolls and top with cool whip and caramel.

Serve immediately!
STORING
Reheat:
Bake or microwave to warm
*Storage times may vary based on temperature and conditions
Notes
Nutritional information doesn't include the oil that they're fried in... it's too hard to guess. It also doesn't include the caramel sauce drizzle. 
*Be sure to check out the video for visuals on how to roll and fry these! 🙂
Nutrition Information
Nutrition Facts
Pumpkin Pie Egg Rolls
Amount Per Serving (1 egg roll)
Calories 137
Calories from Fat 9
% Daily Value*
Fat 1g2%
Cholesterol 4mg1%
Sodium 225mg10%
Potassium 133mg4%
Carbohydrates 30g10%
Protein 3g6%
Vitamin A 5105IU102%
Vitamin C 1.3mg2%
Calcium 61mg6%
Iron 0.9mg5%
* Percent Daily Values are based on a 2000 calorie diet.
*Note: Nutrition information is estimated and varies based on products used.
Keywords:
caramel, egg roll wrappers, fall