These flourless salted caramel brownies are gluten free, rich, fudgy, filled with salted caramel, and can be made ahead of time!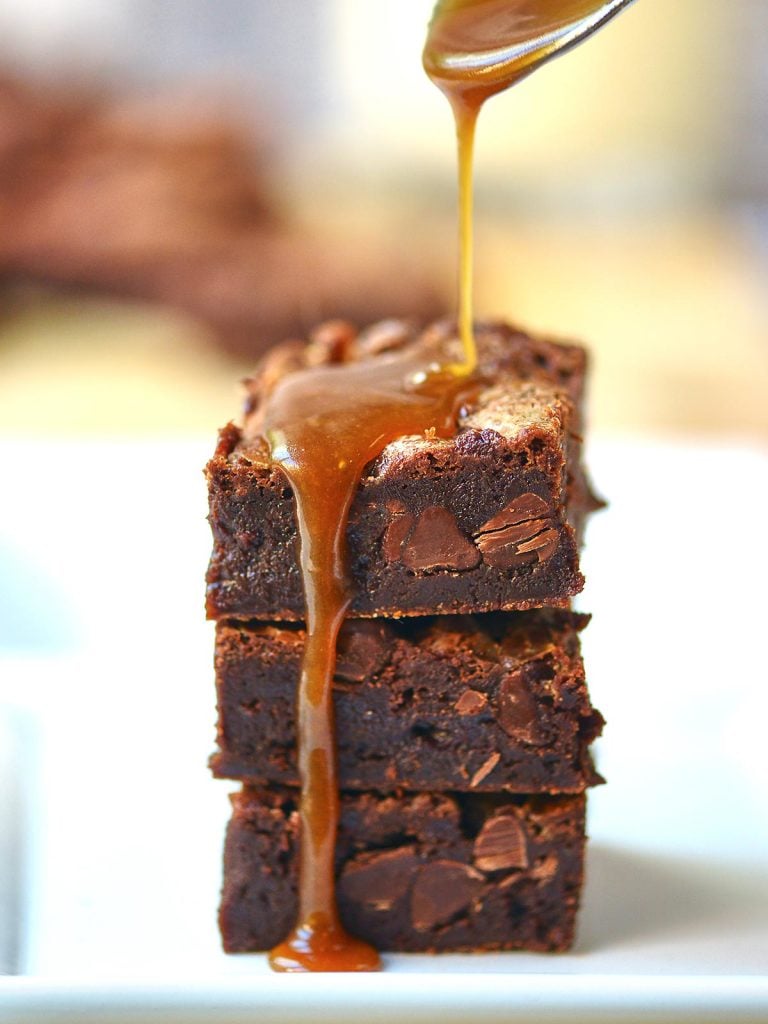 This week has been a doozy.
Trevor and I have been traveling around for the past three weeks visiting friends in Portland, attending a wedding, and going on road trips with Teddy. All good things, yes, but this week when we were stationary for more than a few days, I didn't know what to do with myself. It's been so go-go-go that I was confused on what to do with all this extra time. I was completely, 100% unproductive with said time: piles of laundry on my closet floor (untouched), a kitchen that still needs to be cleaned, and a dog that could probably use a good brushing.
So what did I do?
I made flourless salted caramel brownies and avoided all of the above! It only seemed like the right thing to do… but hey! Work comes before chores, right? 🙂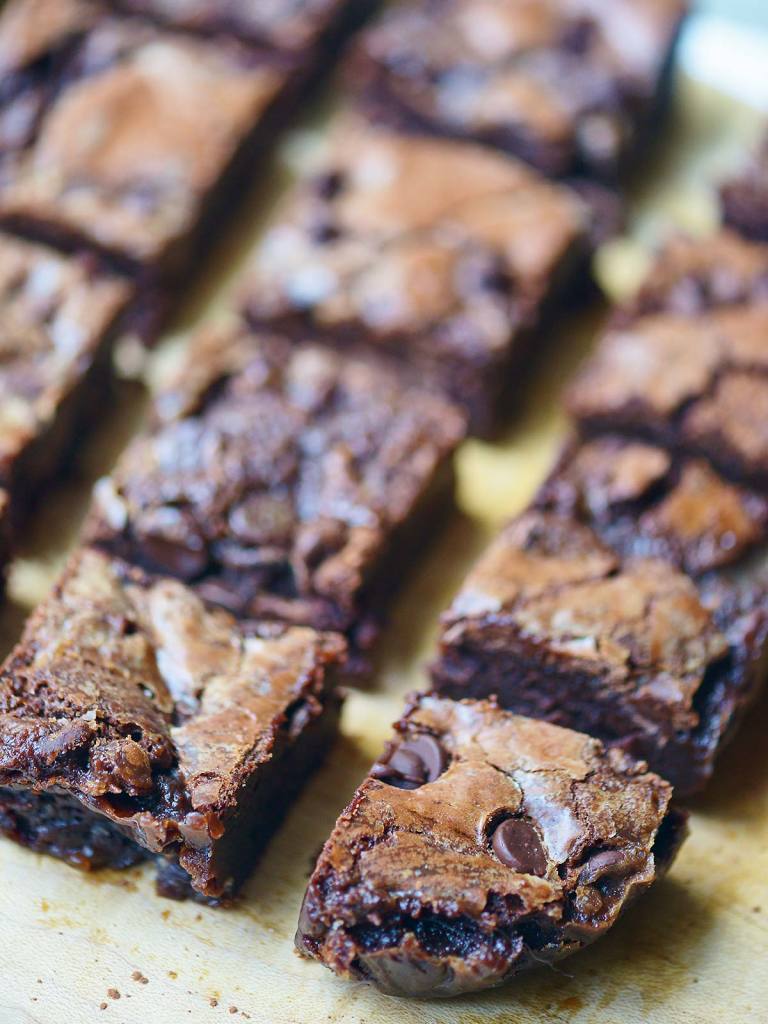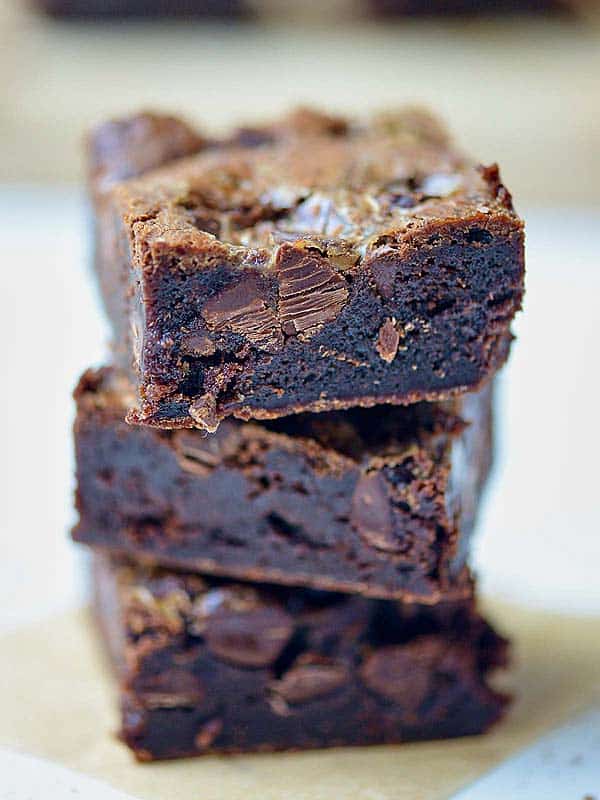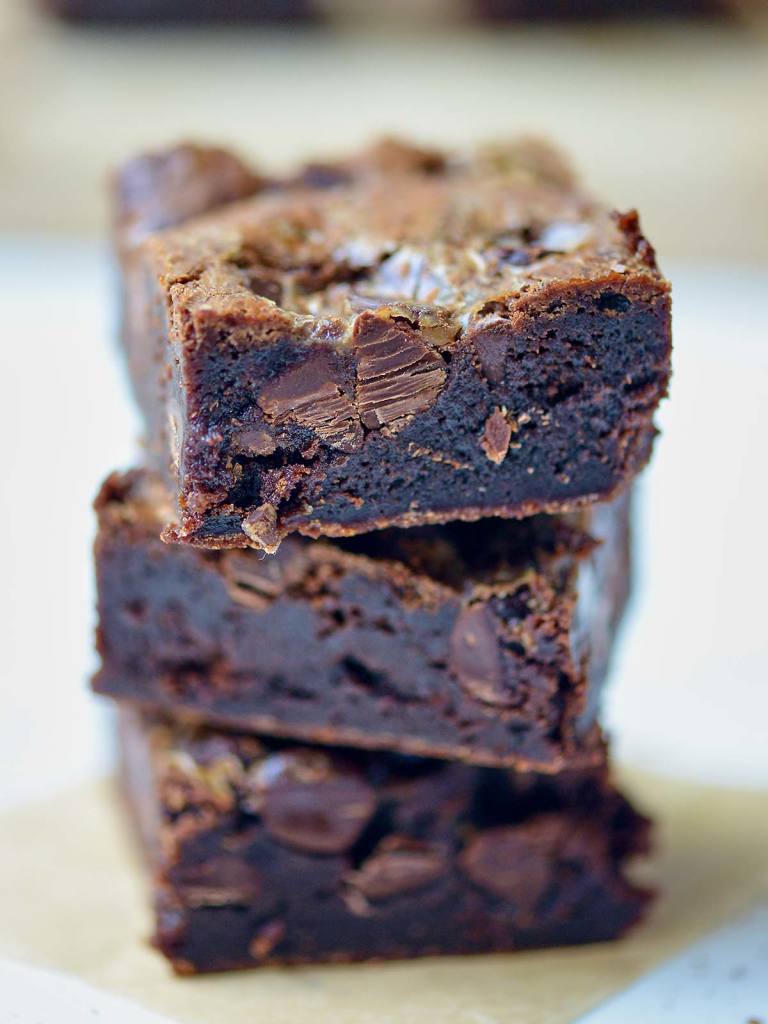 You guys. You, too, need to put off your chores and make these brownies instead.
Brownies? Orrrrr dirty laundry? Weigh the options with me.
Making flourless salted caramel brownies will bring you joy, happiness, and a chocolatey full stomach.
Doing the laundry brings you nothing. A clean house can wait!
Now that we've all decided we're making brownies, let me tell you a little bit about them.
In three words these brownies are: fudge-y, chocolate-y, caramel-y.
On Wednesday, I made vanilla bourbon salted caramel. After I took photos, the next logical move was to pour it all (well…what was left of it) over brownies. At first, I was going to keep it simple and just add this to my one bowl brownie recipe, but I wanted something even more dense and fudgy, so I decided to make flourless brownies.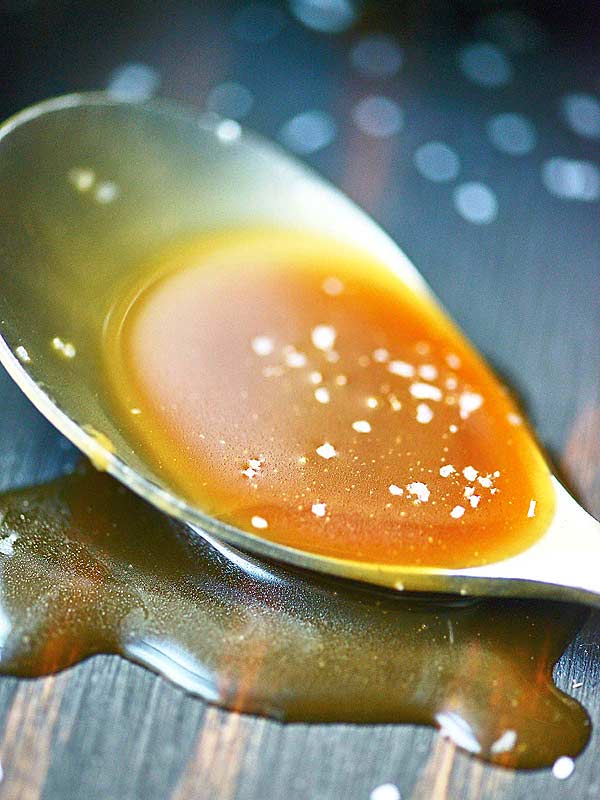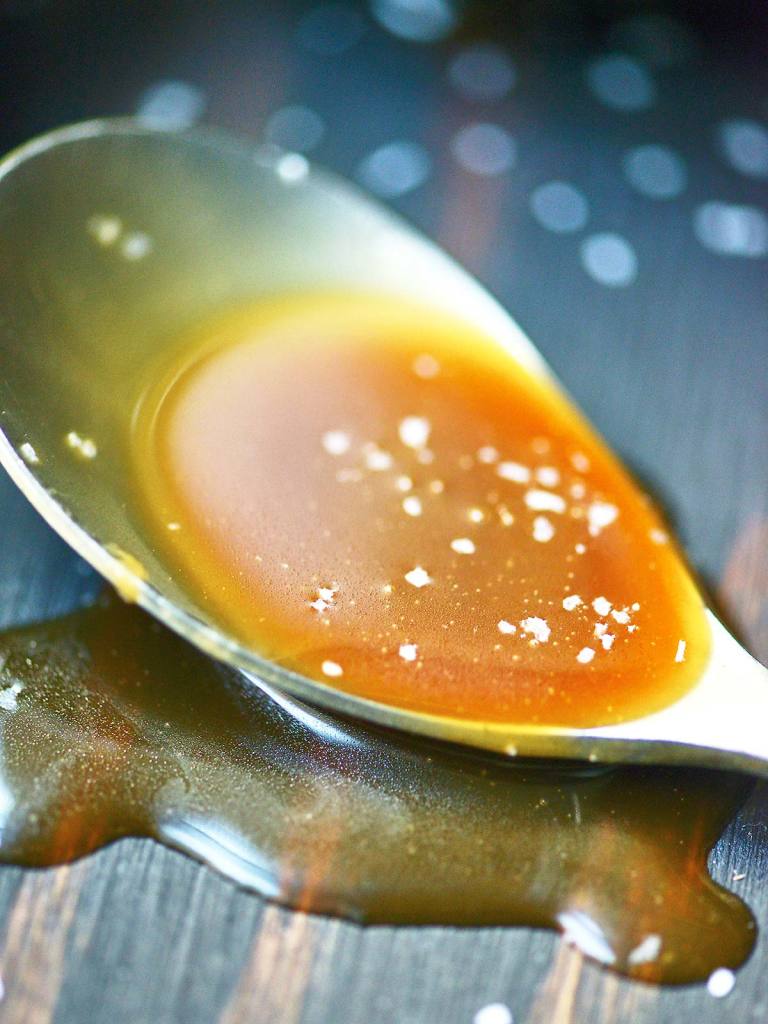 Best. Move. Ever.
Once these flourless salted caramel brownies had been baked, cooled, and stored in the fridge to firm up, they became incredibly rich, chewy, and thick. A layer of brownie –> a layer of salted caramel –> a layer of brownie. Ohhhhh yum.
Now. Here's the thing. Normally, I'm the kind of girl, who likes her brownies warm and gooey and topped with ice cream. This time, however, I prefer these directly from the fridge. I know. It surprised me, too. I feel like these are almost too rich (is that possible?) when warmed up, and then you miss out on the ultra fudgy texture.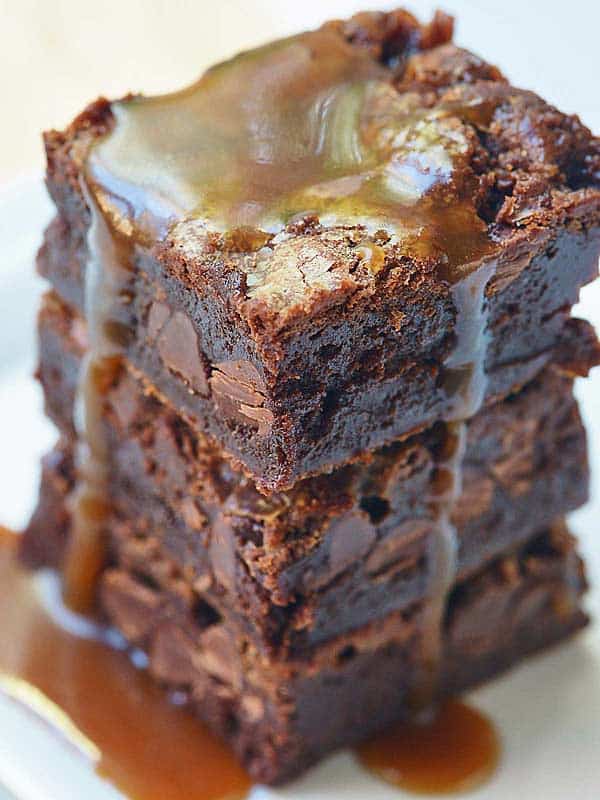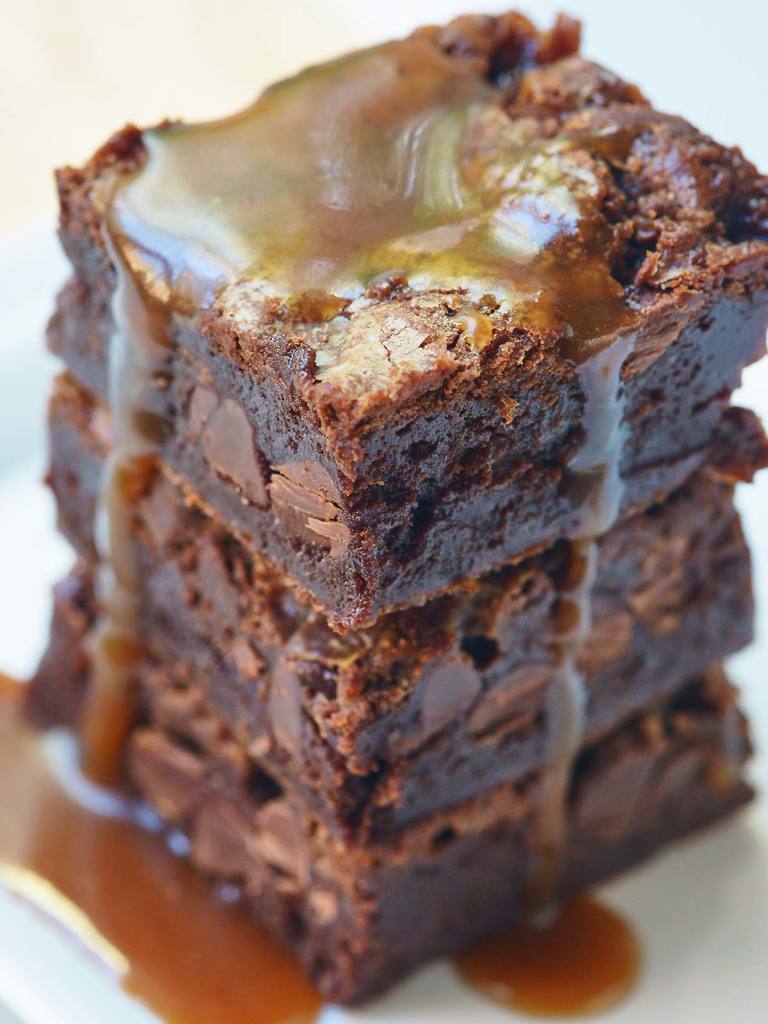 These flourless salted caramel brownies are perfect for entertaining, too.
1. They're flourless! Perfect for those gluten free friends of yours.
2. They're rich and delicious. Because they're so rich and delicious, you only need a small bite to satisfy your sweet tooth, so there's plenty to go around!
3. They can be made ahead in advance! Make these the day before, store them in the fridge, and bring them out when you're ready to serve! Nothing is better than having dessert ready after you've already made a fabulous meal!
Have I convinced you to make these brownies yet?
Let's recap: these flourless salted caramel brownies are rich, fudgy, filled with salted caramel, and can be made ahead of time!
Now that's what a call brownie #winning.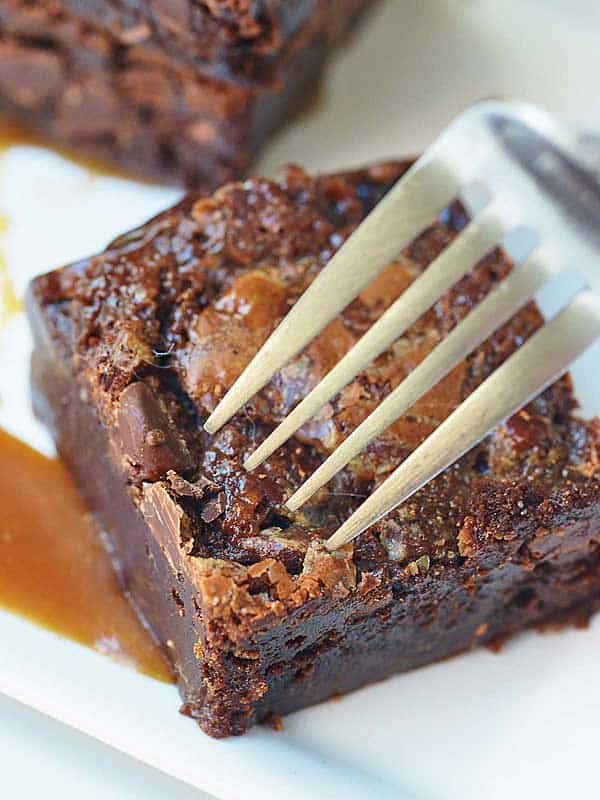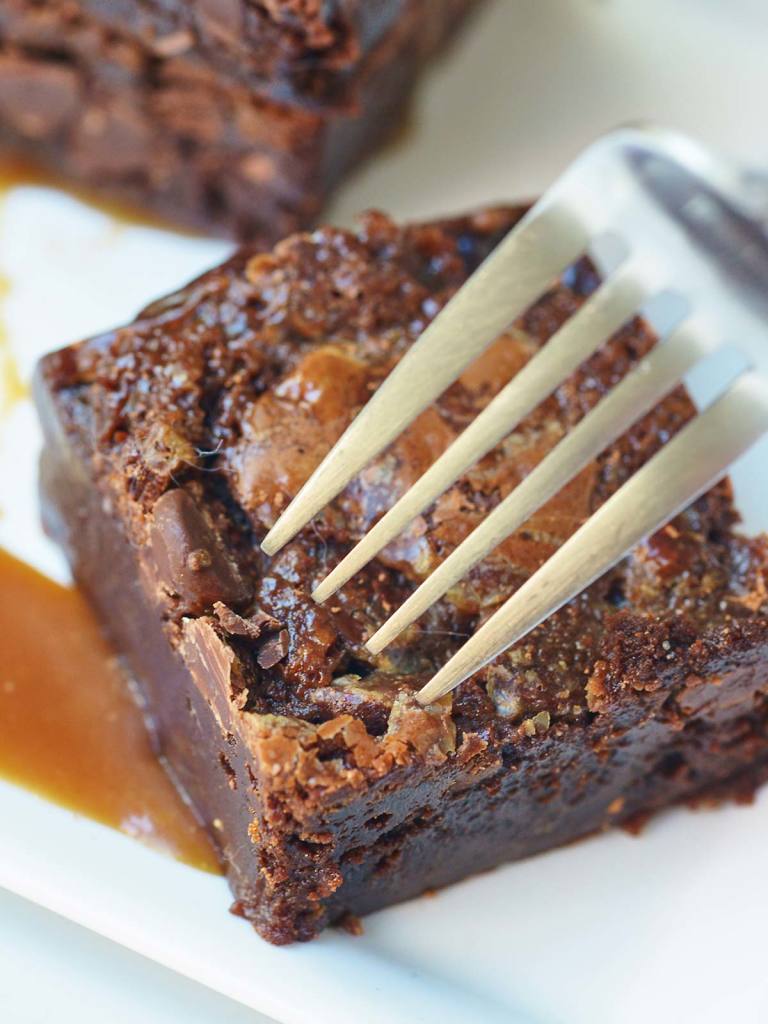 Happy Friday guys!
– Jennifer
Do you like fudgy brownies or cake-like brownies? Show me the yummy! Oh and if you're looking for another great, simple brownie recipe don't forget to check out my childhood favorite: one bowl brownies!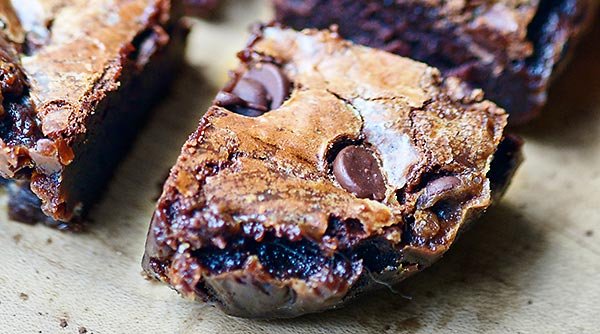 Flourless Salted Caramel Brownies
These flourless salted caramel brownies are gluten free, rich, fudgy, filled with salted caramel, and can be made ahead of time!
Yield:
16
bars - 1 (8x8) pan
Equipment for this recipe
(equipment shown are affiliate links)
Ingredients
Brownies
6

tablespoon

unsalted butter

1

cup

semi-sweet chocolate chips

1

tablespoon

instant coffee granules

2

large

eggs

room temperature

3/4

cup

brown sugar

packed

2

teaspoons

vanilla extract

1/4

cup

unsweetened cocoa powder

3

tablespoons

cornstarch

1/4

teaspoon

salt
Filling
1

cup

vanilla bourbon salted caramel sauce

room temperature
Topping
1/2

cup

semi-sweet chocolate chips
Instructions
Preheat oven to 350 degrees F.

Prepare an 8x8 baking pan by lining it with a sheet of aluminum foil. Spray generously with cooking spray. Leave a few inches of overhang on the sides to allow for easy removal. Set aside.

Set a small saucepan over low heat and add in butter, chocolate chips, and coffee granules.

Stir until the butter and chocolate have fully melted.

Remove from heat and setting aside to cool slightly.

Using a stand mixer (use the whisk attachment) beat together eggs, sugar, and vanilla extract for 2 minutes.

Add melted chocolate mixture and mix throughly.

Scrape down the bowl.

With the mixer on low, add cocoa powder, cornstarch, and salt, mixing until well combined.

You may need to scrape down the bowl and mix again.

Pour half of the batter into prepared pan, spreading it evenly with a greased spatula. Bake for 10 mins minutes or until top has just set in the center.

Evenly pour caramel over the brownies.

Top with remaining brownie batter.*

Sprinkle the top with 1/2 cup semi sweet chocolate chips.

Bake for 20-30 minutes, or until center is set. Because of the caramel and chocolate chips, you just need to eyeball it. If you use a tooth pick, know that you might be hitting a caramel or chocolate chip.

Remove from oven and let cool completely in pan.

Cover with foil and place in fridge for at least 2 hours, or until the brownies are completely cold.

Lift brownies out of the pan, using the foil overhang and slice.**

Serve immediately or enjoy later!

Store brownies in an airtight container in the fridge.
STORING
*Storage times may vary based on temperature and conditions
Notes
*Topping the caramel with the second layer of brownie batter can be a little tricky. Use a spoon to dollop the batter evenly over the caramel layer. Use your finger to gently spread the batter as best as you can!
**The caramel is sticky and delicious and does tend to stick to the foil. My suggestion for removal: use the foil to remove the brownies from the pan. Flip the brownies over (so the bottom/foil is facing the ceiling) and gently peel off the foil. Then flip them back over and slice and serve!
Nutrition Information
Nutrition Facts
Flourless Salted Caramel Brownies
Amount Per Serving (1 brownie)
Calories 232
Calories from Fat 108
% Daily Value*
Fat 12g18%
Cholesterol 39mg13%
Sodium 102mg4%
Potassium 164mg5%
Carbohydrates 31g10%
Protein 2g4%
Vitamin A 55IU1%
Calcium 32mg3%
Iron 1.5mg8%
* Percent Daily Values are based on a 2000 calorie diet.
*Note: Nutrition information is estimated and varies based on products used.
Keywords:
flourless, gluten free, vanilla bourbon salted caramel sauce