Turkey Brunch Burger Recipe. Because why should grilling JUST be for dinner?! A grilled turkey burger topped with cheese, spinach, bacon, a gooey egg, and a drizzle of maple syrup!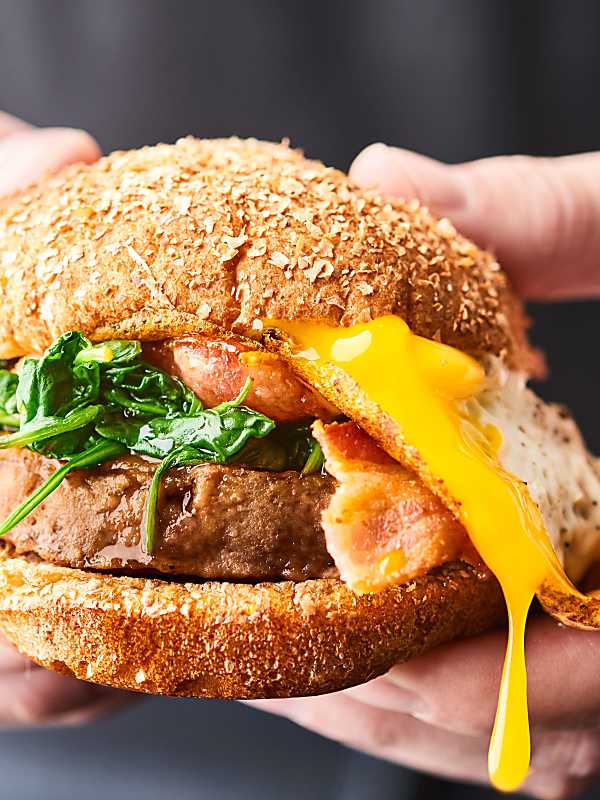 Today's recipe is sponsored by our friends at Jennie-O.
---
 I've been absolutely OBSESSED with brunch lately.
Bring oooooon the oats, casseroles, bfast pizzas, muffins, toast . . .
And yes.
Even this Turkey Brunch Burger.
It's so good, you guys.
Have YOU ever had a burger for brunch?
I hadn't either, but letmetellyou, what's not to like?!
A burger (hellloooo American classic) + all your fave breakfast items –> bacon, cheese, egg, etc.
It's literally the perfect breakfast/dinner brunch mash-up EVER.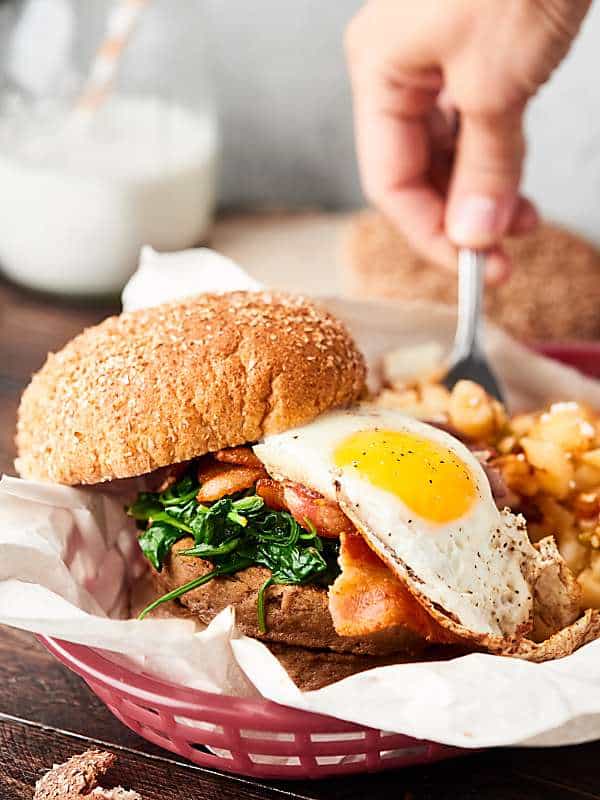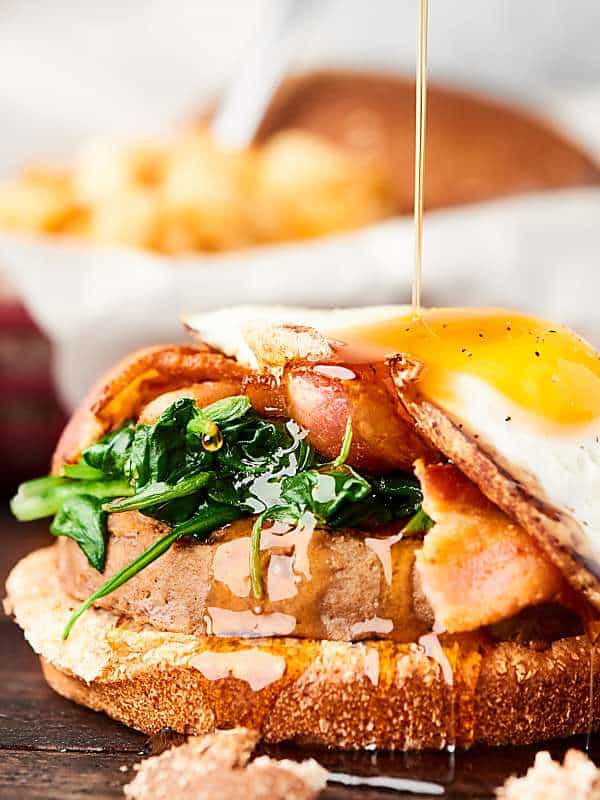 Honestly, I'm not normally a big burger person – Trevor's still trying to figure out why he married me 😉 because he's a HUGE burger lover – that being said, I love love LOVE turkey burgers.
Today, I used Jennie-O 1/3 lb. Seasoned Turkey Burgers. It's completely magical, because
They have 65% less fat than regular USDA ground beef – which means, bring ooooon the bacon! 😉
They're already seasoned, so the hard part's done – just throw these on the grill/stove/oven straight from the freezer and you're good to go!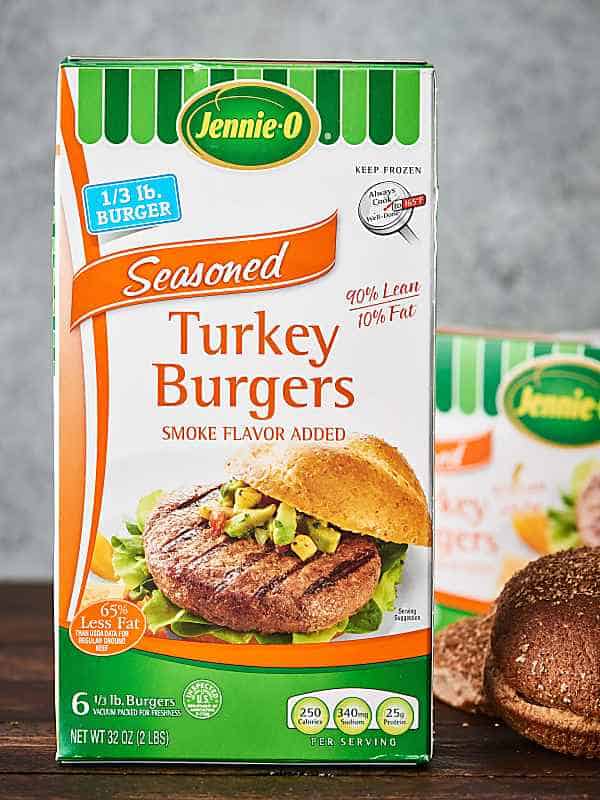 While your turkey burger is cookin' away, you're going to get all the toppings ready:
Cheese – in the pictures, I TOTALLY forgot the cheese. I know. HOW?! It's the best part. But once photos were done, you better believe I added some provolone.
Bacon – cook it until crispy then remove from the skillet
Spinach – cook it IN the bacon grease, because . . . does that really need an explanation?!
Egg – cook it IN the bacon grease (if there's any left), because . . . bacon is life, amiright?
Maple syrup – on standby.
Then you'll assemble your Turkey Brunch Burger on to a whole wheat bun and drizzle the entire thing in maple syrup.
Then you'll take a bite and wonder how you ever lived without this Turkey Brunch Burger.
Tender turkey burger + salty bacon + cheese + gooey egg and sweet maple syrup?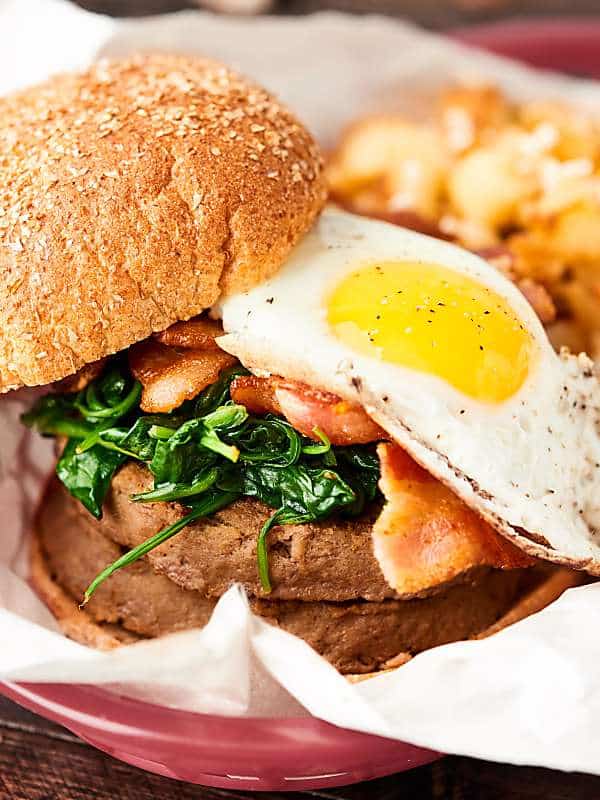 This Turkey Brunch Burger has got it goin' ON!
– Jennifer
What would you put on YOUR Turkey Brunch Burger? Show Me the Yummy!

1

Jennie-O 1/3 lb. Seasoned Turkey Burger

cooked according to package directions

1

slice

provolone cheese

2

slices

bacon

cooked

1

handful

Spinach

cooked in bacon grease (from above) until wilted

1

large

egg

fried in bacon grease from above until cooked to your liking

1

whole wheat bun

maple syrup
Assemble burger and drizzle with maple syrup before placing on top bun and enjoying!
Thanks again to Jennie-O for sponsoring today's post!