Golden oreo peanut butter blondies! The perfect way to celebrate my birthday! Filled with oreos, peanut butter cups, and sprinkles…what could be better?!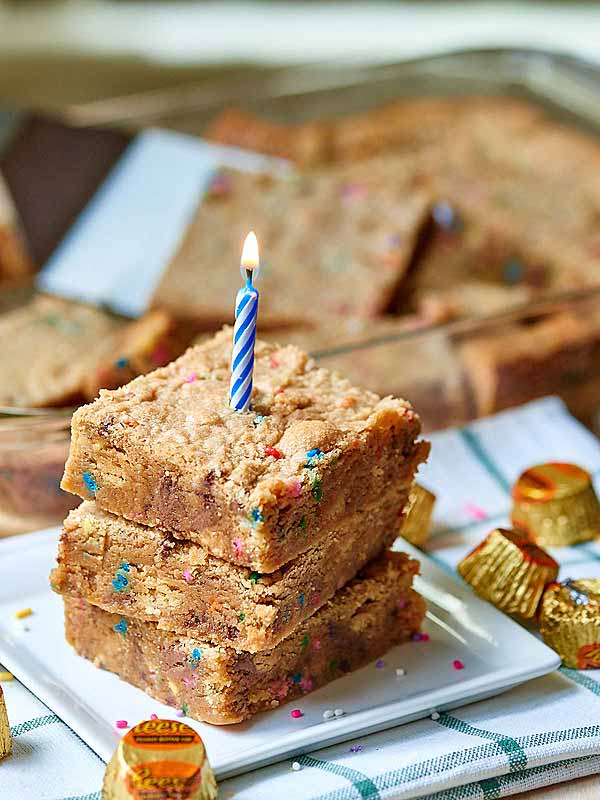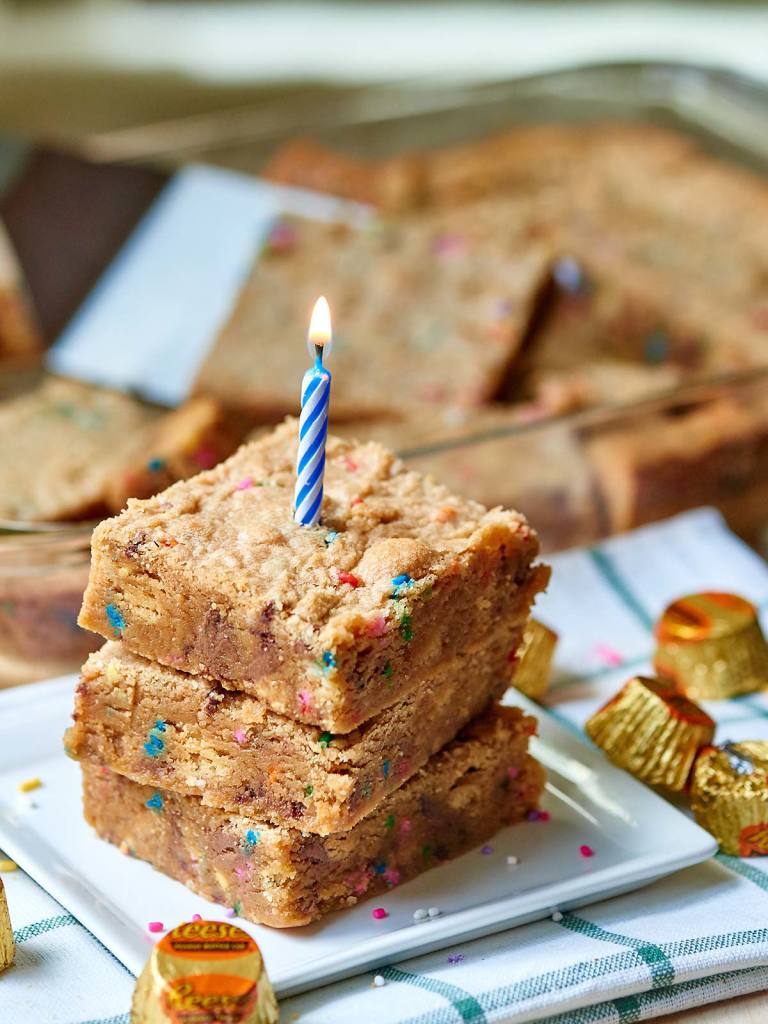 Happy Monday! How was everyone's weekend? This weekend, Trevor and I took Teddy to the park, indulged in Mexican food (of course) and watched the Oscars! Other than having a great weekend…
I have something important to share with you…
Today…is my birthday, but it's not just any birthday, it's my golden birthday! Yes. Today, I am 23 on the 23rd! Naturally, I needed to do something totally cheesy, so I've made for you guys golden oreo peanut butter blondies! Get it? Golden oreos for my golden birthday? Can you hear the hallelujah chorus? 😉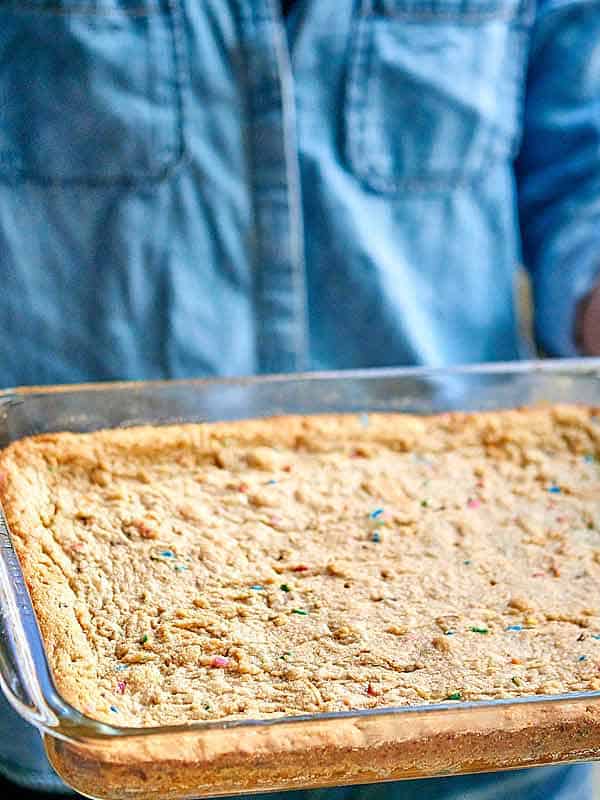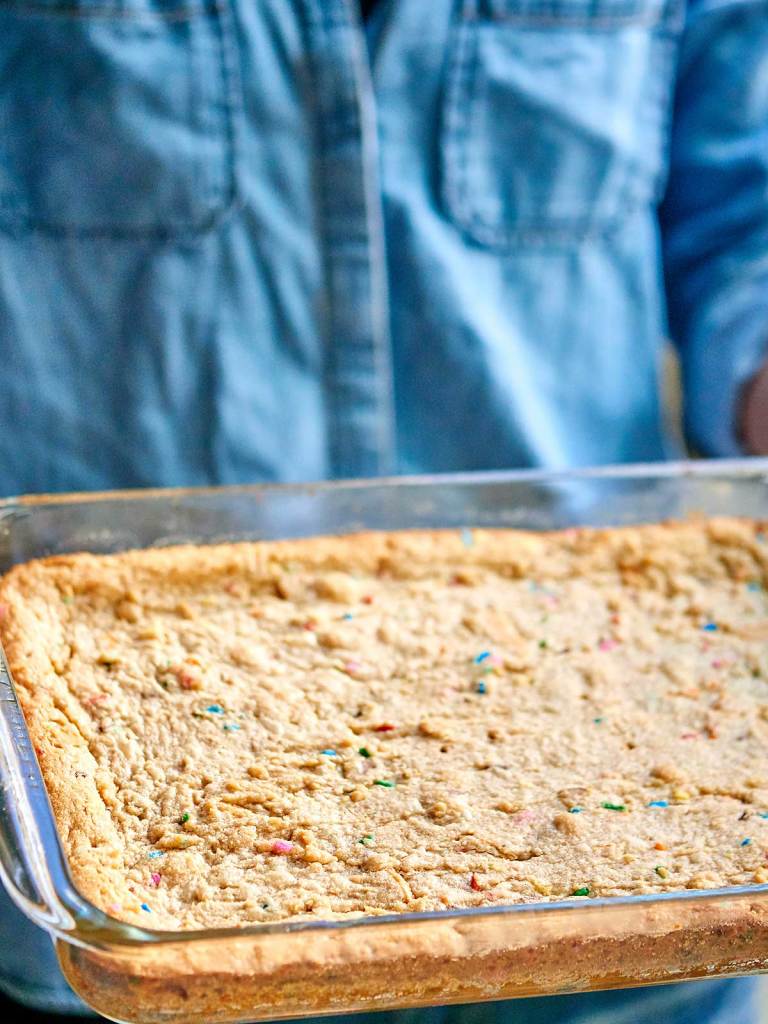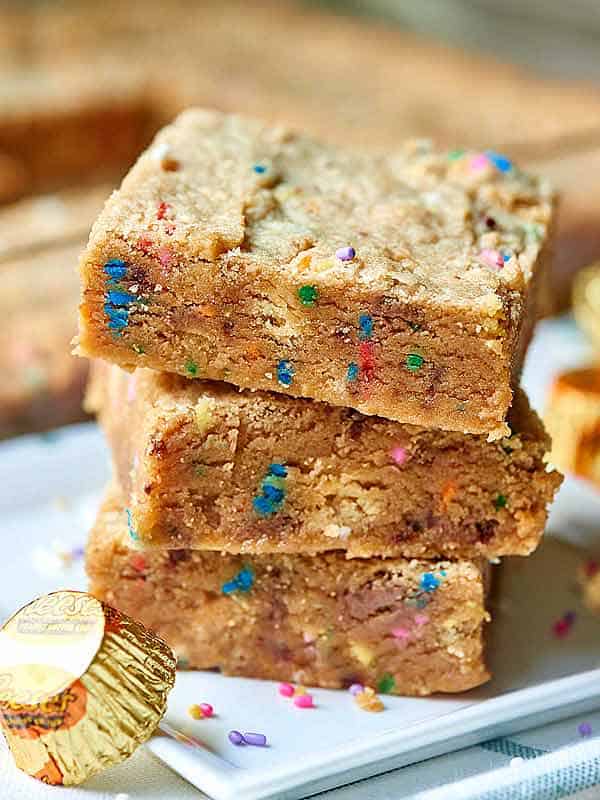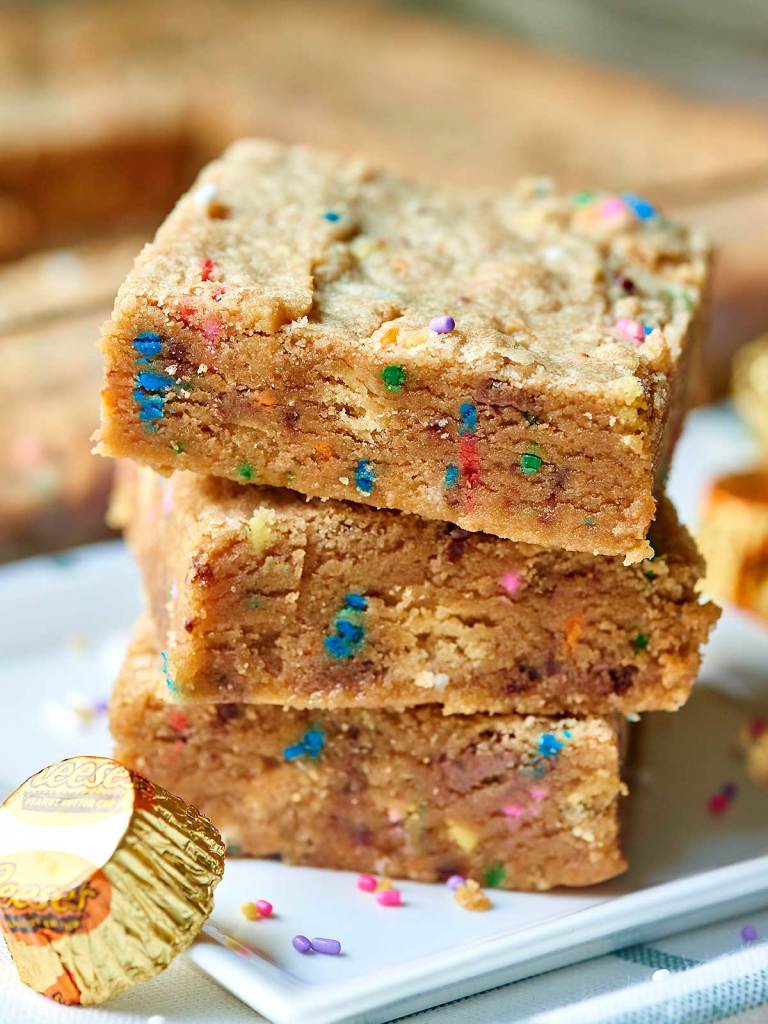 Since it's my birthday, I thought today would be the perfect day to share a little bit about myself!
1. 12 is my favorite number. When I was growing up, I thought that turning 12 would be super cool. 😉 Because of that, I'm sharing 12 things about me today!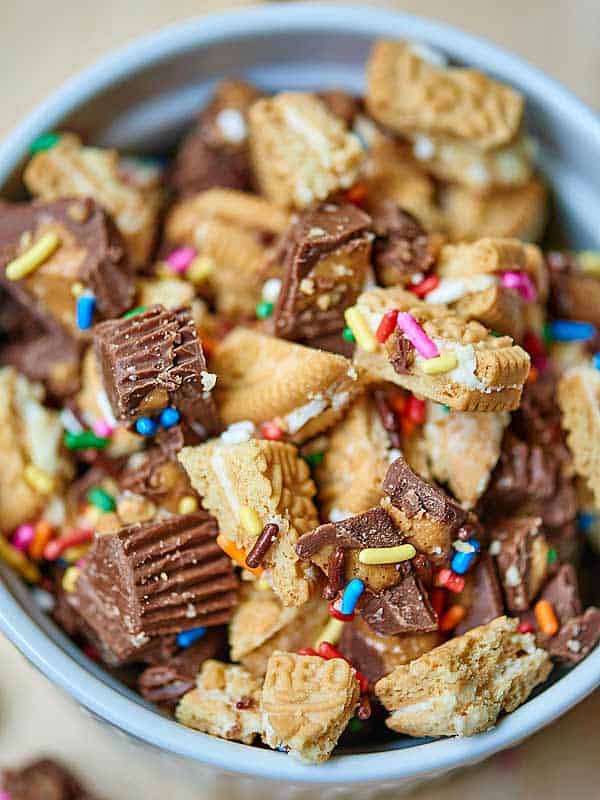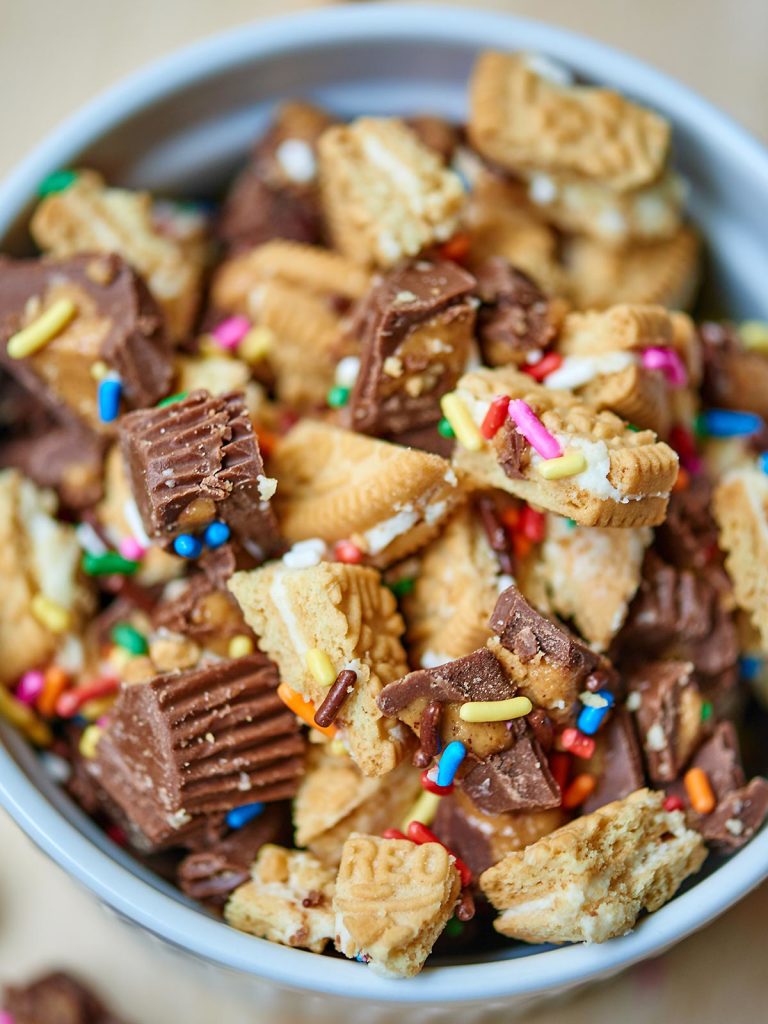 2. I love candy. Like, it's my ultimate weakness. Reese's, Sour Patch Kids, Snickers, Skittles, Starbursts, Reese's (did I say that already), etc. On Valentine's Day, Trevor got me this really nice box of chocolates. It took every ounce of will power to not eat the entire box in one sitting.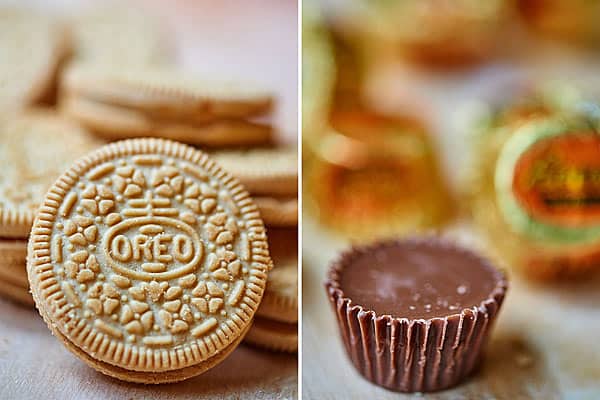 3. I'm a teeny bit OCD. I like routine, and I like things being in the place they're supposed to be.
4. I'm obsessed with cooking shows. Trevor and I don't have cable, so I use my gym time as TV time, too! My favorite shows are Chopped, Master Chef (and Master Chef Junior – holy crap I'm jealous of their talent!), Top Chef, and Throw Down with Bobby Flay.
5. I <3 Bobby Flay. I don't know why. I just do. I'm dying to eat at one of his restaurants!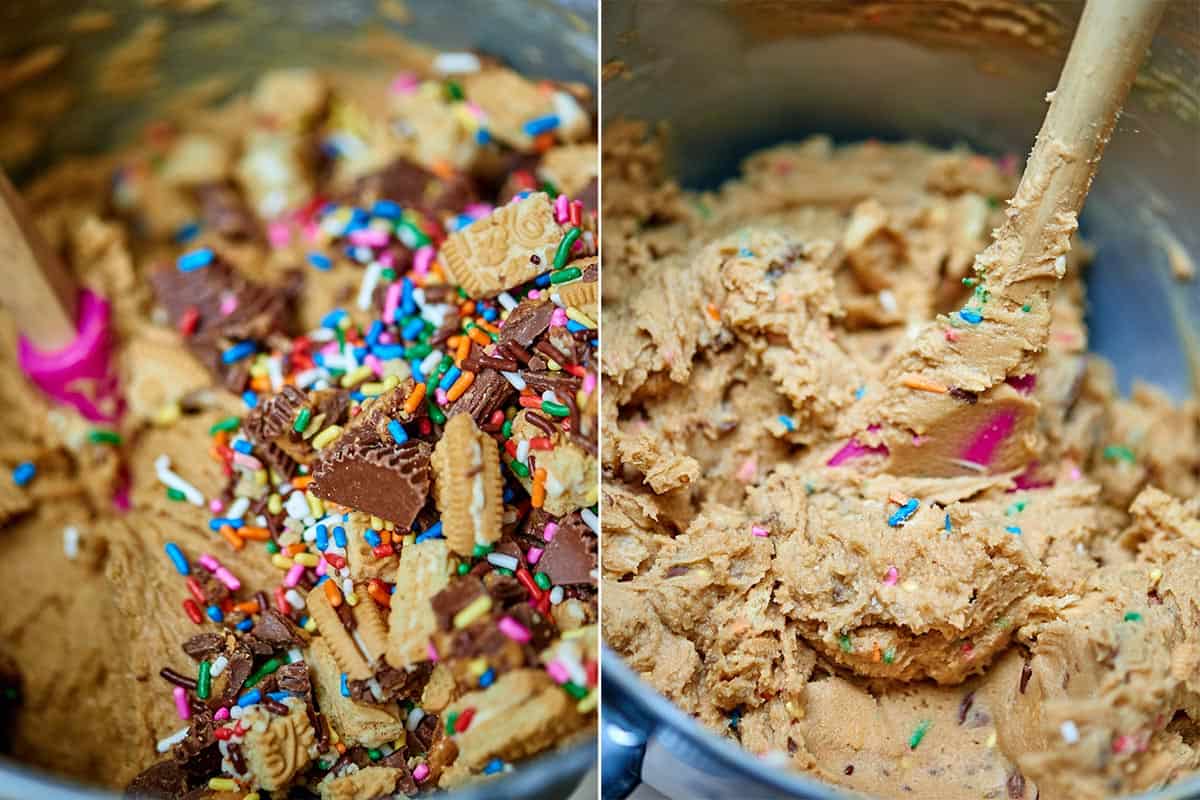 6. My guiltiest pleasures are nights at home, watching TV with Trevor and eating Indian food or Pizza Hut pizza. Pretend I didn't just admit to liking Pizza Hut!
7. Favorite movie: When Harry Met Sally. I think I've already watched it 1,000,000 times. Only 1,000,000 times more to go, Trevor 😉
8. Place I most want to travel: Maldives! It's so beautiful! I'd love to spend all day every day eating great food, having amazing cocktails, and getting massages….all while being on the beach with Trevor! Is that really too much to ask? 😉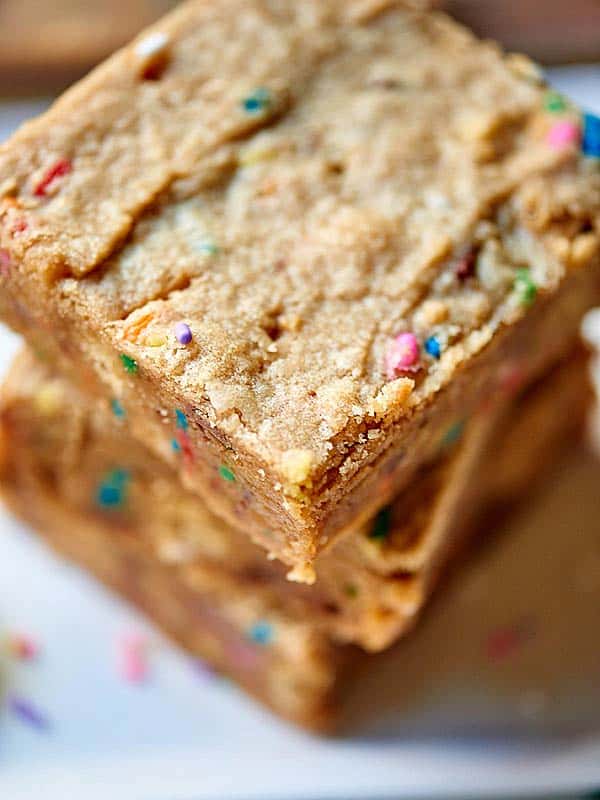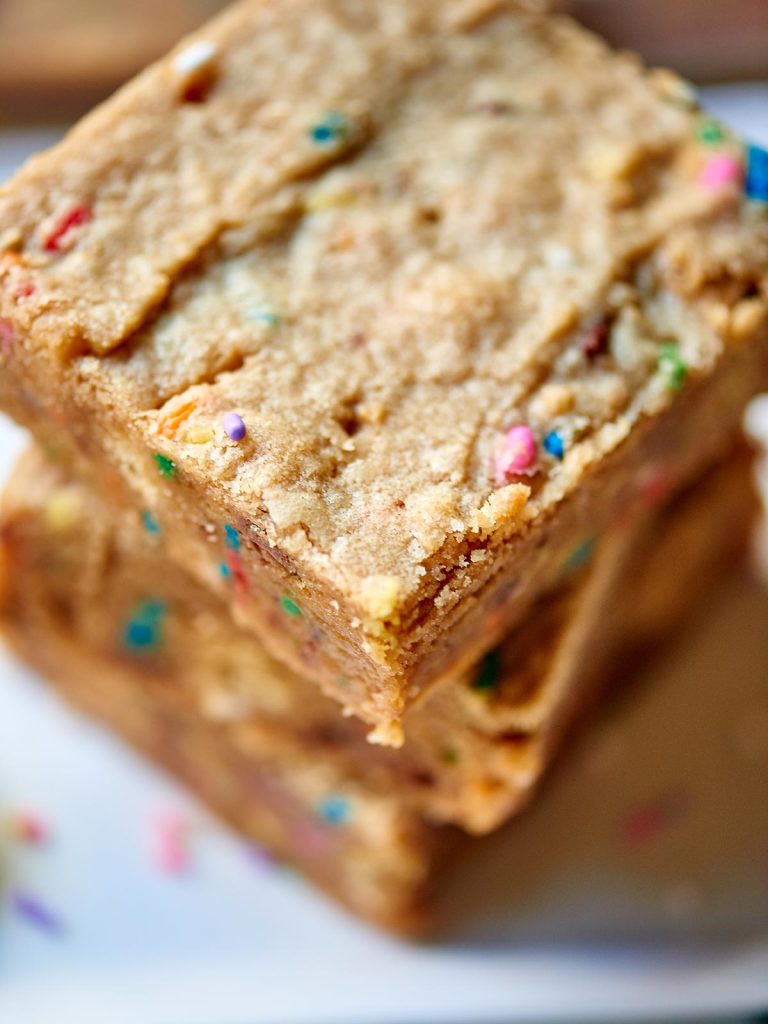 9. I am so not current with music. Since Trevor and I don't have a car, we never really hear what's on the radio and when I'm at home cooking, I listen to TV shows on Netflix (*cough cough* Friends).
10. I really love traveling and eating. If I could have endless amounts of money and never gain a pound, that's all I'd do. I'm sure you guys are with me on that one 😉
11. I want to be the next host of Top Chef. I'm partially kidding, but Padma…watch out! 😉 I just think she has the coolest job. Ever!
12. I feel so lucky! I've never been happier. I love being married, I love my dog, Teddy – he's literally the cutest thing I've ever seen, I love my friends (old and new), and I'm excited and hopeful that this food blog will take off and become a career, so I can work at home and be there for my future children!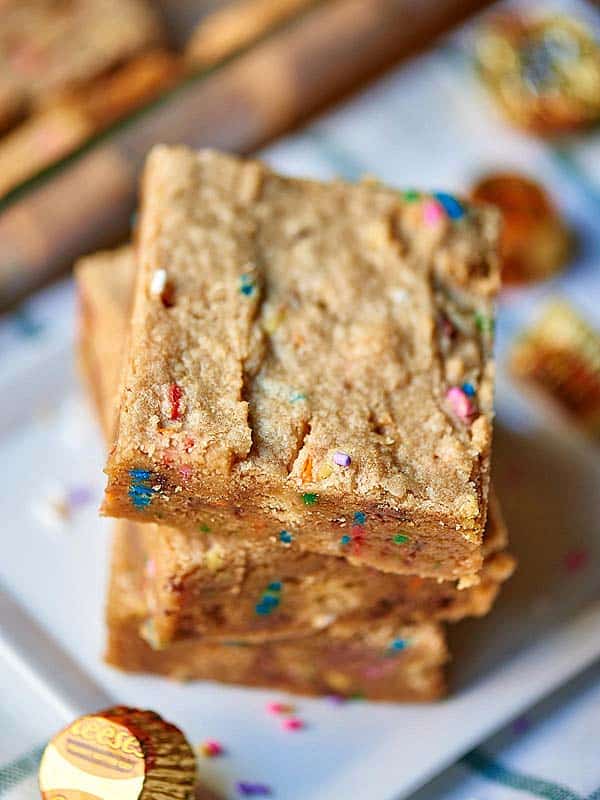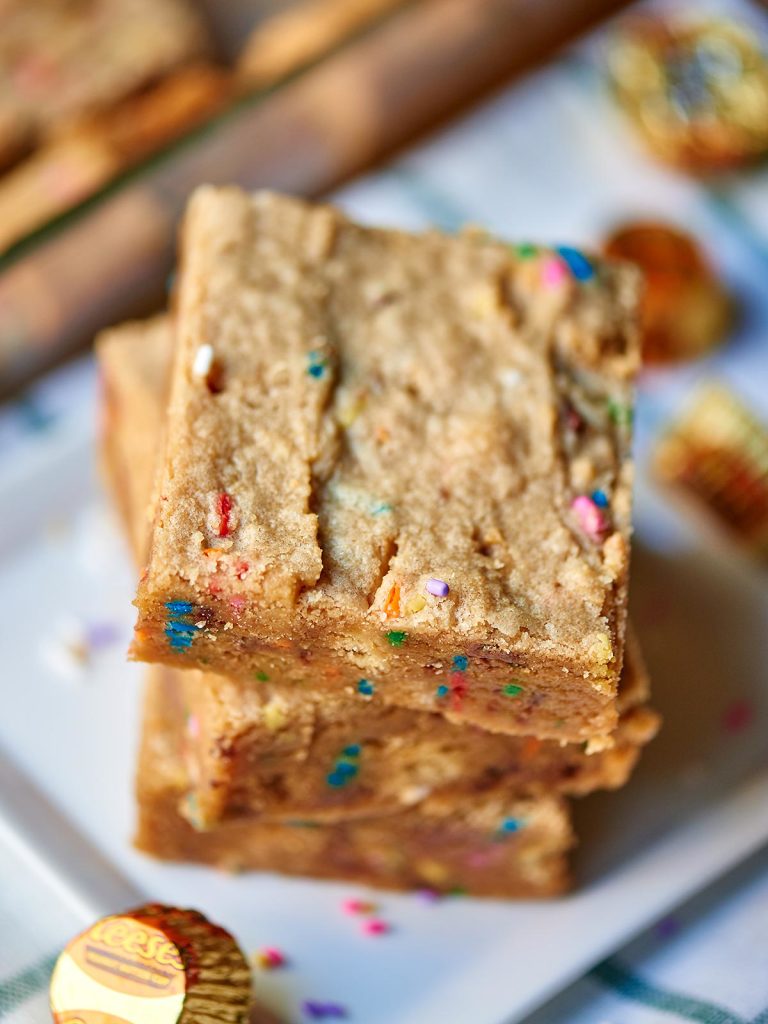 Now, enough about me and on to the golden oreo peanut butter blondies!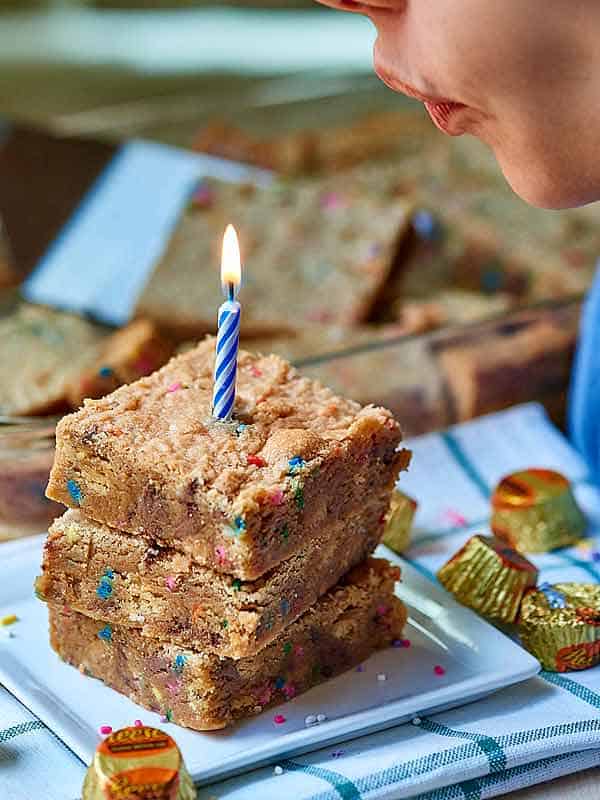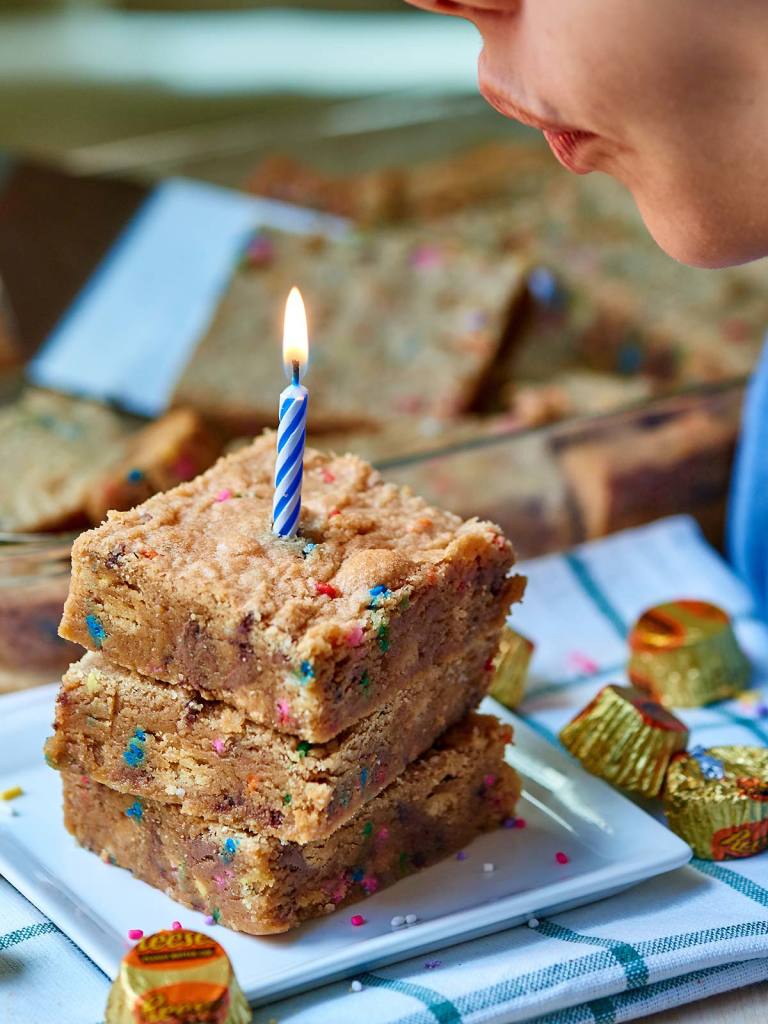 These. Are. Perfection. They're peanut buttery, rich, full of chopped golden oreos and Reese's peanut butter cups, and just what I wanted as a birthday dessert! They're also a cinch to put together!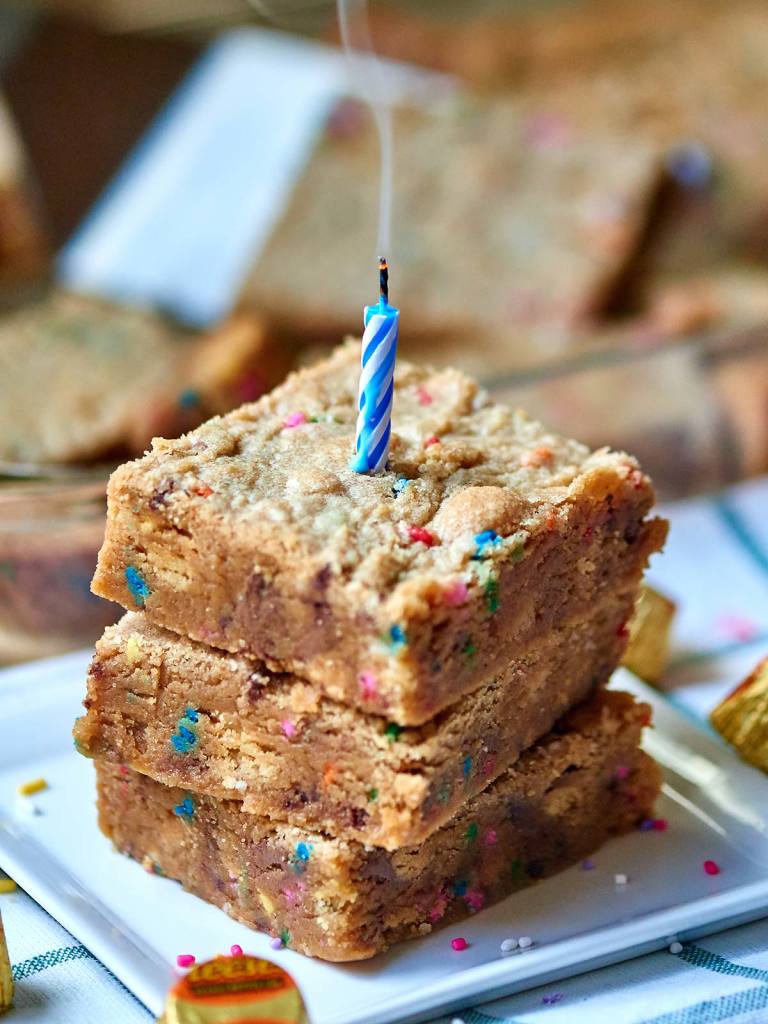 So celebrate with me and make these golden oreo peanut butter blondies!!
– Jennifer
What's YOUR perfect birthday dessert? Show me the yummy!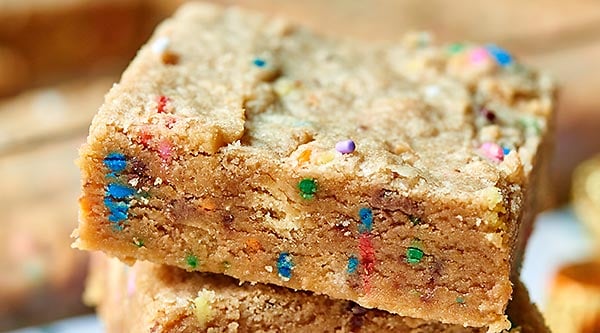 Golden Oreo Peanut Butter Blondies
Golden oreo peanut butter blondies! The perfect way to celebrate my birthday! Filled with oreos, peanut butter cups, and sprinkles...what could be better?!
Equipment for this recipe
(equipment shown are affiliate links)
Ingredients
2

cups

all purpose flour

1

teaspoon

baking powder

1/2

teaspoon

salt

1

cup

chopped golden oreos

about

8 cookies

1

cup

chopped miniature reese's peanut butter cups

about

16 miniatures

1/3

cup

sprinkles

2

sticks (1 cup)

unsalted butter

softened to room temperature

1

cup

brown sugar

packed

1

cup

granulated sugar

2

large

eggs

room temperature

1

teaspoon

vanilla extract

1

cup

smooth peanut butter
Instructions
Preheat oven to 350 degrees F and prep a 9 x 13 glass pan with cooking spray.

Place the flour, baking powder, and salt in a small bowl and whisk to combine. Set aside.

In another bowl, combine chopped oreos, peanut butter cups, and sprinkles. Stir to combine and set aside.

In your stand mixer, cream together the butter, brown sugar, and granulated sugar.

Then, beat in the eggs, one at a time.

Mix in the vanilla and peanut butter until smooth.

Slowly add in the dry ingredients and mix until just combined.

Hand mix in the chopped golden oreos, peanut butter cups, and sprinkles! Don't over mix.

Pour mixture into the prepared pan. Note: Strategically place the mixture into the greased pan. It's a very thick batter which makes it harder to spread!

In the preheated oven about 25 - 30 minutes. A toothpick should come out almost clean. You don't want to over bake!

Let cool before serving!
STORING
Reheat:
Bake or microwave to warm
*Storage times may vary based on temperature and conditions
Nutrition Information
Nutrition Facts
Golden Oreo Peanut Butter Blondies
Amount Per Serving (1 bar)
Calories 339
Calories from Fat 153
% Daily Value*
Fat 17g26%
Cholesterol 39mg13%
Sodium 183mg8%
Potassium 167mg5%
Carbohydrates 43g14%
Protein 6g12%
Vitamin A 32IU1%
Vitamin C 1mg1%
Calcium 34mg3%
Iron 1mg6%
* Percent Daily Values are based on a 2000 calorie diet.
*Note: Nutrition information is estimated and varies based on products used.
Keywords:
dessert bar, oreos, peanut butter blondies