Chocolate Oreo Pudding for Two – a seemly simple dessert that will blow you away! A crunchy Oreo crust is covered with a thick, rich, creamy, and extra chocolatey pudding. Seriously. This is decadent. Don't forget the whipped cream!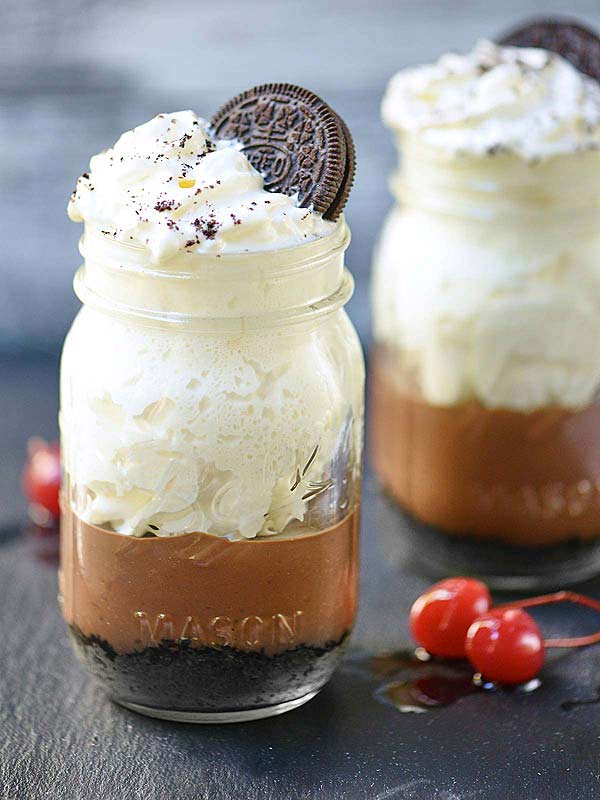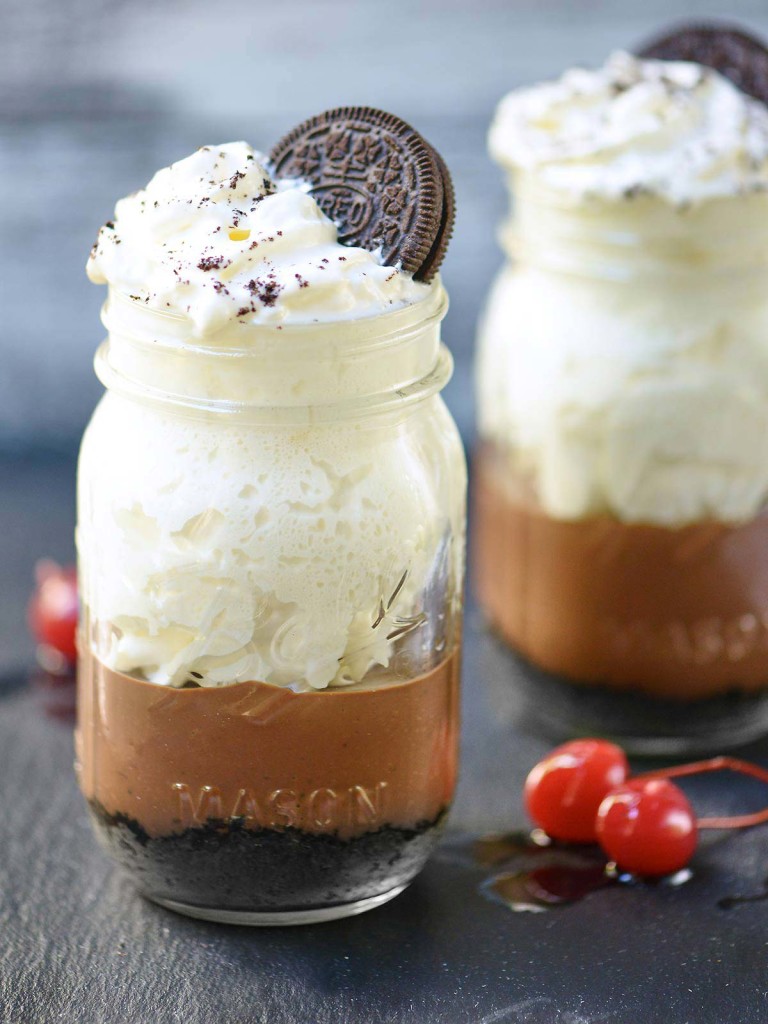 This Chocolate Oreo Pudding for Two, my friends, is the definition of a decadent dessert. It may seem humble – an Oreo cookie crust topped with rich chocolate pudding, and covered generously with whipped cream – but it sure does the trick when you want something that really blows your dessert loving mind away.
Trevor and I are definitely some of those dessert loving people. It's rare when we don't have something sweet to munch on after dinner. I grew up in a family that ALWAYS had something sweet in the evening hours, and I can't help but carry that tradition on. 😉
In my family, we'd have dinner around 6:00 PM and then a few hours later, we'd have our bed time snack. Sometimes it'd be my favorite one bowl brownies, other times it would be vanilla cake with homemade fudge frosting, and on a rare occasion we'd have chocolate pudding. I think my mom would just get a hankering for something sweet, but didn't want to make a whole pan of brownies or two dozen cookies… can you blame her? 🙂
This is where my mom and I are most alike. I definitely get my sweet tooth, more specifically, my need for chocolate from her. Sometimes, though, I don't feel like making brownies, or whipping up a batch of cookies and this is is why we all need this super rich, super chocolatey, extra thick and delicious, makes you drool just thinking about it, Chocolate Oreo Pudding for Two.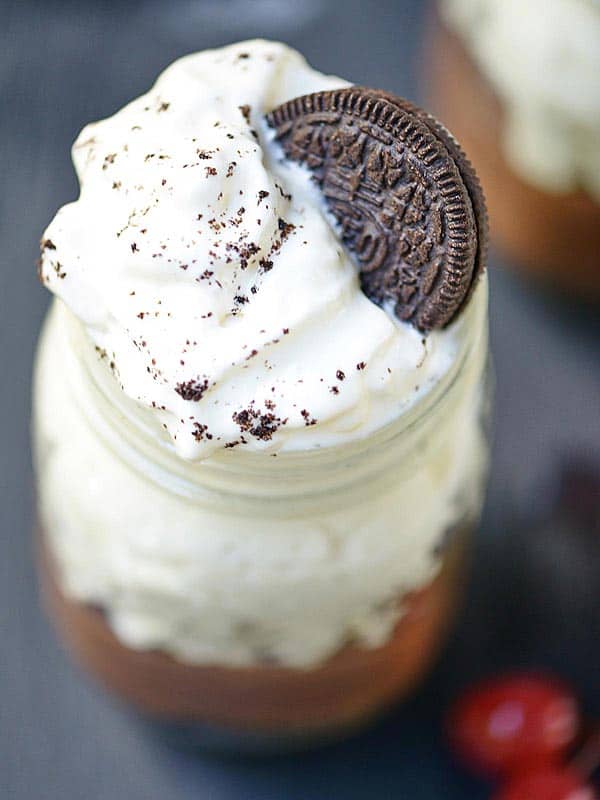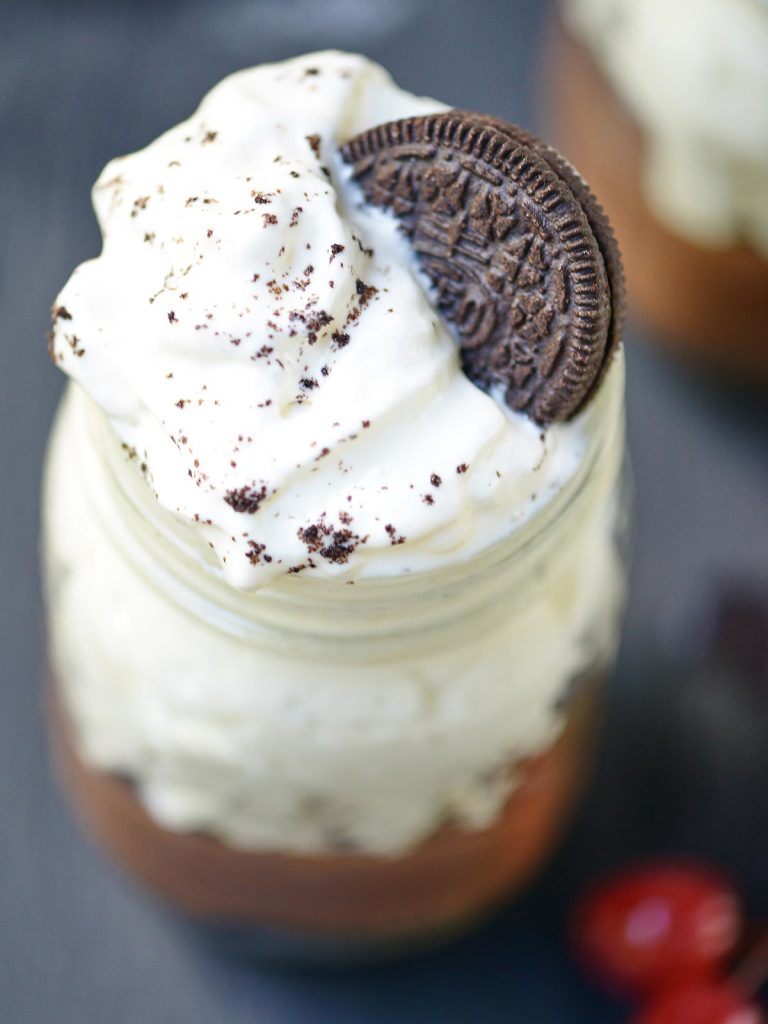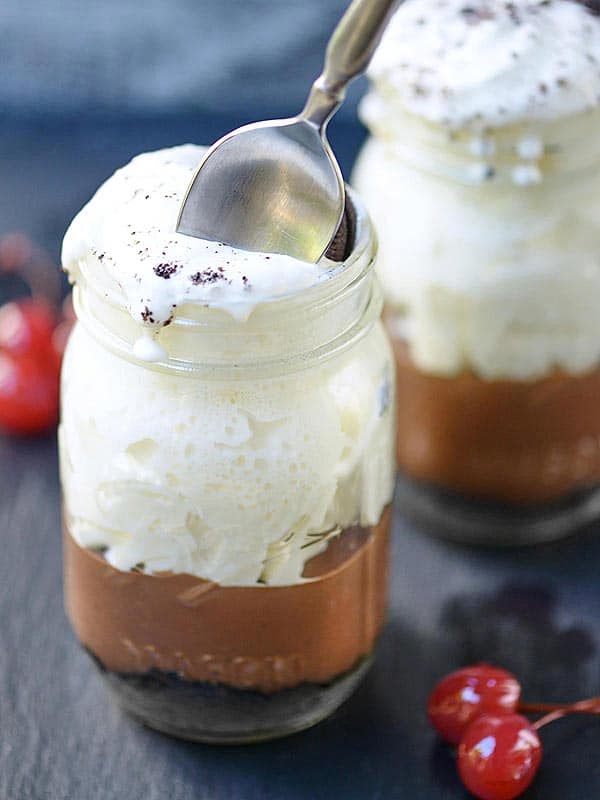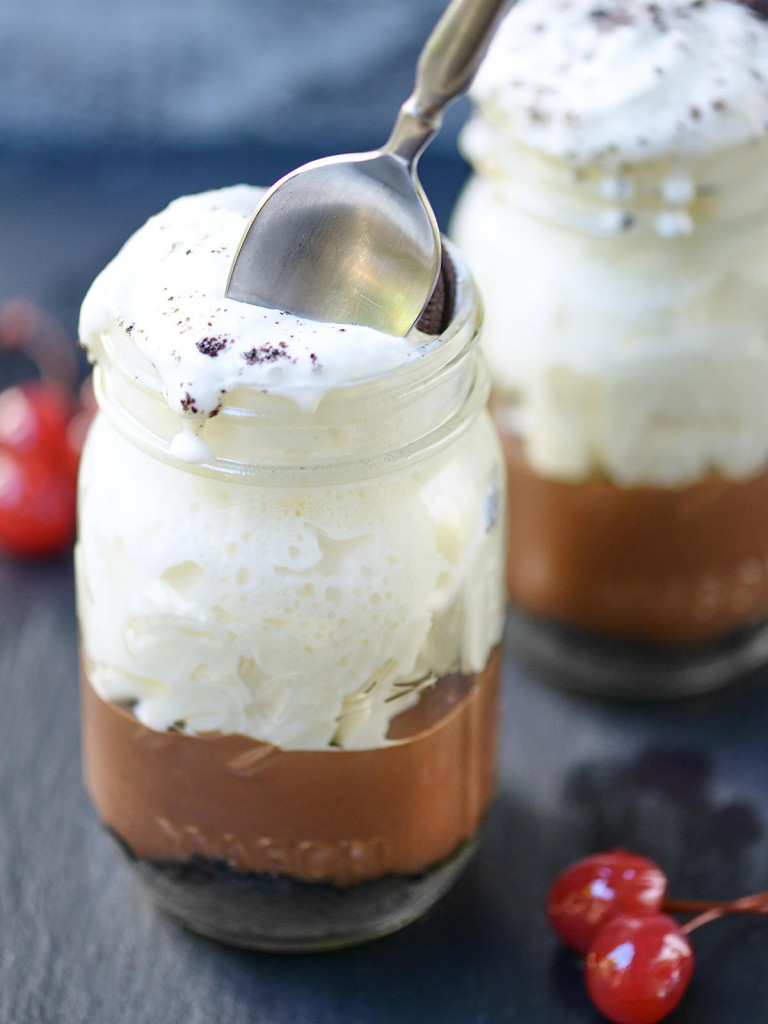 Before this recipe, I'd never made homemade chocolate pudding…unless you count the kind you make from the box…but (shocker!) one day after Trevor and I had finished our dinner, I needed chocolate and I needed it like ten minutes ago.
Luckily, I had a basic idea of what I needed to make chocolate pudding and literally dumped the ingredients into a saucepan (I was desperate), crossed my fingers, did a little dance, and somehow the pudding turned out great. 🙂
Thank. Goodness.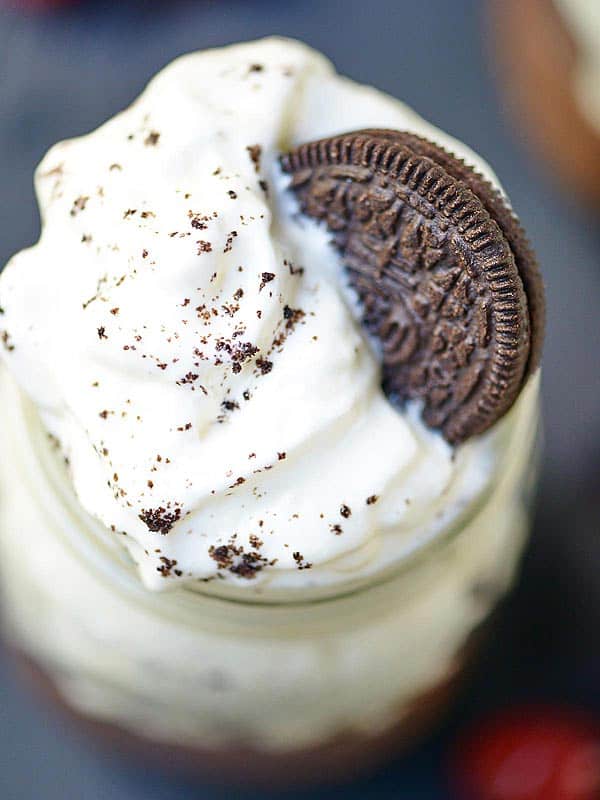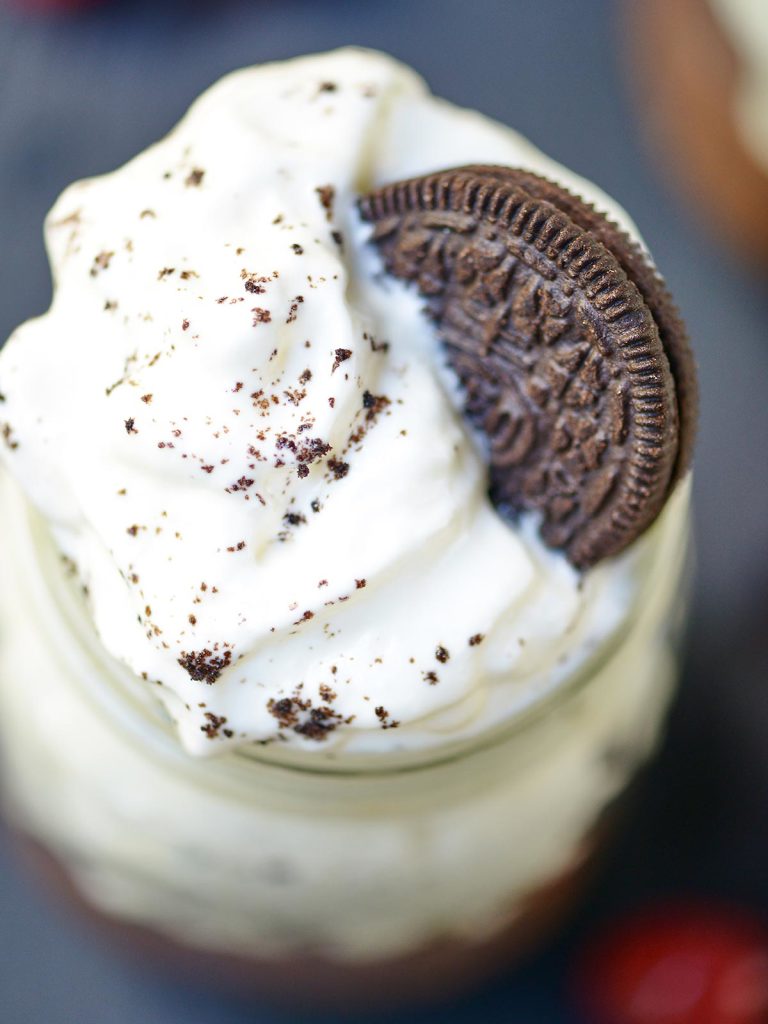 It was ridiculously thick and extra chocolatey…just what I was looking for. But I couldn't stop there. I needed more chocolate. I remembered that I had Oreos in my pantry that were closing in on their expiration date…don't ask me how I let that happen, they should've been long gone.
I crushed up some Oreos, mixed in a little butter, and then decided to do something extra wild and crazy and smushed the mixture down in the bottom of a couple mason jars. So cute! Because mason jars are still cool…right? They will forever be cool to me. Even when they're not trendy anymore.
After the Oreos were packed down, I poured the slightly cooled chocolate pudding over the crust and impatiently waited for it to cool a bit in the fridge.
Once the Chocolate Oreo Pudding had cooled to my liking, I took a bite. HOLY MOLY it was so luxurious, but *almost* too rich…if that's even a thing. So I did something that I never do…I added whipped cream. It may seem normal to you, but – don't hate me – I don't like whipped cream.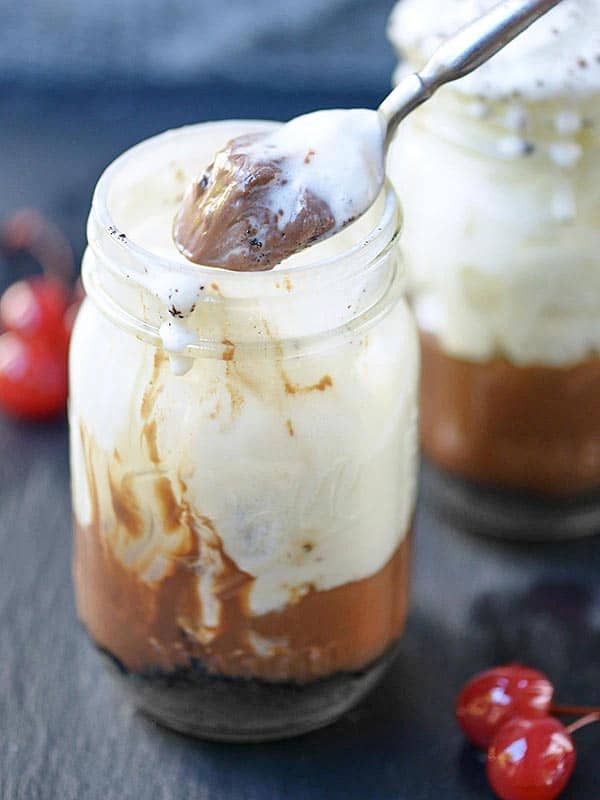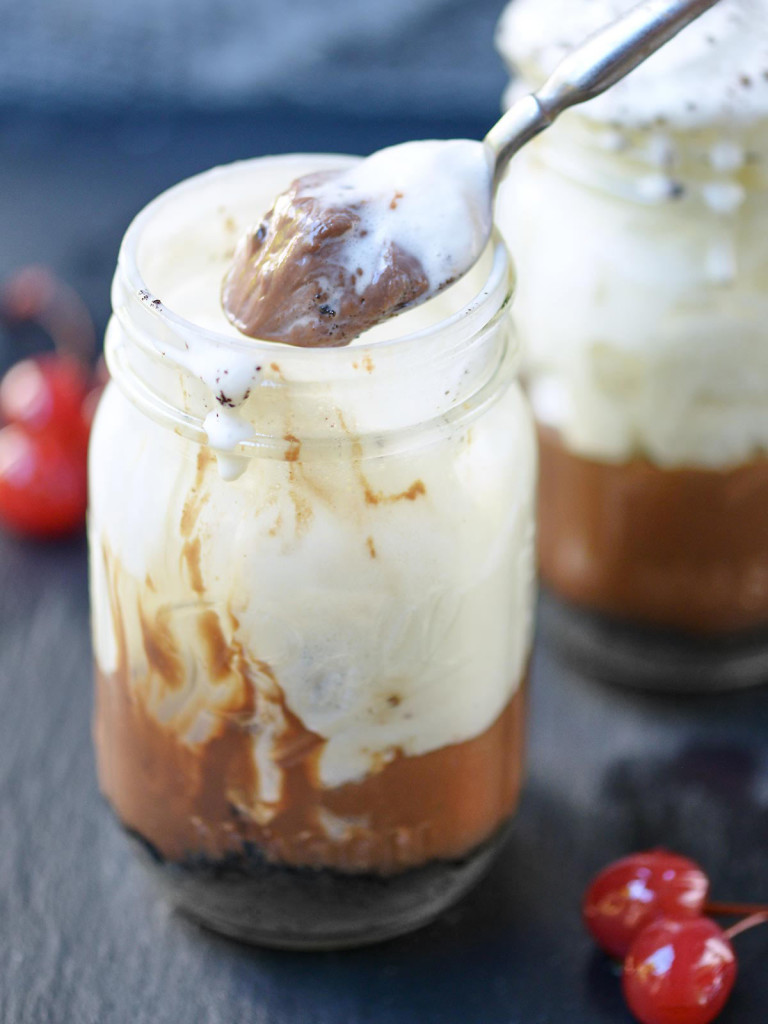 Gah. I said don't hate me! It's too fluffy, and I don't think it really has any flavor, and I don't know. This time, however, this Chocolate Oreo Pudding really benefited from some whipped cream to cut the richness. Make fresh if you want, but mine came in that classy red can we you all love! 😉
Just do me a favor and make this right now, ok? If I haven't convinced you yet, let me tell you how much Trevor liked it! He said, "If they had this at a restaurant, I'd order it every time." I was so giddy from this, I didn't notice that he managed to DEVOUR the entire jar of Chocolate Oreo Pudding!
Like…he KILLED. IT.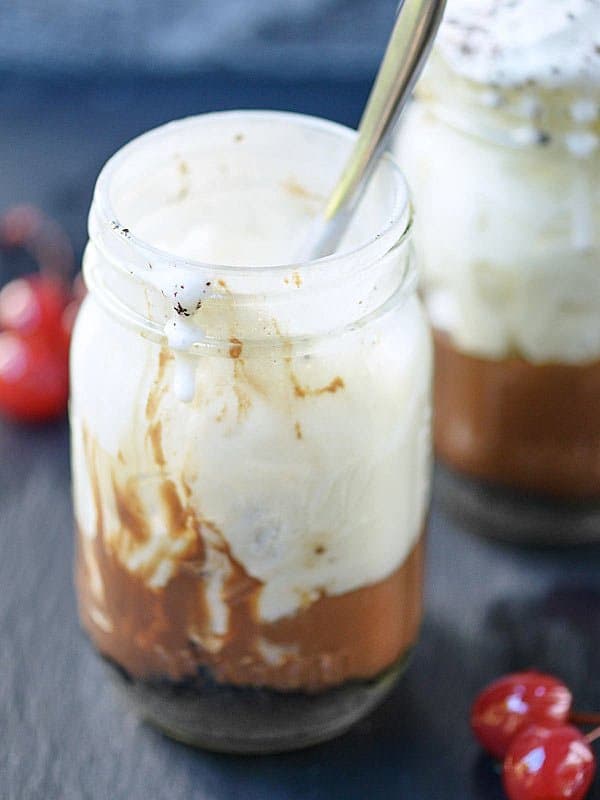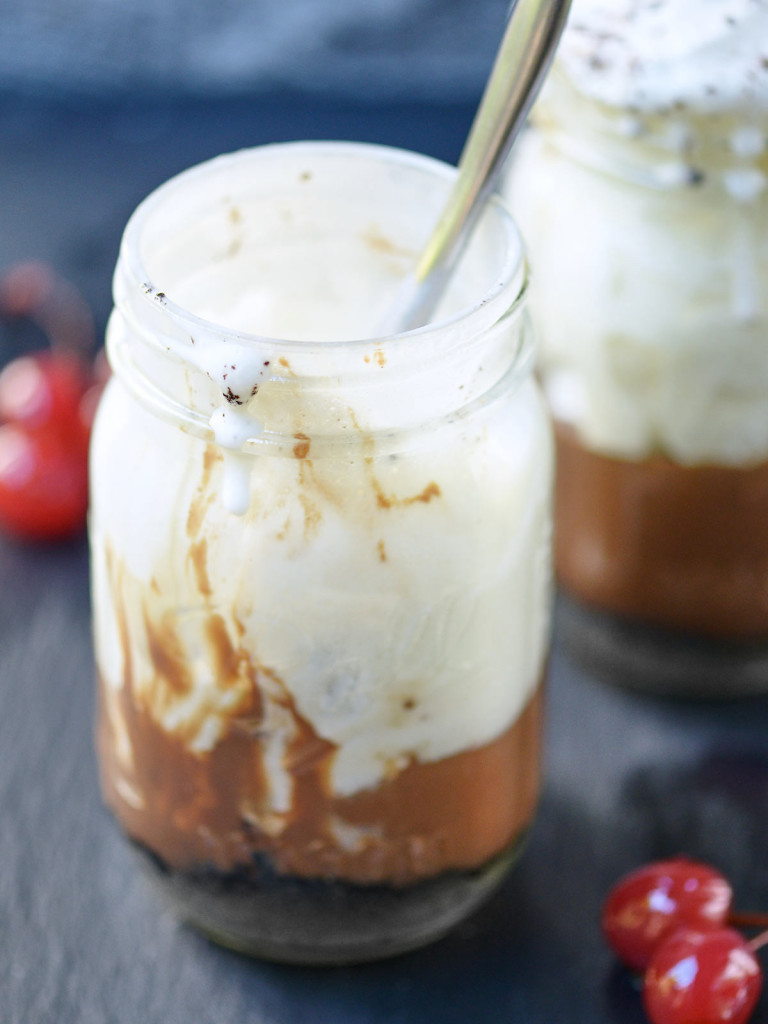 He's a sucker for Oreos, but I mean, come on man! I wanted some, too. So I pouted for 2.5 seconds, and then remembered that I had an extra in the fridge. Did I tell him about it? Of course not! 😉
If you're not drooling yet just thinking about this rich, thick, chocolatey, smooth, pudding with that super satisfying, crunchy Oreo crust then we can't be friends anymore.
Kidding…it just means more for me! 🙂
– Jennifer
Have you ever made homemade pudding? What's your favorite flavor? Show me the yummy!
 P.S. If you make this, I highly suggest having extra Oreos on hand for dunking! 😉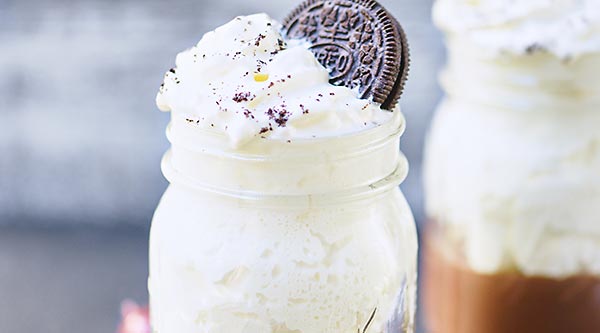 Chocolate Oreo Pudding For Two
Chocolate Oreo Pudding for Two - a seemly simple dessert that will blow you away! A crunchy Oreo crust is covered with a thick, rich, creamy, and extra chocolatey pudding. Seriously. This is decadent. Don't forget the whipped cream!
Equipment for this recipe
(equipment shown are affiliate links)
Ingredients
Chocolate Pudding
1/4

cup

unsweetened cocoa powder

3

tablespoons

cornstarch

1/8

teaspoon

salt

1

cup

half and half

1

can

sweetened condensed milk

2

tablespoons

unsalted butter

1

teaspoon

vanilla extract
Oreo Crust
5

Oreos

+ more for topping

1

tablespoon

unsalted butter

melted

whipped cream

optional but highly recommended
Instructions
Chocolate Pudding
In a medium sized sauce pan, stir together cocoa powder, cornstarch, and salt.

Slowly pour in the half-and-half, whisking constantly as you do.

Place the saucepan over medium/medium-low heat and slowly pour in the sweetened condensed milk, again, whisking the whole time.

Bring the mixture to a boil (just until you see large bubbles staring to form), whisking constantly.

Remove from the heat and stir in 2 tablespoons of butter and vanilla extract.**

Let the pudding cool slightly while you make the crust.
Oreo Crust
Using a food processor, pulse the Oreos until they are finely ground.

Mix the crumbs with the melted butter until they come together to form large chunks.

Divide the mixture evenly between two mason jars.

Tamp down the mixture to form a crust.

Pour the pudding over the crust, put the lid on, and place in the fridge to cool!

Serve with a generous dollop of whipped cream and enjoy!
STORING
*Storage times may vary based on temperature and conditions
Notes
** Whisking constantly and adding the ingredients in slowly will help prevent lumps, however, if you get lumps, run the mixture through a fine-mesh strainer. This will take a bit of elbow grease since it's so thick!
Nutrition Information
Nutrition Facts
Chocolate Oreo Pudding For Two
Amount Per Serving
Calories 1164
Calories from Fat 513
% Daily Value*
Fat 57g88%
Cholesterol 159mg53%
Sodium 591mg26%
Potassium 1126mg32%
Carbohydrates 152g51%
Protein 23g46%
Vitamin A 960IU19%
Vitamin C 6.3mg8%
Calcium 711mg71%
Iron 4.5mg25%
* Percent Daily Values are based on a 2000 calorie diet.
*Note: Nutrition information is estimated and varies based on products used.
Keywords:
chocolate, creamy, oreos