These Almond Butter Energy Bites are SO healthy and delish. They're nutty and rich from the almond butter, chewy from the oats, and sweet from the maple syrup and dark chocolate chips!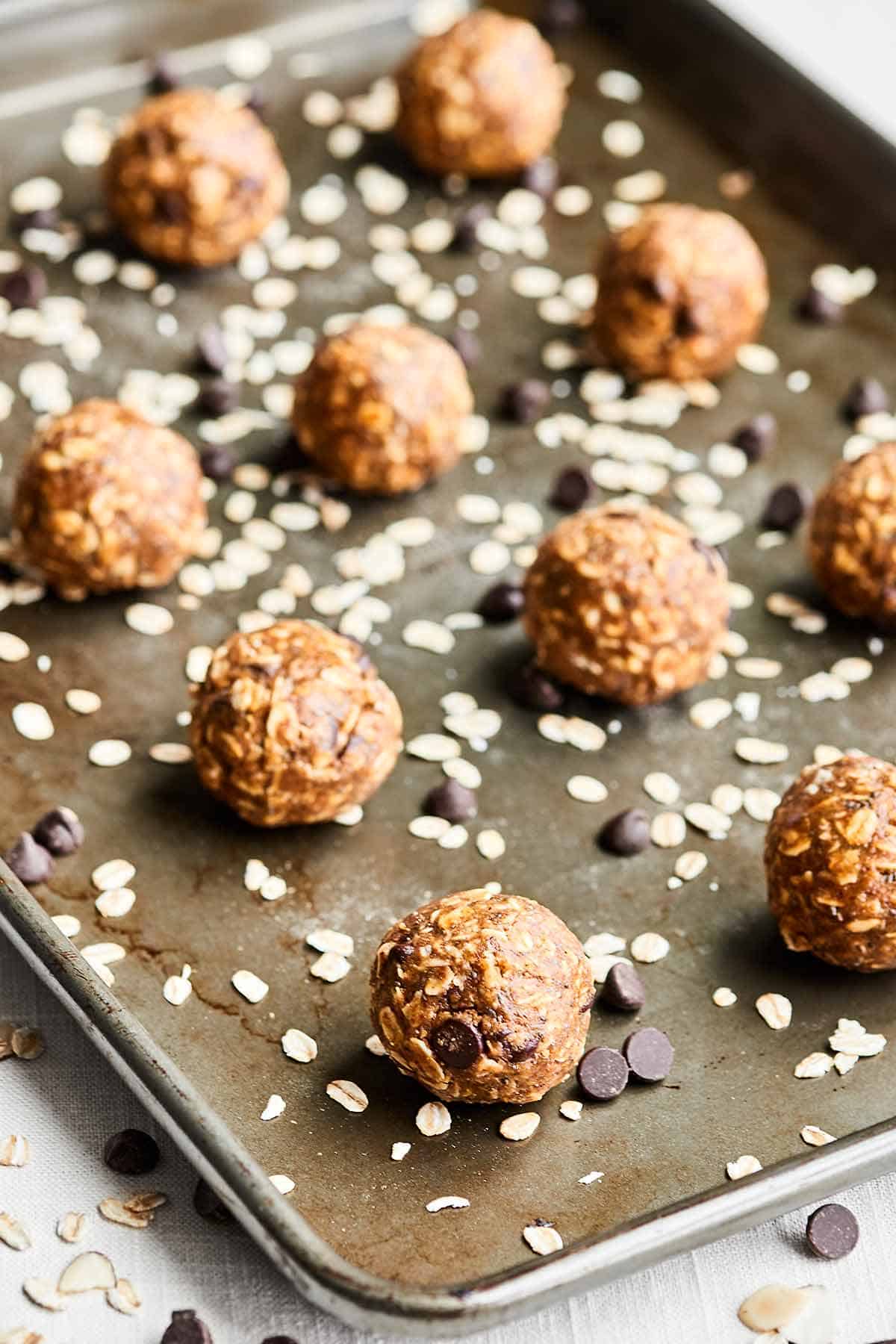 I need these Almond Butter Energy Bites more than ever on this fine Monday, because it was quite a weekend! All good things, but I am t.i.r.e.d. for sure.
Luckily, I just whipped up another batch of these energy bites and am happily munching away while I'm watching the sun rise, sipping coffee, and listening to Teddy sleeping right next to me.
Speaking of which, one of the most common questions we get is "What do you guys do all day?" and honestly, sometimes I wonder the same thing.
Sometimes I feel as if I'm sitting at my computer and all of a sudden I look up, it's 3 o'clock and I'm asking myself "What the heck did I just do for the last 8 hours?"
So today, I'm going to give you a little behind the scenes of what I actually do in a day.
All fueled, of course, by these ahhhh-mazing Almond Butter Energy Bites.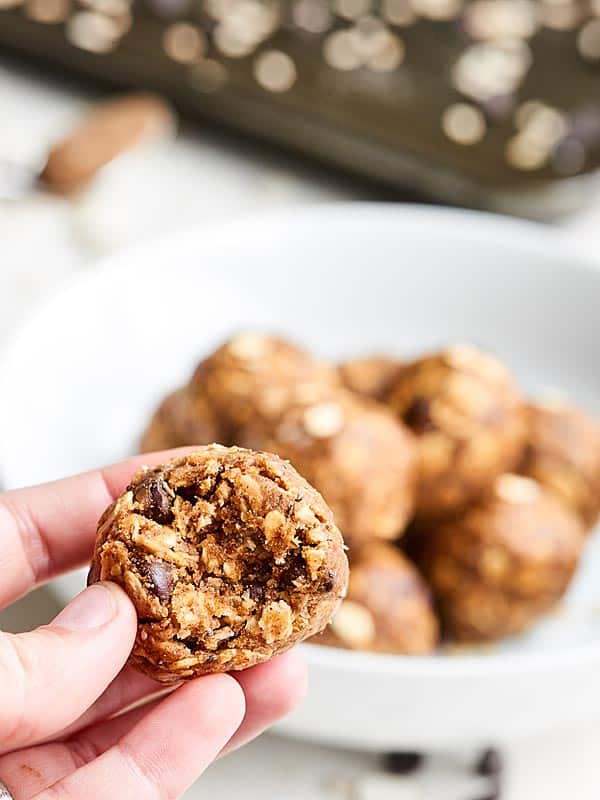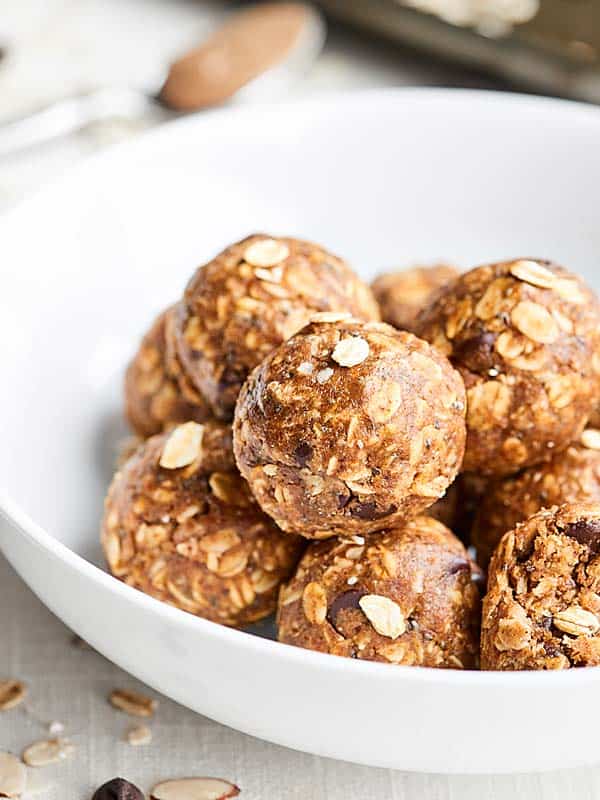 Let me start out by saying that not all days look like this, h.o.w.e.v.e.r., more often than not, this is what a typical day at SMTY looks like.
5:00 – 6:00 AM –  Wake up, let Teddy out, grab an iced coffee, and play a game of Otrio. I'm not kidding, Trevor and I, lately, have started our days by playing Otrio: our latest obsession.
6:30 – 7:00 AM – Respond to comments on the blog and look to see if there's any activity on social media (FB comments, etc.)
7:00 AM – Noon – Recipe development, photoshoots. . . and cleaning <– least favorite part of my job right there. Do you think I can train Teddy to do the dishes? I'm sure he'd gladly lick them all clean. 😉
Noon – 2:00 PM – Workout, grocery shopping. Yes. Working out and grocery shopping IS a part of my job. . . it has to be with all this food around. Helloooo did you SEE those S'Mores Cookie Cups? 😉
2:00 PM – whenever we call it quits, usually somewhere between 6 & 8 PM – Edit photos, social media, catch up on e-mails, write posts, do the budget, etc. Honestly, we're still in the stage where we're trying to grow SMTY and The Blog Village, so we're working way more than 40 hours, and do work on weekends, but we're hopefully going to be better at balancing work and life this summer… we'll see. 😉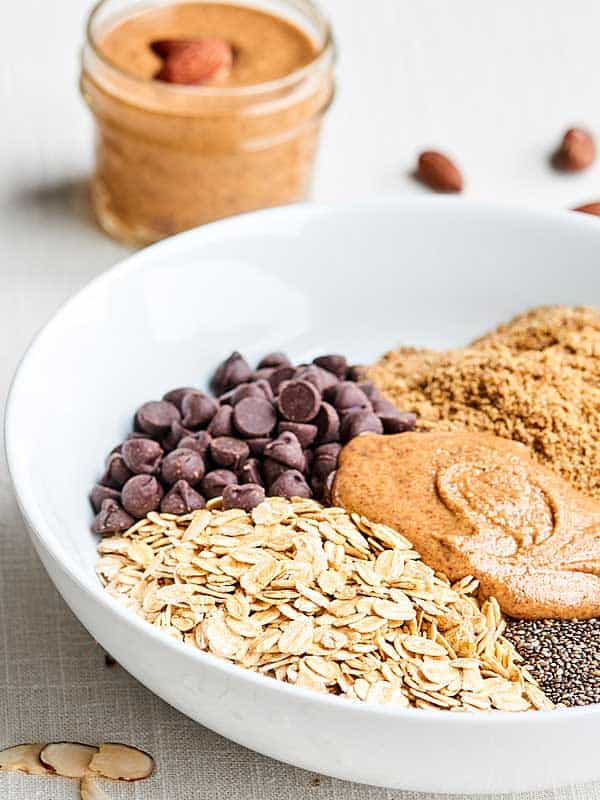 Of course, in there, we eat breakfast, lunch, and dinner – ahem, leftovers, leftovers, aaaaand more leftovers – and take Teddy for a walk.
Oh yeah, and I literally munch on these Almond Butter Energy Bites #allday #everyday.
I make sure I eat one before my workout for a burst of energy and lately I've been having them for an after dinner sweet treat, because omg if you microwave one for like 15 seconds, I swear to you, it takes like a warm chocolate chip cookie that is actually good for you. Seriously. Do it.
If you don't feel like eating these warm, these were actually meant to be eaten cold right out of the fridge.
I've been going through them like candy, so it's a good thing they're a cinch to make.
How do you make no bake almond butter energy bites?
Stir together:

dark chocolate chips (if you're vegan, make sure your chocolate chips are, too)
old fashioned oats
flax meal
chia seeds
almond butter
maple syrup

Roll 'em into balls (I use this cookie scoop to make them even)
That's it.
I mean, come ON, how easy was that?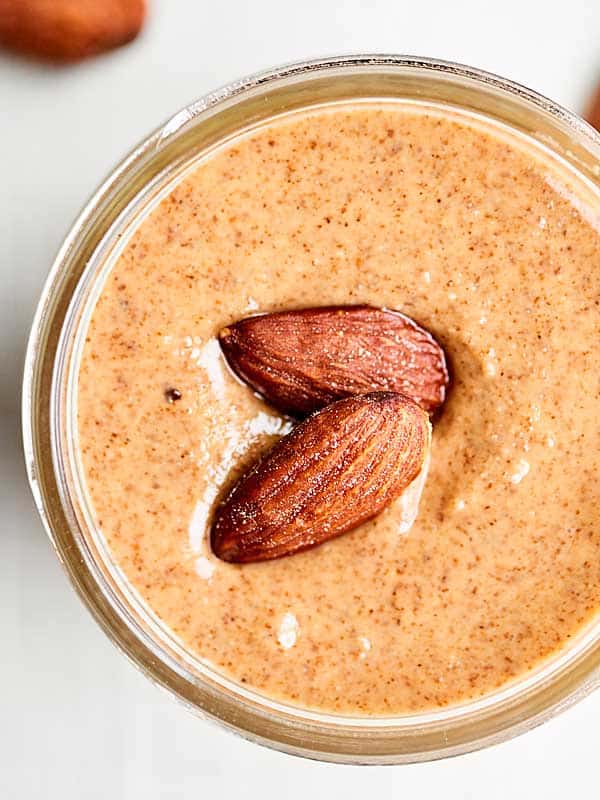 But let me back up for a second, because these are ALMOND BUTTER Energy Bites, so let's talk almond butter for a sec.
Make your own. If you want. 🙂
How do you make homemade almond butter?
I've listed my recipe below and I highly recommend you make it for these energy bites.
3 ingredients (almonds, vanilla, cinnamon)
5 minutes
That's all you need!
There's no added sweetener or oil, so it's super healthy and delish, and it's just perfect for these, yes? Yes! 🙂
So once you've made your almond butter, then the Almond Butter Energy Bites, you're going to store them in the fridge, and then casually sneak one out of the fridge every time you walk by. 😉
Are energy balls healthy? How many calories do they have?
I'd say these are healthy-ISH.
As in, are they the healthiest thing in the world?
No.
BUT they're a great healthier snack if you're craving something sweet and they're still full of great for you ingredients like oats and almonds!
These almond butter energy bites are about 200 calories, so I LOVE these for fueling my workouts!
Plus, they're little bites of heaven: nutty and rich from the almond butter, chewy from the oats, sweet from the maple syrup, and a little creamy/crunchy (or melty) from the dark chocolate chips.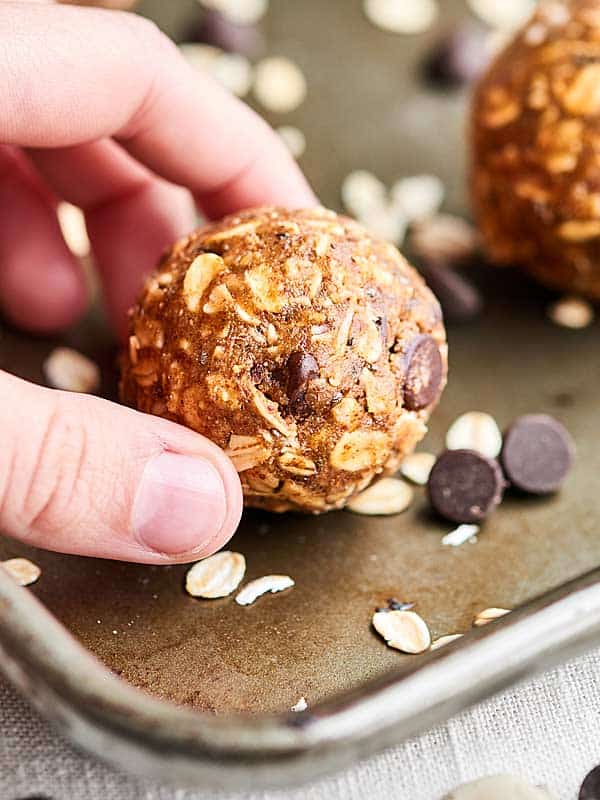 Make a batch (or two) this week and have a healthy, easy, popable snack all week long!
– Jennifer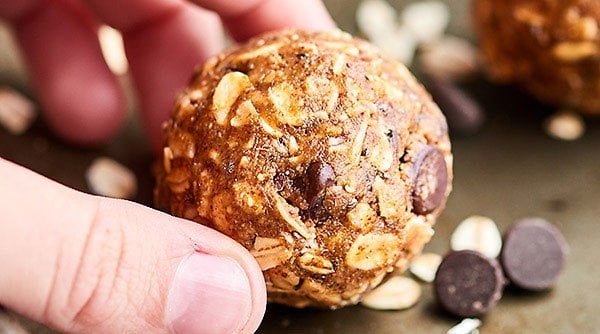 Almond Butter Energy Bites Recipe
These Almond Butter Energy Bites are SO healthy and delish. They're nutty and rich from the almond butter, chewy from the oats, and sweet from the maple syrup and dark chocolate chips!
Equipment for this recipe
(equipment shown are affiliate links)
Ingredients
Almond Butter Energy Bites
1/2

cup

dark chocolate chips

dairy free if you're vegan

1

cup

old fashioned oats

1/2

cup

flax meal

1

tablespoon

chia seeds

2/3

cup

almond butter

5

tablespoons

pure maple syrup

same as 1/4 cup + 1 tablespoon
Almond Butter
2

cups

roasted salted almonds

1

teaspoon

vanilla extract

1/2

teaspoon

cinnamon
Click to Keep Device on While Cooking
Instructions
Almond Butter Energy Bites
In a large bowl, stir together all ingredients until well combined.

Roll into 12 balls** (I used a cookie scoop to get 12 even bites and then rolled them in my hands).

Store in tupperware in the fridge.
Almond Butter
Place all ingredients into food processor and blend for 5 minutes, or until the mixture is smooth and a little runny, scraping down the sides as needed.

Use in the recipe above and store the rest in a sealed container in the fridge.
STORING
Reheat:
If frozen, microwave or let thaw
*Storage times may vary based on temperature and conditions
Notes
**If they're too sticky to roll immediately, place the bowl in the fridge, covered, for 30 minutes.
Nutrition Information
Nutrition Facts
Almond Butter Energy Bites Recipe
Amount Per Serving
Calories 213
Calories from Fat 117
% Daily Value*
Fat 13g20%
Sodium 11mg0%
Potassium 228mg7%
Carbohydrates 19g6%
Protein 5g10%
Calcium 103mg10%
Iron 1mg6%
* Percent Daily Values are based on a 2000 calorie diet.
*Note: Nutrition information is estimated and varies based on products used.
Keywords:
almond butter, healthy, no bake