This Roast Chicken with Vegetables is healthy & full of vegetables like butternut squash & brussels sprouts & marinated in apple cider vinegar & honey! Healthy, cozy, and delicious!
There are two reasons why I made this Roast Chicken with Vegetables Recipe today.
#1: I'm trying to eat *extra* healthy these next few weeks to gear up for Thanksgiving!
#2: I'm trying to eat *extra* healthy, because Trevor and I are leaving for Mexican soon! Eeeeek! I've been counting down the days for far too long, ahem, the countdown began like 9 months ago when we first booked the trip.
But while this roast chicken with vegetables may be *extra* healthy, it's also extra delicious and extra easy!
It's extra healthy from the lean chicken breasts and good for you vegetables. It's extra delicious from that craaazy delicious apple cider vinegar, honey, and rosemary marinade. And it's extra easy, because it's all made on one baking sheet!
Food that's healthy, delicious, AND easy?
What more is there in life? 😉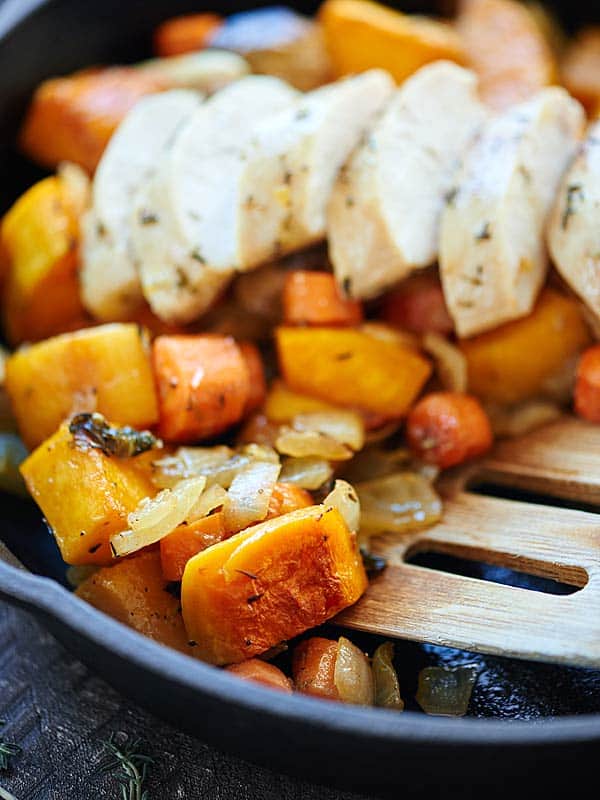 First of all, let's talk about how healthy this roast chicken with vegetables is. Chicken breasts with vegetables.
Um. Does it GET any healthier than that?
Not in my book! Any dinner that I can get a ton of lean protein AND tons of veggies is a win for me. The vegetables I included today are butternut squash, mushrooms, brussels sprouts (leftover from my roasted brussels sprouts recipe <– check it oooout), carrots, and onion. That means we have orange, green, AND white veggies covered. Wahoo!
Enough with the health stuff, though, let's talk about how ridiculously delicious this roast chicken with vegetables is.
But first, a little story, about this recipe's inspiration.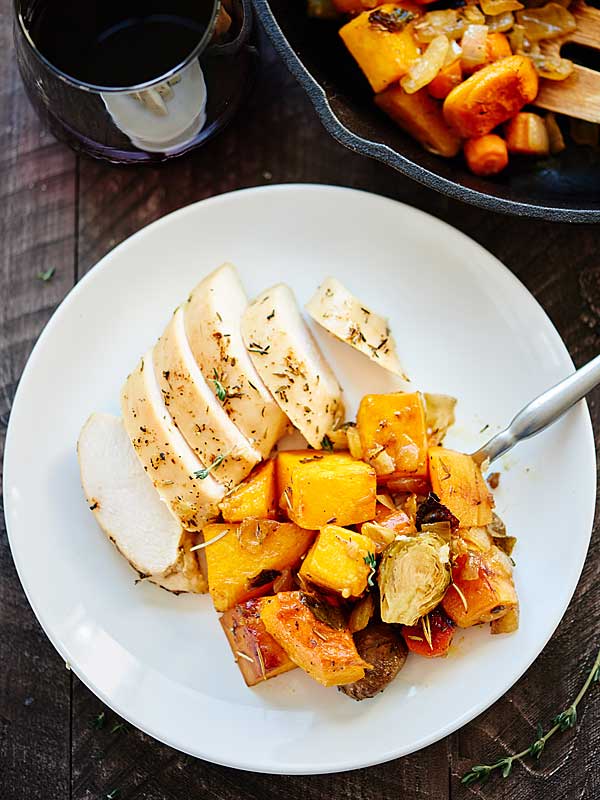 When Trevor and I were living in Seattle I nannied for a family. The mom was amazing and had somehow gotten her kids to be super great eaters. Liiike, her daughter would eat raw kale. PLAIN. Say whaaat?! And her kids would often choose to eat fruits, veggies, and tofu as snacks.
The mom, naturally, was a healthy eater herself, and often I'd come into work and get greeted at the door with the most amazing smell: roasted root vegetables with rosemary.
Rosemary grows like wildfire in Seattle, so she always had a bunch on hand. She'd make a huge batch of roasted veggies with rosemary and snack on them during the week!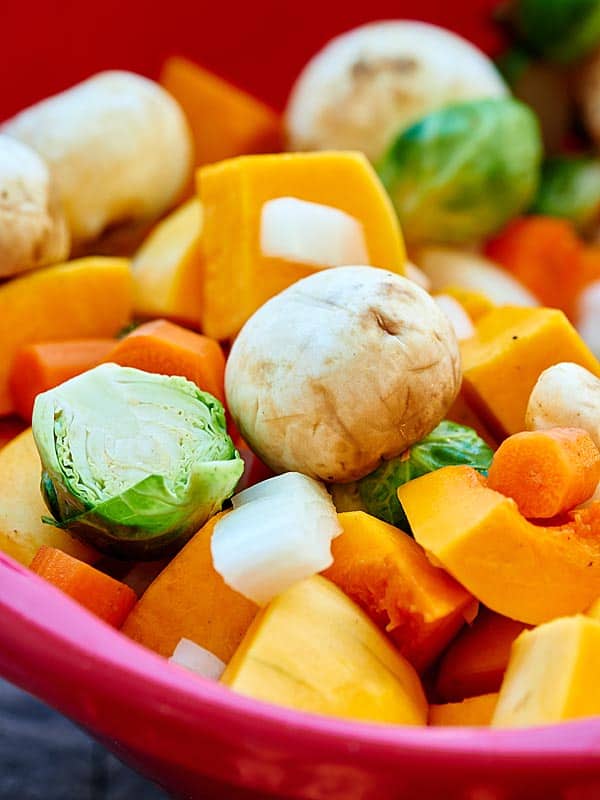 Long story short: I became obsessed with roasted rosemary veggies.
I haven't had roasted rosemary veggie in a while, and I'd also been craving chicken lately, so I decided to add chicken to some vegetables and toss them in a crazy delicious rosemary dressing.
That dressing tho. You guys. It's goooooood.
First, I used it to marinate the chicken in and then I tossed the veggies in it and oh. my. yum. I about died and went to heaven!
Apple cider vinegar + oil + honey + other yummy things + rosemary + thyme = magic.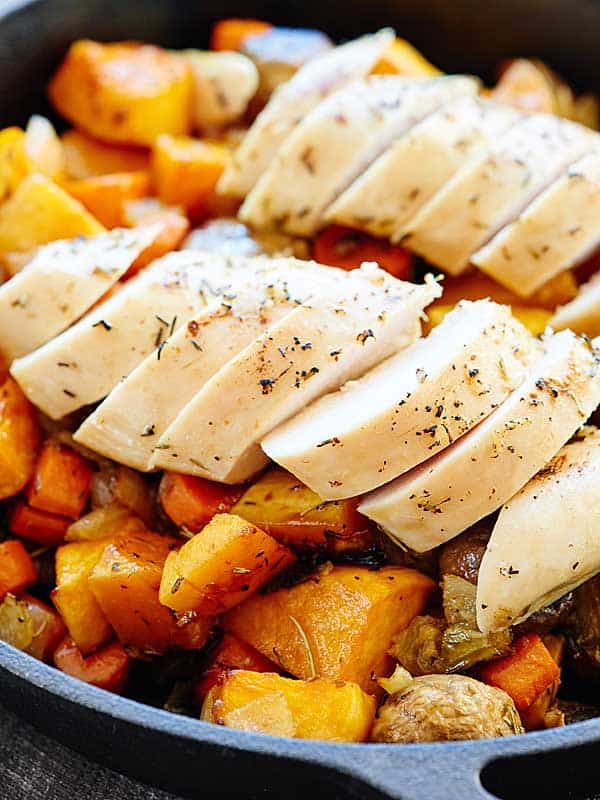 This magical combination of chicken, vegetables, and dressing gets roasted until everything is juicy and tender and I promise you, everyone will be raving over this super healthy, truly tasty dinner!
– Jennifer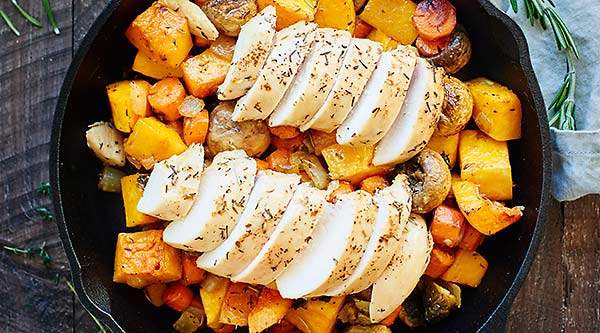 Roast Chicken with Vegetables
This Roast Chicken with Vegetables is healthy & full of vegetables like butternut squash & brussels sprouts & marinated in apple cider vinegar & honey! Healthy, cozy, and delicious!
Equipment for this recipe
(equipment shown are affiliate links)
Ingredients
1 1/2

pounds

boneless skinless chicken breasts*

1

pound

butternut squash

peeled and cubed

1

(8 oz) package

white mushrooms

left whole

4

oz

brussels sprouts

halved

3

carrots

peeled and coined

1

yellow onion

chopped
Marinade
1/2

cup

apple cider vinegar

1/4

cup

olive oil

2

tablespoons

honey

2

cloves

garlic

pressed

1

teaspoon

dijon

1/4

teaspoon

salt

1/4

teaspoon

pepper

1

teaspoon

dried thyme

1

teaspoon

dried rosemary
Instructions
Marinade
Whisk together marinade.

Place chicken breasts and marinade together in a plastic baggie or tupperware and let marinate in fridge for at least 30 minutes or up to a day (I let mine marinate for 3 hours).
Roast Chicken with Vegetables
Preheat oven to 425 degrees F and line a baking sheet with a silicone mat.

Place all prepared vegetables onto baking sheet.

Remove the chicken breasts from the fridge and place on a plate. Set aside.

Use the marinade from the chicken and pour it over the vegetables.

Toss to coat.

Bake the vegetables in the oven for 20 minutes, stirring halfway through.

Place the chicken onto the baking sheet and bake for an additional 20 minutes, stirring the vegetables halfway through.

Chicken should be cooked through and vegetables should be tender.

If the vegetables aren't tender, remove the chicken and let rest while you cook the vegetables for an additional 5-10 minutes.

Season with more salt, if necessary and serve immediately!
STORING
Reheat:
If frozen, thaw in fridge then microwave or heat in oven
*Storage times may vary based on temperature and conditions
Nutrition Information
Nutrition Facts
Roast Chicken with Vegetables
Amount Per Serving
Calories 461
Calories from Fat 171
% Daily Value*
Fat 19g29%
Cholesterol 109mg36%
Sodium 407mg18%
Potassium 1527mg44%
Carbohydrates 34g11%
Protein 41g82%
Vitamin A 19960IU399%
Vitamin C 56.3mg68%
Calcium 104mg10%
Iron 2.7mg15%
* Percent Daily Values are based on a 2000 calorie diet.
*Note: Nutrition information is estimated and varies based on products used.
Keywords:
chicken breast, healthy, roasted veggies