These Green Chile Chicken Enchiladas are stuffed w/ sweet potatoes, chicken, black beans, goat cheese, & Monterey jack cheese! We <3 easy dinner recipes!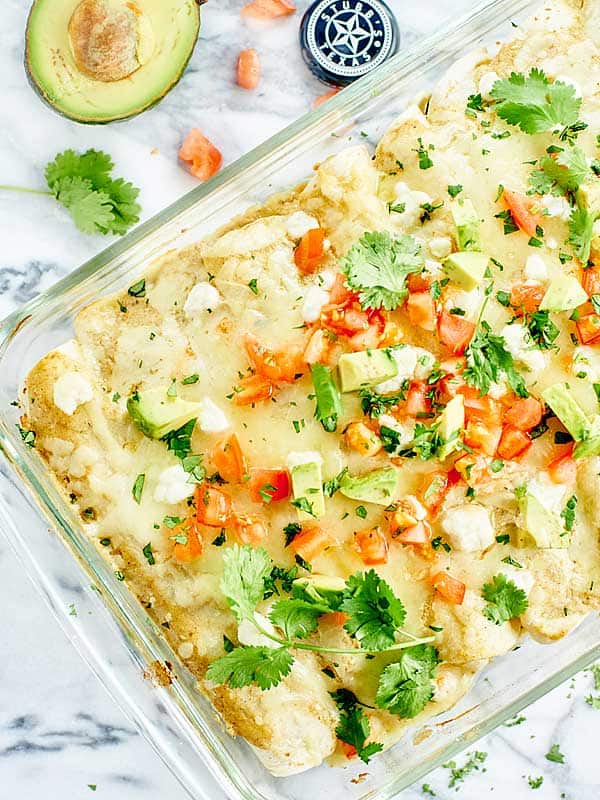 Cooler weather = warm, comfy cozy casserole-y type dinners that are quick to put together and warm you from the inside out.
Well? These Green Chile Chicken Enchiladas are definitely warm and cozy and definitely quick to put together. Soooo…. I'm thinking these enchiladas will be making quite a few appearances this fall/winter season.
The thing I love most about enchiladas is how versatile they are (these salsa verde enchiladas are pretty darn tasty, too). Beef vs. chicken vs. vegetarian. Green enchilada sauce vs. red enchilada sauce. Ultra creamy vs. lightened up. The choice is yours!
Today, however, I think I've made the enchiladas of all enchiladas. These Green Chile Chicken Enchiladas are stuffed with roasted chicken and sweet potatoes, black beans, a super flavorful enchilada-y type sauce, and gobs of goat cheese.
Yep! You heard me. Goat. Cheese. <– winner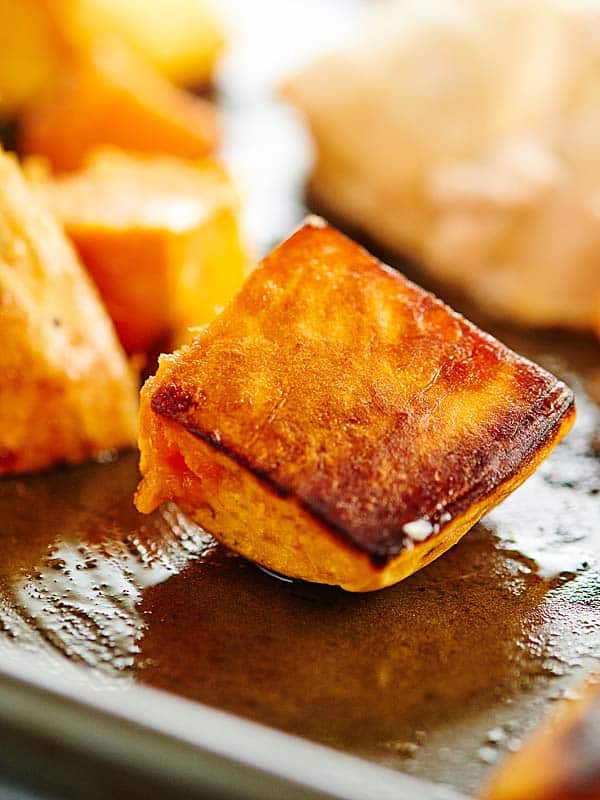 So you're probably thinking. Goat cheese? In an enchilada? Reeeeally, Jennifer?
Yesssss! I'm telling you, goat cheese was made to be stuffed into an enchilada. Honestly, I could probably put goat cheese on just about anything and call it the best dish ever, buuuuut I promise you're going to extra love the goat cheese in these enchiladas.
But first, let's talk about those roasted chicken and sweet potatoes.
Since it IS officially fall, it's only appropriate that I start incorporating all things pumpkin, maple, apple, sweet potato into #alltherecipes. Kidding. Kidding….um, kind of? I dooo have some really great pumpkin, apple, etc. recipes coming up that you're going to flip for!
And sweet potatoes, to me, scream fall, so I just couldn't resist sneaking a few into these enchiladas and letmetellyou…it works.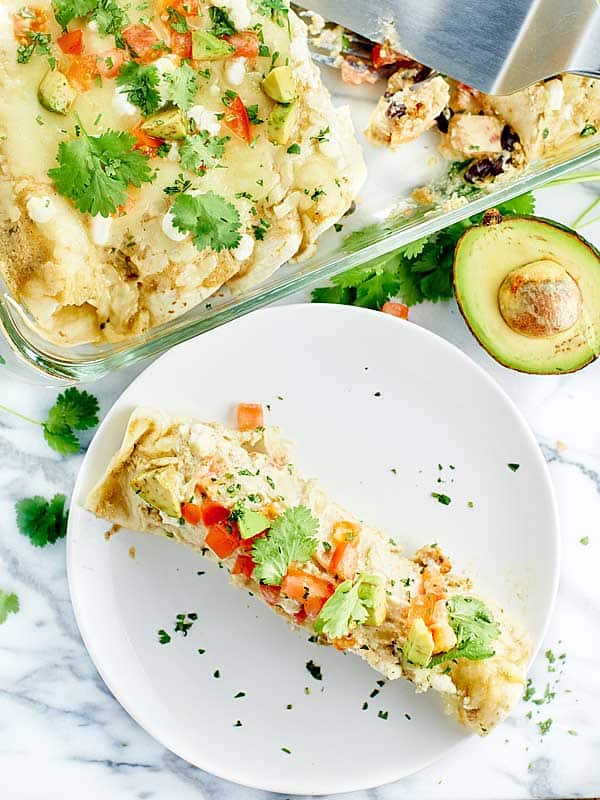 Cube some sweet potatoes and place them on a baking sheet with some fresh chicken breasts. Toss them in a little olive oil and salt and let 'em roast to sweet perfection. The chicken gets all juicy and yummy and the sweet potatoes get wonderfully fork tender.
After the chicken and sweet potatoes are cooked they get combined with that tangy, yummy, goat cheese, black beans, Stubb's Green Chile Anytime Sauce  (more on that in a sec), aaaaaand more cheese.
Then the filling gets stuffed into flour torillas, and smothered in more Stubb's sauce that's been mixed with a little greek yogurt, and topped with, yes, more cheese.
Cheese? Chicken? Sweet potatoes? Cheese?
Yes. Yes. Yes. Aaaaand Yes.
Let's rewind for a second though and talk about that Stubb's Green Chile Anytime Sauce.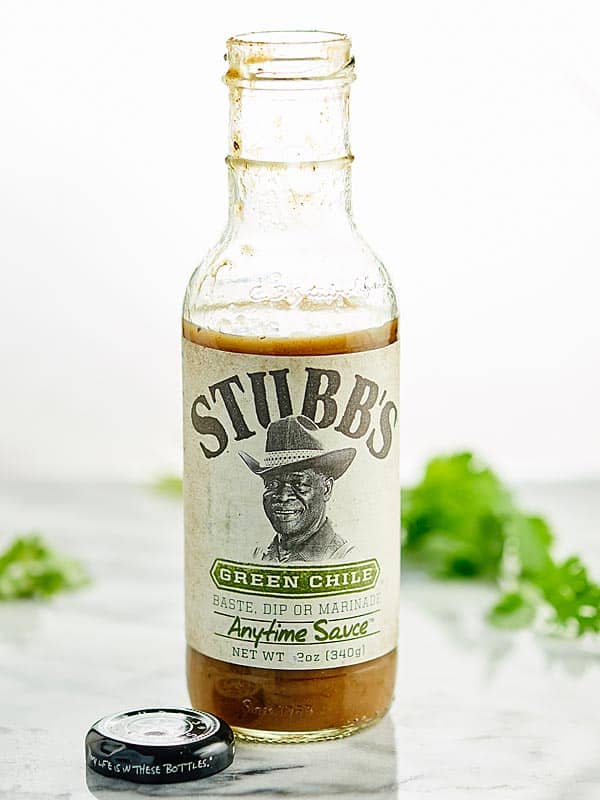 You guys, it's good.
It's taking the place of an enchilada sauce today. If you can't find Stubb's Green Chile Anytime Sauce, feel free to use a green chile enchilada sauce, but you'll definitely be missing out on some really amazing flavors and may need to do a little extra seasoning (totally ok!). I don't know how they do it, but the anytime sauce is perfectly seasoned, a little smokey, a little spicy, has great green chile flavor, and is just plain tasty!
We're using it both inside the green chile chicken enchiladas and on the outside as a creamy sauce.
After the enchiladas have been stuffed, smothered, and totally chees-ified all that's left to do is bake them for about 20 minutes until they're hot and gooey!
Then top 'em off with your toppings of choice – we ♡ plenty of fresh cilantro – this one, is not optional 😉 , fresh tomatoes, and avocado.
You'll take your first bite and it'll be so creamy, tangy, cheesy, a little sweet from the sweet potatoes, all wrapped in a fluffy flour tortilla that you just won't be able to help yourself and go back for seconds…and thirds. 😉
Serve these up with a side of rice and a margarita and you've got yourself one heckofa dinner.
Fall flavors with a little Mexican flare.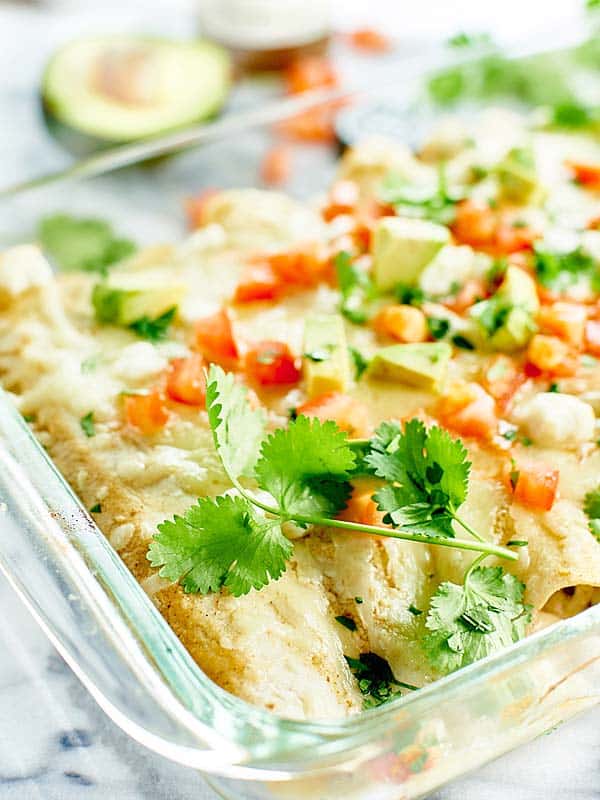 Yes. Please.
– Jennifer
If you ♡ this cheeeeesy dinner, you'll also love: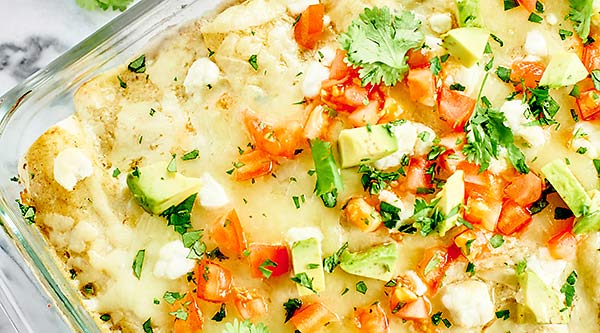 Green Chile Chicken Enchiladas
These Green Chile Chicken Enchiladas are stuffed w/ sweet potatoes, chicken, black beans, goat cheese, & Monterey jack cheese! We <3 easy dinner recipes!
Equipment for this recipe
(equipment shown are affiliate links)
Ingredients
1

pound

boneless skinless chicken breasts*

1

(10 oz)

sweet potato

peeled and cubed (1 inch)

1

tablespoon

extra virgin olive oil

salt

to taste

1

(4 oz) log

goat cheese

softened

2

cups

shredded Monterey jack cheese

divided

1

(15 oz) can

black beans

drained and rinsed

1

cup

Stubb's Green Chile Anytime Sauce

divided*

1

cup

non fat plain greek yogurt

or sour cream

8

(8 in)

flour tortillas

1/2

cup

goat cheese crumbles
Optional garnishes
chopped cilantro

Diced avocado

diced tomatoes
Click to Keep Device on While Cooking
Instructions
Preheat oven to 425 degrees F and line a baking sheet with a silicone mat.

Place chicken breasts and peeled/cubed sweet potatoes onto baking sheet.

Toss with olive oil and salt until fully coated.

Bake in preheated oven for 20 minutes, or until chicken has cooked through and sweet potatoes are fork tender.

Let rest for 5 minutes before cutting chicken and sweet potatoes into bite sized pieces.

Lower heat to 350 degrees and grab a 9 x 13 in glass baking pan.

In a large bowl, place softened goat cheese and stir to break the log up.

Stir in 1 cup Monterey jack cheese, black beans, 1/2 cup Stubb's Green Chile Anytime Sauce, cut chickens, and sweet potatoes.

Place 1/2 cup cheese/black beans/chicken/sweet potato filling onto 1 flour tortilla.

Roll up and place seam side down in your pan.

Repeat with remaining filling and tortillas.

Whisk together greek yogurt and remaining 1/2 cup Stubb's Anytime Sauce.

Pour over enchiladas and use a spatula to evenly spread the sauce.

Top with remaining 1 cup Monterey jack cheese and goat cheese crumbles.

Bake, uncovered, for 20 minutes, or until the filling is hot and the cheese is melty!

Serve immediately with optional garnishes!
STORING
Reheat:
If frozen, thaw in fridge then microwave or bake to warm
*Storage times may vary based on temperature and conditions
Notes
*This can be replace with green chile enchilada sauce, but you may need to adjust your seasonings, as I find the Stubb's sauce to be more flavorful than a typical enchilada sauce. 🙂
Nutrition Information
Nutrition Facts
Green Chile Chicken Enchiladas
Amount Per Serving (1 enchilada)
Calories 571
Calories from Fat 198
% Daily Value*
Fat 22g34%
Cholesterol 76mg25%
Sodium 1024mg45%
Potassium 674mg19%
Carbohydrates 54g18%
Protein 38g76%
Vitamin A 5755IU115%
Vitamin C 2.1mg3%
Calcium 374mg37%
Iron 4.5mg25%
* Percent Daily Values are based on a 2000 calorie diet.
*Note: Nutrition information is estimated and varies based on products used.
Keywords:
baked, chicken breast, goat cheese