Store bought cake and frosting is kicked up a notch to make these perfect bite sized treats! Behold: Lemon Funfetti Cake Balls!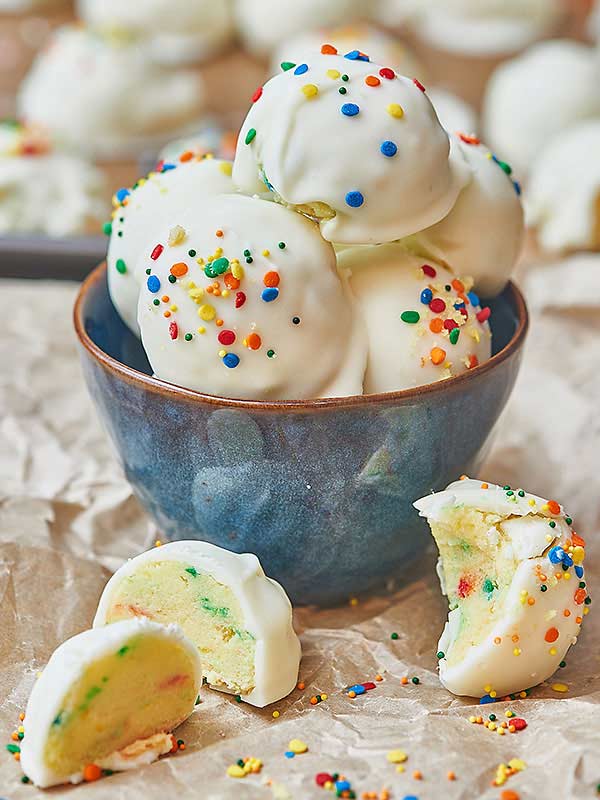 Happy Birthday, Mariah! This is a special "Happy Birthday Post" for one of my very best friends and the maid of honor at our wedding, Mariah! When I was trying to come up with a recipe to celebrate her birthday, I knew there were some guidelines.
1. It had to be easy. She's such a talented person, but the girl can NOT cook to save her life.
2. It had to have lemon.
3. It had to include some kind of funfetti/cake batter-y goodness.
4. It had to be something that contained ingredients that she would likely have at home already.
So what did I come up with? Lemon Funfetti Cake Balls, of course! And don't worry, Mariah…there's hardly more than 3 ingredients involved 😉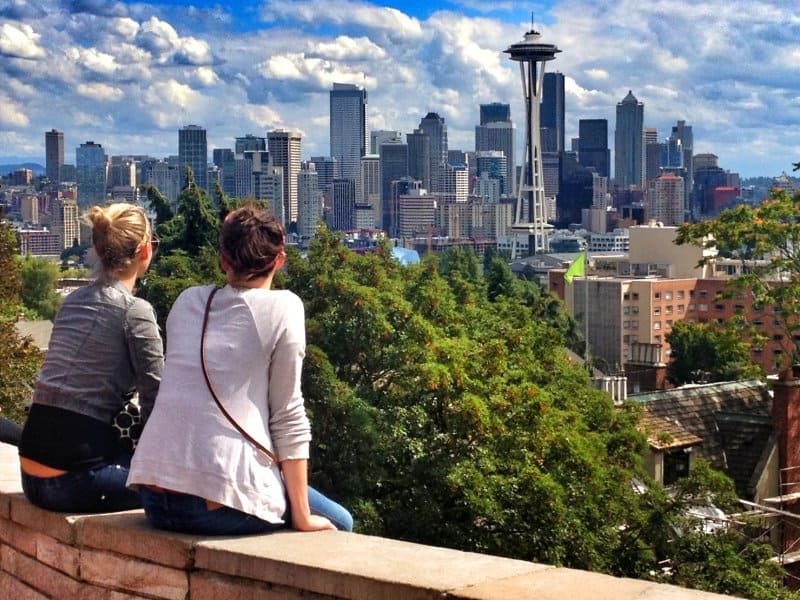 Mariah has been one of my best friends since our freshman year in High School when we were "choir buddies". Our seats happened to be right next to each other, because both of our last names started with the letter "A". We hit it off immediately and the rest is history! We remained close throughout the years, our friend groups would change, but Mariah and I would always stick together and honestly, we have one of those friendships that actually got stronger once we moved away from each other, I bet you have one of those too.
We hadn't seen each other in over a year when Trevor and I got engaged (she lives in Arkansas). He surprised me with bringing Mariah to Seattle, so we could dress shop, and thanks to her, I found the one!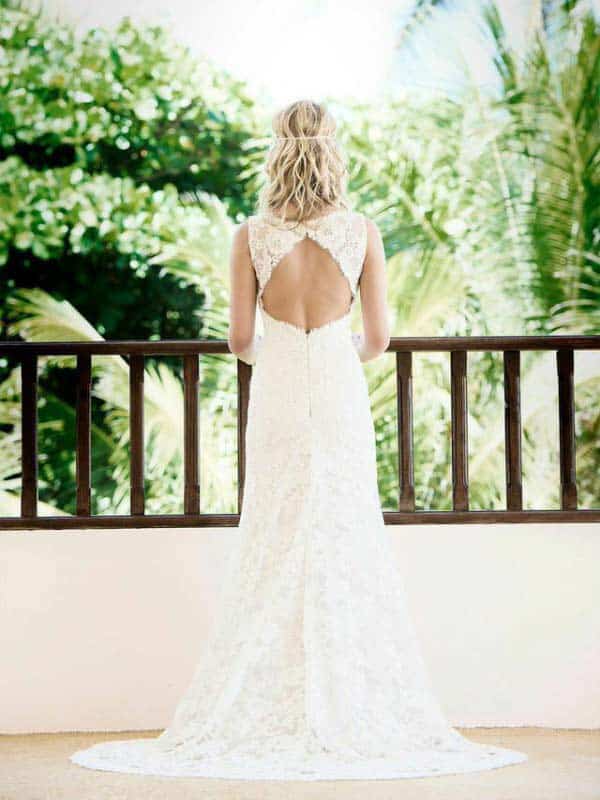 Then a year and a half goes by and it's time for our wedding! I, of course, asked her to be the maid of honor and I couldn't have asked for a better one. The day was absolutely perfect thanks to Mariah and all of our other amazing friends and family who traveled all the way to Puerto Rico to celebrate our marriage!
(Pictured above: Anne, Haley, Me, Mariah)
I could talk about how amazing Mariah is for the rest of this post, like how she has this really awesome shop on Etsy and donates 10% of her profits to lung cancer research, but I'm guessing she just wants me to cut to the chase and tell you instead about how amazing these cake balls are! Now, I know you've all had cake balls before, but have you had lemon funfetti cake balls before?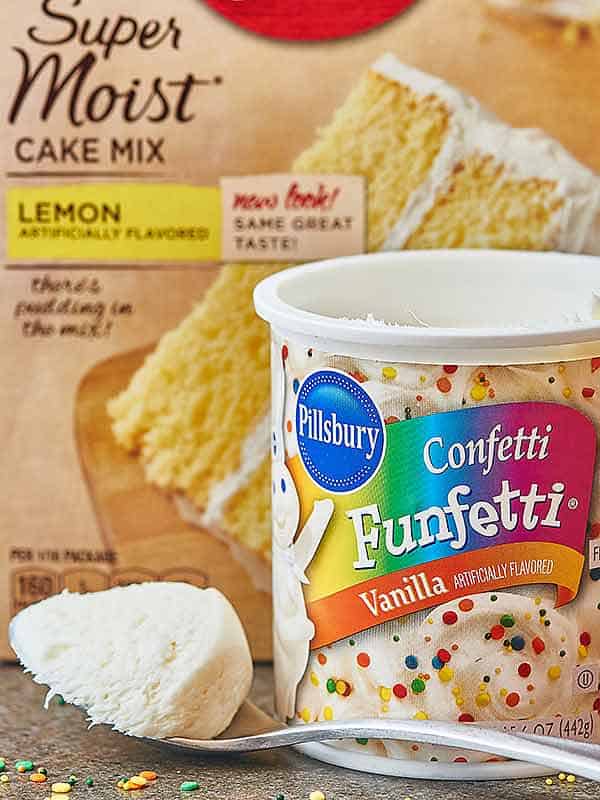 This recipe pretty much sums up Mariah in one cute lemon flavored cake ball. She is so sunshiny and cute and everyone loves her, (and to give you a little more insight on Mariah, she dressed up as a pineapple for Halloween and wore it to work) just like these lemon funfetti cake balls.
Before I give you a step-by-step on how I made these, I have to say, at first, I was a little worried about making a recipe, using store-bought ingredients, on Show Me the Yummy…this is a food blog after all, but I wanted to keep it super simple and after I tasted the final product, that worry ran out of my head just as fast as it got in there! Seriously. They're insanely delicious and the best part is, it takes no time at all!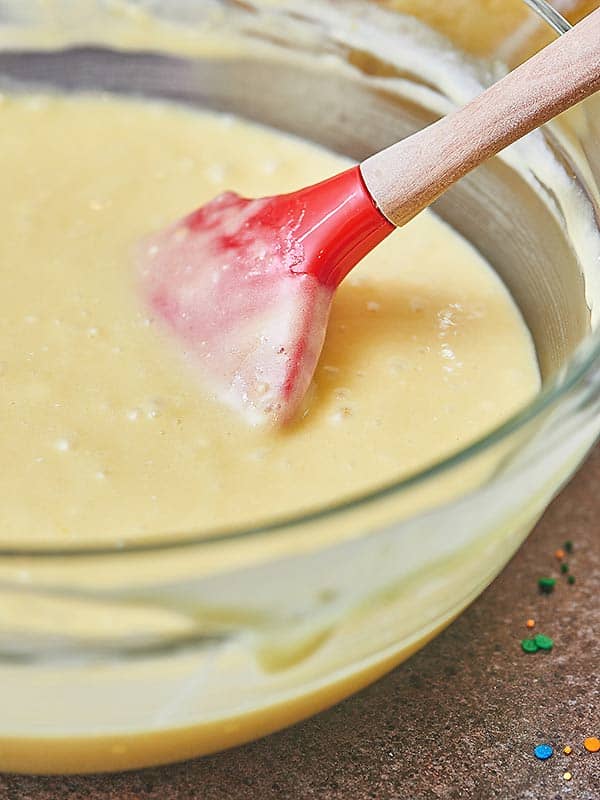 First, you're going to make your cake based on the directions on the back of the box, but I'm telling you…they put down WAY too much time to bake the cake. I usually subtract 10 minutes from what they suggest and go from there. Sometimes you need more time, but other times you don't!
Anyway.
Mix the cake with whatever else is on the back of the box, I used Duncan Hines Lemon Cake Mix and I needed eggs, water, and oil. Word of advice: Don't taste the batter. It tastes a little like lysol, but don't worry, that flavor bakes off and makes for a truly impressive, lightly lemony cake.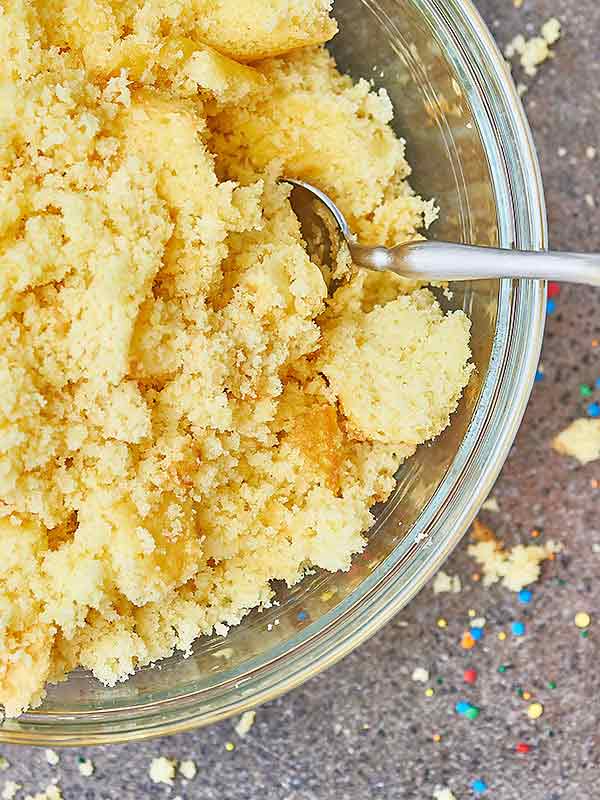 Then let your cake cool for about 30 minutes. It will still be a little warm.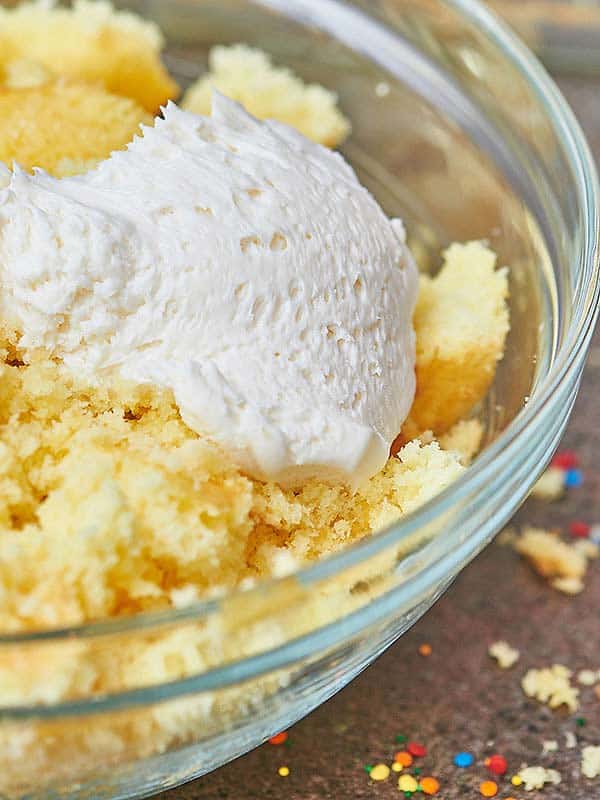 Next, you're going to crumble your cake into a big bowl and stir in Pillsbury Funfetti Frosting (save some sprinkles for the topping).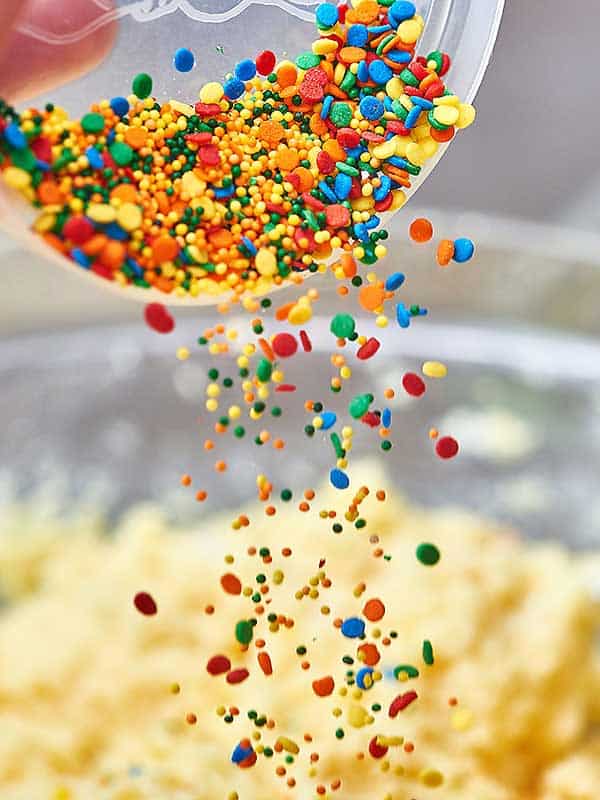 You should now have, what tastes like really, super duper, extra, extra moist cake. And no, it's not going to look pretty just yet. Cover the bowl with saran wrap and let cool in the fridge for about an hour. You can skip this step if you like, but it may make the next step a little harder.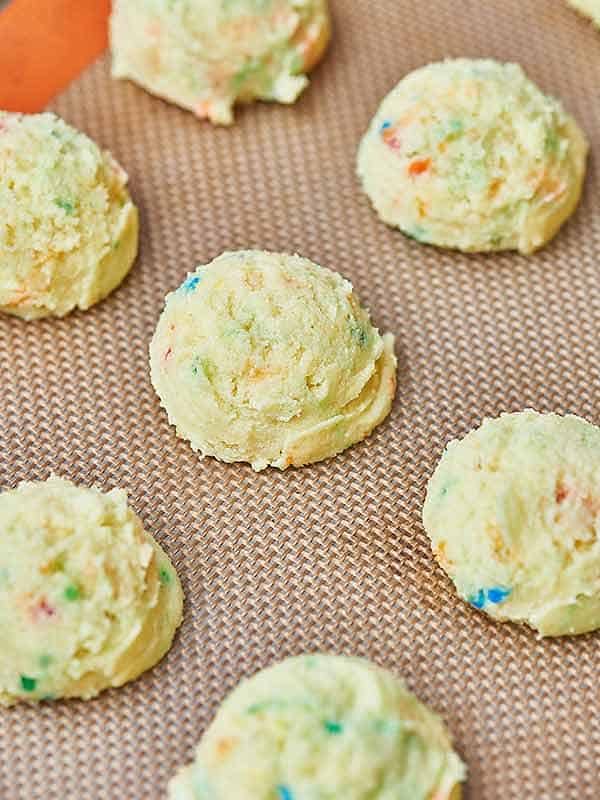 Now you're either going to use a cookie scoop to scoop these onto a baking sheet that's been covered with parchment paper or you can just use your hands to roll the mixture into balls.
Place these in the freezer until set. I'd suggest about an hour.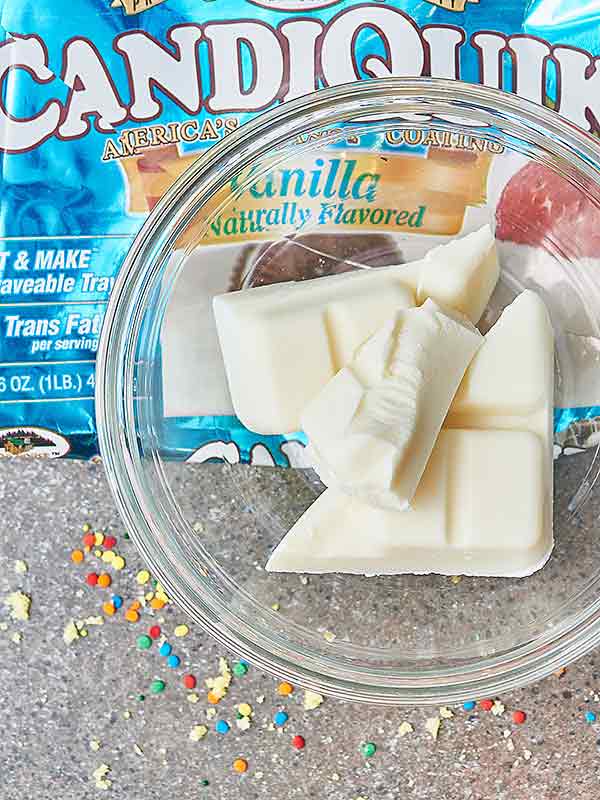 Before you pull the cake balls out of the freezer, melt your vanilla CandiQuick (or almond bark) into a bowl.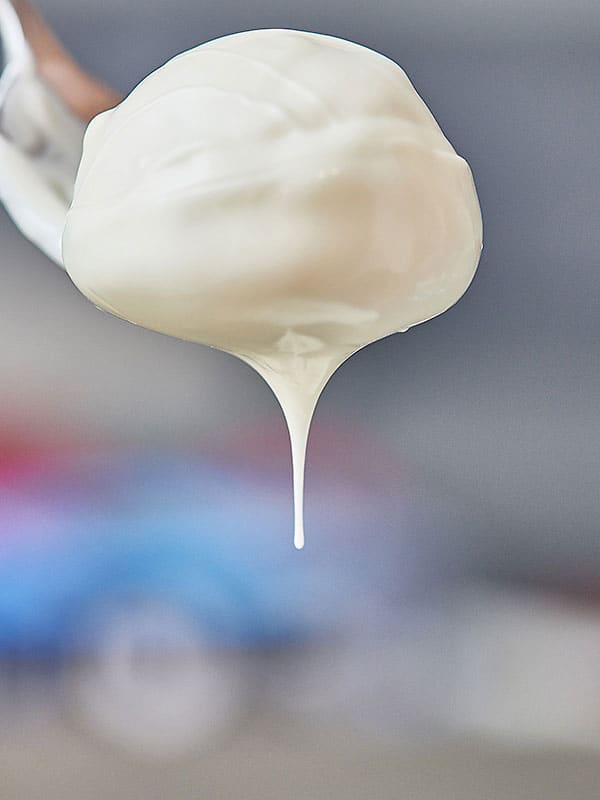 Dip each cake ball into the melted chocolate using a spoon to make sure it's fully covered and then gently pull the cake ball out using a fork. Hit the side of the bowl with the fork to drain the excess chocolate. Place each cake ball back onto the cookie sheet and sprinkle with remaining sprinkles if desired!
You're done! You can now store these in some tupperware in the fridge, or I actually like to store them in the freezer for an extra cold treat!
They're the perfect little dessert. There really isn't too much labor involved, very few ingredients, they make a ton, they're bite sized and *bonus* they're really delicious. They're soft, moist, cakey and lemony on the inside, with a nice crunch from the outer shell of melted chocolate. These are a great dessert to make for all of those upcoming holiday parties, just use whatever cake/frosting combo you like! Chocolate and chocolate? Vanilla and vanilla? Spice cake and caramel apple? Ummm. Yes please!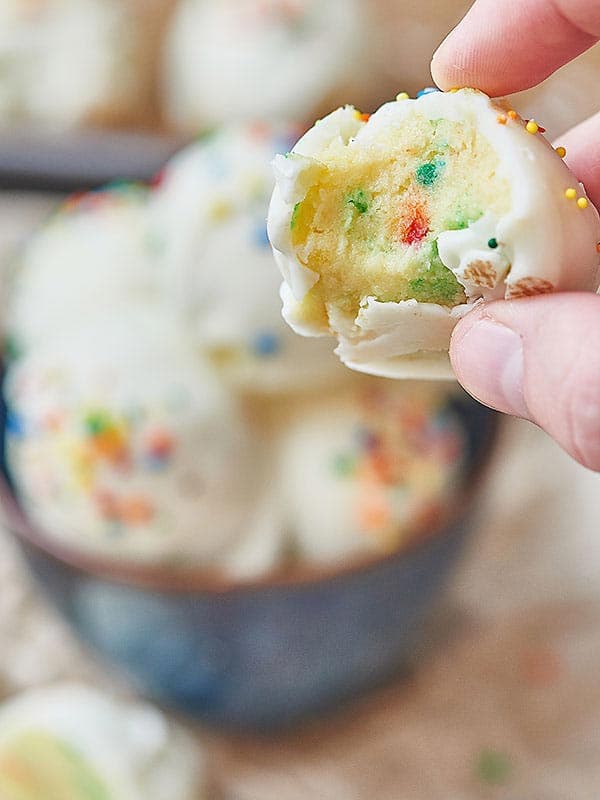 Happy Birthday, Mariah! Now, go make these, since I'm not there to make them for you. I know you can do it! 😉
– Jennifer
What's your favorite cake ball flavor? I have a recipe using homemade red velvet cake and cream cheese frosting that's amazing! Show me the yummy!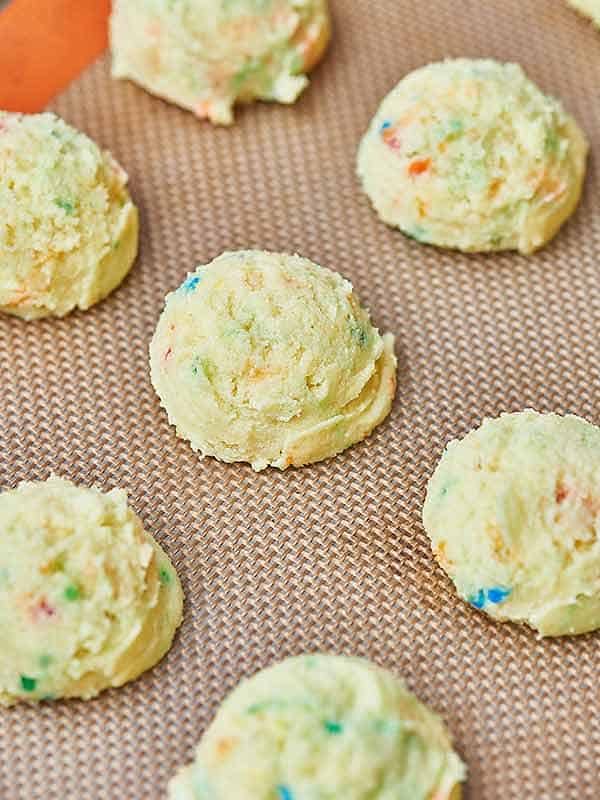 Lemon Funfetti Cake Balls
Store bought cake and frosting is kicked up a notch to make these perfect bite sized treats! Behold: Lemon Funfetti Cake Balls!
Equipment for this recipe
(equipment shown are affiliate links)
Ingredients
1

(18.25) box

lemon flavored cake mix

3

large

eggs

or whatever is listed on the back of the box

1 1/3

cups

water

or whatever is listed on the back of the box

1/3

cup

oil

or whatever is listed on the back of the box

1

(15.6 oz) jar

Pillsbury Funfetti Frosting

16

oz

vanilla CandiQuick

almond bark will work, too
Instructions
Bake the cake according to the directions on the back of the box.

Let cool for about 30 minutes and then crumble the cake into a large bowl.

Into the crumbled cake, stir in the whole jar of frosting.

Cover the bowl with saran wrap and place in the refrigerator until chilled, about an hour.

Using a cookie scoop, scoop onto a baking sheet that's been covered with a silicone mat or wax paper. You could also use your hands to shape the dough.

Place the cake balls into the freezer for an hour to harden.

Before you remove the cake balls from your freezer, melt the CandiQuick in a microwave safe bowl.

Individually dip the cake balls into the CandiQuick, making sure they're fully covered in the melted chocolate.

Place back onto the baking sheet and sprinkle with sprinkles, if desired!

Let the CandiQuick harden and then store in tupperware either in the fridge or the freezer!
STORING
Reheat:
If frozen, thaw in fridge
*Storage times may vary based on temperature and conditions
Notes
This recipe is so versatile and easy! Use whatever combination of cake mix and frosting you like! This is the perfect treat to bring for a crowd, as they're really quick to make and this recipe makes a ton!
This recipe is also INCREDIBLE using homemade cake and frosting.
Nutrition Information
Nutrition Facts
Lemon Funfetti Cake Balls
Amount Per Serving (1 cake ball)
Calories 201
Calories from Fat 81
% Daily Value*
Fat 9g14%
Cholesterol 18mg6%
Sodium 138mg6%
Potassium 17mg0%
Carbohydrates 29g10%
Protein 1g2%
Vitamin A 25IU1%
Calcium 33mg3%
Iron 0.4mg2%
* Percent Daily Values are based on a 2000 calorie diet.
*Note: Nutrition information is estimated and varies based on products used.
Keywords:
funfetti, lemon cake mix, sweet