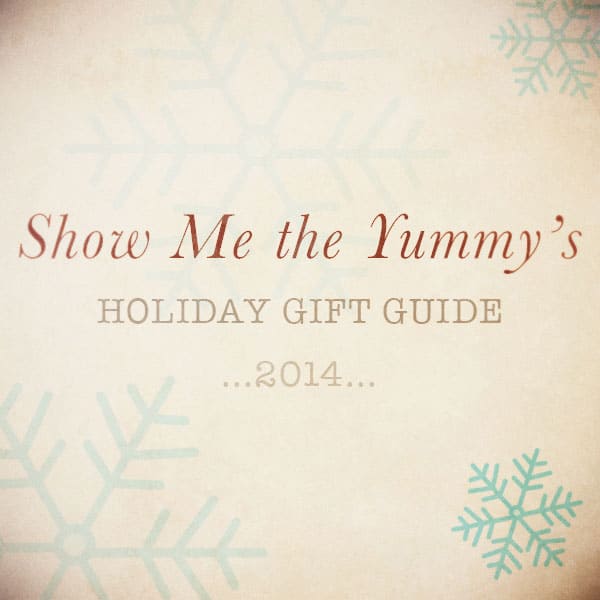 Have you done all your holiday shopping yet? Ok good. Me neither.
I, Jennifer Debth, am a terrible gift giver… and getter. I get sooo nervous! When I'm giving gifts, I'm always afraid that the receiver won't like it, so then I try to justify (in way too many words) why they should really like their gift. When I'm the receiver, I'm afraid that I'm not going to look excited enough, so I waaaaay over do it with the excitement!
So, today, I put together a little holiday gift guide, not just for you, but for me, too. Hopefully this will help us all feel super prepared this year. Except, I'm still trying to figure out what I should get for Trevor, so comments are extra extra EXTRA welcome today! 😉
A. For the Foodie: the latest gadgets I'm currently obsessed with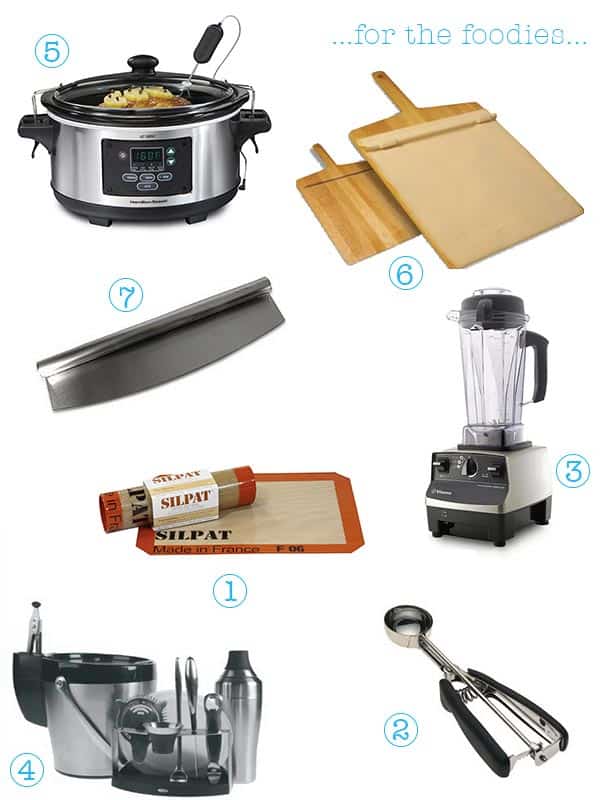 1. Silpat mat
: The silicon mat I use when baking. I've talked about this a lot, and you'll see it in quite a few pictures, but it literally makes for the most golden bottomed cookies. That's a good thing.[ad1]
2. Medium Cookie Scoop
: I use this SO much. It holds 1.5 tablespoons, so it makes cute sized cookies, but also works great for scooping batter into a mini cupcake tin! I used this for both the marshmallow cookies and pumpkin cupcakes. You could make a cute little basket and fill it with the silpat mat, this cookie scoop, and some homemade cookie dough in a jar!
3. Vitamix
: It's a bit of a splurge, but what better time to splurge than during the holidays? 😉 It's perfect for soups, smoothies, salad dressing, etc. It's so powerful! I never use any other blender, because the Vitamix does the trick and the clean up is a cinch! Simply fill the vitamix with water and soap, run a preset cycle, rinse it out and you're done! No scrubbing or trying to get into the nooks and crannies is needed! 
4. OXO SteeL 11-Piece Barware Set
: We probably use this more than we should.
5. Hamilton Beach Slow Cooker
: If you just don't have the time, this crockpot is your lifesaver! It's the best $50 you'll ever spend.
6. Exo Super Peel Pizza Peel
: This. Is. Genius. Watch this video by American's Test Kitchen and then buy it ASAP. This makes transferring your pizza dough from counter, to oven, and back to counter a breeze by using a standard pizza peel that has pastry cloth attached to it. 
7. RSVP World Class Pizza Cutter
: To go with that awesome new Exo Peel you just purchased. It makes much prettier, sharper cuts than the typical pizza wheel cutter. 
B. For the significant other…or the dog:
So. I'm pretty excited about this one. Two years ago, I did 12 Days of Christmas for Trevor. We did it early, since we were flying back to Iowa for the 25th, so he got one gift December 1st – 12th. The first day, he got one present, the second he got two…you get it. I did this, because Trevor is like the hardest person ever to shop for. If you have a Trevor in you life then the 12 Days of Christmas is the perfect gift! The gifts are cute and small and give you the ability to be creative without the pressure of one big gift! It was also fun for me, because I hid the gifts in different places/times of day, so it was a surprise every day! Here's some examples of what I did…just think of your significant others favorite things!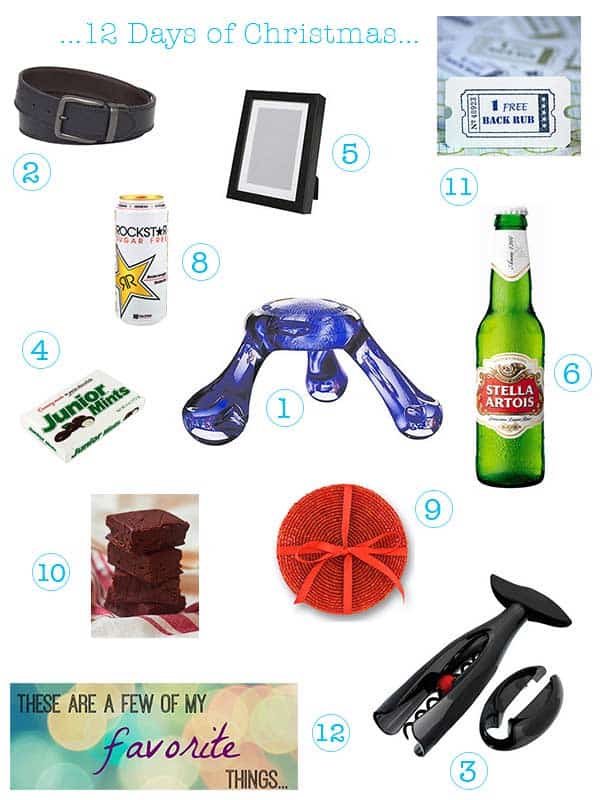 Day 1: The Original Palmassager
Day 2: A belt – you may be thinking that's only one thing, but it was double sided, so take that!
Day 3:  Le Creuset Wine opening kit
; it comes with a corkscrew, a foil cutter, and a stand.
Day 4: 4 boxes of his favorite candy, Junior Mints
Day 5: 5 framed photos. We had just moved into our apartment, so it was a nice way to decorate a bit and who doesn't love getting photos? I think I got the frames from Ikea and just printed the photos out at home. 
Day 6: 6 pack of beer!
Day 7: I can't for the life of me, remember, and neither can Trevor, so it must've been something really special. 😉 
Day 8: Rockstar. It's his favorite energy drink. I know. It's so bad for you and I'm an enabler.
Day 9: Coasters, because he's always on me about not using one on our table 😉
Day 10: 10 pieces of fudge. Really, it was just one pan, but it he wasn't complaining!
Day 11: Gift certificate for 11 (whine free) back rubs! Ummm, I think I still may owe a couple of those, but we got to try out Day #1's gift and loved it! Oops 😉
Day 12: My 12 Favorite Things About You. I know, gag me…it's mushy, but it was a sweet way to end the fun! Aaand I was kind of running out of ideas 😉
For the dog – yes we get him Christmas presents!
Teddy's favorite gift so far has been this Monkey Stick
or these squeaky balls
, they're only $1 each and last forever…unless you lose them like we do.[ad2]
C. Homemade Food Gifts: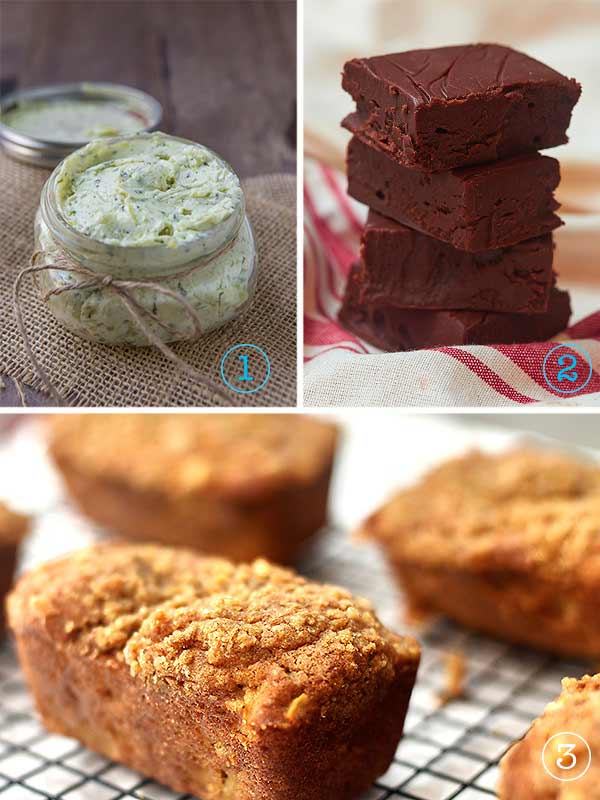 1. Basil Pesto Butter: I thought this was just a unique idea! I know I'd really appreciate getting some of this, especially if a loaf of bread was to come with it? 🙂 Photo and recipe: A Zesty Bite.
2. Easy Chocolate Fudge: If you have 1 bowl, 5 ingredients, a microwave, and 90 seconds, then this is the gift for you! Show Me the Yummy.
3. Mini Apple Cake Loaves: I mean, who doesn't love the gift of a fresh loaf of bread? Show Me the Yummy.
Or…let's be honest, put any of these ideas in a mason jar
(you can buy them in bulk!), slap on some twine, and you'll be good to go…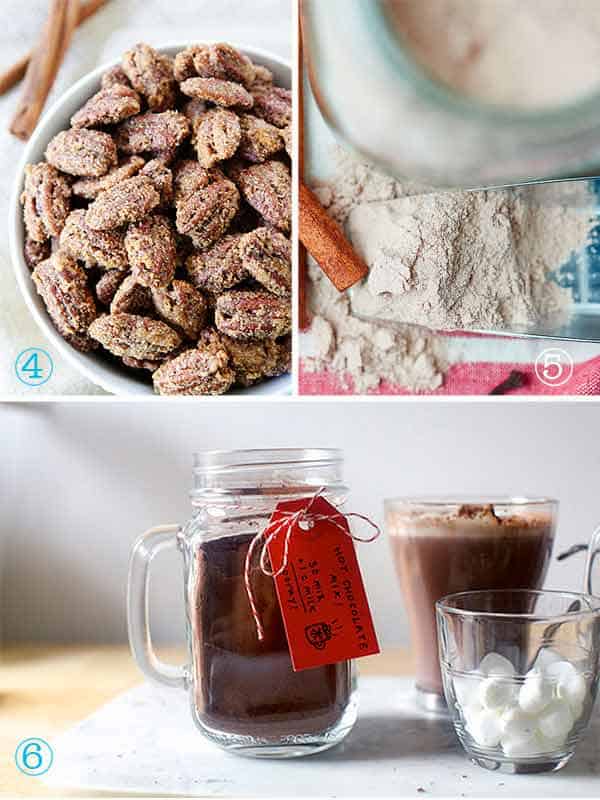 4. Candied Pecans: Photo and recipe: Two Peas and Their Pod
5. Vanilla Chai Tea Mix: For the non-coffee lovers! Show Me the Yummy
6. Homemade Hot Chocolate Mix: Photo and recipe: Smitten Kitchen
D. Gifts for a cause: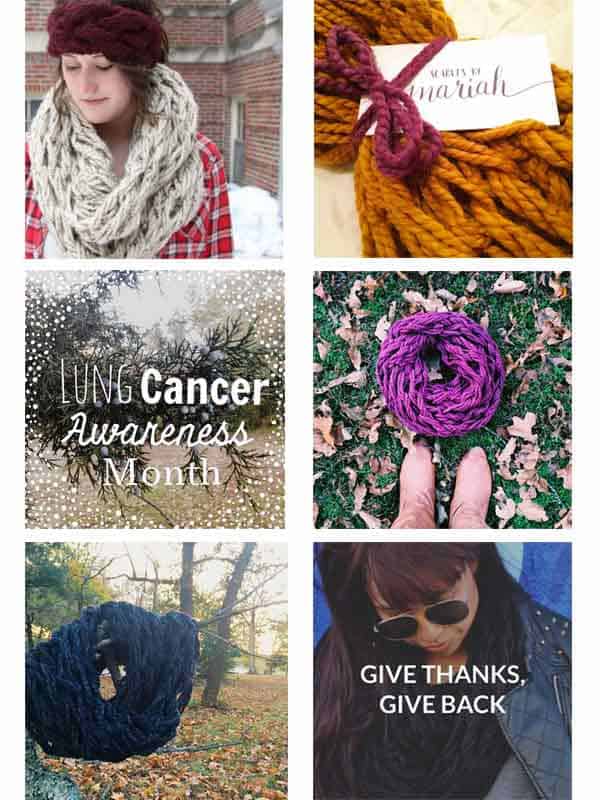 Chunky Wool Infinity Scarf: Gorgeous arm knitted scarves made with a wool blend to keep you extra cozy all winter! 10 % of each sale goes towards lung cancer research. Scarves by Mariah. 
Happy Holidays and happy shopping!
– Jennifer
[ad3]

What are some of your favorite gifts to give? Show me the yummy!
[ad4]