This classic Beef Stroganoff recipe is so easy to make and loaded with tender beef and the creamiest mushroom sauce. It's the perfect comfort-food meal!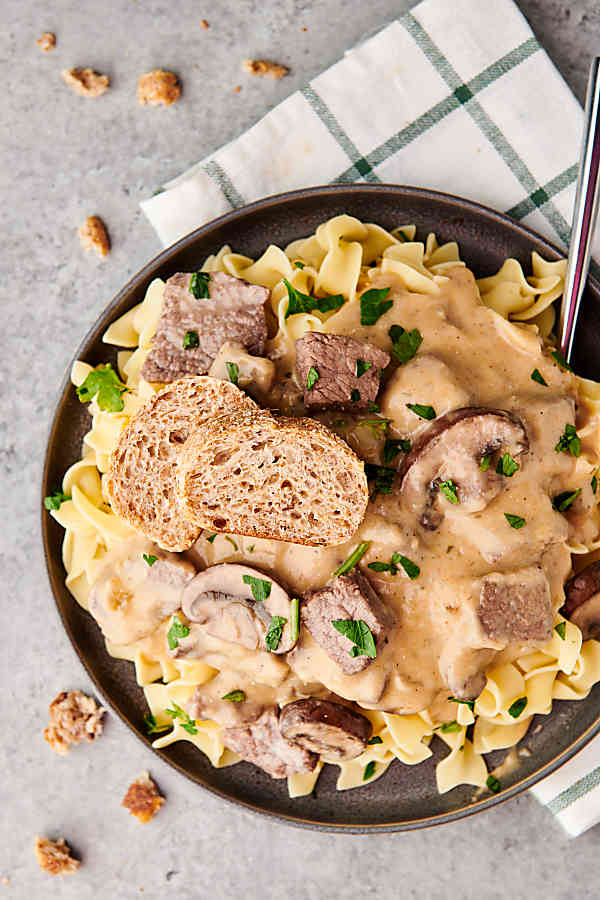 I have a soft spot for beef stroganoff because my mom used to make it for me and my siblings when we were kids. But it's not just the memories and nostalgia that make this recipe so amazing. It's also so easy to whip up and SO. DARN. YUMMY.
Bonus: MY beef stroganoff doesn't used canned cream of mushroom soup!
Double bonus: it's still insanely easy to make, but tastes way better. 😉
What is beef stroganoff?
Traditionally, beef stroganoff is a Russian dish made with sautéed beef chunks and sour cream sauce.
Variations of beef stroganoff recipes exist all over, but in the United States it's typically prepared using mushroom and onion in addition to the beef and served over a bed of egg noodles—which is exactly what we're doing today!
Ingredients
Instead of using canned cream of "x" soup, we're making a homemade version using broth, milk, white wine, mushrooms, and a homemade spice blend!
Egg Noodles – the traditional beef stroganoff noodle.
Steak – I use round steak which is the "classic" steak for most beef stroganoff recipes.
Beef Broth, Milk, Baby Bella Mushrooms, and White Wine – our makeshift cream of mushroom soup.
Salt, Pepper, Garlic Powder, Parsley Flakes, and Paprika – a homemade "cream of mushroom soup" spice blend that adds tons of delicious flavor.
Butter – adds depth of flavor to the dish.
Onion – add texture and really soak up the flavors provided by the seasonings.
Cornstarch and Flour – work together to thicken the sauce.
Cream Cheese and Sour Cream – make the stroganoff sauce perfectly creamy with just the right amount of tang.
Pro tip
You can find egg noodles in the pasta aisle or in the freezer section. The freezer section egg noodles are my favorite, because they're nice and thick!
How to make
Just one pot and 20 minutes of prep needed to make this recipe!
Place cubed beef into a large bowl and toss with flour, salt, and pepper.
Melt butter in a large stockpot then add in beef and cook until browned.
Remove the browned steak then add in more butter, onions, and spices. Cook until onion is softened.
Whisk in broth, milk, white wine, and cornstarch.
 Add in mushroom and cooked beef and simmer until mushrooms are cooked and sauce is thickened.
Stir in cream cheese and sour cream then serve and enjoy!
Pro tip
Use a meat thermometer to check that your beef is fully cooked. The minimum internal temperature should be 165ºF! 
What cut of meat to use
You have a few different options for the cut of beef to use for beef stroganoff.
Round Steak. This is the cut I chose to use for this recipe. It's not the most tender, but it is the most affordable.
Sirloin Steak. This cut is slightly more tender, but a tad more expensive.
Ribeye Steak.  Ribeye steak is the most expensive of the three but also the most tender. If you want to splurge, feel free. However, I like to think of beef stroganoff as a quick, affordable comfort food which is why I tend to stay away from the more expensive cuts of meat.
I grew up eating stroganoff with round steak, so the slightly chewier/tougher texture doesn't bother me. If you want to spend more money on a nicer cut, go for it! The choice is yours.
How to thicken the sauce
The flour and cornstarch already included in this beef stroganoff recipe are in place to thicken the sauce. However, if it's still not thickened to your liking, you have a couple of options:
Cook for a bit longer with the lid off so some of the liquid can evaporate.
Mix in extra sour cream or cream cheese. This should help to thicken the sauce, but may also make the sauce a bit too tangy so adjust the seasonings if necessary.
Add a touch more flour and/or cornstarch. Start with a very small amount and as more as needed. You can always add more but you can't take any out.
Keep in mind that the sauce will thicken as it sits and the noodles will help soak up the liquid.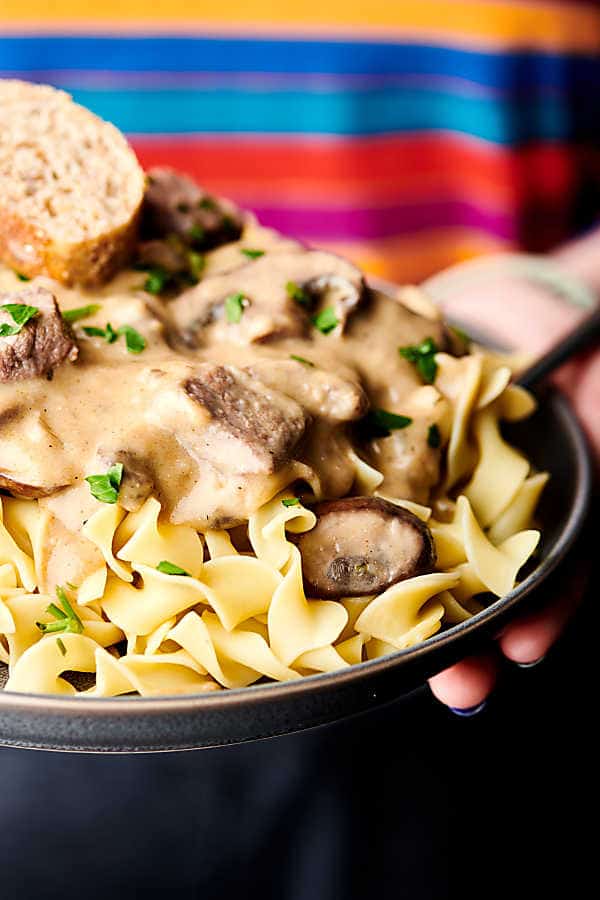 Variations
Serve it differently. Although the egg noodles are delicious, stroganoff  sauce is also super yummy served over rice or even a helping of mashed potatoes!
Add veggies. Any stir fry or roasted veggies would work.
Use a different protein. Try chicken, turkey, shrimp or tofu.
Make it vegetarian. Give my mushroom stroganoff recipe a try.
Spice it up. If you like your food with some extra heat (like I do) try adding in a sprinkle of red pepper flakes.
Lighten it up. Health-ify your stroganoff by replacing the sour cream with plain Greek yogurt. It won't be quite as creamy but it will still be super yummy.
Make it in the crockpot. If you want to throw your beef stroganoff together in this morning to enjoy after the work day, try out my crockpot beef stroganoff recipe.
What to serve with beef stroganoff
Beef stroganoff to me is the perfect comfort food, so I LOVE enjoying a generous helping with a glass of white wine and some garlic bread or homemade dinner rolls.
I also love serving it up for a dinner party with a couple of yummy side dishes.
How to store
Leftover stroganoff can be stored in an airtight container in the refrigerator for 3-4 days or in the freezer for 2-3 months. You can freeze the sauce, but I don't recommend freezing the noodles because the texture will be affected.
To reheat, thaw overnight in the fridge then reheat in the microwave or on the stove until warmed. If the sauce as thickened, thin it out with some milk or white wine.
Pro tip
Store the noodles separately from the sauce so they don't get mushy.
– Jennifer
Beef Stroganoff
This classic Beef Stroganoff recipe is so easy to make and loaded with tender beef and the creamiest mushroom sauce. It's the perfect comfort-food meal!
Equipment for this recipe
(equipment shown are affiliate links)
Ingredients
Extra wide egg noodles

cooked according to package directions

2

pounds

boneless round steak

cubed

1/4

cup

all-purpose flour

2 1/2

teaspoons

salt

divided + more to taste

3/4

teaspoon

black pepper

divided

6

tablespoons

unsalted butter

divided

1/2

yellow onion

minced

1

teaspoon

garlic powder

1

teaspoon

parsley flakes

1

teaspoon

paprika

3

cups

beef broth

1/2

cup

milk

1/2

cup

white wine

1/4

cup

cornstarch

2

(8 oz) packages

sliced baby bella mushrooms

1/2

cup

cream cheese

1/2

cup

sour cream
Instructions
Place cubed beef into a large bowl.

Toss with flour, 1 teaspoon salt, and 1/4 teaspoon pepper until the beef is evenly coated. Set aside.

Melt 4 tablespoons butter in large stockpot over medium high/high heat.

Add in beef and cook until browned on all sides, about 5 minutes.

Remove browned meat and set aside in a clean bowl.

Add in remaining 2 tablespoons of butter and allow to melt.

Once melted, add in onions, remaining salt (1 1/2 teaspoons) and pepper (1/2 teaspoon), garlic powder, parsley flakes, and paprika.

Cook for 3-5 minutes, or until onions start to soften. Stir regularly to prevent burning.


Slowly whisk in broth and milk.

Whisk the white wine and cornstarch together in a small bowl, then whisk that mixture into the stockpot.


Add in mushrooms and browned beef and bring to a simmer.

Simmer for 10 minutes or until the mushrooms are looked to your liking and the sauce has thickened. 


Remove from heat and slowly stir in the cream cheese and sour cream.


Taste and re-season, if necessary, and serve over cooked pasta.
STORING
Reheat:
If frozen, thaw in fridge then reheat in microwave or on stovetop
*Storage times may vary based on temperature and conditions
Notes
*If freezing, store sauce separately from noodles. Just cook more noodles when you're ready to serve the rest of the sauce!
Nutrition Information
Nutrition Facts
Beef Stroganoff
Amount Per Serving (1 person)
Calories 645
Calories from Fat 306
% Daily Value*
Fat 34g52%
Cholesterol 156mg52%
Sodium 1200mg52%
Potassium 829mg24%
Carbohydrates 48g16%
Protein 35g70%
Vitamin A 696IU14%
Vitamin C 1mg1%
Calcium 98mg10%
Iron 4mg22%
* Percent Daily Values are based on a 2000 calorie diet.
*Note: Nutrition information is estimated and varies based on products used.
Keywords:
creamy, egg noodles, steak