This easy beef lo mein recipe is a great combination of tender noodles, crunchy veggies, beef, and a yummy sauce made with Stubb's Beef Marinade! It's spicy, easy to make, and so delicious!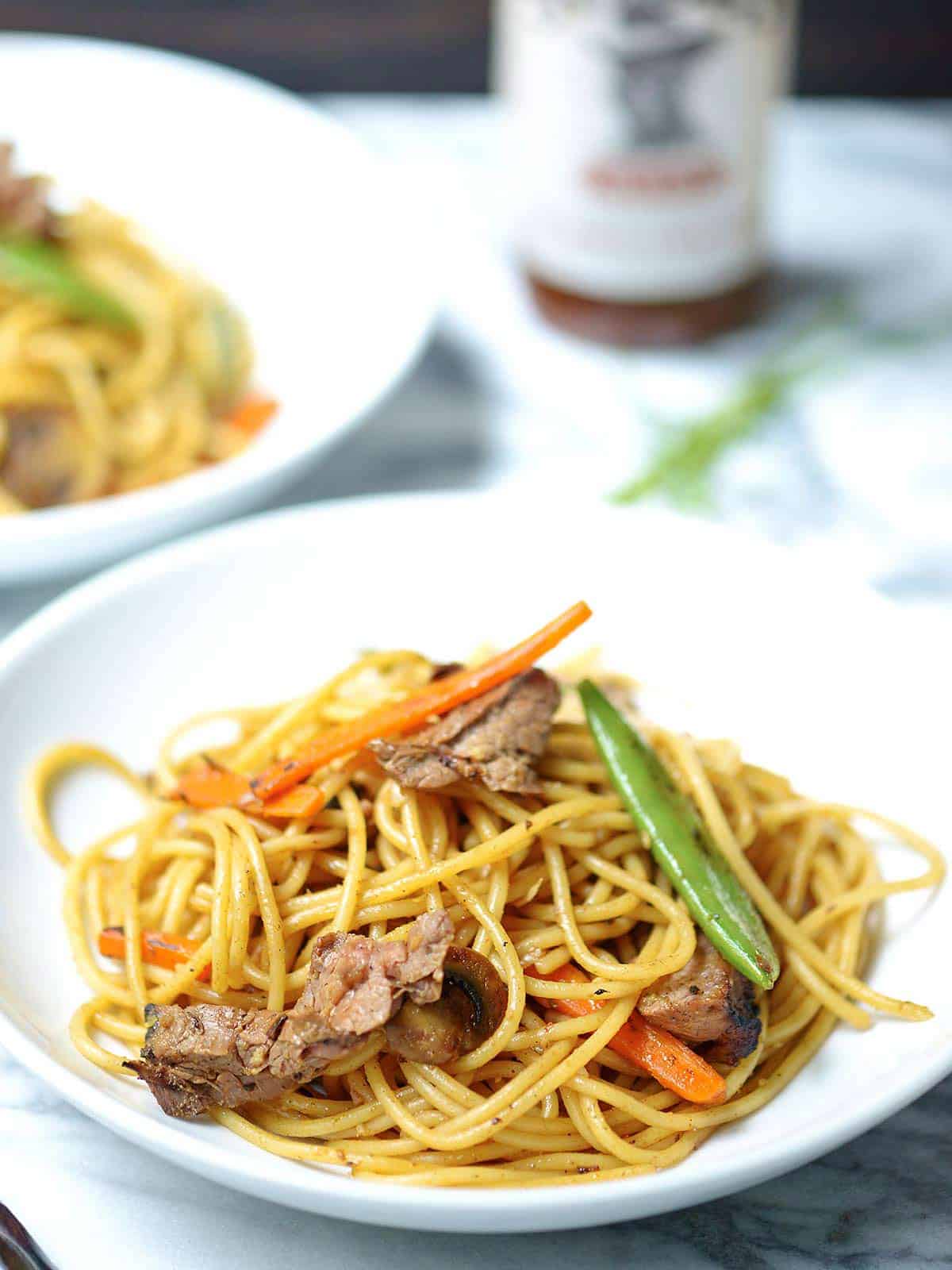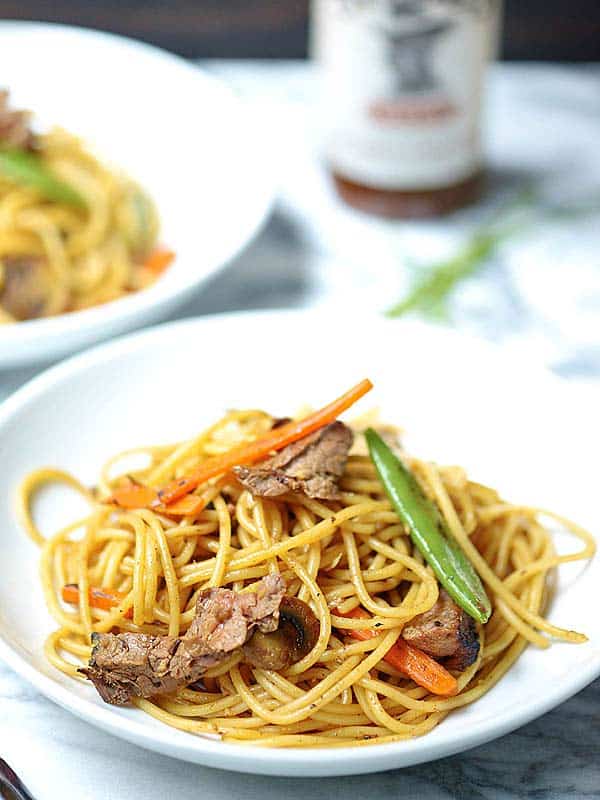 *This post is brought to you in partnership with our friends at Stubb's BBQ.
Let me start by saying that this is probably the most excited I've been to share a recipe with you guys. This easy beef lo mein is that good. A few months ago, Stubb's reached out to me and asked if I wanted to be a part of their Stubb's Insiders Program and without hesitation I said yes! I've always been a huge fan of BBQ, so this one was a no brainer.
The first product that caught my eye was their beef marinade. The main ingredients are soy, garlic, and red pepper. I've made it pretty clear that I've been on an Asian food kick lately – heyyy there Crockpot Chicken Broccoli AND Honey Soy Garlic Tilapia – so I immediately knew it was time to make my all time favorite Asian dish: beef lo mein.
It might sound a little crazy to be using a BBQ beef marinade in an Asian dish, but it sounded juuuust crazy enough to work…and man oh man did it work! 🙂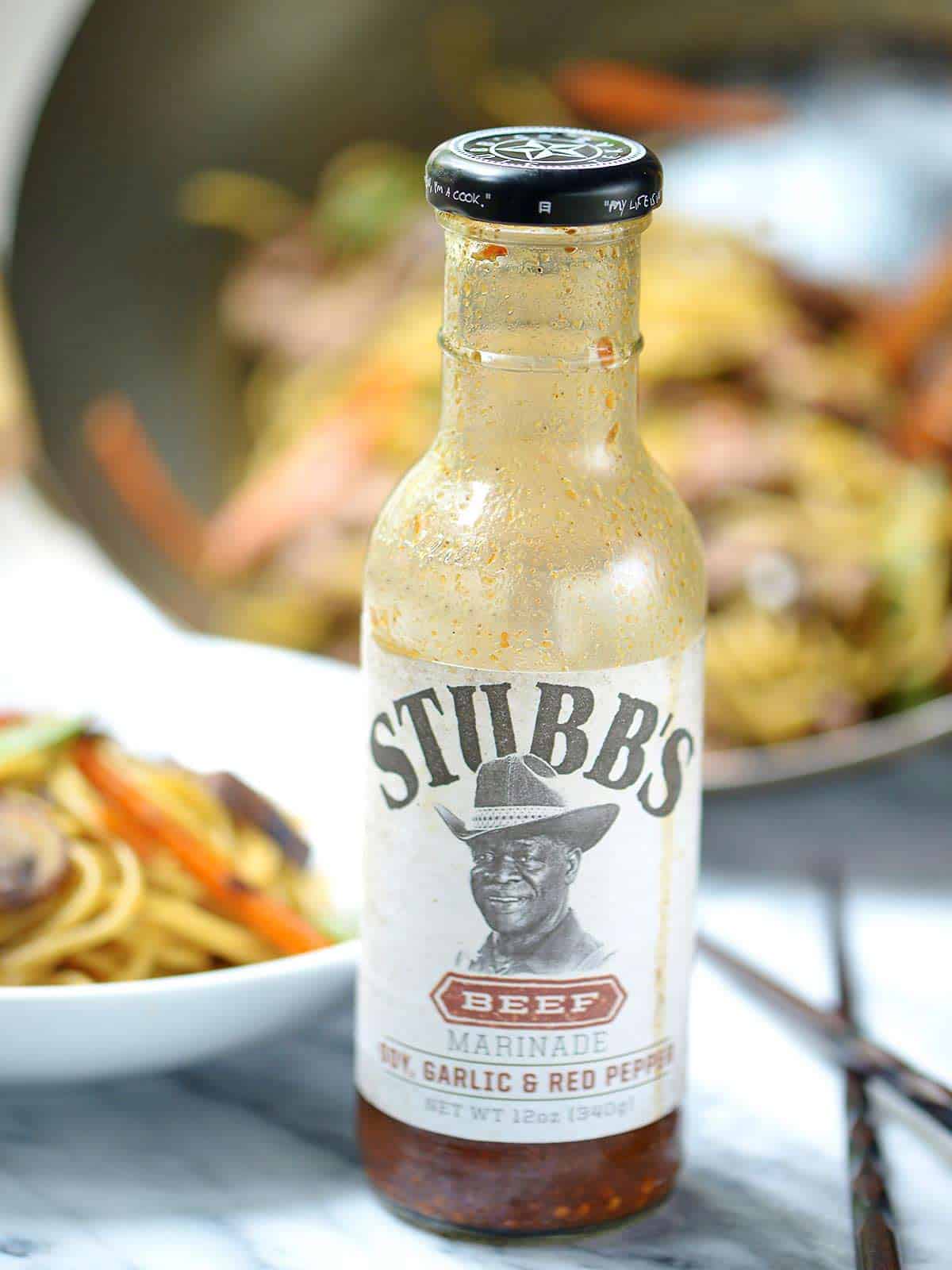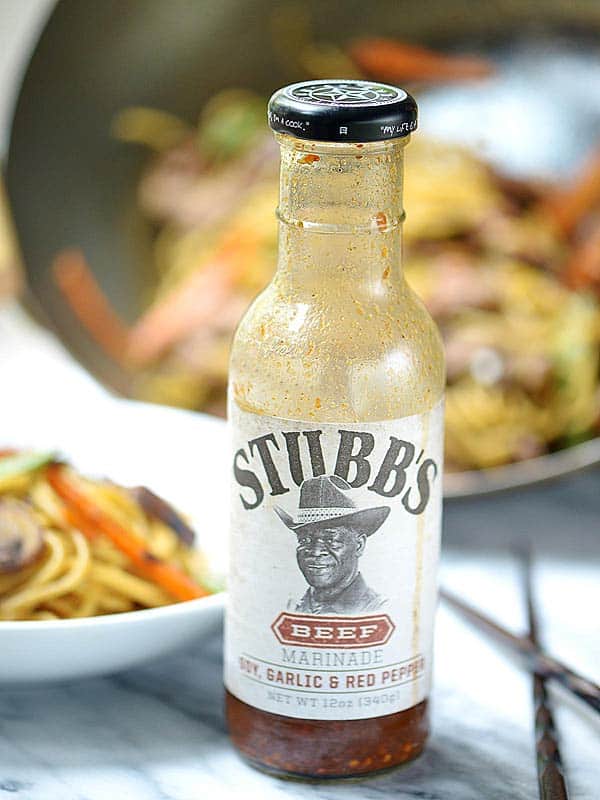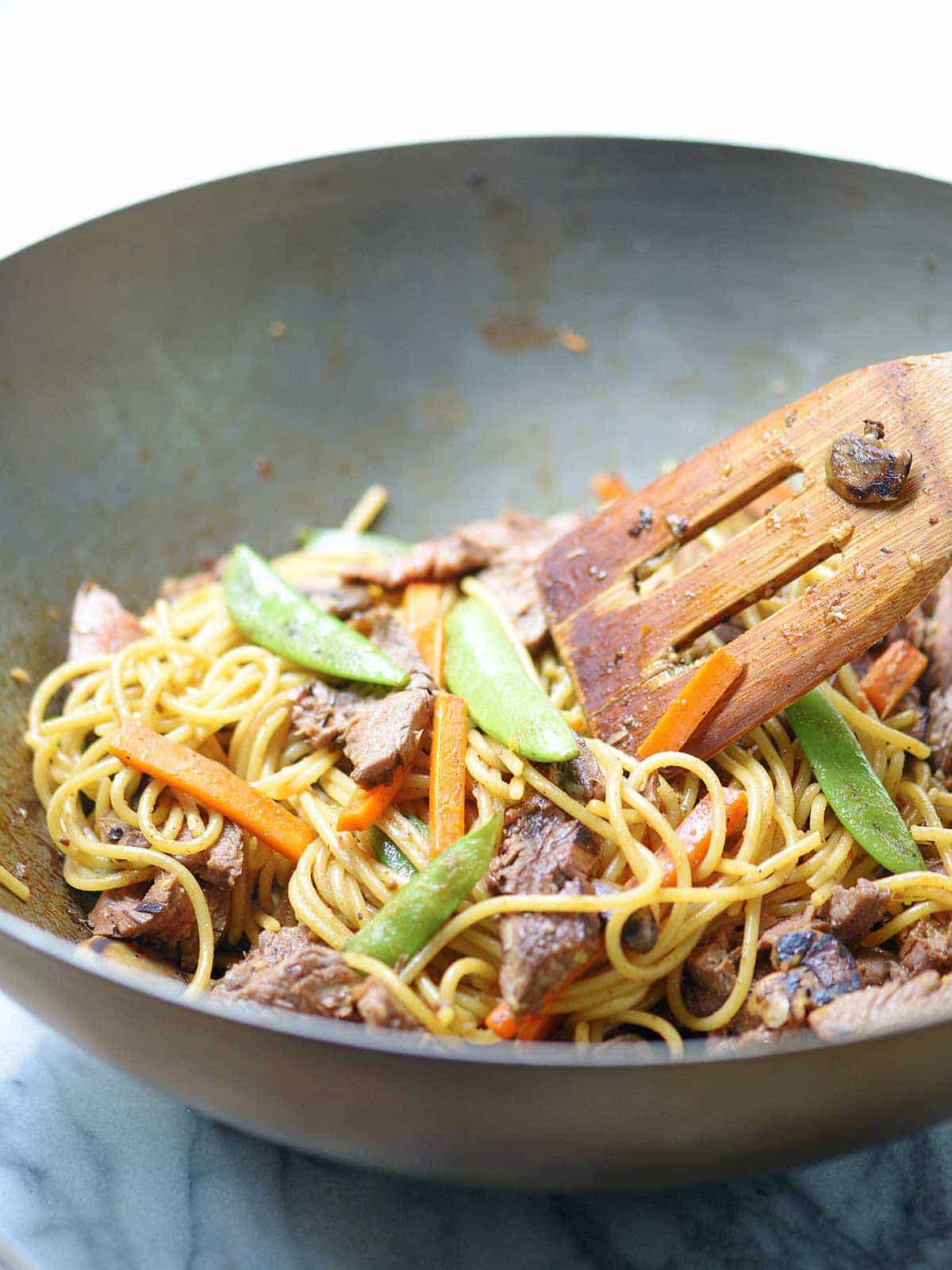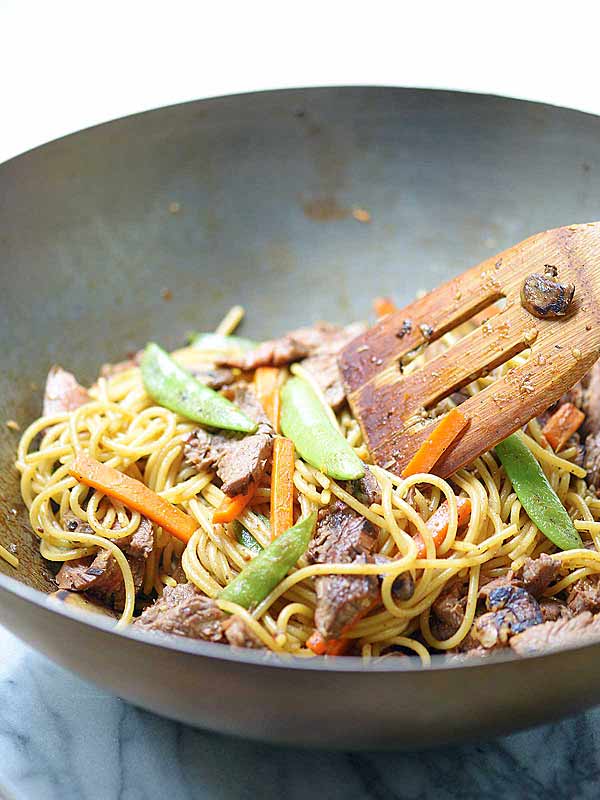 Before we get into the glorious wonders of this easy beef lo mein recipe, let me tell you a little story. I was so excited to start testing this recipe over a week ago, but I could not find lo mein noodles to save my life. Why does this always happen to me? Let's all remember when I couldn't find my cheesecake pan, the peppadew peppers, OR the hazelnuts.
I'm a mess.
So I guess fate felt like messing with me once again and I have to add lo mein noodles to the list of things Jennifer Cannot Find.
First, I went to the grocery store. Twice.
The first time I was determined to find the noodles on my own. I don't know what it is about not wanting to ask for help in a grocery store, it's like guys asking for directions…wasn't happening. I know that grocery store like the back of my hand, so if I wasn't seeing them, they couldn't possibly be there.  Trevor gets home later and asks of course, "Did you ask anyone for help?". Grrrrrr.
I went back again and asked for help a few days later… nope, nothing, nada. Whole foods… strikeout.
After that I decided to wander down to Pike Place Market, vaguely remembering that there was an Asian grocery store.
Ding, ding, ding!
I practically sprinted there elbowing everybody and their dog out of my way. I was a woman on a mission.
Well… THEY. WERE. ALL. OUT!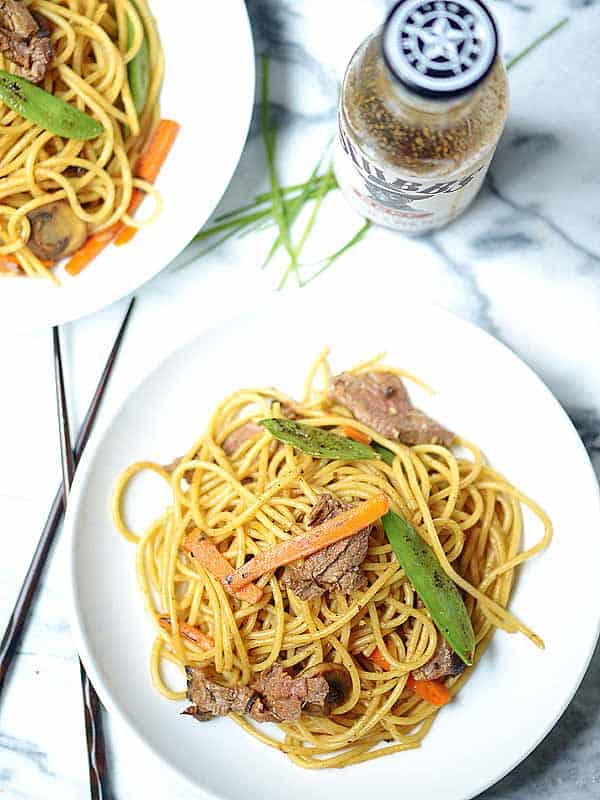 The owner was SO nice, though, and said that she would be getting more tomorrow. I happily told her that I would be back first thing in the morning.
— The Next Day —
I walk up smiling, the owner sees me and immediately frowns and starts apologizing that she had given them all away.  Am I being punked? She promised that she would have them tomorrow.
— One Day Later —
I walk up smiling, again, but the owner, again, frowns, again, and starts apologizing, again, that she forgot the noodles.  Fool me once, shame on you, fool me twice…
I am done with you asian market store in the market!
So, I couldn't wait ANY longer, so I used spaghetti noodles instead and it worked perfectly! Seriously. I could not have been happier.  One door closes and another opens and all.
So what did we learn here? If you can't find lo mein noodles the first time you look, GIVE UP and use spaghetti noodles instead. 😉 OR be a genius, unlike me, and just buy some lo mein noodles
on Amazon. WHY, oh why, did I not think of that sooner (thanks Aaron)!
Rant over. Promise.
Even though I probably walked over 10 miles (seriously, I google mapped it) on my hunt for lo mein noodles, I would gladly do it again for easy beef lo mein!
This easy beef lo mein has five main components: the marinade, the beef, the veggies, the nooooodles, and the best part, the sauce.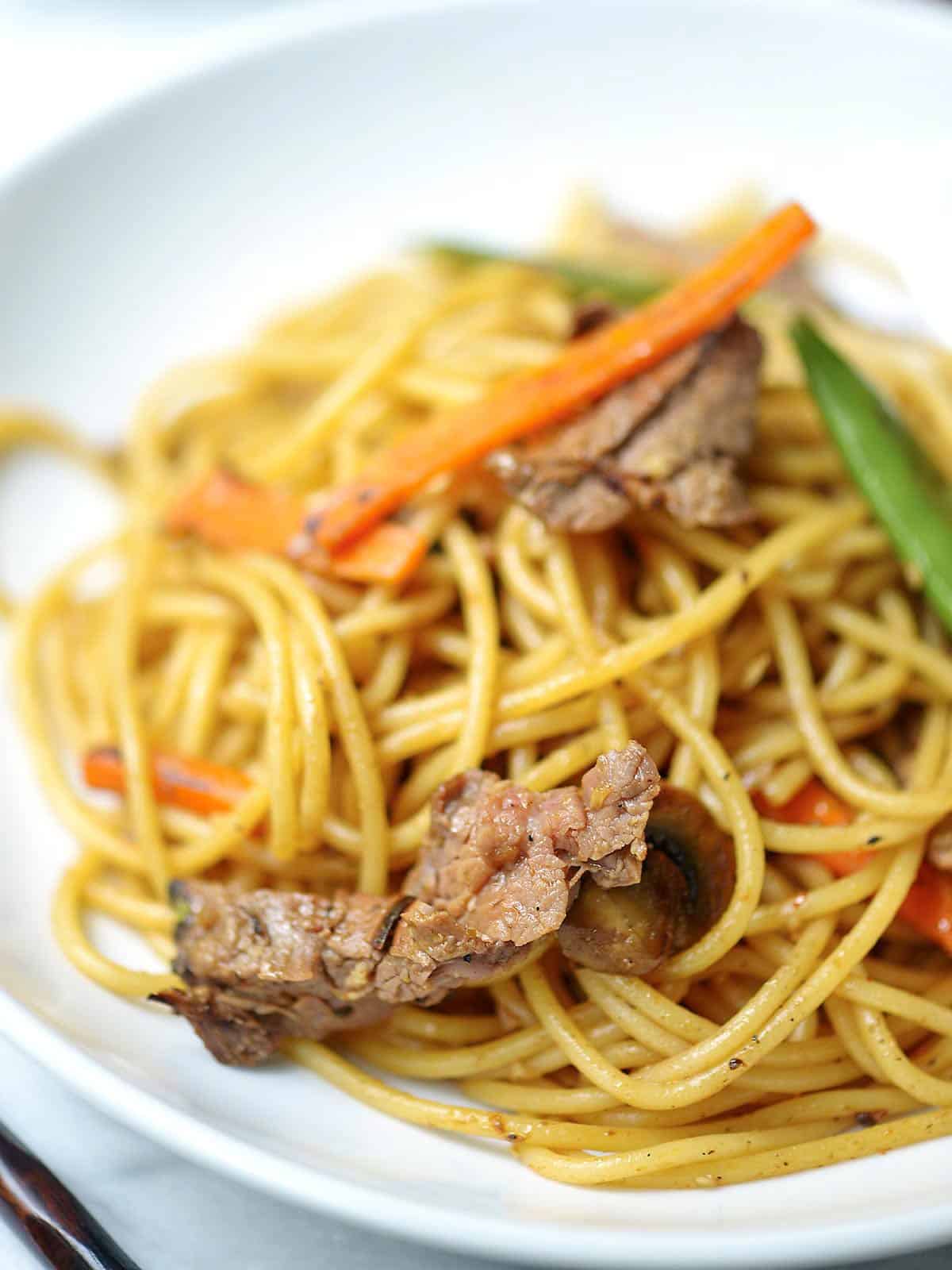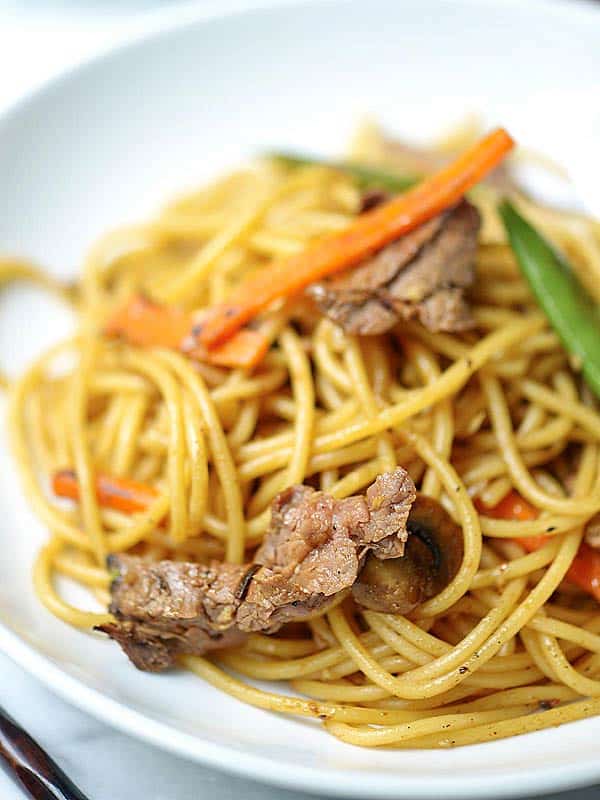 First things, first…
1. The marinade. It's perfectly salty, loaded with the right amount of garlic, has a nice kick from the red pepper, and has that classic, but subtle smokey BBQ flavor. Trevor and I like spicy and we thought it was perfect, so keep that in mind if you're not a spicy person!
2. The beef. I used flank steak and it was steak perfection. All we did was marinade the beef for a few hours in the fridge, throw it on the grill until it was medium rare, let it rest for a few minutes (gotta keep those juices in!), and sliced it reeeeeal thin. Yum. That alone, would've made me happy, but then we have…
3. The veggies. I used sugar snap peas – not traditional, but shocker, I couldn't find snow peas at the store – carrots, and my favorite, mushrooms. Trevor said he could've used more veggies, but you guys know by now that I'm a serious carboholic and was more focused on…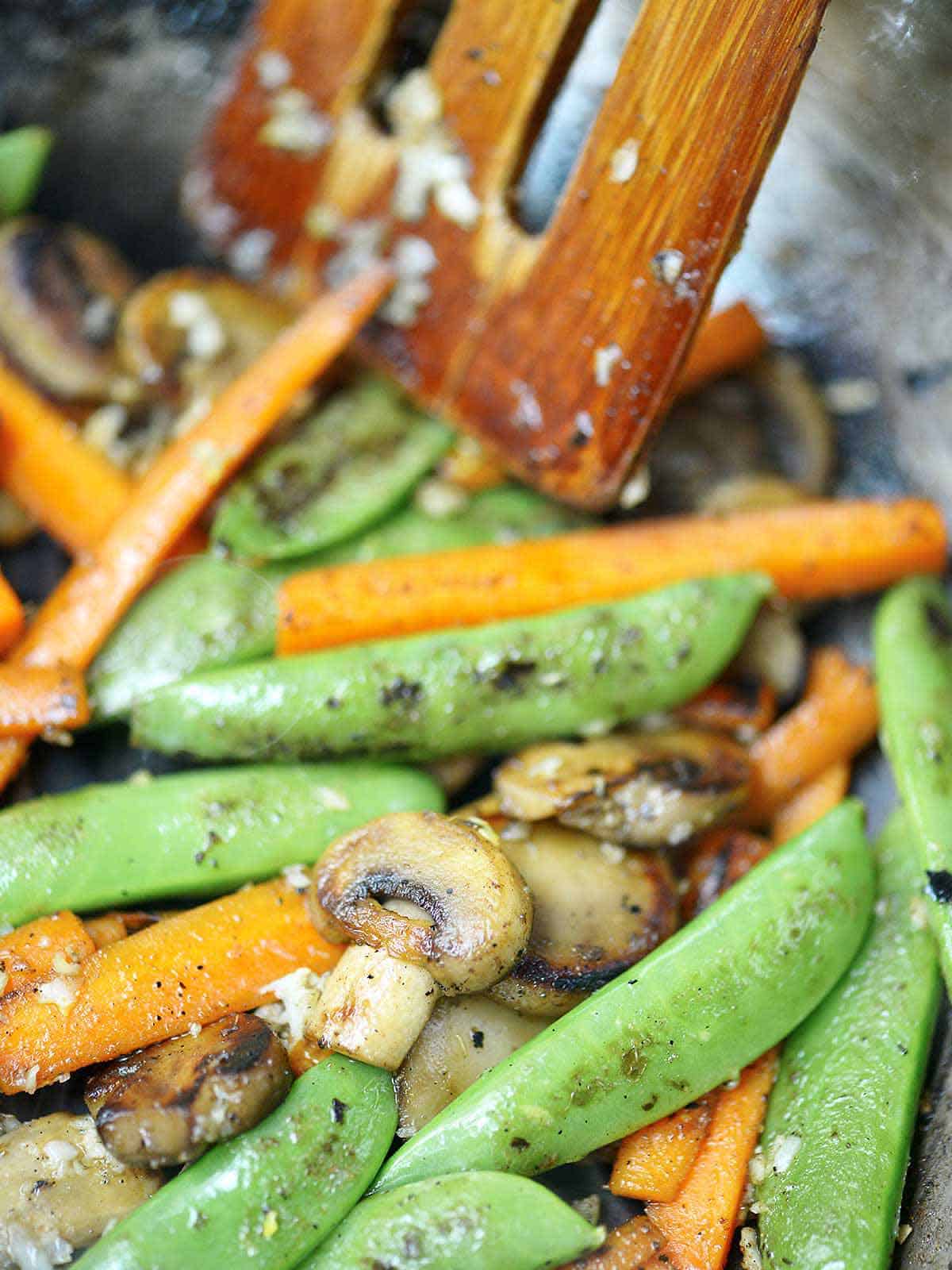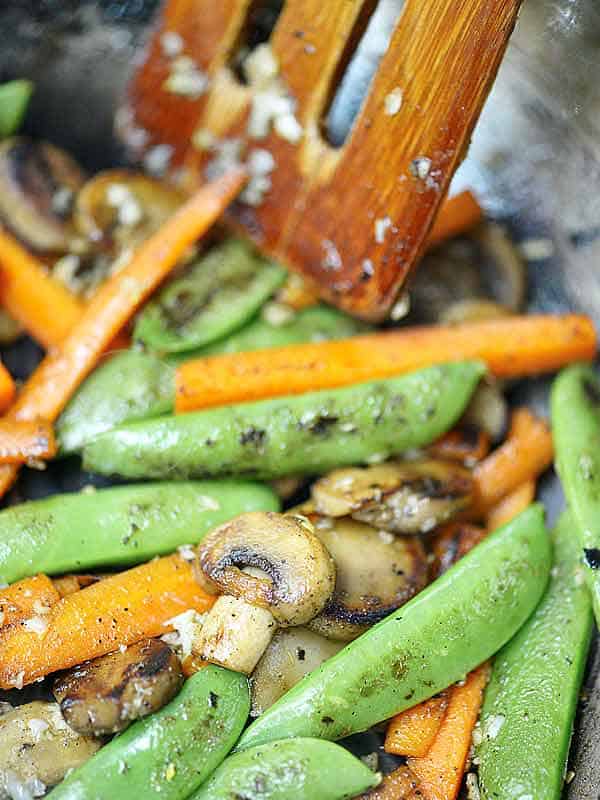 4. The noodles. Spaghetti was seriously perfect for this easy beef lo mein. I had absolutely no complaints here!
5. #thatsaucetho. After tasting Stubb's Beef Marinade, I knew that I wanted to marinade my beef in it and use it IN the sauce, too, instead of using the standard soy sauce. The beef marinade combined with a little sugar, hoisin sauce, sesame oil, and a dash of Sriracha made for a ridiculously flavorful sauce that I could've slurped up with a straw.
Once everything was combined (and photographed 😉 ) , Trevor and I sat down to enjoy a bowl of this. I usually have Trevor take the first bite while I watch to see his reaction. I know it's good when I get the "Oh yea. Babe. Seriously. Yea." response and he gets a little hoggy with it.
Trevor and I enjoyed this for both lunch and dinner and were seriously disappointed when it was gone.
This easy beef lo mein is a great combination of tender noodles, crunchy veggies, melt in your mouth beef, and smothered in a slightly smokey, spicy, salty, savory, flavor explosion in your mouth sauce. I'm honestly drooling and debating whether I should go to the asian market grocery store right now to make this again for dinner.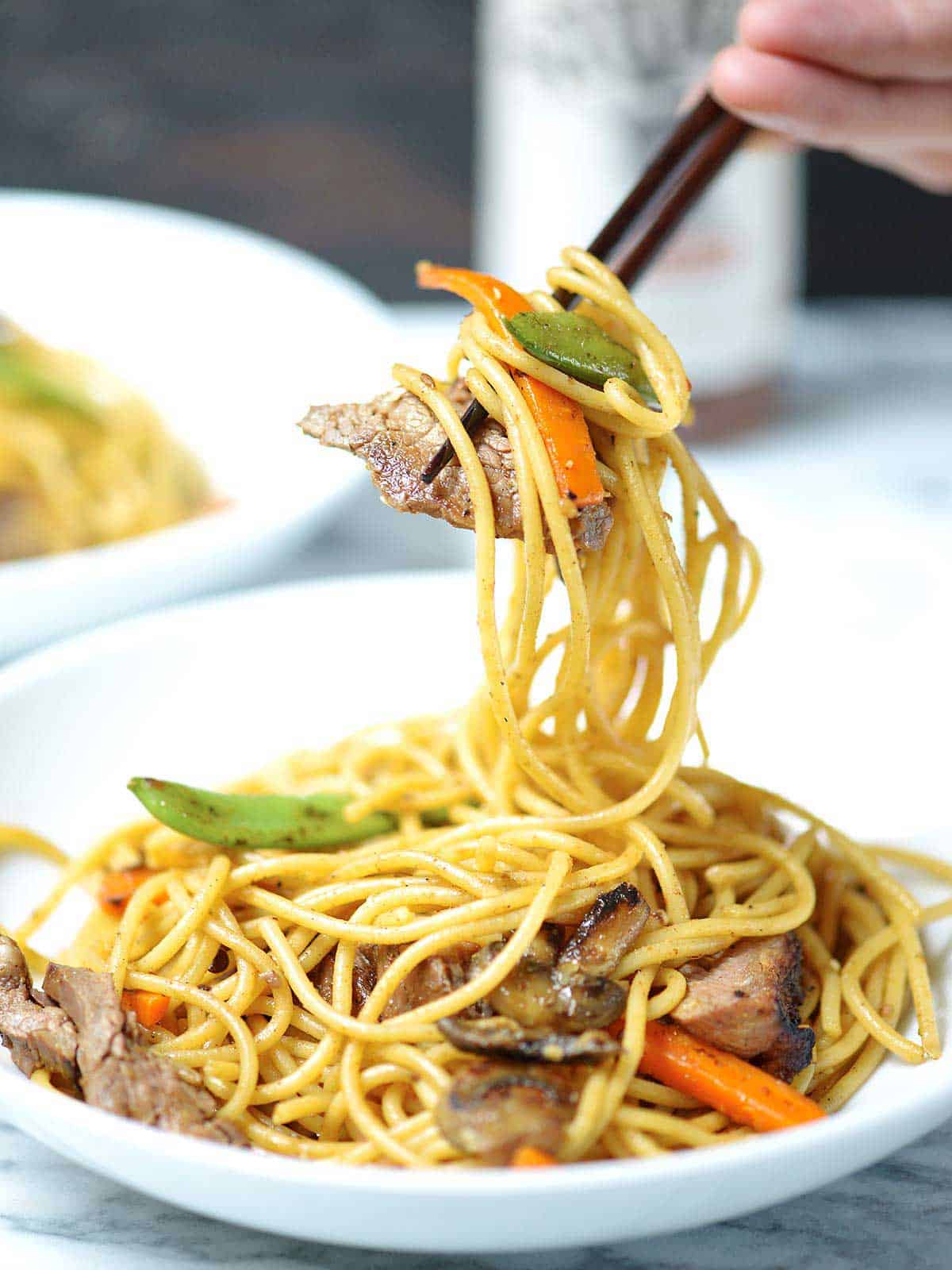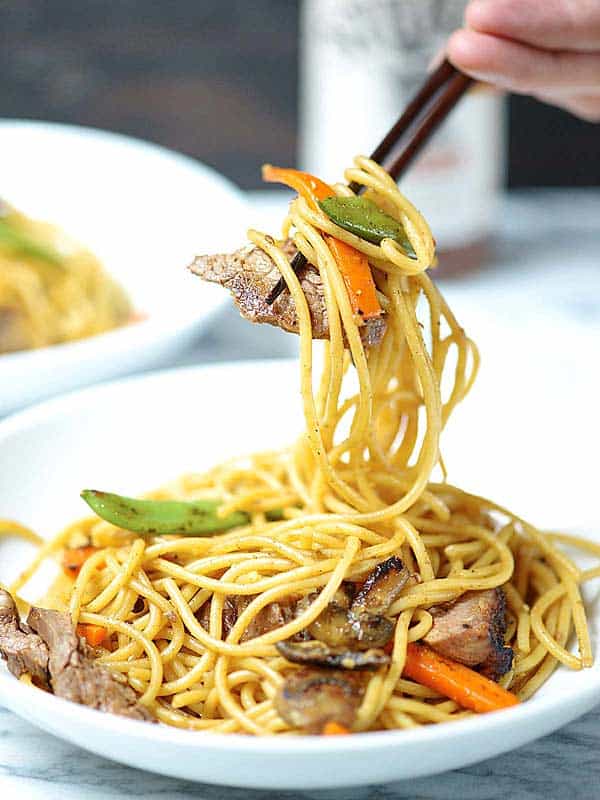 Doooo it!
– Jennifer
What's your favorite Stubb's BBQ? Do I need to tell you what mine is? 😉 Show me the yummy!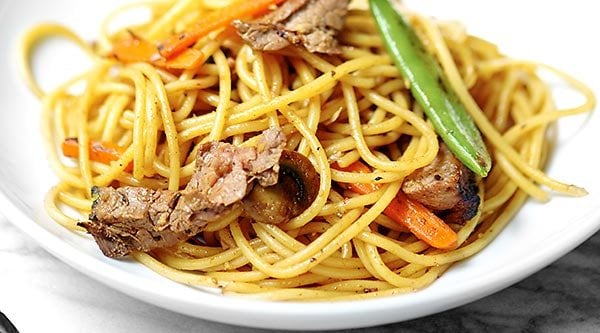 Easy Beef Lo Mein
This easy beef lo mein recipe is a great combination of tender noodles, crunchy veggies, beef, and a yummy sauce made with Stubb's Beef Marinade! It's spicy, easy to make, and so delicious!
Ingredients
Beef
1

cup

Stubb's Beef Marinade

1

pound

flank steak
Sauce
3

tablespoons

Stubb's Beef Marinade

1

tablespoon

granulated sugar

1

tablespoon

hoisin sauce

1

teaspoon

sesame oil

1/2

teaspoon

Sriracha
Lo Mein
8

ounces

spaghetti

1

tablespoon

olive oil

1

cup

sliced mushrooms

1

carrot

julienned

1/2

cup

snap peas

4-5

cloves

garlic

minced

1/4

teaspoon

ground ginger
Instructions
Beef
Place 1 cup marinade and flank steak in a gallon sized ziplock baggie.

Marinate in the fridge for at least two hours.

Remove the beef from the fridge while you heat your grill over high heat.

Oil the grates and place beef on the hot grill.

Grill for 4-5 minutes. Flip and cook another 4-5 minutes or until medium rare.

Remove from the grill and let rest for at least 5 minutes before thinly slicing against the grain.
Sauce
Whisk together sauce ingredients and set aside.
Lo Mein
Cook lo mein or spaghetti according to package. Toss with a bit of the sauce (to prevent sticking) and set aside.

Heat 1 tablespoon olive oil over medium high heat in a wok or large skillet.

Once the wok is hot, add mushrooms, carrot, and snap peas and cook for about 5 minutes.

Season with a touch of salt while the veggies are cooking.

Add in garlic and ground ginger and cook for 30 seconds.

Pour the sauce over the noodles and toss to combine.

Pour noodles/sauce and sliced beef into the wok and stir constantly until everything has heated through, about 2 minutes.

Serve immediately!*
Notes
*This does dry out a bit if you're not serving this immediately. In that case, just make more of the sauce and add as much as necessary!
Keep in mind that this recipe is spicy! 🙂
Nutrition Information
Nutrition Facts
Easy Beef Lo Mein
Amount Per Serving
Calories 376
Calories from Fat 72
% Daily Value*
Fat 8g12%
Cholesterol 45mg15%
Sodium 987mg43%
Potassium 472mg13%
Carbohydrates 50g17%
Protein 25g50%
Vitamin A 1785IU36%
Vitamin C 6.7mg8%
Calcium 34mg3%
Iron 2mg11%
* Percent Daily Values are based on a 2000 calorie diet.
*Note: Nutrition information is estimated and varies based on products used.
*Thanks to Stubb's BBQ for providing me with the BBQ Sauce and covering my groceries! Thanks to YOU for supporting brands that keep SMTY up and running! 🙂 All thoughts and opinions are my own.