Lemon Garlic Cauliflower Rice. A healthy substitute for rice! It's naturally gluten free, vegetarian (can be vegan!), and so tasty! Full of fresh lemon juice, basil, garlic, and parmesan cheese. Less than 300 calories for the WHOLE recipe!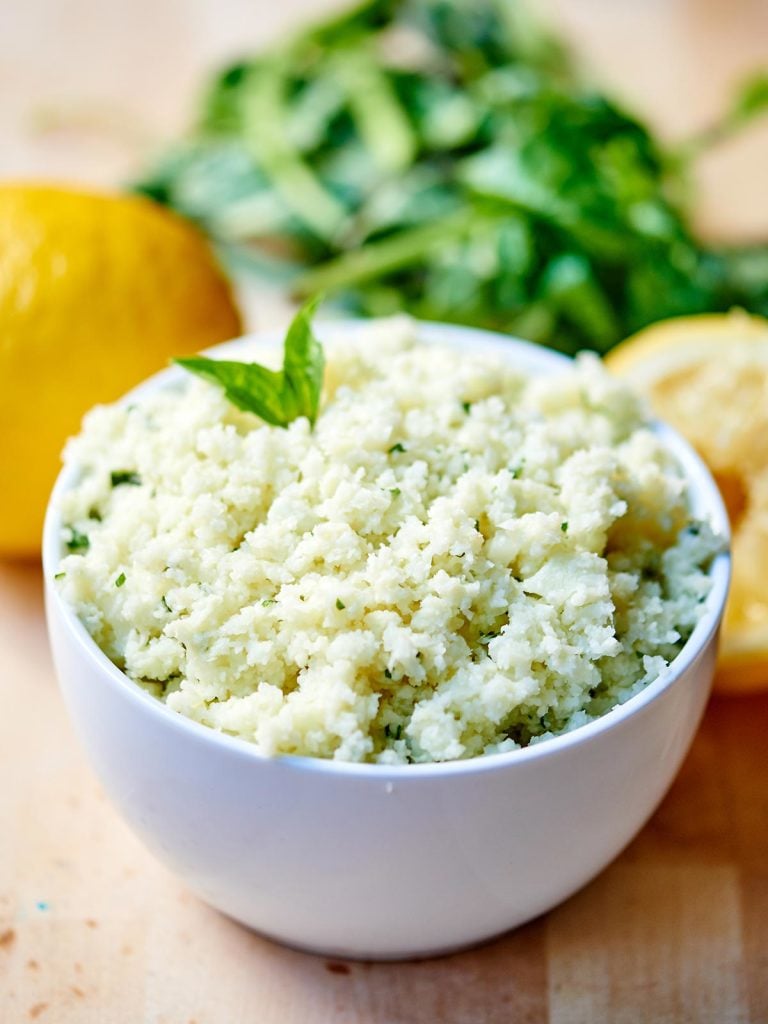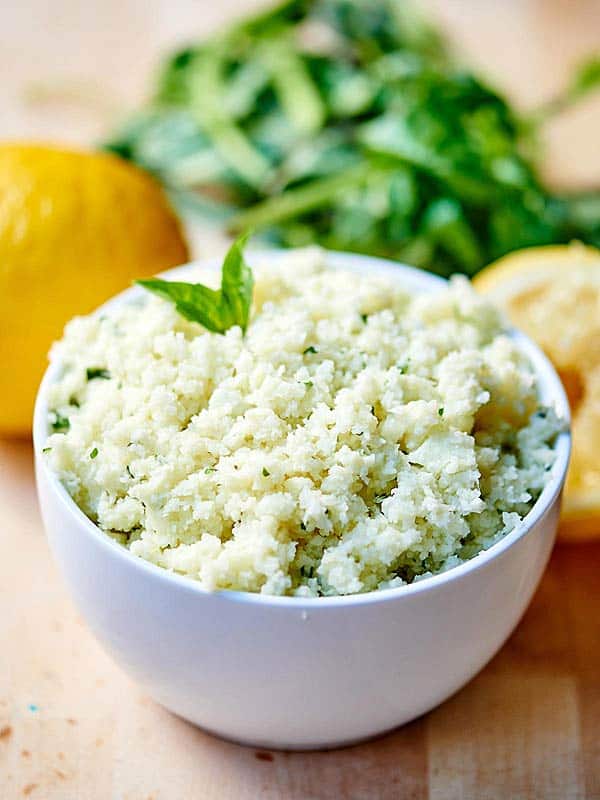 I am not a trend setter. As much as I would love to be, I let other people test the waters first, and if I end up liking it, then I'll hop on board. It goes for everything: clothes, hair, makeup, food, etc.
Take cauliflower, for example. Cauliflower has blown up over the past couple of years! Roast it, mash it, whip it, rice it. Yes, rice it. It's the latest cauliflower fad and I was super intrigued. I seriously had my doubts, but it seemed like people were having major success, so I decided to make lemon garlic cauliflower rice.
After I tasted it, I finally understood why people are so obsessed with cauliflower rice. It's a great low carb, naturally gluten free, vegetarian (can be vegan) side dish that's full of flavor!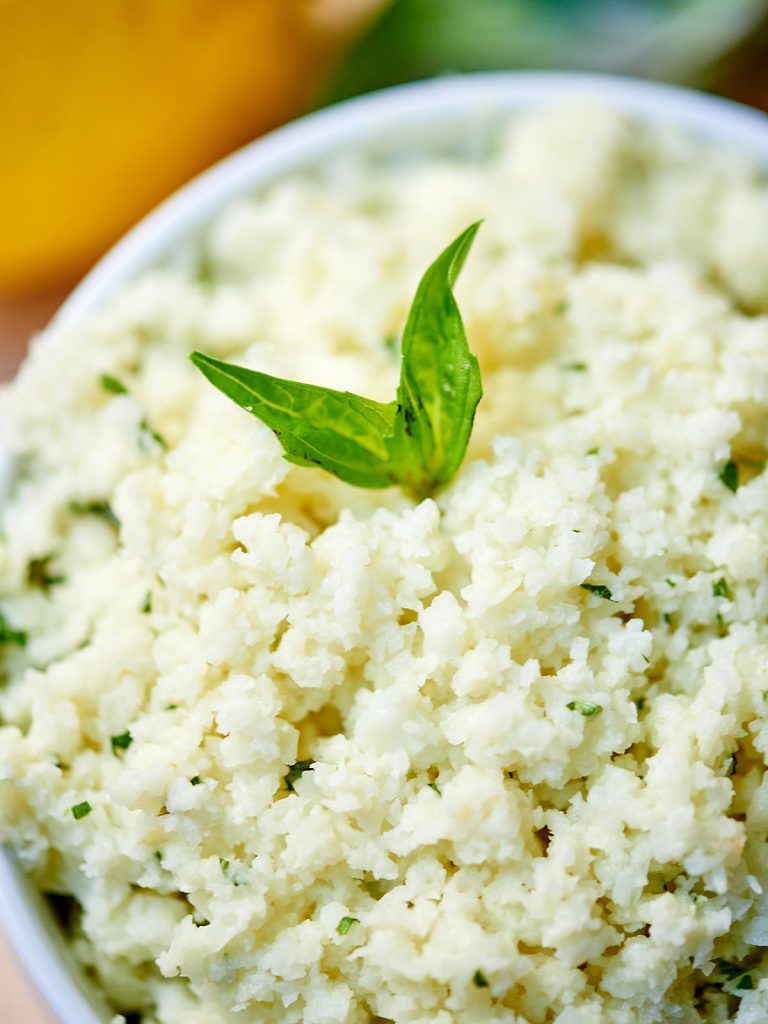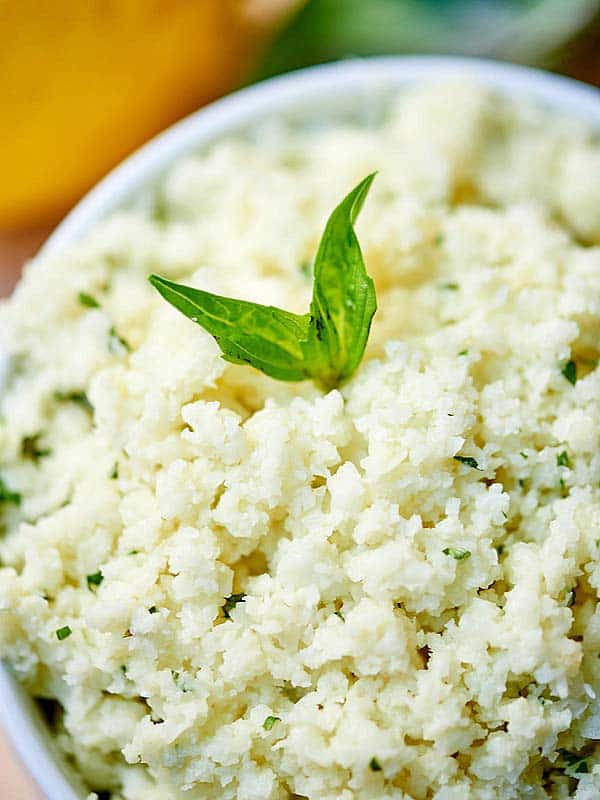 You guys know my favorite food group is carbs. Bread, pasta, sandwiches, potatoes….the list could literally go on forever. As much as I love carbs, I unfortunately am not 5 years old anymore, and can't eat whatever I want whenever I want. So on those days when I don't want can't eat #allthecarbs, I now turn to the healthier, lower carb option: cauliflower.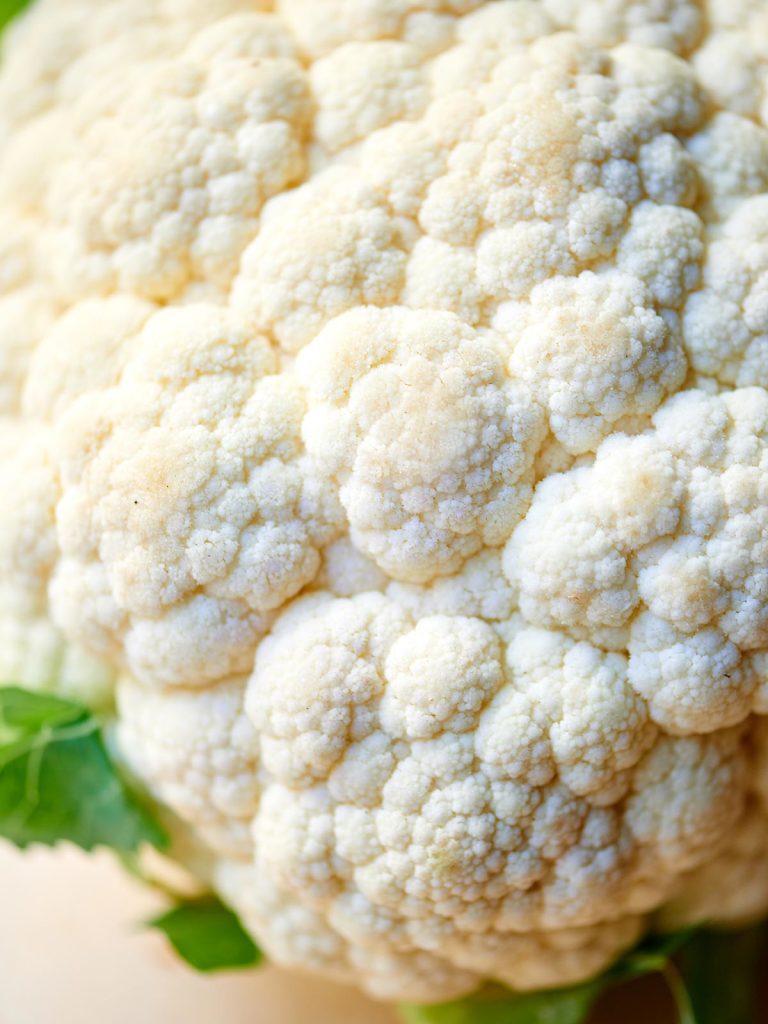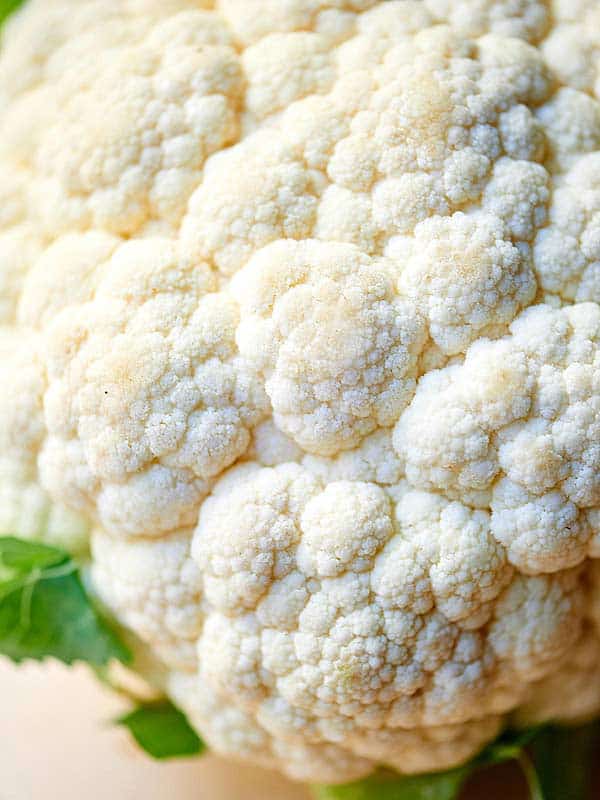 Here's the thing about cauliflower. I don't like it raw and I think it kind of stinks when it's cooking. Once it's cooked, however, it's surprisingly mild in flavor! When you think of it, rice is pretty mild, too. The best part about rice is the texture and all the yummy stuff you stir into it. That's why cauliflower is a great substitute for rice when you're looking for something a little healthier!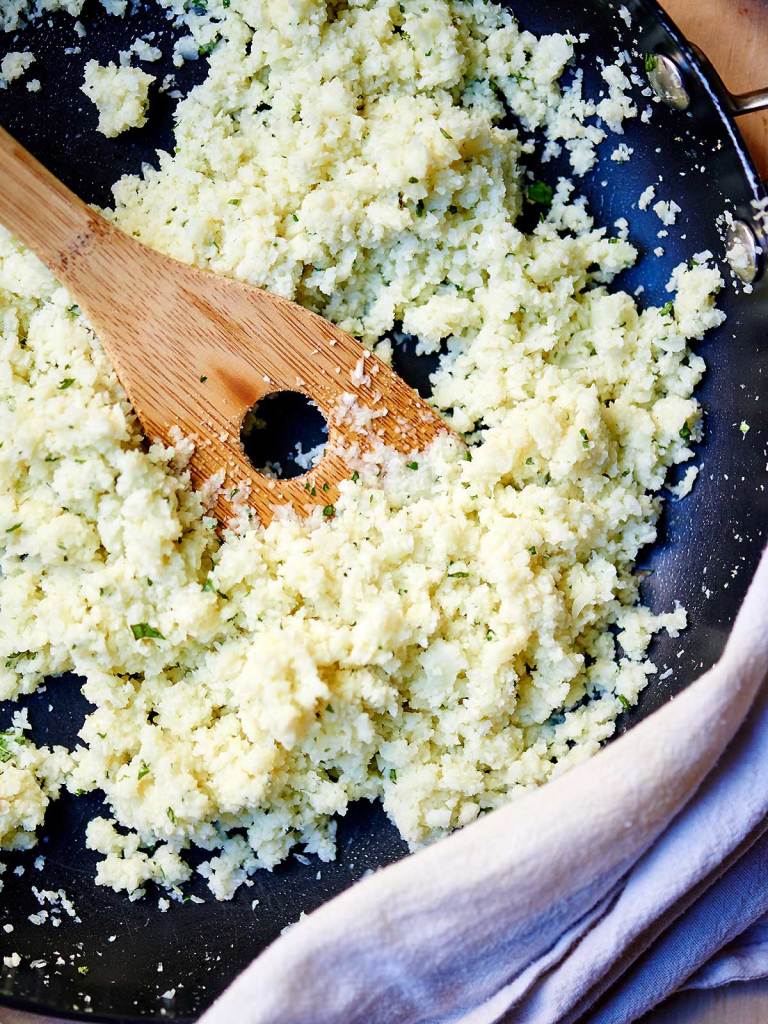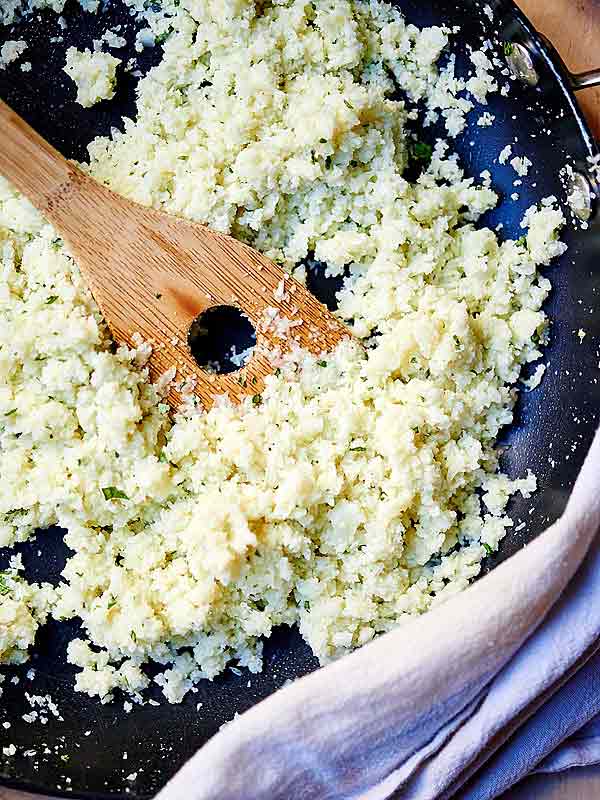 Let's be honest though. Cauliflower rice doesn't taste exactly like "real" rice, but I don't think you'd expect it to. The texture, however, is very similar to cooked quinoa and really did satisfy my need for that carby goodness we call rice. Plus, the flavor is outta this world. It's lemony, garlicky, it's earthy from fresh basil, and I love the addition of the salty parmesan cheese!
The best part of making cauliflower rice vs "real" rice is that you can't mess this up! I know a lot of people struggle with cooking rice without the help of a rice maker, but this is so simple!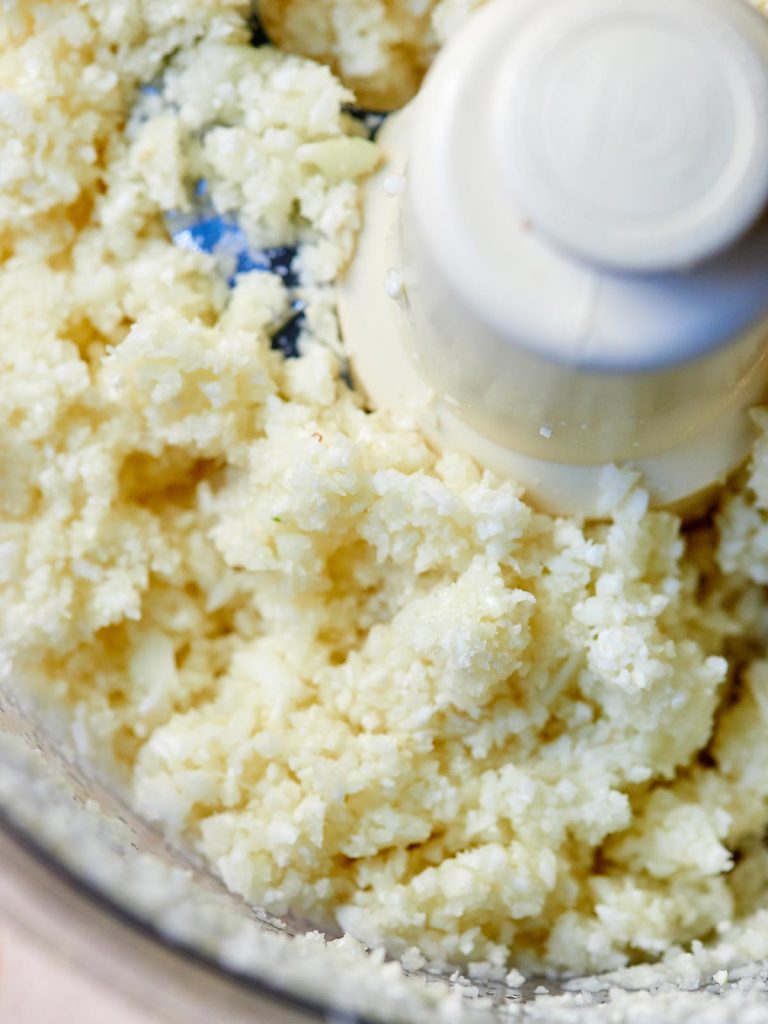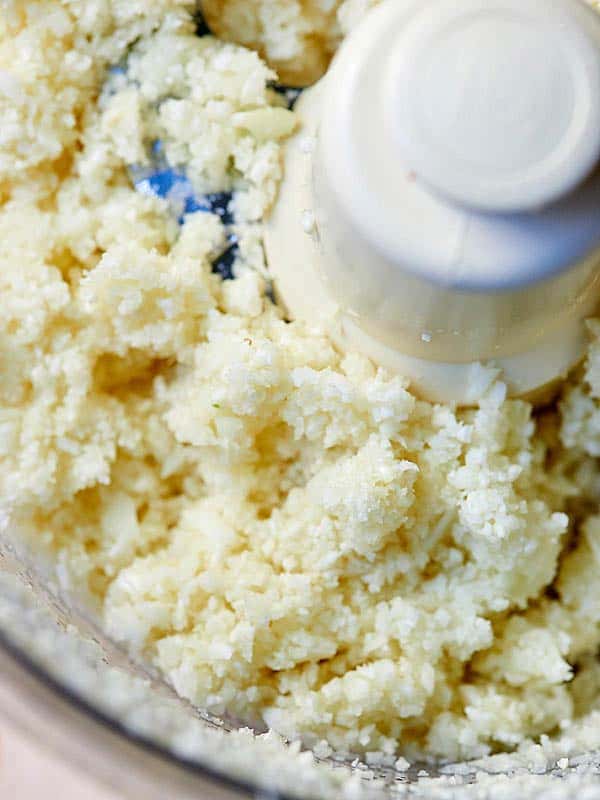 All you need to do is cut your cauliflower into florets. Then you'll rinse and dry them really well. Place the florets into a food processor and pulse until the cauliflower resembles rice….or I actually think it looks more like quinoa. Then you'll cook the "rice" in a little oil and stir in some garlic, lemon juice, parm, basil, and salt! That's it! You're done. It's so quick to make! No more waiting around for 30 minutes while your rice sits and cooks.
I served this lemon garlic cauliflower rice with my pecan crusted honey mustard salmon. It was such a satisfying meal with absolutely no guilt! I felt so good and healthy after dinner that I patted myself on the back for a job well done while enjoying a few oatmeal chocolate chip cookies. 😉 Ooops!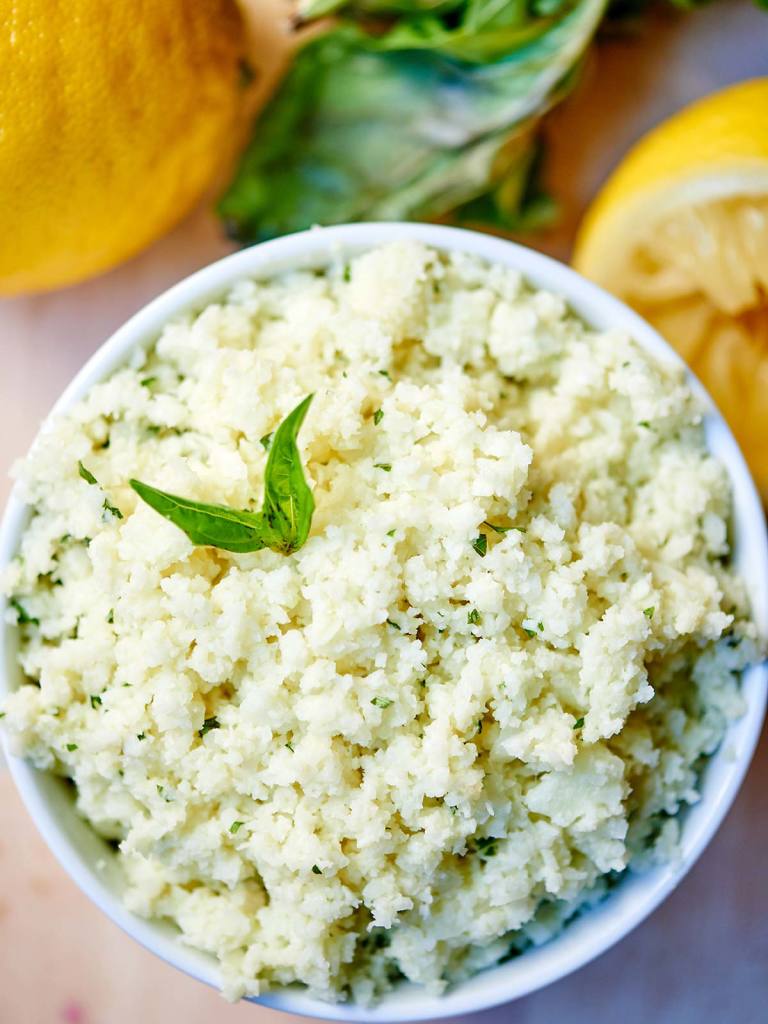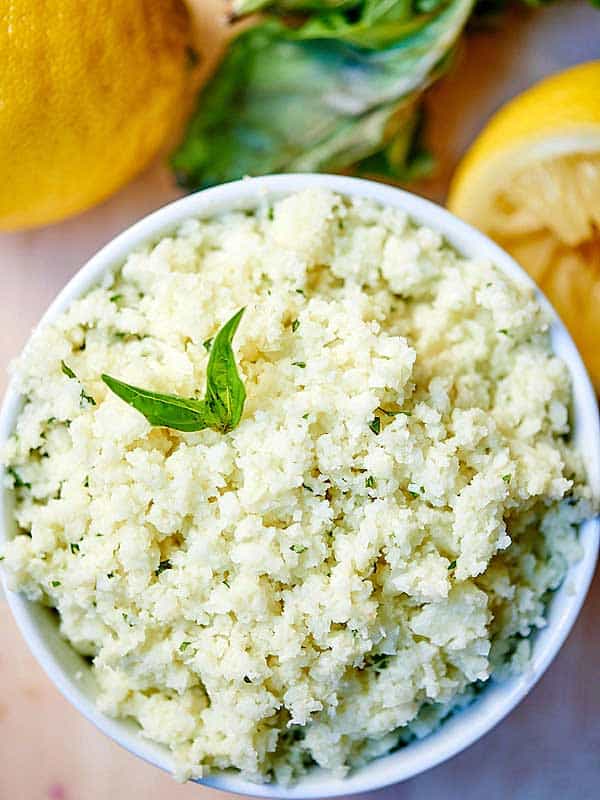 Really, though, I enjoyed this lemon garlic parmesan cauliflower rice so much that it's inspired me to try other cool cauliflower subs! Cauliflower pizza crust? Cauliflower tortillas? I can't wait to get to work!
– Jennifer
What do you think of cauliflower as a substitute for carby goodness? Show me the yummy!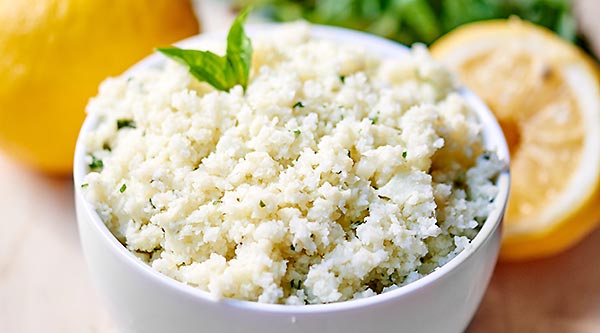 Lemon Garlic Cauliflower Rice
Lemon Garlic Cauliflower Rice. A healthy substitute for rice! It's naturally gluten free, vegetarian (can be vegan!), and so tasty! Full of fresh lemon juice, basil, garlic, and parmesan cheese. Less than 300 calories for the WHOLE recipe!
Equipment for this recipe
(equipment shown are affiliate links)
Ingredients
1

head

cauliflower

should make

4 cups

"rice"

4

cloves

garlic

pressed or minced

1 1/2

tablespoons

lemon juice

1/2

cup

parmesan

shredded

1

tablespoon

Fresh basil

finely chopped

salt

to taste
Click to Keep Device on While Cooking
Instructions
Break cauliflower into large florets, rinse well. Make sure to pull the leaves off.

Dry really really well with paper towels.

Place 1/2 of the cauliflower florets into your food processor.

Pulse until the cauliflower looks like rice or quinoa. Place the cauliflower into a large bowl and set aside.

Repeat with remaining cauliflower. You should end up with about 4 cups of "rice".

Heat 1 tablespoon olive oil over medium heat.

Once hot, add in riced cauliflower. Cook for 5 minutes or until desired texture has been reached.

In the last 30-60 seconds of cook time, stir in minced garlic.

Lower the heat and stir in parmesan, lemon juice, basil, and salt, to taste. Stir until the parmesan has melted.

Serve immediately!
STORING
Reheat:
If frozen, let thaw then reheat on stove or in microwave
*Storage times may vary based on temperature and conditions
Notes
Vegan? Use a vegan parmesan or simply omit the cheese!
Nutrition information is for the whole recipe!!
Nutrition Information
Nutrition Facts
Lemon Garlic Cauliflower Rice
Amount Per Serving (1 cup)
Calories 80
Calories from Fat 36
% Daily Value*
Fat 4g6%
Cholesterol 9mg3%
Sodium 231mg10%
Potassium 323mg9%
Carbohydrates 7g2%
Protein 7g14%
Vitamin A 125IU3%
Vitamin C 51.3mg62%
Calcium 175mg18%
Iron 0.6mg3%
* Percent Daily Values are based on a 2000 calorie diet.
*Note: Nutrition information is estimated and varies based on products used.
Keywords:
gluten free, healthy, lemon garlic