A fun twist on classic pesto, this cilantro pesto recipe is quick and easy, completely delicious, and is full of limes, roasted cashews, garlic, parmesan, and of course, cilantro! This is great over pasta, chicken…anything!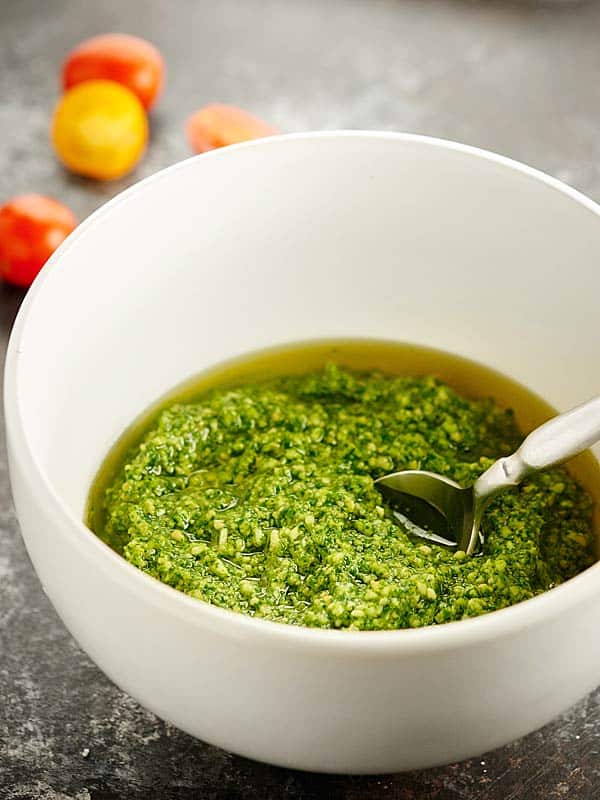 It's Meatless Monday over here at Show Me the Yummy and I'm not missing meat one little bit. Why? Because I have cilantro pesto, that's why, and cilantro pesto > everything!
Actually this cilantro pesto would be great over chicken…
but that's for another time, another blog post.
This cilantro pesto recipe is so good in fact, that I've made it THREE times since Friday. Mainly, because one was a test batch, the second was for a video (did you follow us on Periscope?!), and the last was for a photoshoot. 😉
Ok fine. I could've gotten away with only making it TWO times, but it's like reeeeeally good pesto, guys.
This cilantro pesto was happily scooped up with crackers, smothered over pasta, and yes, licked off the bottom of the bowl, because the only one around to judge me was Teddy. 😉
Cilantro Pesto. It's a thing. A really good thing.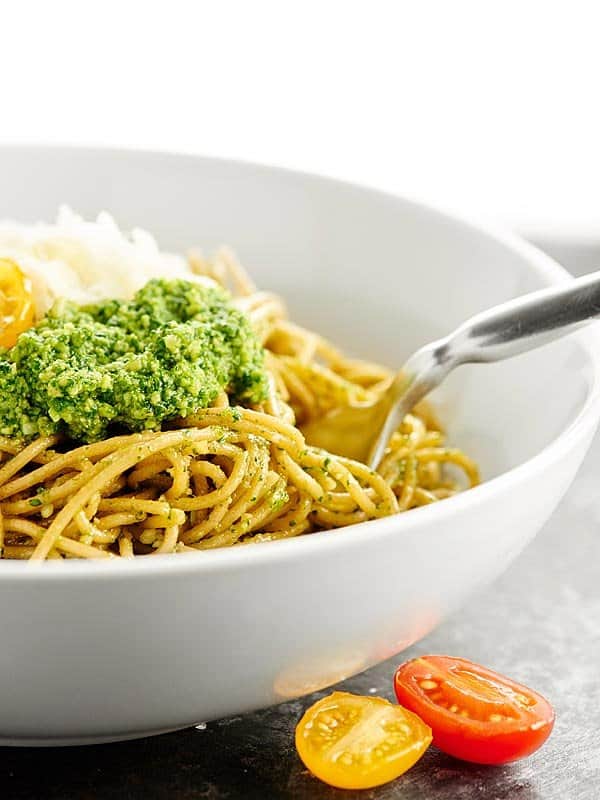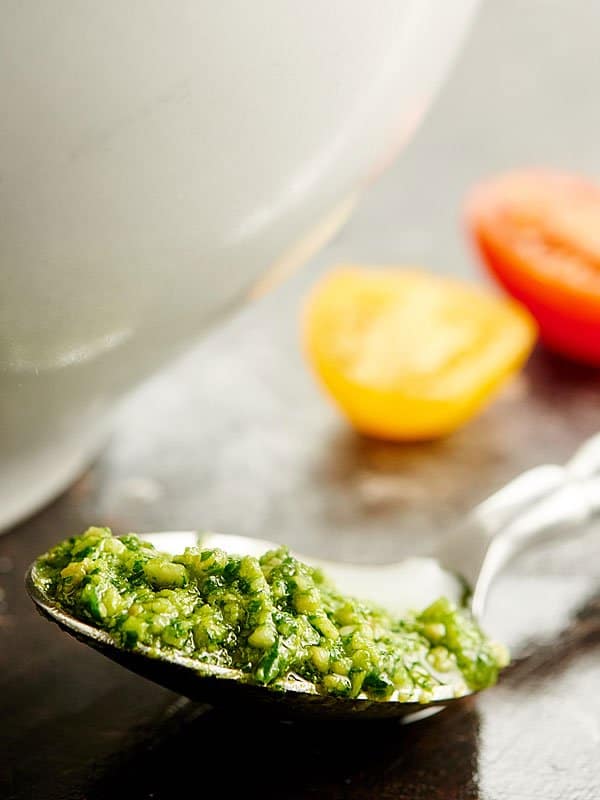 Sooo a long time ago, I made a roasted pistachio pesto for the blog <– if you haven't made it, doooooo it, it's yummy. 🙂 I love pesto. I love the flavor and you could literally put it on anything and I'd eat it… bread, crackers, cheese…whatever.
My only complaint about pesto is that it typically includes pines nuts – which I never have on hand – and basil – which is so.darn.expensive. Trevor and I actually had a basil plant at one point, and I'm not pointing any fingers, but s.o.m.e.o.n.e. definitely killed it while Trevor and I were on vacation. 😉
Now, anytime I want to make pesto, I have to go buy a box of packaged basil that I swear to you costs $1000 and half of it somehow always ends up rotten and gross before I get home from the grocery store.
My solution? Forget the basil and replace it with my beloved cilantro.
Oh, I should apologize right now to all my cilantro haters. I'm sorry. I know some of you think cilantro tastes like soap, but I ♡ it. Have no fear, cilantro haters, like I said 👆, go check out that roasted pistachio pesto.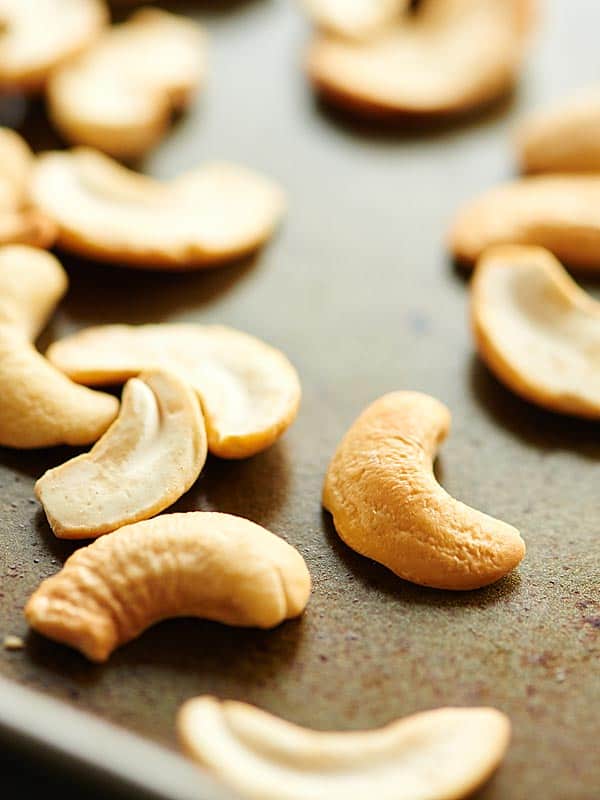 Before we get to the making of this cilantro pesto recipe, we need to roast our nuts. Today, I'm using cashews. Honestly, I picked cashews, because that's what I had on hand, but in the end, I absolutely loved the flavor it added to the pesto.
Whatever you do, don't skip roasting the cashews…roasting the nut really adds depth of flavor and you know, gives them a nice roasty flavor. 😉 I promise it only takes about 5-8 minutes… so it's worth it!
Once you've roasted your cashews (I'll tell you how in the recipe below 👇), all we need to do is throw a few things into our food processor.
All you need is cilantro, garlic, your roasted cashews, lime juice, and parmesan. Pulse that together until smooth.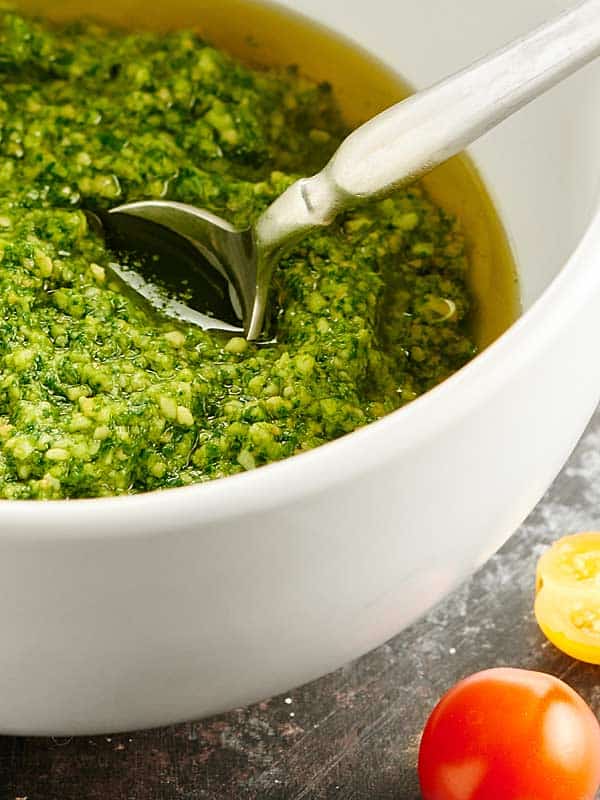 Now scrape down the sides of your food processor.
With the food processor running, slowly drizzle in your olive oil. I use somewhere between 1/3 and 2/3 cups of oil…the choice is yours, depending on how thick you like your cilantro pesto!
All that's left to do is season it with plenty of salt.
How to use your pesto? That's up to you! I love this pesto over whole wheat pasta for a nice Meatless Monday dinner, but this is also great over chicken, as a dipping sauce for bread…and don't even get me started on how much I love this with goat cheese and crackers.
This cilantro pesto recipe is ready within minutes, packed with flavor, and is so versatile!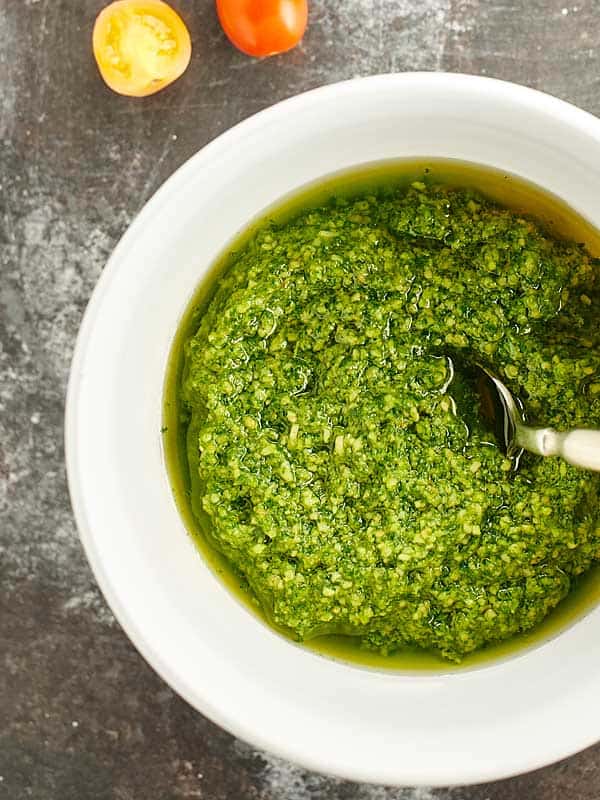 Cilantro Pesto for.the.win. ♡
– Jennifer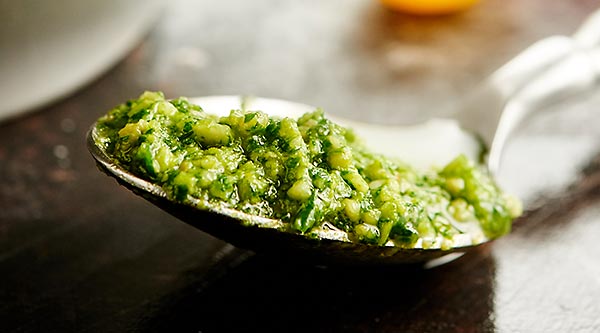 Cilantro Pesto Recipe
A fun twist on classic pesto, this cilantro pesto recipe is quick and easy, completely delicious, and is full of limes, roasted cashews, garlic, parmesan, and of course, cilantro! This is great over pasta, chicken...anything!
Equipment for this recipe
(equipment shown are affiliate links)
Ingredients
2

cups

packed cilantro

2

cloves

garlic

1/4

cup

roasted cashews*

unsalted

1

tablespoon

lime juice

1/2

cup

shredded parmesan cheese

1/3 - 2/3

cup

oil

until desired consistency is reached**

salt

to taste***
Instructions
Place cilantro, garlic, roasted cashews, lime juice, and parmesan into a food processor.

Pulse until smooth and scrape down the sides.

With your food processor running, slowly pour in your oil until your desired consistency has been reached.

Season with salt, pulse to combine, and serve with pasta, cheese and crackers, etc.

Store in the refrigerator.
STORING
Reheat:
If frozen, let thaw in fridge
*Storage times may vary based on temperature and conditions
Notes
Nutritional information calculates using .5 cups oil. 
*To roast cashews: preheat oven to 300 degrees F. Place cashews on an unlined, rimmed baking sheet. Roast in preheated oven until cashews are fragrant and golden, about 4-8 minutes. Stir halfway through to avoid burnt spots.
**I use extra virgin olive oil, but if you want a less pronounced oil flavor, use a more neutral oil like canola. Also, I typically use somewhere between 1/3 and 2/3 cup oil...it's up to you!
***Be sure to taste and re-season! Salt is important! 🙂
Nutrition Information
Nutrition Facts
Cilantro Pesto Recipe
Amount Per Serving (1 tablespoon)
Calories 88
Calories from Fat 81
% Daily Value*
Fat 9g14%
Cholesterol 2mg1%
Sodium 51mg2%
Potassium 25mg1%
Carbohydrates 1g0%
Protein 2g4%
Vitamin A 160IU3%
Vitamin C 0.9mg1%
Calcium 40mg4%
Iron 0.2mg1%
* Percent Daily Values are based on a 2000 calorie diet.
*Note: Nutrition information is estimated and varies based on products used.
Keywords:
cilantro, healthy, pasta sauce