Baked pork tenderloin at it's finest! This Lemon Herb Pork Tenderloin Recipe is healthy, easy, & full of fresh spring flavors like lemon, dijon, & garlic!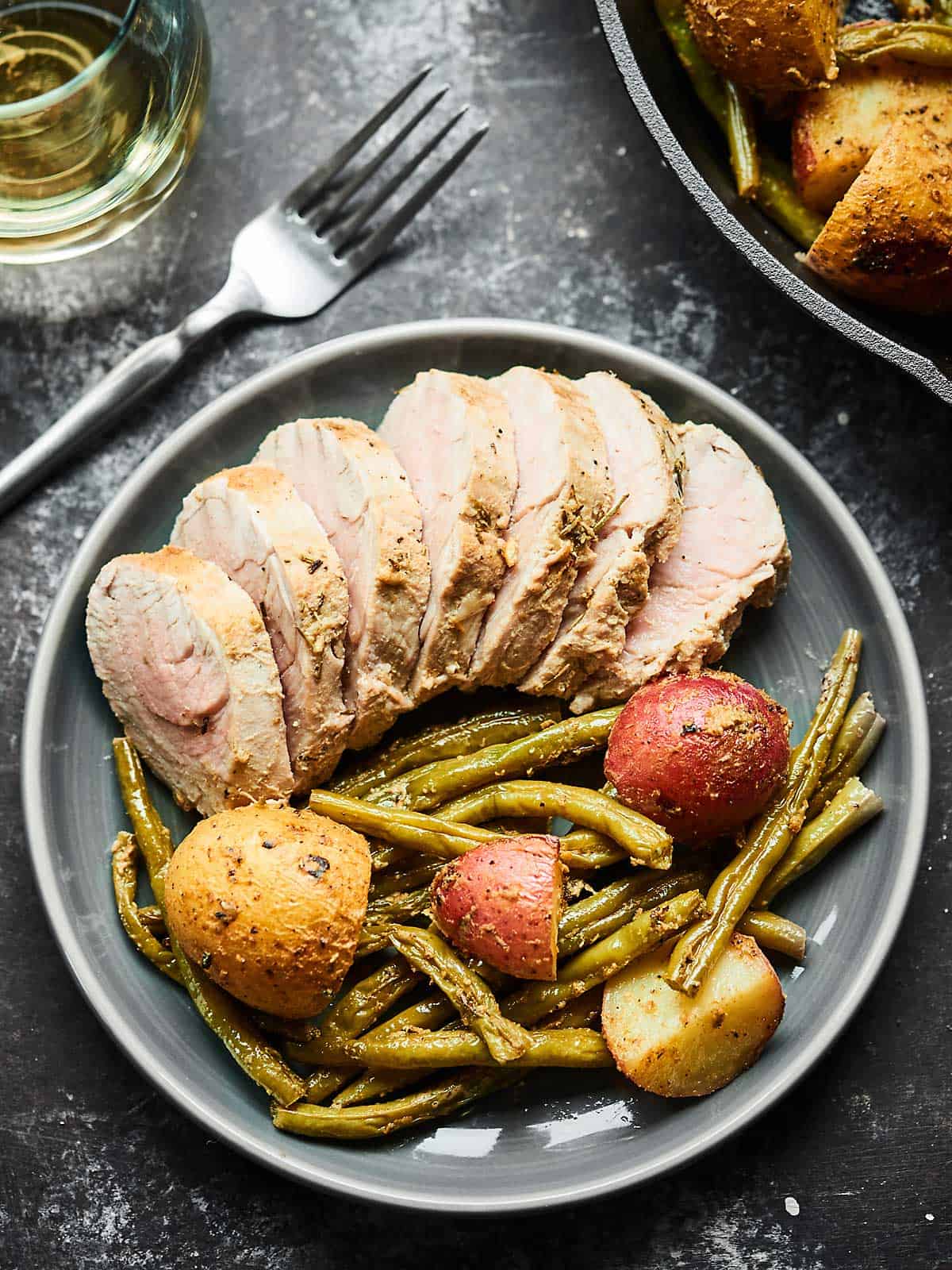 I've never been more excited about pork tenderloin, because, you guys, this Lemon Herb Pork Tenderloin is the pork tenderloins of all pork tenderloins.
Also, how many times can I say pork tenderloin in a sentence?
Apparently. A lot.
To be fair, it's just because I am absolutely in love with this recipe.
It's insanely juicy, fall apart tender, and is loaded with fresh spring flavors like garlic and lemon juice.
It's healthy, it's delicious, and yep, you guessed it, it's super simple.
It's Friday, so grab a cold glass of your favorite Pinot Grigio, and let's make some healthy and delicious, Lemon Herb Pork Tenderloin.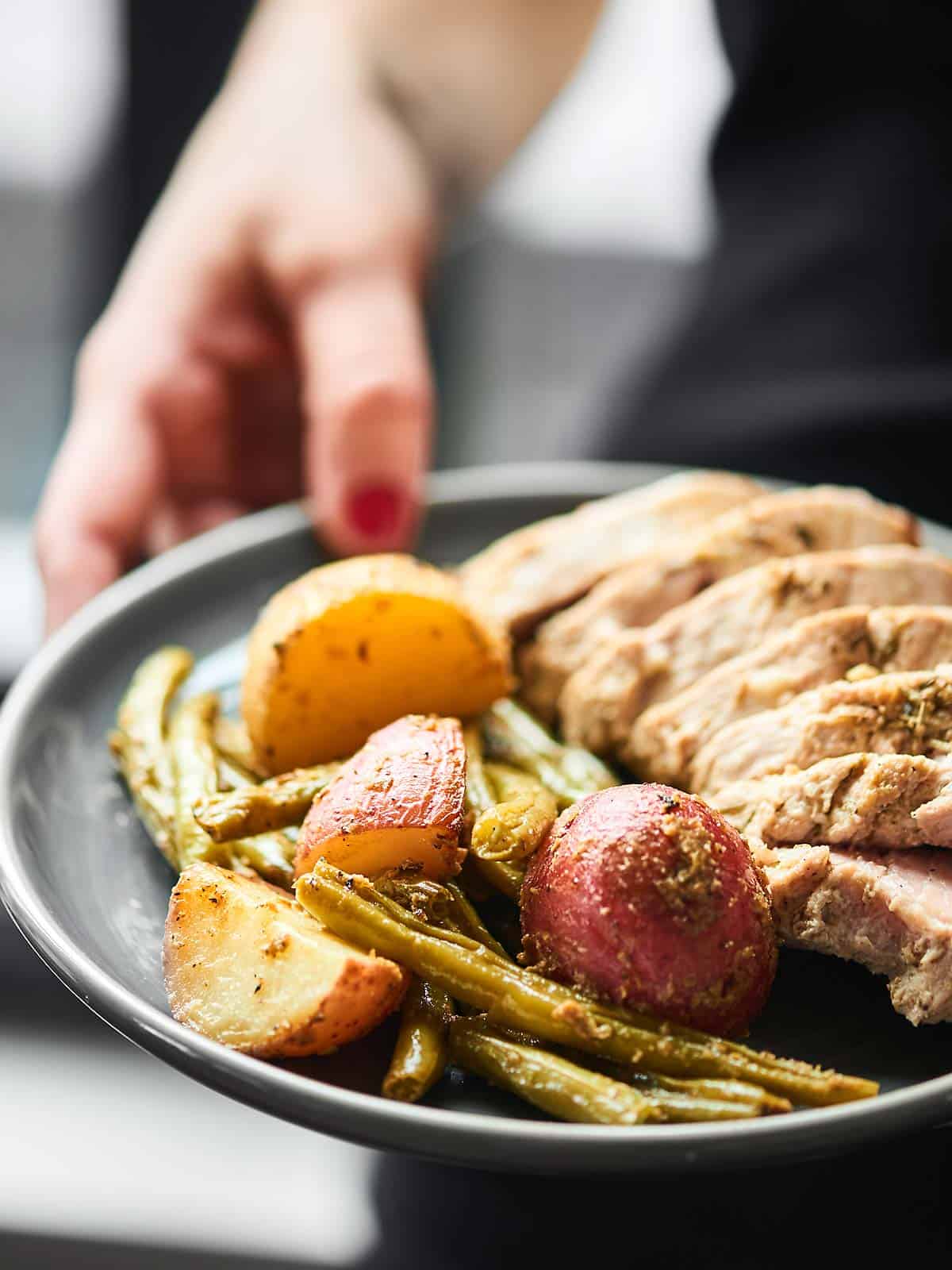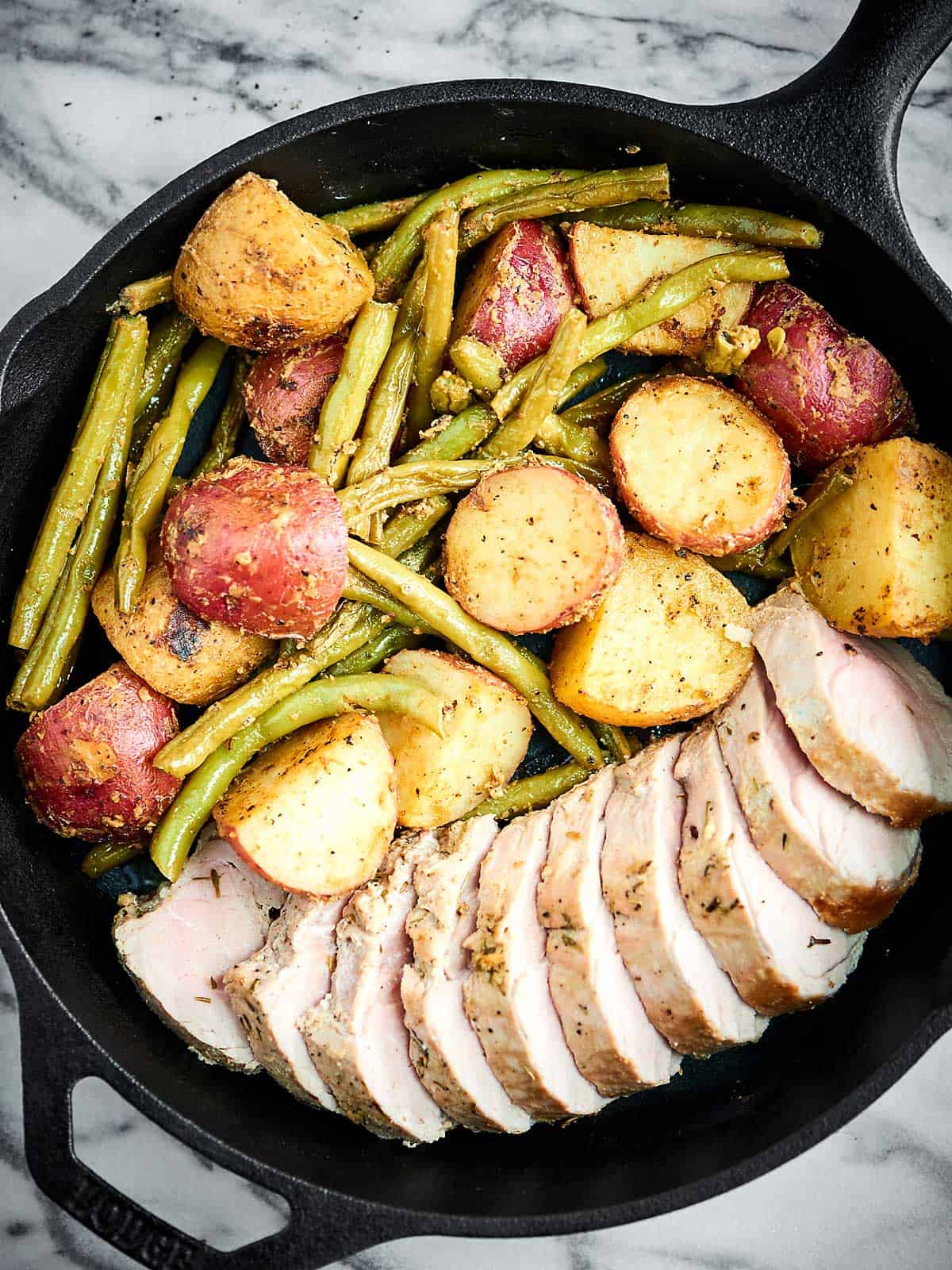 For whatever reason, I get really intimated when cooking a meat other than chicken breasts. I don't really have a good reason other than I've cooked chicken breasts at least 1,000,000 times, so it's familiar and I know exactly what to do.
That means, I find myself cooking chicken breasts more than any other type of meat.
But this past week, I forced myself to get over it, and tried cooking a "new" type of meat.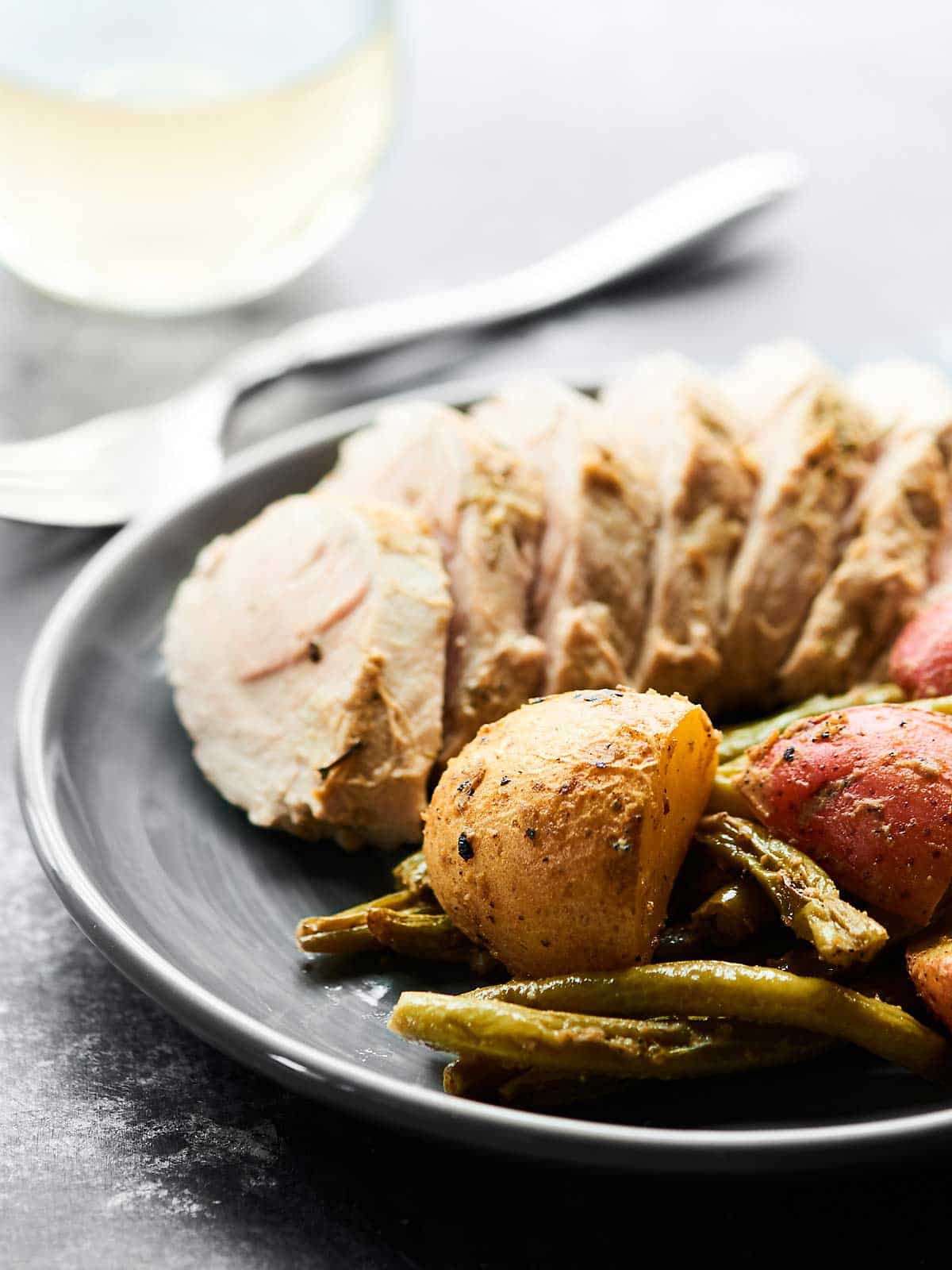 And guess what? It's not hard at all! It's actually super simple and I am now completely obsessed with pork tenderloin. And you should be, too, because I'm not kidding when I say this lemon herb pork tenderloin is ridiculously juicy and flavorful.
And easy.
Of course. Hellooooo this is Show Me the Yummy: Easy Recipes for Yummy Food.
Wanna hear how easy it is?
Simply marinate 2 (1 pound) pork tenderloins in lemon zest, lemon juice, olive oil, garlic, dried rosemary, dried thyme, dijon mustard, salt, and pepper. I'd seriously recommend you let this marinate over night for the best texture and flavor. Trust me. It's SO worth it.
After the lemon herb pork tenderloin has marinated overnight, you're going to preheat your favorite cast iron skillet in the oven until it's niiiiiiiice and hot.
Once it's hot, you're going to add in your pork tenderloins. We're doing this, so you can get a nice sear on the meat. Then you'll roast the pork for about 10 minutes, give it a flip, and let it roast for an additional 10-15 minutes or until it has been cooked to p.e.r.f.e.c.t.i.o.n.
Let it rest (we wanna keep all those yummy juices inside), slice it, and serve.
I served this with my roasted potatoes and green beans with lemon dijon sauce and holy yum I was in heaven.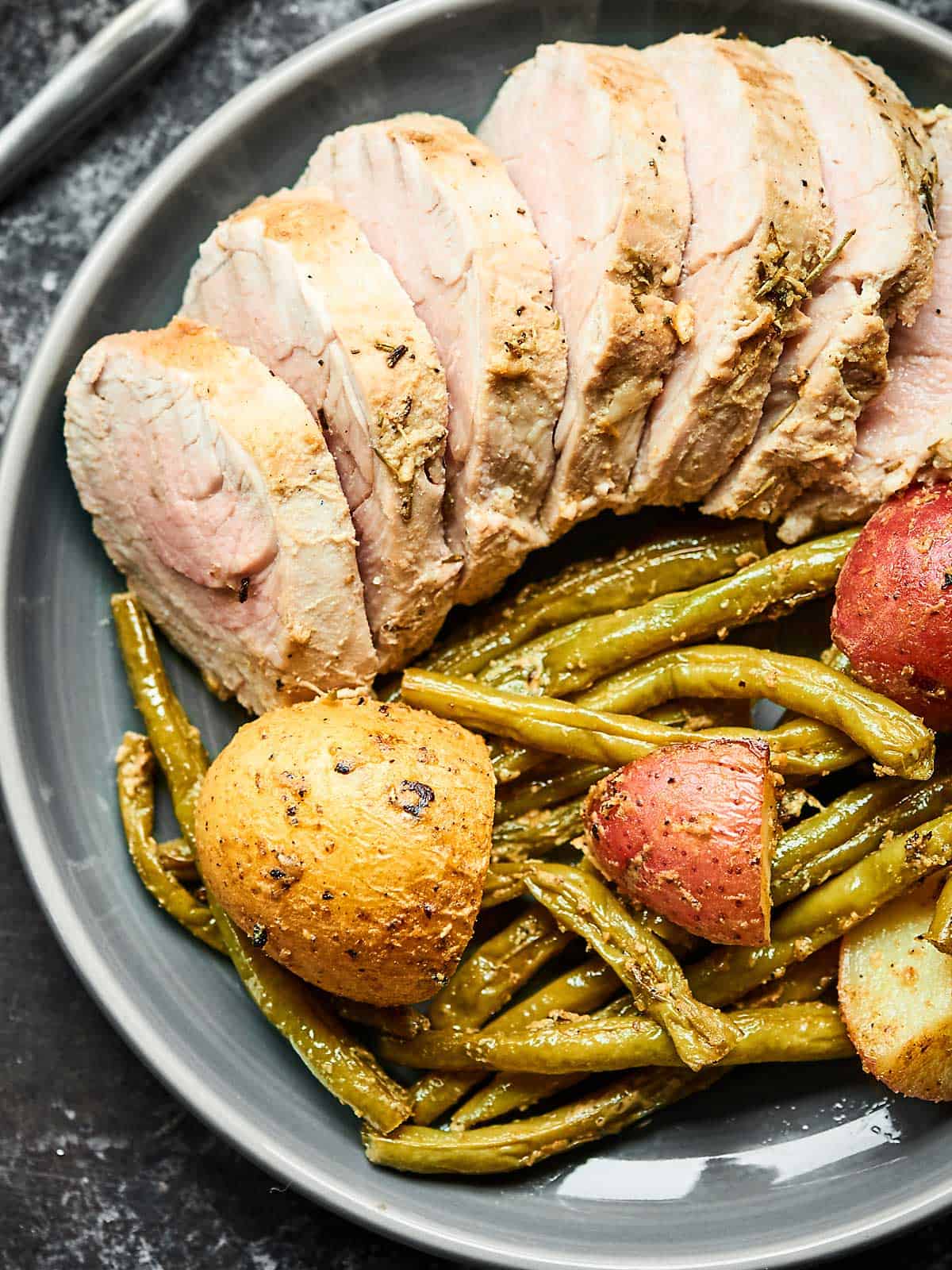 Tender, juicy, so easy, and full of bright, spring flavors, this lemon herb pork tenderloin will definitely be making more than one appearance at our dinner table!
– Jennifer
What's your favorite pork recipe? Tenderloin? Chops? Show me the yummy!
Lemon Herb Pork Tenderloin Recipe
Baked pork tenderloin at it's finest! This Lemon Herb Pork Tenderloin Recipe is healthy, easy, & full of fresh spring flavors like lemon, dijon, & garlic!
Servings
:
4
people
Results and timings may vary when adjusting servings
Ingredients
2

(1 pound)

pork tenderloins

1

tablespoon

lemon zest

1/2

cup

freshly squeezed lemon juice

2-4 lemons

2

tablespoons

olive oil

4

cloves

garlic

minced

1

teaspoon

dried rosemary

1

teaspoon

dried thyme

1

tablespoon

Dijon mustard

1/2

teaspoon

salt

1/2

teaspoon

black pepper
Instructions
Place all ingredients in a large gallon sized baggie.

Close and make sure the marinade has fully coated the pork.

Place in the fridge and let marinate overnight, or at least 3 hours.

Place your cast iron skillet (or other oven friendly pan) on the middle rack of your oven and preheat the oven to 450 degrees F.

Let the skillet heat up for 10 minutes in the oven.*

CAREFULLY remove the hot pan from the oven using oven mitts and drizzle 1 tablespoon of olive oil on the pan. Swirl to coat the bottom.

Set the pork in the skillet. Be VERY careful, as the oil may splatter.

Immediately return the skillet to the oven. Roast for 10 minutes.

Using tongs, flip the pork to the other side.

Reduce the oven temperature to 400 degrees F and continue cooking another 10 to 15 minutes. The pork is done when its internal temperature is 140 degrees F in the thickest part of the meat.

Remove the skillet from the oven.

Place the pork on a cutting board, cover loosely with foil, and let it rest for 10 minutes.

Slice the pork and serve!
Notes
*We're doing this, so the pan gets hot, so the pork can get a nice sear on it!
Make this recipe?
Show

ME

the Yummy
Tag @ShowMeTheYummy & #ShowMeTheYummy on Instagram
Nutrition Facts
Lemon Herb Pork Tenderloin Recipe
Amount Per Serving
Calories 350
Calories from Fat 135
% Daily Value*
Total Fat 15g 23%
Cholesterol 147mg 49%
Sodium 452mg 19%
Potassium 935mg 27%
Total Carbohydrates 4g 1%
Protein 47g 94%
* Percent Daily Values are based on a 2000 calorie diet.
*Note: Nutritional information is estimated and varies based on products used.
* This post contains affiliate links. We receive a commission on purchases made via these links. The price you pay is not affected by using them.