Beer Battered Fish Tacos w/ Asian Slaw. Flour tortillas stuffed with crispy, golden, tender, beer battered cod and topped with toasty, crunchy, fresh coleslaw!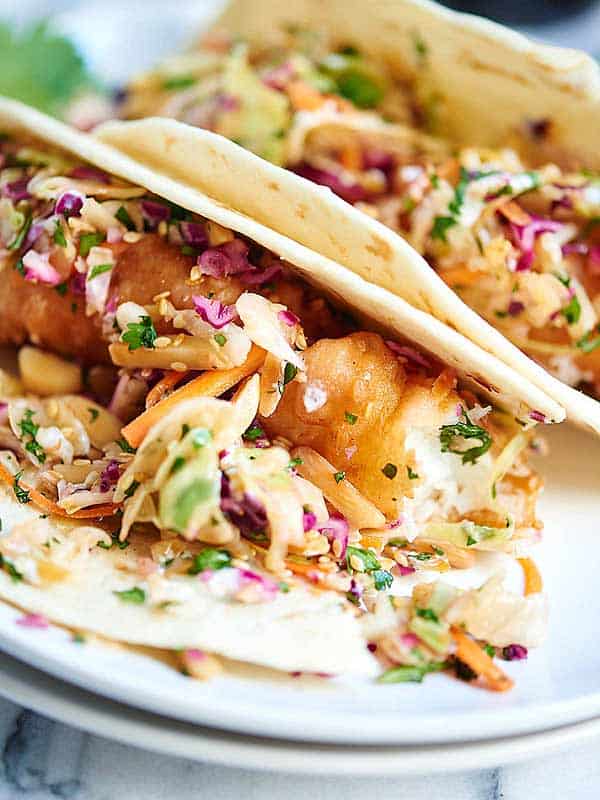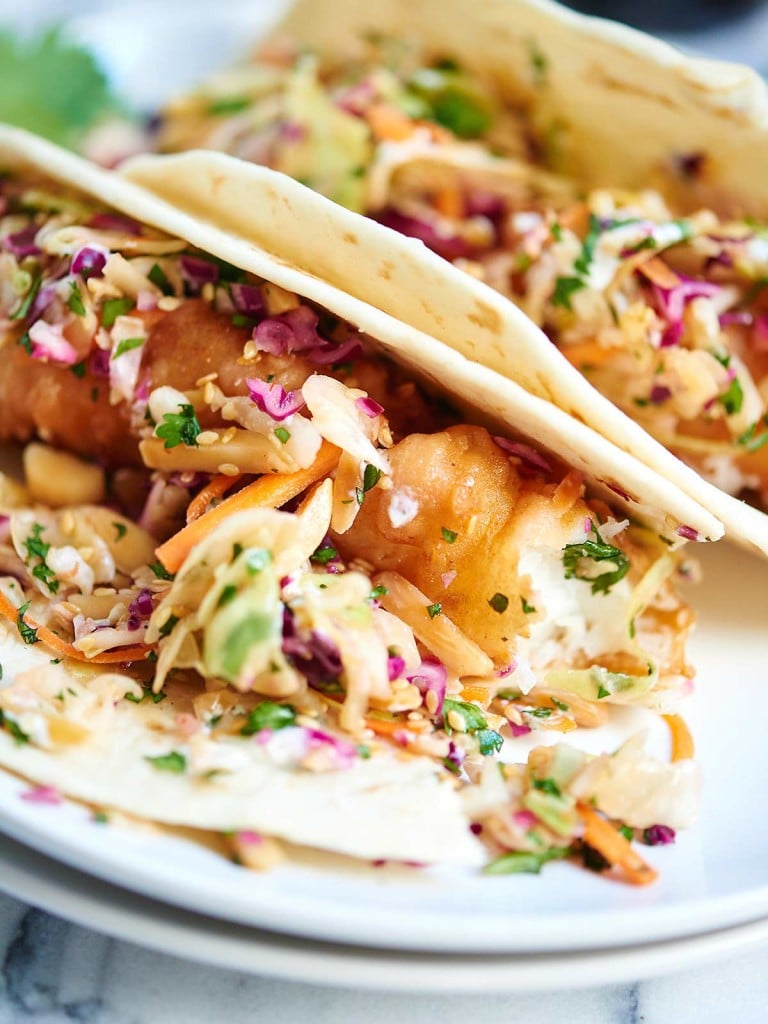 These babies are Beer Battered Fish Tacos, or more specifically, Beer Battered COD Fish Tacos WITH an Asian (Trevor gets confused in the video below and thinks these are Mexican tacos 😉 ) inspired coleslaw. And. These. Are. Yummy.
The best part of these tacos is the fresh cod. One of my favorite things about living in Seattle is being able to get my hands on all sorts of fresh seafood! There's nothing cooler to me than being able to use fresh, local ingredients.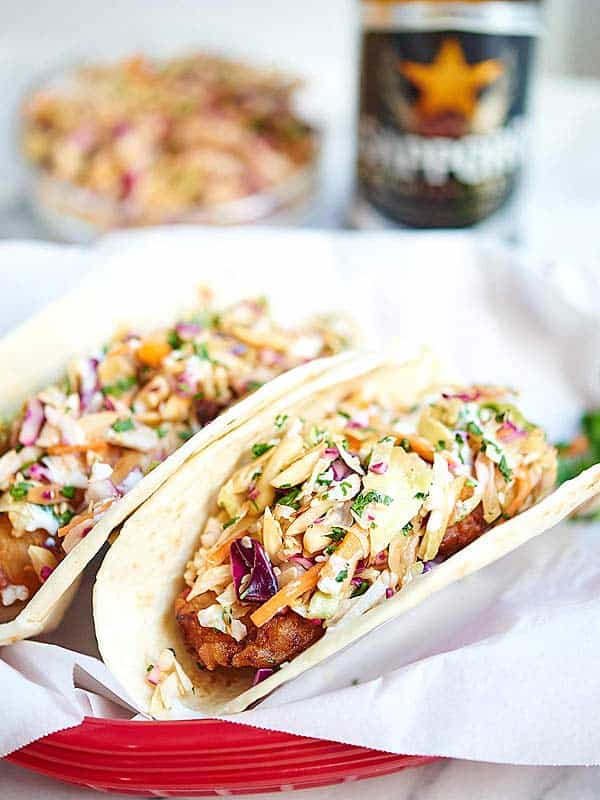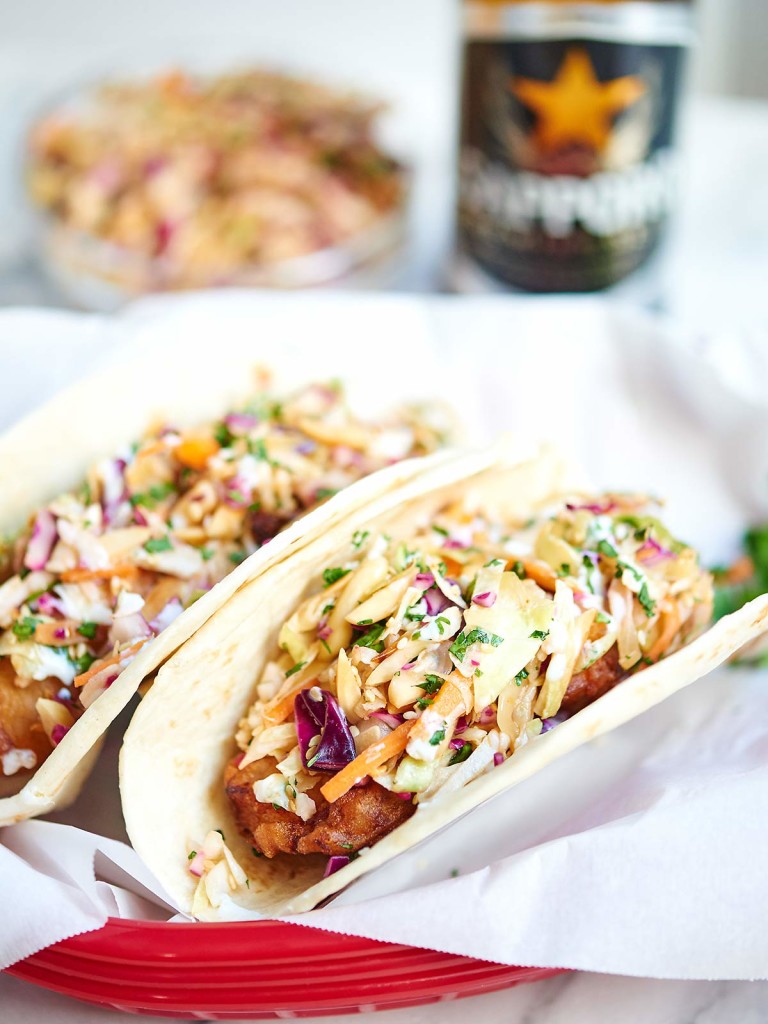 Orrr wait. Maybe the best part of these Beer Battered Fish Tacos is the, um, beer batter? It's crunchy, salty, and ultra addicting. You could dip just about anything in this beer batter and it would taste good.
But what about that slaw? Ohhhh meh gosh. Gimme all the slaw. I cheated and used pre-packaged coleslaw, because I'm lazy and heeeyyyy it tastes good. Then I smothered it in all sorts of delicious Asian flavors like sesame oil, rice vinegar, ginger, toasted sesame seeds…  ♡.
Long story short, everything about these Beer Battered Fish Tacos is my favorite.  You can watch the whole process in the video here: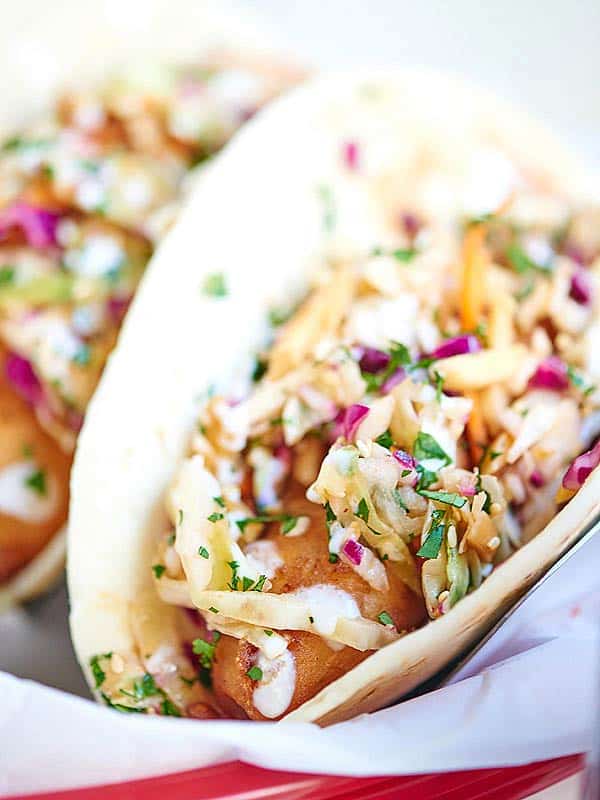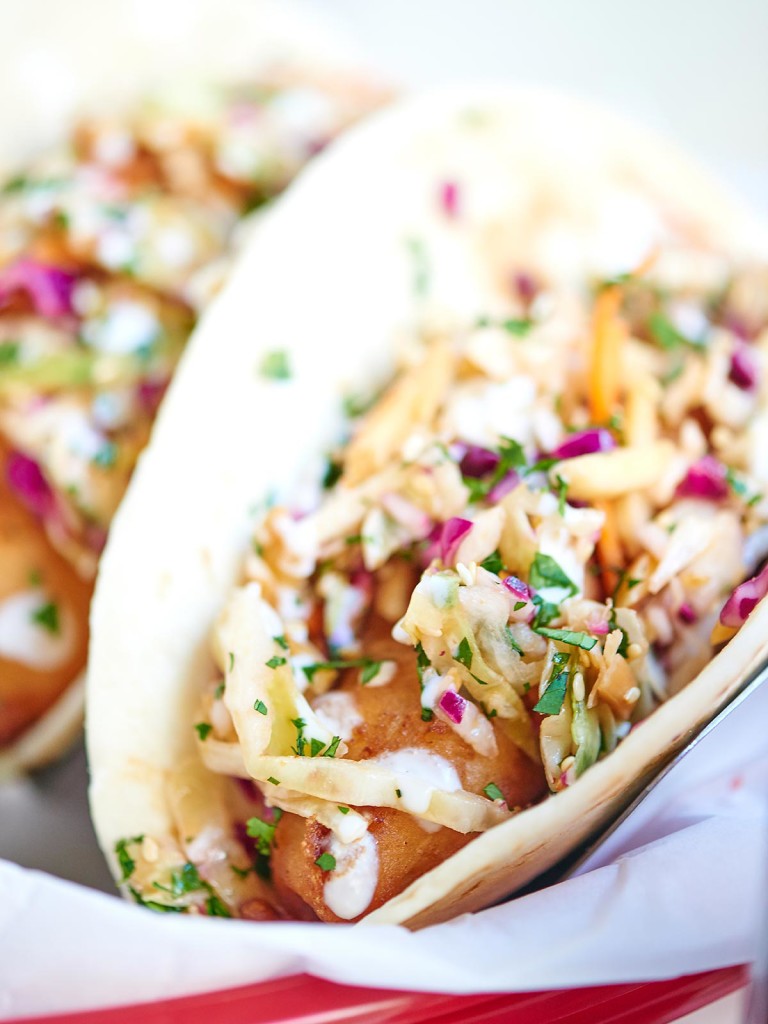 Before I continue, what do you guys think of the videos? This is our third video and we haven't asked you guys what you've thought yet! Trevor and I just sort of jumped in a few weeks ago and decided to start filming our recipes. I hope you're having as much fun as we are!
We're going to be posting a video, along with our recipe, every Monday, Wednesday, and Friday. Make sure to subscribe to our YouTube channel, so you can follow along and let us know what you think!
Now. Back to those tacos.
These. Are. Yummy.
Did I say that already? 😉
I was inspired to make these Beer Battered Fish Tacos by Belltown Pub in Seattle. I'm sure I've told you guys about this place before, because we get to take Teddy in there with us! They even have a doggie menu, although, we've never actually ordered from it. Don't tell Teddy. 😉
Trevor and I, however, have ordered plenty of food for ourselves there and they have these amazing tacos. If I see tacos on a menu, I will order them. Normally, I'm a steak, chicken, or pork taco kinda girl, but I've lived in Seattle for 3 years now and I'm becoming quite the seafood loving Seattleite, so I ordered their fried cod fish tacos.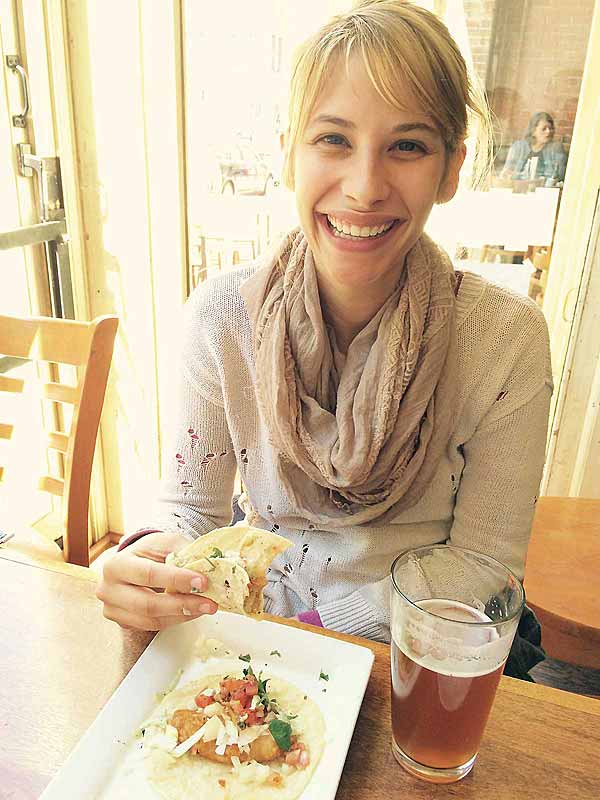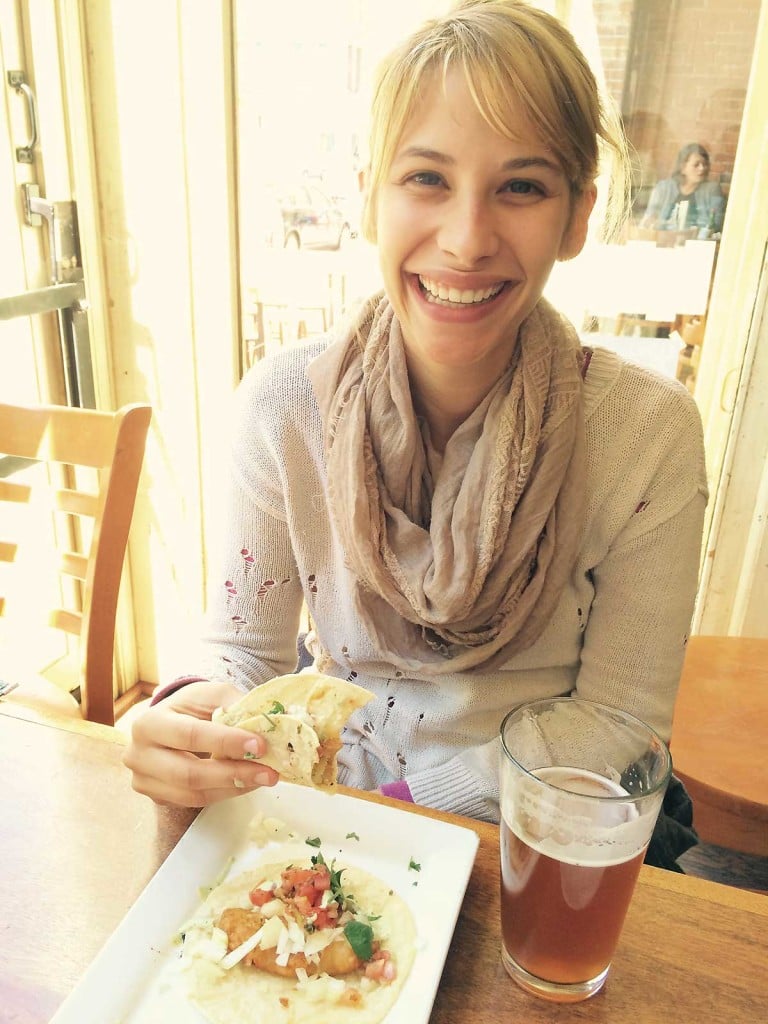 I'm so happy I did, because they did not disappoint.
Me, being me, I've been craving them for months now, and am just now getting around to making my own version!
The slaw is simple and delicious. Mix together your sauce ingredients, toast some almonds and sesame seeds, and toss together with pre-packaged coleslaw and freshly chopped cilantro. This slaw is so full of flavor, that I found myself munching on it by itself while the cod was frying.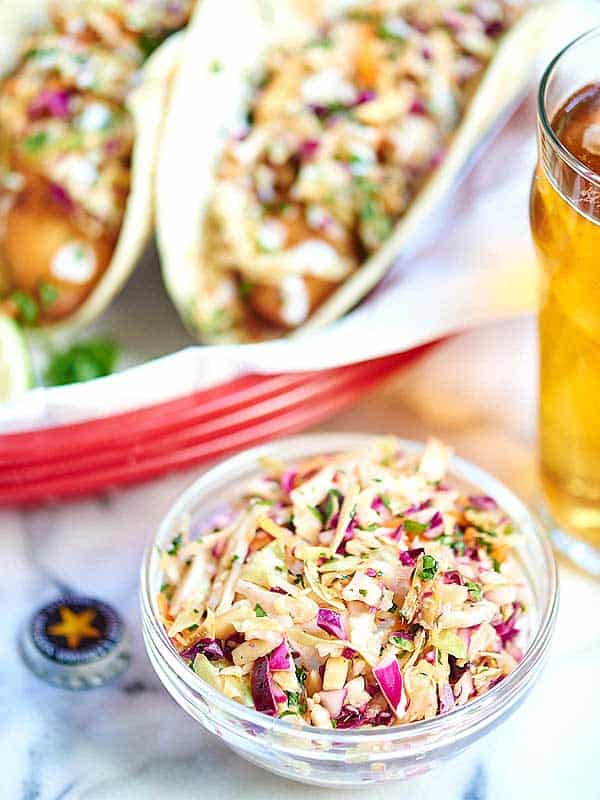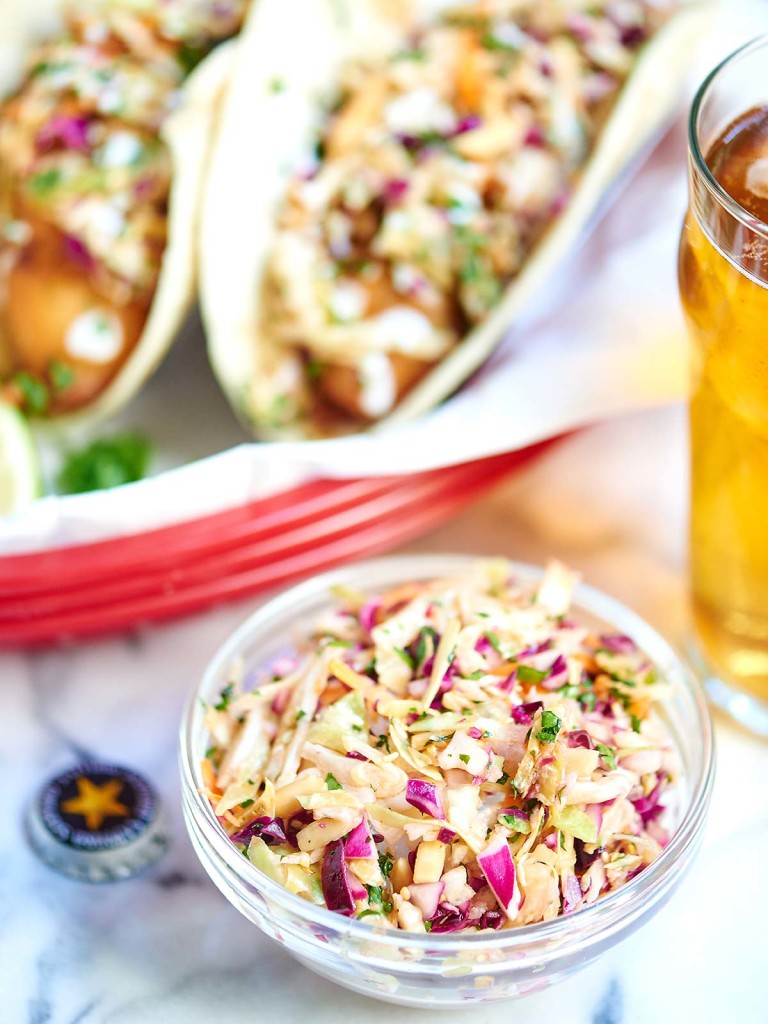 Oh yea. The cod. Yum.
I had never worked with cod before, but now I'm a huge fan. The flavor is so mild and the texture is tender and flakey, but holds up nicely against the beer batter.
Which, btw, who knew a beer batter would be so easy to put together?
All you need is flour, rice flour (which makes the batter crisp and light when fried), salt, and cold beer. We used Sapporo, a tasty, light Japanese beer, to stick with our Asian theme. Nerd alert: If you want to know more about what makes beer batter so great read this article.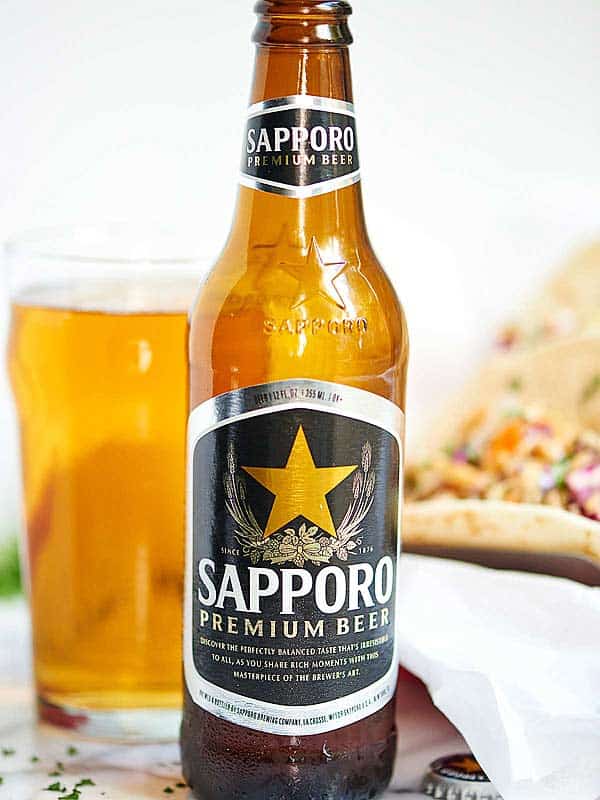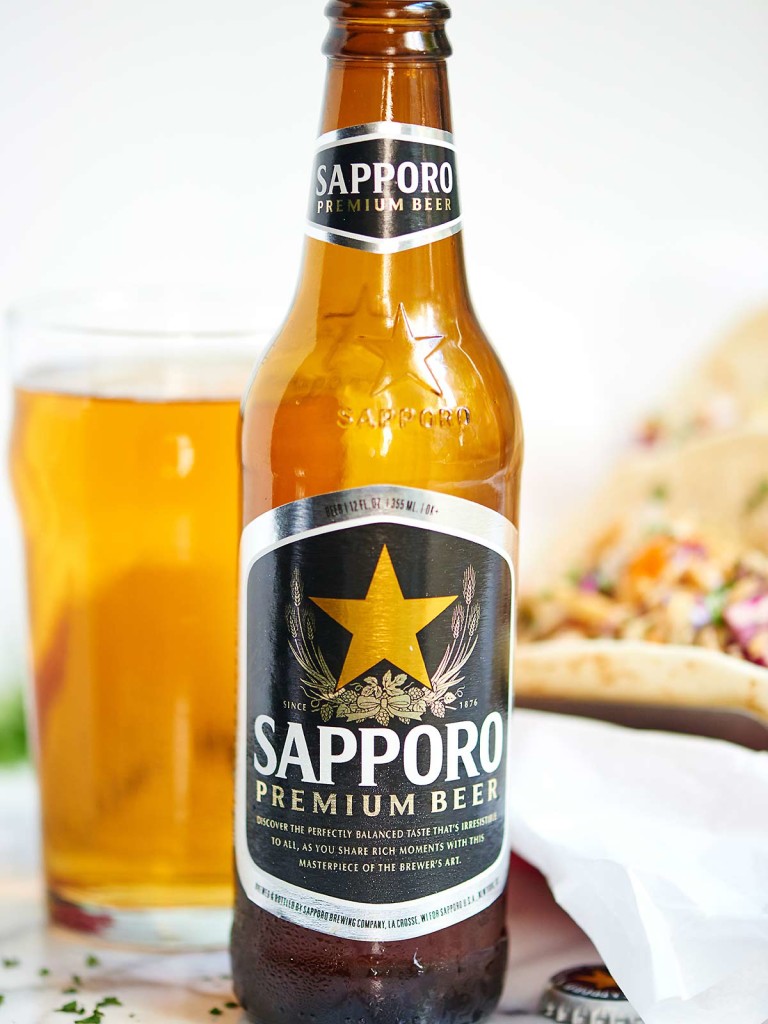 We coated cod pieces in the batter and then gave them a quick fry. Before Trevor and I started SMTY, I was terrified to fry things. It seemed too complicated and messy. It's not.
Trust me.
If you don't believe me, watch the video and you'll see exactly how we do it!
The cod takes a swim (hehehe, I couldn't resist) in the hot oil for a few minutes, until it's golden deliciousness, we then sprinkle it with just a touch of salt, and assemble our tacos!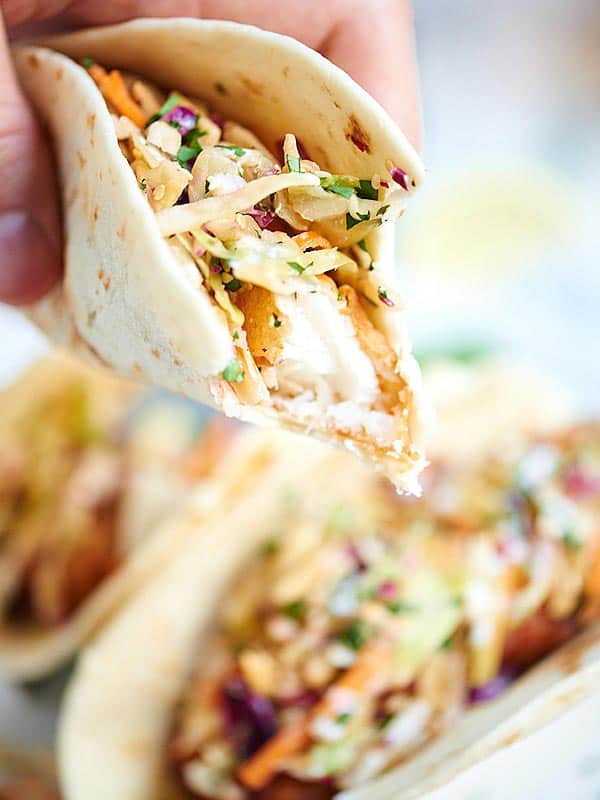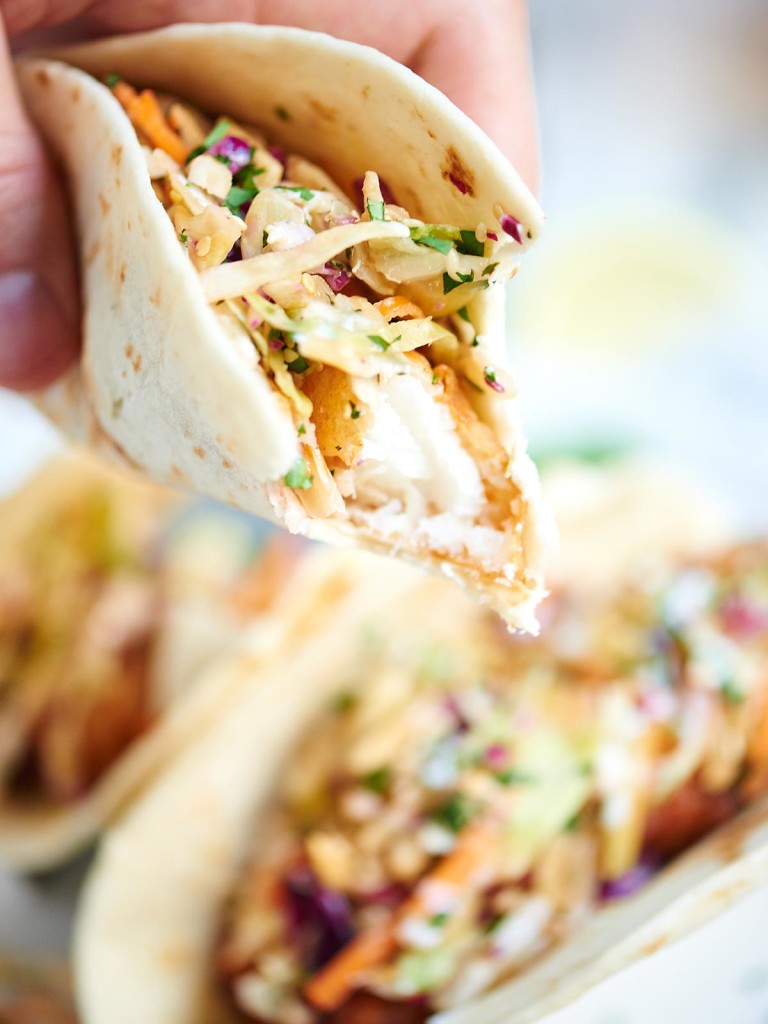 Flour tortilla + crispy, golden, flakey, tender, beer battered cod + toasty, crunchy, fresh coleslaw leads to shoveling Beer Battered Fish Tacos in my face for the next 20 minutes and not being sorry about it at all.
– Jennifer
Have you ever made beer battered fish tacos? Show me the yummy!
PS – You'll need a candy/deep fry thermometer
for this recipe!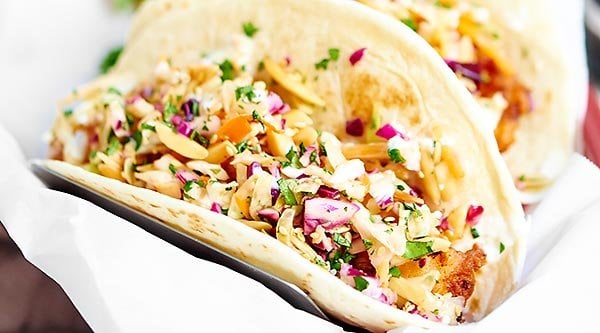 Beer Battered Fish Tacos
Beer Battered Fish Tacos w/ Asian Slaw. Flour tortillas stuffed with crispy, golden, tender, beer battered cod and topped with toasty, crunchy, fresh coleslaw!
Equipment for this recipe
(equipment shown are affiliate links)
Ingredients
1/2

pound

fresh cod

cut into 1 oz pieces (you should have

8 pieces

)

4

flour tortillas

vegetable oil

for frying (you'll need to fill a medium sized pan with 1 in worth)
Coleslaw
2

tablespoons

sesame oil

1

tablespoon

seasoned rice vinegar

1

tablespoon

lime juice

1/2

tablespoon

honey

1/2

teaspoon

Sriracha

1

clove

garlic

minced

1/4

teaspoon

ground ginger

1/2

teaspoon

salt

3

cups

coleslaw

we used a pre-packed kind that included shredded cabbage and carrots

1/4

cup

Cilantro

chopped

1/4

cup

almond slivers

1

tablespoon

Sesame seeds
Beer Batter
1/4

cup

all purpose flour

1/4

cup

white rice flour

1/2

teaspoon

salt

1/2

cup

cold beer
Instructions
Coleslaw
Whisk together sesame oil, rice vinegar, lime juice, honey, Sriracha, garlic, ginger, and salt together in a medium sized bowl. Toss with coleslaw and chopped cilantro. Set aside.

Place the almond slivers and sesame seeds in a metal pan.

Toast them over medium heat until golden brown and fragrant, about 5 - 10 minutes.

Toss together with the coleslaw and place in the fridge until you're ready to assemble the tacos.*
Beer Batter
Whisk together both flours and salt.

Stir in the cold beer and mix until no lumps remain.

Coat each piece of fish with the batter. Each piece should have a good coating of batter.
Frying
Heat oil to 325 - 350 degrees F.

Working with one - two pieces at a time**, slowly place the cod in the oil until it's fully submerged.

Use a metal slotted spoon to keep the fish from sticking to the bottom of the pan.

Cook until the coating is golden and the fish is cooked through, about 5 minutes.

Use the slotted spoon to remove the fish from the oil and place on a wire rack to cool.

Sprinkle immediately with a pinch of salt.

Repeat with remaining fish.
Assembly
Prepare the tortilla according to the package directions.

Place two pieces of cod on each tortilla and top with the coleslaw.

Drizzle with sour cream, if desired, and serve immediately!
STORING
Reheat:
Bake or microwave to warm
*Storage times may vary based on temperature and conditions
Notes
*If you want to make the coleslaw more than a few minutes in advance, store the sauce and coleslaw mixture in the fridge separately and toss together right before serving.
** Start with 1 piece of cod until you get the hang of cooking time. The outside should be golden and crispy and the fish inside should be cooked through, but flakey.
Nutrition Information
Nutrition Facts
Beer Battered Fish Tacos
Amount Per Serving (1 taco)
Calories 454
Calories from Fat 153
% Daily Value*
Fat 17g26%
Cholesterol 24mg8%
Sodium 1049mg46%
Potassium 488mg14%
Carbohydrates 54g18%
Protein 19g38%
Vitamin A 140IU3%
Vitamin C 21.8mg26%
Calcium 137mg14%
Iron 3.4mg19%
* Percent Daily Values are based on a 2000 calorie diet.
*Note: Nutrition information is estimated and varies based on products used.
Keywords:
beer battered, fresh cod, seafood
*This is not a sponsored post. We were, however, provided with the Sapporo to make the yummy beer batter! Thanks Sapporo!