This homemade maple almond butter is so much better than store bought!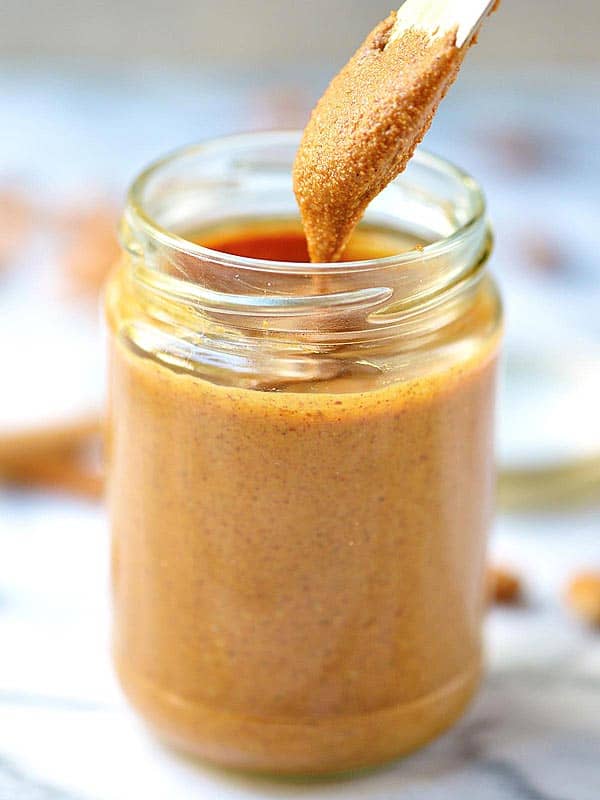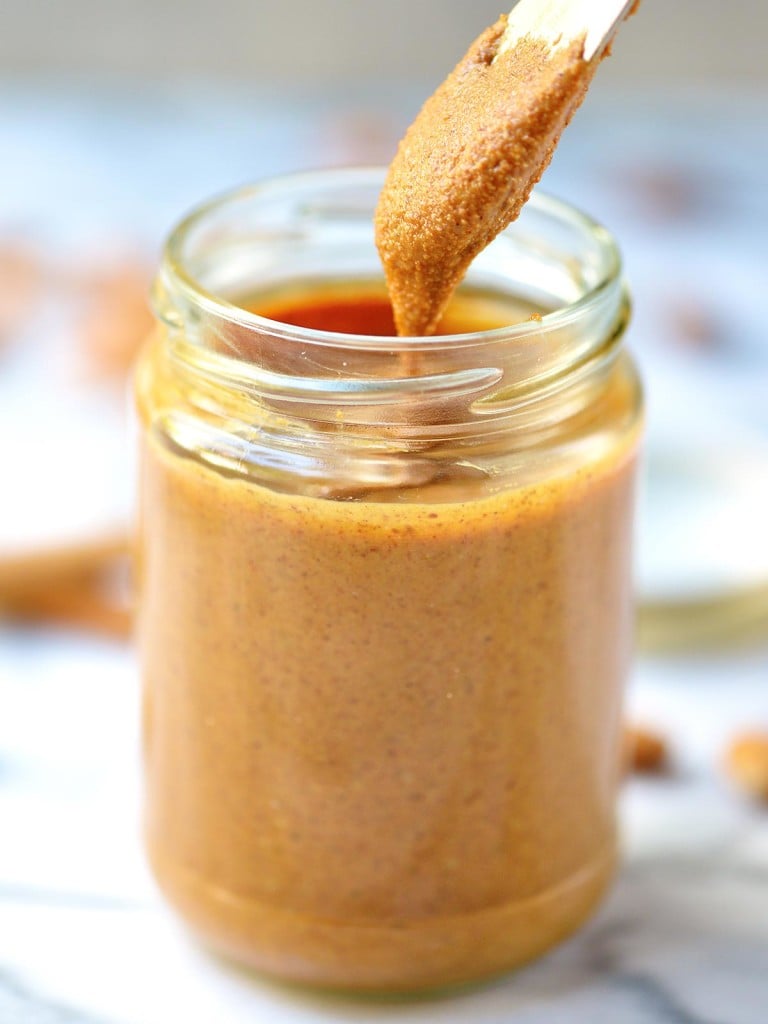 Why did it take me this long to make homemade maple almond butter?! People have been making almond butter forever and I always thought it was cool, but I just never did it. I don't really have a good reason, other than being 1000000% L-A-Z-Y. But now, I can finally say that I am totally on board with the homemade nut butter thing and I can still be 1000000% lazy. Winning.
It's so much better than store bought for so many reasons:
1. It's easy. You probably just rolled your eyes a teeny bit, because I always say things are easy to make, but come on, I don't lie to you! This is SO easy and perfect for those people, who like me, are feeling lazy, but want something homemade. 😉
2. It's healthier. Do you reeeeeally know what's in our favorite store bought peanut butter? Making homemade almond butter allows you do know exactly what you're putting in your body!
3. You can customize it to be whatever flavor you little ♡ desires. Not feeling my maple almond butter? Try using a different kind of nut, like peanuts or try playing around with different flavors and spices like honey or nutmeg! The possibilities truly are endless, so I will most definitely be bringing you guys different flavors!
4. It's fast. After you roast your almonds, which takes 0 energy, it literally takes 5 minutes to come together.
Easy. Healthy. Cutomizable. Fast.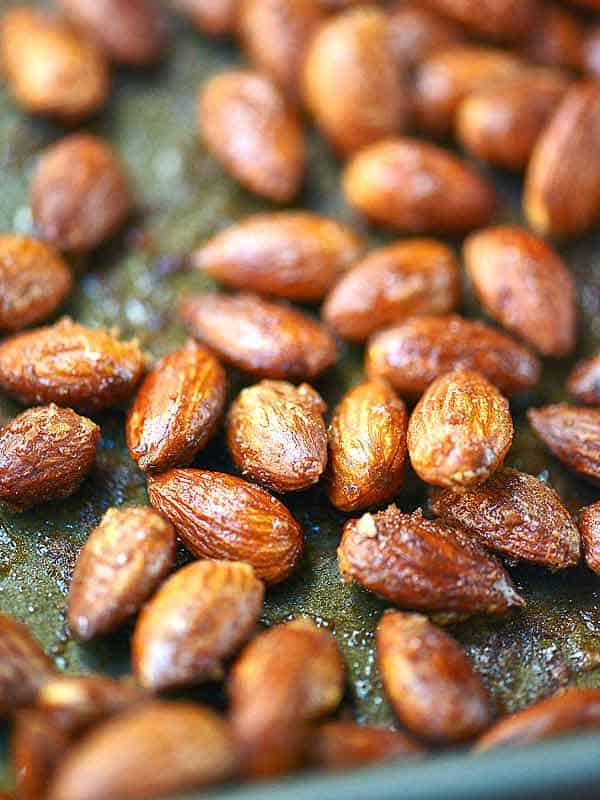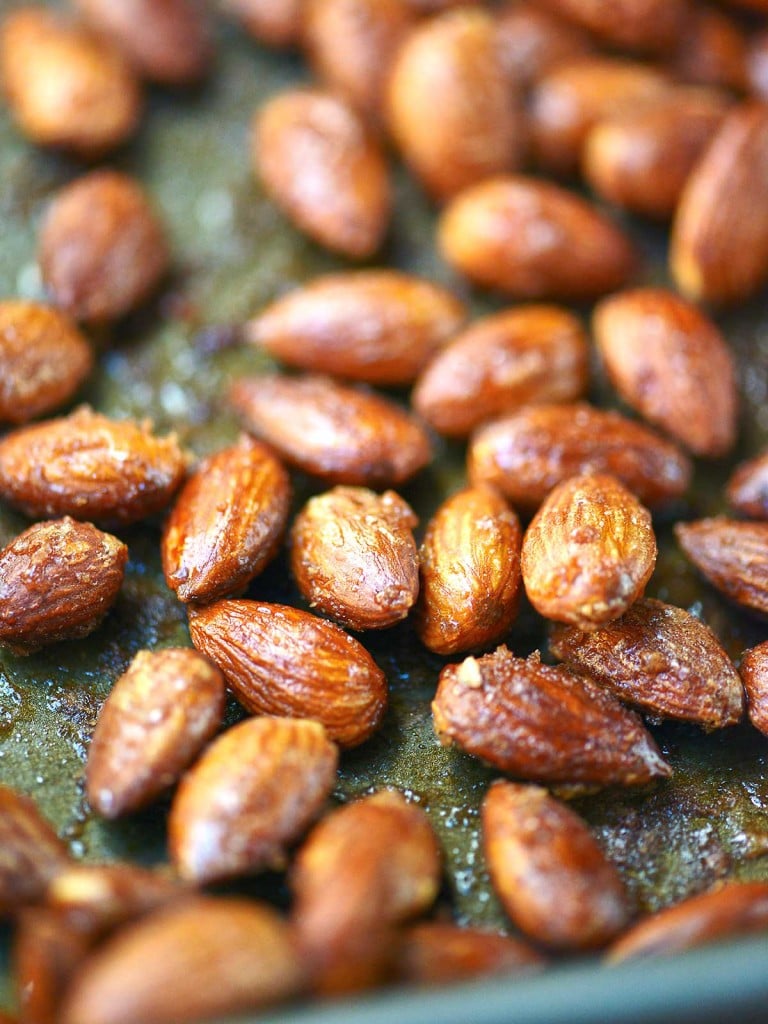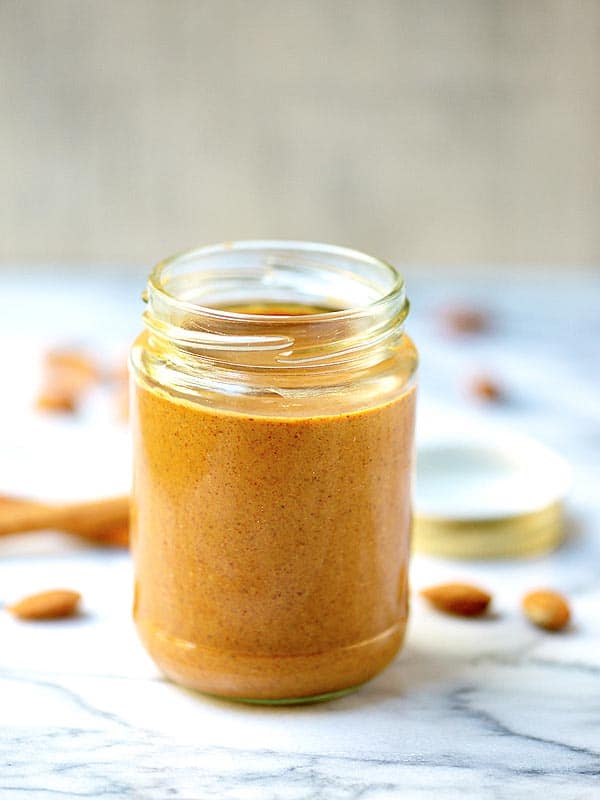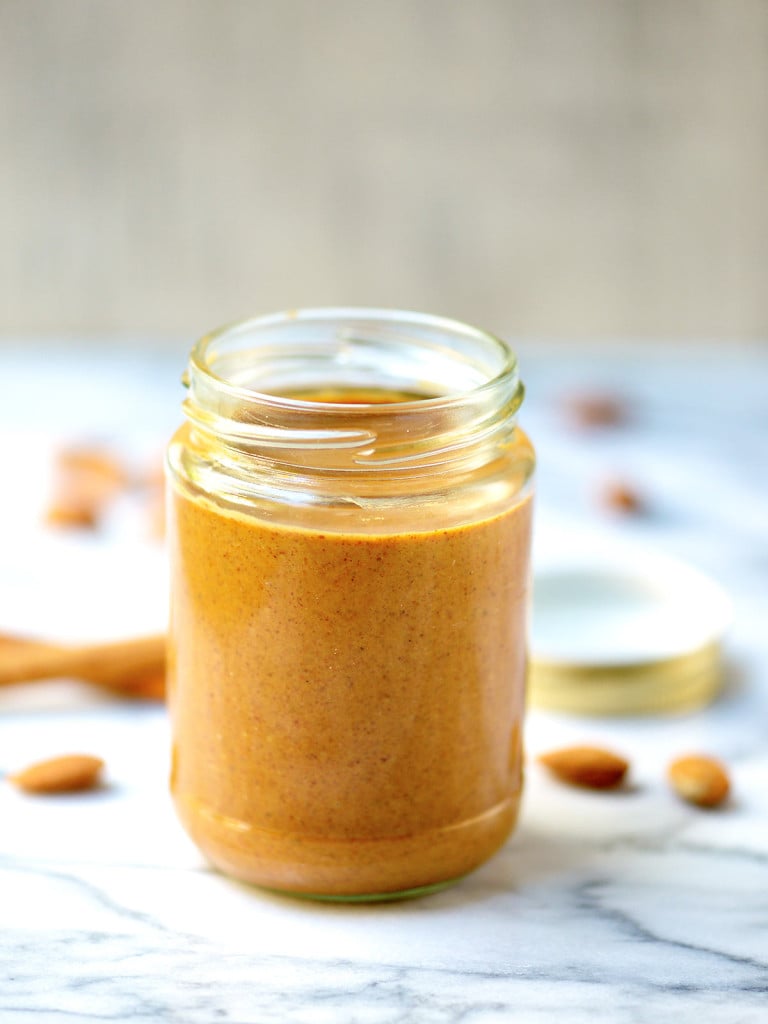 Ok, so that wasn't SO many reasons why this maple almond butter is better than store bought, but I feel like those were four pretty solid reasons why you should ditch the store bought and make homemade instead.
I originally decided to make homemade maple almond butter, because between Trevor and Teddy, we go through a LOT of peanut butter. Trevor loves it on crackers, Teddy loves it in his kong, and they both love it straight off of the spoon. Seriously. They are two peas in a pod: they love peanut butter, they both love back (or belly) rubs and they both hog the covers. See what I mean? Two peas. One pod.
While I can't do anything about them hogging the covers, I can try to make them both happy by making homemade peanut butter.
But…
Womp. Womp.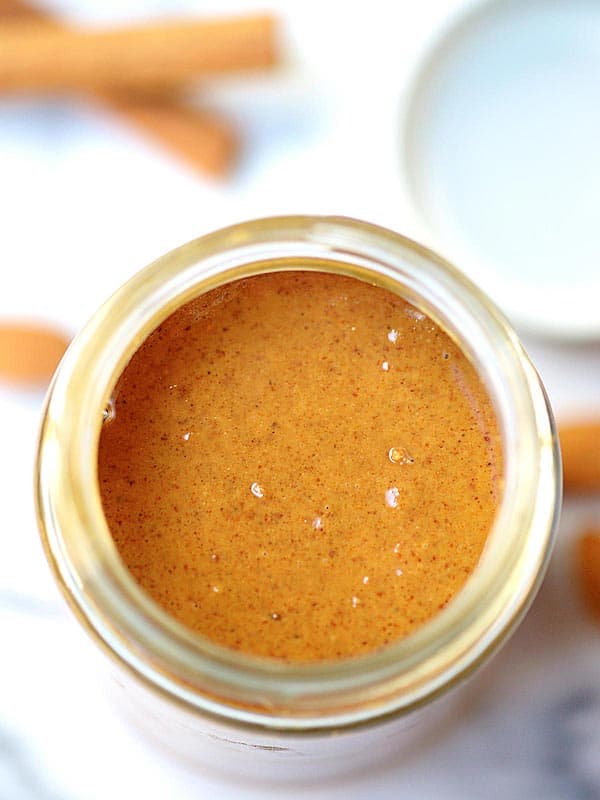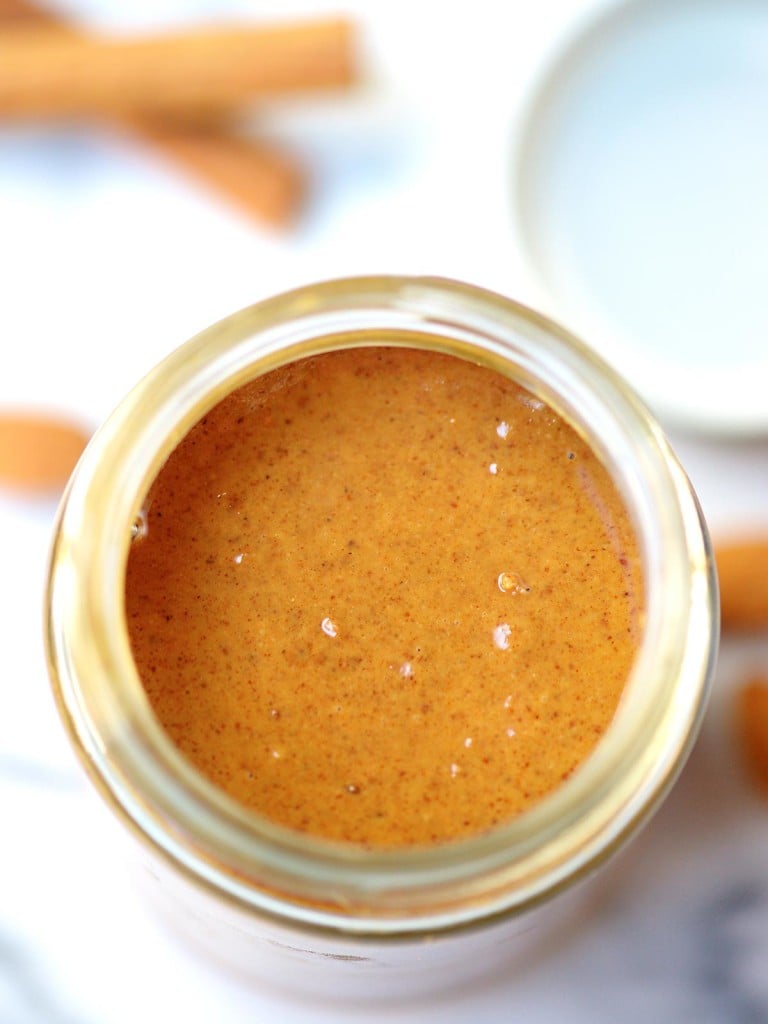 I didn't have peanuts. I already told you I was feeling a little lazy, and I DID have almonds, so you know, close enough, and honestly, I've had a huge bag of them sitting in my pantry from our shopping trip to Sam's Club, so it was time to actually use them.
I took a taste and they tasted a little bland to me, so I decided to pop them in the oven so they could get some nice roasty toasty flavor to them. Before I popped them in the oven, however, I gave them a little bath in some really delicious REAL maple syrup. Why? Because it's been sitting in my fridge and I lost the cap and have almost knocked it over only 100 times.
Sometimes the best recipes come from laziness and I'm really diggin' it. 😉
Once the almonds where toasty, I dumped them into my food processor and 5 minutes later, I had homemade maple almond butter!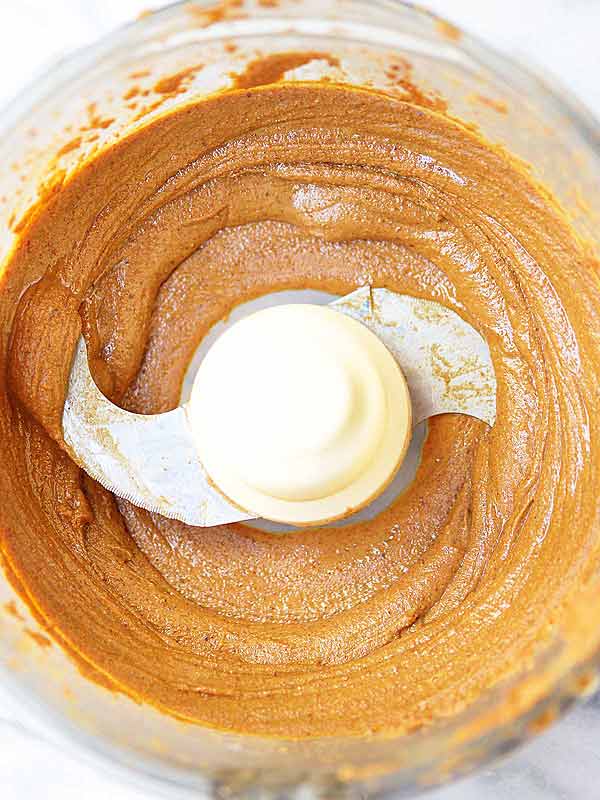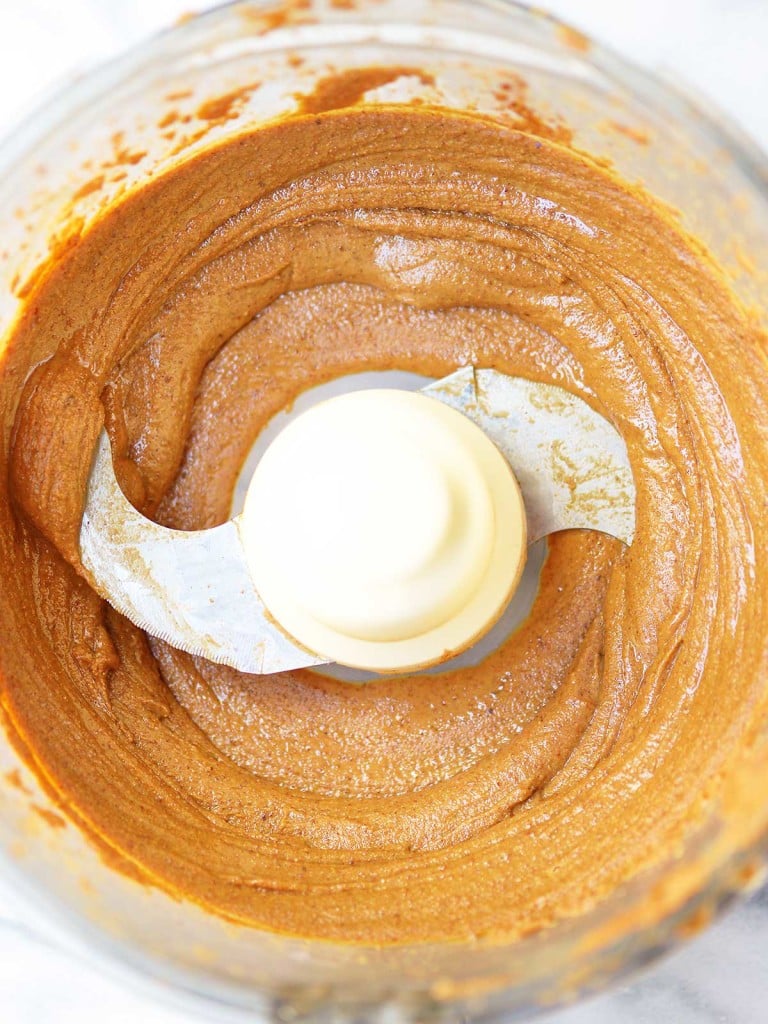 I promise you will not be disappointed after you've made this homemade maple almond butter. The flavor is so much more complex and rich then anything you can buy in the store. Roasting the almonds in the maple syrup adds so much depth of flavor, and I love the hint of vanilla and cinnamon that warms the whole thing up.
I let Teddy have a taste test, too…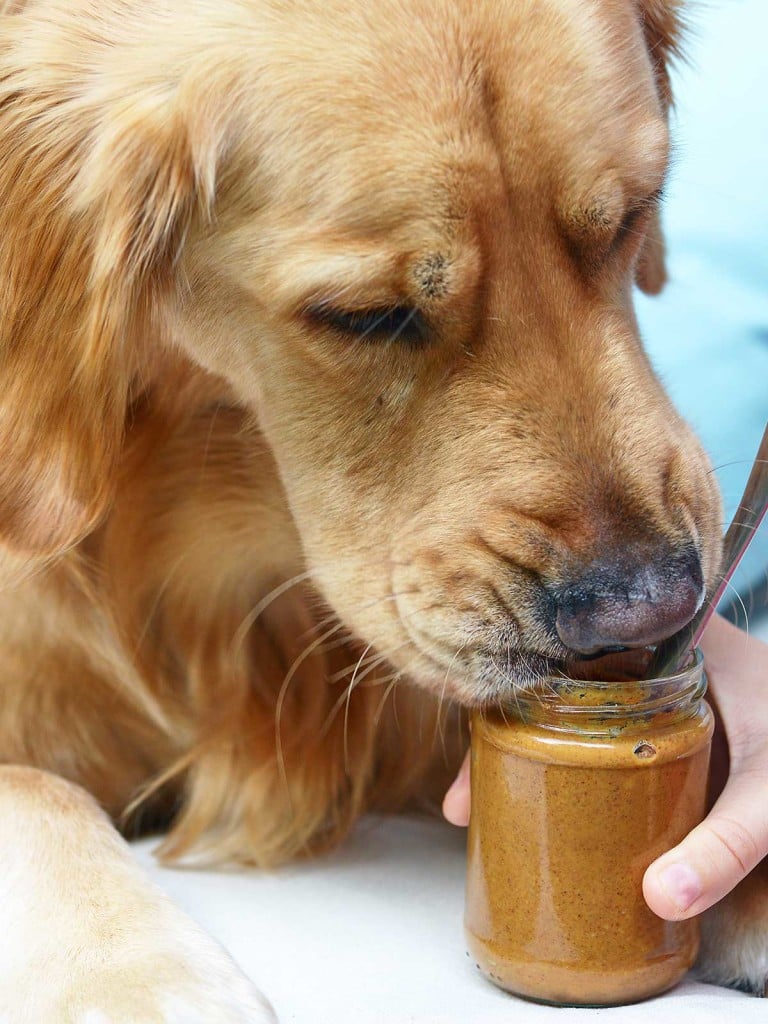 I think that'll be a Teddy only jar from now on (dog friendly notes in recipe below).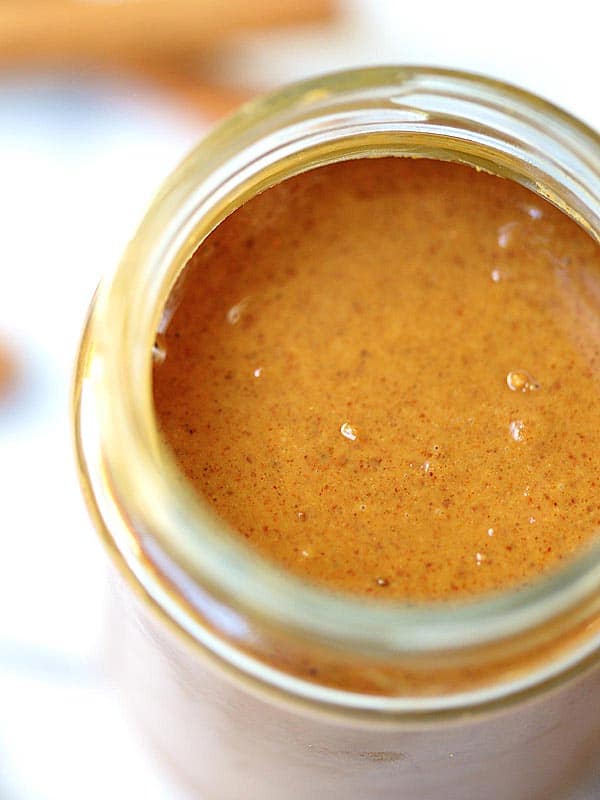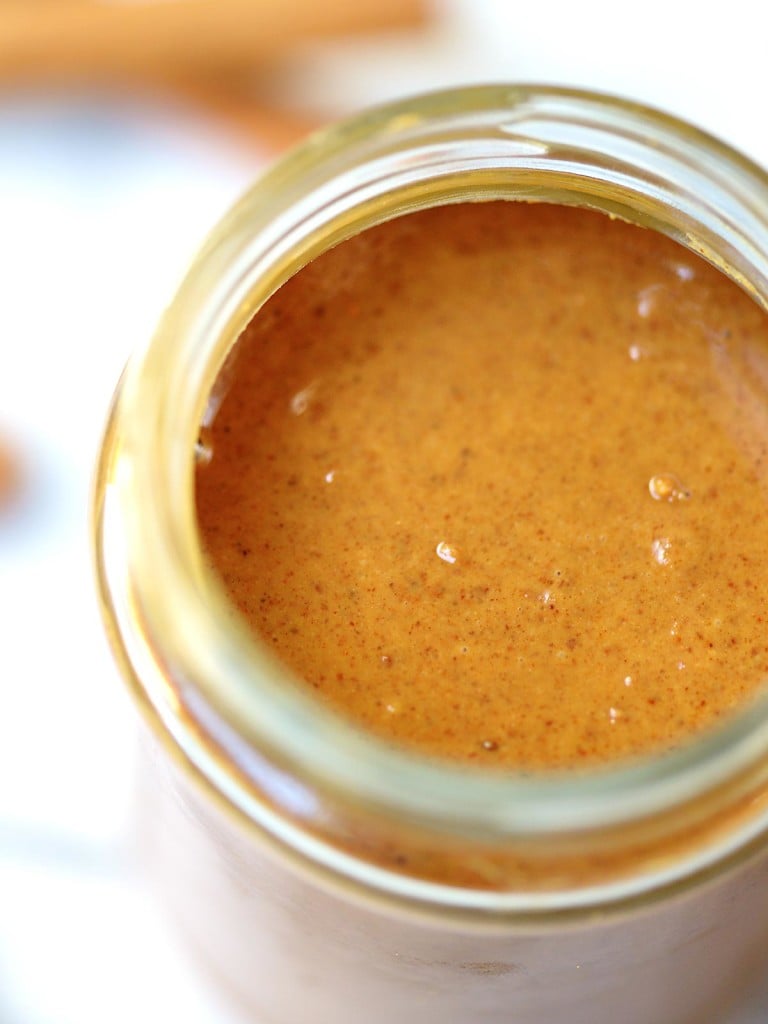 If you have a big bag of almonds to use up, I would definitely say this is the way to go. Like I said, the flavor combinations are endless and the uses for your homemade almond butter are endless, too! Use it on your morning toast, stirred into your oatmeal, mixed in with your favorite cookies, or drizzle it into a homemade milkshake (my fav as a kid).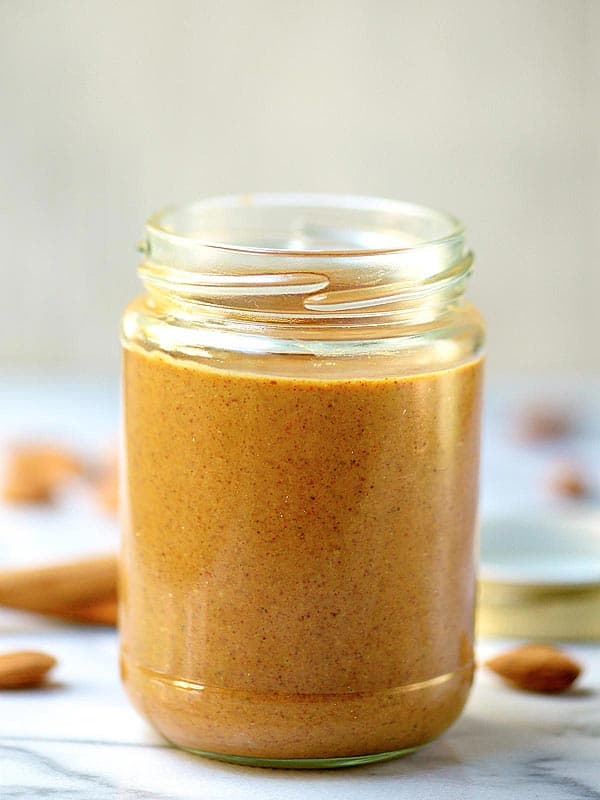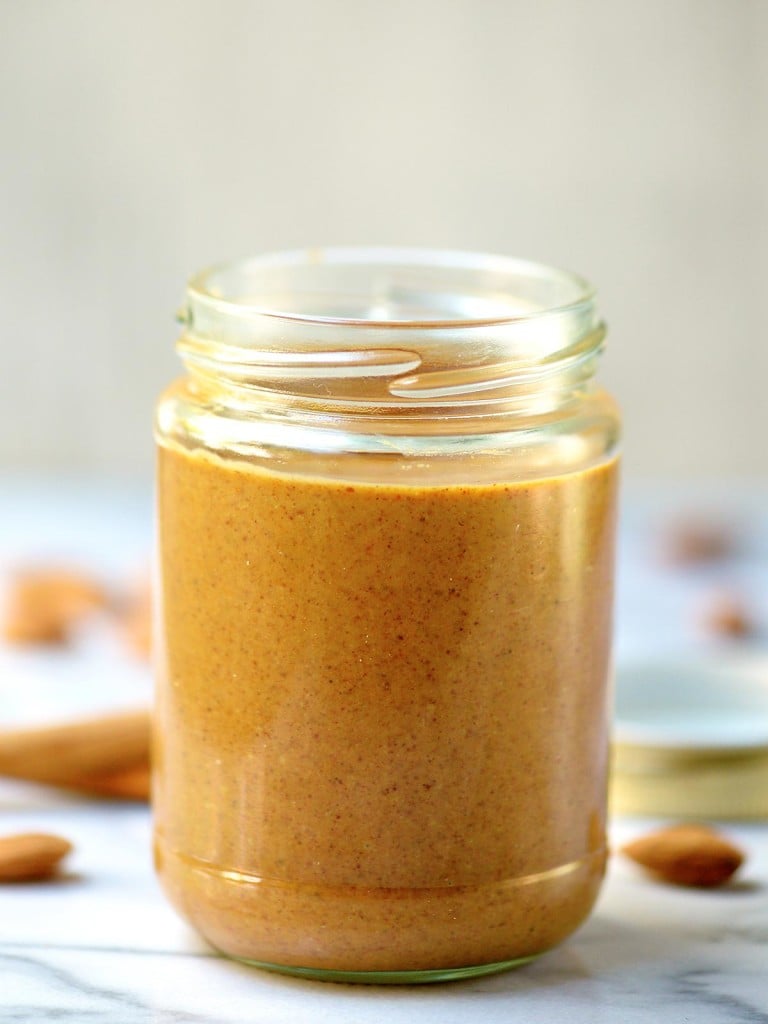 Soooo…have you made this maple almond butter yet?
– Jennifer
What flavors would you use in your homemade almond butter? Show me the yummy!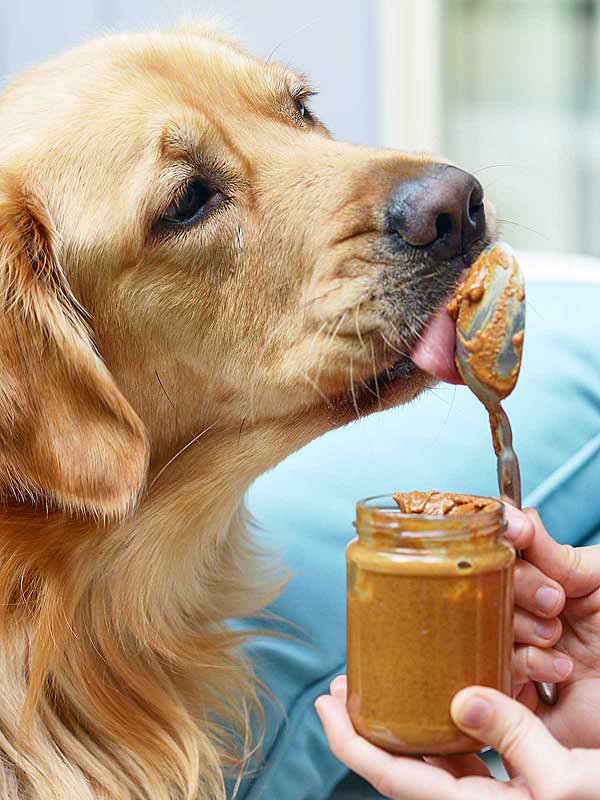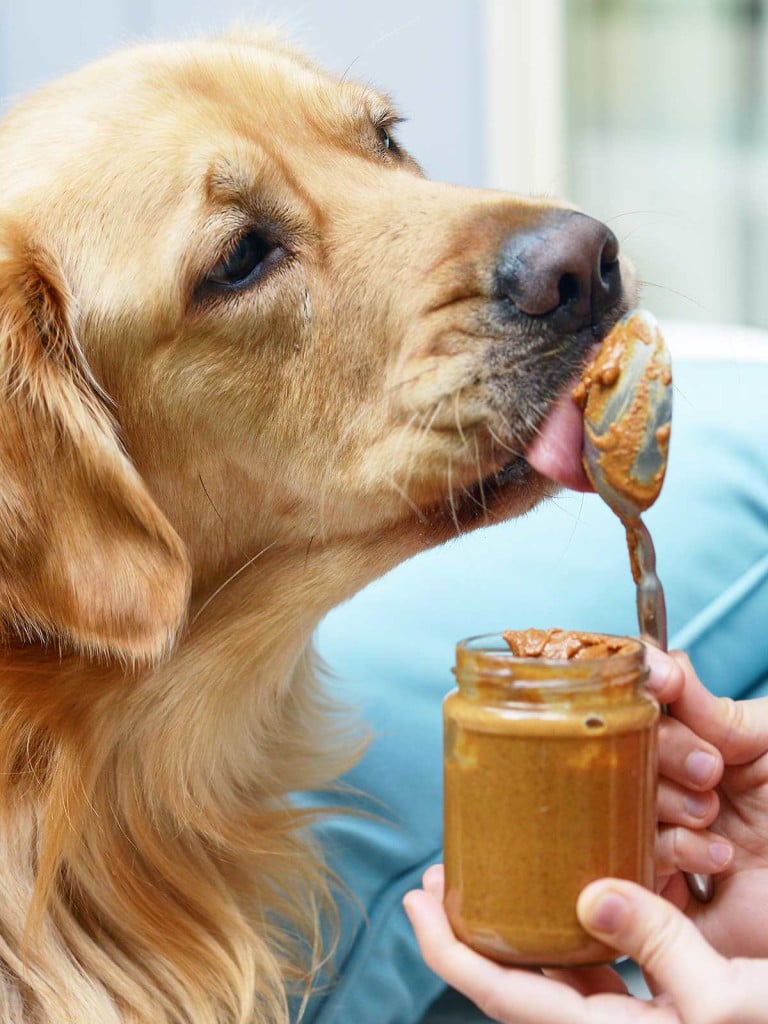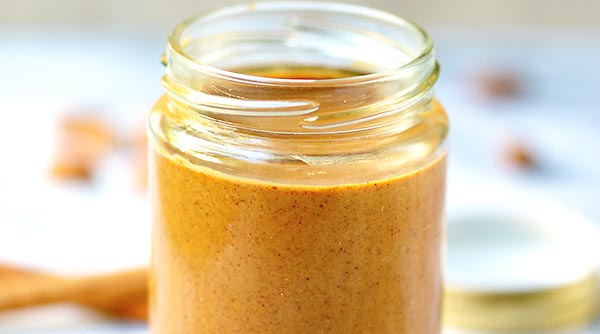 Maple Almond Butter Recipe
This homemade maple almond butter is so much better than store bought! I roast the almonds in maple syrup, which gives the butter a really rich flavor. I then stir in cinnamon and vanilla which adds so much warmth! Did I mention it's easy to make, vegan, and gluten free?
Equipment for this recipe
(equipment shown are affiliate links)
Ingredients
2

cups

almonds

1/4

cup

real maple syrup

not pancake syrup

3

teaspoons

coconut oil

divided

1

teaspoon

vanilla extract

1/2

teaspoon

cinnamon

1/4

teaspoon

salt
Instructions
Preheat oven to 300 degrees F.

Place almonds on a baking sheet and toss with maple syrup and two teaspoons of coconut oil.

Roast for about 25-30 minutes, stirring half way through.

Let cool for 10 minutes.

Place roasted almonds into food processor and process until smooth. You'll need to stop and scrape down the sides. This should take about 5 minutes.

Once creamy, add in vanilla, cinnamon, salt, and another 1 teaspoon of coconut oil and process until well combined.
STORING
*Storage times may vary based on temperature and conditions
Notes
This should be stored in the fridge.
DOG NOTE: It's best for your furry friend (if that's who you're making this for) to cut the oil, vanilla, and salt in half and to eliminate the maple syrup.
Nutrition Information
Nutrition Facts
Maple Almond Butter Recipe
Amount Per Serving
Calories 124
Calories from Fat 90
% Daily Value*
Fat 10g15%
Sodium 37mg2%
Potassium 137mg4%
Carbohydrates 7g2%
Protein 4g8%
Calcium 53mg5%
Iron 0.7mg4%
* Percent Daily Values are based on a 2000 calorie diet.
*Note: Nutrition information is estimated and varies based on products used.
Keywords:
healthy, maple, roasted almonds