German Potato Salad. Creamy potatoes, crunchy, salty prosciutto, and that perfect tang from the vinegar makes this one of the best potato salads I've ever had!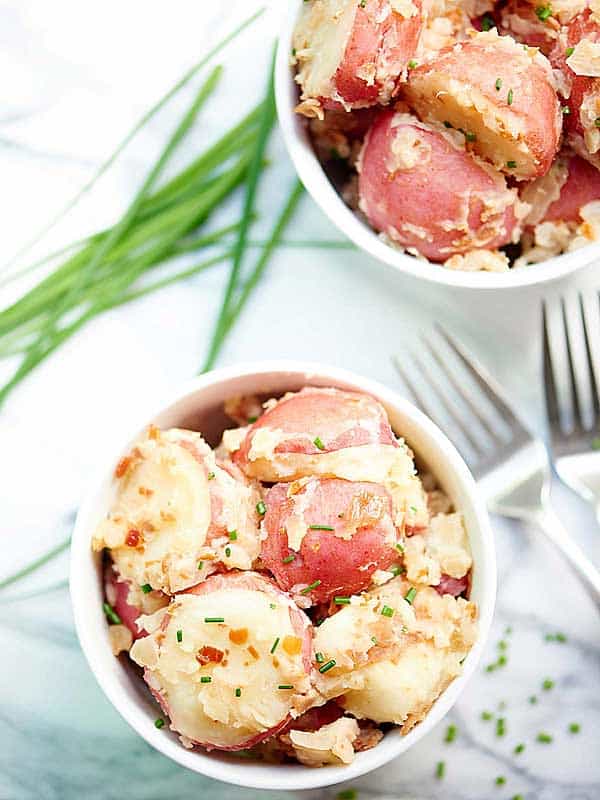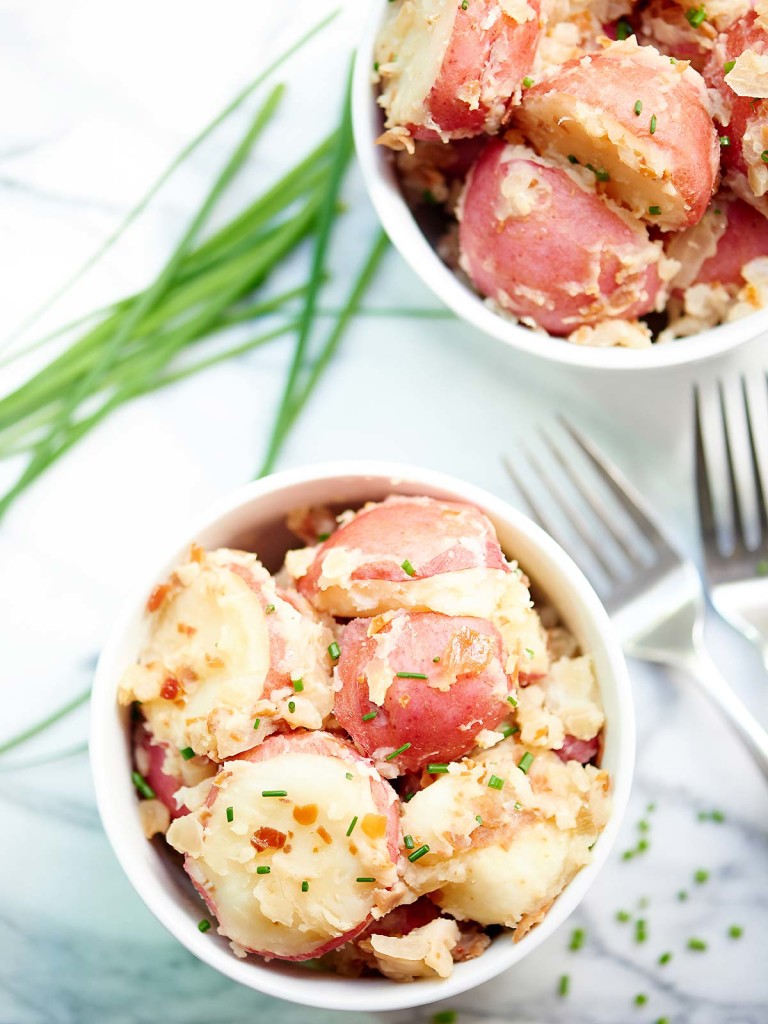 What do you think of when you think of German food? I think of beer, sausage, sour kraut, and my personal favorite, potato salad. Honestly, I had never actually tasted German Potato Salad until I made this recipe a few days ago, and man oh man, have I been missing out.
When I was trying to come up with recipes for this week, I realized that it's been a while since I've done a family recipe. This past Christmas, Trevor's mom, Brent, made me this really nice cookbook filled with a bunch of her favorite family recipes.
I started to flip through it and only made it to the third page before a recipe for German potato salad caught my eye. My mouth immediately started watering, so I put the book down, walked to the grocery store, came home and made German potato salad.
And no. That's not an exaggeration. 😉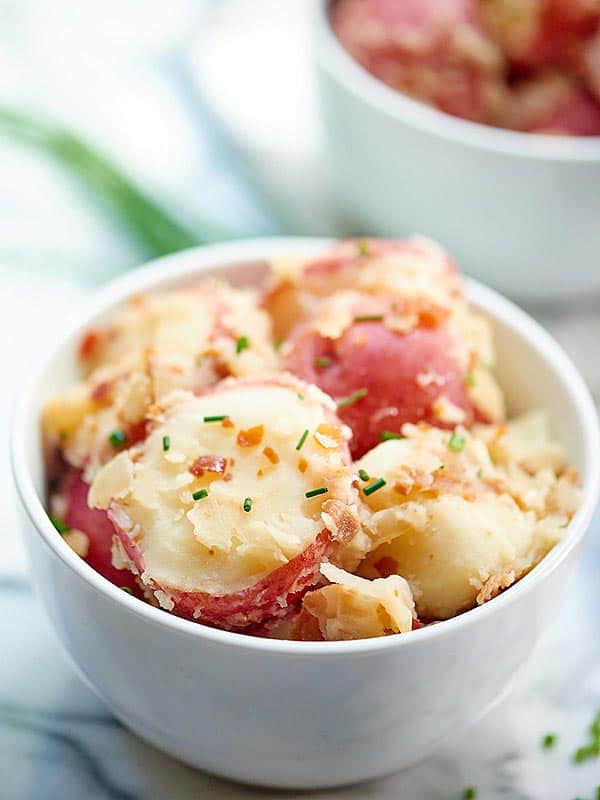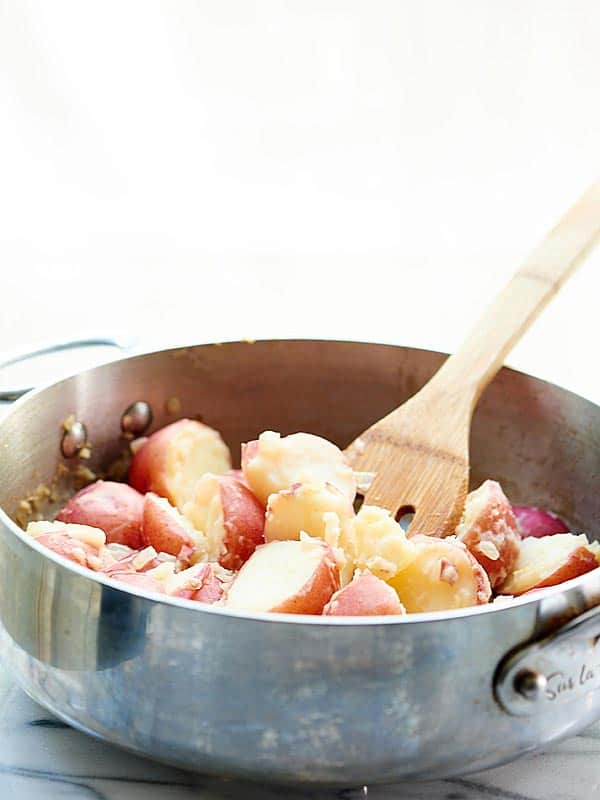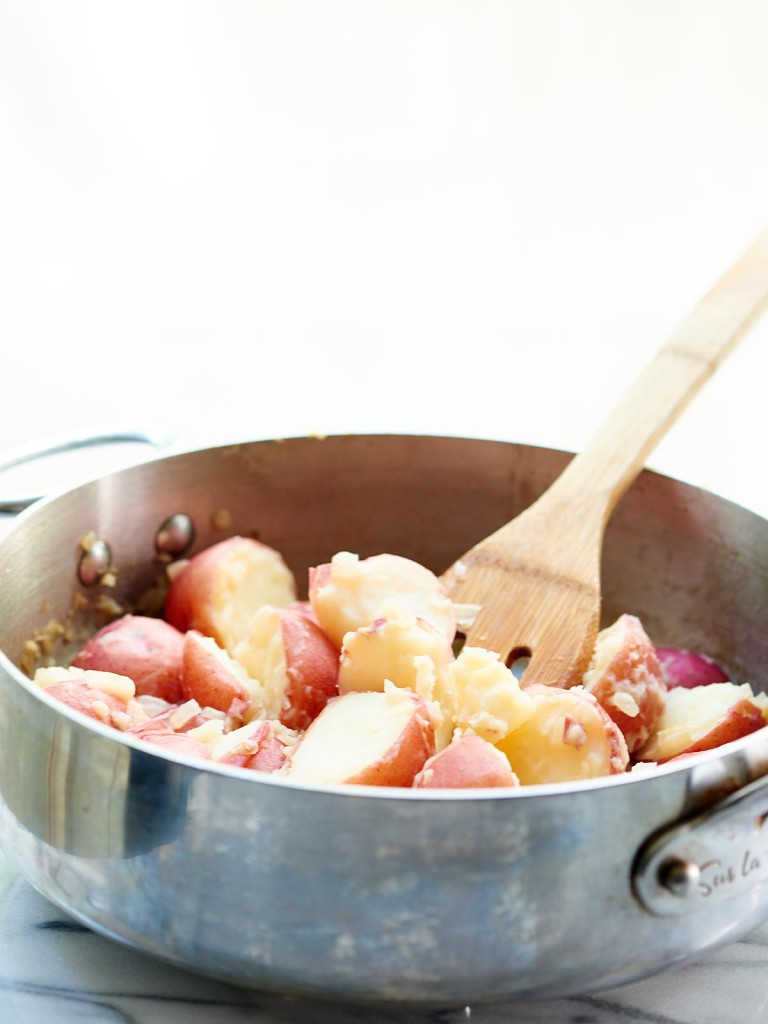 I'm so glad I did, because I immediately fell in love with the flavors. It's sooooo tangy and wonderful and not too heavy like most mayo ridden potato salads that you often see at picnics.
The original recipe is fabulous, of course, but I had to put my a little Jennifer twist on it, too.
#cantstopwontstop 😉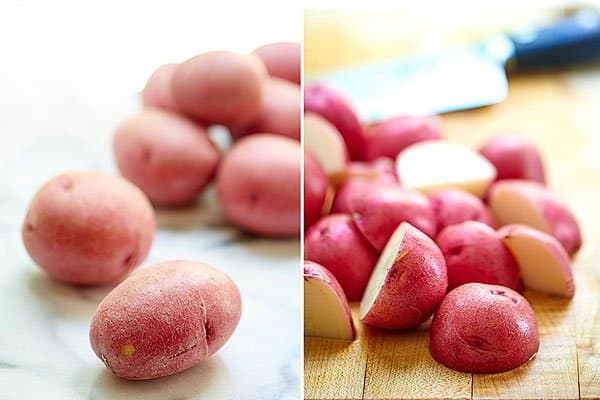 I used red potatoes, onions, and vinegar just like the original recipe, but used chicken broth and prosciutto (cured ham)  instead of water and bacon.
I have no idea if prosciutto is traditional for a German Potato Salad, but the prosciutto was calling my name at the store, so I went with it. #sorrynotsorry 😉
I should really stop hash-tagging things…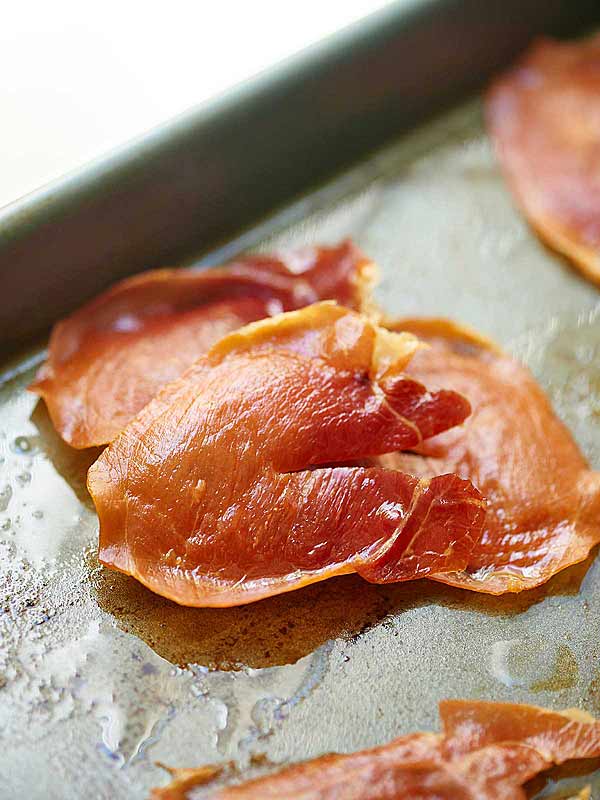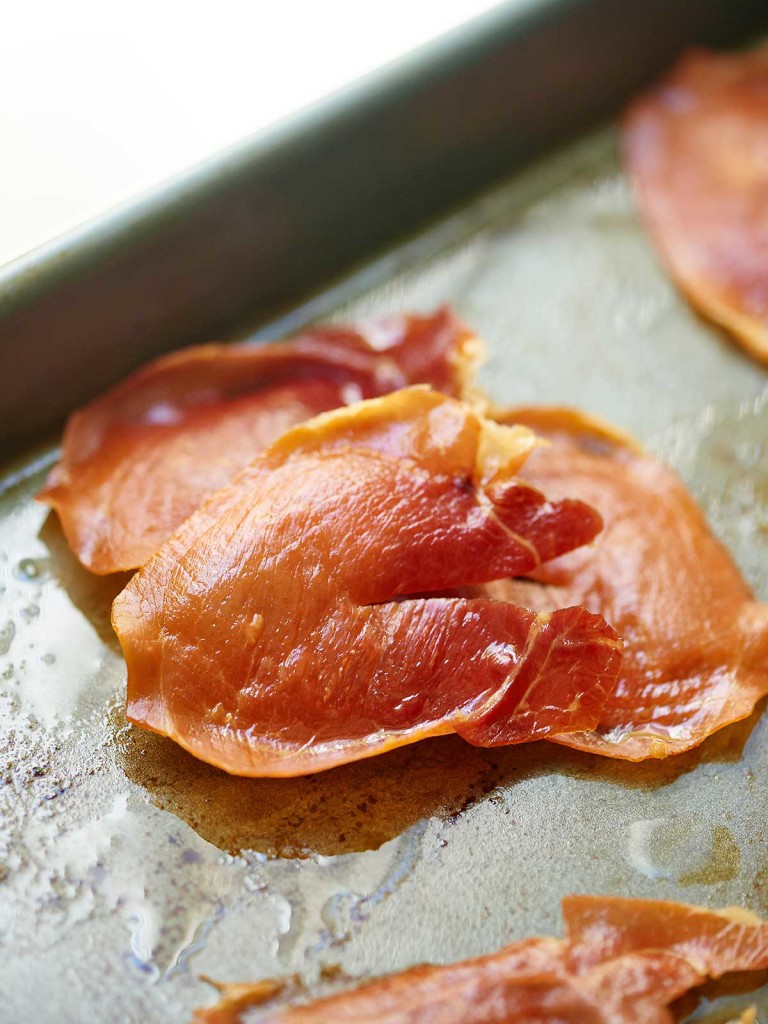 I actually got the idea of using prosciutto while I was doing my typical running/drooling on the treadmill while watching crazy yummy looking food on Food Network thing. Watching Food Network while running has led me to two of my favorite recipes now (have you seen this Roasted Pistachio Pesto?). It's totally normal, right? For your sake and mine, I should probably try that running thing more often.
Annnnnyway. While I was running I was watching some show and she was making potato salad. She pulled out prosciutto and crisped it up in the oven.
It blew my mind.
I thought it was genius. I can't remember who's show it was, but props to you Food Network. Prosciutto in potato salad is KILLER.
While the prosciutto is definitely key to making this German Potato Salad delicious, the best part is the vinegar. I use 1/2 cup in this recipe. It sounds like a lot, but there are quite a few potatoes, and the vinegar gives you that amazing tang that we've all come love in German Potato Salad… or in my case, that I just came to love.
So I think the real reason I decided to make this recipe is because I'm obsessed with this little German restaurant in Wisconsin. Ever since Trevor and I have been together, we've made it a point to go to the lake every summer and relax. Last year, we actually drove from Seattle to Wisconsin…with Teddy… before he was a year old.  Yes, it's 32 hours away. No, we're not insane 🙂 we just really like it!
He's such a trooper. 🙂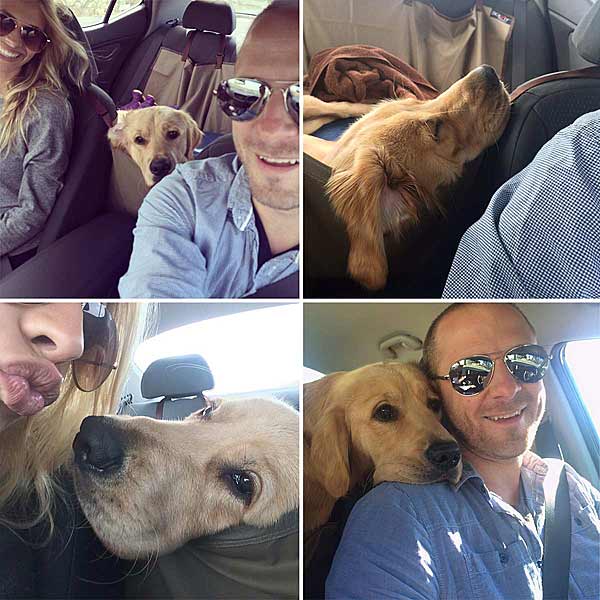 Even without the lake, I'd drive to Wisconsin just to go to this restaurant in Minocqua called Ottos.
They serve traditional German food and beer and have this incredible outdoor patio. My favorite way to enjoy the restaurant is with a beer in hand, sunglasses on, Trevor to my right, while I totally hog all the food.
This year, we're not going to be able to make it to Wisconsin, and I've been really craving German food. I'm so happy that I decided to flip through my cookbook and came across this German potato salad.
Creamy potatoes, crunchy, salty prosciutto, and that perfect tang from the vinegar makes this one of the best potato salads I've ever had!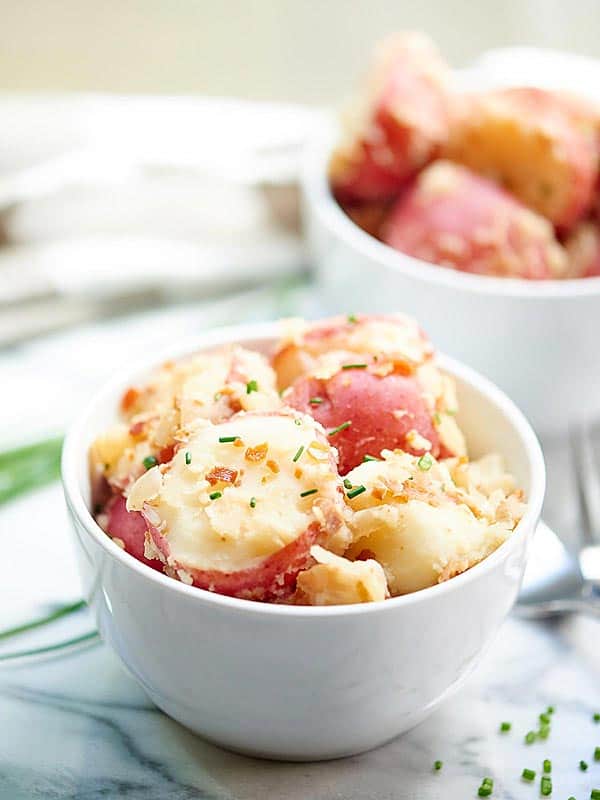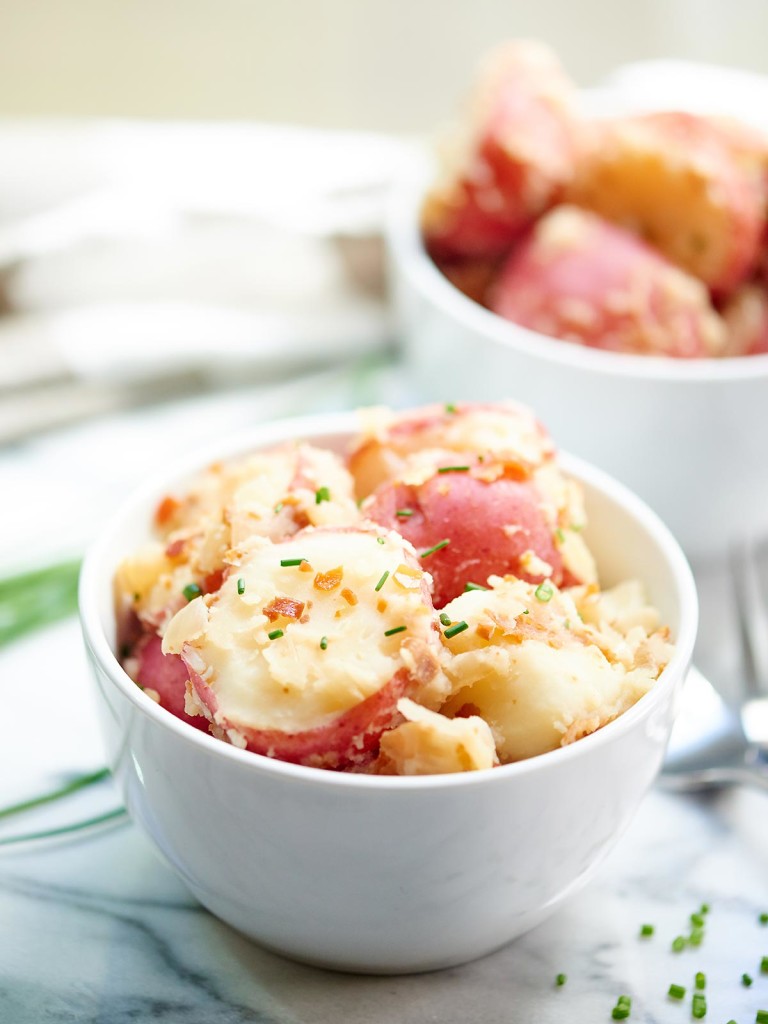 Craving. Satisfied.
– Jennifer
German potato salad or are you a traditionalist? Show me the yummy!
I would suggest using a straight sided saute pan
for this recipe for easy stirring!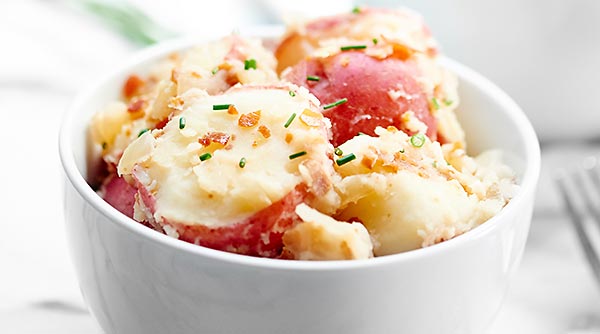 German Potato Salad
German Potato Salad. Creamy potatoes, crunchy, salty prosciutto, and that perfect tang from the vinegar makes this one of the best potato salads I've ever had!
Equipment for this recipe
(equipment shown are affiliate links)
Ingredients
3

oz

Prosciutto

2

pounds

small red potatoes

cleaned and cut in half or quartered depending on size

1

tablespoon

butter

1

small

yellow onion

diced (about

1 heaping cup

)

1/2

cup

vinegar

1/2

cup

chicken stock

Chives

finely diced, optional

salt

if necessary
Instructions
Prosciutto
Preheat oven to 400 degrees and grease a baking sheet.

Place prosciutto in a single layer on the baking sheet and bake until crispy, about 10 minutes.

Remove from the baking sheet and let cool completely on a wire rack.

Roughly chop and set aside.
Potatoes
Place cut potatoes in a saucepan and cover with cold water. Season with salt.

Bring the water to a boil. Reduce heat and simmer for about 10-20 minutes (mine took about 12 - depends on potato size), or until the potatoes are fork tender (you don't want them to be too soft). Drain and set aside.
Potato Salad
Melt one tablespoon butter over medium heat.

Once the pan is hot and the butter has melted, add in diced onion.

Cook for about 7 minutes, or until soft.

Add in the vinegar, chicken stock, and potatoes (add very carefully and stir gently to coat the potatoes in the vinegar/chicken stock).

Cook until the potatoes have absorbed the liquid.

Stir in the proscuitto and taste and re-season with salt if necessary.

Stir in chives, if adding, and serve immediately.

Serve warm or at room temperature.
STORING
*Storage times may vary based on temperature and conditions
Nutrition Information
Nutrition Facts
German Potato Salad
Amount Per Serving
Calories 148
Calories from Fat 54
% Daily Value*
Fat 6g9%
Cholesterol 11mg4%
Sodium 125mg5%
Potassium 566mg16%
Carbohydrates 20g7%
Protein 4g8%
Vitamin A 50IU1%
Vitamin C 10.4mg13%
Calcium 13mg1%
Iron 0.9mg5%
* Percent Daily Values are based on a 2000 calorie diet.
*Note: Nutrition information is estimated and varies based on products used.
Keywords:
prosciutto, red potatoes, summer