These roasted garlic cheddar beer biscuits are easy to make and totally sinful! A tender biscuit made with Blue Moon and stuffed with roasted garlic, shredded cheddar cheese, and rosemary.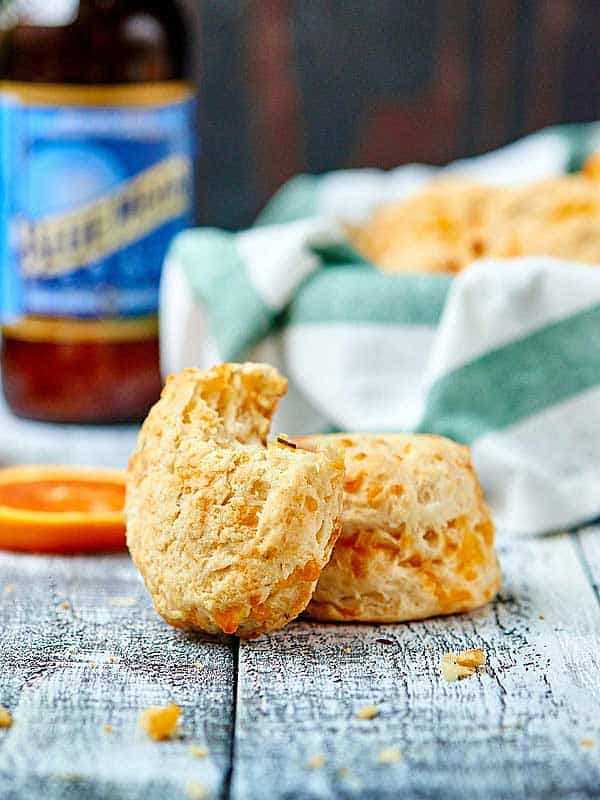 I am a very happy lady. Why? Because I just made the best biscuits ever and they're called roasted garlic cheddar beer biscuits. They sorta remind me of the kind from Red Lobster (you know you all secretly love them), but better, because these are made with beer and roasted garlic and rosemary.
I'm also very happy, because right now, as I'm typing, Teddy is having a play date with his neighbor friend Reggie and nothing is better than a tired dog.
Well, these biscuits are better than a tired dog, but a tired dog is surely a close second.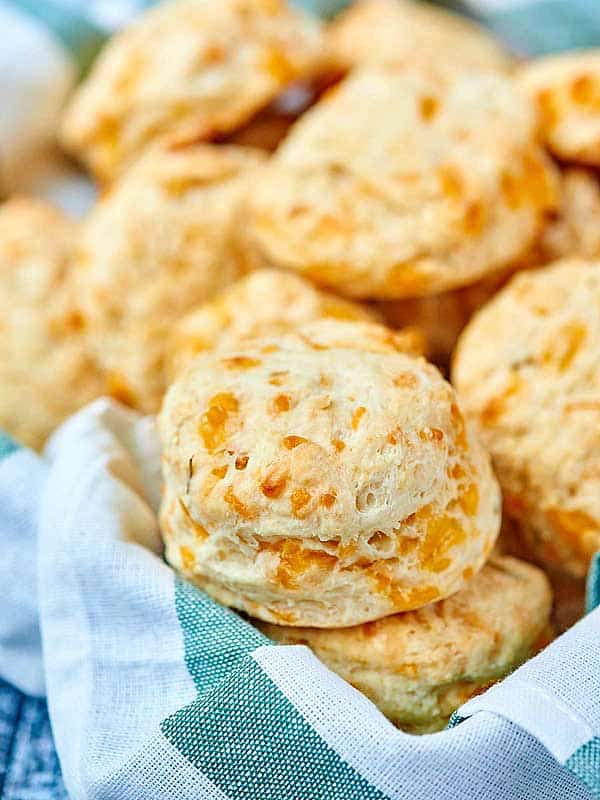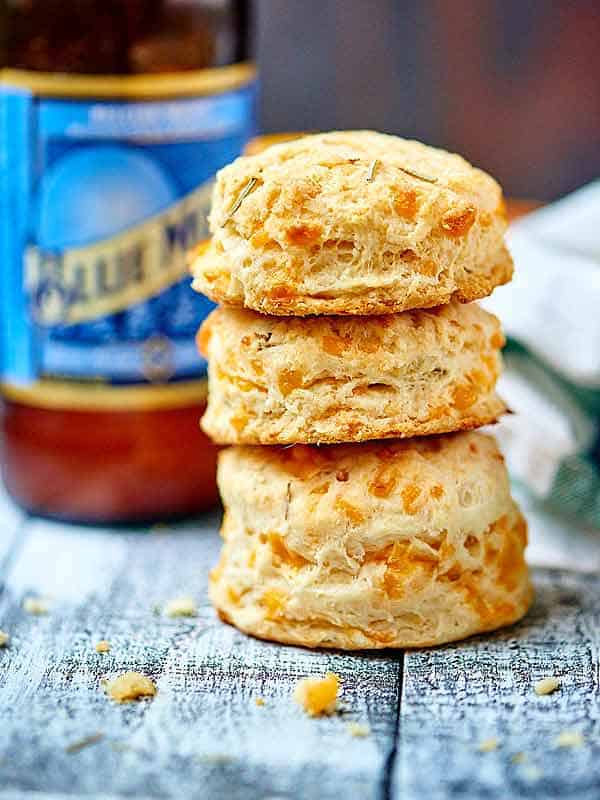 Watching these two play is so stinkin' cute. They have tons of fun together, and Teddy is always exhausted for the rest of the day. It kinda makes me feel bad that Teddy is an only child. Maybe now is the time that Teddy gets a little furry baby brother? He definitely needs a more regular playmate. I think we all need to come together and convince Trevor that it's time. I mean, I already have his name picked out!
Bear.
Yep! His name would be Bear, so then we'd have a Teddy and a Bear! Teddy Bear! It's totally dorky, but come on, it's totally cute, too. Right?
But enough Teddy talk, let's talk biscuits.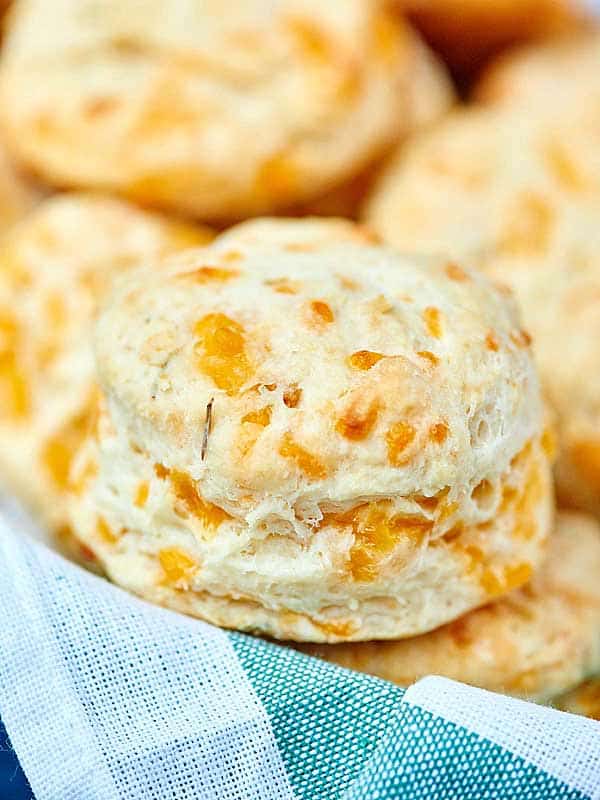 When I was making these biscuits, I just started throwing things into the dough that I thought sounded good together. A little roasted garlic, a little cheese, a pinch of rosemary, and heck let's just throw in some beer! I was reeeeeally hungry when I made these.
As these were baking off in the oven, I get a knock on the door. I was so confused, because I don't typically get visitors during the day and wasn't expecting a package. I look through my little peep hole….it's Trevor and he has his hungry face on.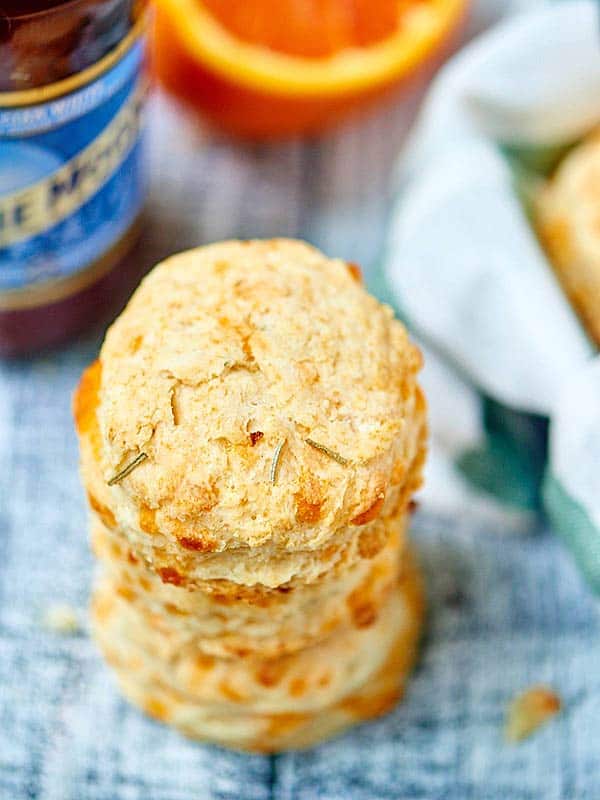 I open the door and he immediately asks, "What is that smell?! Is it coming from here?!" I happily tell him that I was just about to pull my latest creation, roasted garlic cheddar beer biscuits, out of the oven.
Let's just say, I took these out of the oven and they were gone before they even had a chance to cool. Oh yea, this was a recipe success.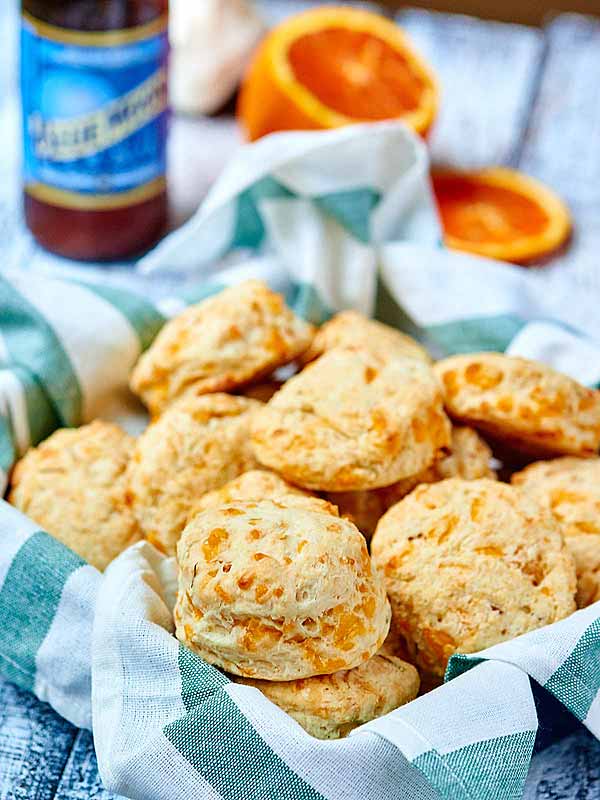 I love these roasted garlic cheddar beer biscuits, because your house will smell ridiculously delicious and *BONUS!* they taste even better. These biscuits are really soft and definitely one of the most flavorful biscuits I've had. The roasted garlic adds a nice depth of flavor, and I love the herby rosemary mixed with the cheddar. Oh, and I forgot to tell you, before you bake these biscuits you're going to slather the tops with a little mixture of melted butter and roasted garlic olive oil. Are you drooling yet?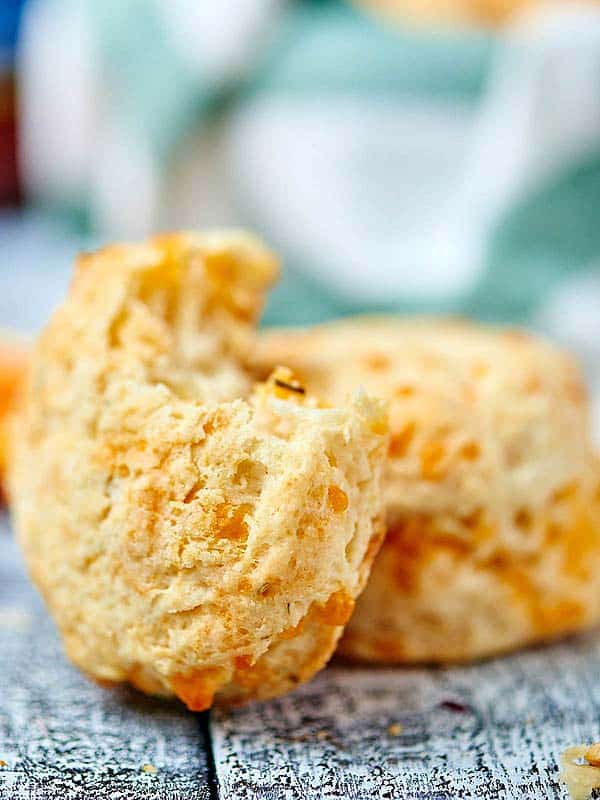 Long story short, I'm a very happy lady right now, because I have one tired puppy and one very happy belly.
– Jennifer
What are your favorite biscuit mix-ins? Show me the yummy!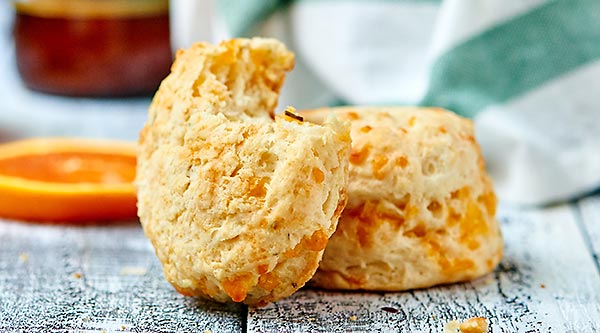 Roasted Garlic Cheddar Beer Biscuits
These roasted garlic cheddar beer biscuits are easy to make and totally sinful! A tender biscuit made with Blue Moon and stuffed with roasted garlic, shredded cheddar cheese, and rosemary.
Equipment for this recipe
(equipment shown are affiliate links)
Ingredients
Biscuits
2

cups

all purpose flour

4

teaspoons

baking powder

1/4

teaspoon

baking soda

3/4

teaspoon

salt

1

teaspoon

dried rosemary

2

tablespoons

unsalted butter

cold

2

tablespoons

shortening

room temperature

1/2

cup

Sour cream

cold

1/2

cup

Blue Moon beer

cold

1

cup

cheddar cheese

shredded

6

cloves

garlic

roasted and then finely minced*
Butter Wash
1

tablespoon

unsalted butter

melted

1

tablespoon

roasted garlic oil*
Instructions
*Roast your garlic, before starting the recipe...instructions in the notes below!*

Preheat oven to 450 degrees F and line a rimmed baking sheet with a silicone mat.

In a large bowl, combine dry ingredients: flour, baking powder/soda, salt, and dried rosemary.

Cut in butter/shortening, using a fork, and set aside.

Gently combine Blue Moon, sour cream, cheese, and garlic in another bowl.

Make a well in the dry ingredients and then stir in Blue Moon/sour cream mixture.

Stir until just combined.

Dump the dough onto floured surface. Sprinkle top with flour and then gently knead 6 times.

Roll out the dough until it's an inch thick.**

Cut out biscuits using a 2 inch round pastry/cookie cutter.***

Cut straight down. Don't twist!

Place on prepared baking sheet.

Mix together 1 tablespoon melted butter and 1 tablespoon oil from the roasted garlic. Brush the tops of each biscuit.

Bake in the preheated oven for about 12-15 minutes or until the tops are golden and the center of the biscuit is cooked through.
STORING
Reheat:
Bake or microwave to warm
*Storage times may vary based on temperature and conditions
Notes
*Preheat oven to 350 degrees F. Place whole (peeled) garlic cloves in a small oven safe dish and cover completely with olive oil. Roast in a preheated oven for 15 - 20 minutes, or until golden. Remove from the oven and separate the cloves from the oil. Reserve 1 tablespoon of oil for brushing the tops of the biscuits. '
** If you want shorter biscuits, roll out your dough to 1/2 inch thick and bake for about 12 minutes.
*** These are also great "drop" biscuits. Instead of cutting out the dough, simply place the prepared dough into a bowl after kneading and rolling, and use a cookie scoop to scoop the dough onto the prepared baking sheet. You may need to adjust the cooking time, depending on the size of the biscuits.
Nutrition Information
Nutrition Facts
Roasted Garlic Cheddar Beer Biscuits
Amount Per Serving (1 biscuit)
Calories 189
Calories from Fat 99
% Daily Value*
Fat 11g17%
Cholesterol 21mg7%
Sodium 236mg10%
Potassium 193mg6%
Carbohydrates 18g6%
Protein 5g10%
Vitamin A 125IU3%
Vitamin C 0.6mg1%
Calcium 145mg15%
Iron 1.2mg7%
* Percent Daily Values are based on a 2000 calorie diet.
*Note: Nutrition information is estimated and varies based on products used.
Keywords:
buttery, cheddar cheese, roasted garlic