The ultimate guide to Pasta Salad Recipes! Whether you want a classic like macaroni salad or something with a twist, we've got you covered!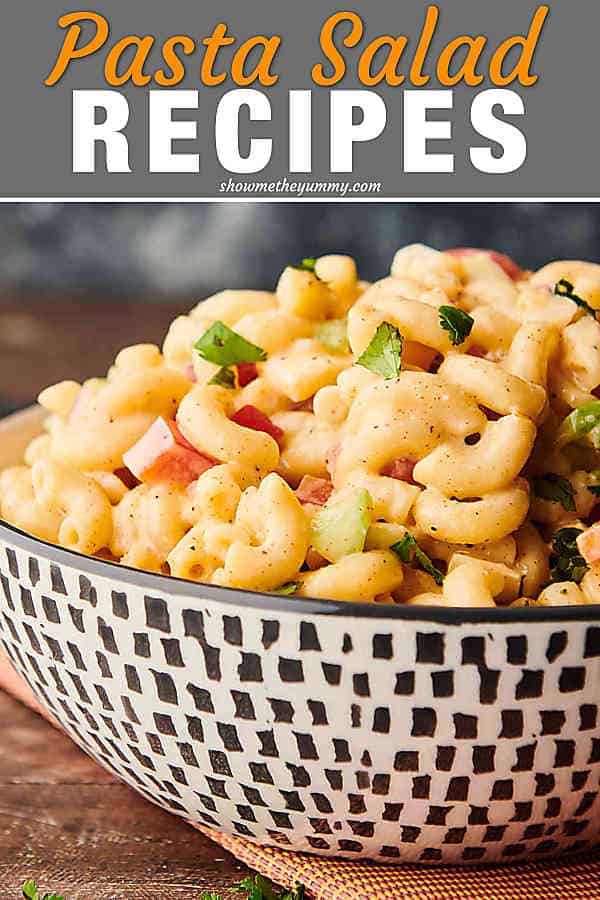 I've told you once, I've told you twice…heck, I've probably told you about a dozen times by now…I love pasta salad! There's just something about chilled noodles and fresh Summer produce smothered in delicious dressings that is so satisfying.
Plus, they're incredibly customizable. Mix and match noodles, protein, veggies, and dressing… then DEVOUR. Seriously. Is there anything better?
Do you rinse pasta for pasta salad?
Yes,  cooked pasta should be rinsed with cool water immediately after draining. This stops the pasta from cooking and also helps the pasta from clumping together and becoming gluey.
How to keep noodles from sticking together in pasta salad
There are a few things you can do to ensure your noodles don't clump together:
Cook the pasta al dente. You want the noodles to be somewhat firm so they hold up in the salad. If they're overcooked they'll mush together.
Rinse the pasta. Rinsing the pasta with cool water after draining prevents the pasta from becoming sticky as it cools.
Toss the pasta with olive oil. Drizzle a little oil over the noodles while they're still hot to keep them from sticking together.
Can you make gluten-free pasta salad?
Yes. Use your favorite gluten-free pasta and make sure all of the ingredients you're using in the salad are certified gluten-free.
Can you make pasta salad the night before?
Yes! It's honestly even better if you do. It gives the pasta and veggies time to really soak in all the flavors.
How long will homemade pasta salad keep?
Leftover pasta salad will last up to a week in the fridge, depending on the ingredients used.
Pro tip
If you need individual storing instructions, you can find them in each recipe card in the posts linked below. 🙂
Pasta salad recipes
Macaroni Salad
This Macaroni Salad is packed with tender noodles and a super creamy, yet tangy dressing. Full of mayonnaise, relish, dijon mustard, spices, onion, celery, bell pepper, and hard-boiled eggs. It's loaded with flavor and makes the perfect side dish for a grill-out or potluck. 
Get The Recipe
Vegan Pasta Salad
This Vegan Pasta Salad is loaded with pasta shells, chickpeas, kalamata olives, and veggies all tossed in tangy homemade red wine vinaigrette. It's fresh, easy to make, and healthy!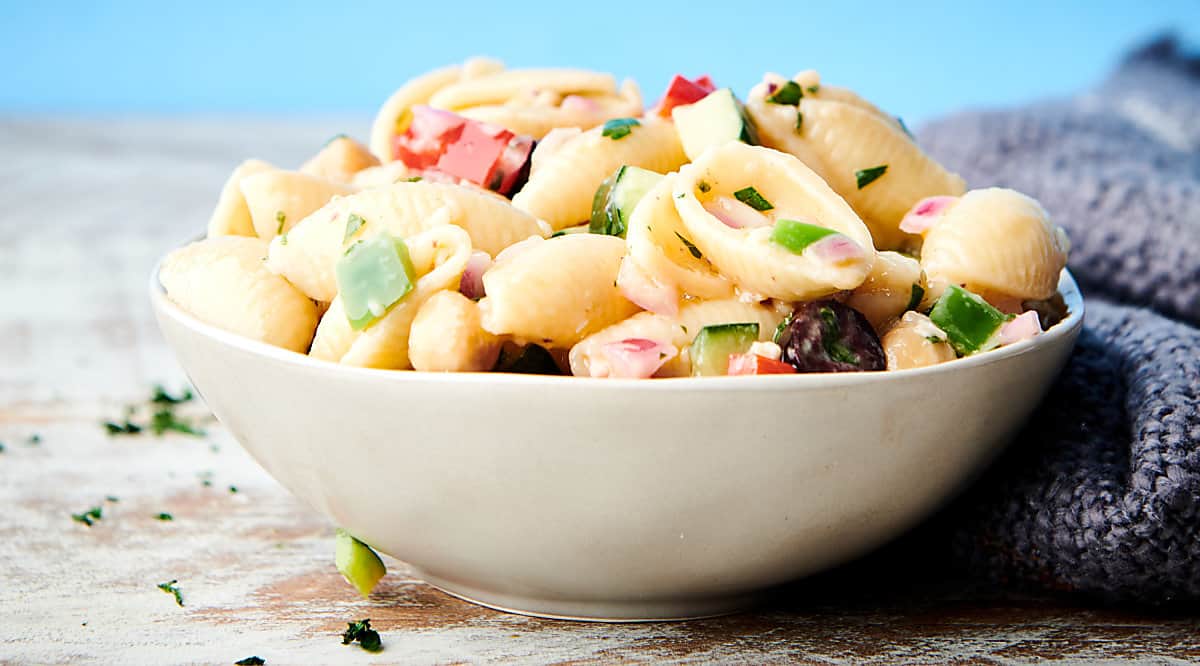 Get The Recipe
Broccoli Pasta Salad
This Broccoli Pasta Salad is a 10-Minute, super yummy Summer side dish. Fresh broccoli, bowtie pasta, and crispy bacon tossed in a tangy mayonnaise dressing.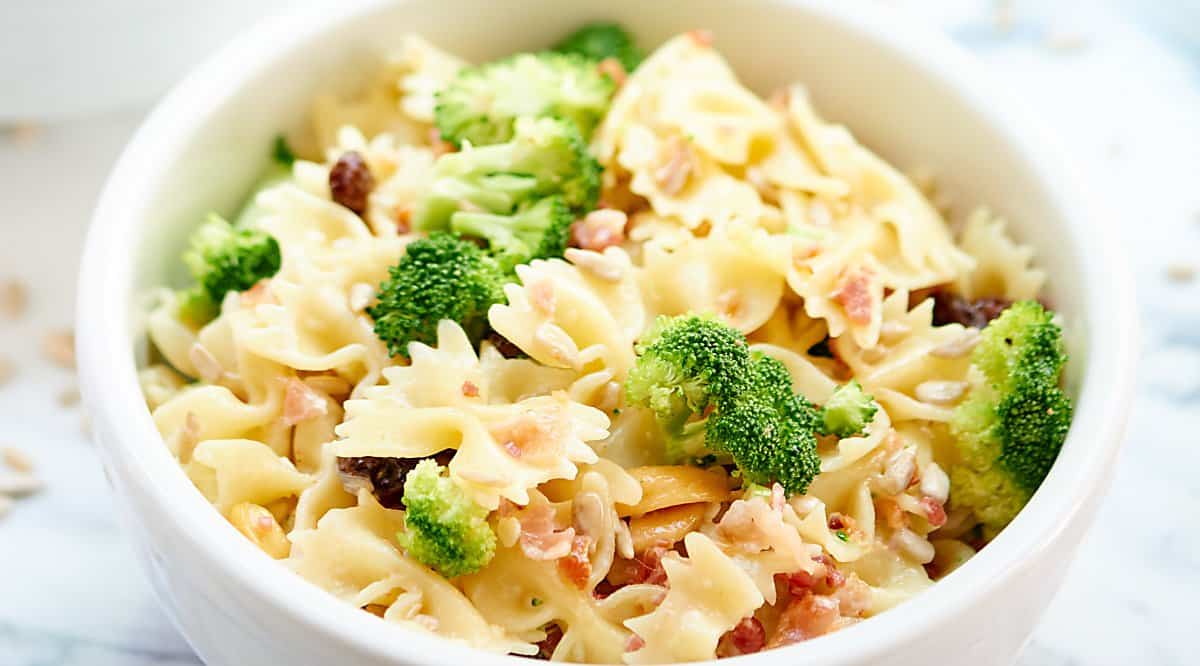 Get The Recipe
Easy Italian Pasta Salad
This easy Italian pasta salad recipe is sure to be a summer favorite! This super quick and easy make ahead recipe is loaded with perfectly cooked noodles, a tangy homemade italian dressing, creamy mozzarella, salty salami, and more!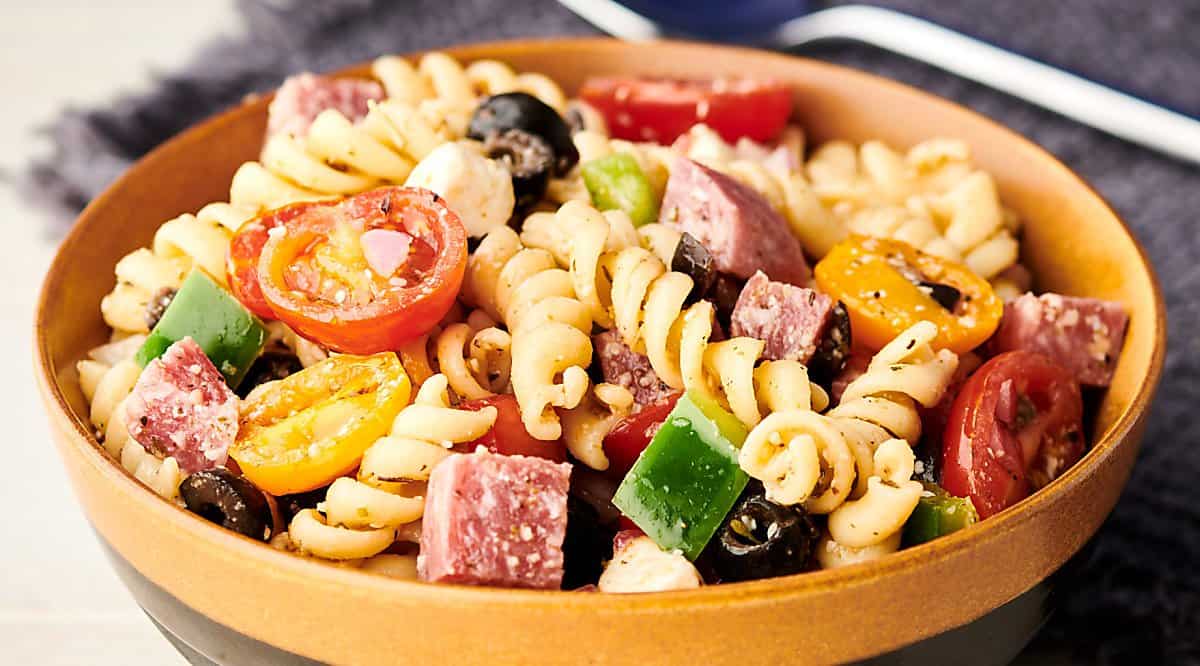 Get The Recipe
Mexican Street Corn Pasta Salad
A twist on classic elotes, this Mexican Street Corn Pasta Salad is full of all the traditional flavors with a few fun twists! It's sweet from the corn, smoky from the spices, and loaded with amazing textures and flavors thanks to bow tie pasta, black beans, peppers, and fresh herbs! The perfect summer side dish.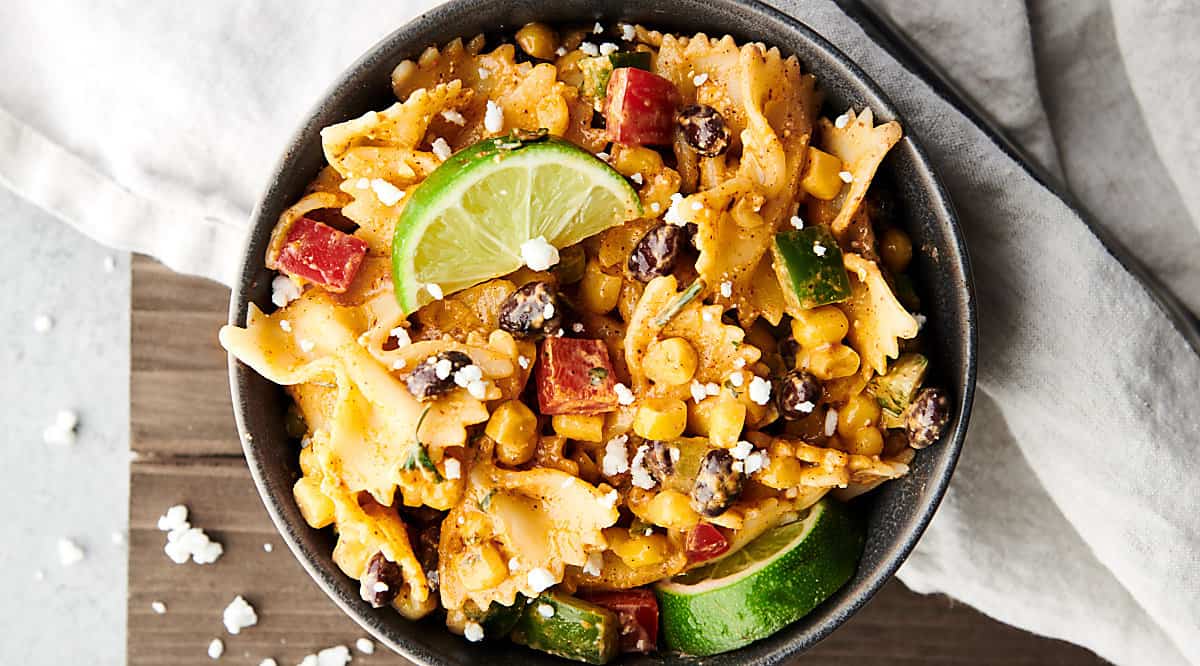 Get The Recipe
Chicken Caesar Pasta Salad
This healthy chicken caesar pasta salad is super quick, easy, healthy, and delicious! Loaded with whole wheat penne, rotisserie chicken, hard boiled eggs, onion, pepper, romaine lettuce, parmesan cheese, croutons, and my secret ingredient: store-bought greek yogurt caesar salad dressing!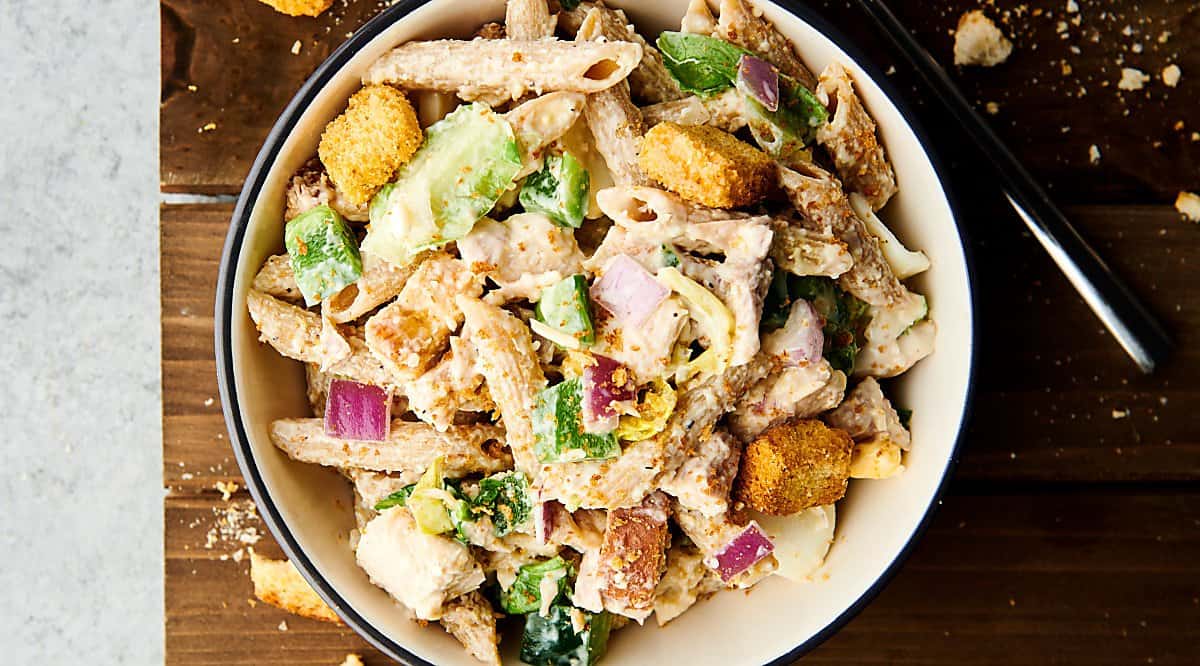 Get The Recipe
Asian Pasta Salad
This Asian Pasta Salad Recipe is loaded with a homemade dressing: sesame oil, vinegar, lime juice, honey, soy sauce, spices, etc. - fresh crunchy veggies: carrots, bell pepper, cucumbers - and other great mix-ins: noodles, peanuts, and cilantro! Light, fresh, quick and easy!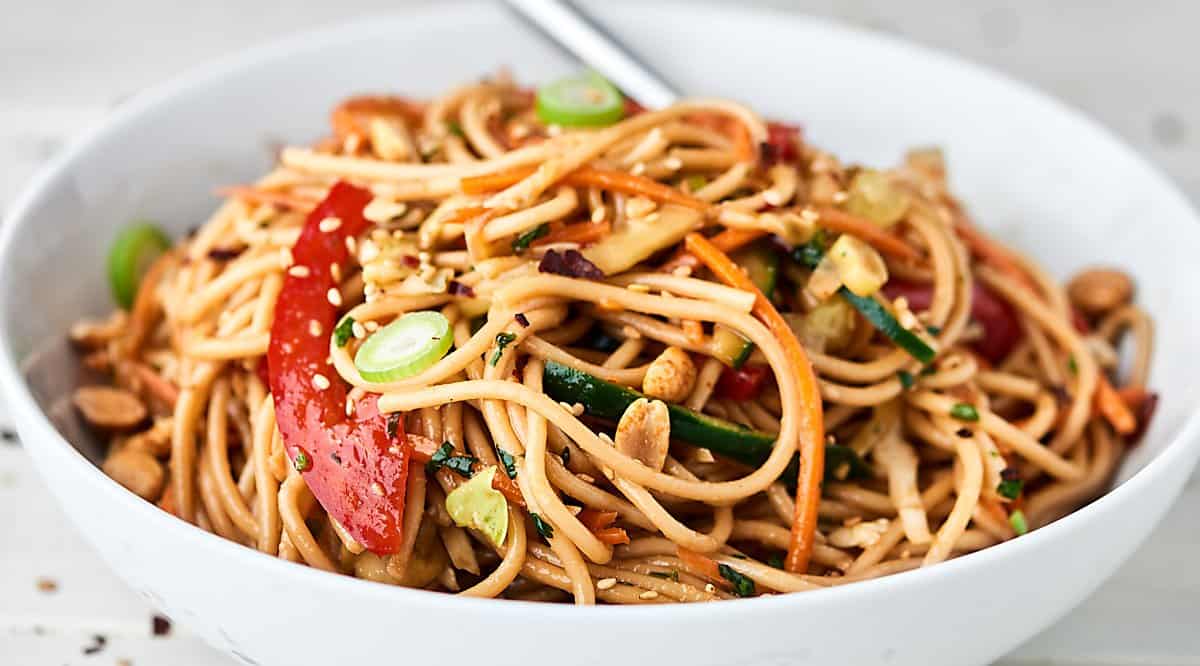 Get The Recipe
Pesto Pasta Salad Recipe
This simple Pesto Pasta Salad is loaded with pasta shells, fresh pesto, salty bacon, crumbly feta, juicy tomatoes, and crunchy cashews!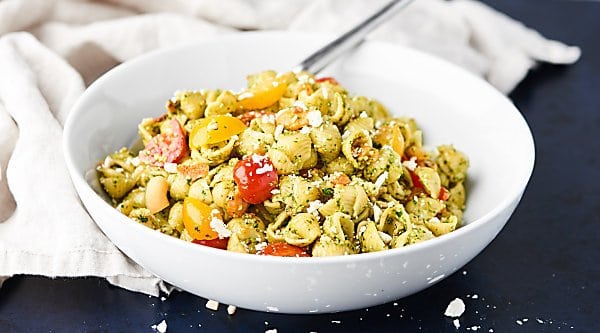 Get The Recipe
Caprese Pasta Salad Recipe
This Caprese Pasta Salad is so quick and easy to put together! Full of orzo pasta, mozzarella, sun dried tomatoes, fresh basil, tangy balsamic, and salty parmesan!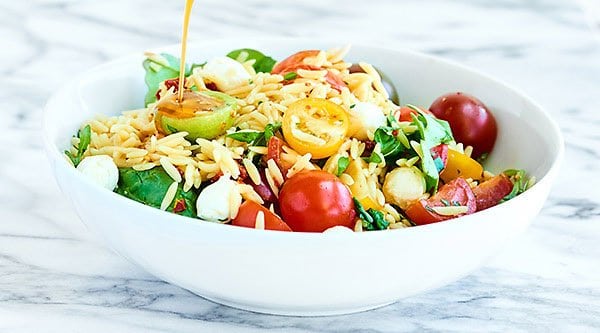 Get The Recipe
Greek Tortellini Pasta Salad
This Greek Tortellini Pasta Salad is vegetarian, easy, and so tasty! Sun dried tomatoes. Salty feta. Chickpeas. Fresh vegetables. Cheese Pasta. Yes please!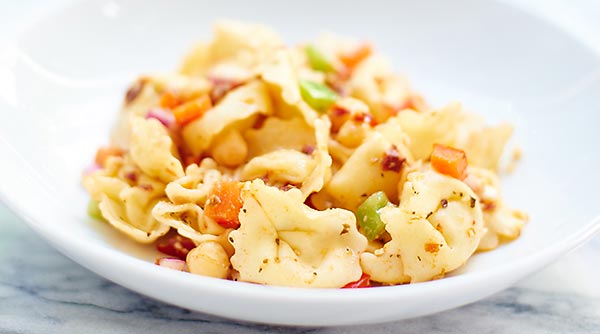 Get The Recipe
Mexican Pasta Salad
This Mexican Pasta Salad needs to make an appearance at your next grill out. A fun textured pasta + fresh crunchy veggies + black beans + a kick butt sauce!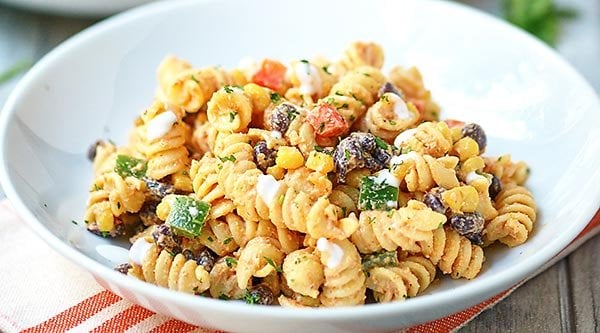 Get The Recipe
Greek Orzo Salad
This easy Greek orzo salad recipe is SO delicious! This super quick and easy make ahead recipe is loaded with orzo pasta, a tangy homemade greek salad dressing, crumbly feta, fresh, crunchy, summer veggies, and more!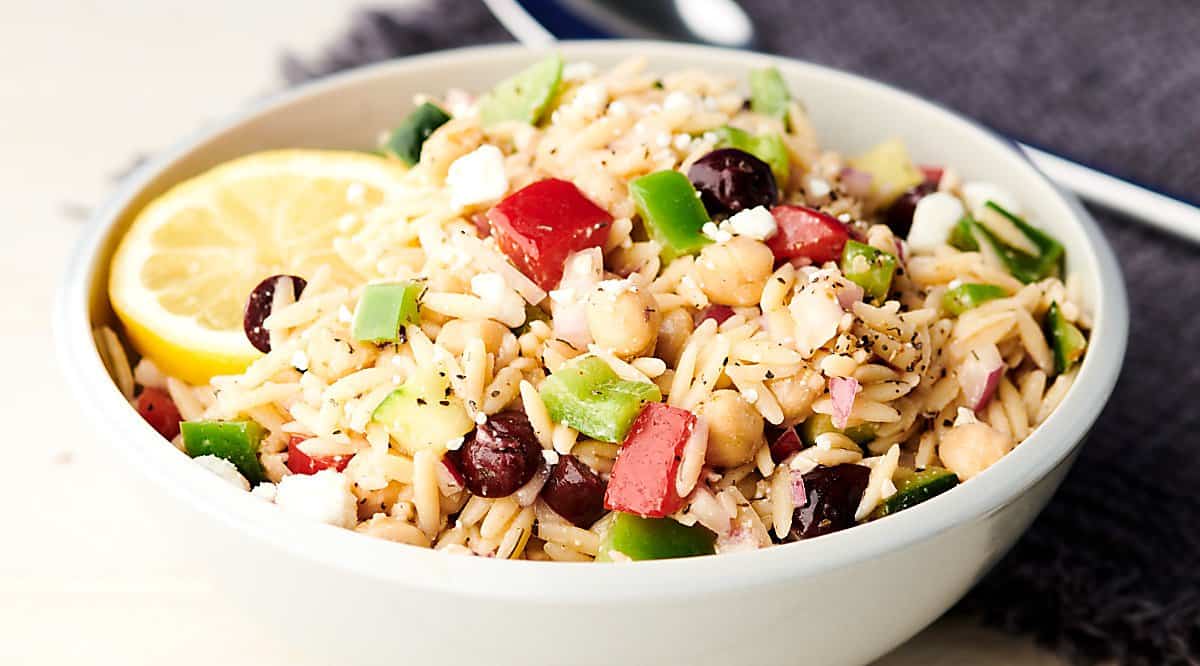 Get The Recipe
– Jennifer