This is the BEST Baked Mac and Cheese! With an ultra rich, creamy, cheesy sauce, it's a family favorite! Bonus: only 15 minutes of prep time!
Ahh mac and cheese. We all know and love this dish. Most of us probably picture that pretty blue box when we think of mac and cheese, but today, I say "move OVER boxed mac" and hellllooo baked mac and cheese.
I was never a homemade mac and cheese fan before I made my one pot mac and cheese. I found that many homemade recipes were lacking in flavor. They were creamy, yes, but flavorful and cheesy? Not so much.
Today's baked macaroni and cheese not only has a creamy, custard center, but it's PACKED with cheesy flavor thanks to my special blend of cheeses.
Ingredients
This baked mac and cheese recipe is loaded with pantry staple ingredients and the perfect blend of cheeses to make this ultra creamy and flavorful.
Mac and Cheese
A rich, creamy custard-like mac and cheese made with simple ingredients!
Elbow Macaroni Pasta – you can't have mac and cheese without this classic pasta shape. I don't recommend another pasta shape. Macaroni is the perfect shape to soak up the cheesy sauce.
Unsalted Butter – adds a rich flavor and combines with the flour to make a roux, which thickens our sauce.
All-Purpose Flour – helps to thicken the cheese sauce.
Evaporated Milk – adds a caramel-like flavor and gives body and richness to the sauce. I highly recommend using evaporated milk, because I love the subtle sweetness and creaminess it brings to this dish. If you don't have it, feel free to use whatever you have on hand.
Salt, Pepper, Garlic Powder, Onion Powder, and Mustard Powder – the perfect blend of spices to add so much flavor to this mac and cheese recipe. It's simple, but adds that little extra "something something" other recipes lack.
Sour Cream – one of my secret ingredients to provide tang and creaminess!
Cheddar Cheese – I recommend sharp cheddar to cut through the richness of the dish. Other cheddar will work, but it won't pack quite the flavor punch.
Gruyere Cheese – one of the best melting cheeses. Gives the mac and cheese a deliciously creamy, nutty flavor.
Parmesan/Asiago/Romano Cheese Blend – one of my favorite blends of cheeses to use for everything. It adds a delicious nutty and salty flavor to the mac and cheese dish.
Panko Topping
A simple topping that provides some serious crunch to offset the custard-y mac and cheese!
Unsalted Butter – binds to the breadcrumbs allowing them to become extra crispy when baked.
Panko – panko crisps much better than other breadcrumb varieties adding a super delicious crunch!
Salt – brings out other flavors.
Paprika – adds just a little bit of sweet heat and beautiful color!
This baked macaroni and cheese is full of every day ingredients, except for maybe the gruyere. I always have pasta, spices, flour, evaporated milk, and breadcrumbs in my pantry and you'll always find butter, sour cream, and a few blocks of cheese in my fridge!
Pro tip
Blocks of sharp cheddar cheese are in the refrigerated section at the grocery store, but the gruyere and parmesan cheese blend will be in the speciality cheese section.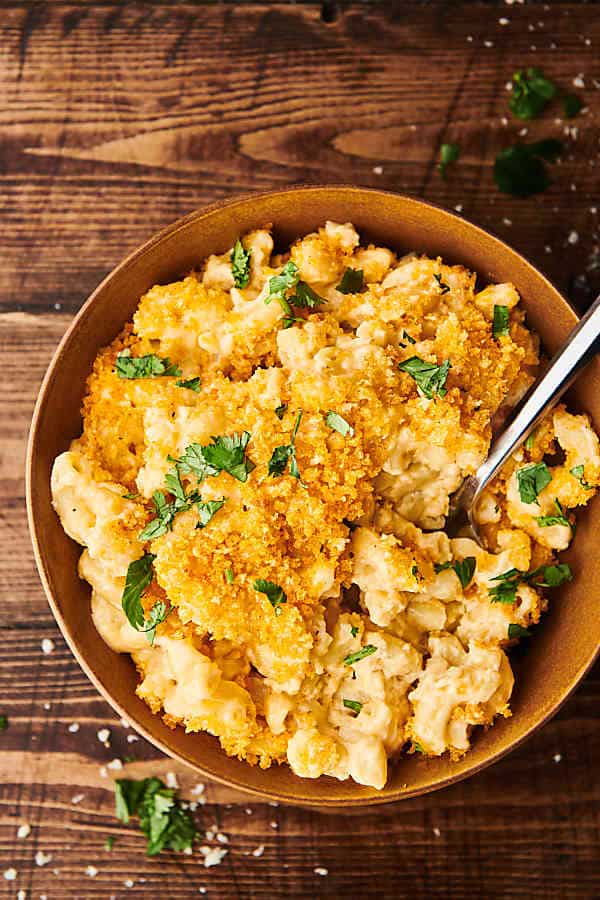 How to make baked mac and cheese
This baked mac and cheese recipe basically involves you dumping the prepped ingredients into a pot. Baking the mac and cheese results in a creamy, almost custard-like texture that is absolutely to die for!
In a large stockpot, melt butter then use a whisk to mix in flour.
Stir in milk, spices, and sour cream.
Stir in cheeses, little by little, until they are completely melted.
Remove from heat and stir in cooked macaroni noodles.
Transfer to a baking dish.
In a small bowl, mix together all topping ingredients.
Spread the mixture evenly over the mac and cheese.
Bake for 30 minutes, serve, and enjoy!
Pro tip
Cook your macaroni noodles al dente (so they don't over cook in the oven) according to box directions while you prep the remainder of the mac and cheese ingredients.
Multi-tasking for the win!
How long to bake
Bake macaroni and cheese in the oven for 30 minutes at 350 degrees F. This results in an ooey-gooey, creamy, and DELICIOUS mac and cheese with the most perfect golden-brown, crispy topping! The key is to not over-bake the mac and cheese. The already-cooked macaroni noodles will continue to cook in the oven, so you want to bake it long enough for the mac and cheese to set (it will be very liquidy before baking) and the breadcrumb topping to crisp nicely, but not so long that the noodles get mushy!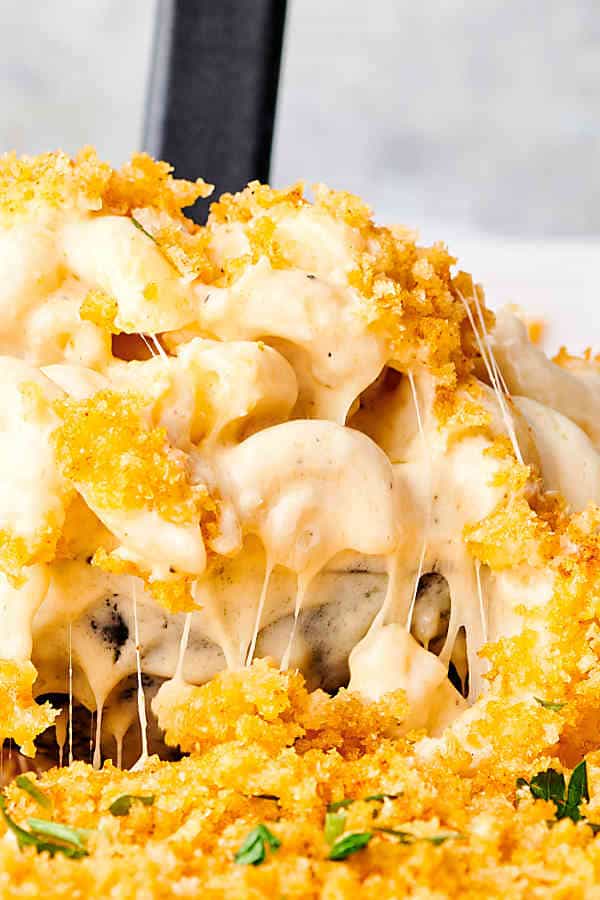 What kind of cheeses to use
Use sharp cheddar, gruyere, and a blend of asiago, parmesan, and romano cheeses to make the BEST macaroni and cheese. I like using something with flavor (sharp cheddar), something that melts really well (gruyere), and something that's stringy (asiago blend). This combination creates an ultra flavorful and gooey mac and cheese.
Sharp cheddar: adds serious flavor.
Gruyere: melts really well and also has a subtle, rich nutty flavor.
Asiago, Parmesan, and Romano blend: adds an amazing stringy texture while also adding a salty flavor that contrasts the creaminess of the dish really well.
I highly recommend the combination of cheeses I've listed, but here are some swapping suggestions (*not tested):
Sharp cheddar: try mild cheddar, white cheddar, or gouda.
Gruyere: try swiss cheese or fontina.
Asiago, Parmesan, and Romano blend: ditch the blend and just use one! The individual cheese should be very easy to find.
Tips for Making
Cook your pasta al dente. It helps to slightly undercook your pasta before adding it to the cheese sauce. Since you're baking it, the pasta will continue to cook in the oven. If it becomes overcooked, the noodles will get soggy and the mac and cheese will come out kind of mushy.
Shred your own cheese. Use a cheese grater to hand grate cheese, or use a food processor with a cheese grater attachment (this is incredibly fast).

Pre-shredded cheese is coated with an anti-clumping agent that prevents the cheese from melting properly and results in a grainy texture. I don't know about you, but I don't love grainy cheese. 😉

Cook the cheese low and slow. Adding the cheese too quickly, too much at a time, and/or at too high of heat will result in a clumpy mess. Be patient. This step takes some time, but it's worth it for a smooth creamy sauce. Slowly add your cheese, a handful at time, and whisk until fully melted before adding in more cheese.
Use room temperature ingredients. Make sure the sour cream, shredded cheeses, and milk (if you're not using canned evaporated milk) are at room temperature. When cold ingredients are stirred into hot ingredients, they can seize up creating a clumpy, grainy sauce.
Pro tip
Shred your cheeses while they are cold. It's much easier to shred than warm cheese!
variations
This baked mac and cheese is SO delicious as is but if you're looking for a little something extra, here are some of my mac and cheese variations:
If you're looking to spice up this recipe, try garnishing it with some crumbled bacon, hot sauce, and some sliced green onions!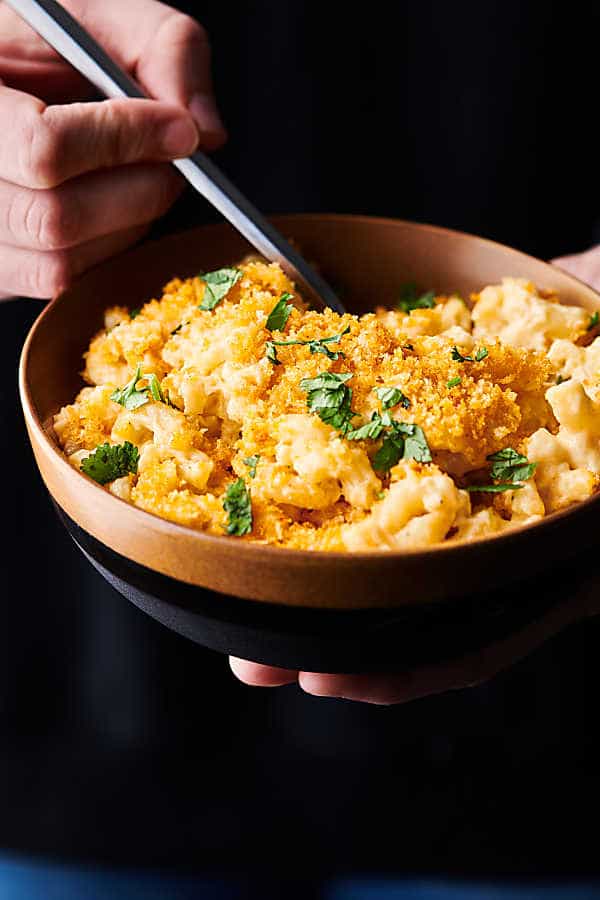 Can i make this mac and cheese ahead of time?
I don't recommend making this mac and cheese ahead of time. As the cooked noodles sit in the cheese sauce, they're slowly soaking up all that moisture. You can, however, prep much of the recipe ahead of time:
Prep your macaroni: cook the paste al denté, then toss it in some olive oil to prevent clumping, cool completely, then store in a sealed airtight container in the fridge until you're ready to bake.
Shred your cheese: shred and measure out cheese, then store them in a sealed airtight container in the fridge until you're ready to use. Remember: let the shredded cheese come to room temperature before stirring them into the sauce.
Measure out the spices: combine the spices and place in a sealed airtight container at room temperature until ready to use!
These three easy steps, should should save you quite a bit of time!
How to store
This baked mac and cheese can be stored in an airtight container in the fridge for 3-5 days or in the freezer for up to 3 months.
How to reheat
To reheat mac and cheese leftovers, just pop it in the microwave OR if you prefer the crispy topping, place it back into a greased baking dish, top with more breadcrumbs (if desired), and reheat in the oven at 350 degrees F until it's crispy and warm. If it's a little thick, try thinning the sauce out with a bit of milk before reheating.
-Jennifer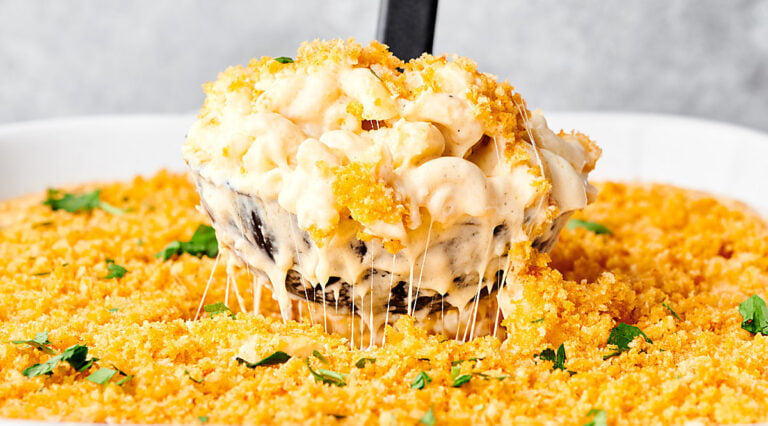 Baked Mac and Cheese
This is the BEST Baked Mac and Cheese! With an ultra rich, creamy, cheesy sauce, it's a family favorite! Bonus: only 15 minutes of prep time!
Equipment for this recipe
(equipment shown are affiliate links)
Ingredients
Mac and Cheese
1

(16 oz box)

elbow macaroni

cooked al dente to package directions, then drained

1/2

cup

unsalted butter

1/3

cup

all-purpose flour

3

(12 oz cans)

evaporated milk

1

teaspoon

salt

plus more to taste, if necessary

1/2

teaspoon

black pepper

1/2

teaspoon

garlic powder

1/2

teaspoon

onion powder

1/2

teaspoon

dried mustard powder

1

cup

sour cream

room temperature

1

(8 oz block)

sharp cheddar cheese

grated

1

(8 oz block)

gruyere cheese

grated

1

cup

grated parmesan, asiago, romano cheese blend
Panko Topping
1/4

cup

unsalted butter

melted

1

cup

panko breadcrumbs

1/2

teaspoon

salt

1/2

teaspoon

paprika
Instructions
Mac and Cheese
Preheat oven to 350 degrees F and grease a 9x13 inch baking dish with cooking spray. Set aside.

Melt 1/2 cup butter over medium heat in a large stockpot.

Slowly sprinkle on flour then whisk for 60 seconds.

Slowly pour in milk, whisking constantly.

Stir in salt, pepper, garlic powder, onion powder, mustard powder, and sour cream.

Turn heat to low then stir in cheeses, little by little (I do a handful at a time), letting the cheese melt before adding more cheese. Keep adding cheese and stirring constantly until all the cheese has been added and melted.

Remove from heat and gently stir in cooked macaroni then transfer to prepared baking dish.
Panko Topping
In a small bowl, stir together 1/4 cup melted butter, panko, salt, and paprika.

Spread evenly over the macaroni and cheese.

Bake in preheated oven for 30 minutes.

Cool slightly then serve and enjoy!
STORING
Reheat:
Microwave or oven until heated
*Storage times may vary based on temperature and conditions
Nutrition Information
Nutrition Facts
Baked Mac and Cheese
Amount Per Serving
Calories 607
Calories from Fat 324
% Daily Value*
Fat 36g55%
Cholesterol 110mg37%
Sodium 743mg32%
Potassium 440mg13%
Carbohydrates 45g15%
Protein 26g52%
Vitamin A 1102IU22%
Vitamin C 2mg2%
Calcium 689mg69%
Iron 1mg6%
* Percent Daily Values are based on a 2000 calorie diet.
*Note: Nutrition information is estimated and varies based on products used.
Keywords:
baked mac and cheese, breadcrumb topping, cheesy, creamy